While ocean cruising can introduce you to wonderful coastal towns and cities, Asia river cruising sails you right into the heart of the culturally-rich countries.  The rivers you travel down tend to be the lifeblood of these areas, and have been for centuries, and so each region that you visit is steeped in history.  The focus of these river cruises is on smaller more rural areas of a region rather than the bustling metropolises of Asia that are frequented on a land holiday.  This means that by embarking on a river cruise through Asia you can be introduced to a side of the continent that is unseen by many.
Please note, not all Asia River Cruises are available electronically.  If you can't find the cruise you're looking for in the links below, please contact our reservations team on 13 13 03 for further itinerary options.
When to take a River Cruise in Asia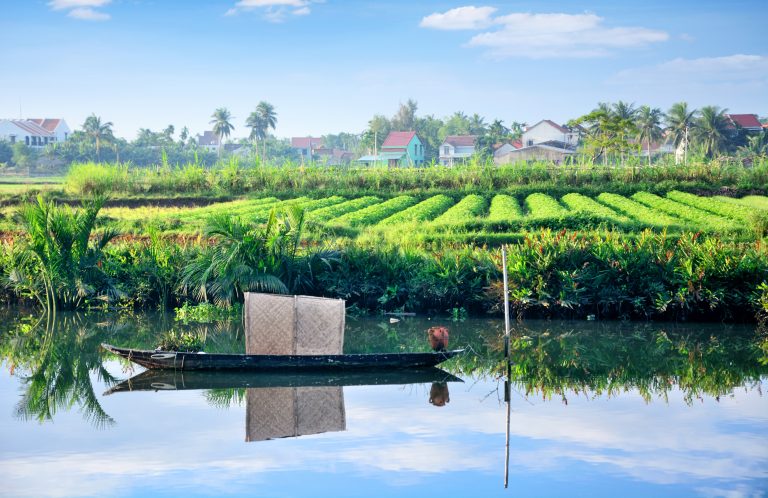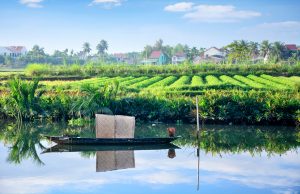 The Asian continent is quite large, and as such, each region has slightly different dry and wet seasons.  Prime river cruise travel within Asia requires a delicate balance between appropriate water levels and pleasant weather.  In some instances, your prime river cruising time is during wet season where the water levels are highest, while in others it becomes just too hot for travel during this time.  Despite this, many cruise lines operate cruises in both the wet and dry seasons.
Along the Mekong in Vietnam and Cambodia, there is only a very limited dry season – from November to February – while rainy season officially arrives in May and lasts through to October.  March and April are the warmest months of the year in this region, with temperatures climbing as high as 38 degrees Celsius.  Luckily the waters of the Mekong River run from the icy Tibetan Plateau which somewhat takes the edge off the sweltering temperatures.
When looking to cruise on China's Yangtze River, there is less of a need to focus on the water levels of the region and so instead you can choose your travel time based upon the weather.  Rainy season on the Yangtze runs from June to September and brings with it humidity and high temperatures.  While the rain does make it slightly more difficult to travel down the Yangtze at this time, it does bring out more of the region's natural beauty.  If you're looking to travel during more tepid temperatures, aim for spring and autumn where the rainfall is less, the temperatures lower, and the landscape is still lush and enjoyable.
Other destinations of Asia River cruises include India and Myanmar.  In India you'll cruise through tributaries of the Ganges River as the main section of the Ganges falls prey to low water levels throughout the majority of the year.  The best time of year to visit is from October to March when the weather is cooler – by the end of March the weather is far too humid for any kind of comfortable travel.  If you've set your sights on the less frequented Myanmar and her Irrawaddy River aim to travel between the dryer season of November to February, where the days are warm and the nights are cool.  That said if you're looking for a more in-depth Irrawaddy exploration you'll need to travel in the wetter months of July to September when the water levels are high enough.
Cruise lines that offer Asia River cruises
Most river cruise lines offer itineraries to cruise down the Yangtze and Mekong Rivers, the two most popular rivers in Asia.  If you're looking to cruise down the more unfrequented rivers in India and Myanmar you'll need to look at Travelmarvel and APT which have options in both Myanmar and India, while Uniworld has a series of cruises that offer cruises on the Ganges.
How to get to Asia
While some of the embarkation ports of Asian river cruises can be quite obscure or isolated towns, the majority of Asia's river cruise itineraries tend to depart from much more central cities, such as Ho Chi Minh or Shanghai, and complete a component of land travel to make their way to port of embarkation. As a result of this, matching airfare to your river cruise itinerary is relatively easy, with a number of airlines flying from Australia (though most of which do require at least one connecting flight) including Singapore Airlines, Cathay Pacific and Air China to name a few.
The Yangtze River in China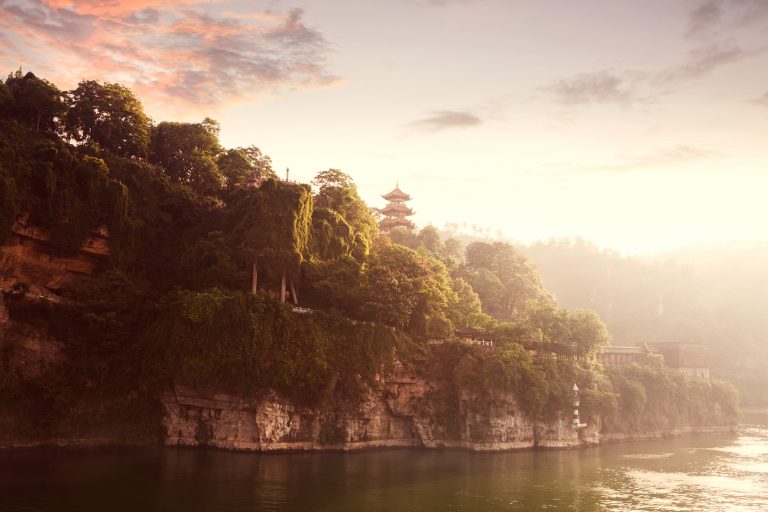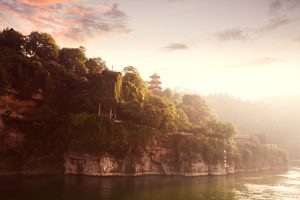 The Yangtze River can introduce you to the natural wonder and in-depth history of China. The largest river in Asia, the Yangtze rises in the Tibet plateau and flows east across the entire width of China and flows into the China Sea near Shanghai.  The most awe-inspiring part of the river is the Three Gorges – a 200km+ area of misty mountains and sheer gorges and features a five-level lock system.
Despite its length, there is only a small area of the Yangtze that is able to be navigated by ships – three nights onboard can have you sailing between Chongqing and Yichang while Chongqing to Wuhan will take you five nights.  That said, most itineraries including a Yangtze River cruise will also include an extensive land component to introduce you to other areas of the expansive Chinese region.
View cruises down the Yangtze River
The Mekong River in Vietnam and Cambodia
Like the Yangtze River in China, the Mekong River also begins at the Tibet Plateau and runs 4,350km through China's Yunnan Province, Myanmar, Laos, Thailand, Cambodia and Vietnam.   The majority of your river cruising options tend to travel between My Tho in Vietnam and either Kampong Chhnang or Prek K'dam in Cambodia.  The river cruise component tends to be between 5 and 7 nights, but often there is a land component included to incorporate Siem Reap, Ho Chi Minh and sometimes even the northern regions of Vietnam.  The region is stunning, with ancient temples, floating water villages and a lush tropical landscape being some of the highlights and is an area full of history, both ancient and modern.
View cruises along the Mekong River
The Ganges River in India
There is only a very small area of the Ganges that able to be navigated by ships and only for minimal time of the year.  For that reason river cruises tend to focus on the Ganges Tributaries rather than the Ganges River itself.  Ganges River cruises tend to be 7 nights duration round trip from Kolcutta.  Alternatively, if unable to make your way down the Ganges, some itineraries choose instead to cruise on the Kerala Backwaters.
View cruises on the Ganges River
The Irrawaddy River in Myanmar
There are only a handful of cruise lines that offer itineraries on Myanmar's less frequented Irrawaddy River, namely Travelmarvel and APT.  These itineraries tend to be longer, between 14 to 17 nights, as the Irrawaddy River is easier to traverse, and tend to travel between Yangon and Mandalay.  There are options to tack on extended stays to explore other areas of Asia as well as another river cruise down the Mekong River in Vietnam and Cambodia.
| | | | | |
| --- | --- | --- | --- | --- |
| Date | Cruise | Region | MIN Price | |
| | 12 Night Timeless Wonders Of Vietnam, Cambodia & The Mekong (2020) | Asia | Enquire | Select |
| | 12 Night Timeless Wonders Of Vietnam, Cambodia & The Mekong (2020) | Asia | Enquire | Select |
| | 12 Night Timeless Wonders Of Vietnam, Cambodia & The Mekong (2020) | Asia | $9,799 | Select |
| | 12 Night Timeless Wonders Of Vietnam, Cambodia & The Mekong (2020) | Asia | $10,199 | Select |
| | 12 Night Timeless Wonders Of Vietnam, Cambodia & The Mekong (2020) | Asia | $9,499 | Select |
| | 12 Night Timeless Wonders Of Vietnam, Cambodia & The Mekong (2020) | Asia | Enquire | Select |
| | 12 Night Timeless Wonders Of Vietnam, Cambodia & The Mekong (2020) | Asia | $9,299 | Select |
| | 12 Night Timeless Wonders Of Vietnam, Cambodia & The Mekong (2020) | Asia | $10,199 | Select |
| | 11 Night Essential Vietnam & Cambodia 20/21 | Asia | Enquire | Select |
| | 7 Night Majestic Mekong Cruising 20/21 | Asia | Enquire | Select |
| | 11 Night Essential Vietnam & Cambodia 20/21 | Asia | Enquire | Select |
| | 7 Night Majestic Mekong Cruising 20/21 | Asia | Enquire | Select |
| | 11 Night Essential Vietnam & Cambodia 20/21 | Asia | Enquire | Select |
| | 7 Night Majestic Mekong Cruising 20/21 | Asia | Enquire | Select |
| | 11 Night Essential Vietnam & Cambodia 20/21 | Asia | Enquire | Select |
| | 7 Night Majestic Mekong Cruising 20/21 | Asia | Enquire | Select |
| | 19 Night Wonders Of Vietnam & Cambodia 20/21 | Asia | Enquire | Select |
| | 11 Night Essential Vietnam & Cambodia 20/21 | Asia | Enquire | Select |
| | 22 Night Wonders Of Vietnam Cambodia & Japan 2020 (sept & Oct) | Asia | Enquire | Select |
| | 7 Night Majestic Mekong Cruising 20/21 | Asia | Enquire | Select |
| | 15 Night Discover Vietnam & Cambodia 20/21 | Asia | Enquire | Select |
| | 22 Night Myanmar Vietnam & Cambodia Uncovered 20/21 | Asia | Enquire | Select |
| | 19 Night Hidden Treasures Of Vietnam & Cambodia 20/21 | Asia | Enquire | Select |
| | 11 Night Essential Vietnam & Cambodia 20/21 | Asia | Enquire | Select |
| | 25 Night Vietnam Cambodia & China Discovery 2020 (august To October) | Asia | Enquire | Select |
| | 24 Night Pagodas Temples And Mighty Rivers 20/21 | Asia | Enquire | Select |
| | 16 Night Discover Vietnam & Cambodia 20/21 | Asia | Enquire | Select |
| | 7 Night Majestic Mekong Cruising 20/21 | Asia | Enquire | Select |
| | 22 Night Natural Wonders Of Vietnam & Cambodia 20/21 | Asia | Enquire | Select |
| | 19 Night Wonders Of Vietnam & Cambodia 20/21 | Asia | Enquire | Select |
| | 11 Night Essential Vietnam & Cambodia 20/21 | Asia | Enquire | Select |
| | 25 Night Vietnam Cambodia & China Discovery 2020 (august To November) | Asia | Enquire | Select |
| | 7 Night Majestic Mekong Cruising 20/21 | Asia | Enquire | Select |
| | 15 Night Discover Vietnam & Cambodia 20/21 | Asia | Enquire | Select |
| | 22 Night Myanmar Vietnam & Cambodia Uncovered 20/21 | Asia | Enquire | Select |
| | 19 Night Hidden Treasures Of Vietnam & Cambodia 20/21 | Asia | Enquire | Select |
| | 11 Night Essential Vietnam & Cambodia 20/21 | Asia | Enquire | Select |
| | 24 Night Pagodas Temples And Mighty Rivers 20/21 | Asia | Enquire | Select |
| | 16 Night Discover Vietnam & Cambodia 20/21 | Asia | Enquire | Select |
| | 7 Night Majestic Mekong Cruising 20/21 | Asia | Enquire | Select |
| | 22 Night Natural Wonders Of Vietnam & Cambodia 20/21 | Asia | Enquire | Select |
| | 19 Night Wonders Of Vietnam & Cambodia 20/21 | Asia | Enquire | Select |
| | 11 Night Essential Vietnam & Cambodia 20/21 | Asia | Enquire | Select |
| | 22 Night Wonders Of Vietnam Cambodia & Japan 2020 (sept & Oct) | Asia | Enquire | Select |
| | 7 Night Majestic Mekong Cruising 20/21 | Asia | Enquire | Select |
| | 15 Night Discover Vietnam & Cambodia 20/21 | Asia | Enquire | Select |
| | 22 Night Myanmar Vietnam & Cambodia Uncovered 20/21 | Asia | Enquire | Select |
| | 19 Night Hidden Treasures Of Vietnam & Cambodia 20/21 | Asia | Enquire | Select |
| | 11 Night Essential Vietnam & Cambodia 20/21 | Asia | Enquire | Select |
| | 25 Night Vietnam Cambodia & China Discovery 2020 (august To October) | Asia | Enquire | Select |
| | 24 Night Pagodas Temples And Mighty Rivers 20/21 | Asia | Enquire | Select |
| | 16 Night Discover Vietnam & Cambodia 20/21 | Asia | Enquire | Select |
| | 7 Night Majestic Mekong Cruising 20/21 | Asia | Enquire | Select |
| | 22 Night Natural Wonders Of Vietnam & Cambodia 20/21 | Asia | Enquire | Select |
| | 19 Night Wonders Of Vietnam & Cambodia 20/21 | Asia | Enquire | Select |
| | 11 Night Essential Vietnam & Cambodia 20/21 | Asia | Enquire | Select |
| | 7 Night Majestic Mekong Cruising 20/21 | Asia | Enquire | Select |
| | 15 Night Discover Vietnam & Cambodia 20/21 | Asia | Enquire | Select |
| | 22 Night Myanmar Vietnam & Cambodia Uncovered 20/21 | Asia | Enquire | Select |
| | 19 Night Hidden Treasures Of Vietnam & Cambodia 20/21 | Asia | Enquire | Select |
| | 11 Night Essential Vietnam & Cambodia 20/21 | Asia | Enquire | Select |
| | 16 Night Discover Vietnam & Cambodia 20/21 | Asia | Enquire | Select |
| | 7 Night Majestic Mekong Cruising 20/21 | Asia | Enquire | Select |
| | 11 Night Essential Vietnam & Cambodia 20/21 | Asia | Enquire | Select |
| | 7 Night Majestic Mekong Cruising 20/21 | Asia | Enquire | Select |
| | 19 Night Wonders Of Vietnam & Cambodia 20/21 | Asia | Enquire | Select |
| | 24 Night The Irrawaddy Inle Lake & The Mekong 20/21 | Asia | Enquire | Select |
| | 15 Night Discover Vietnam & Cambodia 20/21 | Asia | Enquire | Select |
| | 19 Night Hidden Treasures Of Vietnam & Cambodia 20/21 | Asia | Enquire | Select |
| | 11 Night Essential Vietnam & Cambodia 20/21 | Asia | Enquire | Select |
| | 16 Night Discover Vietnam & Cambodia 20/21 | Asia | Enquire | Select |
| | 7 Night Majestic Mekong Cruising 20/21 | Asia | Enquire | Select |
| | 22 Night Natural Wonders Of Vietnam & Cambodia 20/21 | Asia | Enquire | Select |
| | 22 Night Myanmar Vietnam & Cambodia Uncovered 20/21 | Asia | Enquire | Select |
| | 19 Night Wonders Of Vietnam & Cambodia 20/21 | Asia | Enquire | Select |
| | 11 Night Essential Vietnam & Cambodia 20/21 | Asia | Enquire | Select |
| | 24 Night The Irrawaddy Inle Lake & The Mekong 20/21 | Asia | Enquire | Select |
| | 7 Night Majestic Mekong Cruising 20/21 | Asia | Enquire | Select |
| | 15 Night Discover Vietnam & Cambodia 20/21 | Asia | Enquire | Select |
| | 19 Night Hidden Treasures Of Vietnam & Cambodia 20/21 | Asia | Enquire | Select |
| | 11 Night Essential Vietnam & Cambodia 20/21 | Asia | Enquire | Select |
| | 16 Night Discover Vietnam & Cambodia 20/21 | Asia | Enquire | Select |
| | 7 Night Majestic Mekong Cruising 20/21 | Asia | Enquire | Select |
| | 22 Night Natural Wonders Of Vietnam & Cambodia 20/21 | Asia | Enquire | Select |
| | 22 Night Myanmar Vietnam & Cambodia Uncovered 20/21 | Asia | Enquire | Select |
| | 19 Night Wonders Of Vietnam & Cambodia 20/21 | Asia | Enquire | Select |
| | 11 Night Essential Vietnam & Cambodia 20/21 | Asia | Enquire | Select |
| | 24 Night The Irrawaddy Inle Lake & The Mekong 20/21 | Asia | Enquire | Select |
| | 7 Night Majestic Mekong Cruising 20/21 | Asia | Enquire | Select |
| | 15 Night Discover Vietnam & Cambodia 20/21 | Asia | Enquire | Select |
| | 19 Night Hidden Treasures Of Vietnam & Cambodia 20/21 | Asia | Enquire | Select |
| | 11 Night Essential Vietnam & Cambodia 20/21 | Asia | Enquire | Select |
| | 16 Night Discover Vietnam & Cambodia 20/21 | Asia | Enquire | Select |
| | 7 Night Majestic Mekong Cruising 20/21 | Asia | Enquire | Select |
| | 22 Night Natural Wonders Of Vietnam & Cambodia 20/21 | Asia | Enquire | Select |
| | 19 Night Wonders Of Vietnam & Cambodia 20/21 | Asia | Enquire | Select |
| | 11 Night Essential Vietnam & Cambodia 20/21 | Asia | Enquire | Select |
| | 7 Night Majestic Mekong Cruising 20/21 | Asia | Enquire | Select |
| | 15 Night Discover Vietnam & Cambodia 20/21 | Asia | Enquire | Select |
| | 19 Night Hidden Treasures Of Vietnam & Cambodia 20/21 | Asia | Enquire | Select |
| | 11 Night Essential Vietnam & Cambodia 20/21 | Asia | Enquire | Select |
| | 16 Night Discover Vietnam & Cambodia 20/21 | Asia | Enquire | Select |
| | 7 Night Majestic Mekong Cruising 20/21 | Asia | Enquire | Select |
| | 22 Night Natural Wonders Of Vietnam & Cambodia 20/21 | Asia | Enquire | Select |
| | 19 Night Wonders Of Vietnam & Cambodia 20/21 | Asia | Enquire | Select |
| | 11 Night Essential Vietnam & Cambodia 20/21 | Asia | Enquire | Select |
| | 7 Night Majestic Mekong Cruising 20/21 | Asia | Enquire | Select |
| | 15 Night Discover Vietnam & Cambodia 20/21 | Asia | Enquire | Select |
| | 19 Night Hidden Treasures Of Vietnam & Cambodia 20/21 | Asia | Enquire | Select |
| | 11 Night Essential Vietnam & Cambodia 20/21 | Asia | Enquire | Select |
| | 16 Night Discover Vietnam & Cambodia 20/21 | Asia | Enquire | Select |
| | 7 Night Majestic Mekong Cruising 20/21 | Asia | Enquire | Select |
| | 22 Night Natural Wonders Of Vietnam & Cambodia 20/21 | Asia | Enquire | Select |
| | 19 Night Wonders Of Vietnam & Cambodia 20/21 | Asia | Enquire | Select |
| | 11 Night Essential Vietnam & Cambodia 20/21 | Asia | Enquire | Select |
| | 7 Night Majestic Mekong Cruising 20/21 | Asia | Enquire | Select |
| | 15 Night Discover Vietnam & Cambodia 20/21 | Asia | Enquire | Select |
| | 19 Night Hidden Treasures Of Vietnam & Cambodia 20/21 | Asia | Enquire | Select |
| | 11 Night Essential Vietnam & Cambodia 20/21 | Asia | Enquire | Select |
| | 16 Night Discover Vietnam & Cambodia 20/21 | Asia | Enquire | Select |
| | 7 Night Majestic Mekong Cruising 20/21 | Asia | Enquire | Select |
| | 11 Night Essential Vietnam & Cambodia 20/21 | Asia | Enquire | Select |
| | 7 Night Majestic Mekong Cruising 20/21 | Asia | Enquire | Select |
| | 24 Night Vietnam & Cambodia Grand Tour 20/21 | Asia | Enquire | Select |
| | 29 Night Imperial Myanmar Vietnam & Cambodia 20/21 | Asia | Enquire | Select |
| | 20 Night Best Of Vietnam & Cambodia 20/21 | Asia | Enquire | Select |
| | 20 Night Best Of Vietnam & Cambodia 20/21 | Asia | Enquire | Select |
| | 16 Night Vietnam & Cambodia Discovery 20/21 | Asia | Enquire | Select |
| | 12 Night Vietnam & Cambodia Highlights 20/21 | Asia | Enquire | Select |
| | 16 Night Vietnam & Cambodia Discovery 20/21 | Asia | Enquire | Select |
| | 10 Night Spiritual Cambodia & The Mekong 20/21 | Asia | Enquire | Select |
| | 24 Night Vietnam & Cambodia Grand Tour 20/21 | Asia | Enquire | Select |
| | 29 Night Imperial Myanmar Vietnam & Cambodia 20/21 | Asia | Enquire | Select |
| | 10 Night Spiritual Cambodia & The Mekong 20/21 | Asia | Enquire | Select |
| | 12 Night Vietnam & Cambodia Highlights 20/21 | Asia | Enquire | Select |
| | 20 Night Best Of Vietnam & Cambodia 20/21 | Asia | Enquire | Select |
| | 20 Night Best Of Vietnam & Cambodia 20/21 | Asia | Enquire | Select |
| | 16 Night Vietnam & Cambodia Discovery 20/21 | Asia | Enquire | Select |
| | 12 Night Vietnam & Cambodia Highlights 20/21 | Asia | Enquire | Select |
| | 16 Night Vietnam & Cambodia Discovery 20/21 | Asia | Enquire | Select |
| | 10 Night Spiritual Cambodia & The Mekong 20/21 | Asia | Enquire | Select |
| | 24 Night Vietnam & Cambodia Grand Tour 20/21 | Asia | Enquire | Select |
| | 29 Night Imperial Myanmar Vietnam & Cambodia 20/21 | Asia | Enquire | Select |
| | 10 Night Spiritual Cambodia & The Mekong 20/21 | Asia | Enquire | Select |
| | 12 Night Vietnam & Cambodia Highlights 20/21 | Asia | Enquire | Select |
| | 20 Night Best Of Vietnam & Cambodia 20/21 | Asia | Enquire | Select |
| | 20 Night Best Of Vietnam & Cambodia 20/21 | Asia | Enquire | Select |
| | 16 Night Vietnam & Cambodia Discovery 20/21 | Asia | Enquire | Select |
| | 13 Night Luke Nguyen Escorted Journey 20/21 | Asia | Enquire | Select |
| | 12 Night Vietnam & Cambodia Highlights 20/21 | Asia | Enquire | Select |
| | 16 Night Vietnam & Cambodia Discovery 20/21 | Asia | Enquire | Select |
| | 10 Night Spiritual Cambodia & The Mekong 20/21 | Asia | Enquire | Select |
| | 24 Night Vietnam & Cambodia Grand Tour 20/21 | Asia | Enquire | Select |
| | 29 Night Imperial Myanmar Vietnam & Cambodia 20/21 | Asia | Enquire | Select |
| | 10 Night Spiritual Cambodia & The Mekong 20/21 | Asia | Enquire | Select |
| | 12 Night Vietnam & Cambodia Highlights 20/21 | Asia | Enquire | Select |
| | 20 Night Best Of Vietnam & Cambodia 20/21 | Asia | Enquire | Select |
| | 20 Night Best Of Vietnam & Cambodia 20/21 | Asia | Enquire | Select |
| | 16 Night Vietnam & Cambodia Discovery 20/21 | Asia | Enquire | Select |
| | 12 Night Vietnam & Cambodia Highlights 20/21 | Asia | Enquire | Select |
| | 16 Night Vietnam & Cambodia Discovery 20/21 | Asia | Enquire | Select |
| | 10 Night Spiritual Cambodia & The Mekong 20/21 | Asia | Enquire | Select |
| | 24 Night Vietnam & Cambodia Grand Tour 20/21 | Asia | Enquire | Select |
| | 10 Night Spiritual Cambodia & The Mekong 20/21 | Asia | Enquire | Select |
| | 12 Night Vietnam & Cambodia Highlights 20/21 | Asia | Enquire | Select |
| | 20 Night Best Of Vietnam & Cambodia 20/21 | Asia | Enquire | Select |
| | 20 Night Best Of Vietnam & Cambodia 20/21 | Asia | Enquire | Select |
| | 16 Night Vietnam & Cambodia Discovery 20/21 | Asia | Enquire | Select |
| | 12 Night Vietnam & Cambodia Highlights 20/21 | Asia | Enquire | Select |
| | 16 Night Vietnam & Cambodia Discovery 20/21 | Asia | Enquire | Select |
| | 10 Night Spiritual Cambodia & The Mekong 20/21 | Asia | Enquire | Select |
| | 10 Night Spiritual Cambodia & The Mekong 20/21 | Asia | Enquire | Select |
| | 12 Night Vietnam & Cambodia Highlights 20/21 | Asia | Enquire | Select |
| | 20 Night Best Of Vietnam & Cambodia 20/21 | Asia | Enquire | Select |
| | 20 Night Best Of Vietnam & Cambodia 20/21 | Asia | Enquire | Select |
| | 16 Night Vietnam & Cambodia Discovery 20/21 | Asia | Enquire | Select |
| | 12 Night Vietnam & Cambodia Highlights 20/21 | Asia | Enquire | Select |
| | 16 Night Vietnam & Cambodia Discovery 20/21 | Asia | Enquire | Select |
| | 10 Night Spiritual Cambodia & The Mekong 20/21 | Asia | Enquire | Select |
| | 29 Night Imperial Myanmar Vietnam & Cambodia 20/21 | Asia | Enquire | Select |
| | 10 Night Spiritual Cambodia & The Mekong 20/21 | Asia | Enquire | Select |
| | 12 Night Vietnam & Cambodia Highlights 20/21 | Asia | Enquire | Select |
| | 20 Night Best Of Vietnam & Cambodia 20/21 | Asia | Enquire | Select |
| | 20 Night Best Of Vietnam & Cambodia 20/21 | Asia | Enquire | Select |
| | 16 Night Vietnam & Cambodia Discovery 20/21 | Asia | Enquire | Select |
| | 12 Night Vietnam & Cambodia Highlights 20/21 | Asia | Enquire | Select |
| | 16 Night Vietnam & Cambodia Discovery 20/21 | Asia | Enquire | Select |
| | 10 Night Spiritual Cambodia & The Mekong 20/21 | Asia | Enquire | Select |
| | 29 Night Imperial Myanmar Vietnam & Cambodia 20/21 | Asia | Enquire | Select |
| | 10 Night Spiritual Cambodia & The Mekong 20/21 | Asia | Enquire | Select |
| | 12 Night Vietnam & Cambodia Highlights 20/21 | Asia | Enquire | Select |
| | 20 Night Best Of Vietnam & Cambodia 20/21 | Asia | Enquire | Select |
| | 20 Night Best Of Vietnam & Cambodia 20/21 | Asia | Enquire | Select |
| | 16 Night Vietnam & Cambodia Discovery 20/21 | Asia | Enquire | Select |
| | 12 Night Vietnam & Cambodia Highlights 20/21 | Asia | Enquire | Select |
| | 16 Night Vietnam & Cambodia Discovery 20/21 | Asia | Enquire | Select |
| | 10 Night Spiritual Cambodia & The Mekong 20/21 | Asia | Enquire | Select |
| | 10 Night Spiritual Cambodia & The Mekong 20/21 | Asia | Enquire | Select |
| | 12 Night Vietnam & Cambodia Highlights 20/21 | Asia | Enquire | Select |
| | 20 Night Best Of Vietnam & Cambodia 20/21 | Asia | Enquire | Select |
| | 20 Night Best Of Vietnam & Cambodia 20/21 | Asia | Enquire | Select |
| | 16 Night Vietnam & Cambodia Discovery 20/21 | Asia | Enquire | Select |
| | 12 Night Vietnam & Cambodia Highlights 20/21 | Asia | Enquire | Select |
| | 16 Night Vietnam & Cambodia Discovery 20/21 | Asia | Enquire | Select |
| | 10 Night Spiritual Cambodia & The Mekong 20/21 | Asia | Enquire | Select |
| | 24 Night Vietnam & Cambodia Grand Tour 20/21 | Asia | Enquire | Select |
| | 10 Night Spiritual Cambodia & The Mekong 20/21 | Asia | Enquire | Select |
| | 12 Night Vietnam & Cambodia Highlights 20/21 | Asia | Enquire | Select |
| | 20 Night Best Of Vietnam & Cambodia 20/21 | Asia | Enquire | Select |
| | 20 Night Best Of Vietnam & Cambodia 20/21 | Asia | Enquire | Select |
| | 16 Night Vietnam & Cambodia Discovery 20/21 | Asia | Enquire | Select |
| | 12 Night Vietnam & Cambodia Highlights 20/21 | Asia | Enquire | Select |
| | 16 Night Vietnam & Cambodia Discovery 20/21 | Asia | Enquire | Select |
| | 10 Night Spiritual Cambodia & The Mekong 20/21 | Asia | Enquire | Select |
| | 24 Night Vietnam & Cambodia Grand Tour 20/21 | Asia | Enquire | Select |
| | 10 Night Spiritual Cambodia & The Mekong 20/21 | Asia | Enquire | Select |
| | 12 Night Vietnam & Cambodia Highlights 20/21 | Asia | Enquire | Select |
| | 20 Night Best Of Vietnam & Cambodia 20/21 | Asia | Enquire | Select |
| | 20 Night Best Of Vietnam & Cambodia 20/21 | Asia | Enquire | Select |
| | 16 Night Vietnam & Cambodia Discovery 20/21 | Asia | Enquire | Select |
| | 12 Night Vietnam & Cambodia Highlights 20/21 | Asia | Enquire | Select |
| | 16 Night Vietnam & Cambodia Discovery 20/21 | Asia | Enquire | Select |
| | 10 Night Spiritual Cambodia & The Mekong 20/21 | Asia | Enquire | Select |
| | 24 Night Vietnam & Cambodia Grand Tour 20/21 | Asia | Enquire | Select |
| | 10 Night Spiritual Cambodia & The Mekong 20/21 | Asia | Enquire | Select |
| | 12 Night Vietnam & Cambodia Highlights 20/21 | Asia | Enquire | Select |
| | 20 Night Best Of Vietnam & Cambodia 20/21 | Asia | Enquire | Select |
| | 20 Night Best Of Vietnam & Cambodia 20/21 | Asia | Enquire | Select |
| | 16 Night Vietnam & Cambodia Discovery 20/21 | Asia | Enquire | Select |
| | 12 Night Vietnam & Cambodia Highlights 20/21 | Asia | Enquire | Select |
| | 16 Night Vietnam & Cambodia Discovery 20/21 | Asia | Enquire | Select |
| | 10 Night Spiritual Cambodia & The Mekong 20/21 | Asia | Enquire | Select |
| | 10 Night Spiritual Cambodia & The Mekong 20/21 | Asia | Enquire | Select |
| | 12 Night Vietnam & Cambodia Highlights 20/21 | Asia | Enquire | Select |
| | 13 Night China, Tibet & The Yangtze (2021) | Asia | $11,699 | Select |
| | 13 Night China, Tibet & The Yangtze (2021) | Asia | $11,699 | Select |
| | 13 Night China, Tibet & The Yangtze (2021) | Asia | $11,699 | Select |
| | 13 Night China, Tibet & The Yangtze (2021) | Asia | $11,699 | Select |
| | 13 Night China, Tibet & The Yangtze (2021) | Asia | $11,699 | Select |
| | 13 Night China, Tibet & The Yangtze (2021) | Asia | $11,699 | Select |
| | 17 Night Grand China And The Yangtze (2021) | Asia | $13,199 | Select |
| | 17 Night Grand China And The Yangtze (2021) | Asia | $13,199 | Select |
| | 17 Night Grand China And The Yangtze (2021) | Asia | $13,199 | Select |
| | 17 Night Grand China And The Yangtze (2021) | Asia | $13,199 | Select |
| | 17 Night Grand China And The Yangtze (2021) | Asia | $13,199 | Select |
| | 17 Night Grand China And The Yangtze (2021) | Asia | $13,199 | Select |
| | 17 Night Grand China And The Yangtze (2021) | Asia | $13,199 | Select |
| | 17 Night Grand China And The Yangtze (2021) | Asia | $13,199 | Select |
| | 17 Night Grand China And The Yangtze (2021) | Asia | $13,199 | Select |
| | 17 Night Grand China And The Yangtze (2021) | Asia | $13,199 | Select |
| | 10 Night Highlights Of China & The Yangtze (2021) | Asia | $8,599 | Select |
| | 10 Night Highlights Of China & The Yangtze (2021) | Asia | $8,599 | Select |
| | 10 Night Highlights Of China & The Yangtze (2021) | Asia | $8,599 | Select |
| | 10 Night Highlights Of China & The Yangtze (2021) | Asia | $8,599 | Select |
| | 10 Night Highlights Of China & The Yangtze (2021) | Asia | $8,599 | Select |
| | 10 Night Highlights Of China & The Yangtze (2021) | Asia | $8,599 | Select |
| | 10 Night Highlights Of China & The Yangtze (2021) | Asia | $8,599 | Select |
| | 10 Night Highlights Of China & The Yangtze (2021) | Asia | $10,799 | Select |
| | 10 Night Highlights Of China & The Yangtze (2021) | Asia | $8,599 | Select |
| | 10 Night Highlights Of China & The Yangtze (2021) | Asia | $8,599 | Select |
| | 10 Night Highlights Of China & The Yangtze (2021) | Asia | $8,599 | Select |
| | 10 Night Highlights Of China & The Yangtze (2021) | Asia | $8,599 | Select |
| | 12 Night Timeless Wonders Of Vietnam, Cambodia & The Mekong (2021) | Asia | $8,299 | Select |
| | 12 Night Timeless Wonders Of Vietnam, Cambodia & The Mekong (2021) | Asia | $8,699 | Select |
| | 12 Night Timeless Wonders Of Vietnam, Cambodia & The Mekong (2021) | Asia | $10,199 | Select |
| | 12 Night Timeless Wonders Of Vietnam, Cambodia & The Mekong (2021) | Asia | $8,299 | Select |
| | 12 Night Timeless Wonders Of Vietnam, Cambodia & The Mekong (2021) | Asia | $8,299 | Select |
| | 12 Night Timeless Wonders Of Vietnam, Cambodia & The Mekong (2021) | Asia | $9,799 | Select |
| | 12 Night Timeless Wonders Of Vietnam, Cambodia & The Mekong (2021) | Asia | $9,799 | Select |
| | 12 Night Timeless Wonders Of Vietnam, Cambodia & The Mekong (2021) | Asia | $9,799 | Select |
| | 12 Night Timeless Wonders Of Vietnam, Cambodia & The Mekong (2021) | Asia | $10,199 | Select |
| | 12 Night Timeless Wonders Of Vietnam, Cambodia & The Mekong (2021) | Asia | $8,299 | Select |
| | 12 Night Timeless Wonders Of Vietnam, Cambodia & The Mekong (2021) | Asia | $8,299 | Select |
| | 12 Night Timeless Wonders Of Vietnam, Cambodia & The Mekong (2021) | Asia | $8,299 | Select |
| | 12 Night Timeless Wonders Of Vietnam, Cambodia & The Mekong (2021) | Asia | $10,199 | Select |
| | 12 Night Timeless Wonders Of Vietnam, Cambodia & The Mekong (2021) | Asia | $9,799 | Select |
| | 12 Night Timeless Wonders Of Vietnam, Cambodia & The Mekong (2021) | Asia | $9,799 | Select |
| | 12 Night Timeless Wonders Of Vietnam, Cambodia & The Mekong (2021) | Asia | $9,799 | Select |
| | 12 Night Timeless Wonders Of Vietnam, Cambodia & The Mekong (2021) | Asia | $9,799 | Select |
| | 12 Night Timeless Wonders Of Vietnam, Cambodia & The Mekong (2021) | Asia | $8,999 | Select |
| | 12 Night Timeless Wonders Of Vietnam, Cambodia & The Mekong (2021) | Asia | $8,299 | Select |
| | 12 Night Timeless Wonders Of Vietnam, Cambodia & The Mekong (2022) | Asia | $9,899 | Select |
| | 12 Night Timeless Wonders Of Vietnam, Cambodia & The Mekong (2022) | Asia | Enquire | Select |
| | 12 Night Timeless Wonders Of Vietnam, Cambodia & The Mekong (2022) | Asia | $9,899 | Select |
| | 12 Night Timeless Wonders Of Vietnam, Cambodia & The Mekong (2022) | Asia | $9,899 | Select |
| | 12 Night Timeless Wonders Of Vietnam, Cambodia & The Mekong (2022) | Asia | $9,899 | Select |
| | 12 Night Timeless Wonders Of Vietnam, Cambodia & The Mekong (2022) | Asia | $9,899 | Select |
| | 12 Night Timeless Wonders Of Vietnam, Cambodia & The Mekong (2022) | Asia | $9,899 | Select |
| | 12 Night Timeless Wonders Of Vietnam, Cambodia & The Mekong (2022) | Asia | $9,899 | Select |
| | 12 Night Timeless Wonders Of Vietnam, Cambodia & The Mekong (2022) | Asia | $9,899 | Select |
| | 12 Night Timeless Wonders Of Vietnam, Cambodia & The Mekong (2022) | Asia | $9,899 | Select |
| | 12 Night Timeless Wonders Of Vietnam, Cambodia & The Mekong (2022) | Asia | $9,899 | Select |
| | 12 Night Timeless Wonders Of Vietnam, Cambodia & The Mekong (2022) | Asia | $9,899 | Select |
| | 12 Night Timeless Wonders Of Vietnam, Cambodia & The Mekong (2022) | Asia | $9,899 | Select |
| | 12 Night Timeless Wonders Of Vietnam, Cambodia & The Mekong (2022) | Asia | $9,899 | Select |
| | 12 Night Timeless Wonders Of Vietnam, Cambodia & The Mekong (2022) | Asia | $9,899 | Select |
| | 12 Night Timeless Wonders Of Vietnam, Cambodia & The Mekong (2022) | Asia | $9,899 | Select |
| | 12 Night Timeless Wonders Of Vietnam, Cambodia & The Mekong (2022) | Asia | $9,899 | Select |
| | 12 Night Timeless Wonders Of Vietnam, Cambodia & The Mekong (2022) | Asia | $9,899 | Select |
| | 12 Night Timeless Wonders Of Vietnam, Cambodia & The Mekong (2022) | Asia | $9,899 | Select |
| | 12 Night Timeless Wonders Of Vietnam, Cambodia & The Mekong (2022) | Asia | $9,199 | Select |
| | 12 Night Timeless Wonders Of Vietnam, Cambodia & The Mekong (2021) | Asia | $9,899 | Select |