Carnival Sensation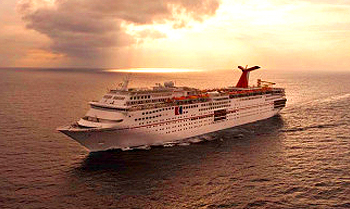 86
Starting Price, Per Night*
Carnival Sensation Cruises
For a vacation where the trip's always as fun as the destination, try Carnival Sensation. While you're making your way towards destinations of pure islandy greatness, there's serious vacation going on all around you, in every corner of this cruise ship.
If you're looking to splash, Carnival Sensation definitely has options for you: a resort-style pool and waterslide options galore. (Three, to be exact.) If you're looking for places for the kids, there's the age-appropriate, always-awesome Camp Ocean, Circle "C" and Club O2. If you're looking for a place away from the kids, this cruise ship features our adult-only oasis Serenity, plus Spa Carnival… not to mention RedFrog Rum Bar, BlueIguana Tequila Bar, and the pretty-much magical Alchemy Bar. And if you're looking for something for the whole family to do together, Carnival Sensation features Playlist Productions. These performances feature get-up-n-dance-worthy songs everybody knows… brought to life, live on stage, in ways you've never experienced before.
For bonus points, there's Hasbro, the Game Show, which brings super-sized family-favorite board games to life for kids, for parents, for grandparents… or for just about anyone who loves fun. There's amazing burgers, designed by Guy Fieri himself, being served up at Guy's Burger Joint. And let's not forget Seuss at Sea, featuring Dr. Seuss's unforgettable characters in a variety of fun across the ship, including interactive story time and a parade. Carnival Sensation sounds to us like one – oh wait! – we almost forgot Cherry On Top! This candy-and-more-store is the perfect place to stock up and stay sweet.
View more options for Carnival cruises.
Dining
Seaday Brunch
Forget what "they" say – the most important meal of the day is brunch. Slumberers can sleep in and still enjoy breakfast favorites, while early-risers get a head-start on lunch. And Seaday Brunch brings everybody's favorite mid-morning meal to your Carnival cruise, and does it right. You'll enjoy huevos rancheros, special french toast, loaded mac-n-cheese… and yes, more ways to cook eggs than we even thought was possible. Chow down and fuel up – you've got lots of exploring to do, across the ship, for the rest of the day.
Dining Room
"Hey, which side does the fork go on?" is a question you'll never have to ask at a dining room dinner aboard a Carnival cruise… we set the table for you. We also bring to the table a full three courses in an experience that's filling, but never stuffy – after all, you're just as likely to catch waiters table-dancing as you are to order dessert. Dessert's included (along with the rest of your meal, by the way) in your fare. But don't skip straight to dessert, because the main course is the main attraction – drop in daily and enjoy a rotating menu of delectable favorites like steak, roasted duck, scallops and prime rib.
Lido Restaurant
Featuring a nice variety of casual dining options like Mongolian Wok, Chef's Choice, Salad Bar, Carnival Deli and more, the Lido Restaurant has something – or more likely, at least a few somethings – to satisfy your craving. With plenty of indoor and outdoor seating, plus food options for everyone, you can enjoy your personal favorites in company of family and friends for lunch or dinner… or even breakfast! It's also where you can find our pizza, soft serve and frozen yogurt – all open 24 hours a day, which ought to be enough for anybody.
24 Hour Room Service
So you're in the mood for some good eats, but you would rather stay in your comfy, cozy stateroom? Really, who could blame you? Simply pick up the phone and order something from our tasty room service menu. And since you get hungry when you get hungry, room service is available any time of the day (or night) and delivered right to your door. Best of all and you may not believe this the foods even included in your fare.
Pizza Pirate
Tossing dough is an age-old art passed down the generations. Lucky for you, someone passed us the secret to the perfect pie. While aboard, this is the place that will shiver your timbers and warm you to the bone, 24 hours a day, with a Margherita, Funghi, Prosciutto, Pepperoni or Quatttro Formaggi pizza served with a delicious Caesar salad. Savvy? Then it is the pirates life for you!
Good Eats
When it comes to eating well for dinner, the name says it all. Good Eats is just the spot to enjoy a casual self-serve dinner aboard. Enjoy New York strip steak, broiled pork chops served with white rice or roasted potato, a carving station and so much more. There's something different on the menu every night, so you can come back and try something new. It's always a good time when you spend dinner time at Good Eats.
The Chef's Table
Treat your taste buds to the experience of a lifetime, culminating in a sumptuous multicourse dinner hosted by one of our master chefs. Your VIP experience starts with cocktails and hors d oeuvres for a select group of 14, followed by a tour to see the galley in operation. The evening concludes with a mind-blowing full-service dinner of amazing appetizers, entrees and desserts not found on our regular dining menus.
Tip: Reserve early because this once-in-a-lifetime experience has limited seating. Reservations can be made at the ship's Guest Services desk.
*Fee applies
Coffee Bar
Pause your vacation and treat yourself to a well-deserved break with a specialty coffee drink or freshly-brewed tea plus some delicious homemade pastries. Or, for an even sweeter option, stop by for a milkshake, slice of cake or cookie.
*Fee applies
Activities
Serenity Adult Only Retreat
Somebody at Carnival knows just what you need, and it's pretty much exactly the Serenity Adult-Only Retreat. Look, you will still be on the same ship as the kids, the hoopla, and all the Carnival-style excitement but you could easily forget, because when you are at Serenity you could not be further from it all. The world you will find yourself in is one of complete peace, sea breezes, swaying hammocks and, of course, a nearby bar. It is the place to get done the kind of stuff you just cannot seem to do anywhere else reconnect with your partner, finish that book, or do absolutely, blissfully, nothing at all.
The Punchliner Comedy Club
Comedy clubs on land… well, it's kinda funny. Nobody likes paying cover charges, and you know that two-drink minimum? They've gotta be joking! You won't find either of these at The Punchliner Comedy Club aboard your Carnival cruise. Up on stage you will find some real pros who know how to wedge a little laughter into anyone's evening. You can count on these comedians to not hold back either. Since some of them get up and say exactly what's on their mind, we also schedule family-friendly performances… so the only red faces in the audience are from laughing a little too hard.
Spa Carnival
When it comes to complete relaxation from the inside out, nothing beats a trip to the spa. From the minute you step inside, the soothing ambiance begins to work its magic. Renew yourself with premium beauty and wellness therapies, like hot stone massages, aromatherapy or full-body wraps. This is your time to be spoiled, indulged and even beautified. Lie back, close your eyes, and feel the stress sail away as your body and mind experience total tranquility. (Oh yeah, and this feel-good stuff is not just for the ladies, dudes, there are plenty of treatments on our menu for you too.)
*Fee applies
Stage Shows
Our stage shows are designed to razzle and dazzle. Featuring talented singers, musicians and dancers performing crowd-thrilling numbers in extravagant costumes with awesome sets and scenery, it is like catching one of the best shows on land. All performances are created to ensure that every night feels like opening night. And best of all, since shows are included in your fare, it's like having top-dollar tickets to the hottest show in town, absolutely free.
WaterWorks
Wanna splish – and splash – the day away? Head on over to WaterWorks, Carnival's onboard waterpark. First up, there's the Twister Waterslide, hundreds of feet of spiraling awesomeness that starts you off high in the air and gets you down low with one of the fastest, wettest rides you'll find anywhere. Select ships have side-by-side racing slides, which make serious competition seriously fun. Wear your speed suit for Speedway Splash, which features hundreds of feet of racing action, plus special lighting effects you'll experience on the road to victory. DrainPipe ends with one major swirl of a finish, while PowerDrencher takes soaking seriously – imagine the biggest bucket of water you've ever seen, raining down on you from above. And this isn't just kids' stuff – the young at heart are encouraged to zoom and splash around too! (WaterWorks configurations vary by ship.)
Camp Ocean
When families cruise Carnival, even the smallest fish in the pond have a big, awesome time. Okay, so it's actually way more than just a pond – it's Camp Ocean. At Camp Ocean, 2–11 year-olds stay busy, keep active and have fun as they enjoy all new ocean-themed activities and entertainment made for kids. We put campers into supervised, age-based groups and give each a cool marine-life label that's sure to raise the sails on camaraderie at sea. The littlest little ones – ages 2 to 5 -join the Penguin colony and engage in activities like Musical Icebergs and Ocean Bingo… even learning a thing or two about buoyancy! The little-biggers, 6 to 8, are the way-cool Stingrays, who might be found enjoying Pirate Game Night, making sea salt art or even designing their own aquarium. The big fish are the Sharks – ages 9 to 11 – who really sink their teeth into playing Marine Life Trivia, creating a giant ocean mural, and scoring big with games and sports competitions. Our counselors, each with education or childcare experience, are there to make sure everyone in these small groups has an amazing time.
Mini Golf
Ah, imagine a perfect day out on the links, the golfer's zen of the ball, the hole and nothing in between but well-manicured fairway… plus one cactus, a treasure chest… and wait, is that a windmill in the way? Just who designed this course anyway? Whoever it was, they had one thing in mind – maximum fun for mini-golfers, big and small! That's precisely why you'll find a course on every Carnival ship, where you can hit the holes and take in everything you'd expect, like the sights and the sounds… plus the seagulls.
Piano Bar
Play it again, Sam. Or Diana. Or whatever your name is. Because this is the bar where you call the shots and the songs. Pull up a seat, order your favorite cocktail, and let your friendly piano player know the songs you'd like to hear. Then join the sing-along for a hand-clapping, foot-tapping, finger-snapping good time. Don't feel like flexing your vocal cords? No worries. Shy songbirds are welcome here, too. And since it's open from early evening to late at night, it's the perfect spot for a before-dinner drink or singing 'til the wee hours of the evening.
*Regular bar prices apply
Karaoke
Believe us, you've got a rock star, pop idol or country crooner inside you. Let yours out aboard a Carnival cruise – take the stage and grab the mic because our ears are waiting. Every ship features live karaoke action, so whether your musical dreams are built on classic riffs or modern hits, come aboard and check our huge catalog – you'll find hot tracks you've been burning to perform. Ready to hit us with an '80s classic? Sing some Motown? Bring the boy-band? Indulge away – karaoke happens all throughout your cruise. Your moment in the spotlight is here.
Ship Highlights
Serenity Now!
It's a kid-free oasis. Relax and take in the magnificent ocean view, chill with friends in one of Carnival Sensation's two hot tubs, or enjoy your favorite drink as you kick back under the shade of a big umbrella.
This is What We Mean by Floating Resort
Think palm trees, a cool breeze and relaxing with your favorite book in your hand. Now make that a reality and head on over to the Carnival Sensation Resort-Style Pool. Take a swim or just chill out.
We're Giving You the Works!
Festive, fun and just down right fantastic — Carnival Sensation's WaterWorks includes a Twister Waterslide and Splash Park that's perfect for splishin', splashin' and slidin.' "Let's go again!"
Your Camp Was Never Like This
It's designed and fun-ified with Carnival Sensation cruisers ages 2-11 years old in mind. They're supervised by an experienced team and having just as much fun as you are… maybe even more.
A Circle of Friends
One of the coolest spots on Carnival Sensation is Circle "C" and it's just for kids 12-14… Video games, dance parties, late night movies, Karaoke and more. What could be funner?
Their Kind of Club
We know just what teenagers 15-17 like… Music, video games, food, new friends and BIG fun, Carnival Sensation Club O2's got it; the perfect 'round-the-clock hangout full of the funnest things to do.
Unleash Your Inner Ahhhh
Pamper yourself with soothing treatments and massages, try a new hairstyle and color, and treat your husband to the ultimate shampoo and shave. Ahhhhh…Carnival Sensation Spa Carnival.
We're Making a Grand Entrance
The Grand Atrium Plaza and Bar is just that – Grand. Mix and mingle with friends, old and new in this breathtaking space that's the hub of all things fun and fantastic on the Carnival Sensation.
Dining Room Duos
Choose Early (6 p.m.), Late (8:15 p.m.) or
Your Time (5:45 p.m. to 9:30 p.m.) dining in the Carnival Sensation Fantasy or Ecstasy main dining rooms and feast on culinary pleasures to your heart's delight.
A Little Lido for a Lotta Food
Dine casually — Eat whatever you like, whenever you like at the Carnival Sensation Seaview Bar and Grill. Choose hamburgers, hot dogs, pizza, salads, roast beef, chicken, fish, broccoli, rice, potatoes, ice cream, cake, pie, cookies… The list goes on.
Hold 'em or Fold 'em
Play cards like a pro at the Carnival Sensation Club Vegas Casino. Poker's not your game? There's craps, blackjack, roulette, slots and more. It's your turn… show 'um what you got in store.
Show & Tell
Seen any great performances lately? Well you will in the Carnival Sensation Fantasia Lounge. It features a revolving turntable, orchestra pit and a recessed speaker system. Come, see, and rave all about it.
Keep Connected
Send friends and family a quick email from the Carnival Sensation Internet cafe and don't forget to include a picture. They'll be so jealous.
Ready for a Recharge?
Take a break from all the fun you're having and grab a cup o' joe at Cafe on the Way, our new coffee bar. It's located on the Carnival Sensation Promenade deck and the specialties include tasty coffees and sweets.
Dance the Night Away
You'll love the music, moves and mood at the Carnival Sensation Disco. Shake it real good as you party with some great people and groove to some of your favorite hits.
It's Just Like Golf…Only Smaller
Foooooore! Have a swinging good time on the Carnival Sensation Sun deck's new 9-hole mini-golf course. The greens are meticulously maintained and the view is great. Just remember your follow through and no mulligans allowed.
Facts
Onboard Crew: 920
Gross Tons: 70,367
Length (ft.): 855
Guest Capacity: 2,056