As the cruise market booms, so does the demand for luxury cruising.  Whether you're a frequent traveller, new to cruising, or looking for a taste of luxury for a special occasion, a luxury cruise is sure to pamper with incredible itineraries, gourmet food and first-rate service.  However, each luxury cruise company has a different flavour and personality – not any two companies are the same.  To help with your decision-making process, Cruise Guru have compiled a list of luxury cruise companies as well as luxury cruising options onboard mainstream cruise lines, and have outlined each option's experiences and inclusions.  If you have any further questions, or need help working out what luxury cruise experience is for you, please contact our friendly reservations team on 13 13 03.

Cruising on a Seabourn ship is unlike any other form of travel.  The experience is luxurious, yet relaxed; elegant, yet casual; sumptuous, yet understated.  Their intimate ships visit the most desirable destinations worldwide, sailing to the heart of landmark cities as well as to hidden gems where larger vessels cannot follow.
Seabourn pioneered small-ship ultra luxury cruising, and continues to represent the pinnacle of that unique style of travel.  It's fleet of intimate, all-suite ships, carrying between 450 and 600 guests each, sail to the world's most desirable destinations at their peak seasons, and boast the highest space to guest ratio in the cruise industry.  On board guests are served by an award winning crew and an acclaimed staff that offer a unique style of heartfelt hospitality that is sincere, thoughtful and personal.
Seabourn's itineraries attract an accomplished group of people who enjoy travelling well, sharing fun adventures with other interesting people, and who seek to share experiences beyond the expected in places beyond the ordinary.  No matter where in the wide world that you want to travel, Seabourn offer you the opportunity to see it in perfect elegance and ease – to travel well – aboard the best small ships in the world.
Included in your cruise fare
– Gratuities
– Complimentary dining in all onboard venues
– Premium spirits and fine wines available onboard at all times*
– Complimentary welcome champagne and in suite bar stocked with your preferences*
Latest Seabourn deals
Enjoy exclusive discounts* when you book with Cruise Guru.
View Seabourn World Cruises.

There are three pillars that have come to define Oceania Cruises' five-star product:  the finest cuisine at sea, destination specialists and their intimate and luxurious ships.  These pillars have positioned the line as the cruise company of choice for travellers seeking a truly refined and casually elegant travel experience.  Featuring a fleet of warm and luxurious ships, Oceania Cruises offers an unrivalled vacation experience renowned for its gourmet culinary program inspired by Master Chef Jacques Pepin and it's array of destination-rich itineraries spanning the globe.
Oceania cruises are dedicated to providing the highest quality cruise product for mature and discerning travellers by offering the finest culinary experience at sea, authentic destination experiences and a warm and luxurious ambience on every voyage. Combining a casually sophisticated onboard experience with the most alluring destinations around the world, Oceania Cruises provides their guests with a truly extraordinary travel experience.
Included in your cruise fare
– Multiple open-seating gourmet dining venues at no additional charge
– High-Speed Internet
– Free and unlimited soft drinks, bottled water, cappuccino, espresso, teas and juices
– Free shuttle from port to city centre in many ports of call
– Free 24 hour room service
Latest Oceania deals
Pick your cruise inclusions with the OLife Choice offer*.  On select sailings choose from FREE shore excursions*, FREE house beverage package* or FREE shipboard credit* View OLife Choice cruises.
View Oceania World Cruises.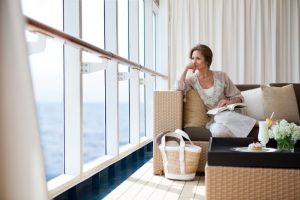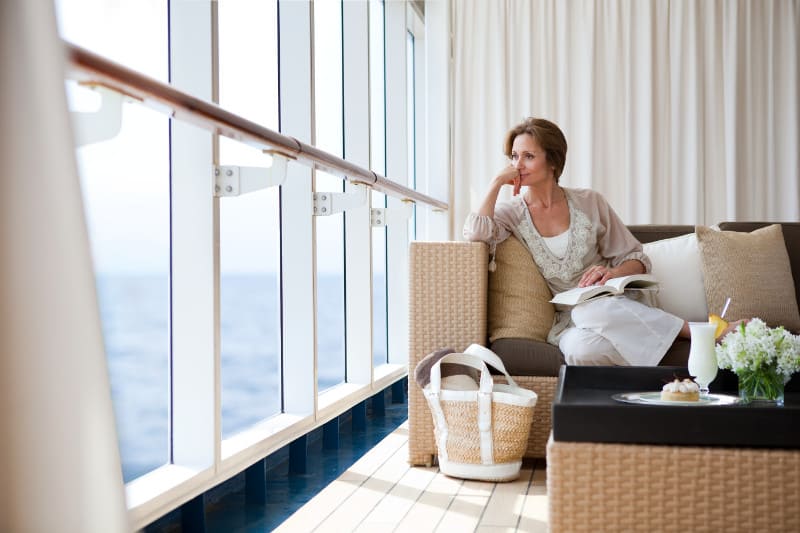 Enjoy the most inclusive luxury experience.
Cruising as it was meant to be – a sumptuous and very personal experience where your every wish, your every whim and your every want are met with gratifying luxuries, satisfying comfort and complete fulfilment of your wanderlust.  Anticipate an unforgettable journey to the world's greatest destinations where everything is included, without exception and without compromise.
Regent Seven Seas' intimate ships are the pinnacles of elegance and grace.  They are just the right size, small enough to reach those faraway lands you yearn to explore and large enough that you can find endless opportunities for entertainment and enrichment.
With all-suite accommodations, spectacular gourmet restaurants with ever-changing menus, and a professional staff that is not only serving you but also accommodating your personal preferences, it is no wonder that Regent Seven Seas ships are consistently voted the best at sea.
Included in your cruise fare:
– Free unlimited wifi
– Free unlimited shore excursions in every port
– All onboard specialty restaurants included
– Free 24 hour room service
– All suite accommodation
– Free unlimited beverages including fine wines and premium spirits
– Gratuities
– In suite mini-bar replenished daily
View Regent Seven Seas World Cruises.
7 continents – Infinite possibilities

Silversea believe that nothing can rival the wonder of our world.  Our curious minds propel us not just to keep exploring our magnificent planet, but mostly to experience it. And experience it you shall when you choose to cruise with Silversea, who have made it their mission to unlock the most amazing experiences and destinations, and deliver them in superlative comfort and luxury.
Silversea voyages and cruise expeditions sail to over 900 destinations on all 7 continents, more than any other cruise line.  Their intimate, ultra-luxury ships can sail up narrow waterways into the heart of a city, or tie up right at the pier while others much anchor off shore.  And for those who yearn to explore the new and unknown, Silversea Expeditions can transport you to the furthermost boundaries of the planet, including the icy frontier of Antarctica and the wondrous underwater world of the Galapagos islands.
Silversea's small luxury ships are designed for those who delight in the thrill of discovery while indulging mind and body in the most lavish surroundings imaginable. With an Italian heritage and elegant European ambience, Silversea's all inclusive cruises attract a sophisticated audience of worldly travellers. Renowned for culinary excellence and an innovative spirit, Silversea's luxury cruises offer numerous dining options as well as the ease, convenience and value of an all-inclusive cruise fare that includes almost all of your discretionary onboard expenses.
Included in your cruise fare
– Gratuities
– Complimentary beverages in-suite and throughout the ship.  Select wines, champagnes, premium spirits and specialty coffees as well as bottled water juices and soft drinks.
– Butler service
– Refrigerator and bar set up, stocked with your own preferences
– Complimentary wifi internet access
– Free 24 hour room service
– Roundtrip transportation from the pier to the local town provided in most ports outside o walking distance where local regulations allow
Latest Silversea deals
Explore the world in luxury with Cruise Guru's selection of Silversea Fly, Stay and Cruise packages. Includes flights, transfers, 2 nights pre-cruise accommodation, cruise and bonus shipboard credit*. Packages to New Zealand, Asia, Northern Europe, Alaska and the Mediterranean available.
Enjoy exclusive discounts* when you book with Cruise Guru.
View Silversea World Cruises.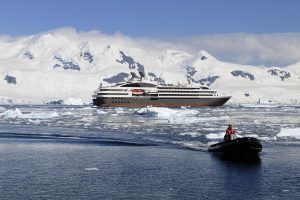 Embark on a luxury cruise aboard one of the Ponant ships for an exclusive and different experience of sea travel. Combining exceptional itineraries with excellent hotel services, Ponant's French-style cruises are designed to offer you a travel experience that is simultaneously authentic and sophisticated.
For over 25 years, Ponant's luxurious ships have been calling in mythical ports and little-known anchorages only accessible to smaller ships. As the leading provider of high-end expedition cruises, they also offer fascinating voyages of discovery in Africa, Alaska, Antarctica, Asia, Caribbean & Cuba, Latin America, North America, Pacific and Oceania, Russia, the Adriatic, Mediterranean and the Arctic.  Their intimate ships let you maintain your privacy; you feel as if you are sailing on your own private yacht. A yacht serving the legendary ports of call and secret harbours that are only accessible to small ships.
As the only French cruise company, Ponant is an ambassador of the 'French Touch' around the world.  The French Touch means, above all, a French crew to welcome you and ensure your comfort and well-being throughout your cruise.   It also means a way of living in which excellent gastronomy takes pride of place. Every day you will discover fragrant flavours, carefully selected cheeses and wines, delicious specialty breads and sweet pastries imagined by Maison Lenôtre. And, as of very recently, Maison Taillevent now provides its fine selection of vintage wines by the glass, Maison Veuve Clicquot accompanies gala cocktails and the Ladurée bakery has a place of honour for afternoon tea.
Included in your cruise fare:
Large selection of beverages including select mineral waters, cold drinks, wine, beer, champagne, spirits, coffee and tea
– Butler service for suites
Additional inclusions for expedition cruises:
– All shore excursions
– Onboard lectures
– Experienced naturalist onboard
– Zodiac outings
– Parka gift on all Polar expeditions
– Boot hire on all Polar expeditions
Latest Ponant deals
Discover the wonders of Antarctica, enjoy complimentary internal flights in the Arctic, luxury itineraries in the Mediterranean or great savings on Kimberley sailings.  Hurry, availability just won't last!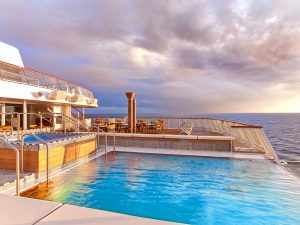 Viking Ocean are passionate about travel and, as an independently owned company, they are able to do things differently.  They have the freedom to create journeys that give you more time to explore, and immerse yourself in each destination. They are also able to design ships that fulfil their customers specific needs, ships that are elegant, warm and inviting, with an emphasis on comfort and service.
Every little detail is thoughtfully designed and beautifully crafted.  To make you feel completely at home, you are also not required to pay extra for those everyday comforts and necessities, like breakfast in bed, tea and coffee whenever you fancy, Wi-Fi, and your own spacious, private veranda on which to relax.
Viking Ocean ships also boast more than their share of wow factors, including the first glass-walled Infinity Pool at sea, so you feel like you are swimming to your destination; the spectacular three, tiered atrium and the Wintergarden, with its exquisitely sculpted canopy of blonde wood.
Included in your cruise fare:
– 24 hour room service
– Gratuities
– Self-Service Laundry
– Specialty teas, coffees and bottled water
– Premium wine, beer and soft drinks with your onboard meals
– Choice of 10 complimentary dining venues
– Access to the Snow Grotto including steam room, heated bed and hydrotherapy pool
– One free shore excursion (usually a guided walking tour) in every port*
– Free Wifi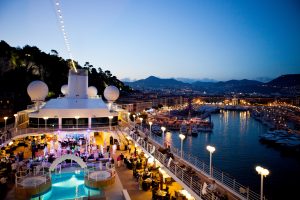 Azamara Club Cruises has one main goal: to change the way you see the world.  Anyone can visit a city, see it's initial layers including the people, buildings and shops.  Azamara wants you to not just see a city, but to experience it, to find inspiration buy going deeper beyond the surface.  This focus on destination immersion is one of the elements that sets Azamara apart from the rest, with guests enjoying longer days, overnight stays, night touring and visits to smaller, less-travelled ports.
Equally as inspiring is the experience onboard Azamara's intimate, boutique-style ships.  Once onboard you'll feel like you're staying in a fine hotel, with luxury and comfort at every turn.  Sparkling accommodations, 24-hour room service, a choice of exceptional restaurants and an international cellar of fine wines, just a small few on a long list of fine inclusions.  And with one staff member for every two guest, you'll love the attentive and personal service you receive.
Included in your cruise fare:
– AzAmazing evenings – a complimentary private, bespoke event where you can experience the best of a local culture (not available on all itineraries)
– Gratuities
– Self-Service laundry
– Select standard spirits, international beers, cocktails and wines
– Bottled water, soft drink, specialty coffees and teas
– Complimentary shuttle service to and from most port communities
– 24 hour room service
Latest Azamara deals
$10pp deposits* are available exclusively from Cruise Guru on all sailings departing after 10 November 19 when you book by 30 June 19.  View $10pp deposit cruises.
Grill Suites are the epitome of the Cunard experience, where you can enjoy personal service and abundant space to relax in your exclusive suite, private lounge and beautiful terraces.  Meanwhile, the finest food and wines make your every meals something extra special to savour in the Grill restaurants, where only the very best will do.
Included in your Princess Grill Suite cruise fare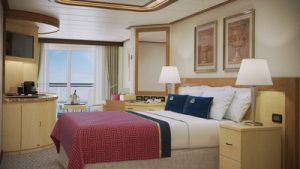 – Priority embarkation
– Chilled welcome aboard champagne
– Daily fresh fruit and flowers
– Exclusive access to the Grills Lounge and Terrace
– Exclusive Grills afternoon tea
– Exclusive Grills dining and restaurant
– Pillow concierge menu
Additional inclusions in your Queens Grill Suite cruise fare
– Personal butler
– Complimentary in-suite bar (stocked with two botthel of wine or spirits of your choice and soft drinks
Latest Cunard deals
Enjoy oodles of shipboard credit* on a selection of 2019 and 2020 with Cunard's Our Gift To You sale.  Ens 30 June.
Enjoy exclusive discounts* when you book with Cruise Guru. Take advantage of bonus shipboard credit* on select sailings.
View Cunard World Cruises.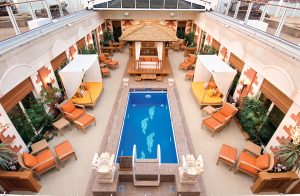 Hidden away at the top of the ship is The Haven by Norwegian.  This exclusive enclave is home to the most luxurious, well-appointed and spacious accommodations on the ship featuring exclusive keycard access to The Haven complex.  Not only will you have access to all the ship has to offer, but you'll also have priority access and invitations to private events as well as complete privacy and tranquility in The Haven courtyard and pool, reserved exclusively for guests of The Haven. Plus, on select ships you can enjoy fine dining in The Haven Restaurant and cocktails in The Haven Lounge.  It's like having your own ship within a ship.
Included in your cruise fare:
– Priority treatment for embarkation, disembarkation, boarding of tenders, onboard entertainment and dining
– Personal concierge service
– 24 hour butler
– A complimentary bottle of champagne or sparkling wine in your stateroom
– Invitations to private events
– Exclusive access to The Haven Courtyard and pool
– Complimentary limousine service from pier to airport (for Garden Villa guests)
Latest Norwegian deals
FREE AT SEA
Book a Haven Suite on the Free at Sea sale and receive included drinks*, a dining package*, wifi package* and shore excursion credit*. View International Free at Sea Sale.
Not interested in all the extras?  Book on the Sailaway Sale for a fantastic discounted rate which does not include any onboard extras*.
$10pp deposits* when you book a cruise departing after 10 November 19 by 30 June 19. View $10pp deposit cruises.
*Terms and conditions apply. Correct as at November 2018. While every effort has been made to ensure this information is as accurate as possible, it is to be used as a guide only, is subject to change.