Pacific Princess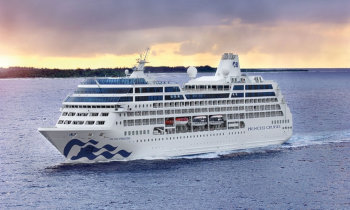 148
Starting Price, Per Night*
Pacific Princess Cruises
Explore the islands of the South Pacific as she makes her way from Los Angeles to Sydney, and then on to Cape Town. Don't miss out on Pacific Princess' season in Alaska, operating a series of one way 7-night cruises between Whittier and Vancouver.
There's a certain romance to sailing on a small ship like Pacific Princess which offers a refined elegance yet with many of the wonderful amenities found on larger ships. With a smaller group of guests on board, you'll enjoy the camaraderie among fellow guests who share your passion for travel and visit unique ports that only smaller ships have access to.
Activities
On every Princess ship, you'll find so many ways to play, day or night. Explore The Shops of Princess, celebrate cultures at our Festivals of the World or learn a new talent – our onboard activities will keep you engaged every moment of your cruise vacation.
Discovery at SEA Programs
Our exclusive partnership with Discovery Communications lets you come back captivated with Stargazing on our top deck; activities featuring DiscoveryTM hit shows such as Shark Week and Finding Bigfoot; plus our new Encounters with Discovery at SEA speaker series. Get more out of your travels with shore excursions recommended by two of the most trusted names in world travel-Discovery and Animal Planet.
Festivals of the World
There's nothing like a Princess party to bring people together. Our Festivals of the World hosts onboard events that celebrate timeless traditions from nearly every corner of the globe.* Parties and dancing, lively music and folkloric performances, enriching activities, themed movies and specialty shopping are just some of the ways our Festivals of the World come to life! From Oktoberfest to Rio's Carnival, Festivals of the World is a gala event you won't want to miss.
The Shops of Princess
It's no surprise The Shops are awarded "Best Onboard Shopping" from Porthole magazine year after year. On board, you'll find a fabulous range of fine merchandise from brands like Swarovski, Chanel, Estee Lauder, Clinique, Lancome, Calvin Klein, Citizen and Tissot, plus local crafts, keepsakes and souvenirs. And everyday tax- and duty-free savings can add up to as much as 30% off suggested U.S. retail prices.
Photo & Video Gallery
Our staff of digital photographers and videographers helps capture the highlights of your cruise including onboard events, ports and scenery for lasting memories of your trip. Our studio locations are set up in the Atrium each evening and all formal and casual portraits are on display in the gallery the following day. Please ask our staff about portrait packages, reprints and canvas reproductions of your favorite photos!
Afternoon Tea
Afternoon tea is a treasured tradition whether it's a special occasion, an intimate moment for two, a mother-daughter tea party or just quiet time for reflection. Enjoy a wide selection of teas, or coffee if you prefer, served by white-gloved waiters in formal attire. The setting is an elegant dining room, with tables crowned with sparkling samovars and a delicious array of tasty treats: freshly prepared finger sandwiches, cookies and cakes.
The Library
And in those moments when you want need to a little quiet corner all to yourself to read the latest best seller or learn a little about your next port of call, be sure to stop in the inviting world of our Library, head to the library where you can find up to 2,000 books, many specifically tailored to your itinerary. Want to feel the sun on your face? Then check out a book and stretch out on a deck with a good read and watch the clouds go by.
Freshwater Pools & Hot Tubs
Take a dip in our sparkling freshwater pools and leave your everyday world behind. Unwind on a padded lounger and soak up the sun, catch up on reading, listen to music or dream of your next adventure on board or ashore. And what better way to relax and revitalize after a day exploring the world than a long soak in one of our whirling hot tubs. And don't forget, there is always a server nearby to bring you a refreshing cocktail or favorite beverage.
Golf Practice Cage
Whether you're a die-hard golfer looking to shave off a few strokes and lower your handicap or you're new to the game, our golf cage is the perfect place to master the sport of golf.
Internet Cafe & Library
Our Internet Cafe is filled with computers so it's easy to access your mail account or browse the Internet for world news, sports and stock trading. Or bring your own electronic devices and access the Internet through our improved onboard wireless service. The Internet Cafe is open 24 hours a day. For those looking to absorb more traditional media, our onboard library is fully stocked with up to 2,000 books, many specifically tailored to your itinerary as well as the classics and best sellers.
Entertainment
Original musicals, dazzling magic shows, feature films, top comedians and nightclubs that get your feet movin' and groovin'. There's something happening around every corner; luckily, you have a whole cruise of days and nights to experience it all.
Musical Revues
We bring talented performers from Las Vegas to Broadway and even London's West End to entertain guests with colorful musical revues, blending popular tunes and lively dance routines.
Music & Dancing
When it comes to music and dancing we've got everything that your musical palette may desire. Whether it's tapping your toes to cover bands, singing along in the piano bar, relaxing to classical strings or dancing the night away in the nightclub, you'll be satisfied!
Vegas Style Casino
From gaming lessons to the latest slot machines to prize tournaments, our Casinos offer fun and excitement. If you enjoy blackjack, or "21," our tables play by Vegas rules and if you relish the challenge of roulette, we offer the American version. Our craps tables also let you take your best shot at becoming a high roller. Want to try Texas Hold 'Em? Our PokerPro table shuffles, deals, splits pots and generates side pots instantly.
Featured Guest Entertainers
Grab a seat, order a cocktail and be prepared to be entertained by our lineup of world class entertainers. From magic to comedy, singers to instrumentalists, jugglers to balancing acts and much, much more, we search the globe for top talent to be featured on our ships. So get ready to be amazed, entertained, mesmerized or just laugh the night away!
Cabaret Lounge
Part dazzling stage productions and part dance club, the Cabaret Lounge is 100% fun and entertaining. Designed with great acoustics, the lounge showcases talented performers, amazing Broadway-style shows, hilarious comedy acts and more. And the large dance floor, bar and stage adds to the endless entertainment. After a day of energetic sightseeing ashore or an engaging activity on board, relax with a drink or get up and dance.
Pacific Lounge
Throw on a Hawaiian shirt, put a flower in your hair and ease into the Pacific Lounge for a memorable evening. Murals of tropical flowers adorn the walls and low lighting sets the mood. Rum is a beloved spirit of the islands and featured in such cocktails as pina coladas and mai tais. Rum not your cup of tea? Discover the creations that have earned a place on our Top 10 list of tantalizing favorites.
Onboard Experience
Throughout your cruise, whether you love activity or crave tranquility, Princess offers everything you could need for a relaxing, rejuvenating retreat, including a wide variety of freshly prepared cuisine and innovative experiences all designed to help you escape completely.
Dining
Indulge your appetite whenever you wish on board Princess. Every hour, our chefs are busy baking, grilling and sauteing great-tasting fare from scratch. Princess offers unparalleled inclusive dining options throughout the ship with a wide range of culinary delights to suit any palate, from endless buffet choice to gourmet pizza, frosty treats, decadent desserts and much more.
Traditional Dining
Harkening back to the Golden Era of sea travel, our Traditional Dining option allows you to dine at the same time each day and enjoy the same tablemates and waitstaff throughout your voyage. Choose from either early or late seating.
Crafted By Curtis Stone
In the Main Dining Room, savor fresh new cuisine designed by award-winning Chef Curtis Stone during every voyage. Personal reflections on the menu by Chef Stone elaborate on each "Crafted" selection, prepared with the most authentic ingredients. Be enticed by dishes featuring delicious meats and seafood, fresh produce and vibrant, bold flavors.
Chocolate Journeys
There are few foods that inspire as much passion as chocolate, and master chocolatier Norman Love has designed some of the most decadent, hand-crafted treats exclusively for Princess' Chocolate Journeys program. Trained in France, and named the Inaugural Inductee into the Chocolatier Hall of Fame by Dessert Professional Magazine, Chef Love combined premium quality chocolate with unique flavors and artful designs to mastermind his exclusive creations found in the main dining room and at Horizon Court.
La Patisserie
For cappuccino, espresso and other coffee specialties, as well as fresh pastries throughout the day, head to La Patisserie for quick treats in a comfortable, casual sidewalk cafe-style setting. Savor a buttery croissant or your favorite cookie while sipping on an aromatic coffees. For something a little stronger, specialty drinks, wine, and beer are available at current menu prices.
Pizzeria
It's the "Best Pizza at Sea" says USA TODAY and we couldn't agree more. Harkening back to our Italian heritage, our Neapolitan-style pizza is hand-tossed and freshly baked right on deck. From traditional favorites like margherita and pepperoni to the daily specials, you'll find it nearly impossible to pass by without grabbing a slice – or two.
Trident Grill
Follow your nose to the Trident Grill where the burgers are flipping and the hotdogs roasting, served with a variety of fixin's and crisp fries. Veggie burgers, bratwurst and grilled chicken breast are also served and all are sure to hit the spot when you are relaxing out on deck.
Panorama Buffet
A tantalizing selection of favorites await on Pacific Princess' Panorama Buffet. Wake up to all your breakfast favorites from fresh eggs, bacon and sausage to cereal and fresh fruit. At lunch and dinner, the buffet selections include a carving station, hot entrees, salads, veggie selections, and desserts. For late night cravings, the Panorama Buffet becomes a Bistro, and serves an array of sandwiches and snacks.
24-hr Room Service
We offer 24-hour complimentary room service when you want to enjoy a quiet moment in your cabin eating a delicious club sandwich or maybe that slice of chocolate fudge cake you can't forget. Treat yourself to breakfast in bed, or stay in for an intimate dinner, and perhaps even cocktails, in the comfort of your stateroom. 24-hour room service is just a phone call away.
Specialty Restaurants
Dining on board a Princess cruise ship is a joyful celebration and our specialty restaurants always deliver an extraordinary experience. They are among the best at sea – or anywhere. We serve dishes made with the freshest ingredients, and our menus reflect regional flavors from around the world. You'll find our specialty restaurants are the perfect place to celebrate any occasion.
Sabatini's
Sterling Steakhouse
Chef's Table Experience
Facts
Passenger Capacity: 672
Gross Tons: 30,277
Entered Service: 1999
Last Refurbished: January 2010
Christener: Gabi Hollows (founding director of Fred Hollows Foundation)
Number of Crew: 375
Registry: Bermuda
Length (ft.): 592
Number of Decks: 11
Guest Cabins: 338
Wheelchair Accessible Cabins: 5
Pools: 1
Whirlpool Spas: 2
Lifeboats: 2 lifeboats, 4 tenders, 2 rescue boats
Builder: Chantiers de l'Atlantique, St. Nazaire, France