Latest News
U River Cruises, formerly known as U by Uniworld, is a new take on experiential travel for guests who have a passion for exploring and a taste for authentic adventures. With ships that double as a social club, daily options of excursions and events, and a relaxed, do-it-in-your-own-time atmosphere, U River Cruises has given river cruising a modern makeover.
U River Cruises is excited to announce The B will be moving to Central Europe for the 2020 cruising season and will offer brand new itineraries in central Europe.  She will be operating from Brussels to Amsterdam and Amsterdam to Frankfurt.  Sailing dates are yet to be released, but watch this space to be one of the first onboard one of The B's new itineraries.
U River Cruises in Europe
The A is U River Cruises' resident ship for eastern Europe river cruising, with itineraries that visit The Netherlands, Germany, Australia, Slovakia and Hungary.  Operating exclusively 7 night/8 day cruises, The A has cruises on both the Rhine and the Danube.  On the Rhine River take the journey 'Rolling on the Rhine' between Amsterdam and Frankfurt (or vice versa) stopping at Haarlen, Cologne, Bonn and Koblenz.  You have two options if you're looking to cruise the Danube River – discover 'Germany's Finest' with a cruise through the Bavarian region of Germany, or 'Danube Flow'  which travels between Regensburg and Budapest.
Don't forget to look out for The A's Christmas market cruises.  Over November and December, one of her itineraries gets infused with Christmas magic, taking you to some of the best and brightest Christmas markets in Europe.  Look for the 'Dashing through the Danube' itinerary from Budapest to Regensburg (or vice versa) for a truly magical Christmas experience.
Cruising down France's Siene River is The B.  Her chic style and Parisian influence will put you in the French spirit before even stepping off the ship.   Cruising round trip from Paris over 7 nights, U River Cruises' 'Northern France at a Glance' cruise gives you the opportunity to witness the palace of Versailles' extraordinary gardens, the infamous beaches of Normandy or even the pond and gardens that were the direct inspiration for Monet's work.
Included in your fare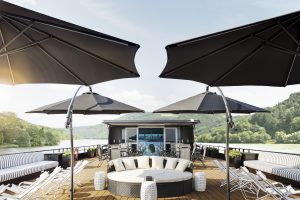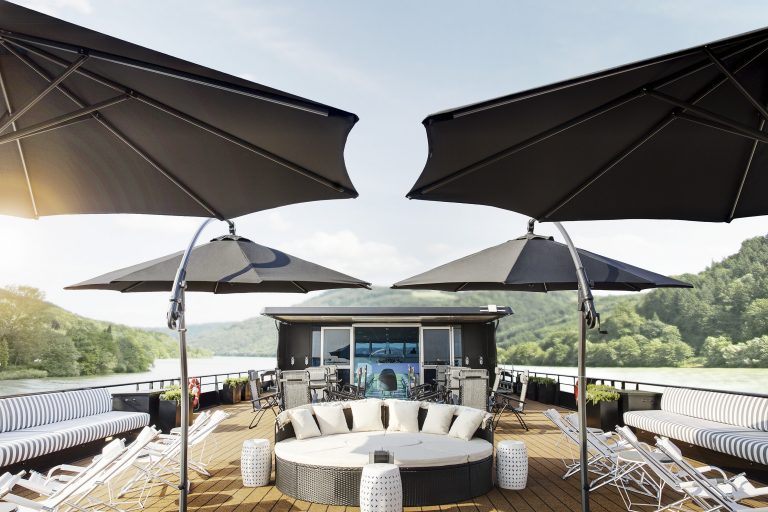 Two meals onboard per day, usually brunch and dinner, as most guests will be out and about during the day
Select non-alcoholic drinks such as complimentary water, coffee and tea all day long as well as complimentary juice during breakfast
Select shore excursions – one per day, specially tailored for U guests
All gratuities for onboard and shore excursions are included
Onboard entertainment and select activities including the Local DJ Night and Welcome Party
Complimentary use of U Bikes (limited availability)
Complimentary Yoga and TRX classes through the fitness centre
Complimentary Wi-Fi throughout the ship