Carnival Glory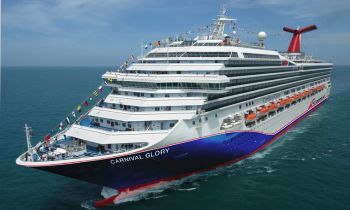 92
Starting Price, Per Night*
Carnival Glory Cruises
If you're looking for a vacation at sea that's as colorful as the decor of the cruise ship taking you there, an entire palette of fun activities and hot spots awaits aboard Carnival Glory. For starters, there's a rainbow of salsa options for dressing up your tacos and burritos at BlueIguana Cantina, while Guy's Burger Joint serves up burgers designed by the colorful personality himself: celebrity chef Guy Fieri.
Speaking of colorful personalities, you'll enjoy a variety of stand-up comedians at The Punchliner Comedy Club. Picture yourself grabbing a drink at the open-air RedFrog Rum Bar or BlueIguana Tequila Bar… whichever color or spirit's more your style. Represent your favorite team's colors and enjoy a round or two at the SkyBox Sports Bar. Enjoy a show on the stage at Playlist Productions, complete with singing and dancing, plus video screens that bring these productions an extra splash of color. Speaking of splash, at WaterWorks the fun flows down the winding curves of the classic Twister and all-new AquaTunnel waterslide – plus twin racing slides and a giant tipping bucket – for countless gallons of fun. And if a picture paints a thousand words, imagine the millions flying off the big screen during a film under the stars at Dive-In Movies. Yes, it's Hollywood meets islands for a date night done right.
We're not just viewing this ship with rose-colored lenses, either – it's clear that the fun, eye-catching experiences all around you are the real deal… even the fantasy world of Seuss At Sea, where your favorite books (and characters!) come to life before your eyes. And from the people-watching potential of the Lido Deck, to the see-and-be-seen White Heat Dance Club, Carnival Glory pulls out the stops. It even shows its true colors as it satisfies your stomach with sit-down dining options like the Emerald Room Steakhouse and the aptly-named Golden and Platinum Restaurants. And wait 'till you see the Camel Club Casino – proof that Carnival Glory is a real looker and a truly special cruise ship.
Look to Carnival Glory for one vibrant time at sea.
See our other options for Carnival cruises.
Activities
Hasbro, The Game Show
You've played Connect 4 and Yahtzee, but have you ever played giant versions of them onstage in a competition that puts your gaming skills to the test? You'll have your chance when you take part in Hasbro, The Game Show. From SORRY! SLIDERS to YAHTZEE BOWLING, CONNECT 4 BASKETBALL, OPERATION SAM DUNK and SIMON FLASH, you can team up with your friends and family to win great prizes, all in front of a live audience. Be sure to check your FunTimes for show times so you don't miss out on the action… or the prizes.
The Punchliner Comedy Club
Comedy clubs on land… well, it's kinda funny. Nobody likes paying cover charges, and you know that two-drink minimum? They've gotta be joking! You won't find either of these at The Punchliner Comedy Club aboard your Carnival cruise. Up on stage you will find some real pros who know how to wedge a little laughter into anyone's evening. You can count on these comedians to not hold back either. Since some of them get up and say exactly what's on their mind, we also schedule family-friendly performances… so the only red faces in the audience are from laughing a little too hard.
Serenity Adult Only Retreat
Somebody at Carnival knows just what you need, and it's pretty much exactly the Serenity Adult-Only Retreat. Look, you'll still be on the same ship as the kids, the hoopla, and all the Carnival-style excitement… but you could easily forget, because when you're at Serenity you could not be further from it all. The world you'll find yourself in is one of complete peace, sea breezes, swaying hammocks and, of course, a nearby bar. It's the place to get done the kind of stuff you just can't seem to do anywhere else – reconnect with your partner, finish that book, or do absolutely, blissfully, nothing at all.
Art Exhibitions
Even if you do not know much about art, of course you can still tell when you like something who needs a refined palette to know when a piece is good? Carnival leaves snobbish cultural pretensions ashore, and makes art something that everyone can enjoy with a series of events designed to bring great art where it belongs to the people. Take part in an art-themed battle of the sexes or check out showcases highlighting the best of, say, European artists or world-famous pop artist Peter Max. You cannot get any closer to great art without buying it.
Playlist Productions
When was the last time you got up and danced at the theater? Playlist Productions takes tunes you know and presents them like you have never experienced before past favorites become full-blown musical productions featuring singers and dancers bringing down the house. Enjoy the spicy sounds of Latin Nights, or the larger-than-life favorites (and personalities) of Divas. Don't forget Motor City which will have you dancing in your seat or even The Brits!, a swingin' revue of your across-the-pond favourites. Enter the center of groove with the passionate Heart of Soul. Rounding out the lineup is the anything-but-square Getaway Island, the arena-shaking sounds of Epic Rock, the piano-pounding 88 Keys, the totally bad-meaning-good 80s Pop to the Max, plus the funky, sophisticated… and not at all exclusive Studio VIP, where everyone is welcome to come and get down!
Dive-In Movies
Ready to see stars? Park yourself in front of the big screen – the really big screen – and settle in for a night at the cinema… under some real stars. From the comfort of your poolside lounge chair, or even the pool itself, you'll enjoy the most recent blockbuster movies from categories like Comedy, Action & Adventure and Date Night. And don't think that being in the middle of the sea means going without the usual comforts. There's not only popcorn – who could forget that? – but blankets! So lounge around, snuggle up and try to remember the last time you truly enjoyed a night at the movies.
Dining
Dining Room
"Hey, which side does the fork go on?" is a question you'll never have to ask at a dining room dinner aboard a Carnival cruise… we set the table for you. We also bring to the table a full three courses in an experience that's filling, but never stuffy – after all, you're just as likely to catch waiters table-dancing as you are to order dessert. Dessert's included (along with the rest of your meal, by the way) in your fare. But don't skip straight to dessert, because the main course is the main attraction – drop in daily and enjoy a rotating menu of delectable favorites like steak, roasted duck, scallops and prime rib.
BlueIguana Cantina
Nobody knows Mexican dining like a blue iguana. Well, our blue iguana, at least. That's why it should come as no surprise that the BlueIguana Cantina features freshly made tacos and burritos stuffed specially for your enjoyment. Throw our homemade tortillas and salsa into the mix, and you have a casual dining experience that will make you say "mmmm" (which is actually Iguanese for "more, please").
Guy's Burger Joint
We went looking for someone to help us grill up the best burgers at sea, and we found just the guy. Carnival has teamed up with best-selling author, restaurateur and Food Network personality Guy Fieri to bring all the authentic appeal of a roadside burger shack to Guys Burger Joint, the cool poolside spot for hot burgers and hand-cut fries. Try a fresh-off-the-grill burger Guys way, or take it off-road to our toppings bar and truly make it your own.
Lido Restaurant
Featuring a nice variety of casual dining options like Mongolian Wok, Chef's Choice, Salad Bar, Carnival Deli and more, the Lido Restaurant has something – or more likely, at least a few somethings – to satisfy your craving. With plenty of indoor and outdoor seating, plus food options for everyone, you can enjoy your personal favorites in company of family and friends for lunch or dinner… or even breakfast! It's also where you can find our pizza, soft serve and frozen yogurt – all open 24 hours a day, which ought to be enough for anybody.
Pizza Pirate
Tossing dough is an age-old art passed down the generations. Lucky for you, someone passed us the secret to the perfect pie. While aboard, this is the place that will shiver your timbers and warm you to the bone, 24 hours a day, with a Margherita, Funghi, Prosciutto, Pepperoni or Quatttro Formaggi pizza served with a delicious Caesar salad. Savvy? Then it is the pirates life for you!
Swirls
Got room for dessert? Sure you do! Swirls ice cream lets you enjoy the sweeter side of brain freeze with a treat that'll have you smiling from ear to ear. Choose from chocolate, vanilla or strawberry… or make your own mix swirled as high as you can balance it. Open on Lido deck 24/7, our frozen yogurt and soft-serve ice cream is a great way to beat the heat all day, or the perfect nightcap after a long evening of fun.
Kids' Menus
Our kids' menus, available at most onboard dining venues, feature foods that are delicious enough – and fun enough – to satisfy even the pickiest of eaters. We've got all the familiar options they love from home, like spaghetti and meatballs, chicken nuggets, hot dogs, mac-n-cheese, peanut butter and jelly sandwiches and – yes mom – fresh fruit and veggies. They should save room for dessert, though, because with sweet stuff like banana splits and chocolate brownies, your young'uns are going to be pretty excited. There's even 24-hour pizza and ice cream but these are subject to bed-time, of course.
Ship Highlights
Serenity Adult-Only Retreat!
Chill out in this kid-free oasis that's the hub of relaxation. Take in the ocean view, hop in the hot tub, or kick back and chat with friends.
Twist & Shout
Slide and glide on the Twister Waterslide. It's three decks high of twisting and turning water mania – Perfect for splashin' and playin' at any age.
Camp Carnival
It's designed with cruisers ages 2-11 years old in mind. They're supervised by an experienced team and having just as much fun as you are… maybe even more.
A Circle of Friends
One of the coolest spots on board is Circle "C" and it's just for kids 12-14… Video games, dance parties, late night movies, Karaoke and more. What could be more fun?
Club O2
The place to be for teens 15-17. They can enjoy their own cool parties, movies and shore excursions.
Black & White Library
Catch up on your reading; write family and friends back home; or stimulate your brain with word or board games, puzzles and more in the Black & White Library.
See a Show
Amber Palace (Main Show Lounge) – Sit back and enjoy the performance, where every night is an extravaganza.
The Emerald Room Steakhouse
The Emerald Room Steakhouse includes gourmet delicacies and mouth-watering favorites everyone will love.
For Your Dining Pleasure
Treasure your meal. Enjoy an elegant, delectable and undeniably delicious dining experience in the Golden or Platinum Restaurants.
Casual Dining
Red Sail (Lido Restaurant) – Stroll around the buffet and explore many international cuisines and made-to-order options.
Sushi Time
We've got your fish fix too, right here ready and waiting. Stop by the Sushi Salmon Bar on the Promenade deck and choose from a variety of fish so fresh, we couldn't bare to cook it.
Take a Gamble
Feeling lucky? Try your hand at poker, blackjack, roulette, craps and more – Just a sampling of the games the Camel Club Casino has in store.
Get Your Groove On
Dance. Dance. Dance. The party is in full swing at the White Heat dance club. Show off your moves and make new friends in the process.
Coffee Anyone?
Take a break from all the fun you're having and grab a cup o' joe at Creams Cafe. It's located on the Promenade deck and the specialties include tasty coffees and sweets.
City Sports Park
It's all in fun on the Sun deck. Have a swinging good time at the 9-hole mini golf course, take a quick jog around our padded jogging track, play Ping Pong, volleyball, Shuffle Board or shoot some hoops.
Let's Spa
Pamper yourself with soothing treatments and massages, try a new hairstyle and color, and treat your husband to the ultimate shampoo and shave. Ahhhh… Spa Carnival.
Shop Happy
You'll find the perfect "Fun Ship" gifts for friends, family or yourself at the shops of Carnival Glory located on the Promenade deck – Everything from t-shirts to high-end timepieces, trinkets to your favorite spirits (duty-free).
Picture Perfect
Our photo gallery is located on the Atlantic deck and loaded with some of your best moments. Pick your favorites; then take home your fondest and most fun memories.
Biggest Screen You've Ever Seen!
Watch movies, concerts, news, sporting events, and even watch others shake their "groove thing" on Carnival's Seaside Theatre. It's a 12'x22′ jumbo-sized LED screen with a crystal-clear picture and a 70,000-watt, easy-to-hear sound system.
Life is Suite!
Fall in love with your swanky suite as you sleep like a baby in your Carnival Comfort bed.
Facts
Onboard Crew:1,150
Gross Tons: 110,000
Length (ft.): 952
Guest Capacity: 2,980