Starting Price, Per Night*
Adventure to marvellous worldwide destinations with MSC Cruises
Jam-packed with excitement and action, MSC Cruises are a fun and affordable way to sail the seas. Offering sailings that embark on adventures across the entire globe, MSC will undoubtedly have an itinerary perfect for you and your friends. Whether you wish to sun-bathe along the golden beaches of the Caribbean, discover the unending beauty of Europe, or encounter the extraordinary in Asia, MSC cruises can take you there.
MSC is more than just its destinations, with a brilliant fleet of modern ships designed to ensure you remain comfortable for your entire journey, the cruise line promises relaxation and fun no matter where you are. Accommodation on MSC cruise ships are cosy, providing all the amenities you need for a relaxing trip. Dining is also plentiful, with options boasting menus that you can't help but order again. Entertainment is bombastic and loud, with productions and experiences that you will never forget. Plan your next journey with an MSC cruise at the lowest prices by booking here at Cruise Guru today.
From magnificent jaunts into the Mediterranean on MSC cruises 2024 or stress-relieving MSC cruises 2025 to the Caribbean, we'll definitely have a selection of sailings that we're sure you'll love. Plus, with exclusive deals and prices on offer all year, now has never been a better time to book!
MSC Cruises Destinations
MSC Cruises in Australia and New Zealand
While not often, MSC cruises have on occasion World Cruises that occasionally visit Australia and New Zealand. Visiting ports of call including Sydney, Cairns, Auckland, and more, be sure to check out these world voyages before they sell out! If you prefer to sail on shorter sailings, MSC cruises also have a small selection of World Cruise segments that might be perfect for you.
Europe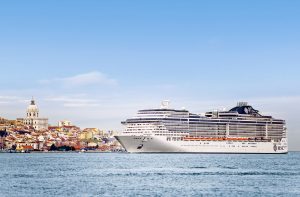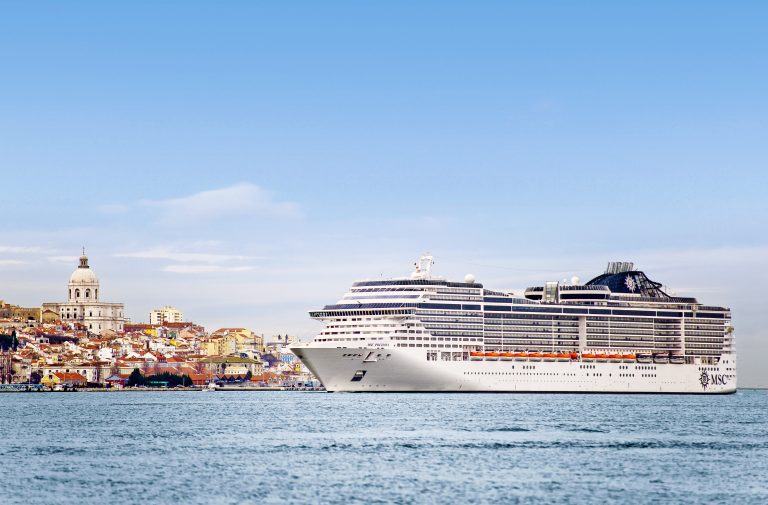 MSC Cruises is a leader in the Mediterranean cruise market and boasts the most modern fleet at sea, but with 60% of their ships offering over one and half thousand Mediterranean cruises, where do you start? From Italy, MSC cruises has departures from Rome varying from one to three weeks in duration and visiting France, Spain, Italy and more. Alternatively, MSC cruises from Venice boast a huge number of seven night round trip itineraries encompassing Greece and Croatia as well as some shorter breaks and longer escapes.  MSC also offers many other cruising options from Italy with cruises from Genoa, Cagliari (Sardinia), cruises from Bari, Ancona and cruises from Naples.
Elsewhere in Europe, you will find over two hundred MSC cruises departing from Barcelona as well as cruises from Marseille. MSC Cruises also provides plenty of cruising options for Northern Europe and the Baltic Sea from March through to October, with regular departures from Copenhagen, Warnemunde (for Berlin), Kiel and Hamburg.
Need assistance with your European itinerary? Visit our Mediterranean cruises page or Northern Europe cruises page for great advice and itinerary ideas. Alternatively, visit Cruise Finder to explore all MSC Cruises or simply contact us.
Asia and the Middle East
Flying to Europe via the Middle East? Incorporate a stopover with a choice of round trip cruises from Dubai and Abu Dhabi.
Caribbean
MSC Cruises operate year-round itineraries in the Caribbean.  But with over 500 departures to choose from, where do you start?  The easiest port to access for international cruisers, with the largest number of MSC cruises to the Caribbean on offer, is Miami in Florida.  From Miami, there are the largest number of 7 night cruises on offer (which can be broken into eastern or western Caribbean itineraries), however, if you're looking for a longer Caribbean adventure from Miami then opt for one of their longer cruises.  Pick from 8 to 13 nights, 14 nights, or longer cruises up to 3 weeks.  MSC Cruises also have a number of Caribbean cruising options departing from more obscure ports of call.  Cruise from Fort-de-France in Martinique or Pointe-a-Pitre in Guadelope.
South America
During the warmer summer months of November to March, MSC Cruises has a number of itineraries exploring South America.  Explore the eastern coast of the continent including Brazil, Argentina and Uruguay with departures from cruises from Sao Paulo, Rio de Janeiro and Buenos Aires.
Why book with MSC Cruises
Non-stop fun and excitement
MSC has gone above and beyond to create a fun-filled and exciting cruise experience, from the moment you arrive till the time you leave. From destination themed events taking place every day, electrifying theatre productions and shows, to recreational activities that are fun for the entire family, MSC have you covered for the whole trip. Plus, the fun continues when the sun goes down, with a host of lively nightclubs and inviting bars sure to pique the interest of any adult traveller.
Fantastic food
No matter which dining venue you decide to visit, MSC cruises will offer an enticing menu filled with delightful treats and mouth-watering meals. With their trained international chefs boasting decades of experience creating every dish, you can order any item knowing that it is being made by the absolute best in the sea. Plus, with special diets and menus for those with dietary requirements as well as room service (and pizza delivery!), every guest is taken care of on any MSC voyage.
Great for all ages (kids facilities)
Cruising isn't just for the adults, and MSC knows this! That's why they've created a whole host of riveting activities, shows, and experiences that the young ones can happily join in too. With family discos and sports tournaments, kids clubs where they make new friends, to family excursions tailored towards creating an amazing all-ages destination adventure, the fun doesn't stop with MSC. Moreover, with some of the best kids facilities onboard every ship, children will rarely feel bored or restless on any sailing with MSC.
MSC Cruises FAQ's
What are the MSC Cruises' ships?
Below is the entire MSC cruises fleet:
MSC Armonia
MSC Bellissima
MSC Divina
MSC Fantasia
MSC Grandiosa
MSC Lirica
MSC Magnifica
MSC Meraviglia
MSC Musica
MSC Opera
MSC Orchestra
MSC Poesia
MSC Preziosa
MSC Seascape
MSC Seashore
MSC Seaside
MSC Seaview
MSC Sinfonia
MSC Splendida
MSC Virtuosa
MSC World Europa
Can you bring water on MSC Cruises?
Unless there is a specific medical necessity, no beverages or food – including water – can be brought aboard any MSC cruises ship. This is done to help protect the health and safety of all passengers sailing with MSC cruises as unknown foods have the potential to bring onboard sickness.
Is food included on MSC Cruises?
Yes! Every MSC cruise has breakfast, lunch, and dinner included with your passenger fare. These come in the form of, at the very least, two free dining venues on all MSC ships, which is the buffet and main dining room. If you wish to try other specialty dining options that are available throughout the ship, these will come at an additional cost.
Cruise with Confidence through Cruise Insurance
We at Cruise Guru strongly recommend taking out some form of cruise insurance whenever you plan any seafaring holiday. Unforeseen circumstances or events could cause you or someone travelling with you to be unable to travel before or during your cruise. Cruise insurance can help protect and alleviate some of the sudden costs you might incur as a result. Sail with MSC Cruises the right way and set up cruise insurance before embarking on your next voyage.
Book your next MSC cruise today
Contact us immediately if you are ever in need of further assistance when booking any MSC cruise. We have an experienced team of cruise consultants available who will be able to guide you through every step of the process to book a perfect voyage at an affordable price. Simply dial 13 13 03 or alternatively fill out a call back form and our team will quickly get back to you.
Follow or like our Facebook, Twitter, or Instagram pages if you want to learn about the latest MSC cruise deals, offers, and packages as they happen. Bringing out thousands of sailings at the cheapest prices online, look no further than Cruise Guru when booking any seafaring holiday.
Need help? Call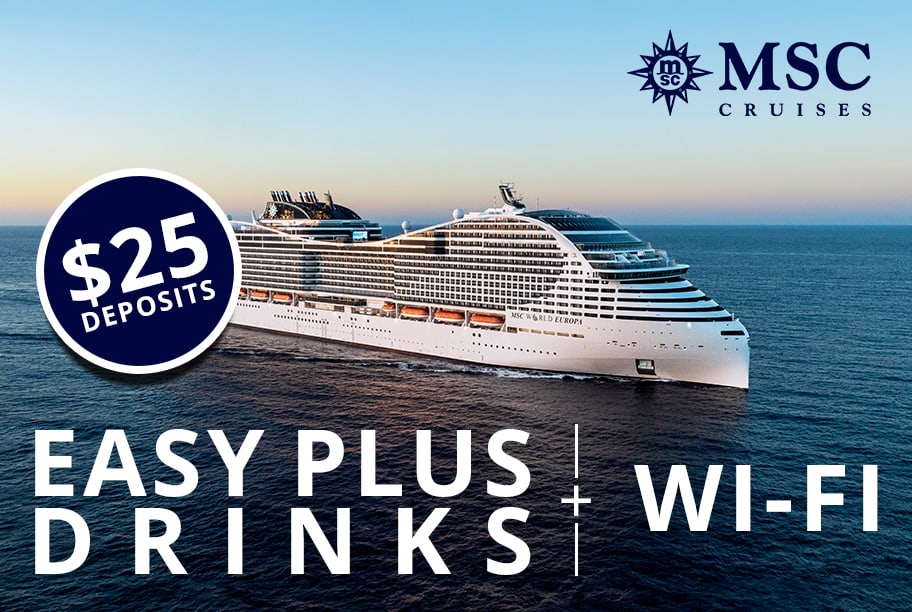 MEDITERRANEAN, CARIBBEAN & NORTHERN EUROPE
MSC are offering some great rates on 2024 and beyond cruises + $25 Deposits + Bonus Onboard Credit*
View Now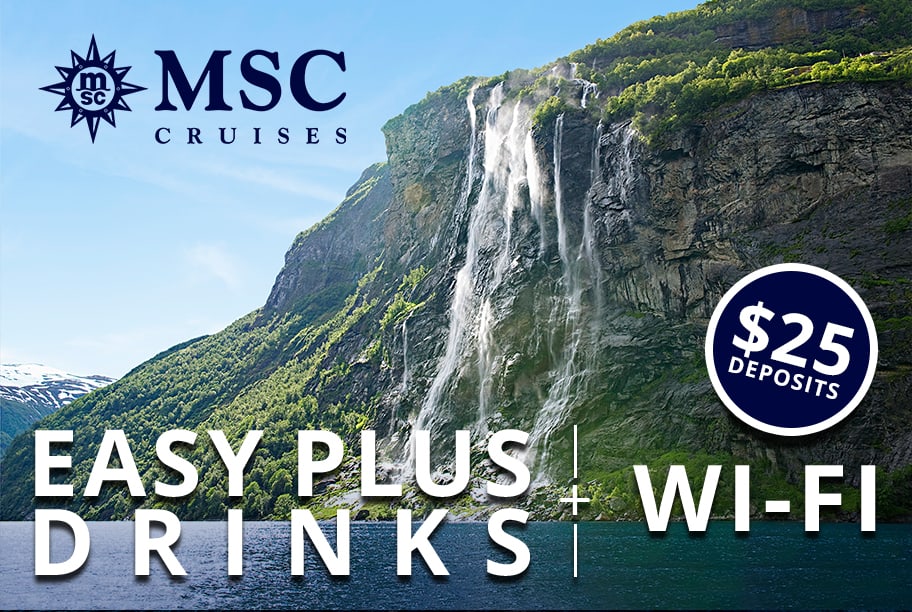 NORTHERN EUROPE
MSC are offering some great rates on 2024 and beyond cruises + $25 Deposits + Bonus Onboard Credit*
View Now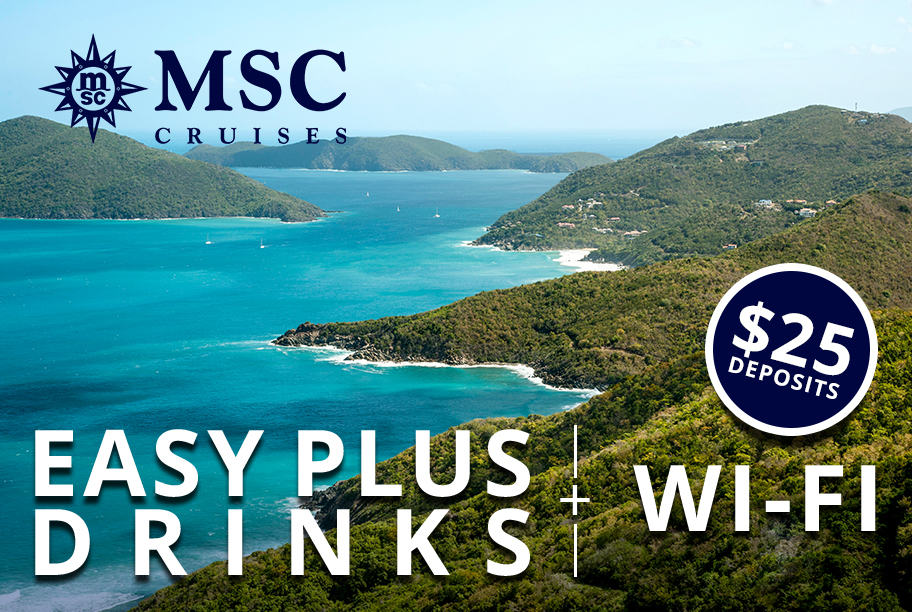 CARIBBEAN
MSC are offering some great rates on 2024 and beyond cruises + $25 Deposits + Bonus Onboard Credit*
View Now
Included when you book the Bella Experience
20-hours-a-day buffet catering to a range of diets
Varied program of Broadway-style theatre shows
Access to the pool area, open-air sports facilities and gym
A range of entertainment activities
PS3, XBox and Wii in the Kids Club
Additional inclusions when you book the Fantastica Experience
24 hour room service
Breakfast in your cabin
50% discount on fitness classes and personal trainer sessions
Priority in choice of dinner sitting
One complimentary picture for each guest, taken during the Mediterranean night at the Main Restaurants
Further inclusions when you book the Aurea Experience
Easy drinks package*
Wellbeing package including massage, tanning shower, spa welcome cocktail, private wellness consultation and access to thermal area (adults only)
Room diffuser
Relaxation amenities in each cabin
Access to exclusive sundecks
Priority boarding and luggage delivery on embarkation day
Free Time dining with My Choice dining style
*Inclusions are subject to change at any time.  Terms and conditions apply.