Starting Price, Per Night*
Encounter astounding delights with Oceania Cruises
Reignite your passion for travel with Oceania Cruises today! Offering a refined selection of meticulously crafted itineraries, sailing with Oceania is an experience every traveller has to do at least once. With a fleet of small, luxurious ships, including Regatta which has a number of cruises departing from Sydney, you'll never feel cramped or crowded at any point of your journey. Pack your bags and hop aboard an Oceania Cruise for your next holiday with Cruise Guru.
Enjoy the finest dining at sea, with a range of delectable restaurants and venues serving up culinary masterpieces whenever you please. The luxury continues through to your well-appointed staterooms, all of which have plenty of space and all the amenities you'll ever want for a relaxing cruise. Plus, with an expansive library of enriching activities aimed at teaching you new skills or educating you about the destination, intellectual adventurers will have an incredible time with Oceania Cruises. Check out the latest Oceania Cruise deals on offer from us today and book into your next extraordinary holiday now.
So whether you're looking for Oceania Cruises 2024 in Australia and New Zealand or if you're searching for Oceania Cruises 2025 around the world, we'll have what you need!
Oceania Cruises in Australia, New Zealand and the South Pacific
Locally, Oceania offers a truly refined, yet elegant travel experience with cruises from Sydney and Auckland in our warmer summer months, with extended itineraries through the South Pacific, New Zealand and into Asia.  While Oceania cruises ships only visit Australian shores very fleetingly each year, they do have a number of fantastic one way itineraries into and out of the country on offer.  You can cruise into Sydney from Bali or cruise from Sydney to Bali or Papeete.
While not from an Australian port of call, Oceania cruises have a number of itineraries that focus on French Polynesia and the South Pacific where you can cruise into, around, or from the picture-perfect Tahitian islands.  If you're wanting to focus exclusively on the French Polynesian islands, Oceania cruises have a number of itineraries round trip from Papeete.
Asia
Closer to home, Oceania cruises in Asia offer some truly extensive explorations with itineraries ranging between 14 to 35 nights.  These cruises visit some fantastic ports including those in Thailand, Vietnam, China and Japan, as well as some more obscure countries including Myanmar, India and Sri Lanka.
Europe
Oceania offers an extensive range of cruises through Europe.  Oceania cruises in the Mediterranean have departures from the popular Barcelona, Rome and Venice as well as Lisbon, Monte Carlo and Athens, while their cruises in Northern Europe set sail from Amsterdam, Copenhagen and Stockholm with a few Dublin, Oslo and Southampton departures thrown in mix.  These often very unique itineraries can take you to once-in-a-lifetime ports, including those in Iceland and the northern tip of Norway.
North America and the Caribbean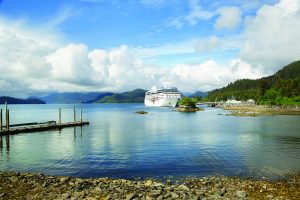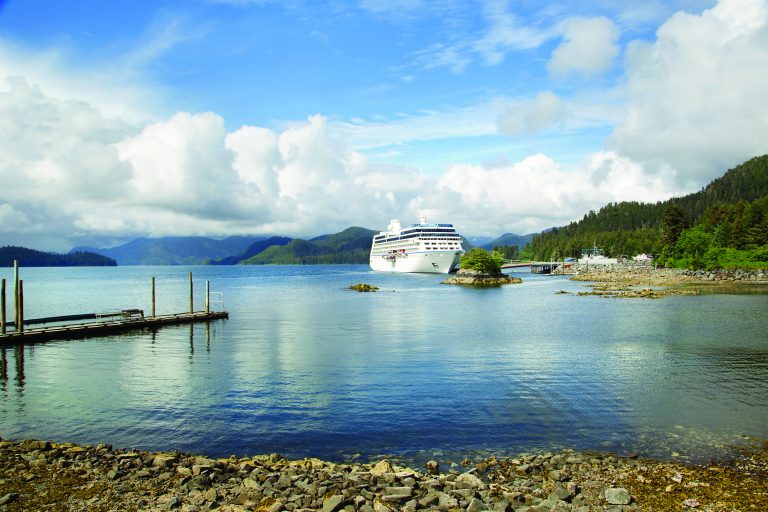 Departing from Seattle and Vancouver, Oceania cruises in Alaska have a large number of longer itineraries allowing its passengers to immerse themselves in the rugged Alaskan landscape.  Typically, Alaskan cruises tend to be 7 night voyages, however Oceania cruises also has a number of longer itineraries up to 2 weeks for those wanting an intensive Alaskan adventure.
Warm yourself up with an Oceania cruise in the Caribbean, with the majority of departures being from New York and Miami.  There are a number of shorter 7 night itineraries if you're time-poor and just need a bit of a Caribbean escape, however, the greatest number tend to be 10 to 12 nights.  If you're looking for something even longer still, voyages up to 3 weeks can see you exploring even more of the idyllic Caribbean islands.
South and Central America
Looking for Oceania cruises in South America? Experience the wondrous coastlines of the Chilean and Patagonian peninsula with departures from both the east and west coasts of the continent.
Tick the next item off your buck-list with an Oceania cruise in Panama Canal offering a central American and Caribbean adventure in one.
World Cruising
Oceania offers fantastic world voyages and world cruise segments. For expert advice from our most well-travelled and experienced cruise consultants, please contact us.
Why book with Oceania Cruises
Destination intensive itineraries!
Guests will be simply spoilt for choice when they try to decide where to sail with Oceania. Offering a remarkable selection of destinations from across the globe including Europe, the Americas, and Asia, you'll find your bucket-list being checked off faster than expected when sailing on an Oceania Cruise. Moreover, each voyage on Oceania Cruises is intensely focused around the destination, with each itinerary being paired with enriching on-ship activities teaching you about the region along with riveting shore excursions which will have you exploring every port like never before.
Luxurious small-ship travel
Every stunning Oceania Cruises ship has been designed with luxury in mind, boasting glamorous décor and an upmarket atmosphere from the minute you step onboard. Moreover, each ship creates a casually elegant cruise experience with classic onboard activities, and the smaller ship size encourages travellers to get to know one another. You will never feel pushed along or cramped with Oceania Cruises, with staff onboard readily available at all times to help you whenever you need.
Undeniably delicious dining
Oceania Cruises are dedicated to creating a dining experience that rivals even the best restaurants you'll visit on land. Referred to as 'the finest cuisine at sea', guests are promised an incredible culinary journey at every point of the voyage. With master chef Jacques Pepin as Executive Culinary Director in charge of selecting every dish on the menu, the cruise line is built on a strong foundation based on quality.
Oceania Cruises FAQ's
Who owns Oceania Cruise Line?
Oceania Cruises is entirely owned as a subsidiary by Norwegian Cruise Line Holdings (NCLH). Other subsidiaries of NCLH include Norwegian Cruise Line and Regent Seven Seas Cruises – an esteemed company if we do say so ourselves!
How do you pronounce Oceania Cruises?
Quite a common discussion amongst many Oceania travellers, there is no official correct pronunciation of Oceania Cruises. However, most onboard crew and staff pronounce it as:
Nevertheless, there are many travellers (and most first-time Oceania voyagers) who pronounce it as the word is spelt like this:
End of the day, there isn't really a right or wrong way to pronounce their name! This is very much a classic case of Tomato/ Tomato.
What are Oceania Cruises' Ships?
Oceania Cruise Line Ships include:
Insignia
Marina
Nautica
Regatta
Riviera
Sirena
Where can I find the best Oceania Cruises deals?
For the best Oceania Cruise Line deals online, head straight to Cruise Guru! Providing hundreds of Oceania Cruises at the lowest prices online, you'll find no better place to book your next dream holiday than with Cruise Guru.
Check out our Frequently Asked Questions after you book!
Once you've booked your Oceania cruise, you might have a couple of lingering questions as the date comes closer and closer. Do I need a passport? What should I pack for my cruise? What about my dietary requirements? Have no fear, as we answer all those queries and more in our Frequently Asked Questions. Planning your next holiday has never been easier than here at Cruise Guru.
Need help book with Oceania?
Contact Cruise Guru now and we will happily assist you in any way possible. We have a brilliant team of experienced cruise consultants who are readily available to help find and book any and all Oceania Cruises with ease. You can either call us by dialling 13 13 03 or by filling out a call back form for one of our cruise consultants to contact you at a later time.
Bringing thousands of followers the latest news and details on cruise deals, flash sales, and exclusive discounts, be sure to also check out our Facebook, Twitter, and Instagram pages. With thousands of sailings at the lowest prices online to destinations across the seas, choose Cruise Guru when you decide to book your next cruise.
Need help? Call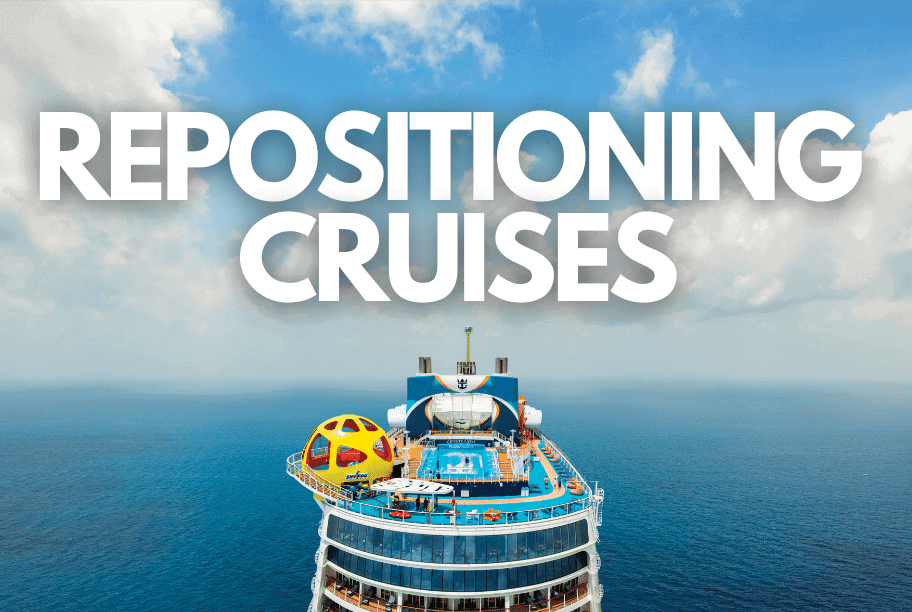 REPOSITIONING CRUISE DEALS
Offering unique itineraries between Australia and Asia, Hawaii, and mainland USA/Canada, these popular cruises have limited cabins and do sell fast!
View Now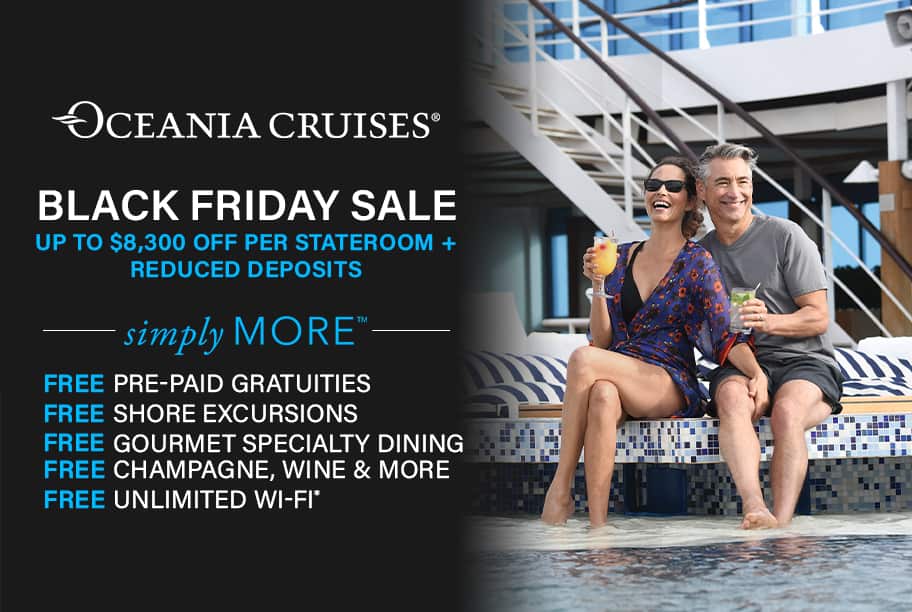 BLACK FRIDAY SALE
Select sailings on sale – save up to $8,300 per stateroom + free gratuities + free beverages + free specialty dining + free shore ex. + Wi-Fi*
View Now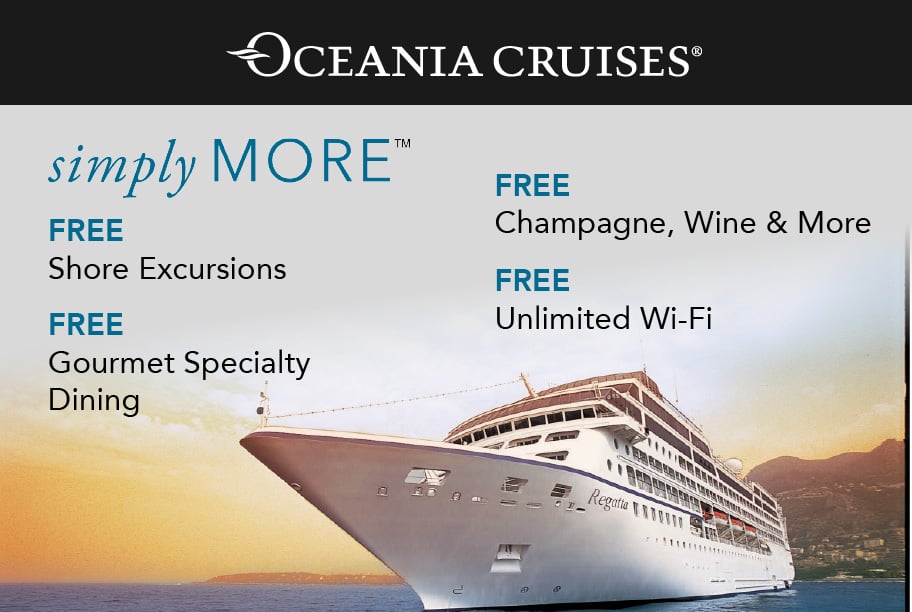 SIMPLY MORE WITH OCEANIA
Receive free gratuities, free beverages, free specialty dining, free shore excursions + free unlimited Wi-Fi with Oceania Cruises*.
View Now
Included in your Oceania cruise fare
Open seated dining
FREE Soft drinks and bottled water
FREE Specialty coffees and teas
FREE Internet
Professionally Designed Wine Tasting Center
In-port shuttle service
Butler service in Suites
Suite/Concierge Lounges
Booking with simplyMORE, you also receive:
FREE Pre-paid gratuities
FREE Shore excursions
FREE Champagne, wine, and more
FREE Gourmet specialty dining
FREE Unlimited Wi-Fi