Overview
Cruises
Info
Inclusions
Ships
Destination
Promotions
Latest news
Celebrity Cruises have announced yet another new ship, which will be the fifth in the renowned Edge-Class.  This ship is scheduled for delivery in 2024 while her Edge-Class sisters will be setting sail in 2020 (Celebrity Apex), 2021 and 2022.
Celebrity Cruises has announced that Celebrity Eclipse will join Celebrity Solstice for Australian summer season 2020/21. The 2,850-passenger ship Celebrity Eclipse will be the newest ever ship to homeport in Melbourne, Victoria. She is scheduled to arrive fresh from a multi-million dollar modernisation in December 2020 for her inaugural season down under. Cruises are available to book now including Australia, New Zealand and the South Pacific.
Best Deals
Celebrity Cruises' Early Bird Sale is here!  Looking for the cheapest available fare? Book on the Early Bird Sale fare and enjoy the best available rate on your cruise and bonus shipboard credit*.
Want even more onboard extras?  Then pay a little bit more on the Early Bird Sale – 2 Perks fare and enjoy 2 included perks*, bonus shipboard credit* and $25pp deposits on cruises departing after 17 June 20. Choose from US$150pp shipboard credit*, included wi-fi* or an additional US$150pp shipboard credit*.
If you want drinks included with your cruise pay a little extra and enjoy a classic beverage package* as your selected perk. Can't pick from all the perks?  Pay a bit extra again to enjoy All 4 Perks*!  Contact us to confirm pricing and book.
ALOHA AUSTRALIA FLY, STAY AND CRUISE PACKAGE – Get a taste of the South Pacific greats aboard Celebrity Solstice.  Cruise from Sydney to Hawaii via New Zealand and French Polynesia including US$150pp shipboard credit, PLUS enjoy 2 nights post-cruise accommodation and an economy flight from Honolulu to Sydney* from only $2,799 per person.
Looking for an extra discounted Celebrity deal?  Check out Celebrity and Cruise Guru's Top Picks and enjoy fantastic reduced rates* when you book on the 'Promotional Fare'.
Follow the links below to research and find your ideal cruise, try our Cruise Finder search tool to find your perfect Celebrity Cruise, or simply contact us for expert advice. *Terms and conditions apply.
Celebrity Cruises in Australia, New Zealand and the South Pacific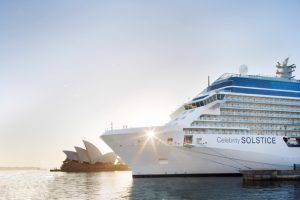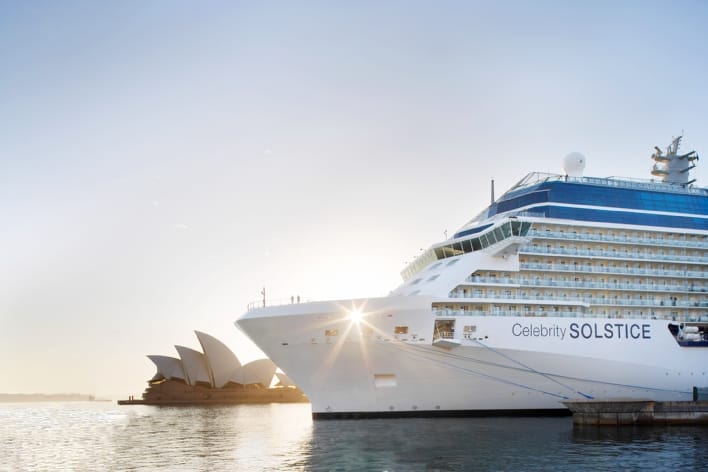 Celebrity explores Australia, New Zealand and the South Pacific between October and April aboard the elegant Celebrity Solstice and from 2020, Celebrity Eclipse. Cruises depart from Sydney, Auckland and newly added, Melbourne, with a range of South Pacific, New Zealand and Australia cruise itineraries.  Why not give Celebrity Cruises a try with one of their local taster cruises.
View all Celebrity Cruises in Australia, South Pacific and New Zealand.
Twice a year, Celebrity Solstice cruises between Sydney and Honolulu, taking an extended South Pacific sojourn via the Tahitian islands of Moorea and Bora Bora. These repositioning cruises only operate once per year in each direction (September/October from Honolulu to Sydney and April from Sydney to Honolulu) and sell out fast so don't miss out. View all Tahiti cruises between Sydney and Hawaii.  Our team can package these one way cruises with a competitive airfare and hotel rates, just contact us for details.
Asia
Celebrity cruises offer a number of exciting itineraries in Asia.  Cruises depart from Singapore and Hong Kong, as well as a few from Tokyo and Shanghai to a range of exotic destinations including Vietnam, Thailand, China and the Philippines.  One of Celebrity's unique Asian itineraries to look out for are those that visit India with stops in Colombo, Cochin and Goa.
Europe
There is no shortage of amazing Celebrity Mediterranean itineraries on offer, with cruise options predominantly departing from Barcelona, Venice and Rome.  Along with the more common Mediterranean cruises visiting Italy, France and Spain, Celebrity cruises also has a number of itineraries visiting the less frequented Greek Islands and Israel.
Take a journey through Northern Europe with Celebrity Cruises.  Cruise into Scandinavia and Russia, discover the midnight sun in Iceland, witness the brilliance of the Norwegian Fjords, or circle the British Isles.
North America and the Caribbean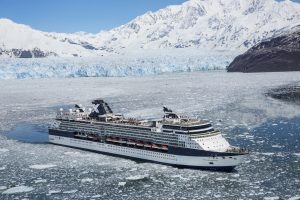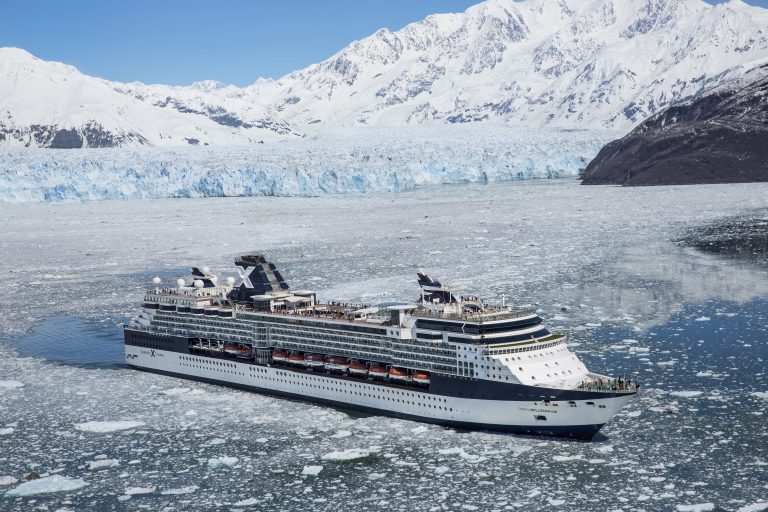 Celebrity cruises have number of Alaska voyages of seven nights duration departing from a choice of Seattle, Seward or Vancouver.  If you're wanting to witness the wonder of the Hubbard Glacier you'll be predominantly looking at round trip cruises from Vancouver, or at a one way cruise from Seward to Vancouver (or vice versa), whereas cruises visiting Endicott Arm Dawes Glacier tend to be round trip from Seattle.
If you're dreaming of the Caribbean, Celebrity's Caribbean itineraries operate year round from Miami, Fort Lauderdale and even a few departures from San Juan, Puerto Rico.  Operating in the eastern, western and southern Caribbean, you'll find a large number of 7 and 8 night itineraries, but also some shorter 4 to 6 night cruises and longer 9 to 14 night cruises.
Central and South America
In South America, Celebrity has got Chile, Argentina, Brazil and even Antarctica covered with a range of cruises departing from Santiago and Buenos Aires.  And, while only a handful of itineraries on offer, Celebrity cruises also offers memorable Panama Canal transits between the east and west coast of the United States.  In addition, Celebrity is one of the few cruise lines to operate year round expedition cruises in the Galapagos Islands.  Two ships operate in the area, Celebrity Xpedition and the brand new Celebrity Flora.
Date
Cruise
Ship
Cruise Line
Dep Port
Destination
Ports of Call
Inside
Inside
Oceanview
Oceanview
Balcony
Balcony
Suite
Suite
Save up to*
18 Dec 19
15 Night Best Of India & South East Asia
Celebrity Constellation
Celebrity Cruises
Singapore
Dubai
Show
$2,965
$198
$3,480
$232
$4,896
$326
$11,157
$744
Select
-18%
02 Jan 20
15 Night Best Of India & South East Asia
Celebrity Constellation
Celebrity Cruises
Dubai
Dubai
Show
$2,561
$171
Select
-18%
17 Jan 20
15 Night Best Of India & South East Asia
Celebrity Constellation
Celebrity Cruises
Singapore
Dubai
Show
$2,424
$162
$3,530
$235
$4,306
$287
$8,938
$596
Select
-17%
01 Feb 20
15 Night Best Of India & South East Asia
Celebrity Constellation
Celebrity Cruises
Dubai
Dubai
Show
$2,571
$171
$3,405
$227
$4,317
$288
$9,424
$628
Select
-17%
16 Feb 20
15 Night Best Of India & South East Asia
Celebrity Constellation
Celebrity Cruises
Singapore
Dubai
Show
$2,706
$180
$3,269
$218
$4,491
$299
$9,045
$603
Select
-16%
02 Mar 20
15 Night Best Of India & South East Asia
Celebrity Constellation
Celebrity Cruises
Dubai
Dubai
Show
$2,561
$171
$3,346
$223
$4,966
$331
$8,851
$590
Select
-17%
17 Mar 20
15 Night Best Of India & South East Asia
Celebrity Constellation
Celebrity Cruises
Singapore
Far East
Show
$3,685
$246
$4,956
$330
Select
-13%
01 Apr 20
15 Night Dubai, Suez Canal & Greece
Celebrity Constellation
Celebrity Cruises
Dubai
Europe
Show
$1,943
$130
$2,254
$150
$2,855
$190
$8,598
$573
Select
-62%
26 May 20
9 Night Best Of Western Mediterranean
Celebrity Constellation
Celebrity Cruises
Barcelona
Mediterranean - Western
Show
$3,638
$404
$3,812
$424
$5,597
$622
$6,551
$728
Select
-64%
22 Jun 20
10 Night Venice, Turkey & Greek Islands
Celebrity Constellation
Celebrity Cruises
Venice
Mediterranean - Eastern
Show
$2,991
$299
$3,485
$349
$4,688
$469
$7,182
$718
Select
-62%
02 Jul 20
9 Night Best Of Western Mediterranean
Celebrity Constellation
Celebrity Cruises
Venice
Mediterranean - Western
Show
$2,698
$300
$3,009
$334
$3,756
$417
$6,260
$696
Select
-63%
11 Jul 20
9 Night Best Of Western Mediterranean
Celebrity Constellation
Celebrity Cruises
Barcelona
Mediterranean - Western
Show
$2,383
$265
$2,664
$296
$3,864
$429
$4,686
$521
Select
-72%
20 Jul 20
10 Night Venice, Turkey & Greek Islands
Celebrity Constellation
Celebrity Cruises
Venice
Mediterranean - Eastern
Show
$2,670
$267
$2,938
$294
$4,184
$418
$6,453
$645
Select
-66%
30 Jul 20
9 Night Venice, Florence & Portofino
Celebrity Constellation
Celebrity Cruises
Venice
Mediterranean - Eastern
Show
$2,117
$235
$2,330
$259
$3,242
$360
$6,240
$693
Select
-73%
17 Aug 20
10 Night Venice, Turkey & Greek Islands
Celebrity Constellation
Celebrity Cruises
Venice
Mediterranean - Eastern
Show
$2,719
$272
$2,845
$285
$3,714
$371
$8,773
$877
Select
-65%
27 Aug 20
9 Night Best Of Western Mediterranean
Celebrity Constellation
Celebrity Cruises
Venice
Mediterranean - Western
Show
$2,019
$224
$2,262
$251
$2,723
$303
$4,301
$478
Select
-74%
05 Sep 20
9 Night Best Of Western Mediterranean
Celebrity Constellation
Celebrity Cruises
Barcelona
Mediterranean - Western
Show
$2,342
$260
$3,276
$364
$4,360
$484
$5,966
$663
Select
-64%
14 Sep 20
10 Night Venice, Turkey & Greek Islands
Celebrity Constellation
Celebrity Cruises
Venice
Mediterranean - Eastern
Show
$2,476
$248
$3,048
$305
$4,736
$474
$8,365
$836
Select
-57%
24 Sep 20
9 Night Venice, Florence & Portofino
Celebrity Constellation
Celebrity Cruises
Venice
Mediterranean - Eastern
Show
$2,072
$230
$2,891
$321
$4,064
$452
$5,891
$655
Select
-66%
03 Oct 20
9 Night Best Of Italy, Kotor & Croatia
Celebrity Constellation
Celebrity Cruises
Civitavecchia (Rome)
Mediterranean - Eastern
Show
$1,990
$221
$2,330
$259
$3,183
$354
$5,899
$655
Select
-66%
12 Oct 20
10 Night Venice, Turkey & Greek Islands
Celebrity Constellation
Celebrity Cruises
Venice
Mediterranean - Eastern
Show
$2,366
$237
$2,922
$292
$4,044
$404
$7,383
$738
Select
-61%
22 Oct 20
9 Night Best Of Western Mediterranean
Celebrity Constellation
Celebrity Cruises
Venice
Mediterranean - Western
Show
$2,140
$238
$2,742
$305
$3,654
$406
$5,398
$600
Select
-67%
12 Jun 20
10 Nt Best Of Italy, Malta & Montenegro
Celebrity Constellation
Celebrity Cruises
Civitavecchia (Rome)
Mediterranean - Eastern
Show
$2,234
$223
$2,457
$246
$3,553
$355
Select
-61%
04 Jun 20
8 Night Venice, Florence & Montenegro
Celebrity Constellation
Celebrity Cruises
Venice
Mediterranean - Eastern
Show
$1,805
$226
$1,990
$249
$2,921
$365
$8,304
$1,038
Select
-68%
14 Nov 20
7 Night Western Caribbean Cruise
Celebrity Constellation
Celebrity Cruises
Tampa
Caribbean - Western
Show
$1,377
$197
$1,580
$226
$2,027
$290
$4,257
$608
Select
-58%
21 Nov 20
11 Night Southern Caribbean Cruise
Celebrity Constellation
Celebrity Cruises
Tampa
Caribbean - Southern
Show
$2,035
$185
$2,316
$211
$2,810
$255
$5,784
$526
Select
-59%
02 Dec 20
11 Night Eastern Caribbean Cruise
Celebrity Constellation
Celebrity Cruises
Tampa
Caribbean - Eastern
Show
$1,966
$179
$2,247
$204
$2,674
$243
$5,502
$500
Select
-60%
13 Dec 20
10 Night Eastern Caribbean Cruise
Celebrity Constellation
Celebrity Cruises
Tampa
Caribbean - Eastern
Show
$1,806
$181
$2,087
$209
$2,436
$244
$4,796
$480
Select
-60%
23 Dec 20
12 Night Touch Canal Holiday Cruise
Celebrity Constellation
Celebrity Cruises
Tampa
Transcanal
Show
$3,058
$255
$3,407
$284
$4,260
$355
Select
-57%
04 Jan 21
11 Night Southern Caribbean Cruise
Celebrity Constellation
Celebrity Cruises
Tampa
Caribbean - Southern
Show
$2,033
$185
$2,314
$210
$2,809
$255
$5,783
$526
Select
-58%
15 Jan 21
10 Night Eastern Caribbean Cruise
Celebrity Constellation
Celebrity Cruises
Tampa
Caribbean - Eastern
Show
$1,808
$181
$2,089
$209
$2,438
$244
$4,644
$464
Select
-60%
25 Jan 21
11 Night Touch Canal Cruise
Celebrity Constellation
Celebrity Cruises
Tampa
Transcanal
Show
$2,572
$234
$2,883
$262
$3,862
$351
Select
-56%
05 Feb 21
10 Night Eastern Caribbean Cruise
Celebrity Constellation
Celebrity Cruises
Tampa
Caribbean - Eastern
Show
$1,808
$181
$2,089
$209
$2,438
$244
$4,652
$465
Select
-60%
15 Feb 21
11 Night Southern Caribbean Cruise
Celebrity Constellation
Celebrity Cruises
Tampa
Caribbean - Southern
Show
$2,100
$191
$2,381
$216
$2,799
$254
$6,038
$549
Select
-58%
26 Feb 21
10 Night Eastern Caribbean Cruise
Celebrity Constellation
Celebrity Cruises
Tampa
Caribbean - Eastern
Show
$1,876
$188
$2,157
$216
$2,516
$252
$4,799
$480
Select
-60%
08 Mar 21
11 Night Touch Canal Cruise
Celebrity Constellation
Celebrity Cruises
Tampa
Transcanal
Show
$2,641
$240
$2,922
$266
$3,853
$350
Select
-56%
19 Mar 21
10 Night Eastern Caribbean Cruise
Celebrity Constellation
Celebrity Cruises
Tampa
Caribbean - Eastern
Show
$1,876
$188
$2,157
$216
$2,516
$252
$4,925
$493
Select
-60%
29 Mar 21
11 Night Southern Caribbean Cruise
Celebrity Constellation
Celebrity Cruises
Tampa
Caribbean - Southern
Show
$2,088
$190
$2,514
$229
$2,931
$266
$5,893
$536
Select
-59%
09 Apr 21
10 Night Eastern Caribbean Cruise
Celebrity Constellation
Celebrity Cruises
Tampa
Caribbean - Eastern
Show
$1,887
$189
$2,169
$217
$2,731
$273
$5,517
$552
Select
-58%
31 Oct 20
14 Night Spain & Azores Transatlantic
Celebrity Constellation
Celebrity Cruises
Barcelona
Transatlantic
Show
$2,111
$151
$2,470
$176
$3,188
$228
$7,338
$524
Select
-67%
19 Apr 21
15 Night Azores & Spain Transatlantic
Celebrity Constellation
Celebrity Cruises
Tampa
Transatlantic
Show
$1,778
$119
$1,913
$128
$2,922
$195
$6,154
$410
Select
-62%
04 May 21
13 Night Best Of Western Mediterranean
Celebrity Constellation
Celebrity Cruises
Barcelona
Mediterranean - Western
Show
$2,856
$220
$3,331
$256
$4,447
$342
$8,120
$625
Select
-48%
17 May 21
10 Night Venice, Turkey & Greek Islands
Celebrity Constellation
Celebrity Cruises
Venice
Mediterranean - Eastern
Show
$2,773
$277
$3,549
$355
$4,801
$480
$9,468
$947
Select
-47%
27 May 21
9 Night Best Of Western Mediterranean
Celebrity Constellation
Celebrity Cruises
Venice
Europe
Show
$2,316
$257
$2,772
$308
$3,868
$430
$7,299
$811
Select
-48%
05 Jun 21
9 Night Best Of Western Mediterranean
Celebrity Constellation
Celebrity Cruises
Barcelona
Mediterranean - Western
Show
$2,286
$254
$2,752
$306
$3,848
$428
$7,258
$806
Select
-47%
14 Jun 21
10 Night Venice, Turkey & Greek Islands
Celebrity Constellation
Celebrity Cruises
Venice
Mediterranean - Eastern
Show
$2,929
$293
$3,705
$370
$4,946
$495
$10,060
$1,006
Select
-47%
24 Jun 21
9 Night Venice, Portofino & Florence
Celebrity Constellation
Celebrity Cruises
Venice
Mediterranean - Eastern
Show
$2,608
$290
$3,074
$342
$4,315
$479
$8,201
$911
Select
-47%
03 Jul 21
9 Night Florence, Portofino & Venice
Celebrity Constellation
Celebrity Cruises
Civitavecchia (Rome)
Mediterranean - Eastern
Show
$2,546
$283
$3,002
$334
$4,253
$473
$8,160
$907
Select
-47%
12 Jul 21
10 Night Venice, Turkey & Greek Islands
Celebrity Constellation
Celebrity Cruises
Venice
Mediterranean - Eastern
Show
$2,929
$293
$3,705
$370
$4,966
$497
$9,624
$962
Select
-47%
22 Jul 21
9 Night Best Of Western Mediterranean
Celebrity Constellation
Celebrity Cruises
Venice
Europe
Show
$2,474
$275
$3,105
$345
$4,191
$466
$8,067
$896
Select
-47%
31 Jul 21
9 Night Best Of Western Mediterranean
Celebrity Constellation
Celebrity Cruises
Barcelona
Mediterranean - Western
Show
$2,432
$270
$3,062
$340
$4,149
$461
$8,025
$892
Select
-47%
09 Aug 21
10 Night Venice, Turkey & Greek Islands
Celebrity Constellation
Celebrity Cruises
Venice
Mediterranean - Eastern
Show
$2,773
$277
$3,549
$355
$4,830
$483
$9,468
$947
Select
-47%
19 Aug 21
9 Night Venice, Portofino & Florence
Celebrity Constellation
Celebrity Cruises
Venice
Mediterranean - Eastern
Show
$2,599
$289
$3,065
$341
$4,306
$478
$8,048
$894
Select
-47%
28 Aug 21
9 Night Florence, Portofino & Venice
Celebrity Constellation
Celebrity Cruises
Civitavecchia (Rome)
Mediterranean - Eastern
Show
$2,546
$283
$3,002
$334
$4,253
$473
$7,995
$888
Select
-47%
06 Sep 21
10 Night Venice, Turkey & Greek Islands
Celebrity Constellation
Celebrity Cruises
Venice
Mediterranean - Eastern
Show
$2,773
$277
$3,549
$355
$4,801
$480
$9,468
$947
Select
-47%
16 Sep 21
9 Night Best Of Western Mediterranean
Celebrity Constellation
Celebrity Cruises
Venice
Europe
Show
$2,461
$273
$2,937
$326
$4,023
$447
$7,454
$828
Select
-48%
25 Sep 21
9 Night Best Of Western Mediterranean
Celebrity Constellation
Celebrity Cruises
Barcelona
Mediterranean - Western
Show
$2,266
$252
$2,732
$304
$3,828
$425
$7,259
$807
Select
-48%
04 Oct 21
10 Night Venice, Turkey & Greek Islands
Celebrity Constellation
Celebrity Cruises
Venice
Mediterranean - Eastern
Show
$2,618
$262
$3,404
$340
$4,636
$464
$9,303
$930
Select
-47%
14 Oct 21
9 Night Venice, Portofino & Florence
Celebrity Constellation
Celebrity Cruises
Venice
Mediterranean - Eastern
Show
$2,434
$270
$2,909
$323
$4,151
$461
$7,902
$878
Select
-47%
23 Oct 21
15 Night Mediterranean Passage
Celebrity Constellation
Celebrity Cruises
Civitavecchia (Rome)
Transatlantic
Show
$1,925
$128
$2,206
$147
$3,210
$214
$6,598
$440
Select
-61%
07 Nov 21
5 Night Western Caribbean Cruise
Celebrity Constellation
Celebrity Cruises
Tampa
Caribbean - Western
Show
$744
$149
$889
$178
$1,171
$234
$2,239
$448
Select
-59%
12 Nov 21
10 Night Eastern Caribbean Cruise
Celebrity Constellation
Celebrity Cruises
Tampa
Caribbean - Eastern
Show
$1,550
$155
$1,841
$184
$2,840
$284
$4,976
$498
Select
-60%
22 Nov 21
11 Night Aruba, Bonaire, & Curacao
Celebrity Constellation
Celebrity Cruises
Tampa
Caribbean - Southern
Show
$1,717
$156
$1,999
$182
$3,008
$273
$5,962
$542
Select
-61%
03 Dec 21
10 Night Eastern Caribbean Cruise
Celebrity Constellation
Celebrity Cruises
Tampa
Caribbean - Eastern
Show
$1,547
$155
$1,838
$184
$2,837
$284
$4,973
$497
Select
-60%
13 Dec 21
10 Night Eastern Caribbean Cruise
Celebrity Constellation
Celebrity Cruises
Tampa
Caribbean - Eastern
Show
$1,550
$155
$1,841
$184
$2,840
$284
$4,976
$498
Select
-60%
23 Dec 21
11 Night Ultimate Caribbean Holiday
Celebrity Constellation
Celebrity Cruises
Tampa
Caribbean - Southern
Show
$2,367
$215
$2,658
$242
$3,803
$346
$7,398
$673
Select
-57%
03 Jan 22
11 Night Aruba, Bonaire, & Curacao
Celebrity Constellation
Celebrity Cruises
Tampa
Caribbean - Southern
Show
$1,717
$156
$1,999
$182
$2,998
$273
$5,952
$541
Select
-61%
14 Jan 22
10 Night Eastern Caribbean Cruise
Celebrity Constellation
Celebrity Cruises
Tampa
Caribbean - Eastern
Show
$1,841
$184
$2,122
$212
$3,121
$312
$5,267
$527
Select
-58%
24 Jan 22
11 Night Ultimate Caribbean Cruise
Celebrity Constellation
Celebrity Cruises
Tampa
Caribbean - Southern
Show
$1,737
$158
$2,028
$184
$3,027
$275
$5,982
$544
Select
-61%
04 Feb 22
10 Night Eastern Caribbean Cruise
Celebrity Constellation
Celebrity Cruises
Tampa
Caribbean - Eastern
Show
$1,550
$155
$1,841
$184
$2,840
$284
$4,976
$498
Select
-60%
14 Feb 22
11 Night Aruba, Bonaire, & Curacao
Celebrity Constellation
Celebrity Cruises
Tampa
Caribbean - Southern
Show
$1,931
$176
$2,212
$201
$3,221
$293
$6,243
$568
Select
-60%
25 Feb 22
10 Night Eastern Caribbean Cruise
Celebrity Constellation
Celebrity Cruises
Tampa
Caribbean - Eastern
Show
$1,695
$170
$1,977
$198
$2,985
$299
$5,121
$512
Select
-59%
07 Mar 22
11 Night Ultimate Caribbean Cruise
Celebrity Constellation
Celebrity Cruises
Tampa
Caribbean - Southern
Show
$1,950
$177
$2,241
$204
$3,240
$295
$6,263
$569
Select
-60%
18 Mar 22
10 Night Eastern Caribbean Cruise
Celebrity Constellation
Celebrity Cruises
Tampa
Caribbean - Eastern
Show
$1,841
$184
$2,122
$212
$3,121
$312
$5,267
$527
Select
-58%
28 Mar 22
11 Night Aruba, Bonaire, & Curacao
Celebrity Constellation
Celebrity Cruises
Tampa
Caribbean - Southern
Show
$1,931
$176
$2,212
$201
$3,221
$293
$6,243
$568
Select
-60%
08 Apr 22
10 Night Eastern Caribbean Cruise
Celebrity Constellation
Celebrity Cruises
Tampa
Caribbean - Eastern
Show
$1,841
$184
$2,122
$212
$3,121
$312
$5,267
$527
Select
-58%
12 Dec 19
4 Night Bahamas Cruise
Celebrity Infinity
Celebrity Cruises
Miami
Bahamas
Show
$535
$134
$602
$151
$855
$214
Select
-62%
16 Dec 19
5 Night Western Caribbean Cruise
Celebrity Infinity
Celebrity Cruises
Miami
Caribbean - Western
Show
$607
$121
$639
$128
$764
$153
$2,642
$528
Select
-66%
21 Dec 19
5 Night Western Caribbean Holiday Cruise
Celebrity Infinity
Celebrity Cruises
Miami
Caribbean - Western
Show
$1,075
$215
$1,104
$221
$1,319
$264
Select
-65%
26 Dec 19
4 Night Bahamas Cruise
Celebrity Infinity
Celebrity Cruises
Miami
Bahamas
Show
$985
$246
$1,020
$255
$1,256
$314
Select
-66%
30 Dec 19
5 Night Western Caribbean Holiday Cruise
Celebrity Infinity
Celebrity Cruises
Miami
Caribbean - Western
Show
$1,177
$235
$1,249
$250
$1,821
$364
$3,540
$708
Select
-26%
04 Jan 20
5 Night Western Caribbean Cruise
Celebrity Infinity
Celebrity Cruises
Miami
Caribbean - Western
Show
$850
$170
$918
$184
$1,073
$215
$2,452
$490
Select
-54%
13 Jan 20
5 Night Western Caribbean Cruise
Celebrity Infinity
Celebrity Cruises
Miami
Caribbean - Western
Show
$996
$199
$1,132
$226
$1,287
$257
$2,724
$545
Select
-44%
24 Feb 20
5 Night Western Caribbean Cruise
Celebrity Infinity
Celebrity Cruises
Miami
Caribbean - Western
Show
$996
$199
$1,685
$337
$1,908
$382
$2,665
$533
Select
-40%
29 Feb 20
5 Night Western Caribbean Cruise
Celebrity Infinity
Celebrity Cruises
Miami
Caribbean - Western
Show
$976
$195
$1,529
$306
$2,082
$416
$2,937
$587
Select
-40%
05 Mar 20
4 Night Bahamas Cruise
Celebrity Infinity
Celebrity Cruises
Miami
Bahamas
Show
$713
$178
$742
$186
$1,111
$278
$2,665
$666
Select
-64%
09 Mar 20
5 Night Western Caribbean Cruise
Celebrity Infinity
Celebrity Cruises
Miami
Caribbean - Western
Show
$782
$156
$986
$197
$1,112
$222
$4,595
$919
Select
-56%
23 Mar 20
5 Night Western Caribbean Cruise
Celebrity Infinity
Celebrity Cruises
Miami
Caribbean - Western
Show
$802
$160
$1,073
$215
$1,151
$230
$2,956
$591
Select
-54%
04 Apr 20
N 2 Night Bahamas Cruise
Celebrity Infinity
Celebrity Cruises
Miami
Bahamas
Show
$666
$333
$734
$367
$831
$416
$1,177
$588
Select
-44%
11 Apr 20
5 Night Western Caribbean Cruise
Celebrity Infinity
Celebrity Cruises
Miami
Caribbean - Western
Show
$986
$197
$1,122
$224
$1,462
$292
$3,480
$696
Select
-48%
22 Feb 20
2 Night Bahamas Cruise
Celebrity Infinity
Celebrity Cruises
Miami
Bahamas
Show
$599
$299
$647
$324
$802
$401
$1,268
$634
Select
-48%
21 Mar 20
2 Night Bahamas Cruise
Celebrity Infinity
Celebrity Cruises
Miami
Bahamas
Show
$676
$338
$773
$387
$889
$445
$1,240
$620
Select
-43%
25 Apr 20
14 Night Azores, Morocco & Spain
Celebrity Infinity
Celebrity Cruises
Miami
Transatlantic
Show
$2,108
$151
$2,350
$168
$2,729
$195
$6,411
$458
Select
-63%
09 May 20
12 Nt Spain (andalusia), France & Italy
Celebrity Infinity
Celebrity Cruises
Barcelona
Mediterranean - Western
Show
$2,576
$215
$2,799
$233
$4,302
$359
$6,682
$557
Select
-55%
21 May 20
12 Night French Riviera & Mediterranean - Cannes Film Festival
Celebrity Infinity
Celebrity Cruises
Barcelona
Mediterranean - Western
Show
$2,430
$203
$2,993
$249
$4,293
$358
$7,090
$591
Select
-54%
21 Jun 20
7 Night Italy, Greece & Adriatic Cruise
Celebrity Infinity
Celebrity Cruises
Civitavecchia (Rome)
Mediterranean - Eastern
Show
$1,726
$247
$2,085
$298
$2,726
$389
$4,841
$692
Select
-61%
28 Jun 20
7 Night Adriatic, Greece & Italy Cruise
Celebrity Infinity
Celebrity Cruises
Venice
Mediterranean - Eastern
Show
$1,748
$250
$2,243
$320
$2,666
$381
$4,628
$661
Select
-63%
05 Jul 20
7 Night Italy, Malta & Croatia
Celebrity Infinity
Celebrity Cruises
Civitavecchia (Rome)
Mediterranean - Eastern
Show
$1,591
$227
$1,833
$262
$2,464
$352
$5,811
$830
Select
-59%
12 Jul 20
7 Night Adriatic, Greece & Italy Cruise
Celebrity Infinity
Celebrity Cruises
Venice
Mediterranean - Eastern
Show
$1,612
$230
$2,000
$286
$2,472
$353
$4,473
$639
Select
-65%
19 Jul 20
7 Night Italy, Greece & Adriatic Cruise
Celebrity Infinity
Celebrity Cruises
Civitavecchia (Rome)
Mediterranean - Eastern
Show
$1,726
$247
$1,746
$249
$2,425
$346
$4,694
$671
Select
-63%
26 Jul 20
7 Night Adriatic, Greece & Italy Cruise
Celebrity Infinity
Celebrity Cruises
Venice
Mediterranean - Eastern
Show
$1,661
$237
$2,000
$286
$2,563
$366
$4,491
$642
Select
-65%
02 Aug 20
7 Night Italy, Greece & Adriatic Cruise
Celebrity Infinity
Celebrity Cruises
Civitavecchia (Rome)
Mediterranean - Eastern
Show
$1,658
$237
$1,804
$258
$2,463
$352
$5,093
$728
Select
-62%
09 Aug 20
7 Night Adriatic, Greece & Italy Cruise
Celebrity Infinity
Celebrity Cruises
Venice
Mediterranean - Eastern
Show
$1,641
$234
$1,787
$255
$2,349
$336
$4,692
$670
Select
-64%
16 Aug 20
7 Night Italy, Malta & Croatia
Celebrity Infinity
Celebrity Cruises
Civitavecchia (Rome)
Mediterranean - Eastern
Show
$1,503
$215
$1,901
$272
$2,590
$370
$5,256
$751
Select
-58%
23 Aug 20
7 Night Italy, France & Spain Cruise
Celebrity Infinity
Celebrity Cruises
Venice
Mediterranean - Western
Show
$1,516
$217
$1,817
$260
$2,287
$327
$4,492
$642
Select
-64%
30 Aug 20
10 Night Best Of Spain & Portugal
Celebrity Infinity
Celebrity Cruises
Barcelona
Mediterranean - Western
Show
$2,656
$266
$2,860
$286
$3,674
$367
$6,589
$659
Select
-53%
09 Sep 20
10 Night Best Of Spain & Portugal
Celebrity Infinity
Celebrity Cruises
Lisbon
Europe - Western
Show
$2,540
$254
$2,908
$291
$3,772
$377
$6,878
$688
Select
-51%
19 Sep 20
10 Night Best Of Spain & Portugal
Celebrity Infinity
Celebrity Cruises
Barcelona
Mediterranean - Western
Show
$2,821
$282
$3,078
$308
$3,646
$365
$7,289
$729
Select
-51%
29 Sep 20
10 Night Best Of Spain & Portugal
Celebrity Infinity
Celebrity Cruises
Lisbon
Europe - Western
Show
$2,797
$280
$2,986
$299
$3,636
$364
$5,752
$575
Select
-59%
16 Nov 20
14 Night Morocco & Canary Islands Cruise
Celebrity Infinity
Celebrity Cruises
Lisbon
Transatlantic
Show
$2,898
$207
$3,063
$219
$3,470
$248
$7,880
$563
Select
-53%
30 Nov 20
5 Night Mexico & Key West Cruise
Celebrity Infinity
Celebrity Cruises
Miami
Caribbean - Western
Show
$1,334
$267
$1,450
$290
$1,586
$317
$2,939
$588
Select
-41%
05 Dec 20
5 Night Mexico & Key West Cruise
Celebrity Infinity
Celebrity Cruises
Miami
Caribbean - Western
Show
$1,328
$266
$1,464
$293
$1,609
$322
$3,088
$618
Select
-40%
10 Dec 20
4 Night Bahamas Cruise
Celebrity Infinity
Celebrity Cruises
Miami
Bahamas
Show
$1,278
$320
$1,346
$337
$1,414
$354
$2,535
$634
Select
-49%
14 Dec 20
5 Night Mexico & Key West Cruise
Celebrity Infinity
Celebrity Cruises
Miami
Caribbean - Western
Show
$1,289
$258
$1,435
$287
$1,571
$314
$2,943
$589
Select
-41%
19 Dec 20
4 Night Bahamas Cruise
Celebrity Infinity
Celebrity Cruises
Miami
Bahamas
Show
$1,187
$297
$1,293
$323
$1,381
$345
$2,444
$611
Select
-51%
23 Dec 20
5 Night Mexico & Key West Holiday Cruise
Celebrity Infinity
Celebrity Cruises
Miami
Caribbean - Western
Show
$1,723
$345
$1,781
$356
$1,917
$383
$4,134
$827
Select
-57%
28 Dec 20
5 Night Mexico & Key West Holiday Cruise
Celebrity Infinity
Celebrity Cruises
Miami
Caribbean - Western
Show
$1,705
$341
$1,841
$368
$2,122
$424
$4,183
$837
Select
-52%
02 Jan 21
5 Night Mexico & Key West Cruise
Celebrity Infinity
Celebrity Cruises
Miami
Caribbean - Western
Show
$1,221
$244
$1,357
$271
$1,638
$328
$2,662
$532
Select
-46%
07 Jan 21
4 Night Bahamas Cruise
Celebrity Infinity
Celebrity Cruises
Miami
Bahamas
Show
$1,129
$282
$1,226
$307
$1,440
$360
$2,464
$616
Select
-48%
11 Jan 21
5 Night Mexico & Key West Cruise
Celebrity Infinity
Celebrity Cruises
Miami
Caribbean - Western
Show
$1,298
$260
$1,366
$273
$1,647
$329
$2,602
$520
Select
-46%
13 Feb 21
5 Night Mexico & Key West Cruise
Celebrity Infinity
Celebrity Cruises
Miami
Caribbean - Western
Show
$1,289
$258
$1,357
$271
$1,638
$328
$2,594
$519
Select
-46%
18 Feb 21
4 Night Bahamas Cruise
Celebrity Infinity
Celebrity Cruises
Miami
Bahamas
Show
$1,120
$280
$1,265
$316
$1,469
$367
$2,483
$621
Select
-48%
27 Mar 21
5 Night Mexico & Key West Cruise
Celebrity Infinity
Celebrity Cruises
Miami
Caribbean - Western
Show
$1,289
$258
$1,357
$271
$1,638
$328
$2,623
$525
Select
-47%
01 Apr 21
4 Night Bahamas Cruise
Celebrity Infinity
Celebrity Cruises
Miami
Bahamas
Show
$1,120
$280
$1,265
$316
$1,469
$367
$2,483
$621
Select
-48%
05 Apr 21
5 Night Mexico & Key West Cruise
Celebrity Infinity
Celebrity Cruises
Miami
Caribbean - Western
Show
$1,288
$258
$1,356
$271
$1,637
$327
$2,593
$519
Select
-47%
10 Apr 21
5 Night Mexico & Key West Cruise
Celebrity Infinity
Celebrity Cruises
Miami
Caribbean - Western
Show
$1,221
$244
$1,357
$271
$1,638
$328
$2,594
$519
Select
-46%
15 Apr 21
4 Night Bahamas Cruise
Celebrity Infinity
Celebrity Cruises
Miami
Bahamas
Show
$1,120
$280
$1,265
$316
$1,469
$367
$2,454
$614
Select
-48%
02 Jun 20
11 Night Greece, Italy & Malta Cruise
Celebrity Infinity
Celebrity Cruises
Barcelona
Mediterranean - Western
Show
$7,319
$665
Select
-33%
13 Jun 20
8 Night Adriatic, Greece & Italy Cruise
Celebrity Infinity
Celebrity Cruises
Venice
Mediterranean - Eastern
Show
$3,826
$478
$4,346
$543
$6,710
$839
Select
-54%
24 Apr 21
14 Night Azores, Spain & Italy
Celebrity Infinity
Celebrity Cruises
Miami
Mediterranean - Eastern
Show
$2,071
$148
$2,546
$182
$3,322
$237
$6,752
$482
Select
-47%
20 May 21
12 Night Turkey & Best Of Greek Islands
Celebrity Infinity
Celebrity Cruises
Venice
Mediterranean - Eastern
Show
$2,867
$239
$3,575
$298
$4,700
$392
$8,862
$738
Select
-56%
01 Jun 21
12 Night Turkey & Best Of Greek Islands
Celebrity Infinity
Celebrity Cruises
Venice
Mediterranean - Eastern
Show
$2,867
$239
$3,575
$298
$4,700
$392
$8,862
$738
Select
-56%
13 Jun 21
7 Night Italy, Croatia & Montenegro
Celebrity Infinity
Celebrity Cruises
Venice
Mediterranean - Eastern
Show
$1,903
$272
$2,194
$313
$2,893
$413
$5,793
$828
Select
-56%
20 Jun 21
7 Night Italy, Croatia & Malta
Celebrity Infinity
Celebrity Cruises
Civitavecchia (Rome)
Mediterranean - Eastern
Show
$1,843
$263
$2,134
$305
$2,881
$412
$5,733
$819
Select
-56%
27 Jun 21
7 Night Italy, Croatia & Montenegro
Celebrity Infinity
Celebrity Cruises
Venice
Mediterranean - Eastern
Show
$4,313
$616
$4,895
$699
$6,292
$899
$11,679
$1,668
Select
04 Jul 21
7 Night Italy, Croatia & Malta
Celebrity Infinity
Celebrity Cruises
Civitavecchia (Rome)
Mediterranean - Eastern
Show
$1,843
$263
$2,124
$303
$2,833
$405
$5,723
$818
Select
-56%
11 Jul 21
8 Night Italy, Croatia & Montenegro
Celebrity Infinity
Celebrity Cruises
Venice
Mediterranean - Eastern
Show
$1,915
$239
$2,206
$276
$2,905
$363
$5,828
$729
Select
-56%
19 Jul 21
7 Night Italy, Croatia & Malta
Celebrity Infinity
Celebrity Cruises
Civitavecchia (Rome)
Mediterranean - Eastern
Show
$1,853
$265
$2,134
$305
$2,842
$406
$5,733
$819
Select
-56%
26 Jul 21
7 Night Italy, Croatia & Montenegro
Celebrity Infinity
Celebrity Cruises
Venice
Mediterranean - Eastern
Show
$1,914
$273
$2,215
$316
$2,913
$416
$5,803
$829
Select
-55%
02 Aug 21
7 Night Italy, Croatia & Malta
Celebrity Infinity
Celebrity Cruises
Civitavecchia (Rome)
Mediterranean - Eastern
Show
$1,853
$265
$2,134
$305
$2,842
$406
$5,733
$819
Select
-56%
09 Aug 21
11 Night Italy, Malta & Greek Islands
Celebrity Infinity
Celebrity Cruises
Venice
Mediterranean - Eastern
Show
$2,785
$253
$3,494
$318
$4,764
$433
$8,766
$797
Select
-56%
20 Aug 21
10 Night Best Of Spain & Portugal Cruise
Celebrity Infinity
Celebrity Cruises
Barcelona
Mediterranean - Eastern
Show
$2,229
$223
$2,510
$251
$3,364
$336
$7,033
$703
Select
-57%
30 Aug 21
10 Night Best Of Spain & Portugal Cruise
Celebrity Infinity
Celebrity Cruises
Lisbon
Mediterranean - Eastern
Show
$2,240
$224
$2,521
$252
$3,375
$337
$7,053
$705
Select
-57%
09 Sep 21
10 Night Best Of Spain & Portugal Cruise
Celebrity Infinity
Celebrity Cruises
Barcelona
Mediterranean - Eastern
Show
$2,229
$223
$2,510
$251
$3,364
$336
$7,042
$704
Select
-57%
19 Sep 21
10 Night Best Of Spain & Portugal Cruise
Celebrity Infinity
Celebrity Cruises
Lisbon
Mediterranean - Eastern
Show
$2,240
$224
$2,521
$252
$3,375
$337
$7,043
$704
Select
-57%
29 Sep 21
10 Night Best Of Spain & Portugal Cruise
Celebrity Infinity
Celebrity Cruises
Barcelona
Mediterranean - Eastern
Show
$2,230
$223
$2,511
$251
$3,365
$336
$7,042
$704
Select
-57%
09 Oct 21
10 Night Best Of Spain & Portugal Cruise
Celebrity Infinity
Celebrity Cruises
Lisbon
Mediterranean - Eastern
Show
$2,240
$224
$2,521
$252
$3,375
$337
$7,042
$704
Select
-57%
19 Oct 21
15 Night Spain, Morocco & Canary Islands
Celebrity Infinity
Celebrity Cruises
Barcelona
Transatlantic
Show
$1,960
$131
$2,096
$140
$2,804
$187
$6,347
$423
Select
-58%
03 Nov 21
5 Night Key West & Mexico Cruise
Celebrity Infinity
Celebrity Cruises
Miami
Caribbean - Western
Show
$832
$166
$978
$196
$1,404
$281
$2,404
$481
Select
-58%
08 Nov 21
5 Night Bahamas & Puerto Plata Cruise
Celebrity Infinity
Celebrity Cruises
Miami
Caribbean - Western
Show
$841
$168
$986
$197
$1,413
$283
$2,413
$483
Select
-58%
13 Nov 21
5 Night Bahamas & Puerto Plata Cruise
Celebrity Infinity
Celebrity Cruises
Miami
Caribbean - Western
Show
$841
$168
$986
$197
$1,413
$283
$2,413
$483
Select
-58%
18 Nov 21
4 Night Bahamas Cruise
Celebrity Infinity
Celebrity Cruises
Miami
Bahamas
Show
$801
$200
$878
$220
$1,092
$273
$2,272
$568
Select
-57%
22 Nov 21
5 Night Key West & Mexico Cruise
Celebrity Infinity
Celebrity Cruises
Miami
Caribbean - Western
Show
$1,147
$229
$1,303
$261
$1,710
$342
$2,801
$560
Select
-47%
27 Nov 21
5 Night Bahamas & Puerto Plata Cruise
Celebrity Infinity
Celebrity Cruises
Miami
Caribbean - Western
Show
$836
$167
$982
$196
$1,408
$282
$2,409
$482
Select
-58%
02 Dec 21
4 Night Bahamas Cruise
Celebrity Infinity
Celebrity Cruises
Miami
Bahamas
Show
$797
$199
$874
$219
$1,088
$272
$2,267
$567
Select
-57%
06 Dec 21
5 Night Key West & Mexico Cruise
Celebrity Infinity
Celebrity Cruises
Miami
Caribbean - Western
Show
$832
$166
$978
$196
$1,404
$281
$2,404
$481
Select
-58%
11 Dec 21
5 Night Bahamas & Puerto Plata Cruise
Celebrity Infinity
Celebrity Cruises
Miami
Caribbean - Western
Show
$841
$168
$986
$197
$1,413
$283
$2,413
$483
Select
-58%
16 Dec 21
5 Night Key West & Mexico Cruise
Celebrity Infinity
Celebrity Cruises
Miami
Caribbean - Western
Show
$832
$166
$978
$196
$1,404
$281
$2,404
$481
Select
-58%
21 Dec 21
5 Night Key West & Mexico Holiday Cruise
Celebrity Infinity
Celebrity Cruises
Miami
Caribbean - Western
Show
$1,269
$254
$1,404
$281
$1,695
$339
$3,267
$653
Select
-56%
30 Dec 21
4 Night Bahamas Holiday Cruise
Celebrity Infinity
Celebrity Cruises
Miami
Bahamas
Show
$1,082
$270
$1,150
$287
$1,363
$341
$2,980
$745
Select
-55%
03 Jan 22
5 Night Bahamas & Puerto Plata Cruise
Celebrity Infinity
Celebrity Cruises
Miami
Caribbean - Western
Show
$842
$168
$978
$196
$1,414
$283
$2,404
$481
Select
-58%
08 Jan 22
5 Night Bahamas & Puerto Plata Cruise
Celebrity Infinity
Celebrity Cruises
Miami
Caribbean - Western
Show
$841
$168
$986
$197
$1,413
$283
$2,413
$483
Select
-58%
13 Jan 22
4 Night Bahamas Cruise
Celebrity Infinity
Celebrity Cruises
Miami
Bahamas
Show
$801
$200
$878
$220
$1,092
$273
$2,272
$568
Select
-57%
17 Jan 22
5 Night Key West & Mexico Cruise
Celebrity Infinity
Celebrity Cruises
Miami
Caribbean - Western
Show
$832
$166
$978
$196
$1,404
$281
$2,404
$481
Select
-61%
22 Jan 22
5 Night Bahamas & Puerto Plata Cruise
Celebrity Infinity
Celebrity Cruises
Miami
Caribbean - Western
Show
$841
$168
$986
$197
$1,413
$283
$2,413
$483
Select
-58%
27 Jan 22
4 Night Bahamas Cruise
Celebrity Infinity
Celebrity Cruises
Miami
Bahamas
Show
$801
$200
$878
$220
$1,092
$273
$2,272
$568
Select
-57%
31 Jan 22
5 Night Key West & Mexico Cruise
Celebrity Infinity
Celebrity Cruises
Miami
Caribbean - Western
Show
$1,147
$229
$1,303
$261
$1,710
$342
$2,801
$560
Select
-47%
05 Feb 22
5 Night Bahamas & Puerto Plata Cruise
Celebrity Infinity
Celebrity Cruises
Miami
Caribbean - Western
Show
$1,137
$227
$1,311
$262
$1,719
$344
$2,811
$562
Select
-47%
10 Feb 22
4 Night Bahamas Cruise
Celebrity Infinity
Celebrity Cruises
Miami
Bahamas
Show
$878
$220
$946
$237
$1,160
$290
$2,418
$604
Select
-56%
28 Feb 22
5 Night Bahamas & Puerto Plata Cruise
Celebrity Infinity
Celebrity Cruises
Miami
Caribbean - Western
Show
$1,137
$227
$1,311
$262
$1,719
$344
$2,811
$562
Select
-47%
10 Mar 22
4 Night Bahamas Cruise
Celebrity Infinity
Celebrity Cruises
Miami
Bahamas
Show
$801
$200
$878
$220
$1,092
$273
$2,272
$568
Select
-57%
14 Mar 22
5 Night Key West & Mexico Cruise
Celebrity Infinity
Celebrity Cruises
Miami
Caribbean - Western
Show
$978
$196
$1,123
$225
$1,337
$267
$2,404
$481
Select
-57%
19 Mar 22
5 Night Bahamas & Puerto Plata Cruise
Celebrity Infinity
Celebrity Cruises
Miami
Caribbean - Western
Show
$986
$197
$1,122
$224
$1,345
$269
$2,413
$483
Select
-57%
24 Mar 22
4 Night Bahamas Cruise
Celebrity Infinity
Celebrity Cruises
Miami
Bahamas
Show
$797
$199
$874
$219
$1,088
$272
$2,267
$567
Select
-57%
28 Mar 22
5 Night Key West & Mexico Cruise
Celebrity Infinity
Celebrity Cruises
Miami
Caribbean - Western
Show
$975
$195
$1,120
$224
$1,334
$267
$2,402
$480
Select
-57%
02 Apr 22
5 Night Bahamas & Puerto Plata Cruise
Celebrity Infinity
Celebrity Cruises
Miami
Caribbean - Western
Show
$986
$197
$1,122
$224
$1,345
$269
$2,413
$483
Select
-57%
07 Apr 22
4 Night Bahamas Cruise
Celebrity Infinity
Celebrity Cruises
Miami
Bahamas
Show
$801
$200
$878
$220
$1,092
$273
$2,272
$568
Select
-57%
11 Apr 22
5 Night Key West & Mexico Cruise
Celebrity Infinity
Celebrity Cruises
Miami
Caribbean - Western
Show
$1,147
$229
$1,303
$261
$1,710
$342
$2,801
$560
Select
-47%
16 Apr 22
5 Night Bahamas & Puerto Plata Cruise
Celebrity Infinity
Celebrity Cruises
Miami
Caribbean - Western
Show
$909
$182
$1,054
$211
$1,404
$281
$2,404
$481
Select
-58%
21 Apr 22
4 Night Bahamas Cruise
Celebrity Infinity
Celebrity Cruises
Miami
Bahamas
Show
$801
$200
$878
$220
$1,092
$273
$2,272
$568
Select
-57%
21 Dec 19
14 Night Southeast Asia Holidays Cruise
Celebrity Millennium
Celebrity Cruises
Singapore
Far East
Show
$1,994
$142
$2,615
$187
$8,103
$579
Select
-74%
04 Jan 20
14 Night Southeast Asia Cruise
Celebrity Millennium
Celebrity Cruises
Hong Kong
Far East
Show
$1,742
$124
$1,877
$134
$2,443
$174
$7,815
$558
Select
-68%
18 Jan 20
14 Night Vietnam, Philippines, Hong Kong
Celebrity Millennium
Celebrity Cruises
Singapore
Far East
Show
$2,955
$211
$3,082
$220
$7,687
$549
Select
-60%
01 Feb 20
14 Night Taiwan, Vietnam, Japan Cruise
Celebrity Millennium
Celebrity Cruises
Singapore
Far East
Show
$1,907
$136
$1,886
$135
$2,252
$161
$6,079
$434
Select
15 Feb 20
14 Night Southeast Asia Cruise
Celebrity Millennium
Celebrity Cruises
Hong Kong
Far East
Show
$1,712
$122
$2,147
$153
$2,556
$183
$6,680
$477
Select
-67%
29 Feb 20
14 Night Southeast Asia Cruise
Celebrity Millennium
Celebrity Cruises
Singapore
Far East
Show
$1,705
$122
$2,258
$161
$3,092
$221
$8,464
$605
Select
-64%
14 Mar 20
14 Night China & South Korea Cruise
Celebrity Millennium
Celebrity Cruises
Hong Kong
Far East
Show
$1,573
$112
$2,125
$152
$2,319
$166
$8,614
$615
Select
-73%
10 Apr 20
11 Night Best Of Japan Cruise
Celebrity Millennium
Celebrity Cruises
Yokohama
Far East
Show
$4,194
$381
$7,220
$656
$9,471
$861
$19,128
$1,739
Select
-12%
21 Apr 20
11 Night Best Of Japan Cruise
Celebrity Millennium
Celebrity Cruises
Yokohama
Far East
Show
$4,052
$368
$5,953
$541
$8,213
$747
$14,922
$1,357
Select
-28%
11 Sep 20
15 Night Bering Sea & Japan Transpacific
Celebrity Millennium
Celebrity Cruises
Vancouver
Transpacific
Show
$1,866
$124
$2,070
$138
$2,759
$184
$7,145
$476
Select
-27%
27 Sep 20
14 Night Best Of Japan Cruise
Celebrity Millennium
Celebrity Cruises
Yokohama
Far East
Show
$2,779
$198
$3,355
$240
$4,272
$305
$12,016
$858
Select
-62%
11 Oct 20
14 Night Best Of Japan Cruise
Celebrity Millennium
Celebrity Cruises
Yokohama
Far East
Show
$2,701
$193
$3,623
$259
$4,321
$309
$10,876
$777
Select
-61%
25 Oct 20
14 Night Best Of Japan Cruise
Celebrity Millennium
Celebrity Cruises
Yokohama
Far East
Show
$2,647
$189
$3,209
$229
$4,179
$299
$11,061
$790
Select
-63%
08 Nov 20
14 Night Japan, China & Taiwan Cruise
Celebrity Millennium
Celebrity Cruises
Yokohama
Far East
Show
$2,396
$171
$2,978
$213
$3,754
$268
$9,960
$711
Select
-55%
22 Nov 20
14 Night Vietnam & Thailand Cruise
Celebrity Millennium
Celebrity Cruises
Hong Kong
Far East
Show
$1,979
$141
$3,055
$218
$3,725
$266
$10,086
$720
Select
-57%
06 Dec 20
14 Night Philippines & Vietnam Cruise
Celebrity Millennium
Celebrity Cruises
Singapore
Far East
Show
$1,715
$122
$2,539
$181
$3,092
$221
$6,622
$473
Select
-63%
20 Dec 20
14 Night Vietnam & Thailand Holiday
Celebrity Millennium
Celebrity Cruises
Hong Kong
Far East
Show
$2,491
$178
$3,142
$224
$4,054
$290
$9,626
$688
Select
-60%
03 Jan 21
14 Night Thailand & Vietnam Cruise
Celebrity Millennium
Celebrity Cruises
Singapore
Far East
Show
$2,343
$167
$2,731
$195
$3,325
$238
$7,354
$525
Select
-55%
17 Jan 21
14 Night Vietnam & Philippines Cruise
Celebrity Millennium
Celebrity Cruises
Hong Kong
Far East
Show
$2,512
$179
$2,968
$212
$3,647
$261
$8,262
$590
Select
-55%
31 Jan 21
14 Night Thailand & Vietnam Cruise
Celebrity Millennium
Celebrity Cruises
Singapore
Far East
Show
$2,478
$177
$3,041
$217
$3,468
$248
$8,770
$626
Select
-56%
14 Feb 21
14 Night Vietnam & Thailand Cruise
Celebrity Millennium
Celebrity Cruises
Hong Kong
Far East
Show
$2,620
$187
$3,008
$215
$3,503
$250
$8,941
$639
Select
-55%
28 Feb 21
14 Night Thailand & Vietnam Cruise
Celebrity Millennium
Celebrity Cruises
Singapore
Far East
Show
$2,583
$185
$2,961
$212
$3,742
$267
$8,196
$585
Select
-54%
14 Mar 21
14 Night Taiwan, China & Japan Cruise
Celebrity Millennium
Celebrity Cruises
Hong Kong
Far East
Show
$3,346
$239
$3,501
$250
$4,976
$355
$11,743
$839
Select
-49%
28 Mar 21
14 Night Best Of Japan Cruise
Celebrity Millennium
Celebrity Cruises
Yokohama
Far East
Show
$3,946
$282
$4,237
$303
$6,071
$434
$12,411
$886
Select
-53%
11 Apr 21
14 Night Best Of Japan Cruise
Celebrity Millennium
Celebrity Cruises
Yokohama
Far East
Show
$3,684
$263
$4,218
$301
$6,818
$487
$15,214
$1,087
Select
-54%
25 Apr 21
15 Night Japan & Bering Sea Transpacific
Celebrity Millennium
Celebrity Cruises
Yokohama
Transpacific
Show
$1,784
$119
$1,843
$123
$2,269
$151
$6,610
$441
Select
-55%
22 May 20
7 Night Alaska Northbound Glacier Cruise
Celebrity Millennium
Celebrity Cruises
Vancouver
Alaska
Show
$1,742
$249
$2,023
$289
$2,780
$397
$5,612
$802
Select
-48%
29 May 20
7 Night Alaska Southbound Glacier Cruise
Celebrity Millennium
Celebrity Cruises
Seward
Alaska
Show
$1,918
$274
$2,247
$321
$3,101
$443
$5,923
$846
Select
-45%
05 Jun 20
7 Night Alaska Northbound Glacier Cruise
Celebrity Millennium
Celebrity Cruises
Vancouver
Alaska
Show
$2,042
$292
$2,382
$340
$3,274
$468
$5,663
$809
Select
-16%
12 Jun 20
7 Night Alaska Southbound Glacier Cruise
Celebrity Millennium
Celebrity Cruises
Seward
Alaska
Show
$1,946
$278
$2,354
$336
$3,479
$497
$6,456
$922
Select
-16%
19 Jun 20
7 Night Alaska Northbound Glacier Cruise
Celebrity Millennium
Celebrity Cruises
Vancouver
Alaska
Show
$2,013
$288
$2,624
$375
$3,594
$513
$6,358
$908
Select
-44%
26 Jun 20
7 Night Alaska Southbound Glacier Cruise
Celebrity Millennium
Celebrity Cruises
Seward
Alaska
Show
$1,888
$270
$2,187
$312
$3,875
$554
$6,371
$910
Select
-49%
03 Jul 20
7 Night Alaska Northbound Glacier Cruise
Celebrity Millennium
Celebrity Cruises
Vancouver
Alaska
Show
$1,877
$268
$2,324
$332
$3,808
$544
$6,367
$910
Select
-47%
10 Jul 20
7 Night Alaska Southbound Glacier Cruise
Celebrity Millennium
Celebrity Cruises
Seward
Alaska
Show
$2,061
$294
$2,401
$343
$3,730
$533
$6,652
$950
Select
-45%
17 Jul 20
7 Night Alaska Northbound Glacier Cruise
Celebrity Millennium
Celebrity Cruises
Vancouver
Alaska
Show
$2,003
$286
$2,459
$351
$3,730
$533
$6,352
$907
Select
-44%
24 Jul 20
7 Night Alaska Southbound Glacier Cruise
Celebrity Millennium
Celebrity Cruises
Seward
Alaska
Show
$1,984
$283
$2,401
$343
$3,875
$554
$6,400
$914
Select
-45%
31 Jul 20
7 Night Alaska Northbound Glacier Cruise
Celebrity Millennium
Celebrity Cruises
Vancouver
Alaska
Show
$2,023
$289
$2,372
$339
$3,361
$480
$6,032
$862
Select
-47%
07 Aug 20
7 Night Alaska Southbound Glacier Cruise
Celebrity Millennium
Celebrity Cruises
Seward
Alaska
Show
$2,062
$295
$2,432
$347
$3,770
$539
$6,174
$882
Select
-43%
14 Aug 20
7 Night Alaska Northbound Glacier Cruise
Celebrity Millennium
Celebrity Cruises
Vancouver
Alaska
Show
$1,635
$234
$2,043
$292
$3,178
$454
$5,887
$841
Select
-49%
21 Aug 20
7 Night Alaska Southbound Glacier Cruise
Celebrity Millennium
Celebrity Cruises
Seward
Alaska
Show
$1,771
$253
$2,004
$286
$3,488
$498
$6,061
$866
Select
-48%
28 Aug 20
7 Night Alaska Northbound Glacier Cruise
Celebrity Millennium
Celebrity Cruises
Vancouver
Alaska
Show
$1,752
$250
$2,052
$293
$2,664
$381
$5,169
$738
Select
-50%
04 Sep 20
7 Night Alaska Southbound Glacier Cruise
Celebrity Millennium
Celebrity Cruises
Seward
Alaska
Show
$1,841
$263
$2,132
$305
$3,257
$465
$5,336
$762
Select
-17%
10 May 20
13 Night Japan & Bering Sea Transpacific
Celebrity Millennium
Celebrity Cruises
Yokohama
Transpacific
Show
$1,284
$99
$1,430
$110
$1,779
$137
$6,628
$510
Select
-60%
09 May 21
5 Night Alaska & British Columbia
Celebrity Millennium
Celebrity Cruises
Vancouver
Alaska
Show
$931
$186
$1,135
$227
$1,639
$328
$3,050
$610
Select
-56%
14 May 21
7 Night Alaska Northbound Glacier Cruise
Celebrity Millennium
Celebrity Cruises
Vancouver
Alaska
Show
$1,135
$162
$1,698
$243
$2,551
$364
$5,076
$725
Select
-52%
21 May 21
7 Night Alaska Southbound Glacier Cruise
Celebrity Millennium
Celebrity Cruises
Seward
Alaska
Show
$1,220
$174
$1,714
$245
$2,558
$365
$5,161
$737
Select
-54%
28 May 21
7 Night Alaska Northbound Glacier Cruise
Celebrity Millennium
Celebrity Cruises
Vancouver
Alaska
Show
$1,203
$172
$1,765
$252
$2,619
$374
$5,144
$735
Select
-52%
04 Jun 21
7 Night Alaska Southbound Glacier Cruise
Celebrity Millennium
Celebrity Cruises
Seward
Alaska
Show
$1,433
$205
$1,928
$275
$2,772
$396
$5,374
$768
Select
-54%
11 Jun 21
7 Night Alaska Northbound Glacier Cruise
Celebrity Millennium
Celebrity Cruises
Vancouver
Alaska
Show
$1,339
$191
$1,833
$262
$3,036
$434
$5,842
$835
Select
-52%
18 Jun 21
7 Night Alaska Southbound Glacier Cruise
Celebrity Millennium
Celebrity Cruises
Seward
Alaska
Show
$1,491
$213
$1,986
$284
$3,121
$446
$6,072
$867
Select
-54%
25 Jun 21
7 Night Alaska Northbound Glacier Cruise
Celebrity Millennium
Celebrity Cruises
Vancouver
Alaska
Show
$1,552
$222
$2,115
$302
$3,172
$453
$5,842
$835
Select
-52%
02 Jul 21
7 Night Alaska Southbound Glacier Cruise
Celebrity Millennium
Celebrity Cruises
Seward
Alaska
Show
$1,637
$234
$2,199
$314
$3,189
$456
$5,859
$837
Select
-54%
09 Jul 21
7 Night Alaska Northbound Glacier Cruise
Celebrity Millennium
Celebrity Cruises
Vancouver
Alaska
Show
$1,552
$222
$2,115
$302
$3,172
$453
$5,842
$835
Select
-52%
16 Jul 21
7 Night Alaska Southbound Glacier Cruise
Celebrity Millennium
Celebrity Cruises
Seward
Alaska
Show
$1,637
$234
$2,199
$314
$3,189
$456
$5,859
$837
Select
-54%
23 Jul 21
7 Night Alaska Northbound Glacier Cruise
Celebrity Millennium
Celebrity Cruises
Vancouver
Alaska
Show
$1,552
$222
$2,115
$302
$3,172
$453
$5,842
$835
Select
-52%
30 Jul 21
7 Night Alaska Southbound Glacier Cruise
Celebrity Millennium
Celebrity Cruises
Seward
Alaska
Show
$1,559
$223
$2,054
$293
$3,043
$435
$5,578
$797
Select
-54%
06 Aug 21
7 Night Alaska Northbound Glacier Cruise
Celebrity Millennium
Celebrity Cruises
Vancouver
Alaska
Show
$1,407
$201
$1,969
$281
$3,104
$443
$5,707
$815
Select
-52%
13 Aug 21
7 Night Alaska Southbound Glacier Cruise
Celebrity Millennium
Celebrity Cruises
Seward
Alaska
Show
$1,423
$203
$1,918
$274
$2,907
$415
$5,432
$776
Select
-54%
20 Aug 21
7 Night Alaska Northbound Glacier Cruise
Celebrity Millennium
Celebrity Cruises
Vancouver
Alaska
Show
$1,261
$180
$1,833
$262
$2,677
$382
$5,212
$745
Select
-52%
27 Aug 21
7 Night Alaska Southbound Glacier Cruise
Celebrity Millennium
Celebrity Cruises
Seward
Alaska
Show
$1,210
$173
$1,705
$244
$2,548
$364
$5,151
$736
Select
-55%
09 Sep 21
10 Night Pacific Coastal Cruise
Celebrity Millennium
Celebrity Cruises
Vancouver
Pacific Northwest
Show
$2,009
$201
$2,290
$229
$2,572
$257
$5,191
$519
Select
-56%
19 Sep 21
7 Night California Coastal Cruise
Celebrity Millennium
Celebrity Cruises
Los Angeles
Pacific Northwest
Show
$1,346
$192
$1,627
$232
$1,909
$273
$4,443
$635
Select
-55%
26 Sep 21
16 Night Panama Canal Eastbound Cruise
Celebrity Millennium
Celebrity Cruises
Los Angeles
Transcanal
Show
$3,196
$200
$4,050
$253
$5,321
$333
$11,145
$697
Select
-56%
12 Oct 21
15 Night Panama Canal Westbound Cruise
Celebrity Millennium
Celebrity Cruises
Fort Lauderdale (Port Everglades)
Transcanal
Show
$2,895
$193
$3,739
$249
$5,019
$335
$10,806
$720
Select
-56%
27 Oct 21
15 Night Panama Canal Eastbound Cruise
Celebrity Millennium
Celebrity Cruises
San Diego
Transcanal
Show
$2,768
$185
$3,612
$241
$4,882
$325
$10,678
$712
Select
-56%
03 Sep 21
6 Night Sawyer Glacier Cruise
Celebrity Millennium
Celebrity Cruises
Vancouver
Alaska
Show
$924
$154
$1,429
$238
$2,069
$345
$4,382
$730
Select
-57%
11 Nov 21
4 Night Grand Cayman Cruise
Celebrity Millennium
Celebrity Cruises
Fort Lauderdale (Port Everglades)
Bahamas
Show
$740
$185
$857
$214
$1,099
$275
$2,065
$516
Select
-57%
15 Nov 21
10 Night Eastern Caribbean Cruise
Celebrity Millennium
Celebrity Cruises
Fort Lauderdale (Port Everglades)
Caribbean - Eastern
Show
$1,727
$173
$2,367
$237
$2,871
$287
$5,868
$587
Select
-56%
25 Nov 21
4 Night Key West & Bahamas Cruise
Celebrity Millennium
Celebrity Cruises
Fort Lauderdale (Port Everglades)
Bahamas
Show
$858
$215
$975
$244
$1,217
$304
$2,261
$565
Select
-55%
09 Dec 21
4 Night Key West & Bahamas Cruise
Celebrity Millennium
Celebrity Cruises
Fort Lauderdale (Port Everglades)
Bahamas
Show
$790
$198
$907
$227
$1,149
$287
$2,115
$529
Select
-55%
13 Dec 21
10 Night Eastern Caribbean Cruise
Celebrity Millennium
Celebrity Cruises
Fort Lauderdale (Port Everglades)
Caribbean - Eastern
Show
$1,581
$158
$2,231
$223
$2,726
$273
$5,587
$559
Select
-57%
23 Dec 21
4 Night Key West & Bahamas Holiday
Celebrity Millennium
Celebrity Cruises
Fort Lauderdale (Port Everglades)
Bahamas
Show
$936
$234
$1,217
$304
$1,363
$341
$2,833
$708
Select
-54%
27 Dec 21
10 Night Eastern Caribbean Holiday
Celebrity Millennium
Celebrity Cruises
Fort Lauderdale (Port Everglades)
Caribbean - Eastern
Show
$2,580
$258
$3,220
$322
$3,725
$372
$7,440
$744
Select
-54%
03 Mar 22
4 Night Key West & Bahamas Cruise
Celebrity Millennium
Celebrity Cruises
Fort Lauderdale (Port Everglades)
Bahamas
Show
$790
$198
$907
$227
$1,149
$287
$2,115
$529
Select
-55%
17 Mar 22
4 Night Key West & Bahamas Cruise
Celebrity Millennium
Celebrity Cruises
Fort Lauderdale (Port Everglades)
Bahamas
Show
$858
$215
$975
$244
$1,217
$304
$2,261
$565
Select
-55%
21 Mar 22
10 Night Eastern Caribbean Cruise
Celebrity Millennium
Celebrity Cruises
Fort Lauderdale (Port Everglades)
Caribbean - Eastern
Show
$1,794
$179
$2,444
$244
$2,939
$294
$6,014
$601
Select
-56%
31 Mar 22
4 Night Key West & Bahamas Cruise
Celebrity Millennium
Celebrity Cruises
Fort Lauderdale (Port Everglades)
Bahamas
Show
$855
$214
$972
$243
$1,214
$304
$2,258
$564
Select
-55%
14 Apr 22
4 Night Key West & Bahamas Cruise
Celebrity Millennium
Celebrity Cruises
Fort Lauderdale (Port Everglades)
Bahamas
Show
$858
$215
$975
$244
$1,217
$304
$2,261
$565
Select
-55%
14 Dec 19
7 Night Southern Caribbean Cruise
Celebrity Summit
Celebrity Cruises
San Juan
Caribbean - Southern
Show
$935
$134
$1,005
$144
$1,076
$154
$3,062
$437
Select
-67%
21 Dec 19
7 Night Southern Caribbean Holiday
Celebrity Summit
Celebrity Cruises
San Juan
Caribbean - Southern
Show
$1,350
$193
$1,111
$159
$1,323
$189
$4,414
$631
Select
-75%
28 Dec 19
7 Night Southern Caribbean Holiday
Celebrity Summit
Celebrity Cruises
San Juan
Caribbean - Southern
Show
$1,475
$211
$1,690
$241
$2,805
$401
Select
-56%
04 Jan 20
10 Night Lesser Antilles Caribbean
Celebrity Summit
Celebrity Cruises
San Juan
Caribbean - Southern
Show
$1,695
$169
$1,540
$154
$3,374
$337
$18,205
$1,821
Select
-67%
14 Jan 20
11 Night Dutch Antilles Caribbean
Celebrity Summit
Celebrity Cruises
San Juan
Caribbean - Southern
Show
$2,230
$203
$2,220
$202
$10,029
$912
Select
-52%
25 Jan 20
7 Night Southern Caribbean Cruise
Celebrity Summit
Celebrity Cruises
San Juan
Caribbean - Southern
Show
$1,436
$205
$2,069
$296
$3,019
$431
$6,727
$961
Select
-40%
01 Feb 20
7 Night Southern Caribbean Cruise
Celebrity Summit
Celebrity Cruises
San Juan
Caribbean - Southern
Show
$1,261
$180
$1,756
$251
$2,600
$371
$6,144
$878
Select
-48%
08 Feb 20
7 Night Southern Caribbean Cruise
Celebrity Summit
Celebrity Cruises
San Juan
Caribbean - Southern
Show
$1,671
$239
$1,913
$273
$2,883
$412
$6,300
$900
Select
-40%
15 Feb 20
7 Night Southern Caribbean Cruise
Celebrity Summit
Celebrity Cruises
San Juan
Caribbean - Southern
Show
$1,592
$227
$3,755
$536
$3,736
$534
$6,901
$986
Select
-36%
22 Feb 20
7 Night Southern Caribbean Cruise
Celebrity Summit
Celebrity Cruises
San Juan
Caribbean - Southern
Show
$1,563
$223
$1,922
$275
$2,640
$377
$6,038
$863
Select
-37%
29 Feb 20
7 Night Southern Caribbean Cruise
Celebrity Summit
Celebrity Cruises
San Juan
Caribbean - Southern
Show
$1,476
$211
$1,611
$230
$2,455
$351
$4,806
$687
Select
-49%
07 Mar 20
7 Night Southern Caribbean Cruise
Celebrity Summit
Celebrity Cruises
San Juan
Caribbean - Southern
Show
$1,378
$197
$1,533
$219
$2,183
$312
$4,465
$638
Select
-53%
14 Mar 20
7 Night Southern Caribbean Cruise
Celebrity Summit
Celebrity Cruises
San Juan
Caribbean - Southern
Show
$1,523
$218
$1,940
$277
$2,473
$353
$6,200
$886
Select
-39%
28 Mar 20
7 Night Southern Caribbean Cruise
Celebrity Summit
Celebrity Cruises
San Juan
Caribbean - Southern
Show
$1,310
$187
$1,446
$207
$1,795
$256
$4,878
$697
Select
-55%
04 Apr 20
7 Night Southern Caribbean Cruise
Celebrity Summit
Celebrity Cruises
San Juan
Caribbean - Southern
Show
$1,377
$197
$1,513
$216
$2,076
$297
$4,879
$697
Select
-52%
11 Apr 20
7 Night Southern Caribbean Cruise
Celebrity Summit
Celebrity Cruises
San Juan
Caribbean - Southern
Show
$1,280
$183
$1,426
$204
$1,979
$283
$5,140
$734
Select
-54%
18 Apr 20
7 Night Southern Caribbean Cruise
Celebrity Summit
Celebrity Cruises
San Juan
Caribbean - Southern
Show
$1,388
$198
$1,543
$220
$2,096
$299
$4,612
$659
Select
-50%
25 Apr 20
7 Night Southern Caribbean Cruise
Celebrity Summit
Celebrity Cruises
San Juan
Caribbean - Southern
Show
$1,446
$207
$1,514
$216
$2,349
$336
$6,086
$869
Select
-50%
17 Oct 20
12 Night Boston To Fort Lauderdale
Celebrity Summit
Celebrity Cruises
Boston
Repositioning
Show
$2,166
$180
$2,437
$203
$2,796
$233
$6,519
$543
Select
-56%
29 Oct 20
15 Night Panama Canal Westbound Cruise
Celebrity Summit
Celebrity Cruises
Fort Lauderdale (Port Everglades)
Transcanal
Show
$4,081
$272
$11,803
$787
$15,869
$1,058
Select
-24%
13 Nov 20
15 Night Panama Canal Eastbound Cruise
Celebrity Summit
Celebrity Cruises
San Diego
Transcanal
Show
$4,358
$291
$5,415
$361
$9,431
$629
$14,613
$974
Select
-21%
28 Nov 20
7 Night Eastern Caribbean Cruise
Celebrity Summit
Celebrity Cruises
Fort Lauderdale (Port Everglades)
Caribbean - Southern
Show
$1,599
$228
$1,881
$269
$2,094
$299
$4,095
$585
Select
-41%
05 Dec 20
7 Night Southern Caribbean Cruise
Celebrity Summit
Celebrity Cruises
San Juan
Caribbean - Southern
Show
$1,571
$224
$1,765
$252
$2,105
$301
$4,193
$599
Select
-41%
12 Dec 20
7 Night Southern Caribbean Cruise
Celebrity Summit
Celebrity Cruises
San Juan
Caribbean - Southern
Show
$1,513
$216
$1,766
$252
$2,076
$297
$4,077
$582
Select
-43%
19 Dec 20
7 Night Southern Caribbean Holiday
Celebrity Summit
Celebrity Cruises
San Juan
Caribbean - Southern
Show
$1,718
$245
$1,922
$275
$2,485
$355
$5,824
$832
Select
-56%
26 Dec 20
7 Night Southern Caribbean Holiday
Celebrity Summit
Celebrity Cruises
San Juan
Caribbean - Southern
Show
$2,001
$286
$2,351
$336
$2,777
$397
$6,321
$903
Select
-49%
02 Jan 21
7 Night Southern Caribbean Cruise
Celebrity Summit
Celebrity Cruises
San Juan
Caribbean - Southern
Show
$1,416
$202
$1,697
$242
$1,979
$283
$4,261
$609
Select
-49%
09 Jan 21
7 Night Southern Caribbean Cruise
Celebrity Summit
Celebrity Cruises
San Juan
Caribbean - Southern
Show
$1,377
$197
$1,648
$235
$1,929
$276
$4,076
$582
Select
-50%
16 Jan 21
7 Night Southern Caribbean Cruise
Celebrity Summit
Celebrity Cruises
San Juan
Caribbean - Southern
Show
$1,426
$204
$1,707
$244
$1,989
$284
$4,339
$620
Select
-50%
23 Jan 21
7 Night Southern Caribbean Cruise
Celebrity Summit
Celebrity Cruises
San Juan
Caribbean - Southern
Show
$1,440
$206
$1,721
$246
$2,002
$286
$4,081
$583
Select
-50%
30 Jan 21
7 Night Southern Caribbean Cruise
Celebrity Summit
Celebrity Cruises
San Juan
Caribbean - Southern
Show
$1,406
$201
$1,687
$241
$2,105
$301
$4,532
$647
Select
-46%
06 Feb 21
7 Night Southern Caribbean Cruise
Celebrity Summit
Celebrity Cruises
San Juan
Caribbean - Southern
Show
$1,444
$206
$1,794
$256
$2,211
$316
$4,493
$642
Select
-48%
13 Feb 21
7 Night Southern Caribbean Cruise
Celebrity Summit
Celebrity Cruises
San Juan
Caribbean - Southern
Show
$1,572
$225
$1,921
$274
$2,270
$324
$4,902
$700
Select
-49%
20 Feb 21
7 Night Southern Caribbean Cruise
Celebrity Summit
Celebrity Cruises
San Juan
Caribbean - Southern
Show
$1,444
$206
$1,794
$256
$2,143
$306
$4,774
$682
Select
-49%
27 Feb 21
7 Night Southern Caribbean Cruise
Celebrity Summit
Celebrity Cruises
San Juan
Caribbean - Southern
Show
$1,416
$202
$1,765
$252
$2,115
$302
$4,475
$639
Select
-49%
06 Mar 21
7 Night Southern Caribbean Cruise
Celebrity Summit
Celebrity Cruises
San Juan
Caribbean - Southern
Show
$1,444
$206
$1,794
$256
$2,143
$306
$4,493
$642
Select
-49%
13 Mar 21
7 Night Southern Caribbean Cruise
Celebrity Summit
Celebrity Cruises
San Juan
Caribbean - Southern
Show
$1,572
$225
$1,775
$254
$2,134
$305
$4,485
$641
Select
-50%
20 Mar 21
7 Night Southern Caribbean Cruise
Celebrity Summit
Celebrity Cruises
San Juan
Caribbean - Southern
Show
$1,444
$206
$1,794
$256
$2,143
$306
$4,493
$642
Select
-49%
27 Mar 21
7 Night Southern Caribbean Cruise
Celebrity Summit
Celebrity Cruises
San Juan
Caribbean - Southern
Show
$1,484
$212
$1,843
$263
$2,192
$313
$4,610
$659
Select
-49%
03 Apr 21
7 Night Southern Caribbean Cruise
Celebrity Summit
Celebrity Cruises
San Juan
Caribbean - Southern
Show
$1,474
$211
$1,755
$251
$2,036
$291
$4,493
$642
Select
-50%
10 Apr 21
7 Night Southern Caribbean Cruise
Celebrity Summit
Celebrity Cruises
San Juan
Caribbean - Southern
Show
$1,358
$194
$1,640
$234
$1,921
$274
$4,553
$650
Select
-50%
17 Apr 21
7 Night Southern Caribbean Cruise
Celebrity Summit
Celebrity Cruises
San Juan
Caribbean - Southern
Show
$1,522
$217
$1,794
$256
$2,153
$308
$4,212
$602
Select
-44%
24 Apr 21
7 Night Southern Caribbean Cruise
Celebrity Summit
Celebrity Cruises
San Juan
Caribbean - Southern
Show
$1,348
$193
$1,630
$233
$2,056
$294
$4,397
$628
Select
-46%
09 May 20
10 Night Bermuda, Newport And Charleston
Celebrity Summit
Celebrity Cruises
Cape Liberty (Bayonne)
Bermuda
Show
$2,722
$272
$3,062
$306
$4,197
$420
$10,379
$1,038
Select
-50%
19 May 20
9 Night Maine & Canada Cruise
Celebrity Summit
Celebrity Cruises
Cape Liberty (Bayonne)
Canada / New England
Show
$1,789
$199
$2,216
$246
$2,565
$285
$6,135
$682
Select
-62%
28 May 20
9 Night Maine & Canada Cruise
Celebrity Summit
Celebrity Cruises
Cape Liberty (Bayonne)
Bermuda
Show
$1,799
$200
$2,235
$248
$2,779
$309
$6,724
$747
Select
-59%
06 Jun 20
10 Night Bermuda, Newport And Charleston
Celebrity Summit
Celebrity Cruises
Cape Liberty (Bayonne)
Bermuda
Show
$2,712
$271
$3,207
$321
$4,128
$413
$10,474
$1,047
Select
-50%
28 Jun 20
7 Night Bermuda & Newport Cruise
Celebrity Summit
Celebrity Cruises
Cape Liberty (Bayonne)
Bermuda
Show
$2,151
$307
$2,500
$357
$2,995
$428
$6,478
$925
Select
-51%
05 Jul 20
7 Night Bermuda & Newport Cruise
Celebrity Summit
Celebrity Cruises
Cape Liberty (Bayonne)
Bermuda
Show
$1,852
$265
$2,260
$323
$2,764
$395
$5,978
$854
Select
-55%
12 Jul 20
7 Night Bermuda & Newport Cruise
Celebrity Summit
Celebrity Cruises
Cape Liberty (Bayonne)
Bermuda
Show
$1,926
$275
$2,334
$333
$2,838
$405
$6,556
$937
Select
-53%
19 Jul 20
7 Night Bermuda & Newport Cruise
Celebrity Summit
Celebrity Cruises
Cape Liberty (Bayonne)
Bermuda
Show
$1,917
$274
$2,334
$333
$2,819
$403
$6,682
$955
Select
-53%
26 Jul 20
7 Night Bermuda & Newport Cruise
Celebrity Summit
Celebrity Cruises
Cape Liberty (Bayonne)
Bermuda
Show
$1,871
$267
$2,317
$331
$2,724
$389
$6,079
$868
Select
-55%
02 Aug 20
14 Night Iceland & Greenland Cruise
Celebrity Summit
Celebrity Cruises
Cape Liberty (Bayonne)
Repositioning
Show
$4,281
$306
$5,688
$406
$7,937
$567
$25,987
$1,856
Select
-33%
16 Aug 20
14 Night Iceland & Greenland Cruise
Celebrity Summit
Celebrity Cruises
Dun Laoghaire
Repositioning
Show
$4,621
$330
$6,038
$431
$9,493
$678
$26,049
$1,861
Select
-29%
30 Aug 20
12 Night Boston, Maine & Canada Cruise
Celebrity Summit
Celebrity Cruises
Boston
Canada / New England
Show
$3,013
$251
$3,236
$270
$4,283
$357
$9,170
$764
Select
-50%
11 Sep 20
12 Night Boston, Maine & Canada Cruise
Celebrity Summit
Celebrity Cruises
Boston
Canada / New England
Show
$3,013
$251
$3,168
$264
$4,293
$358
$9,316
$776
Select
-51%
23 Sep 20
12 Night Boston, Maine & Canada Cruise
Celebrity Summit
Celebrity Cruises
Boston
Canada / New England
Show
$3,023
$252
$3,226
$269
$4,284
$357
$10,296
$858
Select
-51%
05 Oct 20
12 Night Boston, Maine & Canada Cruise
Celebrity Summit
Celebrity Cruises
Boston
Canada / New England
Show
$3,091
$258
$3,527
$294
$4,575
$381
$10,831
$903
Select
-46%
16 Jun 20
12 Night Boston, Maine & Canada Cruise
Celebrity Summit
Celebrity Cruises
Cape Liberty (Bayonne)
Canada / New England
Show
$2,753
$229
$3,170
$264
$3,810
$318
$9,269
$772
Select
-56%
02 May 20
7 Night San Juan To New Jersey Cruise
Celebrity Summit
Celebrity Cruises
San Juan
Caribbean - Eastern
Show
$1,397
$200
$1,465
$209
$1,746
$249
Select
-51%
29 Aug 21
12 Night Boston, Maine & Canada Cruise
Celebrity Summit
Celebrity Cruises
Boston
Canada / New England
Show
$2,524
$210
$3,300
$275
$3,940
$328
$9,081
$757
Select
-57%
10 Sep 21
12 Night Boston, Maine & Canada Cruise
Celebrity Summit
Celebrity Cruises
Boston
Canada / New England
Show
$2,671
$223
$3,447
$287
$4,087
$341
$9,228
$769
Select
-57%
22 Sep 21
12 Night Boston, Maine & Canada Cruise
Celebrity Summit
Celebrity Cruises
Boston
Canada / New England
Show
$2,670
$222
$3,446
$287
$4,086
$340
$9,228
$769
Select
-57%
04 Oct 21
12 Night Boston, Maine & Canada Cruise
Celebrity Summit
Celebrity Cruises
Boston
Canada / New England
Show
$2,670
$222
$3,446
$287
$4,086
$340
$9,227
$769
Select
-57%
06 May 21
9 Night Bermuda And Charleston Cruise
Celebrity Summit
Celebrity Cruises
Cape Liberty (Bayonne)
Bermuda
Show
$2,394
$266
$2,743
$305
$3,451
$383
$6,534
$726
Select
-62%
15 May 21
10 Night Bermuda, Newport And Charleston
Celebrity Summit
Celebrity Cruises
Cape Liberty (Bayonne)
Bermuda
Show
$2,482
$248
$2,841
$284
$3,549
$355
$6,655
$665
Select
-63%
25 May 21
10 Night Bermuda, Newport And Charleston
Celebrity Summit
Celebrity Cruises
Cape Liberty (Bayonne)
Bermuda
Show
$2,482
$248
$2,841
$284
$3,549
$355
$6,655
$665
Select
-63%
04 Jun 21
9 Night Bermuda & Charleston Cruise
Celebrity Summit
Celebrity Cruises
Cape Liberty (Bayonne)
Bermuda
Show
$2,457
$273
$2,806
$312
$3,514
$390
$6,597
$733
Select
-15%
13 Jun 21
7 Night Bermuda & Newport Cruise
Celebrity Summit
Celebrity Cruises
Cape Liberty (Bayonne)
Bermuda
Show
$1,977
$282
$2,191
$313
$2,685
$384
$4,935
$705
Select
-55%
20 Jun 21
7 Night Bermuda & Newport Cruise
Celebrity Summit
Celebrity Cruises
Cape Liberty (Bayonne)
Bermuda
Show
$1,977
$282
$2,191
$313
$2,685
$384
$4,935
$705
Select
-55%
27 Jun 21
7 Night Bermuda & Newport Cruise
Celebrity Summit
Celebrity Cruises
Cape Liberty (Bayonne)
Bermuda
Show
$1,977
$282
$2,191
$313
$2,685
$384
$4,935
$705
Select
-55%
04 Jul 21
7 Night Bermuda & Newport Cruise
Celebrity Summit
Celebrity Cruises
Cape Liberty (Bayonne)
Bermuda
Show
$2,123
$303
$2,336
$334
$2,831
$404
$5,643
$806
Select
-54%
11 Jul 21
7 Night Bermuda & Newport Cruise
Celebrity Summit
Celebrity Cruises
Cape Liberty (Bayonne)
Bermuda
Show
$2,055
$294
$2,268
$324
$2,763
$395
$5,003
$715
Select
-55%
18 Jul 21
7 Night Bermuda & Newport Cruise
Celebrity Summit
Celebrity Cruises
Cape Liberty (Bayonne)
Bermuda
Show
$2,055
$294
$2,268
$324
$2,763
$395
$5,003
$715
Select
-55%
25 Jul 21
7 Night Bermuda & Newport Cruise
Celebrity Summit
Celebrity Cruises
Cape Liberty (Bayonne)
Bermuda
Show
$1,909
$273
$2,123
$303
$2,617
$374
$4,867
$695
Select
-55%
01 Aug 21
14 Night Iceland & Greenland Cruise
Celebrity Summit
Celebrity Cruises
Cape Liberty (Bayonne)
Transatlantic
Show
$3,107
$222
$4,241
$303
$5,231
$374
$11,710
$836
Select
-62%
15 Aug 21
14 Night Iceland & Greenland Cruise
Celebrity Summit
Celebrity Cruises
Southampton
Transatlantic
Show
$2,881
$206
$4,015
$287
$5,005
$357
$11,485
$820
Select
-57%
05 Mar 22
7 Night Southern Caribbean Cruise
Celebrity Summit
Celebrity Cruises
San Juan
Caribbean - Southern
Show
$1,369
$196
$1,447
$207
$1,592
$227
$3,143
$449
Select
-58%
12 Mar 22
7 Night Southern Caribbean Cruise
Celebrity Summit
Celebrity Cruises
San Juan
Caribbean - Southern
Show
$1,358
$194
$1,426
$204
$1,571
$224
$3,122
$446
Select
-58%
19 Mar 22
7 Night Southern Caribbean Cruise
Celebrity Summit
Celebrity Cruises
San Juan
Caribbean - Southern
Show
$1,369
$196
$1,447
$207
$1,592
$227
$3,143
$449
Select
-58%
09 Apr 22
7 Night Southern Caribbean Cruise
Celebrity Summit
Celebrity Cruises
San Juan
Caribbean - Southern
Show
$1,494
$213
$1,571
$224
$1,707
$244
$3,268
$467
Select
-57%
16 Apr 22
7 Night Southern Caribbean Cruise
Celebrity Summit
Celebrity Cruises
San Juan
Caribbean - Southern
Show
$1,447
$207
$1,514
$216
$1,660
$237
$3,211
$459
Select
-57%
23 Apr 22
7 Night Southern Caribbean Cruise
Celebrity Summit
Celebrity Cruises
San Juan
Caribbean - Southern
Show
$1,213
$173
$1,280
$183
$1,426
$204
$2,977
$425
Select
-59%
30 Apr 22
7 Night Southern Caribbean Cruise
Celebrity Summit
Celebrity Cruises
San Juan
Caribbean - Southern
Show
$1,233
$176
$1,301
$186
$1,447
$207
$2,998
$428
Select
-58%
25 Jan 20
7 Night Galapagos Northern Loop
Celebrity Xpedition
Celebrity Cruises
Isla Baltra
Galapagos Island
Show
$16,709
$2,387
Select
-42%
01 Feb 20
7 Night Galapagos Southern Loop
Celebrity Xpedition
Celebrity Cruises
Isla Baltra
Galapagos Island
Show
$13,843
$1,978
Select
-29%
08 Feb 20
7 Night Galapagos Northern Loop
Celebrity Xpedition
Celebrity Cruises
Isla Baltra
Galapagos Island
Show
$14,316
$2,045
Select
-26%
29 Feb 20
7 Night Galapagos Southern Loop
Celebrity Xpedition
Celebrity Cruises
Isla Baltra
Galapagos Island
Show
$10,461
$1,494
$13,836
$1,977
Select
-29%
07 Mar 20
7 Night Galapagos Northern Loop
Celebrity Xpedition
Celebrity Cruises
Isla Baltra
Galapagos Island
Show
$11,821
$1,689
Select
-25%
14 Mar 20
7 Night Galapagos Southern Loop
Celebrity Xpedition
Celebrity Cruises
Isla Baltra
Galapagos Island
Show
$11,916
$1,702
$15,211
$2,173
Select
-25%
21 Mar 20
7 Night Galapagos Northern Loop
Celebrity Xpedition
Celebrity Cruises
Isla Baltra
Galapagos Island
Show
$10,453
$1,493
$14,280
$2,040
Select
-29%
28 Mar 20
7 Night Galapagos Southern Loop
Celebrity Xpedition
Celebrity Cruises
Isla Baltra
Galapagos Island
Show
$10,424
$1,489
$13,851
$1,979
Select
-58%
04 Apr 20
7 Night Galapagos Northern Loop
Celebrity Xpedition
Celebrity Cruises
Isla Baltra
Galapagos Island
Show
$11,916
$1,702
$15,291
$2,184
Select
-25%
11 Apr 20
7 Night Galapagos Southern Loop
Celebrity Xpedition
Celebrity Cruises
Isla Baltra
Galapagos Island
Show
$9,434
$1,348
Select
-31%
18 Apr 20
7 Night Galapagos Northern Loop
Celebrity Xpedition
Celebrity Cruises
Isla Baltra
Galapagos Island
Show
$9,413
$1,345
$11,282
$1,612
Select
-40%
30 May 20
7 Night Galapagos Northern Loop
Celebrity Xpedition
Celebrity Cruises
Isla Baltra
Galapagos Island
Show
$16,353
$2,336
Select
-25%
04 Jul 20
7 Night Galapagos Southern Loop
Celebrity Xpedition
Celebrity Cruises
Isla Baltra
Galapagos Island
Show
$10,475
$1,496
Select
-25%
11 Jul 20
7 Night Galapagos Northern Loop
Celebrity Xpedition
Celebrity Cruises
Isla Baltra
Galapagos Island
Show
$10,490
$1,499
$13,793
$1,970
Select
-25%
25 Jul 20
7 Night Galapagos Northern Loop
Celebrity Xpedition
Celebrity Cruises
Isla Baltra
Galapagos Island
Show
$11,028
$1,575
$14,338
$2,048
Select
-25%
01 Aug 20
7 Night Galapagos Southern Loop
Celebrity Xpedition
Celebrity Cruises
Isla Baltra
Galapagos Island
Show
$10,272
$1,467
$13,581
$1,940
Select
-25%
08 Aug 20
7 Night Galapagos Northern Loop
Celebrity Xpedition
Celebrity Cruises
Isla Baltra
Galapagos Island
Show
$11,340
$1,620
$14,643
$2,092
Select
-25%
15 Aug 20
7 Night Galapagos Southern Loop
Celebrity Xpedition
Celebrity Cruises
Isla Baltra
Galapagos Island
Show
$10,293
$1,470
$13,581
$1,940
Select
-25%
22 Aug 20
7 Night Galapagos Northern Loop
Celebrity Xpedition
Celebrity Cruises
Isla Baltra
Galapagos Island
Show
$10,504
$1,501
$13,799
$1,971
Select
-25%
29 Aug 20
7 Night Galapagos Southern Loop
Celebrity Xpedition
Celebrity Cruises
Isla Baltra
Galapagos Island
Show
$10,795
$1,542
$14,156
$2,022
Select
-25%
05 Sep 20
7 Night Galapagos Northern Loop
Celebrity Xpedition
Celebrity Cruises
Isla Baltra
Galapagos Island
Show
$11,843
$1,692
$15,146
$2,164
Select
-25%
19 Sep 20
7 Night Galapagos Northern Loop
Celebrity Xpedition
Celebrity Cruises
Isla Baltra
Galapagos Island
Show
$11,334
$1,619
$14,629
$2,090
Select
-25%
26 Sep 20
7 Night Galapagos Southern Loop
Celebrity Xpedition
Celebrity Cruises
Isla Baltra
Galapagos Island
Show
$9,755
$1,394
$13,043
$1,863
Select
-25%
03 Oct 20
7 Night Galapagos Northern Loop
Celebrity Xpedition
Celebrity Cruises
Isla Baltra
Galapagos Island
Show
$12,184
$1,741
Select
-25%
10 Oct 20
7 Night Galapagos Southern Loop
Celebrity Xpedition
Celebrity Cruises
Isla Baltra
Galapagos Island
Show
$12,629
$1,804
$15,990
$2,284
Select
-25%
17 Oct 20
7 Night Galapagos Northern Loop
Celebrity Xpedition
Celebrity Cruises
Isla Baltra
Galapagos Island
Show
$11,006
$1,572
$14,302
$2,043
Select
-25%
24 Oct 20
7 Night Galapagos Southern Loop
Celebrity Xpedition
Celebrity Cruises
Isla Baltra
Galapagos Island
Show
$11,515
$1,645
$16,950
$2,421
Select
-25%
31 Oct 20
7 Night Galapagos Northern Loop
Celebrity Xpedition
Celebrity Cruises
Isla Baltra
Galapagos Island
Show
$11,340
$1,620
$14,637
$2,091
Select
-25%
07 Nov 20
7 Night Galapagos Southern Loop
Celebrity Xpedition
Celebrity Cruises
Isla Baltra
Galapagos Island
Show
$13,872
$1,982
Select
-25%
14 Nov 20
7 Night Galapagos Northern Loop
Celebrity Xpedition
Celebrity Cruises
Isla Baltra
Galapagos Island
Show
$10,802
$1,543
$14,098
$2,014
Select
-25%
21 Nov 20
7 Night Galapagos Southern Loop
Celebrity Xpedition
Celebrity Cruises
Isla Baltra
Galapagos Island
Show
$13,261
$1,894
Select
-25%
28 Nov 20
7 Night Galapagos Northern Loop
Celebrity Xpedition
Celebrity Cruises
Isla Baltra
Galapagos Island
Show
$13,596
$1,942
Select
-25%
05 Dec 20
7 Night Galapagos Southern Loop
Celebrity Xpedition
Celebrity Cruises
Isla Baltra
Galapagos Island
Show
$10,810
$1,544
$16,717
$2,388
Select
-37%
12 Dec 20
7 Night Galapagos Northern Loop
Celebrity Xpedition
Celebrity Cruises
Isla Baltra
Galapagos Island
Show
$13,043
$1,863
Select
-25%
19 Dec 20
7 Night Galapagos Southern Loop
Celebrity Xpedition
Celebrity Cruises
Isla Baltra
Galapagos Island
Show
$15,088
$2,155
Select
-38%
26 Dec 20
7 Night Galapagos Northern Loop
Celebrity Xpedition
Celebrity Cruises
Isla Baltra
Galapagos Island
Show
$15,604
$2,229
Select
-35%
02 Jan 21
7 Night Galapagos Southern Loop
Celebrity Xpedition
Celebrity Cruises
Isla Baltra
Galapagos Island
Show
$8,835
$1,262
$12,108
$1,730
Select
-36%
09 Jan 21
7 Night Galapagos Northern Loop
Celebrity Xpedition
Celebrity Cruises
Isla Baltra
Galapagos Island
Show
$12,094
$1,728
Select
-36%
16 Jan 21
7 Night Galapagos Southern Loop
Celebrity Xpedition
Celebrity Cruises
Isla Baltra
Galapagos Island
Show
$12,196
$1,742
Select
-37%
23 Jan 21
7 Night Galapagos Northern Loop
Celebrity Xpedition
Celebrity Cruises
Isla Baltra
Galapagos Island
Show
$9,373
$1,339
$12,108
$1,730
Select
-34%
30 Jan 21
7 Night Galapagos Southern Loop
Celebrity Xpedition
Celebrity Cruises
Isla Baltra
Galapagos Island
Show
$8,725
$1,246
$12,006
$1,715
Select
-36%
06 Feb 21
7 Night Galapagos Northern Loop
Celebrity Xpedition
Celebrity Cruises
Isla Baltra
Galapagos Island
Show
$8,835
$1,262
$12,188
$1,741
Select
-38%
20 Feb 21
7 Night Galapagos Northern Loop
Celebrity Xpedition
Celebrity Cruises
Isla Baltra
Galapagos Island
Show
$8,733
$1,248
$12,086
$1,727
Select
-40%
27 Feb 21
7 Night Galapagos Southern Loop
Celebrity Xpedition
Celebrity Cruises
Isla Baltra
Galapagos Island
Show
$8,733
$1,248
$12,086
$1,727
Select
-39%
06 Mar 21
7 Night Galapagos Northern Loop
Celebrity Xpedition
Celebrity Cruises
Isla Baltra
Galapagos Island
Show
$8,835
$1,262
$12,188
$1,741
Select
-39%
13 Mar 21
7 Night Galapagos Southern Loop
Celebrity Xpedition
Celebrity Cruises
Isla Baltra
Galapagos Island
Show
$8,936
$1,277
$12,210
$1,744
Select
-36%
20 Mar 21
7 Night Galapagos Northern Loop
Celebrity Xpedition
Celebrity Cruises
Isla Baltra
Galapagos Island
Show
$8,841
$1,263
$12,188
$1,741
Select
-40%
27 Mar 21
7 Night Galapagos Southern Loop
Celebrity Xpedition
Celebrity Cruises
Isla Baltra
Galapagos Island
Show
$8,835
$1,262
$12,086
$1,727
Select
-38%
03 Apr 21
7 Night Galapagos Northern Loop
Celebrity Xpedition
Celebrity Cruises
Isla Baltra
Galapagos Island
Show
$8,733
$1,248
$12,086
$1,727
Select
-38%
10 Apr 21
7 Night Galapagos Southern Loop
Celebrity Xpedition
Celebrity Cruises
Isla Baltra
Galapagos Island
Show
$13,374
$1,911
Select
-32%
24 Apr 21
7 Night Galapagos Southern Loop
Celebrity Xpedition
Celebrity Cruises
Isla Baltra
Galapagos Island
Show
$13,657
$1,951
Select
-30%
01 May 21
7 Night Galapagos Northern Loop
Celebrity Xpedition
Celebrity Cruises
Isla Baltra
Galapagos Island
Show
$12,181
$1,740
Select
-41%
08 May 21
7 Night Galapagos Southern Loop
Celebrity Xpedition
Celebrity Cruises
Isla Baltra
Galapagos Island
Show
$12,202
$1,743
Select
-36%
15 May 21
7 Night Galapagos Northern Loop
Celebrity Xpedition
Celebrity Cruises
Isla Baltra
Galapagos Island
Show
$12,202
$1,743
Select
-36%
19 Jun 21
7 Night Galapagos Southern Loop
Celebrity Xpedition
Celebrity Cruises
Isla Baltra
Galapagos Island
Show
$12,181
$1,740
Select
-39%
26 Jun 21
7 Night Galapagos Northern Loop
Celebrity Xpedition
Celebrity Cruises
Isla Baltra
Galapagos Island
Show
$12,094
$1,728
Select
-38%
03 Jul 21
7 Night Galapagos Southern Loop
Celebrity Xpedition
Celebrity Cruises
Isla Baltra
Galapagos Island
Show
$11,992
$1,713
Select
-37%
10 Jul 21
7 Night Galapagos Northern Loop
Celebrity Xpedition
Celebrity Cruises
Isla Baltra
Galapagos Island
Show
$8,835
$1,262
$12,094
$1,728
Select
-37%
17 Jul 21
7 Night Galapagos Southern Loop
Celebrity Xpedition
Celebrity Cruises
Isla Baltra
Galapagos Island
Show
$8,733
$1,248
$12,086
$1,727
Select
-38%
24 Jul 21
7 Night Galapagos Northern Loop
Celebrity Xpedition
Celebrity Cruises
Isla Baltra
Galapagos Island
Show
$8,835
$1,262
$12,094
$1,728
Select
-37%
31 Jul 21
7 Night Galapagos Southern Loop
Celebrity Xpedition
Celebrity Cruises
Isla Baltra
Galapagos Island
Show
$8,943
$1,278
$12,217
$1,745
Select
-32%
07 Aug 21
7 Night Galapagos Northern Loop
Celebrity Xpedition
Celebrity Cruises
Isla Baltra
Galapagos Island
Show
$9,809
$1,401
$13,083
$1,869
Select
-27%
14 Aug 21
7 Night Galapagos Southern Loop
Celebrity Xpedition
Celebrity Cruises
Isla Baltra
Galapagos Island
Show
$8,841
$1,263
$12,108
$1,730
Select
-32%
21 Aug 21
7 Night Galapagos Northern Loop
Celebrity Xpedition
Celebrity Cruises
Isla Baltra
Galapagos Island
Show
$12,115
$1,731
Select
-31%
28 Aug 21
7 Night Galapagos Southern Loop
Celebrity Xpedition
Celebrity Cruises
Isla Baltra
Galapagos Island
Show
$8,841
$1,263
$12,210
$1,744
Select
-32%
04 Sep 21
7 Night Galapagos Northern Loop
Celebrity Xpedition
Celebrity Cruises
Isla Baltra
Galapagos Island
Show
$8,943
$1,278
$12,225
$1,746
Select
-31%
11 Sep 21
7 Night Galapagos Southern Loop
Celebrity Xpedition
Celebrity Cruises
Isla Baltra
Galapagos Island
Show
$8,841
$1,263
$12,210
$1,744
Select
-32%
18 Sep 21
7 Night Galapagos Northern Loop
Celebrity Xpedition
Celebrity Cruises
Isla Baltra
Galapagos Island
Show
$8,739
$1,248
$12,013
$1,716
Select
-32%
25 Sep 21
7 Night Galapagos Southern Loop
Celebrity Xpedition
Celebrity Cruises
Isla Baltra
Galapagos Island
Show
$8,733
$1,248
$12,006
$1,715
Select
-34%
02 Oct 21
7 Night Galapagos Northern Loop
Celebrity Xpedition
Celebrity Cruises
Isla Baltra
Galapagos Island
Show
$8,739
$1,248
$12,013
$1,716
Select
-35%
09 Oct 21
7 Night Galapagos Southern Loop
Celebrity Xpedition
Celebrity Cruises
Isla Baltra
Galapagos Island
Show
$8,739
$1,248
$12,013
$1,716
Select
-34%
16 Oct 21
7 Night Galapagos Northern Loop
Celebrity Xpedition
Celebrity Cruises
Isla Baltra
Galapagos Island
Show
$10,616
$1,517
Select
-47%
23 Oct 21
7 Night Galapagos Southern Loop
Celebrity Xpedition
Celebrity Cruises
Isla Baltra
Galapagos Island
Show
$8,835
$1,262
$12,086
$1,727
Select
-34%
30 Oct 21
7 Night Galapagos Northern Loop
Celebrity Xpedition
Celebrity Cruises
Isla Baltra
Galapagos Island
Show
$8,739
$1,248
$12,108
$1,730
Select
-34%
06 Nov 21
7 Night Galapagos Southern Loop
Celebrity Xpedition
Celebrity Cruises
Isla Baltra
Galapagos Island
Show
$8,841
$1,263
$12,123
$1,732
Select
-33%
13 Nov 21
7 Night Galapagos Northern Loop
Celebrity Xpedition
Celebrity Cruises
Isla Baltra
Galapagos Island
Show
$8,841
$1,263
$12,123
$1,732
Select
-33%
20 Nov 21
7 Night Galapagos Southern Loop
Celebrity Xpedition
Celebrity Cruises
Isla Baltra
Galapagos Island
Show
$8,739
$1,248
$12,013
$1,716
Select
-34%
27 Nov 21
7 Night Galapagos Northern Loop
Celebrity Xpedition
Celebrity Cruises
Isla Baltra
Galapagos Island
Show
$8,739
$1,248
$12,013
$1,716
Select
-34%
04 Dec 21
7 Night Galapagos Southern Loop
Celebrity Xpedition
Celebrity Cruises
Isla Baltra
Galapagos Island
Show
$8,739
$1,248
$12,013
$1,716
Select
-34%
11 Dec 21
7 Night Galapagos Northern Loop
Celebrity Xpedition
Celebrity Cruises
Isla Baltra
Galapagos Island
Show
$8,739
$1,248
$12,013
$1,716
Select
-34%
18 Dec 21
7 Night Galapagos Southern Loop
Celebrity Xpedition
Celebrity Cruises
Isla Baltra
Galapagos Island
Show
$10,776
$1,539
$14,108
$2,015
Select
-46%
25 Dec 21
7 Night Galapagos Northern Loop
Celebrity Xpedition
Celebrity Cruises
Isla Baltra
Galapagos Island
Show
$10,770
$1,539
$14,007
$2,001
Select
-44%
04 Jan 20
10 Night South Pacific Cruise
Celebrity Solstice
Celebrity Cruises
Sydney
Australia
Show
$13,598
$1,360
Select
-10%
25 Jan 20
13 Night New Zealand Cruise
Celebrity Solstice
Celebrity Cruises
Sydney
Australia
Show
$10,689
$822
Select
07 Feb 20
10 Night New Zealand Cruise
Celebrity Solstice
Celebrity Cruises
Sydney
Australia
Show
$1,233
$123
$1,767
$177
$1,767
$177
$3,416
$342
Select
-73%
17 Feb 20
12 Night New Zealand Cruise
Celebrity Solstice
Celebrity Cruises
Auckland
Australia
Show
$1,574
$131
$1,865
$155
$1,865
$155
$3,902
$325
Select
-68%
29 Feb 20
10 Night New Zealand Cruise
Celebrity Solstice
Celebrity Cruises
Melbourne
Australia
Show
$1,282
$128
$1,621
$162
$1,815
$182
$3,410
$341
Select
-71%
10 Mar 20
10 Night New Zealand Cruise
Celebrity Solstice
Celebrity Cruises
Auckland
Australia
Show
$1,726
$173
$1,920
$192
$4,879
$488
Select
-24%
20 Mar 20
12 Night Australias Great Barrier Reef
Celebrity Solstice
Celebrity Cruises
Sydney
Australia
Show
$1,861
$155
$2,103
$175
$2,103
$175
$5,353
$446
Select
-64%
01 Apr 20
13 Night South Pacific, Fiji, & Tonga
Celebrity Solstice
Celebrity Cruises
Auckland
South Pacific
Show
$3,903
$300
$4,388
$338
$4,388
$338
Select
-60%
14 Apr 20
11 Night New Zealand & Australia Cruise
Celebrity Solstice
Celebrity Cruises
Auckland
Australia
Show
$1,798
$163
$1,943
$177
$1,982
$180
Select
-67%
11 May 20
10 Night Hawaii Cruise
Celebrity Solstice
Celebrity Cruises
Honolulu
Hawaii
Show
$1,922
$192
$2,190
$219
$2,359
$236
$5,878
$588
Select
-58%
18 Sep 20
10 Night Hawaii Cruise
Celebrity Solstice
Celebrity Cruises
Vancouver
Hawaii
Show
$2,135
$213
$2,348
$235
$2,503
$250
$6,006
$601
Select
-64%
28 Sep 20
Sl 17 Night Tahiti, Bora Bora & Hawaii
Celebrity Solstice
Celebrity Cruises
Honolulu
Australia
Show
$3,131
$184
$4,232
$249
$3,994
$235
$9,735
$573
Select
-24%
16 Oct 20
2 Night Sampler Cruise
Celebrity Solstice
Celebrity Cruises
Sydney
Australia
$528
$264
$789
$395
$900
$450
Select
28 Oct 20
12 Nt Australia, Tasmania & New Zealand
Celebrity Solstice
Celebrity Cruises
Sydney
Australia
Show
$2,415
$201
$2,741
$228
$2,760
$230
Select
-63%
09 Nov 20
Australia, Tasmania & New Zealand Cruise
Celebrity Solstice
Celebrity Cruises
Sydney
Australia
Show
$2,815
$201
$2,990
$214
$2,990
$214
Select
-22%
23 Nov 20
12 Nt New Zealand, Tasmania & Australia
Celebrity Solstice
Celebrity Cruises
Auckland
Australia
Show
$2,166
$180
$2,360
$197
$2,360
$197
$4,882
$407
Select
-24%
14 Dec 20
10 Night Australias Great Barrier Reef
Celebrity Solstice
Celebrity Cruises
Sydney
Australia
Show
$1,860
$186
$2,054
$205
$2,054
$205
$3,170
$317
Select
-23%
24 Dec 20
10 Night New Zealand & Australia Holiday
Celebrity Solstice
Celebrity Cruises
Sydney
Australia
Show
$2,726
$273
$3,018
$302
$3,222
$322
$5,647
$565
Select
-24%
14 Jan 21
11 Night Australia & New Zealand Cruise
Celebrity Solstice
Celebrity Cruises
Sydney
Australia
Show
$2,619
$238
$2,933
$267
$3,176
$289
$7,298
$663
Select
-24%
25 Jan 21
10 Night New Zealand & Australia Cruise
Celebrity Solstice
Celebrity Cruises
Auckland
Australia
Show
$2,245
$225
$2,686
$269
$2,928
$293
$6,808
$681
Select
-23%
04 Feb 21
8 Night Australia & Tasmania Cruise
Celebrity Solstice
Celebrity Cruises
Sydney
Australia
Show
$1,711
$214
$1,954
$244
$2,196
$275
$4,865
$608
Select
-21%
12 Feb 21
9 Night Australia & New Zealand Cruise
Celebrity Solstice
Celebrity Cruises
Sydney
Australia
Show
$1,990
$221
$2,722
$302
$3,071
$341
$7,398
$822
Select
-32%
21 Feb 21
13 Night South Pacific, Fiji, & Tonga
Celebrity Solstice
Celebrity Cruises
Auckland
South Pacific
Show
$2,720
$209
$3,726
$287
$4,277
$329
$8,627
$664
Select
-41%
06 Mar 21
10 Night New Zealand & Australia Cruise
Celebrity Solstice
Celebrity Cruises
Auckland
Australia
Show
$2,255
$225
$3,013
$301
$3,362
$336
$7,718
$772
Select
-32%
24 Mar 21
11 Night Australia & New Zealand Cruise
Celebrity Solstice
Celebrity Cruises
Sydney
Australia
Show
$2,617
$238
$3,368
$306
$3,717
$338
$8,101
$736
Select
-30%
18 Oct 20
10 Night South Pacific Cruise
Celebrity Solstice
Celebrity Cruises
Sydney
South Pacific
Show
$1,762
$176
$2,053
$205
$2,053
$205
$4,575
$457
Select
-23%
05 Dec 20
9 Night South Pacific Cruise
Celebrity Solstice
Celebrity Cruises
Sydney
South Pacific
Show
$1,537
$171
$1,663
$185
$1,663
$185
$5,834
$648
Select
-24%
03 Jan 21
11 Night South Pacific Cruise
Celebrity Solstice
Celebrity Cruises
Sydney
South Pacific
Show
$2,155
$196
$2,445
$222
$2,736
$249
$5,840
$531
Select
-27%
16 Mar 21
8 Night South Pacific Cruise
Celebrity Solstice
Celebrity Cruises
Sydney
South Pacific
Show
$1,327
$166
$1,758
$220
$2,088
$261
$5,407
$676
Select
-34%
04 Apr 21
11 Night Australias Great Barrier Reef
Celebrity Solstice
Celebrity Cruises
Sydney
Australia
Show
$2,386
$217
$3,185
$290
$3,323
$302
$7,076
$643
Select
-57%
03 May 21
11 Night Hawaii Cruise
Celebrity Solstice
Celebrity Cruises
Honolulu
Hawaii
Show
$3,202
$291
$4,134
$376
$4,405
$400
$11,330
$1,030
Select
-41%
21 May 20
8 Night Alaska Dawes Glacier Cruise
Celebrity Solstice
Celebrity Cruises
Vancouver
Alaska
Show
$1,734
$217
$2,160
$270
$2,305
$288
$5,878
$735
Select
-58%
29 May 20
7 Night Alaska Dawes Glacier Cruise
Celebrity Solstice
Celebrity Cruises
Seattle
Alaska
Show
$2,067
$295
$2,752
$393
$2,811
$402
$6,794
$971
Select
-50%
05 Jun 20
7 Night Alaska Dawes Glacier Cruise
Celebrity Solstice
Celebrity Cruises
Seattle
Alaska
Show
$2,170
$310
$2,839
$406
$2,878
$411
$5,712
$816
Select
-52%
12 Jun 20
7 Night Alaska Dawes Glacier Cruise
Celebrity Solstice
Celebrity Cruises
Seattle
Alaska
Show
$2,173
$310
$2,810
$401
$2,800
$400
$5,968
$853
Select
-54%
19 Jun 20
7 Night Alaska Dawes Glacier Cruise
Celebrity Solstice
Celebrity Cruises
Seattle
Alaska
Show
$2,192
$313
$2,829
$404
$2,820
$403
$5,774
$825
Select
-55%
26 Jun 20
7 Night Alaska Dawes Glacier Cruise
Celebrity Solstice
Celebrity Cruises
Seattle
Alaska
Show
$1,888
$270
$2,393
$342
$2,528
$361
$4,914
$702
Select
-60%
03 Jul 20
7 Night Alaska Dawes Glacier Cruise
Celebrity Solstice
Celebrity Cruises
Seattle
Alaska
Show
$2,111
$302
$2,722
$389
$2,713
$388
$5,981
$854
Select
-58%
10 Jul 20
7 Night Alaska Dawes Glacier Cruise
Celebrity Solstice
Celebrity Cruises
Seattle
Alaska
Show
$2,073
$296
$2,713
$388
$2,742
$392
$6,281
$897
Select
-57%
17 Jul 20
7 Night Alaska Dawes Glacier Cruise
Celebrity Solstice
Celebrity Cruises
Seattle
Alaska
Show
$2,160
$309
$2,635
$376
$2,761
$394
$5,767
$824
Select
-57%
24 Jul 20
7 Night Alaska Dawes Glacier Cruise
Celebrity Solstice
Celebrity Cruises
Seattle
Alaska
Show
$1,995
$285
$2,684
$383
$2,674
$382
$5,981
$854
Select
-58%
31 Jul 20
7 Night Alaska Dawes Glacier Cruise
Celebrity Solstice
Celebrity Cruises
Seattle
Alaska
Show
$2,063
$295
$2,722
$389
$2,713
$388
$5,350
$764
Select
-57%
07 Aug 20
7 Night Alaska Dawes Glacier Cruise
Celebrity Solstice
Celebrity Cruises
Seattle
Alaska
Show
$2,026
$289
$2,540
$363
$2,540
$363
$5,628
$804
Select
-58%
14 Aug 20
7 Night Alaska Dawes Glacier Cruise
Celebrity Solstice
Celebrity Cruises
Seattle
Alaska
Show
$2,044
$292
$2,384
$341
$2,519
$360
$5,280
$754
Select
-58%
21 Aug 20
7 Night Alaska Dawes Glacier Cruise
Celebrity Solstice
Celebrity Cruises
Seattle
Alaska
Show
$1,888
$270
$2,393
$342
$2,441
$349
$5,096
$728
Select
-58%
28 Aug 20
7 Night Alaska Dawes Glacier Cruise
Celebrity Solstice
Celebrity Cruises
Seattle
Alaska
Show
$1,995
$285
$2,412
$345
$2,538
$363
$5,012
$716
Select
-54%
04 Sep 20
7 Night Alaska Dawes Glacier Cruise
Celebrity Solstice
Celebrity Cruises
Seattle
Alaska
Show
$1,931
$276
$2,367
$338
$2,493
$356
$5,144
$735
Select
-55%
11 Sep 20
7 Night Alaska Dawes Glacier Cruise
Celebrity Solstice
Celebrity Cruises
Seattle
Alaska
Show
$1,930
$276
$2,318
$331
$2,454
$351
$4,659
$666
Select
-51%
15 Apr 21
19 Night Tahiti, Bora Bora & Hawaii
Celebrity Solstice
Celebrity Cruises
Sydney
Transpacific
Show
$4,705
$248
$6,332
$333
Select
-16%
25 Apr 20
17 Night Tahiti, Bora Bora & Hawaii
Celebrity Solstice
Celebrity Cruises
Sydney
Transpacific
Show
$2,545
$150
$2,982
$175
$19,810
$1,165
Select
-26%
26 Sep 21
14 Night Best Of Japan Cruise
Celebrity Solstice
Celebrity Cruises
Yokohama
Far East
Show
$2,772
$198
$3,267
$233
$3,965
$283
$9,289
$663
Select
-59%
10 Oct 21
13 Night Japan, Hong Kong & Vietnam
Celebrity Solstice
Celebrity Cruises
Yokohama
Far East
Show
$2,432
$187
$2,858
$220
$3,208
$247
$7,657
$589
Select
-59%
05 Dec 21
14 Night Thailand & Vietnam Cruise
Celebrity Solstice
Celebrity Cruises
Singapore
Far East
Show
$2,467
$176
$2,894
$207
$3,243
$232
$7,509
$536
Select
-59%
19 Dec 21
14 Night Vietnam & Thailand Holiday
Celebrity Solstice
Celebrity Cruises
Hong Kong
Far East
Show
$3,040
$217
$3,602
$257
$4,165
$297
$9,556
$683
Select
-57%
02 Jan 22
14 Night Thailand & Vietnam Cruise
Celebrity Solstice
Celebrity Cruises
Singapore
Far East
Show
$2,467
$176
$2,894
$207
$3,243
$232
$7,509
$536
Select
-59%
16 Jan 22
14 Night Vietnam & Thailand Cruise
Celebrity Solstice
Celebrity Cruises
Hong Kong
Far East
Show
$2,412
$172
$2,829
$202
$3,188
$228
$7,444
$532
Select
-60%
30 Jan 22
14 Night Vietnam & Philippines Cruise
Celebrity Solstice
Celebrity Cruises
Singapore
Far East
Show
$2,459
$176
$2,886
$206
$3,235
$231
$7,356
$525
Select
-60%
13 Feb 22
14 Night Vietnam & Thailand Cruise
Celebrity Solstice
Celebrity Cruises
Hong Kong
Far East
Show
$2,480
$177
$2,907
$208
$3,256
$233
$7,522
$537
Select
-59%
27 Feb 22
14 Night Vietnam, Taiwan, & Japan Cruise
Celebrity Solstice
Celebrity Cruises
Singapore
Far East
Show
$2,549
$182
$2,976
$213
$3,325
$238
$7,805
$557
Select
-59%
13 Mar 22
14 Night Best Of Southern Japan Cruise
Celebrity Solstice
Celebrity Cruises
Yokohama
Far East
Show
$3,586
$256
$4,081
$291
$4,779
$341
$10,103
$722
Select
-57%
27 Mar 22
14 Night Best Of Japan Cruise
Celebrity Solstice
Celebrity Cruises
Yokohama
Far East
Show
$3,468
$248
$3,953
$282
$4,661
$333
$9,974
$712
Select
-57%
10 Apr 22
14 Night Best Of Japan Cruise
Celebrity Solstice
Celebrity Cruises
Yokohama
Far East
Show
$3,468
$248
$3,953
$282
$4,661
$333
$10,122
$723
Select
-57%
14 May 21
7 Night Alaska Dawes Glacier Cruise
Celebrity Solstice
Celebrity Cruises
Vancouver
Alaska
Show
$1,182
$169
$1,464
$209
$1,745
$249
$3,994
$571
Select
-59%
21 May 21
7 Night Alaska Dawes Glacier Cruise
Celebrity Solstice
Celebrity Cruises
Seattle
Alaska
Show
$1,705
$244
$2,132
$305
$2,414
$345
$4,800
$686
Select
-56%
28 May 21
7 Night Alaska Dawes Glacier Cruise
Celebrity Solstice
Celebrity Cruises
Seattle
Alaska
Show
$1,705
$244
$2,132
$305
$2,414
$345
$4,800
$686
Select
-56%
04 Jun 21
7 Night Alaska Dawes Glacier Cruise
Celebrity Solstice
Celebrity Cruises
Seattle
Alaska
Show
$2,098
$300
$2,642
$377
$3,037
$434
$5,606
$801
Select
-48%
11 Jun 21
7 Night Alaska Dawes Glacier Cruise
Celebrity Solstice
Celebrity Cruises
Seattle
Alaska
Show
$1,851
$264
$2,346
$335
$2,695
$385
$5,227
$747
Select
-56%
18 Jun 21
7 Night Alaska Dawes Glacier Cruise
Celebrity Solstice
Celebrity Cruises
Seattle
Alaska
Show
$1,851
$264
$2,346
$335
$2,695
$385
$5,227
$747
Select
-56%
25 Jun 21
7 Night Alaska Dawes Glacier Cruise
Celebrity Solstice
Celebrity Cruises
Seattle
Alaska
Show
$1,919
$274
$2,414
$345
$2,695
$385
$5,159
$737
Select
-56%
02 Jul 21
7 Night Alaska Dawes Glacier Cruise
Celebrity Solstice
Celebrity Cruises
Seattle
Alaska
Show
$2,064
$295
$2,559
$366
$2,840
$406
$17,116
$2,445
Select
-55%
09 Jul 21
7 Night Alaska Dawes Glacier Cruise
Celebrity Solstice
Celebrity Cruises
Seattle
Alaska
Show
$1,987
$284
$2,481
$354
$2,763
$395
$5,227
$747
Select
-56%
16 Jul 21
7 Night Alaska Dawes Glacier Cruise
Celebrity Solstice
Celebrity Cruises
Seattle
Alaska
Show
$1,987
$284
$2,481
$354
$2,763
$395
$5,227
$747
Select
-56%
23 Jul 21
7 Night Alaska Dawes Glacier Cruise
Celebrity Solstice
Celebrity Cruises
Seattle
Alaska
Show
$1,987
$284
$2,481
$354
$2,840
$406
$5,372
$767
Select
-56%
30 Jul 21
7 Night Alaska Dawes Glacier Cruise
Celebrity Solstice
Celebrity Cruises
Seattle
Alaska
Show
$1,919
$274
$2,414
$345
$2,763
$395
$5,294
$756
Select
-56%
06 Aug 21
7 Night Alaska Dawes Glacier Cruise
Celebrity Solstice
Celebrity Cruises
Seattle
Alaska
Show
$1,917
$274
$2,412
$345
$2,761
$394
$5,293
$756
Select
-56%
13 Aug 21
7 Night Alaska Dawes Glacier Cruise
Celebrity Solstice
Celebrity Cruises
Seattle
Alaska
Show
$1,849
$264
$2,344
$335
$2,693
$385
$5,225
$746
Select
-56%
20 Aug 21
7 Night Alaska Dawes Glacier Cruise
Celebrity Solstice
Celebrity Cruises
Seattle
Alaska
Show
$1,772
$253
$2,267
$324
$2,625
$375
$5,157
$737
Select
-56%
27 Aug 21
7 Night Alaska Dawes Glacier Cruise
Celebrity Solstice
Celebrity Cruises
Seattle
Alaska
Show
$1,704
$243
$2,199
$314
$2,558
$365
$5,080
$726
Select
-57%
03 Sep 21
7 Night Alaska Dawes Glacier Cruise
Celebrity Solstice
Celebrity Cruises
Seattle
Alaska
Show
$1,568
$224
$1,849
$264
$2,130
$304
$4,381
$626
Select
-57%
10 Sep 21
15 Night Bering Sea & Japan Transpacific
Celebrity Solstice
Celebrity Cruises
Vancouver
Transpacific
Show
$1,612
$107
$1,826
$122
$2,039
$136
$5,485
$366
Select
-62%
24 Apr 22
13 Night Japan & Bering Sea Transpacific
Celebrity Solstice
Celebrity Cruises
Yokohama
Transpacific
Show
$1,176
$90
$1,379
$106
$1,593
$123
$4,983
$383
Select
-70%
02 May 20
11 Night Ultimate Southern Caribbean
Celebrity Equinox
Celebrity Cruises
Fort Lauderdale (Port Everglades)
Caribbean - Southern
Show
$2,271
$206
$3,076
$280
$3,095
$281
Select
-42%
13 May 20
10 Night Southern Caribbean Cruise
Celebrity Equinox
Celebrity Cruises
Fort Lauderdale (Port Everglades)
Caribbean - Southern
Show
$2,046
$205
$2,318
$232
$2,686
$269
$8,887
$889
Select
-54%
31 May 20
6 Night Key West, Cayman & Cozumel
Celebrity Equinox
Celebrity Cruises
Fort Lauderdale (Port Everglades)
Caribbean - Western
Show
$1,600
$267
$1,988
$331
$2,007
$334
$3,233
$539
Select
-65%
06 Jun 20
8 Night Eastern Caribbean & The Bahamas
Celebrity Equinox
Celebrity Cruises
Fort Lauderdale (Port Everglades)
Caribbean - Eastern
Show
$2,275
$284
$3,051
$381
$3,216
$402
Select
-33%
14 Jun 20
6 Night Key West, Cayman & Cozumel
Celebrity Equinox
Celebrity Cruises
Fort Lauderdale (Port Everglades)
Caribbean - Western
Show
$1,619
$270
$2,182
$364
$2,182
$364
$3,621
$604
Select
-64%
20 Jun 20
8 Night Eastern Caribbean & The Bahamas
Celebrity Equinox
Celebrity Cruises
Fort Lauderdale (Port Everglades)
Caribbean - Eastern
Show
$2,285
$286
$3,051
$381
$3,167
$396
$5,547
$693