Starting Price, Per Night*
Celebrity Cruises from Sydney, Melbourne, Auckland, and more!
Continuously striving to provide modern luxury to all its guests, Celebrity Cruises are perfect for explorers wanting a fabulously designed ship with extraordinary itineraries. Celebrity Cruises Australia provides guests with the chance to experience an unmatched adventure, brandishing a distinct difference when compared to the competition. With an excellent onboard crew, culinary excellence, and sophisticated accommodations, Celebrity cruise ships, from Celebrity Solstice to Celebrity Eclipse, have everything you will ever desire for an unforgettable voyage. Cruise Guru has a wonderful selection of Celebrity cruise deals on offer throughout the year, so be sure to start planning your next holiday with us today!
Australian travellers have the ability to start their Celebrity cruises from Sydney or Melbourne, with alternative options nearby including Singapore, Auckland, and Hong Kong. Those who wish to embark on their Celebrity cruises from Melbourne or anywhere in Australia can sail on stunning South Pacific cruises, astonishing Australia cruises, and incredible New Zealand voyages. Outside Australia, Celebrity Cruises from other departure ports sail to wonderful regions across the world, from Alaska to the Mediterranean. With so many cheap Celebrity cruise deals on offer right now, there's no better place to book your next holiday than with Cruise Guru. Click on the 'Cruises' tab to start comparing enchanting Celebrity Cruises 2024, look into the unforgettable Celebrity Cruises 2024, and so much more beyond.
Why book with Celebrity Cruises Australia
There are countless reasons why a Celebrity cruise is the preferred choice for many travellers. While we can't write about every single one, Cruise Guru can certainly highlight the best reasons to choose Celebrity Cruises Australia! Scroll down and find out why you need to round up your friends and book with Celebrity Cruises today.
Industry-changing innovations
Since their launch in 1989, the symbol 'X' emblazoned on the funnels of Celebrity's multi-award winning fleet has come to embody the passion for opening up the world in innovative new ways, while shattering preconceptions of cruise ship design. It's a quest that's brought you the worlds only ships with half an acre of real, finely manicured lawns – perfect for picnics or evening concerts under the stars. This has been further illustrated through their awe-inspiring Edge-class cruise ships, which bring cruising into the 21st century.
Unmatched Celebrity Edge-Class cruise ships
Boasting a completely new and modern approach to ship design, their Edge-class ships – Celebrity Apex and Celebrity Edge­ ­– bring in game-changing innovations and champion applauded improvements that make your cruise as luxurious as possible. From their revolutionary Magic Carpet, the elegant Edge Villas, to the subtle yet profound outward ship design, it's no wonder TIME Magazine considered this Celebrity Cruises ship as one of the Greatest Places in 2019.
Luxurious Celebrity cruise ships
No matter what Celebrity cruise ship you decide to sail on, you are certain of an upscale holiday that's refreshingly great value. Enjoy one of up to 13 distinctive restaurants right onboard, contemporary design at every turn, service that just gets you, and a seamless ship-to-shore experience that weaves the journey and the destination effortlessly together. There's only one cruise line that truly opens up the world – Celebrity Cruises. And they do it all in modern luxury.
Check out our Celebrity cruise deals now!
Cruise Guru has on offer a plethora of fantastic Celebrity cruise deals that sail throughout the year. With exclusive rates, remarkable packages, and essential inclusions, it's easy to see why we have become the go-to spot for booking Celebrity Cruises in Australia. To view all the current Celebrity Cruises promotions we have on offer, simply click the 'Promotions' tab. You can then load the sailings related to that Celebrity cruise deal there or click back to the 'Cruises' tab. We also have an extensive number of cruise deals with other cruise lines available as well. Whether you want Celebrity cruises from Melbourne or Celebrity cruises from Sydney, start organising your next dream holiday with Cruise Guru!
Contact us today to learn more about Celebrity Cruises from Sydney and more!
For any help with booking your next Celebrity cruise, be sure to contact us immediately! You can call us by dialing 13 13 03 or requesting a call back and our team of expert cruise consultants will get to you shortly. With a wealth of knowledge and years of experience under their belt, our team of consultants will resolve any problem you may have with ease.
You can additionally follow our Facebook, Twitter, or Instagram pages to receive the latest news regarding exclusive promotions, newly announced Celebrity Cruises itineraries, and Celebrity Cruises Australia deals. With so much on offer all the time, be sure to plan your next voyage online with Cruise Guru.
Celebrity Cruises FAQ's
Are Celebrity cruise drink packages worth it?
Yes! While the Classic beverage package provides fantastic value, scoring yourself a Premium drinks package on Celebrity Cruises offers everything you could ever need. Not only will you enjoy Coca Coca products, specialty coffees and teas, and artisan beers, but guests on the Premium drinks package on Celebrity Cruises also enjoy wine by the glass up to $15 per serving. In comparison to the Classic package that only serves wine by the glass up to $9, the value and benefits are clear!
Is Celebrity Cruises kid-friendly?
Every Celebrity Cruises ship provides a wide-range of family-friendly amenities and facilities geared towards ensuring your children remain entertained for their entire voyage. With exciting youth programs, family-friendly shore excursions, a tantalising kids menu, and so much more, parents can rest easy knowing their child will be taken care of the entire trip. Whether you're on Celebrity Cruises Australia or on Celebrity transatlantic cruises, the young ones will always feel at home and safe!
Is food included on Celebrity Cruises?
Yes, food is always included on Celebrity Cruises no matter the destination, with a fantastic selection of complementary venues and dining rooms to choose from regardless of meal time. For those looking to spice up their voyage with some specialty restaurants, Celebrity cruises also offer a specialty dining package that boasts an expansive selection of tantalising dining menus to enjoy. Whether you want to experience the wonderful fusion between entertainment cuisine on Le Petit Chef, classic French flavours at the Murano restaurant, or the breathtaking and simply iconic Magic Carpet, the specialty dining package on Celebrity cruises Australia provides just that!
How is the food on Celebrity Cruises?
Undeniably delightful. Celebrity Cruises dining options are aplenty, with a selection of refined restaurants and venues offering a tantalising menu crafted by Michelin-starred chef Cornelius Gallagher. Whether you want a sophisticated fine-dining meal at Murano or an enchanting evening at Le Petit Chef, every meal with Celebrity Cruises is as spectacular as the next.
Are there formal nights on Celebrity Cruises?
Celebrity Cruises have their own style of formal nights called Evening Chic nights. These special nights encourage Celebrity cruise guests to dress up in clothing that combines fashion-forward sensibilities with style and elegance. While that can involve suits and cocktail dresses, Celebrity also allows for designer jeans, dress shirts to even sweaters and skirts. This in-turn provides an inclusive environment for guests to show out their own personal style that they believe exudes style.
Nevertheless, despite its more relaxed rules, Evening Chic nights don't allow for casual clothing options such as ripped jeans or simple sweatshirts. Whether you want to wear a full tuxedo or stylish suit, Celebrity Cruises' Evening Chic nights allow for almost anything!
Where can I find the best Celebrity cruise deals?
For cheap Celebrity Cruises deals, promotions, and prices, there is no better place than Cruise Guru. With deals on sale throughout the year at unbelievably affordable rates, be sure to check out Cruise Guru when planning your next Celebrity Cruises holiday.
What Celebrity cruise ships visit Australia?
You will often find Celebrity Eclipse sailing from Australia to places such as New Zealand and the South Pacific. Typically, Celebrity Eclipse departs from Melbourne, where it sails to fantastic locales throughout the region. From the Great Barrier Reef to splendours of the Isle of Pines, book an unforgettable adventure with Celebrity Cruises Australia!
Need help? Call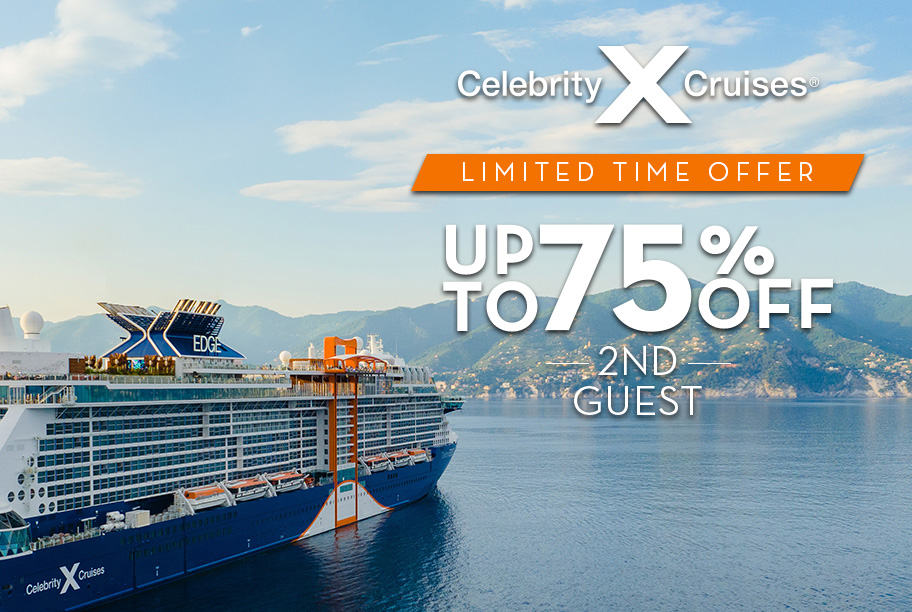 AUSTRALIA & NZ
Book a cabin on select local Celebrity cruises & save up to 75% Off the 2nd Guest*
View Now
All onboard meals in the main dining room and buffet
A selection of onboard entertainment
Kids club facilities (on select ships)
Included service charges (tips)
Upgrade to the  'All Included' fare with Celebrity Cruises
A Classic Beverage Package
Surf Internet Package for two devices
Included when you book in a Concierge Class Stateroom
Personalised Concierge service
Welcome sparkling wine
Daily delectable delights
Priority check in
Main and specialty restaurant seating time preferences
Included when you book in an Aqua Class Stateroom
Welcome sparkling wine
Welcome bottled water
Daily delectable delights
Priority check in
Exclusive access to Blu Specialty Restaurant
Unlimited access to the SEA Thermal Suite (on Edge) or Persian Garden (on Millennium or Solstice Class ships)
Spa Concierge
Wellness Consultations specified to guests preferences
Included when you book in a suite
Exclusive access to The Retreat Sundeck, Luminae at The Retreat restaurant, and The Retreat Lounge
Main and specialty restaurant seating preferences
Full in-suite breakfast lunch and dinner services
Personal butler
Priority check in, embarkation, disembarkation and tender service
Welcome champagne
Daily delectable delights
24/7 room service
Reserved theatre seating
Additional suite inclusions for bookings in Penthouse or Royal Suites
Complimentary premium beverage package
Unlimited complimentary specialty dining
Unlimited internet access
Complimentary mini bar of beer, soft drinks and water (stocked daily)
Complimentary bottle of alcohol with mixers
*Inclusions are subject to change at any time