Starting Price, Per Night*
Welcome to Cruise Guru's comprehensive range of round the world cruises and world voyages. Below you will find a summary of the best world cruises from some of the finest cruise lines in the world. This includes the ever-popular Princess world cruises from Australia plus many more options from Cunard, Holland America, Regent Seven Seas and Oceania to name just a few. Full round world cruise itineraries are available, with half-world cruises and even much smaller sectors also on offer. Whether you're grabbing all your closest friends and are searching for epic world cruises 2024 or looking to the future on select world cruises 2025, we'll have everything you'll need.
When and Where do Round World Cruises Commence?
Most world cruises 2024 or 2025 embark in January in the northern hemisphere from popular world cruise embarkation ports including London, Southampton, Rome, Venice, Barcelona, Miami, Fort Lauderdale and Los Angeles and conclude in March, April, or even May. However, Princess world cruises from Australia depart in May or June each year from Sydney and Brisbane. These world cruise itineraries then typically return to Australia in August or September.
What cruise lines have World Cruises?
If you're planning to book a world cruise, you'll certainly have a treasure trove of cruise lines to choose from. Regardless of budget, cabin preference, or even departure port, there will undoubtedly be a world cruise voyage just waiting for you to book. Here are some world cruise lines that we think you should check out!
Cunard Round the World Cruise
A Cunard round the world cruise allows lucky guests to adventure to fantastical locations throughout the globe in unmatched style and elegance. Whether you're on a Queen Mary 2 world cruise or hopping aboard a Queen Victoria cruise, you'll be welcomed to a world of comfort and relaxation unlike anywhere else on the seas. Offering a fantastic array of Cunard world cruise sector options in addition to their growing list of round the world cruises, the cruise line has been the gold standard for longer voyages for many decades, and likely will be for many more years to come. We can't help but recommend a Cunard round the world cruise!
Princess World Cruise
From 100+ day epic voyages to 30-night jaunts across multiple continents, a Princess world cruise will undoubtedly be nothing short of magical. Hop aboard an Island Princess or Coral Princess world cruise and set sail on a truly enchanting adventure around the globe. Set sail from local cities including Brisbane and Sydney, and travel to extraordinary ports of call, from Rome to New York to Bora Bora. With amazing accommodations, service, and like-minded explorers, you'll never go wrong with a Princess world cruise.
Holland America World Cruise
A Holland America world cruise promises to be more than a voyage, but a grand adventure that guests will remember for a lifetime. Sailing out of Fort Lauderdale, a Holland America world cruise will have you visiting breathtaking cities and marvellous ports of call such as Tokyo, Dubai, Mykonos, and so many more. Step forth onto the magnificent ship Zaandam or Zuiderdam and be whisked away on a wonderful Holland America round the world cruise.
Can I book a luxury world cruise?
You definitely can book a luxury world cruise! You might think the pool to choose from would be small, but it's actually quite easy to find plenty of choices to book a luxury cruise around the world. Whether it's a Seabourn world cruise, Silversea World Cruise, or even the previously mentioned Cunard round the world cruise, each cruise line offers plenty of benefits that'll ensure you'll remain well taken care of for the entire voyage. With such a long voyage ahead of you, it makes sense that you'd want nothing but the best, and a luxury world cruise is most definitely that.
Don't have enough time to complete a full luxury world cruise? Not to worry, many of these grand voyages offer luxury world cruise sectors and segments that can hopefully fit your own timetable and budget.
How long does a world cruise take?
World cruises often take at least 100 days to encompass the entire globe. More often than not, a world cruise can take between 120 to 140 days depending on the itinerary and to also allow guests plenty of time to truly experience each destination in its fullest). There is nothing worse than hopping off your ship during your world cruise and being told you only have 3 hours to explore the entire city! If you're worried that a full round-the-world cruise might take up too much time, cruise lines often offer world cruise sectors, allowing you to experience some or most of the voyage.
Are world cruises worth it?
Definitely! If you can afford the upfront cost and have the time to do it, then a world cruise is the best way to see the globe.
Being able to unpack once and embark on a holiday to destinations all across the globe is only possible with a world cruise. With dining and select drinks included throughout your voyage, you'll even be sorted budget-wise if you choose not to spend big on restaurants on shore. Plus, you'll likely be sharing this voyage with like-minded adventurers, giving you the perfect opportunity to make life-long connections.
With great inclusions onboard, the ease of travel, and the chance to make lasting connections, a round-the-world cruise is undoubtedly worth it.
Contact Cruise Guru for the Best World Cruise Deals
Cruise Guru likes to ensure that the booking process for our world cruises and world voyages is simple and straightforward, as well as competitively priced. However, we also have a dedicated and experienced world cruise team with a wealth of knowledge available to answer your questions, offer advice and insights, and make sure that you choose the most suitable world cruise for you. Need help booking your world cruise? We'll gladly help you every step of the way. Call us today on 1300 857 537 and one of our cruise experts will be very happy to assist. For the very best world cruise deals, look no further than the experienced and trusted team at Cruise Guru, where all our guests are cruise gurus!
Princess World Cruises
Coral Princess World Cruise 2024
Round trip from Sydney (111 nights)
30 April to 19 August 2024
Round trip from Brisbane (111 nights)
03 May to 21 August 2024
Highlights: Kick your feet up in the sunny shores of Bali to begin your Princess world cruise; see the stunning engineering achievement of the Suez Canal; explore more than a millennium of history in Rome; gaze upon the magnificent La Sagrada Familia in Barcelona; taste some delectable German cuisine in Brussels and Berlin; walk-through the glorious streets of St Petersburg; journey through the marvellous cobblestone roads of Stockholms Old Town; have some fun at Tivoli Gardens as you visit Copenhagen; take a tour through the busy city of London; order some delectable pastries before taking photos in front of the Eiffel Tower in Paris; fall in the love with the rolling snow-capped mountains of Iceland in Reykjavik; see some tranquil New England sites at Halifax and Bar Harbor; visit Times Square or wander through Central Park while visiting New York; take it easy while sailing through the Panama Canal; chase the endless sunny shores of Lima and Puerto San Martin; let your cares fade away with the tides at Papeete; grab a quick coffee before doing a hike in Auckland before sailing back to Sydney or Brisbane!
Crown Princess World Cruise 2025
Round trip from Sydney (113 nights)
04 June to 26 September 2025
Round trip from Brisbane (113 nights)
06 June to 28 September 2025
Highlights: Embark on the adventure of a lifetime with Crown Princess as you depart from Sydney or Brisbane; make your way to the unforgettable land of Bali and take in the calming views; explore the land of "Crazy Rich Asians" as you visit Singapore; wander along the bustling city streets of Phuket and order up some delectable street market cuisine; watch as your ship sails along the engineering marvel that is the Suez Canal while stopping over at Middle Eastern highlights; dock into Rome and visit ancient wonders such as the Pantheon and the Colosseum; savour sumptuous Tuscan wines as you pay a visit to Florence; architectural delights and vibrant colours await you during your time at Barcelona; order up a Portuguese tart when you stop at Lisbon; sail north to the lovely city of Cork in Ireland then calmy sail up to Glasgow; visit the Royal Family or just order up a pint at a pub when you stay in London; the tranquil shores of Norway awaits when you jump over to the city of Bergen; jump from one coastal village to the next before sailing all the way over to Reykjavik in Iceland; pop over to Greenland before arriving in Halifax, Canada; order up some thin crust pizza then gaze upon the stunning Statue of Liberty in New York City; party it up or just unwind at South Beach when you sail south to Miami; squeeze through another engineering feet, the Panama Canal; explore South American wonders then chow down on some delicious local food when you visit Lima; wander along the mysterious lands of Easter Island; relax along the sandy beaches of the South Pacific during your time at Papeete and Moorea; spend a quick day in Auckland before finally rounding out your Crown Princess world cruise and returning to Australia.
Crown Princess World Cruise 2026
Round trip from Auckland (114 nights)
06 May to 29 August 2026
Round trip from Sydney (114 nights)
10 May to 02 September 2026
Round trip from Brisbane (114 nights)
12 May to 04 September 2026
Highlights: Sail forth with Crown Princess as you depart from Sydney, Brisbane, or Auckland; soak in the breathtaking views of Bali; explore Sentosa Island and beyond while in Singapore; witness the awe-inspiring engineering of the Suez Canal; sail into the gorgeous island of Patmos; discover millennia-old landmarks in Athens; savour the sumptuous wine while in Sicily; wander through cobblestoned streets in Porto; order up a delicious waffle while in Brussels; gaze upon the innovative art and architecture in Helsinki; visit the Royal Palace while Stockholm; hit up the local pub or watch the football in London; dive into the Blue Lagoon at Reykjavik; soak in the French Colonialism architecture of Quebec City; see the Statue of Liberty or grab seats to an NBA game in New York; dig your feet into the sandy shores of Miami; explore the bustling metropolis of Lima after making your way through the Panama Canal; visit the mysterious moai of Easter Island; let your cares fade away in Papeete; slowly sail forth across the South Pacific to Auckland then Sydney and Brisbane.
Holland America Line World Cruises (Grand Voyages)
Zuiderdam World Cruises 2024
Round trip from Fort Lauderdale, Florida (127 nights)
3 January to 11 May 2024
Highlights: Thaw your toes and get covered in sand on the tropical beaches of Caribbean islands; cruise the Amazon River, an iconic journey; explore inland Brazil with stops at ports along the Amazon; transit the Panama Canal; dance the streets of the Mexican Riviera; cruise the idyllic islands of the Pacific Ocean including French Polynesia and Tonga; adventure through the tranquil coasts of New Zealand; visit Australia and see all the major cities including Sydney, Hobart, and Adelaide; cross the Indian Ocean and visit Madagascar; stop by Mozambique then sail down to South Africa; curve around the coast then explore Namibia, Angola, and Ghana; saunter through the stunning markets of Morocco; fall in love with travel again when visiting Spain and Portugal; see the gorgeous cities of Paris and Amsterdam; cruise northward and visit the beautiful mountain ranges in Denmark and Norway; cross the North Sea stop by Ireland and Scotland; sail along the Atlantic Ocean and round out your trip back to Fort Lauderdale.
Seabourn World Cruises
Seabourn Sojourn World Cruise 2024
Sydney to Singapore (72 nights)
20 February to 2 May 2024
Highlights: Depart from the iconic shoreline of Sydney, Australia; wander up to the turquoise waters of Airlie Beach and the Whitsundays; head westward and kick back in the whimsical town of Darwin; head northward to the amazing islands of Indonesia; visit the dreamy shores of Palawan and Puerto Princesa; adventure the organised chaos that is Manila; journey along the unforgettable lands of Taiwan when you stop at Keelung; Okinawa awaits as you explore a truly unique region of Japan; soak in the atmosphere as you visit Hiroshima and its well-told history; sail to the vibrant South Korean city of Busan; taste delectable cuisine when you make a port of call at Shanghai; make a day trip to Disneyland on your stop at Hong Kong; enjoy flavoursome Vietnamese cuisine during your time at Ho Chi Minh City and Saigon; marvel in awe at the Golden Palace when you arrive at Bangkok; then make your way to the modern city of Singapore.
Cunard Line World Cruises
Queen Mary 2 World Cruise 2024
New York to New York (123 nights)
3 January to 5 May 2024
Southampton to Southampton (108 nights)
11 January to 28 April 2024
Highlights: Cross the Atlantic and start off your adventure at Southampton; immerse yourself in Portuguese delights on your visit to Lisbon; sail all the way down to South Africa and visit vibrant cities including Port Elizabeth and Cape Town; set off on your voyages to Australia whilst making visits to Durban and Reunion Island; sip on some local wines at Adelaide; take a free tram and truly explore the humming streets of Melbourne; visit Chinatown and the Opera House while at Sydney; get up close to nature while at Darwin; explore the harbour of Hong Kong; meet the Merlion and the Gardens by the Bay at Singapore; taste exotic South-East Asian flavours at Phuket; experience the incredible while exploring the modern streets of Dubai; sail through the engineering feat of the Suez Canal; explore the ancient civilization of Greece when you visit Athens; wander along the incredible streets of Barcelona then return to New York and Southampton.
Queen Victoria World Cruise 2024
Hamburg to Hamburg (111 nights)
9 January to 30 April 2024
Southampton to Southampton (107 nights)
11 January to 28 April 2024
Highlights: Head on over to Southampton; unwind on the sunny shores of Florida in Port Canaveral and Fort Lauderdale; taste flavour-packed Caribbean cuisine in Puerto Quetzal and Cabo San Lucas; take a photo near the Golden Gate Bridge at San Francisco; head into the Pacific and go island hopping at Honolulu; enjoy some much-needed tranquillity at Suva and Apia; grab some delicious multi-cultural cuisine at Auckland; climb the Harbour Bridge at Sydney; walk the seemingly endless beach near Cairns; take a Jeepney and embark on a journey through Manila; take a fantastic family day at Universal Studios in Singapore; saunter through the busy markets of Colombo; explore the magnificent sights of South Africa from Cape Town; wander back up to Portugal before returning to Hamburg and Southampton.
Queen Anne World Cruise 2025
Hamburg to Hamburg (111 nights)
7 January to 29 April 2025
Southampton to Southampton (107 nights)
9 January to 27 April 2025
*Itineraries and ports of call are all subject to change. Cruise Guru reserves the right to correct any errors inaccuracies or omissions and to change offers, fares and surcharges at any time without notice.
Need help? Call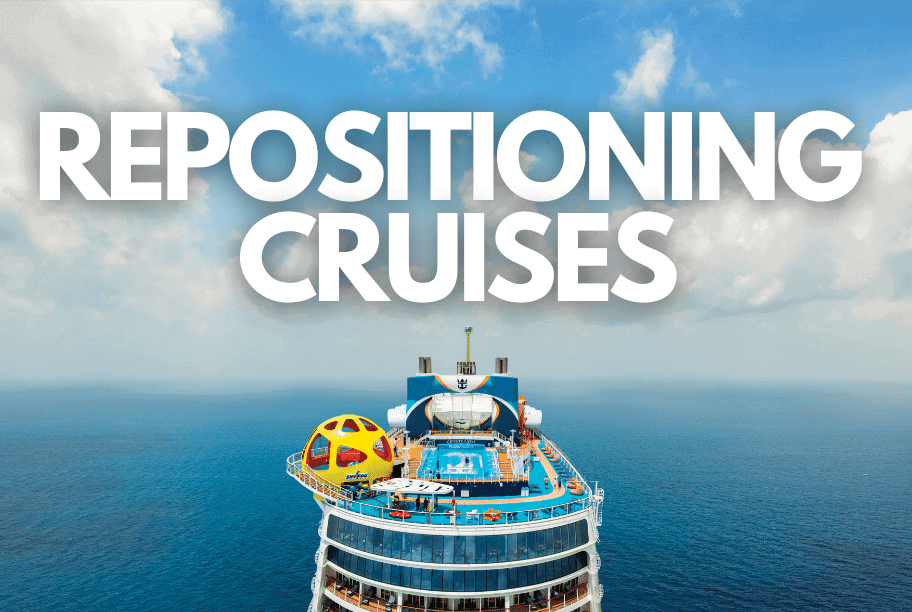 REPOSITIONING CRUISE DEALS
Offering unique itineraries between Australia and Asia, Hawaii, and mainland USA/Canada, these popular cruises have limited cabins and do sell fast!
View Now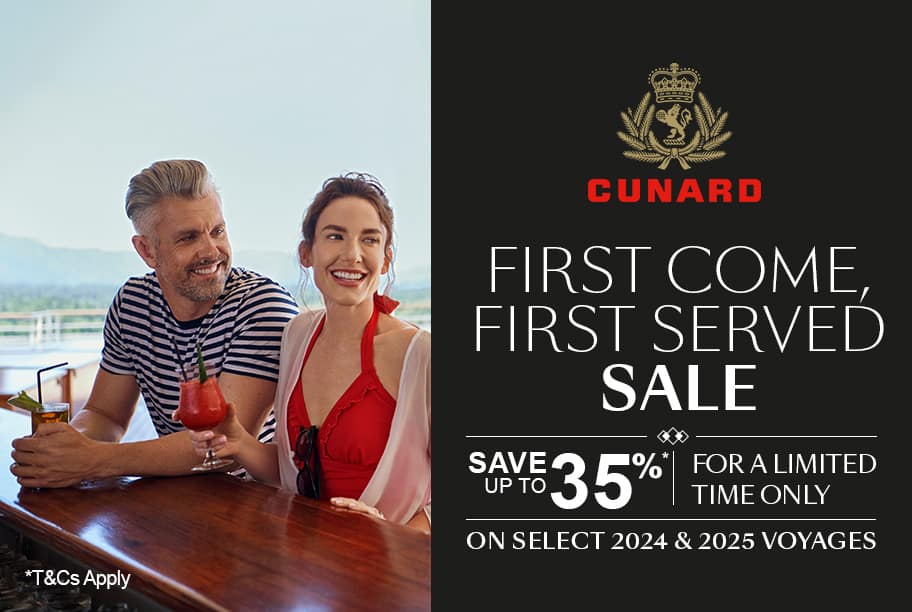 SAVINGS ON 2024 & 2025 VOYAGES
Sail with Cunard and you can enjoy savings up to 35% on select 2024 and 2025 voyages. Book now before you miss out!*
View Now