Cruises
Info
Inclusions
Ships
Destination
Promotions
Latest News
Azamara Club Cruises have rebranded!  Now simply 'Azamara', the boutique line will be offering an increased collection of land tours that can be booked in conjunction with their cruise itineraries.  Contact our reservations team on 13 13 03 to confirm what land tours can match up with your cruise.
Best Deals
Cruise with a view thanks to Azamara's latest offer. Select sailings can receive either an oceanview or balcony cabin for the price of an inside!* View Upgrades Galore offer.
Explore Western Europe on land AND by sea on our Wine and Romance fly, rail and sail package! Enjoy return flights, transfers, rail package including accommodation and 13 night cruise*.
For help finding your perfect Azamara cruise, use our Cruise Finder tool where you can filter by destination, date and ship or call our luxury cruise experts on 13 13 03. *Terms and conditions apply.
Azamara Cruises in Australia and New Zealand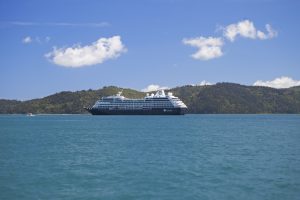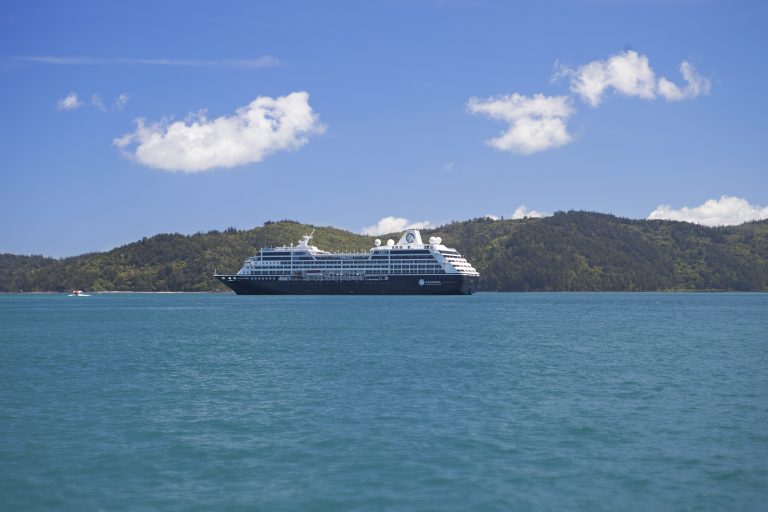 In 2019/2020 Azamara Journey will be gracing our shores with a focus on cruises exploring New Zealand.
In exciting news for Australians, the new Azamara Pursuit will be making her way to Australian waters in the summer of 2020/21.  Her very limited Australian season features explorations of the mainland and our neighbour, New Zealand, with departures from Sydney, Melbourne or Perth.
View all Azamara cruises in Australia and New Zealand.
Asia
Offering an eclectic mix of unique journeys, Azamara cruises in Asia features an extensive repertoire of itineraries departing from Singapore, Japan, and Dubai.  They also often visit less frequented cruise destinations including Sri Lanka and Myanmar, so watch out for these itineraries.
Europe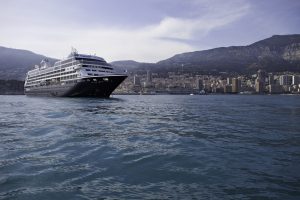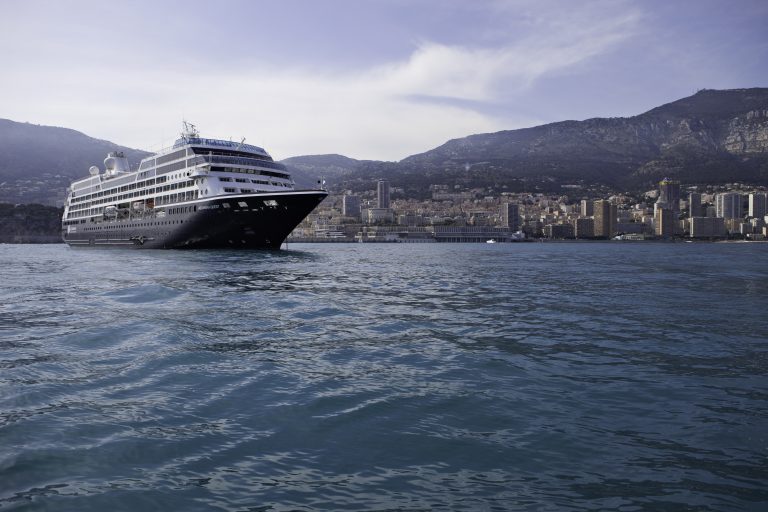 Azamara Cruises' longer days and overnight stays mean that you can experience the wonder of Europe into it's lively evening.  In the Mediterranean you have the choice of cruises in the Western Med including visits to Italy, France and Spain, the Eastern Med including Greece and Croatia or itineraries along the western coast of the European continent with a highlight on Portugal.   You'll find the most popular ports of departure are Rome, Venice and Barcelona, however Azamara does have a few less frequented departure ports for its Mediterranean cruises including Athens, Lisbon, Monte Carlo and Nice. Northern Europe discoveries with Azamara are an exploration into a wonderfully cultural and awe-inspiring part of the world.  Cruise the Baltics, discover the fjords of Norway or explore the British Isles.   Don't forget to look out for Azamara's golf cruises.
Tick off those bucket list 'must-dos' with Azamara cruises including visits to the Greek Islands, the land of the Midnight Sun, and Monaco Grand Prix cruises. Azamara cruises also offer a number of intensive cruise itineraries which focus on one particular country or region.  Options on offer include Israel, Ireland, Greece or Norway, along with a number of others.  If you want to feel like you can truly tick a country off your travel list, these intensive cruise itineraries are for you.
South America
Heading further south, discover the culture and cuisine of South America, with itineraries focusing exclusively on the eastern coast, looping around Cape Horn, or even witnessing the wonder of Antarctica.
Explore Further
Azamara's tagline, 'Explore Further', truly embodies the experience you will have when you embark on an Azamara.  They have one main goal: to change the way you see the world.  Anyone can visit a city, see it's initial layers including the people, buildings and shops. But Azamara wants you to not just see a city, they want you to experience it, to find inspiration by going deeper beyond the surface, to indeed explore further.  To do this they try and fit as many long days and overnight stays into their itineraries as possible, as they understand that many a city comes alive at night.  This philosophy means that you can truly experience all that a city has to offer, whether it be in Asia, the Caribbean or the Mediterranean, in both daylight and starlight.   Their unparalleled itineraries also take you to smaller, less-travelled ports, while their 'Destination Immersion' shore excursions offered by independent, local tour operators will take you deeper into the heart of local life with the aim of immersing you in the arts, culture, history and natural beauty of your destination.
Another way that Azamara assists their guests in exploring further is through the inclusion of their exclusive AzAmazing Evenings.  These special events are complimentary and are designed to deliver authentic travel moments that bring you closer to your destination, its culture and its people.  Examples of AzAmazing Evenings that may be included on your cruise are a night out at the St. Petersburg Symphony Orchestra, a performance at the Te Papa Museum where you can watch Maori culture come alive, or an acrobatic show in Monaco. AzAmazing evenings are available on most voyages of seven nights duration or longer with the exception of transatlantic crossings.
Equally as inspiring is the experience onboard one of Azamara's intimate, luxurious, boutique-style ships.  Once you embark you'll feel like you're staying in a fine hotel, with luxury and comfort at every turn.  Sparkling accommodations, 24-hour room service, a choice of exceptional restaurants and an international cellar of fine wines, just a small few on a long list of fine inclusions.  The smaller size of Azamara's fleet creates a club-like setting, with enough room to relax but intimate enough to get to know your fellow travelling companions.And with one staff member for every two guest, you'll love the attentive and personal service you receive.
Included with your cruise fare
AzAmazing evenings – a complimentary private, bespoke event where you can experience the best of a local culture (not available on all itineraries)
Gratuities
Self-Service laundry
Select standard spirits, international beers, cocktails and wines
Bottled water, soft drink, specialty coffees and teas
Complimentary shuttle service to and from most port communities
24 hour room service
*Inclusions are subject to change at any time
AZAMARA LUXURY INCLUSIONS
When you travel with Azamara, pretty much everything you could ever want is included:AzAmazing Evenings* event Select standard spirits, international beers and wines Gratuities Bottled water, soft drinks, speciality coffees and tea Self-service laundry Shuttle service to and from shore excursions (where available) Concierge services for personal guidance and reservations 24-hour room service Daily turndown Welcome fruit basketSuite guests receive additional inclusions, enquire for details.
DOUBLE UPGRADE OFFER
Book select Azamara Europe 2020 sailings and enjoy a double upgrade!*- Veranda for the price of a Interior- Veranda Plus for the price of an Oceanview- Club Continent Suite for the price of a VerandaUpgrades vary by sailing. Desired category must be selected at time of booking.*
BONUS DISCOUNTS
With service of choice, our bonus discounts are available online or by phone.
*Terms and conditions apply. Prices shown are per person, twin share in AUD inclusive of all discounts, taxes & fees. Prices are on categories as specified. Prices are subject to change and availability. Offers are valid for new bookings only and are not combinable with any other offer. Minimum price featured does not necessarily reflect the pricing of the offer specified, but rather indicates the cheapest available rate per person, twin share of any promotion offered on each sailing. For accurate pricing for a particular promotion, please select appropriate rate code on desired sailing and continue through to the final pricing screen. The savings percentage amounts are a comparison between the current lowest available fare and the current highest available fare on the same category, regardless of promotion. The savings percentage displayed reflects the highest available discount on any category on that sailing. Each fare level has its own terms and conditions. All offers are subject to availability and may be withdrawn at any time without notice. Cruise Guru reserves the right to correct any errors inaccuracies or omissions and to change offers, fares and surcharges at any time without notice. Credit card fees are not charged for deposit payments via Visa or MasterCard. Final payments will incur a 1.3% merchant fee via Visa or Mastercard. American Express incurs a 2% merchant fee for both deposits and final payments.