Overview
Cruises
Inclusions
Ships
Destination
Promotions
Latest News
Azamara Club Cruises have rebranded!  Now simply 'Azamara', the boutique line will be offering an increased collection of land tours that can be booked in conjunction with their cruise itineraries.  Contact our reservations team on 13 13 03 to confirm what land tours can match up with your cruise.
Azamara Cruises in Australia and New Zealand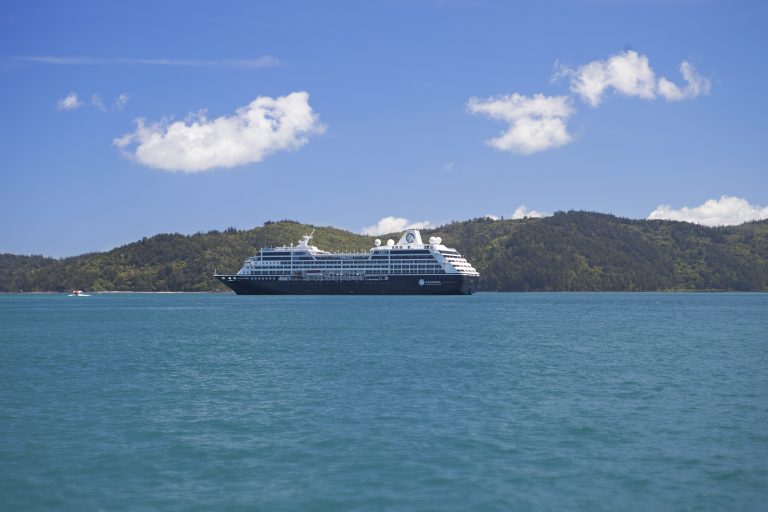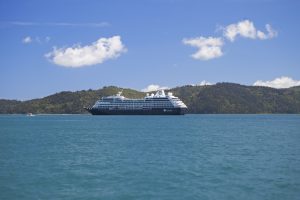 Azamara Journey graces our shores briefly each summer season with a focus on cruises exploring New Zealand. But in exciting news for Australians, the new Azamara Pursuit will also be making her way to Australian waters in the summer of 2020/21.  Her very limited Australian season features explorations of the mainland and our neighbour, New Zealand, with departures from Sydney, Melbourne or Perth.
View all Azamara cruises in Australia and New Zealand.
Asia
Offering an eclectic mix of unique journeys, Azamara cruises in Asia features an extensive repertoire of itineraries departing from Singapore, Japan, and Dubai.  They also often visit less frequented cruise destinations including Sri Lanka and Myanmar, so watch out for these itineraries.
Europe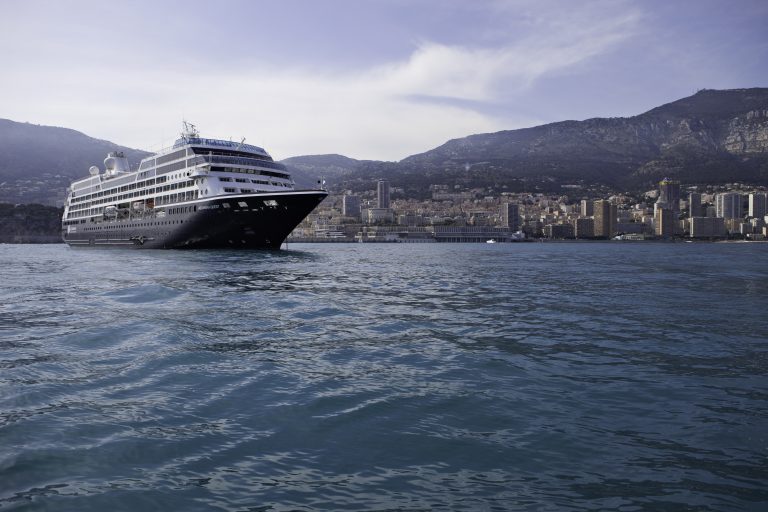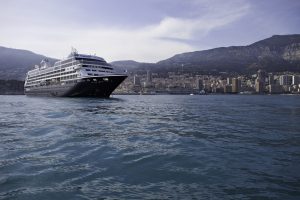 Azamara Cruises' longer days and overnight stays mean that you can experience the wonder of Europe into it's lively evening.  In the Mediterranean you have the choice of cruises in the Western Med including visits to Italy, France and Spain, the Eastern Med including Greece and Croatia or itineraries along the western coast of the European continent with a highlight on Portugal.   You'll find the most popular ports of departure are Rome, Venice and Barcelona, however Azamara does have a few less frequented departure ports for its Mediterranean cruises including Athens, Lisbon, Monte Carlo and Nice. Northern Europe discoveries with Azamara are an exploration into a wonderfully cultural and awe-inspiring part of the world.  Cruise the Baltics, discover the fjords of Norway or explore the British Isles.   Don't forget to look out for Azamara's golf cruises.
Tick off those bucket list 'must-dos' with Azamara cruises including visits to the Greek Islands, the land of the Midnight Sun, and Monaco Grand Prix cruises. Azamara cruises also offer a number of intensive cruise itineraries which focus on one particular country or region.  Options on offer include Israel, Ireland, Greece or Norway, along with a number of others.  If you want to feel like you can truly tick a country off your travel list, these intensive cruise itineraries are for you.
South America
Heading further south, discover the culture and cuisine of South America, with itineraries focusing exclusively on the eastern coast, looping around Cape Horn, or even witnessing the wonder of Antarctica.
Included with your cruise fare
AzAmazing evenings – a complimentary private, bespoke event where you can experience the best of a local culture (not available on all itineraries)
Gratuities
Self-Service laundry
Select standard spirits, international beers, cocktails and wines
Bottled water, soft drink, specialty coffees and teas
Complimentary shuttle service to and from most port communities
24 hour room service
*Inclusions are subject to change at any time
MONACO GRAND PRIX 2021
Your Grand Prix journey begins in beautiful Barcelona, Spain, home to some of the world's most incredible architecture, captivating museums, and inspiring art galleries. Spend a day indulging your cultural side before boarding the Azamara Quest®, where you can savor a gourmet dinner or take in a Broadway-caliber performance in the evening.From Barcelona, sail to Saint-Tropez, where you'll have the full afternoon and evening to experience everything this glamorous city has to offer. Stroll along the stunning waterfront, bask in the sun on the beach, or window-shop for designer goods. Dine on fresh seafood al fresco, or shop for local items such as herbes de Provence and lavender. Next up is Monte Carlo, where you'll enjoy an overnight stay in one of the world's glitziest locales. Of course, the crown jewel of your stay will be the prestigious Formula 1 Monaco Grand Prix race, a legendary tradition since 1929. Explore The Rock, Monte Carlo's historic medieval village, or try your luck in the Grand Casino. Your voyage wraps up back in Barcelona, where you'll have another day to marvel at the art and architecture and feast on some tasty tapas.
RIO TO BUENOS AIRES GOLF VOYAGE
PERFECT YOUR SWING IN SOUTH AMERICA WITH PERRYGOLF™ Spend nine nights immersing yourself in the most exciting destinations and best courses the continent has to offer! Your South American golf cruise with Azamara begins in spirited Rio de Janeiro, where you'll have two nights in port to discover this vibrant city. Unwind in the botanical garden, and head to Mirante Dona Marta in Tijuca National Park for the best sunset views of the city. Is your golf game gold medal-worthy? You'll have the chance to find out at the Olympic Golf Course—part of the 2016 Summer Games. From Rio, sail to Ilhabela, a Brazilian archipelago known for its pristine natural beauty, picture-perfect beaches, and ecotourism. Next up, discover São Paulo, the vibrant, fast-paced financial center of Brazil. Don't miss the São Paulo Museum of Art and the São Paulo Cathedral, with an eye-catching blend of both Gothic and Renaissance styles. Here you'll play at São Fernando Golf Club, designed by legendary Canadian course architect Stanley Thompson. After two nights at sea onboard Azamara Quest®, you'll dock in Montevideo, Uruguay's capital city. Stroll the streets of Ciudad Vieja, the Old Town, which dates back to the early 1700s and is lined with Colonial homes, one-of-a-kind shops, and sidewalk cafes. Take the opportunity to tee off along the banks of the Rio de la Plata and enjoy a late stay in port. The resort city of Punta del Este, Uruguay, is a beloved surfing destination and home to the undulating Cantegril course. Finally, sail for an overnight in Buenos Aires, a cosmopolitan capital city infused with Latin flair. The city boasts more than 280 theaters (more than any other city in the world) and the Buenos Aires Golf Club—considered among the top courses in South America.Contact us to discuss Golf Packages
SPRINGTIME MED & GRAND PRIX
Your journey begins in Rome, the Capital of the World, where infinite wells of culture and history await at every turn. Then it's on to Bonifacio, Corsica, a hilltop fortress town that seems to grow right out of imposing limestone cliffs. We stay overnight, so you'll have plenty of time to explore the Renaissance city of Florence and the lively street life of Pisa before it's off to a late stay in Portofino—the playground of the rich and famous—and Portovenere, where brightly-coloured houses hug the harbor below the spectacular Castello Doria. A late stay in Nice gives you an opportunity to kick your cruise experience into high gear on an optional shore excursion to the glamorous Monaco Grand Prix. Hear the engines roar as the cars blur by, marvelling as drivers brave one of the greatest tests of driving skill in Formula 1. Take in the towering limestone cliffs of Cap Canaille as we sail into Cassis before concluding your voyage in dynamic Barcelona. Don't miss La Pedrada, a UNESCO World Heritage Site and the last private residence designed by famed architect Antoni Gaudi.
BRITISH ISLES & GOLF VOYAGE
Azamara® is proud to partner with PerryGolf™, one of the game's most innovative providers of international golf vacations, for this 12-night, 6-round voyage through the British Isles onboard the Azamara Journey®. There are two golf packages each including six courses – the Tom Morris Flight and the Arnold Palmer Flight. Regardless of your choice these collections are second to none each featuring clubs in The Open rota such as Carnoustie in Scotland, Royal Birkdale in England and Northern Ireland's Royal Portrush where golf's oldest championship was played in 2019. We will visit eight ports of call beginning with an overnight in Scotland's dynamic capital of Edinburgh. Destination cities like Belfast, Dublin and Liverpool will follow always with generous time to visit the castles, crypts, cathedrals and pubs which make the British Isles such a special place in the world. Our journey concludes in Southampton, conveniently located near London, truly one of the world's great capitals and home to Buckingham Palace and Westminster Abbey. Every aspect of the golf program is fully managed by PerryGolf™ staff onboard and ashore. Your clubs will be ready and waiting at each venue. Tee times and pairings are arranged and posted in advance. Carts are always included, subject to availability. A snack lunch is included at the course along with an open bar after the round.Contact us to discuss Golf Packages
*Terms and conditions apply. Prices shown are per person, twin share in AUD inclusive of all discounts, taxes & fees. Prices are on categories as specified. Prices are subject to change and availability. Offers are valid for new bookings only and are not combinable with any other offer. Minimum price featured does not necessarily reflect the pricing of the offer specified, but rather indicates the cheapest available rate per person, twin share of any promotion offered on each sailing. For accurate pricing for a particular promotion, please select appropriate rate code on desired sailing and continue through to the final pricing screen. The savings percentage amounts are a comparison between the current lowest available fare and the current highest available fare on the same category, regardless of promotion. The savings percentage displayed reflects the highest available discount on any category on that sailing. Each fare level has its own terms and conditions. All offers are subject to availability and may be withdrawn at any time without notice. Cruise Guru reserves the right to correct any errors inaccuracies or omissions and to change offers, fares and surcharges at any time without notice. Credit card fees are not charged for deposit payments via Visa or MasterCard. Final payments will incur a 1.3% merchant fee via Visa or Mastercard. American Express incurs a 2% merchant fee for both deposits and final payments.