Azamara Quest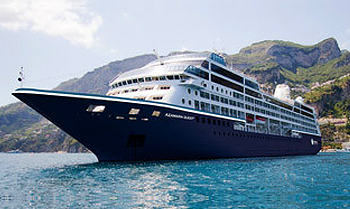 176
Starting Price, Per Night*
Azamara Quest Cruises
Like her sister ships, the Azamara Quest is a mid-sized beauty with a deck plan well-suited to the needs of modern voyagers.
You'll never feel crowded in the comfortable social spaces of Azamara Quest's bars, restaurants, lounges and Cabaret. Nor will you feel like a sardine jammed in around the pool, where our attentive staff is always ready to offer complimentary bottled water, soft drink or fresh towel. Azamara Quest staterooms feature modern amenities, furnishings, and European linens. And one of the greatest features of this ship is a large number of staterooms with verandas.
There's nothing better than opening your door to the fresh sea air and views. Azamara's three friendly ships are an altogether wonderful place to call your home away from home!
For help finding your perfect Azamara cruise, use our Cruise Finder tool where you can filter by destination, date and ship or call our luxury cruise experts on 13 13 03. *Terms and conditions apply.
Lounges and Entertainment
How to do vacation, Azamara-Style
Vacation is a time to explore. It's also a time to relax. Before or after a day of onshore discovery, or when sailing between destinations, we've got plenty of options for both.
Onboard Shopping
You'll find a tasteful collection of merchandise and beautiful jewelry and watches in four onboard stores. Watch your daily news for specials and one-time offers that make shopping even more fun.
The Azamara Quest Shop. Pick up sundries, casual wear and swim fashions, sunglasses, accessories, music and shipboard keepsakes. This is a great place for small gifts to take back home.
Indulgences. Shop an exquisite selection of fine jewelry, watches, and other pieces from iconic jewelry-makers. There's something here to delight even the most discriminating tastes.
The Photo Shop. Stop by for camera supplies including batteries and digital memory cards. The shop displays photos available for purchase of the previous day's events, taken by the ship's roving photographer.
Bars, Lounges & Gathering Spots
Discoveries Lounge: Located just outside Azamara Quest's main restaurant, this congenial bar is a favorite gathering place for pre- and post-dinner conversation and drinks. Bar service includes a full selection of fine wines, mixed drinks, and premium spirits plus the entertaining banter of Azamara Quest's friendly bartenders.
Mosaic Cafe and Mosaic@Night: Our onboard coffee corner may very well become your favorite nook on the ship. You'll find all your favorite coffee drinks and you can order them just the way you like. If you'd like to try our Nespresso specialty coffee (for a fee), Mosaic Cafe is the place. We recommend that you slip right into a comfortable seat and sip for a while-you never know who'll walk by.
The Living Room: It's the perfect space for guests throughout the day and evening to engage in lively conversations, take in interesting speakers, peruse art, play a game of cards, enjoy a cup of tea or coffee, wines & tapas, delightful music, or simply relax with a good book. After dinner, the Chef occasionally sets up for a featured and delicious dessert.
Cabaret Lounge: Enjoy live performances of professional full-stage musical revues, classical soloists, bands and other entertainment in a cabaret nightclub with a full bar and cozy tables. You could see as many as three distinctly different shows while onboard. And considering the cost of theater and entertainment tickets back home, isn't that nice?
Spirits
And for all you sports fans, the Spirits bar adjacent to the Casino features a flat-screen TV and full bar, making it a very pleasant place to keep up with your favorite teams.
White Night Party: Don't think of missing Azamara Quest's famous White Night party and buffet, held at least once on every cruise (weather permitting). Colorful decor and linen-draped tables, a fabulous buffet feast, and boutique wines on the house make this an event like no other. Dance late into the night as the live band kicks in after dinner. Wearing white is optional, but encouraged!
Spa & Fitness
If you've ever wished for a week or two to reboot, this is it. Treat yourself to health, beauty, and restorative treatments in our all new Sanctum Spa. With a focus on wellness and vigor, our relaxing spa offers you the chance to focus on you something you don't always have time to do at home. Enjoy an oceanfront massage, a quick manicure before hitting the town to explore, teeth whitening, barber services, or even a healing acupuncture treatment.
But beyond the Sanctum Spa, Azamara Quests is also pleased to offer a full range of complimentary onboard fitness and nutrition classes, including one-on-one personal training for an additional cost. An Azamara Quest voyage is the perfect opportunity to focus on your health so let us treat you to some rest, relaxation, and rejuvenation.
The Sanctum Spa
Staffed by professional aestheticians and therapists, the Azamara Spa is an oasis of tranquility. Choose from an extensive menu of services including:
The Sanctum Terrace: Enter your private spa deck with a bubbling salt water bath and powerful jets that massage you as you soak up the views.
Facial Glow services: State of the art skin care and restorative facials for men and women.
Massage therapy: Hot stone therapy, deep tissue massage, Swedish massage and other exotic massage treatments from around the world.
Body sculpting: Renewing seaweed wraps, cellulite reduction body sculpting, lime and ginger salt glows, and more.
Spa rituals: A selection of carefully crafted half and full-day packages including body sculpting, facials and massage for the ultimate in relaxation.
Teeth whitening services for bright beautiful smiles.
Reservations are required for most services, and slots quickly fill up, so please plan ahead. Please note that an 18% gratuity will be added to your folio for all spa treatments.
The Salon
Our full service salon offers a menu of professional services for men and women, including:
Hair styling and care including cuts, coloring, highlights and color correction.
Manicures and pedicures.
Salon favorites: Special packages of hair and scalp renewing rituals, milk-and-honey manicures and pedicures with massages, and barbering and grooming services.
Fitness Center and Personal Training
The secret to maintaining vitality? Exercise more. Many Azamara guests are eager to do just that, and we make it easy with complimentary group classes like sunset yoga on the deck, Pilates, cycling, core workouts, and nutrition classes.
Not the class type? Then head to our well-equipped Fitness Center onboard Azamara Quest, filled with lifecycles, treadmills, stair-steppers and weights and work out at your own pace as you enjoy spectacular ocean views.
Ramp up the benefits with specialized training (for additional cost):
Customised personal training: Certified personal trainers will work with you to develop a customized workout plan and lead you through individualized instruction. Take written material back home and keep it up! Customised Pilates instruction is also available.
Body Sculpt Boot Camp: Offered by the spa, this get-fit boot camp includes individual analysis with a personal trainer and four supervised group workouts.
Acupuncture
A voyage is a great time to experience the benefits of this ancient Chinese system of healing. Acupuncture strengthens the immune system, fights disease and controls pain while dissolving accumulated stress and restoring the body's natural balance and energy.
Azamara Quest's acupuncturists are experienced practitioners licensed by the National Certification Commission for Acupuncture and Chinese Medicine. A variety of treatments are available for pain management, smoking cessation, weight loss, stress reduction and more. After just one session, you may notice immediate benefits in circulation, heart, stomach, skin and mood. Please inquire at the Spa for scheduling and pricing.
Specialized services include:
Acu-Lift: A safe, painless and effective rejuvenating treatment for the face and body. This treatment improves muscle tone, increases circulation and cellular metabolism, and stimulates the natural production of collagen and elastin. You'll see a more youthful look in moments, and improvements in skin texture and smoothness.
Nutritional Consultation: These hour-long nutritional consultations start with a thorough investigation into your diet and lifestyle. You'll come away with a personalized diet plan based on current nutritional research and a Chinese medical diagnosis. Personal physical concerns and constitutional sensitivities will be addressed, and you'll have a pathway to better health.
Our acupuncture program at sea can also address chronic issues with supplemental nutritional advice. Only the purest, highest quality, chemical-free herbs are used to create these formulas. Most of the herbs used in production are organically grown to ensure safety and efficacy.
Inclusive amenities
(NOTE: Repeated this in several sections – where we place depends on the site)
Complimentary amenities are included on every Azamara Quest voyage:
Exclusive onshore AzAmazing EveningsSM event
Select standard spirits, beers and wines
Gratuities (except spa)
Specialty coffees and teas, bottled water and soft drinks
English-trained butlers for suite guests
Self-service laundry
Shuttle service (where available) at port destinations
Concierge service for personal guidance and reservations
Dining & Wine
Azamara Quest takes you to remarkable destinations. We also give you more time to fall in love with them. It's what we call Destination Immersion-and it's what happens when you can stay longer and experience more on our voyages. More time to get to know the local life and culture in every port. After all, isn't that what travel is all about?
But Destination Immersion isn't just something that happens on shore. It happens onboard, too. What does that mean for dining onboard? We incorporate the flavors of a destination into our menus. What does that mean for you? A culinary experience that is exclusive. Personalized. And very local. It's time to get a real taste for travel.
Aqualina
Specialty Dining
At Aqualina, you will find some of Italys most celebrated dishes. But you will also find contemporary inventive cuisine. Start with lobster ravioli, followed by arugula and radicchio with prosciutto chips, and a Venetian seafood platter. You will not be able to say no to our famous desserts: marsala custard, lemon souffle, or tiramisu. Our chefs love to be inspired, so after an on shore visit to a local market, you can also expect a delectable dish so local, you will feel like you are not onboard anymore.
Specialty dining is complimentary for suite guests. For others, there is a $30 per-person cover. Reservations are highly recommended.
Prime C
Specialty Dining
Steaks cooked to perfection. Crab cakes with remoulade. Lobster bisque. Lamb, game hens and seafood. And last but certainly not least, our famous mini cinnamon-sugar donuts with dipping sauces for dessert. (Yes, they are as good as they sound.) But at Prime C, you are in for more than an array of delectable dining. Expect a marvelous evening in a warm wood-paneled ambiance with stunning views and lush decor. And, if our chef has made a visit to a local market while we are in port, you will also have an authentic local dish to look forward to, made just for you.
Specialty dining is complimentary for suite guests. For others, there is a $30 per-person cover. Reservations are highly recommended.
A meal for every mood. And port
Fresh ingredients, careful preparation and a variety of menu choices. Azamara Quest offers a choice of six distinctive dining options, including room service. Whether you're a fan of haute cuisine or down-home cooking, expect the same delicious quality. Bon appetit! Buon appetito! Buen provecho! No matter how you say it, you're in for a real treat.
The Wine Cellar
Fine Wines
You'll be hard-pressed to find such a collection of limited production, small label and rare vintage wines anywhere on the high seas! And with vintages from France to California, and Argentina to South Africa, you're sure to find a wine to suit your palate. And your journey. Our knowledgeable sommeliers can help you pick the perfect wines for your evening meal-and your voyage!-and be sure to join our Wine Corner gatherings in the Mosaic Cafe, perfect for discovering and enjoying new wines and benefiting from the thoughtful guidance of our sommelier.
Discoveries Restaurant
Main Dining
Discover the world through dishes and flavors from the places we visit. Whether it's our Destination Immersion dinner buffet or the Destination Immersion cuisine on our dinner menu, give your dining a little local flavor and enjoy on shore tastes onboard! Of course, you will also enjoy a wide variety of nightly selections such as filet mignon with black truffle sauce. With its elegant yet lively dining and renewed decor, it's easy to see why this restaurant is a hands-down favorite, the culinary heart of our ships. Gather at Discoveries Bar for drinks before or after dinner.
Reservations are not accepted. Choose being seated at a table for two or as part of a larger group of fellow guests (which we highly recommend! It's a great way to meet new people).
Casual Dining & Snacks
The Patio and Swirl & Top
Casual Dining & Snacks
Casual "pool grill" by day. Then, fine tablecloths and flickering candles will set the mood for a sit-down al fresco dining experience by night. Taste your way around the world with exclusive personalized dishes using local flavors of the places we visit on our Destination Immersion cuisine dinner menu served by our professional wait staff. And for a little touch of whimsy, a self-serve frozen yogurt station-Swirl & Top. With a variety of flavors and your choice of toppings, it's the perfect way to cool off during the day or end your evening meal.
Windows Cafe
Casual Dining & Snacks
The best way to see where you are in the world is not by looking at your itinerary. It's by checking out the menu at Windows Cafe! Our daily themed dinner often takes its inspiration from the region we're visiting-Indian, Mexican, Spanish, Italian. We also create an extra live station made from local ingredients purchased in port: Greek salad made with local feta (Greece), pasta prepared with local mushrooms (Italy), fresh Mussels served with garlic bread (Netherlands). Take in the fresh breeze at an outdoor table and relax in the easy and casual atmosphere of the newly renovated Windows Cafe. Enjoy an intimate breakfast, lunch, or dinner for two or a lively meal for six with our flexible seating options. And speaking of choices, selections change daily. Choose from fresh sushi, stir-fry and pasta, salads, smoked lox and other cold fish, a carving station and of course, desserts.
Mosaic Cafe Mosaic @Night
Casual Dining & Snacks
Comfortable and stylish, Mosaic is the place where you'll find your favorite coffee drinks, just the way you like. Try our Nespresso specialty coffee (for a fee). Slip into a comfortable seat and sip for a while. The perfect place to start (or end) your day, no matter where you are in the world. This just might become your favorite area on the ship.
Dining: What (And What Not) To Wear
In all of our dining rooms, we encourage guests to follow a resort casual dress code, following good taste and common sense.
Bare feet, tank tops, baseball caps, bathing suits, shorts, and jeans are not allowed in the main dining room or two specialty restaurants. (Khakis and other trousers are fine.)
When dining at Windows Cafe, guests must wear footwear and a cover-up or shirt.
In Prime C, Aqualina and Discoveries Restaurant, many guests enjoying dressing up. Formal evening wear (tuxedos and gowns) is not expected. We recommend that men bring a sport coat or suit; this attire comes in handy for evenings onshore as well. For women, dining attire includes dresses, skirts, blouses with pants and capris, and other appropriate attire.
Onboard
Refurbished in late 2012 and early 2013, the Azamara Journey and Azamara Quest feature sparkling accommodations, 24-hour room service, a variety of dining experiences and bars, a full-service spa, fitness center and pool. Guests also enjoy evening entertainment in the Casino, Cabaret Lounge and Mosaic@Night. Complimentary daytime classes include yoga, nutrition and fitness instruction, travel seminars, cooking demonstrations and other activities tailored to specific regions. Three onboard shops offer everything from sundries and logo wear to exquisite jewelry and one-of-a-kind gifts.
Azamara Club Cruises's three boutique-style ships carry just under 700 guests, with a one-to-two staff to guest ratio. And you'll love the fact that 93% of the staterooms offer ocean views and 68% have a private veranda.
Azamara Cruises staff and crew
Destination-rich travel experiences bring guests onboard, but Azamara Quest's outgoing staff and crew bring them back. Service is prompt and attentive, and the staff and crew quickly learn guest's tastes and preferences. The onboard atmosphere is genuinely friendly, with senior officers and crew mingling easily with guests. Azamara's club-like community appeals to couples, singles and grown families.
Facts
Occupancy: 690
Tonnage: 30,277
Length: 592 feet (180 meters)
Beam: 84 feet (25 meters)
Cruise speed: 18.5 knots
Electric Current: 110/220 AC
Refurbished: 2012
Officers and Crew: 408 officers, crew and staff