Starting Price, Per Night*
Encounter astounding delights with P&O UK Cruises
For an unabashedly British style of sailing, look no further than P&O Cruises UK. Boasting exquisite dining options, exciting onboard amenities and entertainment venues, as well as comfortable accommodations, P&O UK Cruises certainly know how to take care of their guests. Being the oldest cruise line in the world, and the leading cruise option in Britain, P&O UK is a fantastic choice for seafaring travellers looking to sail from the United Kingdom with an experienced cruise line.
Whether you're looking to sail on the stunning Arcadia, the magnificent Britannia, or one of their newer ships such as Iona, your time onboard any of P&O UK's ships will be nothing short of exquisite. Offering voyages to destinations across the globe including Northern Europe, the Mediterranean, the Caribbean, and more, future travellers will have plenty to choose – and book – from. Looking for the best P&O UK cruise at an affordable price? Click on our 'Cruises' tab now and start comparing our amazing P&O UK deals today.
Cruises from Australia and New Zealand
P&O UK's Arcadia, an adults only ship, often cruises via Australia and New Zealand as part of her round world cruise.  However, neither her 2020 nor 2021 cruises currently have options to embark or disembark in a local port.  Check back later to see if there are any segments on offer that may give you the chance to try P&O Cruises UK locally.
Europe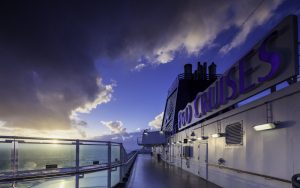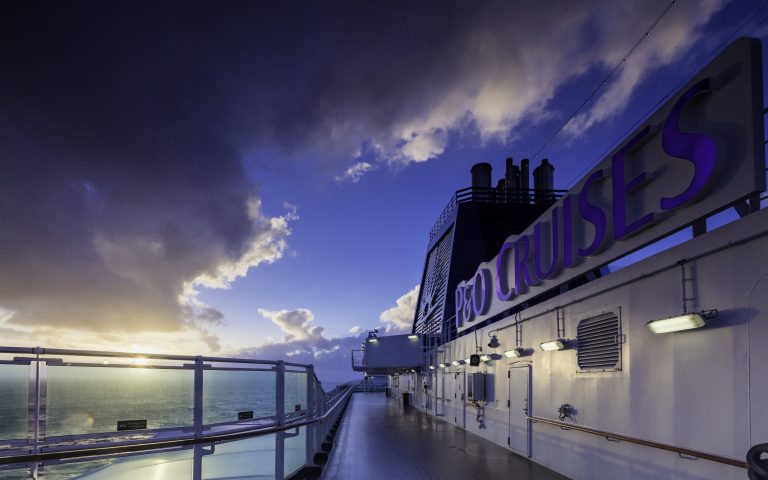 Most cruises aboard one of P&O Cruises UK's fleet of seven ships depart out of Southampton.  Oceana does, however, operate 7 night, 14 night and a handful of longer itineraries departing Valletta.  These cruises explore the Mediterranean between April and October each year and are one of the few cruise lines that operate regular departures from Malta.  From Southampton, P&O Cruises UK Europe cruises offer longer itineraries ranging between 10 and 24 nights that take you both to the Mediterranean and Northern Europe.  You'll find the largest number of 12 to 14 night itineraries, but their longer voyages and shorter 10 and 11 night sailings are just as popular. You can also embark on a short sampler cruise of 2 to 5 nights from Southampton or 7 night cruises visiting Norway and the west coast of mainland Europe.
Caribbean
P&O Cruises UK also offers long cruises to the Caribbean from Southampton, with voyages as long as 55 nights!  These are great in-depth discoveries of the Caribbean islands, which include an iconic Trans-Atlantic crossing to get you there and back.
World Cruising
Arcadia offers an annual world cruise departing in January each year from Southampton.  Check out our world cruises page for more information.
Why book with P&O UK Cruises
P&O Cruises UK are perfect for adventurers who prefer a more traditional, and very British, style of sailing. Service is of the utmost importance for P&O UK, and they have ensured that every voyage with them boasts a strong passenger-to-staff ratio that promises guests never feel like they are not being taken care of. Moreover, with a prime selection of inclusions in your passenger fare as well as extras that can be purchased with affordable packages, P&O Cruises UK have worked hard to create an immense amount of value for every guest. Plus, with a remarkable selection of dining options featuring menus prepared by world-famous chefs, you'll be able to enjoy some of the best dining on the seas.
The British-based cruise line also hosts a marvellous selection of entertainment options and onboard activities that guests of all kinds will enjoy. From dazzling theatre productions and riveting live music, rejuvenating spa and wellbeing centres, to children's clubs and pools, P&O has something for every member of the family. The fun continues once you arrive at your destinations, with a splendid offering of shore excursions that seek to further educate guests on the wonder of each locale.
P&O UK Cruises FAQ's
What is P&O UK's Cruise Ships?
P&O UK's entire fleet includes:
Arcadia
Aurora
Azura
Britannia
Iona
Ventura
Do P&O UK ships visit Australia?
On rare occasions, P&O UK's Arcadia may make its way down to Australia for her world cruise, but this changes year to year and some years may go without a single ship visiting the land down under. However, P&O still has a strong presence in the country, with P&O Cruises Australia being an extremely popular choice for many travellers. While not exactly the same experience as its British counterpart, we still recommend checking out P&O Cruises Australia and take advantage of its brilliant itineraries in the region.
Is dining included on P&O UK cruises?
Dining is indeed included on P&O UK Cruises, offering a great choice of venues and dishes to sink your teeth into during your voyage. Whether you want to treat yourself at the Buffet, enjoy an exquisite meal at the Main Restaurant, or bite into a mouth-watering burger at the Poolside Grill, guests will have plenty to choose from.
For just a little extra, guests can also reserve a table at one of their magnificent specialty restaurants or culinary experiences.
Where can I find the best P&O Cruises UK deals?
To find the best P&O UK deals on sailings throughout Europe and beyond, head straight to Cruise Guru! Bringing you thousands of cruises at the lowest prices, if you're looking to book your next voyage, there is no better website to find a deal than on Cruise Guru.
Check out our Frequently Asked Questions after you book!
You've booked your P&O UK cruise, but you're a little stuck on some of the finer details and potential problems that can come about while sailing. Will there be Wi-Fi? Is dining included? Do I need a passport? Have no fear! We have a fantastic Frequently Asked Questions page which should answer all those queries. Sail on your next holiday stress-free and review our FAQ's page today.
Need help book with P&O UK?
Can't seem to find a P&O UK deal at a price that meets your budget? Contact Cruise Guru! We have a stellar team of cruise consultants on-hand to help you find the best and most affordable P&O UK cruise that suits your preferences. You can either call us on 13 13 03 or fill out our call-back form for one of our cruise consultants to get back to you as soon as possible.
To be in the know on the latest cruise deals, offers, and exclusive discounts, we strongly recommend following or liking our Facebook, Twitter, or Instagram social media channels. With thousands of sailings on offer at any moment, be sure to book your next escape at the lowest price – with Cruise Guru.
Need help? Call
Included with your cruise fare
All onboard meals in the main dining room and buffet,
A selection of onboard entertainment
Included when you book a suite
Priority check in and boarding
Hospitality lounge at check in terminal
Butler service
Welcome onboard reception
Access to exclusive dining venue for breakfast
Main dining menu served in cabin
Inclusive room service
Atlas and binoculars for use during the cruise
Coffee machine
Daily canapes
Flowers, champagne and chocolates on arrival
*Inclusions are subject to change at any time