Overview
Cruises
Inclusions
Ships
Destination
Promotions
This page is about P&O Cruises UK cruising from Southampton to Europe, the Caribbean and the annual P&O world cruise to Australia and New Zealand. Looking for local cruises in the South Pacific round trip from Australia instead? Visit P&O Cruises Australia.
Latest News
Iona, P&O Cruises UK's newest ship, is due to set sail in May 2020 and her inaugural cruises are now open for booking.  To prepare for her launch, the Port of Southampton is investing 12 million pound into upgrading their terminal. Her first cruising season will be to Northern Europe, with 7 and 14 night cruises to the Norwegian Fjords.  Book now to be one of the first onboard.
Best Deals
P&O UK Hand-Picked Deals – Enjoy up to £600 shipboard credit per stateroom* and exclusive discounts* on select P&O UK cruises with Cruise Guru.
Contact us for expert and friendly assistance in choosing the right P&O UK cruise to meet your needs, or alternatively use our Cruise Finder tool. *Terms and conditions apply. 
Cruises from Australia and New Zealand
P&O UK's Arcadia, an adults only ship, often cruises via Australia and New Zealand as part of her round world cruise.  However, neither her 2020 nor 2021 cruises currently have options to embark or disembark in a local port.  Check back later to see if there are any segments on offer that may give you the chance to try P&O Cruises UK locally.
Europe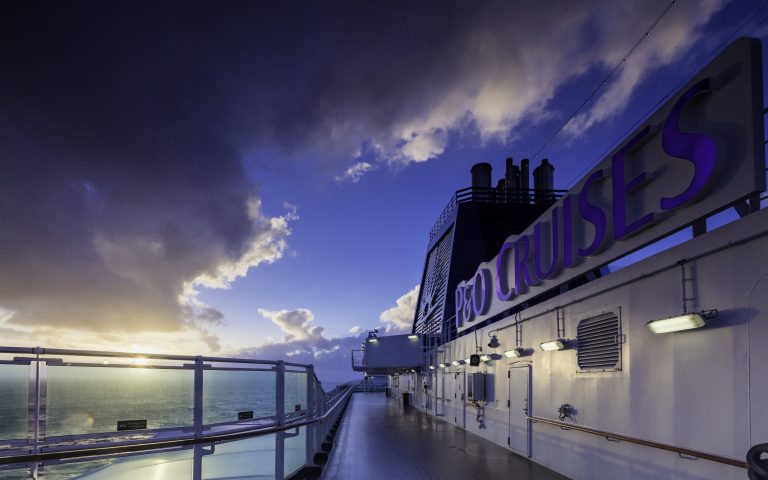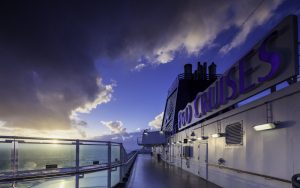 Most cruises aboard one of P&O Cruises UK's fleet of seven ships depart out of Southampton.  Oceana does, however, operate 7 night, 14 night and a handful of longer itineraries departing Valletta.  These cruises explore the Mediterranean between April and October each year and are one of the few cruise lines that operate regular departures from Malta.  From Southampton, P&O Cruises UK Europe cruises offer longer itineraries ranging between 10 and 24 nights that take you both to the Mediterranean and Northern Europe.  You'll find the largest number of 12 to 14 night itineraries, but their longer voyages and shorter 10 and 11 night sailings are just as popular. You can also embark on a short sampler cruise of 2 to 5 nights from Southampton or 7 night cruises visiting Norway and the west coast of mainland Europe.
Caribbean
P&O Cruises UK also offers long cruises to the Caribbean from Southampton, with voyages as long as 55 nights!  These are great in-depth discoveries of the Caribbean islands, which include an iconic Trans-Atlantic crossing to get you there and back.
World Cruising
Arcadia offers an annual world cruise departing in January each year from Southampton.  Check out our world cruises page for more information.
Included with your cruise fare
All onboard meals in the main dining room and buffet,
A selection of onboard entertainment
Included when you book a suite
Priority check in and boarding
Hospitality lounge at check in terminal
Butler service
Welcome onboard reception
Access to exclusive dining venue for breakfast
Main dining menu served in cabin
Inclusive room service
Atlas and binoculars for use during the cruise
Coffee machine
Daily canapes
Flowers, champagne and chocolates on arrival
*Inclusions are subject to change at any time
BONUS DISCOUNTS
With service of choice, our bonus discounts are available online or by phone.
*Terms and conditions apply. Prices shown are per person, twin share in AUD inclusive of all discounts, taxes & fees. Prices are on categories as specified. Prices are subject to change and availability. Offers are valid for new bookings only and are not combinable with any other offer. Minimum price featured does not necessarily reflect the pricing of the offer specified, but rather indicates the cheapest available rate per person, twin share of any promotion offered on each sailing. For accurate pricing for a particular promotion, please select appropriate rate code on desired sailing and continue through to the final pricing screen. The savings percentage amounts are a comparison between the current lowest available fare and the current highest available fare on the same category, regardless of promotion. The savings percentage displayed reflects the highest available discount on any category on that sailing. Each fare level has its own terms and conditions. All offers are subject to availability and may be withdrawn at any time without notice. Cruise Guru reserves the right to correct any errors inaccuracies or omissions and to change offers, fares and surcharges at any time without notice. Credit card fees are not charged for deposit payments via Visa or MasterCard. Final payments will incur a 1.3% merchant fee via Visa or Mastercard. American Express incurs a 2% merchant fee for both deposits and final payments.