Starting Price, Per Night*
Cunard cruises Australia 2024, 2025 and beyond!
Discover incredible destinations with Cunard cruise line
Explore the exceptional whenever you board one of the phenomenal Cunard cruises departing from Sydney and across the globe. World-renowned for their marvellous cruise ships – Queen Elizabeth, Queen Victoria, and Queen Mary 2 – Cunard cruises promise to inspire unending adventure while in unparalleled luxury. Service is of the utmost importance for Cunard Line, boasting fabulous white-gloved staff who provide above-and-beyond assistance in every aspect of your voyage. See the world in elegance, with Cunard's signature experiences including glamorous masquerades, spectacular theatre shows, and British Afternoon Tea's, which ensure every holiday is as magnificent as the next. Home to an extensive selection of remarkable Cunard cruise deals available throughout the year, there is no better place to book your next Cunard voyage than with Cruise Guru!
Check out the latest Cunard cruises 2024 and grand Cunard cruises 2025 with us now!
Cunard Line Destinations
Cunard cruises from Australia
Cunard offers an amazing selection of sailings which depart from Australian cities including Cunard cruises from Sydney, Melbourne, Brisbane, Adelaide, and Perth. Travellers can embark on astonishing Australia and New Zealand cruises which visit beautiful locales throughout the region including Kangaroo Island, Auckland, and Hobart. There are also a number of wonderful Cunard South Pacific cruises that make port at sun-soaked islands such as Noumea, Suva, and Lautoka. With Cunard's Queen Mary 2 or Queen Elizabeth, you can also set sail on remarkable Asia cruises reaching enchanting Far East destinations including Hong Kong, Bitung, and Phu My. On both Cunard Queen Victoria and Queen Mary 2, experienced adventurers can book an unforgettable World Cruise, allowing guests to immerse themselves in a variety of extraordinary cultures from across the globe.
Cunard cruises worldwide
This luxury cruise line additionally has a number of sailings that depart from captivating cities across the world visiting wondrous locales and historic landmarks that cannot be missed. Below are a list of regions that Cunard cruises visits:
Africa and the Indian Ocean
Alaska
Asia
Northern and Western Europe
South America
The Caribbean
The Mediterranean
Transatlantic and Transpacific
USA and Canada
Why book with Cunard cruises
Every Cunard cruise promises to transport their guests to an incredible world filled with near-endless adventure and luxurious comfort. With countless reasons to book, we've managed to highlight the best ones. Read on to find why you should take your next well-earned holiday with Cunard cruise line.
Sensational classic cruising
Whether you want a magical Cunard cruise from Alaska or a relaxing jaunt around the Australian shores, you will always be provided with the enchanting classic style of cruising. From the sublime white-gloved service and elegant accommodation options to the impressive onboard activities, taking a holiday with Cunard is nothing short of extraordinary. Re-live the golden era of cruising and start comparing Cunard cruise deals with us today!
Unparalleled service
As mentioned above, Cunard cruise line is well-known for its magnificent white-gloved service and their supreme attention to detail. From the very moment you board their ships, guests are greeted by their stateroom steward who endeavours to ensure every request a patron has is accounted for. More than just remembering your name, Cunard's "White Star Service" goes above and beyond to make your voyage is as stress-free as possible.
Jaw-dropping Cunard World Cruises
Perfect for the experienced adventurer, Cunard World Cruises take avid explorers on awe-inspiring journeys across the globe. A deeply enthralling experience for all who come aboard, World Cruises whisk away travellers to one charming culture after another as patrons visit historic landmarks, jaw-dropping natural paradises, and relatively unknown getaways. Whether you want to join for an entire 100+ day voyage or a shorter world cruise segment, every passenger is promised a simply unforgettable time no matter when they decide to hop on.
Explore our cheap Cunard cruise deals now
Here at Cruise Guru we pride ourselves on having the best Cunard cruise deals, with the cheapest prices, exclusive rates, and astonishing promotions available year-round. It's no wonder why so many cruisers decide to book their next Cunard cruise online with us! To see all Cunard deals on offer, simply click on the 'Promotions' tab. You can either load itineraries in that tab itself or head back into the 'Cruises' tab to see all the Cunard sailings available right now. To find more amazing promotions, be sure to check out our cruise deals or last minute cruises page for offers across all cruise lines.
Want to know more about Cunard cruises Australia? Contact us today.
About to book your next Cunard cruise from Melbourne, Sydney, or anywhere across the world but have a few lingering questions? Be sure to contact Cruise Guru! We boast an experienced team of passionate cruise consultants and travel agents who work tirelessly to make your booking experience as seamless as possible. You can give us a call on 13 13 03 or request a call back for our team to get back to you at a more appropriate time. Plus, with our incredible Price Guarantee, you can book with confidence knowing you have the best price available in the market.
You can also follow or like our Facebook, Twitter, and Instagram pages for all the breaking news on exclusive offers, cheap cruise deals, and new itineraries happening across the industry. With the best prices, cruise deals, and years of experience, there is no better place to book your next Cunard cruise than with Cruise Guru!
Cunard Cruises FAQ's
Are Cunard cruises Child friendly?
Definitely! Every Cunard cruise ship is fitted with a wondrous selection of children's facilities and play areas to keep them busy for hours on end. The superb service also extends to the kids, with attentive carers who make sure every child is given extra special consideration.
What should I wear on a Cunard cruise?
The dress code during the day is typically casual clothing such as short-sleeved shirts and shorts. Once the evening arrives, guests are expected to wear formal clothing such as tuxedos and long dresses. With a number of Gala evenings happening throughout every Cunard voyage, it's your greatest chance to put on your very best outfits for all the world to see!
What Cunard cruise ships visit Australia?
Cunard's Queen Elizabeth and Queen Mary 2 both make their way onto Australian shores year-round. Departing from ports across the country from Sydney to Perth (Fremantle), Cunard cruise ships embark on remarkable voyages around Australia, the South Pacific, Asia, and more. With an abundance of itineraries available to book, Cunard cruises Australia will more than satisfy your thirst for adventure.
Are Cunard cruises all-inclusive?
Typically, your Cunard line cruise fare comes complimentary with:
Non-specialty restaurant dining
Onboard entertainment
Select non-alcoholic beverages
Afternoon High Tea
24/7 Room service
Access to the fitness centre
Most onboard activities
Where do I get the best Cunard cruise deals?
For all cheap Cunard cruise deals head straight on over to Cruise Guru. With an astounding list of deals available throughout the entire year, there is no better place to book your next cruise online. Check out Cruise Guru's offers today and start comparing deals!
Need help? Call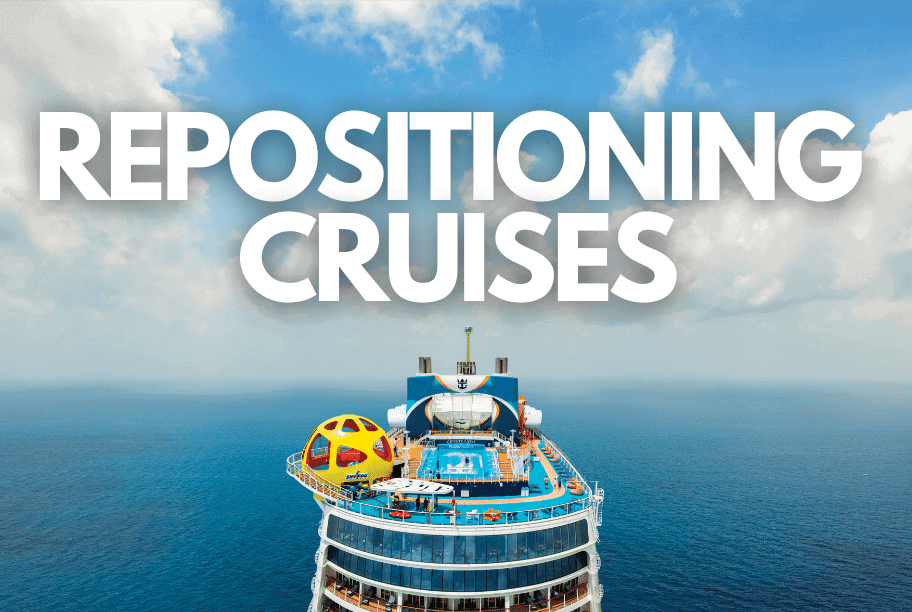 REPOSITIONING CRUISE DEALS
Offering unique itineraries between Australia and Asia, Hawaii, and mainland USA/Canada, these popular cruises have limited cabins and do sell fast!
View Now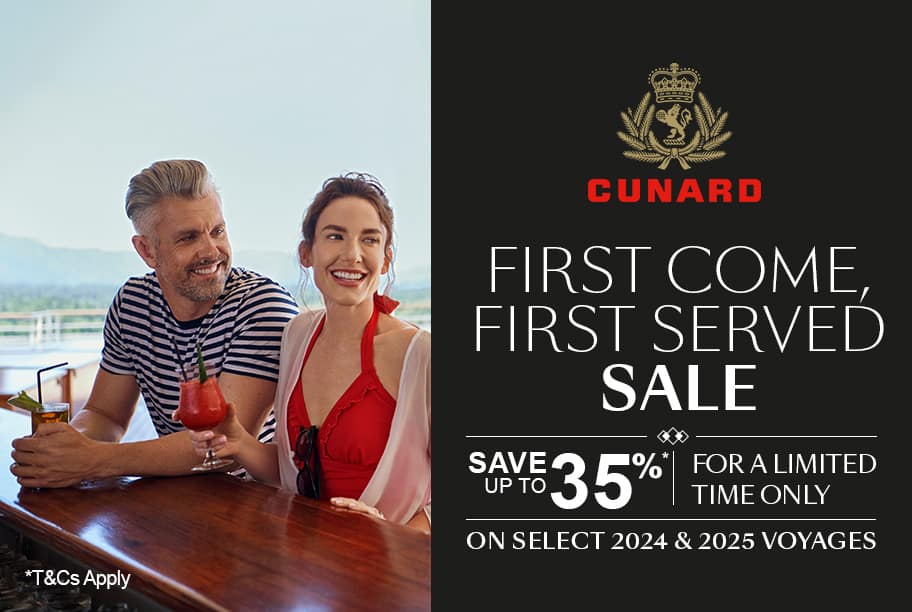 SAVINGS ON 2024 & 2025 VOYAGES
Sail with Cunard and you can enjoy savings up to 35% on select 2024 and 2025 voyages. Book now before you miss out!*
View Now
Included with your cruise fare
All onboard meals in the main dining room, buffet, Golden Lion pub, and traditional Afternoon Tea in the Kings Court.
A selection of onboard entertainment including informative lectures and performances in the Royal Court Theatre.
A selection of onboard activities including dance classes, fencing and bridge lessons.
Additional inclusions with a Princess Grill Suite
Priority embarkation
Chilled welcome aboard champagne
Daily fresh fruit and flowers
Exclusive access to the Grills Lounge and Terrace
Exclusive Grills afternoon tea
Exclusive Grills dining and restaurant
Pillow concierge menu
Further inclusions with a Queens Grill Suite
Personal butler
Complimentary in-suite bar (stocked with two bottles of wine or spirits of your choice and soft drinks)
*Inclusions are subject to change at any time