Overview
Cruises
Info
Inclusions
Ships
Destination
Promotions
Latest News
Cunard Cruises is upping the ante in their onboard performances department.  The new musical production 'Top Hat' will be performed in the Royal Court Theatre onboard Queen Elizabeth and Queen Victoria.  This 1930's romantic comedy is set in the Golden Age of Hollywood and is sure to impress with its dazzling array of costumes, amazing set design and catchy tap dancing.  Make sure you get onboard to experience the spectacle for yourself!
Best Deals
Explore the World in Style with Cunard's latest deal.  Select sailings will enjoy huge savings, reduced deposits and complimentary gratuities*.  Plus Grill Suites can take advantage of up to $3,290pp shipboard credit*
JANUARY MEGA SALE – Book a cruise of 49 nights or less departing after 14 August 2020 on the 'CUNARD FARE' and pay just $25pp deposit*.  Hurry, ends 31 January
Two cultures combine – cruise from Asia to Alaska aboard Queen Elizabeth including flights, transfers, accommodation and cruise*.  View Fly, Stay and Cruise Package
Enjoy exclusive discounts* when you book with Cruise Guru and take advantage of bonus shipboard credit* on select sailings.
Are you travelling alone?  Each Cunard ship has a small number of sole occupancy cabins available on each of their itineraries.  Not only are these sold at a reduced rate than a twin cabin used for sole occupancy, but you'll also be located next to other solo travellers, giving you the opportunity to meet some of your fellow single guests.
For help finding your ideal itinerary use our Cruise Finder tool to search for your perfect Cunard cruise. *Terms and conditions apply.
Cunard Cruises in Australia, New Zealand, and the South Pacific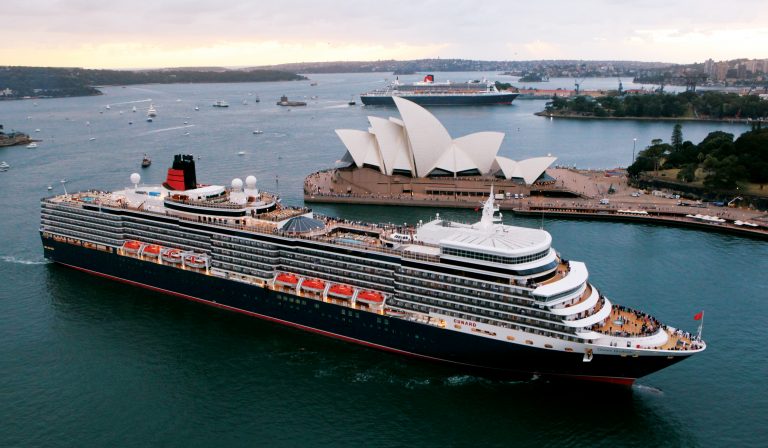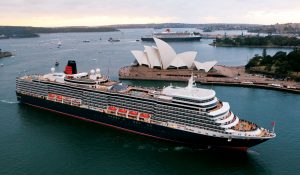 Cunard operates cruises aboard the most famous ocean liners in the world. Experience them for yourself when Cunard cruises to Australia and New Zealand as part of their elegant ships' world voyages.  For 2019/2020, Cunard have also announced that they will be extending Queen Elizabeth's time in Australia, with 59 days of sailing in Tasmania, New Zealand and throughout coastal Australia, and in 2020/2021 for a whopping 118 days.  But don't delay, these local Cunard cruises are extremely popular and sell out very quickly!
Cunard cruises offer a huge number of departure ports for their Australian itineraries – choose from Sydney, Brisbane, Melbourne, Adelaide or Perth.
View and compare all of the latest prices on Cunard cruises from Australia from 2-4 night sampler cruises through to half world voyages back to Southampton, there is something for everyone.
Asia
Close to home, Cunard cruises in Asia have some fantastic itineraries that allow you to depart from an Australian port (Brisbane or Sydney) and cruise one-way into the Orient.  Alternatively, embark in Singapore, Hong Kong, Yokohama (for Tokyo) or Shanghai for a true Asian immersion in Cunard style.
Europe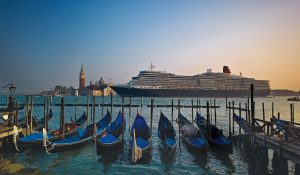 Cunard offers an extensive range of voyages throughout Europe.  In the Mediterranean, Western Mediterranean itineraries are aplenty, with itineraries visiting the iconic ports of Italy, France and Spain.  With Cunard being a British-based cruise line, you'll find the majority of Mediterranean voyages depart from Southampton.
Cruises to Northern Europe with Cunard Cruises really vary in duration.  Cruises up to 10 nights give you the opportunity to discover Norway as well as the Baltics and Scandinavia, while cruises up to 14 nights could get you to Iceland.  There are also a small number of even longer itineraries available for a Northern Europe immersion though the majority of these options are round trip cruises from New York.  Again, the majority of these Northern Europe cruises depart from Southampton, however there are also options from mainland ports including Hamburg and Kiel.
Unsurprisingly, Cunard Cruises also has a handful of really fantastic British Isles itineraries, though there are a small number of these departures so best to get in early to secure your cabin.
North America and the Caribbean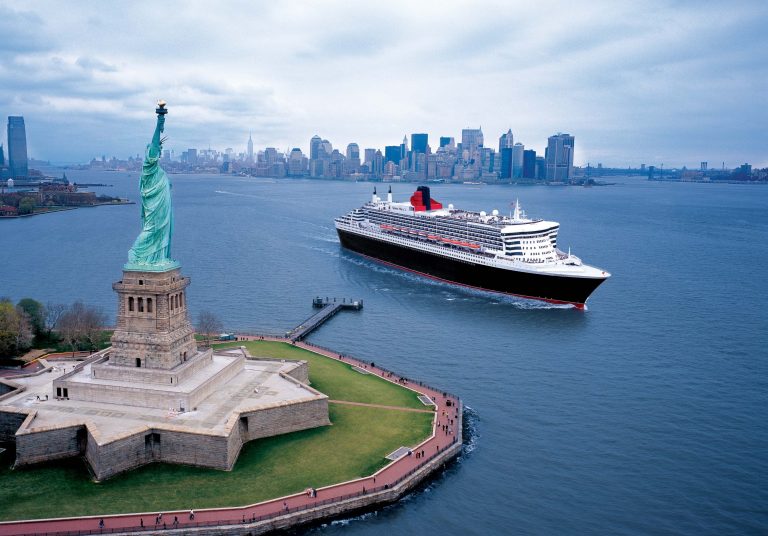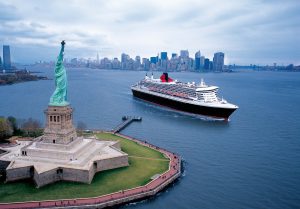 There is something magical about the colours of fall in Canada and New England. Cunard offer a number of Canada and New England voyages departing from New York or Quebec City, a number of which tack a transatlantic crossing onto the journey to end up in Europe.  Have a look at cruises in September and October to fully immerse yourself in Canada and New England's famous fall foliage. You can also embark on Canada and New England cruises from the European ports of Hamburg and Southampton.
Cunard cruises in the Caribbean tend to be longer itineraries stopping at ports including St Maarten, St Lucia and Barbados.  You can board these Caribbean cruises from either New York or Southampton.
Cunard's most iconic cruise itinerary is their transatlantic crossing and they offer the greatest number of these departures compared to any other cruise line.  They feature a huge number of one-way 7 night voyages from New York to Southampton (or vice versa) or 14 night round-trip varieties.
Cunard has now reintroduced cruises in Alaska to their repertoire.  These itineraries are slightly longer than other cruise line Alaskan itinerary options, with cruises ranging between 9 and 19 nights duration and sailing from Vancouver.
Central and South America
Not to be missed are Cunard voyages in South America, as well as their ocean-to-ocean Panama Canal transits.  Limited departure dates, however, mean that these once-in-a-lifetime sailings tend to book out quickly, so don't miss out!
World Cruising
All three Cunard ships offer round the world voyages, which generally depart Southampton or New York in January, returning in March or April. Visit our world cruises page for upcoming Cunard World Voyages or Contact Us for more information.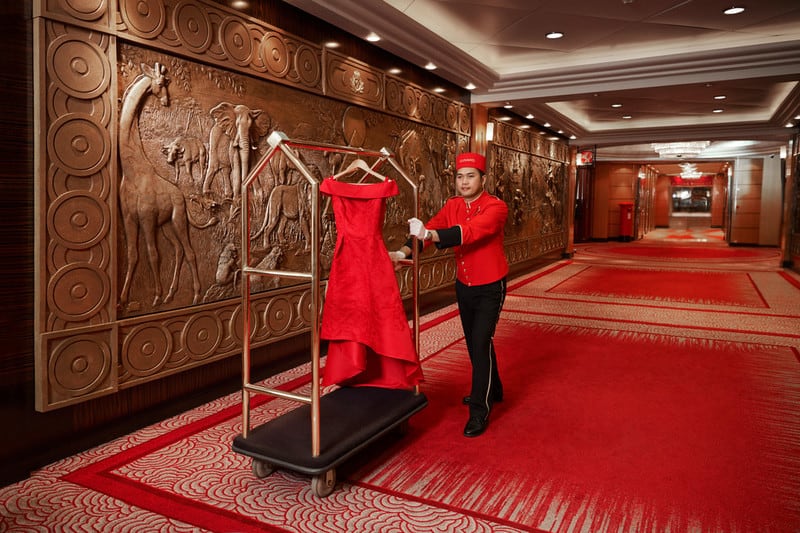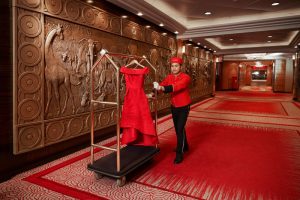 For over a century and a half, Cunard's iconic ships have been defining sophisticated ocean travel with a fleet of some of the most famous ocean liners in the world. From fabled vessels of the past to her present royal court – Queen Mary 2, Queen Victoria, Queen Elizabeth, and a new ship to the fleet coming 2022 – Cunard has carried guests across the great oceans and to the far points of the globe in unparalleled style. The most glamorous names of yesterday and today have made champagne toasts in Cunard's salons, waltzed the night away in the lavish Grand Ballrooms, savoured grand feasts of the finest flavours in elegant dining rooms, restaurants and cafes, and whiled away hours immersed in fascinating conversation while lounging on deck.
Cunard is synonymous with elegance, luxury and its renowned White Star Service, which sets the standard by which all others are judged. If you've never sailed with Cunard before, the first thing you'll notice is this White Star Service. It is warm and sincere, it isn't stuffy, it isn't hurried, it's always friendly, yet never over familiar. It is great service that fits around you. Cunard's ships are grand in scale, yet stylish down to the smallest detail, each one is a world unto herself. Large open decks to beautiful atriums, you are equally sure to find an enclave of calm as a lively activity.
Grill Suites are the epitome of the Cunard experience, where you can enjoy personal service and abundant space to relax in your exclusive suite, private lounge and beautiful terraces.  Meanwhile, the finest food and wines make your every meals something extra special to savour in the Grill restaurants, where only the very best will do.
Cunard invites you to take your place in the rick heritage of ocean travel and write your own classic adventure tale aboard one of the legendary luxury ocean liners of Cunard.
Included with your cruise fare
All onboard meals in the main dining room, buffet, Golden Lion pub, and traditional Afternoon Tea in the Kings Court.
A selection of onboard entertainment including informative lectures and performances in the Royal Court Theatre.
A selection of onboard activities including dance classes, fencing and bridge lessons.
Additional inclusions with a Princess Grill Suite
Priority embarkation
Chilled welcome aboard champagne
Daily fresh fruit and flowers
Exclusive access to the Grills Lounge and Terrace
Exclusive Grills afternoon tea
Exclusive Grills dining and restaurant
Pillow concierge menu
Further inclusions with a Queens Grill Suite
Personal butler
Complimentary in-suite bar (stocked with two bottles of wine or spirits of your choice and soft drinks)
*Inclusions are subject to change at any time
AUSTRALIA'S GARDENING JOURNEY
Cunard's inaugural gardening voyage offers a wonderful opportunity to indulge your love of horticulture while enjoying a summer cruise on Queen Elizabeth in Australia's glorious southern waters.Nine leading gardening experts and well known personalities, including Horticulturalist and landscape designer Jamie Durie, have been revealed for the first line up and will join this special seven-night voyage to share their latest knowledge and garden trends with guests during informative talks and dinners. Queen Elizabeth's entertainment program will have a green-fingered twist: you'll have opportunities to take part in a range of on board activities and hands-on workshops including gardening trivia, special craft classes and lessons in cooking from your garden. When the ship calls at the popular ports of Hobart (overnight) and Melbourne, you'll be able to visit beautiful gardens in each city alongside a range of local activities and sight-seeing options.
EXPLORE THE WORLD 
Receive reduced fares, reduced deposits and complimentary gratuities*PLUS Book a Grill Suite and receive complimentary on board spending money*
BOOK NOW - $25PP DEPOSITS
For a low deposit of $25 per person*, you can secure your cruise today!
BONUS DISCOUNTS
With service of choice, our bonus discounts are available online or by phone.
*Terms and conditions apply. Prices shown are per person, twin share in AUD inclusive of all discounts, taxes & fees. Prices are on categories as specified. Prices are subject to change and availability. Offers are valid for new bookings only and are not combinable with any other offer. Minimum price featured does not necessarily reflect the pricing of the offer specified, but rather indicates the cheapest available rate per person, twin share of any promotion offered on each sailing. For accurate pricing for a particular promotion, please select appropriate rate code on desired sailing and continue through to the final pricing screen. The savings percentage amounts are a comparison between the current lowest available fare and the current highest available fare on the same category, regardless of promotion. The savings percentage displayed reflects the highest available discount on any category on that sailing. Each fare level has its own terms and conditions. All offers are subject to availability and may be withdrawn at any time without notice. Cruise Guru reserves the right to correct any errors inaccuracies or omissions and to change offers, fares and surcharges at any time without notice. Credit card fees are not charged for deposit payments via Visa or MasterCard. Final payments will incur a 1.3% merchant fee via Visa or Mastercard. American Express incurs a 2% merchant fee for both deposits and final payments.