Queen Victoria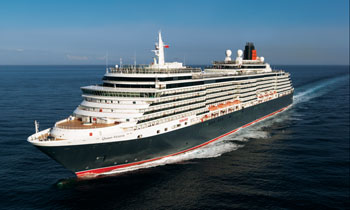 147
Starting Price, Per Night*
Queen Victoria Cruises
Discover the world aboard Queen Victoria and experience the renowned Cunard experience.  Queen Victoria's World voyages depart each year in January and take guests to the enchanting and exciting corners of the globe.  For more information about these world voyages have a look at our World Cruises page.
If you're unable to commit to a full world voyage, Queen Victoria does have a number of world voyage segments and destination cruises for those wanting a holiday in Cunard style.  Explore the cultural smorgasbord of the Far East, discover the man-made marvel of the Panama Canal or the natural wilderness of Africa.  Of all the areas of the globe, Queen Victoria spends the most amount of her year in Europe.  Cruise Norway, the Baltics, the British Isles and Iceland, the western coastline of Europe itineraries or discover the ancient cities and lively towns of the Mediterranean.
Queen Victoria joined the Cunard fleet in December 2007. She is a true Cunarder, proudly upholding our famous heritage and traditions. With luxurious marbles, woods, plush carpets, rich fabrics and soft furnishings, this ship simply exudes elegance.
Queen Victoria's many diversions and distractions ensure you are as thoroughly entertained and entirely relaxed as you could wish to be.
Bars and Lounges
Queen Victoria offers a full array of elegant bars and lounges for guests to enjoy – savour coffee and croissants in Cafe Carinthia or gastro pub lunches in the Golden Lion. Into the evening, toast friends in the Champagne Bar, sip a martini in the Commodore Club or dance the night away to live bands in Hemispheres.
Golden Lion Pub
Darts, karaoke, live sports and ale – everything you'd expect of an authentic English pub. There's even a traditional pub lunch served every day, with classic favorites such as fish and chips, curry and Ploughman's.
Commodore Club
Cunard's signature Commodore Club majestically overlooks the bow of Queen Victoria and provides glorious panoramic views as you sail towards the horizon. A signature cocktail menu will tempt you – especially the unique Commodore Club cocktails. You may even be tempted to try our Martini Mixology or Whisky Tasting classes.
Chart Room
An elegant pre-dinner drink is certainly on order as you relax amongst the décor of this nautically themed lounge and bar. Through charts and cartography, the elegant menu navigates destination-specific stories, pairing a selection of classic beverages with light canapés and snacks – including delectable Godiva chocolates.
Midship's Lounge
Overlooking the Grand Lobby, the Midship's Lounge is the ideal place to people-watch or enjoy the live music floating up from the decks below. Browse the tempting gin and fizz themed menu, which includes gin served from an old-fashioned spirit tap; to infuse a more distinctive character. The menu brings to life wines, prosecco, cava and champagne alongside premium gin and spirits, which are all blended to create fresh and inspiring cocktails.
Yacht Club
Swing into the rhythm of the band under the splendid glass-domed roof of the Yacht Club. The sky is the limit for an evening of entertainment; meet well-known insight speakers, take notice of our resident solo jazz guitarist and dance late into the night with our DJ and dance band.
Enrichment Progammes
A vast array of Queen Victoria enrichment and lecture programmes are available to expand your horizons and take you to places you have always dreamed about. Knowledge is yours for the taking through Cunard Insights.
Cunard Insights
Through Cunard Insights explore a number of historical and contemporary issues presented by a wide range of speakers including explorers, academics, former ambassadors and politicians, historians and scientists, novelists, biographers and award winning actors and film makers.
Book Club
The Cunard Book Club offers the opportunity for thought-provoking literary discussions among our guests each voyage. It is led by the Librarian who will provide a short history of the author and lead the discussion.
Cunard ConneXions
Cunard ConneXions offers a programme of activities all day every day from watercolour to computer lessons, wine tasting to ballroom dancing as well as bridge and board games.
Daytime Activities
Queens Room is the heart of the ship, where you can enjoy our signature Afternoon Tea, dance all evening and even take fencing lessons. You can settle into a seat in a private box – the first at sea – in the Royal Court Theatre or relax in Winter Garden where the indoor meets the outdoors, especially when the glass roof opens on sunnier days. At night you may want to save time for the Casino or put on your dancing shoes at Yacht Club.
Speaker Programmes
Cunard Insights
Explore a number of historical and contemporary issues presented by a wide range of speakers. From explorers, academics, former ambassadors and politicians, through to historians, scientists, novelists, biographers and award winning actors. Each of our Insights lectures are designed to inform and inspire.
Cunard ConneXions
Cunard ConneXions offers an educational and entertainment programme of activities all day, every day, including computer and photography lessons.
Artistic endeavours
Join accomplished artists as they take you through the finer points of watercolour painting and other disciplines. This is an ideal way to pick up a forgotten talent or learn an engaging new hobby.
Shopping and Galleries
Clarendon Fine Art
Clarendon Fine Art specialises in British and international contemporary paintings and sculptures. It has an international reputation for showing numerous leading artists working in a wide variety of styles and genres, including: Danielle O'Connor Akiyama, Sherree Valentine Daines, Christian Hook, Fabian Perez and Jeffrey Pratt.
Photo Gallery
Browse the images and films captured by our photographers on your voyage in the photo gallery. Whether a formal portrait session, at QV's Captain's Cocktail Party or at the gangway, these pictures and films of you and your fellow guests are all displayed here for you to view and purchase.
Royal Arcade
Enjoy extraordinary shopping from top boutiques and brands. Our large shops offer exquisite jewellery, watches, high fashion and, of course, Cunard souvenirs – many of which can only be purchased on board. We also offer a wide selection of fine whiskys and other spirits that can be purchased to take home with you.
Sports
Traditional deck games
Cunard passengers have been enjoying the traditional nautical games of shuffleboard and deck quoits for almost as long as we have been sailing. Challenge friends to a game or join in one of the tournaments advertised in the Daily Programme.
Promenade deck
The continuous deck is ideal for a few laps. To cover a mile on board Queen Victoria you'd need to complete a little over 3 laps.
Live sports
Sport24 offers coverage of major sporting events including Premier League, Wimbledon, Formula 1, the Ryder Cup and many others. You can enjoy this channel in selected bars and lounges, and in all staterooms and suites.
Spa & Fitness
The Royal Spa
Enjoy the ultimate pampering experience at the luxurious Royal Spa. Relaxing massages, treatments and facials from around the world are all on offer, along with hair styling for both men and women.
Swimming Pools
There are two main pools on board Queen Victoria, the Lido pool and Pavilion pool, each are open throughout the day, as are the whirlpools found next to each pool.
Gym
Open from 6.00am, feel free to run on the treadmill, take to the bikes or try the step machines all before a hearty and well earned breakfast.
Fitness Class
Choose from a range of activities on board QV from relaxing Yoga and Pilates sessions to more energetic 'Funk Aerobics' and Spinning classes.
Relaxation and Leisure
Afternoon Tea
Indulge in the truly British tradition. White-gloved waiters serve decadent fresh scones, finger sandwiches and premium Twinings tea in the Queens Room.
Empire Casino
Step into the Monte Carlo-inspired Empire Casino that offers a full variety of opportunities to tempt Lady Luck. Gaming Tables, slot machines and even video poker. Not sure how to play? Then take part in our complimentary gaming lessons.
Computer Centre
Self service computers are available for guest use so you're sure to stay connected during your voyage. Charges apply for internet and email access.
Library
Two storeys, connected by a beautiful wooden spiral staircase, house thousands of books on a multitude of topics – all available to borrow. You'll also find magazines and periodicals, along with a daily crossword.
Movies
Enjoy a first-run feature during your voyage in the spectacular setting of the Royal Court Theatre. You'll also find a selection of movies throughout the day on our stateroom television.
Dining
If anything sums up the freedom of your voyage, it is the array of places to eat, from healthy to hearty, from light bites to haute cuisine. Just let your mood decide. Your reserved table in your main restaurant is just one of so many tasty options. The Verandah offers inventive French-inspired dining. Part of the Lido transforms each evening into one of four venues: Lotus offers Asian fusion, hearty Italian fare at La Piazza, Coriander serves Indian cuisine and Smokehouse is the spot for succulent steaks and seafood.
Queens Grill
Guests staying in our Queens Grill Suites have a table reserved in the world-renowned Queens Grill restaurant. Here you'll be greeted with a warm welcome before you sit down and experience our exemplary White Star Service. Dine in the Queens Grill restaurant for breakfast, lunch and dinner, with dinner being served at a time that suits you between 6.30pm and 9.00pm.
Princess Grill
Our sophisticated, intimate Princess Grill restaurant serves up unerringly excellent cuisine for breakfast and lunch, whilst dinner is served whenever it suits you between 6.30pm and 9.00pm each evening. To match your dining choice, our sommelier will gladly talk through the impressive wine list.
Britannia Club Restaurant
The Britannia Club Restaurant boasts the same timeless elegance as the neighbouring Britannia Restaurant, but with an intimate dining club atmosphere. Dine here for breakfast and lunch, and enjoy dinner in the evening at a time that suits you between 6.30pm and 9.00pm.
Britannia Restaurant
Your table reservation is at Britannia Restaurant, where grandeur and occasion combine with exceptional service. Breakfast and lunch always feel special here and whether you've chosen to take your seat for dinner at 6pm or at 8.30pm, you can arrive with a flourish, down the steps of the curved staircase.
Lido
Enjoy a casual breakfast, lunch, dinner or late-night buffet in the relaxed self-service Lido restaurant. With cuisine options that take inspiration from around the world, you'll always find something to tempt you no matter what time you feel peckish.
Night Time Entertainment
It may be night time that most sets the Queen Victoria experience apart from other ships. For where else will you attend such dazzling affairs as a Black and White Ball, Royal Ascot Ball or Buccaneer Ball all in a setting as stunning as the Queens Room ballroom? Or catch a staged musical production in the Royal Court Theatre. You may want to save time for the Empire Casino or put on your dancing shoes at the Hemisphere Club.
Music
Pianist
The Commodore Club welcomes you each evening with soft relaxing music from the beautiful ivory keys of the baby grand piano.
Sailaway party
As Queen Victoria departs port, her resident band often strikes up by the Lido pool. Enjoy a refreshing cocktail or champagne as that day's destination slips slowly from view and you begin planning tomorrow's adventure.
String Quartet
The string quartet is the perfect accompaniment to white-gloved Afternoon Tea in the Queens Room and also sets the tone for the sparkling Royal Night Theme Balls.
Theatre
Royal Court Theatre
Take your seat for a thrilling music and dance extravaganza, comedian or singer in the magnificent Royal Court Theatre. Private boxes offer a great view and come with complimentary champagne and chocolates – the perfect evening.
Productions
Watch lavish musicals and unforgettable hi-tech productions performed by the Cunard Royal Dancers and Singers in the elegant and traditionally decorated Royal Court Theatre.
Guest performers
The Royal Court Theatre also plays host to a variety of QV's high profile guest performers – from comedy acts and variety artistes to opera singers and world-class musicians.
Dancing
Queens Room
How often do you get to waltz in a lavish ballroom? If you're on board Queen Victoria, the answer is every evening. Dance the evening away under QV's stunning crystal chandelier, accompanied by a live orchestra.
Royal Night themed balls
Royal Night themed balls in the magnificent Queens Room ballroom are your chance to don your formal dancing attire and take to the floor in a sea of glittering ball gowns and dinner jackets accompanied by the marvellous orchestra.
Dance lessons
Whether you are a complete novice or simply wish to brush up on your skills, the daily complimentary dance lessons led by our professional dance couple are the perfect way to give you the confidence to step out on to the dance floor.
Pub Entertainment
Karaoke
Do you fancy yourself as an entertainer? In the Golden Lion, the spotlight may be on you, as you interpret a track or two during a lively karaoke event.
Quizzes
Settle down in The Golden Lion with a favourite drink and test your mind in all kinds of trivia in the nightly pub quiz.
Children's Activities
The Night Nursery
The Night Nursery is open from 6.00pm to 11.00pm. This facility is available to children aged 12 months to 23 months and operates on a first come first served basis.
The Play Zone
The Play Zone is a permanently supervised play area, staffed by qualified early years staff, for children aged 6 months* -7 years. Activities include arts, crafts, books, puzzles and variety of toys and computer games.
The Zone
Supervised by Youth Staff, The Zone is an area for 8 to 17 year olds providing games and activities such as games consoles plus sport competitions, arts and crafts and table tennis tournaments.
Facts
Entered Service: December 2007
Planned Refit: May 2017
Country of Registry: Bermuda
Speed: 23.7 knots
Guest Capacity: 1,997
No. of Crew: 981
Length Overall: 964.5 feet
Width: 106 feet
Draft: 25.9 feet