Overview
Cruises
Info
Inclusions
Ships
Destination
Promotions
Latest News
Silversea Cruises are excited to announced that their newest ship, Silver Origin, is now available to book.   Origin is custom built for the Galapagos Islands and hosts a team of Ecuadorian national expert guides, the highest crew-to-guest ratio in the Galapagos, 8 Zodiacs and seamless hybrid spaces that offer an extraordinary voyage.  Check out her beautiful luxury cruises.
Best Deals
Enjoy exclusive discounts* when you book with Cruise Guru.  For help finding your ideal Silversea cruise, have a look at Cruise Guru's Top Picks.
To help find your perfect Silversea cruise use our Cruise Finder tool or contact us to speak with one of our consultants who can offer you first class service.
*Terms and conditions apply.
Silversea Cruises in Australia and New Zealand
Locally, the recently launched Silver Muse offer opportunities for locals to experience Silversea cruises departing from Australia and New Zealand, which depart out of either Sydney or Auckland.
Asia
Silversea cruises offers explorations in Asia include departures from Singapore, Hong Kong and Tokyo ranging from just one week to two weeks or more.
Europe
Silversea's Mediterranean voyages offer departures from Barcelona, Rome, Venice, Athens, Monte Carlo and Lisbon, for cruises of between one and two weeks duration, while their Northern Europe cruises mostly depart from Copenhagen, Stockholm and London and include Baltic cruises with overnight stays in St Petersburg.  Silversea also has a range of Arctic cruises during the northern hemisphere's summer
North and South America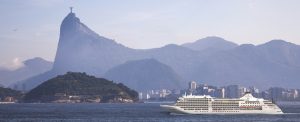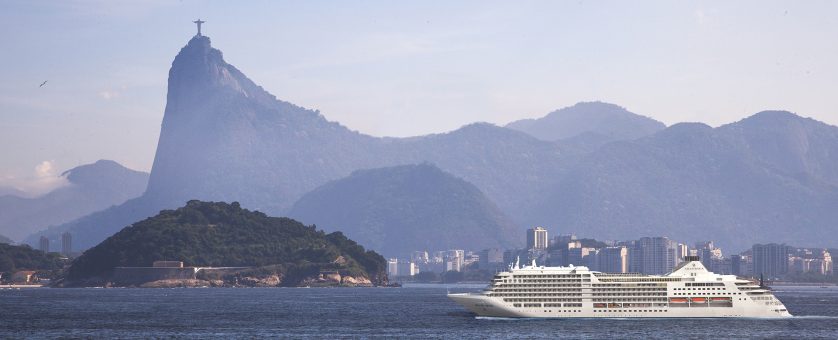 Silversea cruises in Alaska are seven nights in duration with a choice of departures from Seward and Vancouver.
Silversea truly is a global cruise line with options across all seven continents. Choose from a range of Silversea cruises operating in South America cruises, with cruises to the Galapagos over 7 nights or make a selection from one of the largest cruise programs to Antarctica, with departures from November to February each year primarily from Ushuaia, Argentina.
Expedition Cruising
Unlike any other form of travel, Silversea Cruises expedition voyages take you to some of the most remote regions on the planet.  With immersive and intimate itineraries, their journeys are sure to thrill, inspire awe and humble all at the same time. Silversea expedition cruises give you the opportunity to explore the barren but beautiful landscape of the Arctic or Antarctica, lush Amazon rainforests, underwater wonderlands of the Galapagos and South Pacific, and everything in between.
View all Silversea expedition cruises.
World Cruising
The Silver Whisper's annual world voyage departs from North America in January each year. For expert advice and first hand knowledge of Silversea world cruises, please contact us or view our world cruises page for more information.
Date
Cruise
Ship
Cruise Line
Dep Port
Destination
Ports of Call
Inside
Inside
Oceanview
Oceanview
Balcony
Balcony
Suite
Suite
Save up to*
03 Dec 19
7 Night Caribbean Cruise
Silver Shadow
Silversea Cruises
Fort Lauderdale (Port Everglades)
Caribbean
Show
$5,335
$762
Select
10 Dec 19
9 Night Caribbean Cruise
Silver Shadow
Silversea Cruises
San Juan
Caribbean
Show
$4,753
$528
Select
19 Dec 19
9 Night Caribbean Cruise
Silver Shadow
Silversea Cruises
Fort Lauderdale (Port Everglades)
Caribbean
Show
$13,483
$1,498
Select
07 Mar 20
20 Night South America Cruise
Silver Shadow
Silversea Cruises
Rio de Janeiro
South America
Show
$32,301
$1,615
Select
27 Mar 20
13 Night Transoceanic Cruise
Silver Shadow
Silversea Cruises
Fort Lauderdale (Port Everglades)
Transoceanic
Show
$8,051
$619
Select
28 Dec 19
10 Night Caribbean Cruise
Silver Shadow
Silversea Cruises
San Juan
Caribbean
Show
$7,178
$718
Select
23 Apr 20
10 Night Mediterranean Cruise
Silver Shadow
Silversea Cruises
Civitavecchia (Rome)
Mediterranean
Show
$9,312
$931
Select
03 May 20
11 Night Mediterranean Cruise
Silver Shadow
Silversea Cruises
Barcelona
Mediterranean
Show
$11,737
$1,067
Select
14 May 20
9 Night Mediterranean Cruise
Silver Shadow
Silversea Cruises
Venice
Mediterranean
Show
$10,379
$1,153
Select
26 Jul 20
7 Night Mediterranean Cruise
Silver Shadow
Silversea Cruises
Piraeus (Athens)
Mediterranean
Show
$9,603
$1,372
Select
02 Aug 20
12 Night Mediterranean Cruise
Silver Shadow
Silversea Cruises
Piraeus (Athens)
Mediterranean
Show
$10,670
$889
Select
14 Aug 20
7 Night Mediterranean Cruise
Silver Shadow
Silversea Cruises
Venice
Mediterranean
Show
$6,984
$998
Select
21 Aug 20
10 Night Mediterranean Cruise
Silver Shadow
Silversea Cruises
Venice
Mediterranean
Show
$9,118
$912
Select
24 Sep 20
7 Night Mediterranean Cruise
Silver Shadow
Silversea Cruises
Barcelona
Mediterranean
Show
$6,790
$970
Select
01 Oct 20
11 Night Mediterranean Cruise
Silver Shadow
Silversea Cruises
Civitavecchia (Rome)
Mediterranean
Show
$13,483
$1,226
Select
12 Oct 20
7 Night Mediterranean Cruise
Silver Shadow
Silversea Cruises
Piraeus (Athens)
Mediterranean
Show
$7,469
$1,067
Select
19 Oct 20
10 Night Mediterranean Cruise
Silver Shadow
Silversea Cruises
Piraeus (Athens)
Mediterranean
Show
$8,827
$883
Select
29 Oct 20
12 Night Mediterranean Cruise
Silver Shadow
Silversea Cruises
Venice
Mediterranean
Show
$9,894
$825
Select
10 Nov 20
15 Night Transoceanic Cruise
Silver Shadow
Silversea Cruises
Barcelona
Transoceanic
Show
$7,469
$498
Select
25 Nov 20
9 Night Caribbean Cruise
Silver Shadow
Silversea Cruises
Fort Lauderdale (Port Everglades)
Caribbean
Show
$4,074
$453
Select
07 Jan 20
7 Night Caribbean Cruise
Silver Shadow
Silversea Cruises
Bridgetown
Caribbean
Show
$3,977
$568
Select
30 May 20
13 Night Mediterranean Cruise
Silver Shadow
Silversea Cruises
Piraeus (Athens)
Mediterranean
Show
$11,834
$910
Select
18 Jun 20
10 Night Mediterranean Cruise
Silver Shadow
Silversea Cruises
Venice
Mediterranean
Show
$12,416
$1,242
Select
13 Sep 20
11 Night Mediterranean Cruise
Silver Shadow
Silversea Cruises
Lisbon
Mediterranean
Show
$9,603
$873
Select
04 Dec 20
14 Night Caribbean Cruise
Silver Shadow
Silversea Cruises
San Juan
Caribbean
Show
$5,820
$416
Select
18 Dec 20
10 Night Caribbean Cruise
Silver Shadow
Silversea Cruises
Fort Lauderdale (Port Everglades)
Caribbean
Show
$5,820
$582
Select
28 Dec 20
11 Night Caribbean Cruise
Silver Shadow
Silversea Cruises
Fort Lauderdale (Port Everglades)
Caribbean
Show
$5,820
$529
Select
08 Jan 21
10 Night Caribbean Cruise
Silver Shadow
Silversea Cruises
San Juan
Caribbean
Show
$4,753
$475
Select
18 Jan 21
11 Night Caribbean Cruise
Silver Shadow
Silversea Cruises
Fort Lauderdale (Port Everglades)
Caribbean
Show
$5,820
$529
Select
29 Jan 21
10 Night Caribbean Cruise
Silver Shadow
Silversea Cruises
Fort Lauderdale (Port Everglades)
Caribbean
Show
$4,753
$475
Select
08 Feb 21
7 Night Caribbean Cruise
Silver Shadow
Silversea Cruises
San Juan
Caribbean
Show
$3,686
$527
Select
22 Feb 21
10 Night Caribbean Cruise
Silver Shadow
Silversea Cruises
San Juan
Caribbean
Show
$5,141
$514
Select
05 Apr 21
10 Night Caribbean Cruise
Silver Shadow
Silversea Cruises
Fort Lauderdale (Port Everglades)
Caribbean
Show
$4,753
$475
Select
15 Apr 21
13 Night Transoceanic Cruise
Silver Shadow
Silversea Cruises
Fort Lauderdale (Port Everglades)
Transoceanic
Show
$8,051
$619
Select
28 Apr 21
12 Night Mediterranean Cruise
Silver Shadow
Silversea Cruises
Lisbon
Mediterranean
Show
$9,603
$800
Select
10 May 21
7 Night Mediterranean Cruise
Silver Shadow
Silversea Cruises
Barcelona
Mediterranean
Show
$6,984
$998
Select
17 May 21
7 Night Mediterranean Cruise
Silver Shadow
Silversea Cruises
Civitavecchia (Rome)
Mediterranean
Show
$6,984
$998
Select
28 May 21
10 Night Mediterranean Cruise
Silver Shadow
Silversea Cruises
Civitavecchia (Rome)
Mediterranean
Show
$9,603
$960
Select
07 Jun 21
10 Night Mediterranean Cruise
Silver Shadow
Silversea Cruises
Barcelona
Mediterranean
Show
$10,476
$1,048
Select
17 Jun 21
12 Night Mediterranean Cruise
Silver Shadow
Silversea Cruises
Piraeus (Athens)
Mediterranean
Show
$11,834
$986
Select
06 Jul 21
7 Night Mediterranean Cruise
Silver Shadow
Silversea Cruises
Venice
Mediterranean
Show
$7,469
$1,067
Select
13 Jul 21
7 Night Mediterranean Cruise
Silver Shadow
Silversea Cruises
Piraeus (Athens)
Mediterranean
Show
$7,469
$1,067
Select
20 Jul 21
7 Night Mediterranean Cruise
Silver Shadow
Silversea Cruises
Piraeus (Athens)
Mediterranean
Show
$8,051
$1,150
Select
27 Jul 21
10 Night Mediterranean Cruise
Silver Shadow
Silversea Cruises
Civitavecchia (Rome)
Mediterranean
Show
$9,409
$941
Select
06 Aug 21
10 Night Mediterranean Cruise
Silver Shadow
Silversea Cruises
Venice
Mediterranean
Show
$9,603
$960
Select
16 Aug 21
11 Night Mediterranean Cruise
Silver Shadow
Silversea Cruises
Piraeus (Athens)
Mediterranean
Show
$11,252
$1,023
Select
27 Aug 21
12 Night Mediterranean Cruise
Silver Shadow
Silversea Cruises
Piraeus (Athens)
Mediterranean
Show
$11,543
$962
Select
08 Sep 21
12 Night Mediterranean Cruise
Silver Shadow
Silversea Cruises
Venice
Mediterranean
Show
$11,252
$938
Select
20 Sep 21
15 Night Mediterranean Cruise
Silver Shadow
Silversea Cruises
Piraeus (Athens)
Mediterranean
Show
$14,453
$964
Select
05 Oct 21
10 Night Mediterranean Cruise
Silver Shadow
Silversea Cruises
Piraeus (Athens)
Mediterranean
Show
$9,603
$960
Select
15 Oct 21
9 Night Mediterranean Cruise
Silver Shadow
Silversea Cruises
Civitavecchia (Rome)
Mediterranean
Show
$8,536
$948
Select
24 Oct 21
12 Night Mediterranean Cruise
Silver Shadow
Silversea Cruises
Barcelona
Mediterranean
Show
$9,603
$800
Select
21 Nov 19
10 Night Caribbean Cruise
Silver Wind
Silversea Cruises
Bridgetown
Caribbean
Show
$6,208
$621
Select
01 Dec 19
7 Night Caribbean Cruise
Silver Wind
Silversea Cruises
San Juan
Caribbean
Show
$4,268
$610
Select
08 Dec 19
9 Night Caribbean Cruise
Silver Wind
Silversea Cruises
San Juan
Caribbean
Show
$3,783
$420
Select
29 Jun 20
9 Night Europe - Northern Cruise
Silver Wind
Silversea Cruises
Reykjavik
Europe - Northern
Show
$12,707
$1,412
Select
08 Jul 20
12 Night Europe - Northern Cruise
Silver Wind
Silversea Cruises
Reykjavik
Europe - Northern
Show
$11,252
$938
Select
20 Jul 20
12 Night Europe - Northern Cruise
Silver Wind
Silversea Cruises
London
Europe - Northern
Show
$11,834
$986
Select
01 Aug 20
12 Night Europe - Northern Cruise
Silver Wind
Silversea Cruises
Copenhagen
Europe - Northern
Show
$11,834
$986
Select
16 Jan 20
7 Night Caribbean Cruise
Silver Wind
Silversea Cruises
Fort Lauderdale (Port Everglades)
Caribbean
Show
$5,529
$790
Select
23 Jan 20
11 Night Caribbean Cruise
Silver Wind
Silversea Cruises
Fort Lauderdale (Port Everglades)
Caribbean
Show
$6,208
$564
Select
24 Feb 20
7 Night Caribbean Cruise
Silver Wind
Silversea Cruises
Fort Lauderdale (Port Everglades)
Caribbean
Show
$4,268
$610
Select
06 Apr 20
16 Night Transoceanic Cruise
Silver Wind
Silversea Cruises
Fort Lauderdale (Port Everglades)
Transoceanic
Show
$8,633
$540
Select
30 Apr 20
13 Night Europe - Northern Cruise
Silver Wind
Silversea Cruises
Barcelona
Europe - Northern
Show
$10,670
$821
Select
13 May 20
12 Night Europe - Northern Cruise
Silver Wind
Silversea Cruises
London
Europe - Northern
Show
$12,513
$1,043
Select
25 May 20
14 Night Europe - Northern Cruise
Silver Wind
Silversea Cruises
London
Europe - Northern
Show
$12,707
$908
Select
13 Jun 20
16 Night Europe - Northern Cruise
Silver Wind
Silversea Cruises
Stockholm
Europe - Northern
Show
$13,386
$837
Select
06 Mar 20
10 Night Caribbean Cruise
Silver Wind
Silversea Cruises
Fort Lauderdale (Port Everglades)
Caribbean
Show
$5,335
$534
Select
10 Nov 20
11 Night Expedition Cruise
Silver Wind
Silversea Cruises
Buenos Aires
Expedition
Show
$9,118
$829
Select
21 Nov 20
14 Night Antarctica Cruise
Silver Wind
Silversea Cruises
Ushuaia
Antarctica
Show
$37,442
$2,674
Select
05 Dec 20
14 Night Antarctica Cruise
Silver Wind
Silversea Cruises
Ushuaia
Antarctica
Show
$18,818
$1,344
Select
19 Dec 20
18 Night Antarctica Cruise
Silver Wind
Silversea Cruises
Ushuaia
Antarctica
Show
$52,477
$2,915
Select
24 Jan 21
12 Night Antarctica Cruise
Silver Wind
Silversea Cruises
Ushuaia
Antarctica
Show
$37,248
$3,104
Select
05 Feb 21
10 Night Antarctica Cruise
Silver Wind
Silversea Cruises
Ushuaia
Antarctica
Show
$36,569
$3,657
Select
09 Jan 20
7 Night Caribbean Cruise
Silver Wind
Silversea Cruises
San Juan
Caribbean
Show
$5,238
$748
Select
03 Feb 20
10 Night Caribbean Cruise
Silver Wind
Silversea Cruises
Fort Lauderdale (Port Everglades)
Caribbean
Show
$5,723
$572
Select
13 Feb 20
11 Night Caribbean Cruise
Silver Wind
Silversea Cruises
Fort Lauderdale (Port Everglades)
Caribbean
Show
$15,035
$1,367
Select
16 Mar 20
11 Night Caribbean Cruise
Silver Wind
Silversea Cruises
Fort Lauderdale (Port Everglades)
Caribbean
Show
$5,529
$503
Select
27 Mar 20
10 Night Caribbean Cruise
Silver Wind
Silversea Cruises
Bridgetown
Caribbean
Show
$6,208
$621
Select
15 Feb 21
12 Night Antarctica Cruise
Silver Wind
Silversea Cruises
Ushuaia
Antarctica
Show
$20,952
$1,746
Select
27 Feb 21
10 Night Antarctica Cruise
Silver Wind
Silversea Cruises
Ushuaia
Antarctica
Show
$17,751
$1,775
Select
09 Mar 21
21 Night Expedition Cruise
Silver Wind
Silversea Cruises
Ushuaia
Expedition
Show
$16,102
$767
Select
20 Nov 21
22 Night Antarctica Cruise
Silver Wind
Silversea Cruises
Buenos Aires
Antarctica
Show
$52,186
$2,372
Select
30 Mar 21
18 Night Expedition Cruise
Silver Wind
Silversea Cruises
Cape Town
Expedition
Show
$20,564
$1,142
Select
17 Apr 21
18 Night Expedition Cruise
Silver Wind
Silversea Cruises
Tema (Accra)
Expedition
Show
$20,564
$1,142
Select
05 May 21
12 Night Expedition Cruise
Silver Wind
Silversea Cruises
Lisbon
Expedition
Show
$11,252
$938
Select
17 May 21
14 Night Expedition Cruise
Silver Wind
Silversea Cruises
London
Expedition
Show
$15,035
$1,074
Select
31 May 21
14 Night Expedition Cruise
Silver Wind
Silversea Cruises
London
Expedition
Show
$15,035
$1,074
Select
14 Jun 21
14 Night Expedition Cruise
Silver Wind
Silversea Cruises
London
Expedition
Show
$15,035
$1,074
Select
28 Jun 21
9 Night Arctic Cruise
Silver Wind
Silversea Cruises
Reykjavik
Arctic
Show
$17,169
$1,908
Select
07 Jul 21
13 Night Arctic Cruise
Silver Wind
Silversea Cruises
Reykjavik
Arctic
Show
$23,474
$1,806
Select
20 Jul 21
10 Night Arctic Cruise
Silver Wind
Silversea Cruises
Tromso
Arctic
Show
$20,176
$2,018
Select
30 Jul 21
10 Night Arctic Cruise
Silver Wind
Silversea Cruises
Longyearbyen
Arctic
Show
$20,176
$2,018
Select
09 Aug 21
13 Night Arctic Cruise
Silver Wind
Silversea Cruises
Tromso
Arctic
Show
$23,474
$1,806
Select
22 Aug 21
9 Night Arctic Cruise
Silver Wind
Silversea Cruises
Reykjavik
Arctic
Show
$17,169
$1,908
Select
31 Aug 21
15 Night Arctic Cruise
Silver Wind
Silversea Cruises
Reykjavik
Arctic
Show
$24,541
$1,636
Select
15 Sep 21
14 Night Expedition Cruise
Silver Wind
Silversea Cruises
Reykjavik
Expedition
Show
$15,520
$1,109
Select
29 Sep 21
13 Night Expedition Cruise
Silver Wind
Silversea Cruises
London
Expedition
Show
$11,834
$910
Select
12 Oct 21
17 Night Expedition Cruise
Silver Wind
Silversea Cruises
Lisbon
Expedition
Show
$18,818
$1,107
Select
29 Oct 21
22 Night Expedition Cruise
Silver Wind
Silversea Cruises
Dakar
Expedition
Show
$20,370
$926
Select
12 Dec 21
10 Night Antarctica Cruise
Silver Wind
Silversea Cruises
Ushuaia
Antarctica
Show
$17,751
$1,775
Select
22 Dec 21
18 Night Antarctica Cruise
Silver Wind
Silversea Cruises
Ushuaia
Antarctica
Show
$31,719
$1,762
Select
09 Jan 22
10 Night Antarctica Cruise
Silver Wind
Silversea Cruises
Ushuaia
Antarctica
Show
$20,952
$2,095
Select
19 Jan 22
10 Night Antarctica Cruise
Silver Wind
Silversea Cruises
Ushuaia
Antarctica
Show
$20,952
$2,095
Select
29 Jan 22
10 Night Antarctica Cruise
Silver Wind
Silversea Cruises
Ushuaia
Antarctica
Show
$20,952
$2,095
Select
08 Feb 22
12 Night Antarctica Cruise
Silver Wind
Silversea Cruises
Ushuaia
Antarctica
Show
$24,735
$2,061
Select
20 Feb 22
10 Night Antarctica Cruise
Silver Wind
Silversea Cruises
Ushuaia
Antarctica
Show
$19,885
$1,989
Select
02 Mar 22
19 Night Expedition Cruise
Silver Wind
Silversea Cruises
Ushuaia
Expedition
Show
$22,601
$1,190
Select
20 Mar 20
18 Night World Cruise
Silver Whisper
Silversea Cruises
Sydney
World
Show
$14,259
$792
Select
07 Apr 20
11 Night World Cruise
Silver Whisper
Silversea Cruises
Singapore
World
Show
$6,208
$564
Select
18 Apr 20
18 Night World Cruise
Silver Whisper
Silversea Cruises
Mumbai (Bombay)
World
Show
$10,767
$598
Select
06 May 20
9 Night World Cruise
Silver Whisper
Silversea Cruises
Civitavecchia (Rome)
World
Show
$9,118
$1,013
Select
15 May 20
10 Night World Cruise
Silver Whisper
Silversea Cruises
Dublin
World
Show
$12,998
$1,300
Select
22 Nov 19
14 Night Caribbean Cruise
Silver Whisper
Silversea Cruises
Fort Lauderdale (Port Everglades)
Caribbean
Show
$8,633
$617
Select
06 Dec 19
14 Night Caribbean Cruise
Silver Whisper
Silversea Cruises
Fort Lauderdale (Port Everglades)
Caribbean
Show
$8,148
$582
Select
20 Dec 19
17 Night Caribbean Cruise
Silver Whisper
Silversea Cruises
Fort Lauderdale (Port Everglades)
Caribbean
Show
$10,573
$622
Select
25 May 20
12 Night Europe - Northern Cruise
Silver Whisper
Silversea Cruises
Amsterdam
Europe - Northern
Show
$11,543
$962
Select
18 Jun 20
15 Night Europe - Northern Cruise
Silver Whisper
Silversea Cruises
Reykjavik
Europe - Northern
Show
$14,453
$964
Select
03 Aug 20
7 Night Mediterranean Cruise
Silver Whisper
Silversea Cruises
Barcelona
Mediterranean
Show
$7,469
$1,067
Select
10 Aug 20
9 Night Mediterranean Cruise
Silver Whisper
Silversea Cruises
Monte Carlo
Mediterranean
Show
$12,222
$1,358
Select
19 Aug 20
9 Night Mediterranean Cruise
Silver Whisper
Silversea Cruises
Venice
Mediterranean
Show
$9,118
$1,013
Select
28 Aug 20
11 Night Mediterranean Cruise
Silver Whisper
Silversea Cruises
Piraeus (Athens)
Mediterranean
Show
$10,767
$979
Select
08 Sep 20
16 Night Transoceanic Cruise
Silver Whisper
Silversea Cruises
Barcelona
Transoceanic
Show
$12,610
$788
Select
24 Sep 20
11 Night Canada Cruise
Silver Whisper
Silversea Cruises
New York
Canada
Show
$9,409
$855
Select
05 Oct 20
11 Night Canada Cruise
Silver Whisper
Silversea Cruises
Montreal
Canada
Show
$8,536
$776
Select
16 Oct 20
11 Night Canada Cruise
Silver Whisper
Silversea Cruises
New York
Canada
Show
$7,275
$661
Select
27 Oct 20
14 Night Canada Cruise
Silver Whisper
Silversea Cruises
Montreal
Canada
Show
$8,536
$610
Select
03 Jul 20
15 Night Europe - Northern Cruise
Silver Whisper
Silversea Cruises
Greenwich
Europe - Northern
Show
$11,252
$750
Select
18 Jul 20
9 Night Europe - Northern Cruise
Silver Whisper
Silversea Cruises
Greenwich
Europe - Northern
Show
$9,118
$1,013
Select
10 Nov 20
10 Night Caribbean Cruise
Silver Whisper
Silversea Cruises
Fort Lauderdale (Port Everglades)
Caribbean
Show
$4,074
$407
Select
20 Nov 20
9 Night Caribbean Cruise
Silver Whisper
Silversea Cruises
Bridgetown
Caribbean
Show
$4,074
$453
Select
29 Nov 20
10 Night Caribbean Cruise
Silver Whisper
Silversea Cruises
Bridgetown
Caribbean
Show
$4,074
$407
Select
09 Dec 20
9 Night Caribbean Cruise
Silver Whisper
Silversea Cruises
Fort Lauderdale (Port Everglades)
Caribbean
Show
$4,074
$453
Select
18 Dec 20
10 Night Caribbean Cruise
Silver Whisper
Silversea Cruises
Bridgetown
Caribbean
Show
$4,753
$475
Select
28 Dec 20
9 Night Caribbean Cruise
Silver Whisper
Silversea Cruises
Bridgetown
Caribbean
Show
$4,268
$474
Select
07 Jan 21
13 Night World Cruise
Silver Whisper
Silversea Cruises
Fort Lauderdale (Port Everglades)
World
Show
$7,469
$575
Select
20 Jan 21
23 Night World Cruise
Silver Whisper
Silversea Cruises
Callao (Lima)
World
Show
$19,109
$831
Select
13 Feb 21
18 Night World Cruise
Silver Whisper
Silversea Cruises
Auckland
World
Show
$11,252
$625
Select
03 Mar 21
18 Night World Cruise
Silver Whisper
Silversea Cruises
Benoa (Bali)
World
Show
$12,319
$684
Select
21 Mar 21
18 Night World Cruise
Silver Whisper
Silversea Cruises
Tokyo
World
Show
$13,386
$744
Select
08 Apr 21
15 Night World Cruise
Silver Whisper
Silversea Cruises
Singapore
World
Show
$9,118
$608
Select
23 Apr 21
17 Night World Cruise
Silver Whisper
Silversea Cruises
Mumbai (Bombay)
World
Show
$7,469
$439
Select
10 May 21
15 Night World Cruise
Silver Whisper
Silversea Cruises
Piraeus (Athens)
World
Show
$10,476
$698
Select
25 May 21
12 Night World Cruise
Silver Whisper
Silversea Cruises
Lisbon
World
Show
$7,469
$622
Select
06 Jun 21
14 Night Transoceanic Cruise
Silver Whisper
Silversea Cruises
New York
Transoceanic
Show
$9,603
$686
Select
20 Jun 21
14 Night Europe - Northern Cruise
Silver Whisper
Silversea Cruises
Southampton
Europe - Northern
Show
$14,453
$1,032
Select
04 Jul 21
10 Night Europe - Northern Cruise
Silver Whisper
Silversea Cruises
Reykjavik
Europe - Northern
Show
$12,610
$1,261
Select
14 Jul 21
12 Night Europe - Northern Cruise
Silver Whisper
Silversea Cruises
Reykjavik
Europe - Northern
Show
$12,901
$1,075
Select
26 Jul 21
12 Night Europe - Northern Cruise
Silver Whisper
Silversea Cruises
Almeria
Europe - Northern
Show
$13,968
$1,164
Select
07 Aug 21
14 Night Europe - Northern Cruise
Silver Whisper
Silversea Cruises
Tromso
Europe - Northern
Show
$14,453
$1,032
Select
21 Aug 21
10 Night Europe - Northern Cruise
Silver Whisper
Silversea Cruises
Reykjavik
Europe - Northern
Show
$11,834
$1,183
Select
31 Aug 21
16 Night Transoceanic Cruise
Silver Whisper
Silversea Cruises
Reykjavik
Transoceanic
Show
$11,252
$703
Select
16 Sep 21
10 Night Canada Cruise
Silver Whisper
Silversea Cruises
New York
Canada
Show
$9,118
$912
Select
26 Sep 21
11 Night Canada Cruise
Silver Whisper
Silversea Cruises
Montreal
Canada
Show
$9,409
$855
Select
07 Oct 21
10 Night Canada Cruise
Silver Whisper
Silversea Cruises
New York
Canada
Show
$8,342
$834
Select
17 Oct 21
11 Night Canada Cruise
Silver Whisper
Silversea Cruises
Montreal
Canada
Show
$8,536
$776
Select
28 Oct 21
14 Night Caribbean Cruise
Silver Whisper
Silversea Cruises
New York
Caribbean
Show
$7,469
$534
Select
11 Nov 21
9 Night Caribbean Cruise
Silver Whisper
Silversea Cruises
Bridgetown
Caribbean
Show
$4,753
$528
Select
19 Nov 19
18 Night Africa Cruise
Silver Spirit
Silversea Cruises
Mumbai (Bombay)
Africa
Show
$11,640
$647
Select
07 Dec 19
14 Night Far East Cruise
Silver Spirit
Silversea Cruises
Singapore
Far East
Show
$11,155
$797
Select
21 Dec 19
14 Night Far East Cruise
Silver Spirit
Silversea Cruises
Hong Kong
Far East
Show
$12,804
$915
Select
04 Jan 20
14 Night Far East Cruise
Silver Spirit
Silversea Cruises
Singapore
Far East
Show
$9,118
$651
Select
18 Jan 20
14 Night Far East Cruise
Silver Spirit
Silversea Cruises
Hong Kong
Far East
Show
$8,633
$617
Select
01 Feb 20
14 Night Far East Cruise
Silver Spirit
Silversea Cruises
Laem Chabang (Bangkok)
Far East
Show
$11,834
$845
Select
15 Feb 20
14 Night Far East Cruise
Silver Spirit
Silversea Cruises
Hong Kong
Far East
Show
$12,319
$880
Select
29 Feb 20
15 Night Africa Cruise
Silver Spirit
Silversea Cruises
Singapore
Africa
Show
$10,088
$673
Select
15 Mar 20
10 Night Africa Cruise
Silver Spirit
Silversea Cruises
Mumbai (Bombay)
Africa
Show
$5,626
$563
Select
25 Mar 20
16 Night Africa Cruise
Silver Spirit
Silversea Cruises
Dubai
Africa
Show
$9,700
$606
Select
24 Apr 20
11 Night Mediterranean Cruise
Silver Spirit
Silversea Cruises
Venice
Mediterranean
Show
$10,767
$979
Select
05 May 20
12 Night Mediterranean Cruise
Silver Spirit
Silversea Cruises
Venice
Mediterranean
Show
$13,289
$1,107
Select
17 May 20
9 Night Mediterranean Cruise
Silver Spirit
Silversea Cruises
Civitavecchia (Rome)
Mediterranean
Show
$12,901
$1,433
Select
26 May 20
9 Night Mediterranean Cruise
Silver Spirit
Silversea Cruises
Barcelona
Mediterranean
Show
$8,148
$905
Select
17 Jul 20
10 Night Europe - Northern Cruise
Silver Spirit
Silversea Cruises
Copenhagen
Europe - Northern
Show
$11,834
$1,183
Select
27 Jul 20
7 Night Europe - Northern Cruise
Silver Spirit
Silversea Cruises
Copenhagen
Europe - Northern
Show
$11,834
$1,691
Select
03 Aug 20
7 Night Europe - Northern Cruise
Silver Spirit
Silversea Cruises
Stockholm
Europe - Northern
Show
$9,603
$1,372
Select
10 Aug 20
10 Night Europe - Northern Cruise
Silver Spirit
Silversea Cruises
Copenhagen
Europe - Northern
Show
$12,416
$1,242
Select
20 Aug 20
7 Night Europe - Northern Cruise
Silver Spirit
Silversea Cruises
Copenhagen
Europe - Northern
Show
$9,409
$1,344
Select
27 Aug 20
7 Night Europe - Northern Cruise
Silver Spirit
Silversea Cruises
Stockholm
Europe - Northern
Show
$9,409
$1,344
Select
03 Sep 20
11 Night Europe - Northern Cruise
Silver Spirit
Silversea Cruises
Copenhagen
Europe - Northern
Show
$8,536
$776
Select
14 Sep 20
11 Night Europe - Northern Cruise
Silver Spirit
Silversea Cruises
Greenwich
Europe - Northern
Show
$11,931
$1,085
Select
25 Sep 20
12 Night Mediterranean Cruise
Silver Spirit
Silversea Cruises
Lisbon
Mediterranean
Show
$9,603
$800
Select
07 Oct 20
10 Night Mediterranean Cruise
Silver Spirit
Silversea Cruises
Barcelona
Mediterranean
Show
$8,245
$825
Select
17 Oct 20
12 Night Mediterranean Cruise
Silver Spirit
Silversea Cruises
Barcelona
Mediterranean
Show
$11,349
$946
Select
29 Oct 20
7 Night Mediterranean Cruise
Silver Spirit
Silversea Cruises
Piraeus (Athens)
Mediterranean
Show
$8,051
$1,150
Select
05 Nov 20
17 Night Africa Cruise
Silver Spirit
Silversea Cruises
Piraeus (Athens)
Africa
Show
$14,744
$867
Select
22 Nov 20
9 Night Africa Cruise
Silver Spirit
Silversea Cruises
Dubai
Africa
Show
$5,335
$593
Select
01 Dec 20
18 Night Africa Cruise
Silver Spirit
Silversea Cruises
Mumbai (Bombay)
Africa
Show
$10,767
$598
Select
04 Jun 20
7 Night Mediterranean Cruise
Silver Spirit
Silversea Cruises
Barcelona
Mediterranean
Show
$15,229
$2,176
Select
11 Jun 20
7 Night Mediterranean Cruise
Silver Spirit
Silversea Cruises
Civitavecchia (Rome)
Mediterranean
Show
$9,118
$1,303
Select
25 Jun 20
10 Night Europe - Northern Cruise
Silver Spirit
Silversea Cruises
Lisbon
Europe - Northern
Show
$8,536
$854
Select
05 Jul 20
12 Night Europe - Northern Cruise
Silver Spirit
Silversea Cruises
Greenwich
Europe - Northern
Show
$11,834
$986
Select
15 Apr 20
9 Night Mediterranean Cruise
Silver Spirit
Silversea Cruises
Piraeus (Athens)
Mediterranean
Show
$10,670
$1,186
Select
19 Dec 20
16 Night Far East Cruise
Silver Spirit
Silversea Cruises
Singapore
Far East
Show
$13,774
$861
Select
04 Jan 21
12 Night Far East Cruise
Silver Spirit
Silversea Cruises
Hong Kong
Far East
Show
$8,342
$695
Select
16 Jan 21
10 Night Far East Cruise
Silver Spirit
Silversea Cruises
Hong Kong
Far East
Show
$7,469
$747
Select
26 Jan 21
14 Night Far East Cruise
Silver Spirit
Silversea Cruises
Singapore
Far East
Show
$9,118
$651
Select
09 Feb 21
14 Night Far East Cruise
Silver Spirit
Silversea Cruises
Hong Kong
Far East
Show
$12,319
$880
Select
23 Feb 21
17 Night Far East Cruise
Silver Spirit
Silversea Cruises
Shanghai
Far East
Show
$10,476
$616
Select
12 Mar 21
15 Night Africa Cruise
Silver Spirit
Silversea Cruises
Singapore
Africa
Show
$5,917
$394
Select
27 Mar 21
17 Night Africa Cruise
Silver Spirit
Silversea Cruises
Mumbai (Bombay)
Africa
Show
$7,275
$428
Select
18 Apr 21
7 Night Mediterranean Cruise
Silver Spirit
Silversea Cruises
Piraeus (Athens)
Mediterranean
Show
$6,402
$915
Select
25 Apr 21
10 Night Mediterranean Cruise
Silver Spirit
Silversea Cruises
Piraeus (Athens)
Mediterranean
Show
$9,118
$912
Select
05 May 21
7 Night Mediterranean Cruise
Silver Spirit
Silversea Cruises
Civitavecchia (Rome)
Mediterranean
Show
$6,402
$915
Select
12 May 21
7 Night Mediterranean Cruise
Silver Spirit
Silversea Cruises
Venice
Mediterranean
Show
$6,402
$915
Select
19 May 21
7 Night Mediterranean Cruise
Silver Spirit
Silversea Cruises
Civitavecchia (Rome)
Mediterranean
Show
$8,342
$1,192
Select
26 May 21
15 Night Europe - Northern Cruise
Silver Spirit
Silversea Cruises
Barcelona
Europe - Northern
Show
$11,834
$789
Select
10 Jun 21
12 Night Europe - Northern Cruise
Silver Spirit
Silversea Cruises
Southampton
Europe - Northern
Show
$10,670
$889
Select
22 Jun 21
7 Night Europe - Northern Cruise
Silver Spirit
Silversea Cruises
Copenhagen
Europe - Northern
Show
$8,051
$1,150
Select
29 Jun 21
7 Night Europe - Northern Cruise
Silver Spirit
Silversea Cruises
Stockholm
Europe - Northern
Show
$8,051
$1,150
Select
06 Jul 21
10 Night Europe - Northern Cruise
Silver Spirit
Silversea Cruises
Copenhagen
Europe - Northern
Show
$10,185
$1,019
Select
16 Jul 21
7 Night Europe - Northern Cruise
Silver Spirit
Silversea Cruises
Copenhagen
Europe - Northern
Show
$8,051
$1,150
Select
23 Jul 21
7 Night Europe - Northern Cruise
Silver Spirit
Silversea Cruises
Stockholm
Europe - Northern
Show
$8,536
$1,219
Select
30 Jul 21
10 Night Europe - Northern Cruise
Silver Spirit
Silversea Cruises
Copenhagen
Europe - Northern
Show
$10,185
$1,019
Select
09 Aug 21
7 Night Europe - Northern Cruise
Silver Spirit
Silversea Cruises
Copenhagen
Europe - Northern
Show
$8,051
$1,150
Select
16 Aug 21
7 Night Europe - Northern Cruise
Silver Spirit
Silversea Cruises
Stockholm
Europe - Northern
Show
$8,051
$1,150
Select
23 Aug 21
11 Night Europe - Northern Cruise
Silver Spirit
Silversea Cruises
Copenhagen
Europe - Northern
Show
$10,476
$952
Select
03 Sep 21
12 Night Europe - Northern Cruise
Silver Spirit
Silversea Cruises
Southampton
Europe - Northern
Show
$10,670
$889
Select
15 Sep 21
12 Night Europe - Northern Cruise
Silver Spirit
Silversea Cruises
Southampton
Europe - Northern
Show
$9,603
$800
Select
27 Sep 21
11 Night Europe - Northern Cruise
Silver Spirit
Silversea Cruises
Southampton
Europe - Northern
Show
$10,185
$926
Select
08 Oct 21
12 Night Mediterranean Cruise
Silver Spirit
Silversea Cruises
Lisbon
Mediterranean
Show
$9,603
$800
Select
20 Oct 21
10 Night Mediterranean Cruise
Silver Spirit
Silversea Cruises
Lisbon
Mediterranean
Show
$8,536
$854
Select
30 Oct 21
10 Night Mediterranean Cruise
Silver Spirit
Silversea Cruises
Barcelona
Mediterranean
Show
$9,118
$912
Select
09 Nov 21
10 Night Mediterranean Cruise
Silver Spirit
Silversea Cruises
Piraeus (Athens)
Mediterranean
Show
$9,118
$912
Select
19 Nov 21
9 Night Mediterranean Cruise
Silver Spirit
Silversea Cruises
Barcelona
Mediterranean
Show
$8,051
$895
Select
28 Nov 21
11 Night Transoceanic Cruise
Silver Spirit
Silversea Cruises
Lisbon
Transoceanic
Show
$6,984
$635
Select
09 Dec 21
12 Night Caribbean Cruise
Silver Spirit
Silversea Cruises
Fort Lauderdale (Port Everglades)
Caribbean
Show
$6,208
$517
Select
16 Nov 19
7 Night South America Cruise
Silver Galapagos
Silversea Cruises
Isla Baltra
South America
Show
$18,818
$2,688
Select
14 Dec 19
7 Night South America Cruise
Silver Galapagos
Silversea Cruises
Isla Baltra
South America
Show
$19,594
$2,799
Select
28 Dec 19
7 Night South America Cruise
Silver Galapagos
Silversea Cruises
Isla Baltra
South America
Show
$24,832
$3,547
Select
01 Feb 20
7 Night South America Cruise
Silver Galapagos
Silversea Cruises
San Cristobal
South America
Show
$14,938
$2,134
Select
15 Feb 20
7 Night South America Cruise
Silver Galapagos
Silversea Cruises
San Cristobal
South America
Show
$14,453
$2,065
Select
22 Feb 20
7 Night South America Cruise
Silver Galapagos
Silversea Cruises
Isla Baltra
South America
Show
$12,610
$1,801
Select
29 Feb 20
7 Night South America Cruise
Silver Galapagos
Silversea Cruises
San Cristobal
South America
Show
$14,453
$2,065
Select
07 Mar 20
7 Night South America Cruise
Silver Galapagos
Silversea Cruises
Isla Baltra
South America
Show
$13,289
$1,898
Select
14 Mar 20
7 Night South America Cruise
Silver Galapagos
Silversea Cruises
San Cristobal
South America
Show
$12,222
$1,746
Select
21 Mar 20
7 Night South America Cruise
Silver Galapagos
Silversea Cruises
Isla Baltra
South America
Show
$13,968
$1,995
Select
28 Mar 20
7 Night South America Cruise
Silver Galapagos
Silversea Cruises
San Cristobal
South America
Show
$10,767
$1,538
Select
04 Apr 20
7 Night South America Cruise
Silver Galapagos
Silversea Cruises
Isla Baltra
South America
Show
$10,767
$1,538
Select
11 Apr 20
7 Night South America Cruise
Silver Galapagos
Silversea Cruises
San Cristobal
South America
Show
$13,968
$1,995
Select
18 Apr 20
7 Night South America Cruise
Silver Galapagos
Silversea Cruises
Isla Baltra
South America
Show
$11,155
$1,594
Select
25 Apr 20
7 Night South America Cruise
Silver Galapagos
Silversea Cruises
San Cristobal
South America
Show
$10,767
$1,538
Select
02 May 20
7 Night South America Cruise
Silver Galapagos
Silversea Cruises
Isla Baltra
South America
Show
$14,453
$2,065
Select
09 May 20
7 Night South America Cruise
Silver Galapagos
Silversea Cruises
San Cristobal
South America
Show
$12,222
$1,746
Select
16 May 20
7 Night South America Cruise
Silver Galapagos
Silversea Cruises
Isla Baltra
South America
Show
$12,707
$1,815
Select
23 May 20
7 Night South America Cruise
Silver Galapagos
Silversea Cruises
San Cristobal
South America
Show
$23,668
$3,381
Select
30 May 20
7 Night South America Cruise
Silver Galapagos
Silversea Cruises
Isla Baltra
South America
Show
$12,707
$1,815
Select
06 Jun 20
7 Night South America Cruise
Silver Galapagos
Silversea Cruises
San Cristobal
South America
Show
$12,319
$1,760
Select
13 Jun 20
7 Night South America Cruise
Silver Galapagos
Silversea Cruises
Isla Baltra
South America
Show
$12,319
$1,760
Select
20 Jun 20
7 Night South America Cruise
Silver Galapagos
Silversea Cruises
San Cristobal
South America
Show
$11,834
$1,691
Select
27 Jun 20
7 Night South America Cruise
Silver Galapagos
Silversea Cruises
Isla Baltra
South America
Show
$11,834
$1,691
Select
04 Jul 20
7 Night South America Cruise
Silver Galapagos
Silversea Cruises
San Cristobal
South America
Show
$11,834
$1,691
Select
18 Nov 19
18 Night Australia Cruise
Silver Muse
Silversea Cruises
Singapore
Australia
Show
$12,028
$668
Select
06 Dec 19
14 Night Australia Cruise
Silver Muse
Silversea Cruises
Sydney
Australia
Show
$10,379
$741
Select
20 Dec 19
14 Night Australia Cruise
Silver Muse
Silversea Cruises
Auckland
Australia
Show
$11,349
$811
Select
03 Jan 20
13 Night Australia Cruise
Silver Muse
Silversea Cruises
Sydney
Australia
Show
$9,021
$694
Select
16 Jan 20
16 Night Australia Cruise
Silver Muse
Silversea Cruises
Sydney
Australia
Show
$13,095
$818
Select
01 Feb 20
17 Night Australia Cruise
Silver Muse
Silversea Cruises
Auckland
Australia
Show
$13,095
$770
Select
18 Feb 20
14 Night Australia Cruise
Silver Muse
Silversea Cruises
Sydney
Australia
Show
$9,991
$714
Select
03 Mar 20
14 Night Australia Cruise
Silver Muse
Silversea Cruises
Sydney
Australia
Show
$12,222
$873
Select
17 Mar 20
14 Night Australia Cruise
Silver Muse
Silversea Cruises
Auckland
Australia
Show
$12,804
$915
Select
31 Mar 20
18 Night Australia Cruise
Silver Muse
Silversea Cruises
Sydney
Australia
Show
$11,446
$636
Select
04 May 20
18 Night Transoceanic Cruise
Silver Muse
Silversea Cruises
Yokohama
Transoceanic
Show
$13,774
$765
Select
28 May 20
7 Night Alaska Cruise
Silver Muse
Silversea Cruises
Vancouver
Alaska
Show
$7,178
$1,025
Select
04 Jun 20
7 Night Alaska Cruise
Silver Muse
Silversea Cruises
Seward
Alaska
Show
$6,208
$887
Select
11 Jun 20
7 Night Alaska Cruise
Silver Muse
Silversea Cruises
Vancouver
Alaska
Show
$7,275
$1,039
Select
18 Jun 20
7 Night Alaska Cruise
Silver Muse
Silversea Cruises
Seward
Alaska
Show
$6,984
$998
Select
25 Jun 20
7 Night Alaska Cruise
Silver Muse
Silversea Cruises
Vancouver
Alaska
Show
$6,984
$998
Select
02 Jul 20
7 Night Alaska Cruise
Silver Muse
Silversea Cruises
Seward
Alaska
Show
$7,469
$1,067
Select
09 Jul 20
7 Night Alaska Cruise
Silver Muse
Silversea Cruises
Vancouver
Alaska
Show
$7,469
$1,067
Select
16 Jul 20
7 Night Alaska Cruise
Silver Muse
Silversea Cruises
Seward
Alaska
Show
$5,917
$845
Select
23 Jul 20
7 Night Alaska Cruise
Silver Muse
Silversea Cruises
Vancouver
Alaska
Show
$7,469
$1,067
Select
30 Jul 20
7 Night Alaska Cruise
Silver Muse
Silversea Cruises
Seward
Alaska
Show
$5,917
$845
Select
06 Aug 20
7 Night Alaska Cruise
Silver Muse
Silversea Cruises
Vancouver
Alaska
Show
$5,917
$845
Select
13 Aug 20
7 Night Alaska Cruise
Silver Muse
Silversea Cruises
Seward
Alaska
Show
$5,917
$845
Select
20 Aug 20
7 Night Alaska Cruise
Silver Muse
Silversea Cruises
Vancouver
Alaska
Show
$5,917
$845
Select
27 Aug 20
7 Night Alaska Cruise
Silver Muse
Silversea Cruises
Seward
Alaska
Show
$6,402
$915
Select
03 Sep 20
7 Night Alaska Cruise
Silver Muse
Silversea Cruises
Vancouver
Alaska
Show
$6,402
$915
Select
10 Sep 20
13 Night Transoceanic Cruise
Silver Muse
Silversea Cruises
Seward
Transoceanic
Show
$9,118
$701
Select
24 Sep 20
16 Night Far East Cruise
Silver Muse
Silversea Cruises
Tokyo
Far East
Show
$12,707
$794
Select
10 Oct 20
21 Night Far East Cruise
Silver Muse
Silversea Cruises
Hong Kong
Far East
Show
$14,453
$688
Select
31 Oct 20
21 Night Australia Cruise
Silver Muse
Silversea Cruises
Sydney
Australia
Show
$16,393
$781
Select
21 Nov 20
12 Night Australia Cruise
Silver Muse
Silversea Cruises
Perth (Fremantle)
Australia
Show
$10,185
$849
Select
03 Dec 20
17 Night Australia Cruise
Silver Muse
Silversea Cruises
Benoa (Bali)
Australia
Show
$9,603
$565
Select
20 Dec 20
16 Night Australia Cruise
Silver Muse
Silversea Cruises
Sydney
Australia
Show
$12,901
$806
Select
05 Jan 21
14 Night Australia Cruise
Silver Muse
Silversea Cruises
Auckland
Australia
Show
$10,670
$762
Select
19 Jan 21
14 Night Australia Cruise
Silver Muse
Silversea Cruises
Sydney
Australia
Show
$8,536
$610
Select
02 Feb 21
17 Night Australia Cruise
Silver Muse
Silversea Cruises
Auckland
Australia
Show
$12,416
$730
Select
19 Feb 21
18 Night Australia Cruise
Silver Muse
Silversea Cruises
Sydney
Australia
Show
$13,289
$738
Select
09 Mar 21
13 Night Far East Cruise
Silver Muse
Silversea Cruises
Singapore
Far East
Show
$8,536
$657
Select
22 Mar 21
14 Night Far East Cruise
Silver Muse
Silversea Cruises
Hong Kong
Far East
Show
$10,476
$748
Select
05 Apr 21
14 Night Far East Cruise
Silver Muse
Silversea Cruises
Tokyo
Far East
Show
$17,363
$1,240
Select
19 Apr 21
14 Night Far East Cruise
Silver Muse
Silversea Cruises
Tokyo
Far East
Show
$16,102
$1,150
Select
03 May 21
18 Night Transoceanic Cruise
Silver Muse
Silversea Cruises
Tokyo
Transoceanic
Show
$14,841
$825
Select
20 May 21
7 Night Alaska Cruise
Silver Muse
Silversea Cruises
Vancouver
Alaska
Show
$5,141
$734
Select
27 May 21
7 Night Alaska Cruise
Silver Muse
Silversea Cruises
Seward
Alaska
Show
$5,141
$734
Select
03 Jun 21
7 Night Alaska Cruise
Silver Muse
Silversea Cruises
Vancouver
Alaska
Show
$6,984
$998
Select
10 Jun 21
7 Night Alaska Cruise
Silver Muse
Silversea Cruises
Seward
Alaska
Show
$5,335
$762
Select
17 Jun 21
7 Night Alaska Cruise
Silver Muse
Silversea Cruises
Vancouver
Alaska
Show
$5,820
$831
Select
24 Jun 21
7 Night Alaska Cruise
Silver Muse
Silversea Cruises
Seward
Alaska
Show
$5,820
$831
Select
01 Jul 21
7 Night Alaska Cruise
Silver Muse
Silversea Cruises
Vancouver
Alaska
Show
$5,820
$831
Select
08 Jul 21
7 Night Alaska Cruise
Silver Muse
Silversea Cruises
Seward
Alaska
Show
$5,820
$831
Select
15 Jul 21
7 Night Alaska Cruise
Silver Muse
Silversea Cruises
Vancouver
Alaska
Show
$5,820
$831
Select
22 Jul 21
7 Night Alaska Cruise
Silver Muse
Silversea Cruises
Seward
Alaska
Show
$5,820
$831
Select
29 Jul 21
10 Night Alaska Cruise
Silver Muse
Silversea Cruises
Vancouver
Alaska
Show
$8,342
$834
Select
08 Aug 21
11 Night Alaska Cruise
Silver Muse
Silversea Cruises
Seward
Alaska
Show
$8,536
$776
Select
19 Aug 21
10 Night Alaska Cruise
Silver Muse
Silversea Cruises
Vancouver
Alaska
Show
$7,469
$747
Select
29 Aug 21
13 Night Transoceanic Cruise
Silver Muse
Silversea Cruises
Seward
Transoceanic
Show
$8,051
$619
Select
12 Sep 21
13 Night Far East Cruise
Silver Muse
Silversea Cruises
Tokyo
Far East
Show
$16,102
$1,239
Select
19 Jan 20
10 Night Antarctica Cruise
Silver Cloud Expedition
Silversea Cruises
Ushuaia
Antarctica
Show
$45,493
$4,549
Select
29 Jan 20
10 Night Antarctica Cruise
Silver Cloud Expedition
Silversea Cruises
Ushuaia
Antarctica
Show
$49,955
$4,996
Select
08 Feb 20
10 Night Antarctica Cruise
Silver Cloud Expedition
Silversea Cruises
Ushuaia
Antarctica
Show
$48,985
$4,899
Select
28 Feb 20
21 Night Expedition Cruise
Silver Cloud Expedition
Silversea Cruises
Ushuaia
Expedition
Show
$22,019
$1,049
Select
07 Apr 20
18 Night Expedition Cruise
Silver Cloud Expedition
Silversea Cruises
Tema (Accra)
Expedition
Show
$21,922
$1,218
Select
07 May 20
12 Night Expedition Cruise
Silver Cloud Expedition
Silversea Cruises
Lisbon
Expedition
Show
$23,862
$1,989
Select
19 May 20
10 Night Expedition Cruise
Silver Cloud Expedition
Silversea Cruises
London
Expedition
Show
$10,476
$1,048
Select
29 May 20
12 Night Expedition Cruise
Silver Cloud Expedition
Silversea Cruises
Dublin
Expedition
Show
$15,617
$1,301
Select
10 Jun 20
11 Night Arctic Cruise
Silver Cloud Expedition
Silversea Cruises
Reykjavik
Arctic
Show
$18,333
$1,667
Select
21 Jun 20
9 Night Arctic Cruise
Silver Cloud Expedition
Silversea Cruises
Longyearbyen
Arctic
Show
$22,310
$2,479
Select
30 Jun 20
9 Night Arctic Cruise
Silver Cloud Expedition
Silversea Cruises
Tromso
Arctic
Show
$18,236
$2,026
Select
09 Jul 20
11 Night Arctic Cruise
Silver Cloud Expedition
Silversea Cruises
Longyearbyen
Arctic
Show
$19,885
$1,808
Select
20 Jul 20
16 Night Arctic Cruise
Silver Cloud Expedition
Silversea Cruises
Reykjavik
Arctic
Show
$58,685
$3,668
Select
05 Aug 20
16 Night Arctic Cruise
Silver Cloud Expedition
Silversea Cruises
Churchill
Arctic
Show
$31,525
$1,970
Select
21 Aug 20
24 Night Arctic Cruise
Silver Cloud Expedition
Silversea Cruises
Islay
Arctic
Show
$56,260
$2,344
Select
14 Sep 20
12 Night Expedition Cruise
Silver Cloud Expedition
Silversea Cruises
Nome
Expedition
Show
$17,072
$1,423
Select
26 Sep 20
12 Night Expedition Cruise
Silver Cloud Expedition
Silversea Cruises
Seward
Expedition
Show
$15,617
$1,301
Select
08 Oct 20
9 Night Expedition Cruise
Silver Cloud Expedition
Silversea Cruises
Vancouver
Expedition
Show
$8,536
$948
Select
28 Oct 20
19 Night Expedition Cruise
Silver Cloud Expedition
Silversea Cruises
Callao (Lima)
Expedition
Show
$16,684
$878
Select
16 Nov 20
15 Night Antarctica Cruise
Silver Cloud Expedition
Silversea Cruises
Ushuaia
Antarctica
Show
$22,504
$1,500
Select
01 Dec 20
10 Night Antarctica Cruise
Silver Cloud Expedition
Silversea Cruises
Ushuaia
Antarctica
Show
$19,594
$1,959
Select
11 Dec 20
10 Night Antarctica Cruise
Silver Cloud Expedition
Silversea Cruises
Ushuaia
Antarctica
Show
$19,012
$1,901
Select
21 Dec 20
15 Night Antarctica Cruise
Silver Cloud Expedition
Silversea Cruises
Ushuaia
Antarctica
Show
$27,451
$1,830
Select
05 Jan 21
15 Night Antarctica Cruise
Silver Cloud Expedition
Silversea Cruises
Ushuaia
Antarctica
Show
$32,689
$2,179
Select
20 Jan 21
10 Night Antarctica Cruise
Silver Cloud Expedition
Silversea Cruises
Ushuaia
Antarctica
Show
$23,183
$2,318
Select
30 Jan 21
18 Night World Cruise
Silver Cloud Expedition
Silversea Cruises
Ushuaia
World
Show
$27,936
$1,552
Select
17 Feb 21
22 Night World Cruise
Silver Cloud Expedition
Silversea Cruises
Valparaiso (Santiago)
World
Show
$26,481
$1,204
Select
11 Mar 21
11 Night World Cruise
Silver Cloud Expedition
Silversea Cruises
Papeete
World
Show
$15,229
$1,384
Select
06 Apr 21
22 Night World Cruise
Silver Cloud Expedition
Silversea Cruises
Cairns
World
Show
$24,735
$1,124
Select
28 Apr 21
16 Night World Cruise
Silver Cloud Expedition
Silversea Cruises
Singapore
World
Show
$16,102
$1,006
Select
14 May 21
19 Night World Cruise
Silver Cloud Expedition
Silversea Cruises
Cochin
World
Show
$12,901
$679
Select
02 Jun 21
14 Night World Cruise
Silver Cloud Expedition
Silversea Cruises
Piraeus (Athens)
World
Show
$16,102
$1,150
Select
16 Jun 21
17 Night World Cruise
Silver Cloud Expedition
Silversea Cruises
Lisbon
World
Show
$17,169
$1,010
Select
03 Jul 21
13 Night World Cruise
Silver Cloud Expedition
Silversea Cruises
Reykjavik
World
Show
$21,534
$1,656
Select
24 Aug 21
24 Night Arctic Cruise
Silver Cloud Expedition
Silversea Cruises
Islay
Arctic
Show
$61,110
$2,546
Select
30 Nov 21
11 Night Antarctica Cruise
Silver Cloud Expedition
Silversea Cruises
Ushuaia
Antarctica
Show
$39,382
$3,580
Select
16 Jul 21
13 Night Expedition Cruise
Silver Cloud Expedition
Silversea Cruises
Tromso
Expedition
Show
$20,370
$1,567
Select
29 Jul 21
10 Night Arctic Cruise
Silver Cloud Expedition
Silversea Cruises
Reykjavik
Arctic
Show
$19,303
$1,930
Select
08 Aug 21
16 Night Arctic Cruise
Silver Cloud Expedition
Silversea Cruises
Islay
Arctic
Show
$28,809
$1,801
Select
17 Sep 21
14 Night Expedition Cruise
Silver Cloud Expedition
Silversea Cruises
Nome
Expedition
Show
$17,169
$1,226
Select
01 Oct 21
9 Night Expedition Cruise
Silver Cloud Expedition
Silversea Cruises
Vancouver
Expedition
Show
$11,543
$1,283
Select
10 Oct 21
18 Night Expedition Cruise
Silver Cloud Expedition
Silversea Cruises
San Diego
Expedition
Show
$18,236
$1,013
Select
28 Oct 21
17 Night Expedition Cruise
Silver Cloud Expedition
Silversea Cruises
Callao (Lima)
Expedition
Show
$18,042
$1,061
Select
14 Nov 21
16 Night Antarctica Cruise
Silver Cloud Expedition
Silversea Cruises
Punta Arenas
Antarctica
Show
$24,735
$1,546
Select
11 Dec 21
10 Night Antarctica Cruise
Silver Cloud Expedition
Silversea Cruises
Ushuaia
Antarctica
Show
$17,751
$1,775
Select
21 Dec 21
15 Night Antarctica Cruise
Silver Cloud Expedition
Silversea Cruises
Ushuaia
Antarctica
Show
$28,518
$1,901
Select
05 Jan 22
10 Night Antarctica Cruise
Silver Cloud Expedition
Silversea Cruises
Ushuaia
Antarctica
Show
$20,952
$2,095
Select
15 Jan 22
10 Night Antarctica Cruise
Silver Cloud Expedition
Silversea Cruises
Ushuaia
Antarctica
Show
$20,952
$2,095
Select
25 Jan 22
10 Night Antarctica Cruise
Silver Cloud Expedition
Silversea Cruises
Ushuaia
Antarctica
Show
$20,952
$2,095
Select
04 Feb 22
10 Night Antarctica Cruise
Silver Cloud Expedition
Silversea Cruises
Ushuaia
Antarctica
Show
$19,885
$1,989
Select
14 Feb 22
10 Night Antarctica Cruise
Silver Cloud Expedition
Silversea Cruises
Ushuaia
Antarctica
Show
$19,885
$1,989
Select
24 Feb 22
21 Night Expedition Cruise
Silver Cloud Expedition
Silversea Cruises
Ushuaia
Expedition
Show
$22,019
$1,049
Select
17 Mar 22
24 Night Expedition Cruise
Silver Cloud Expedition
Silversea Cruises
Cape Town
Expedition
Show
$32,010
$1,334
Select
06 Aug 20
11 Night Mediterranean Cruise
Silver Moon
Silversea Cruises
Trieste
Mediterranean
Show
$16,199
$1,473
Select
17 Aug 20
7 Night Mediterranean Cruise
Silver Moon
Silversea Cruises
Civitavecchia (Rome)
Mediterranean
Show
$7,857
$1,122
Select
24 Aug 20
10 Night Mediterranean Cruise
Silver Moon
Silversea Cruises
Barcelona
Mediterranean
Show
$11,349
$1,135
Select
03 Sep 20
9 Night Mediterranean Cruise
Silver Moon
Silversea Cruises
Lisbon
Mediterranean
Show
$10,185
$1,132
Select
12 Sep 20
11 Night Mediterranean Cruise
Silver Moon
Silversea Cruises
Barcelona
Mediterranean
Show
$13,483
$1,226
Select
23 Sep 20
9 Night Mediterranean Cruise
Silver Moon
Silversea Cruises
Piraeus (Athens)
Mediterranean
Show
$13,386
$1,487
Select
02 Oct 20
10 Night Mediterranean Cruise
Silver Moon
Silversea Cruises
Venice
Mediterranean
Show
$13,677
$1,368
Select
12 Oct 20
7 Night Mediterranean Cruise
Silver Moon
Silversea Cruises
Venice
Mediterranean
Show
$8,730
$1,247
Select
19 Oct 20
11 Night Mediterranean Cruise
Silver Moon
Silversea Cruises
Piraeus (Athens)
Mediterranean
Show
$9,118
$829
Select
30 Oct 20
9 Night Mediterranean Cruise
Silver Moon
Silversea Cruises
Monte Carlo
Mediterranean
Show
$8,342
$927
Select
08 Nov 20
15 Night Transoceanic Cruise
Silver Moon
Silversea Cruises
Barcelona
Transoceanic
Show
$10,185
$679
Select
07 Jan 21
16 Night South America Cruise
Silver Moon
Silversea Cruises
Fort Lauderdale (Port Everglades)
South America
Show
$10,767
$673
Select
23 Jan 21
22 Night South America Cruise
Silver Moon
Silversea Cruises
Callao (Lima)
South America
Show
$16,684
$758
Select
14 Feb 21
10 Night South America Cruise
Silver Moon
Silversea Cruises
Buenos Aires
South America
Show
$5,917
$592
Select
24 Feb 21
21 Night South America Cruise
Silver Moon
Silversea Cruises
Rio de Janeiro
South America
Show
$11,349
$540
Select
17 Mar 21
15 Night Transoceanic Cruise
Silver Moon
Silversea Cruises
Fort Lauderdale (Port Everglades)
Transoceanic
Show
$10,185
$679
Select
01 Apr 21
12 Night Mediterranean Cruise
Silver Moon
Silversea Cruises
Barcelona
Mediterranean
Show
$10,185
$849
Select
23 Nov 20
15 Night South America Cruise
Silver Moon
Silversea Cruises
Fort Lauderdale (Port Everglades)
South America
Show
$9,894
$660
Select
08 Dec 20
15 Night South America Cruise
Silver Moon
Silversea Cruises
Callao (Lima)
South America
Show
$7,275
$485
Select
23 Dec 20
15 Night Caribbean Cruise
Silver Moon
Silversea Cruises
Fort Lauderdale (Port Everglades)
Caribbean
Show
$10,088
$673
Select
28 Jun 21
7 Night Mediterranean Cruise
Silver Moon
Silversea Cruises
Venice
Mediterranean
Show
$7,469
$1,067
Select
05 Jul 21
11 Night Mediterranean Cruise
Silver Moon
Silversea Cruises
Venice
Mediterranean
Show
$10,670
$970
Select
16 Jul 21
10 Night Mediterranean Cruise
Silver Moon
Silversea Cruises
Barcelona
Mediterranean
Show
$10,185
$1,019
Select
26 Jul 21
7 Night Mediterranean Cruise
Silver Moon
Silversea Cruises
Civitavecchia (Rome)
Mediterranean
Show
$7,469
$1,067
Select
02 Aug 21
7 Night Mediterranean Cruise
Silver Moon
Silversea Cruises
Barcelona
Mediterranean
Show
$7,469
$1,067
Select
09 Aug 21
7 Night Mediterranean Cruise
Silver Moon
Silversea Cruises
Lisbon
Mediterranean
Show
$7,469
$1,067
Select
16 Aug 21
7 Night Mediterranean Cruise
Silver Moon
Silversea Cruises
Barcelona
Mediterranean
Show
$7,469
$1,067
Select
23 Aug 21
10 Night Mediterranean Cruise
Silver Moon
Silversea Cruises
Civitavecchia (Rome)
Mediterranean
Show
$8,536
$854
Select
13 Apr 21
9 Night Mediterranean Cruise
Silver Moon
Silversea Cruises
Piraeus (Athens)
Mediterranean
Show
$8,051
$895
Select
22 Apr 21
12 Night Mediterranean Cruise
Silver Moon
Silversea Cruises
Venice
Mediterranean
Show
$10,185
$849
Select
04 May 21
7 Night Mediterranean Cruise
Silver Moon
Silversea Cruises
Piraeus (Athens)
Mediterranean
Show
$8,342
$1,192
Select
17 May 21
7 Night Mediterranean Cruise
Silver Moon
Silversea Cruises
Piraeus (Athens)
Mediterranean
Show
$7,275
$1,039
Select
24 May 21
7 Night Mediterranean Cruise
Silver Moon
Silversea Cruises
Civitavecchia (Rome)
Mediterranean
Show
$7,469
$1,067
Select
31 May 21
7 Night Mediterranean Cruise
Silver Moon
Silversea Cruises
Barcelona
Mediterranean
Show
$7,275
$1,039
Select
14 Jun 21
7 Night Mediterranean Cruise
Silver Moon
Silversea Cruises
Barcelona
Mediterranean
Show
$7,469
$1,067
Select
21 Jun 21
7 Night Mediterranean Cruise
Silver Moon
Silversea Cruises
Civitavecchia (Rome)
Mediterranean
Show
$7,469
$1,067
Select
02 Sep 21
7 Night Mediterranean Cruise
Silver Moon
Silversea Cruises
Venice
Mediterranean
Show
$7,469
$1,067
Select
09 Sep 21
7 Night Mediterranean Cruise
Silver Moon
Silversea Cruises
Venice
Mediterranean
Show
$7,469
$1,067
Select
16 Sep 21
7 Night Mediterranean Cruise
Silver Moon
Silversea Cruises
Piraeus (Athens)
Mediterranean
Show
$7,469
$1,067
Select
23 Sep 21
7 Night Mediterranean Cruise
Silver Moon
Silversea Cruises
Piraeus (Athens)
Mediterranean
Show
$7,275
$1,039
Select
30 Sep 21
7 Night Mediterranean Cruise
Silver Moon
Silversea Cruises
Venice
Mediterranean
Show
$6,984
$998
Select
07 Oct 21
7 Night Mediterranean Cruise
Silver Moon
Silversea Cruises
Civitavecchia (Rome)
Mediterranean
Show
$6,402
$915
Select
14 Oct 21
9 Night Mediterranean Cruise
Silver Moon
Silversea Cruises
Venice
Mediterranean
Show
$8,342
$927
Select
23 Oct 21
9 Night Mediterranean Cruise
Silver Moon
Silversea Cruises
Piraeus (Athens)
Mediterranean
Show
$8,536
$948
Select
01 Nov 21
16 Night Africa Cruise
Silver Moon
Silversea Cruises
Piraeus (Athens)
Africa
Show
$10,185
$637
Select
08 Aug 20
7 Night South America Cruise
Silver Origin
Silversea Cruises
Isla Baltra
South America
Show
$15,520
$2,217
Select
15 Aug 20
7 Night South America Cruise
Silver Origin
Silversea Cruises
San Cristobal
South America
Show
$15,908
$2,273
Select
22 Aug 20
7 Night South America Cruise
Silver Origin
Silversea Cruises
Isla Baltra
South America
Show
$15,520
$2,217
$23,765
$3,395
Select
29 Aug 20
7 Night South America Cruise
Silver Origin
Silversea Cruises
San Cristobal
South America
Show
$15,520
$2,217
$38,509
$5,501
Select
05 Sep 20
7 Night South America Cruise
Silver Origin
Silversea Cruises
Isla Baltra
South America
Show
$15,520
$2,217
$32,592
$4,656
Select
12 Sep 20
7 Night South America Cruise
Silver Origin
Silversea Cruises
San Cristobal
South America
Show
$14,453
$2,065
$22,601
$3,229
Select
19 Sep 20
7 Night South America Cruise
Silver Origin
Silversea Cruises
Isla Baltra
South America
Show
$14,453
$2,065
$36,472
$5,210
Select
26 Sep 20
7 Night South America Cruise
Silver Origin
Silversea Cruises
San Cristobal
South America
Show
$15,035
$2,148
$44,232
$6,319
Select
03 Oct 20
7 Night South America Cruise
Silver Origin
Silversea Cruises
Isla Baltra
South America
Show
$14,453
$2,065
$22,601
$3,229
Select
10 Oct 20
7 Night South America Cruise
Silver Origin
Silversea Cruises
San Cristobal
South America
Show
$16,296
$2,328
Select
17 Oct 20
7 Night South America Cruise
Silver Origin
Silversea Cruises
Isla Baltra
South America
Show
$14,453
$2,065
$36,472
$5,210
Select
24 Oct 20
7 Night South America Cruise
Silver Origin
Silversea Cruises
San Cristobal
South America
Show
$14,453
$2,065
$26,190
$3,741
Select
31 Oct 20
7 Night South America Cruise
Silver Origin
Silversea Cruises
Isla Baltra
South America
Show
$15,520
$2,217
$23,765
$3,395
Select
07 Nov 20
7 Night South America Cruise
Silver Origin
Silversea Cruises
San Cristobal
South America
Show
$14,453
$2,065
$42,971
$6,139
Select
14 Nov 20
7 Night South America Cruise
Silver Origin
Silversea Cruises
Isla Baltra
South America
Show
$15,520
$2,217
$23,765
$3,395
Select
21 Nov 20
7 Night South America Cruise
Silver Origin
Silversea Cruises
San Cristobal
South America
Show
$14,453
$2,065
$22,601
$3,229
Select
28 Nov 20
7 Night South America Cruise
Silver Origin
Silversea Cruises
Isla Baltra
South America
Show
$14,453
$2,065
$22,601
$3,229
Select
05 Dec 20
7 Night South America Cruise
Silver Origin
Silversea Cruises
San Cristobal
South America
Show
$17,169
$2,453
$32,592
$4,656
Select
12 Dec 20
7 Night South America Cruise
Silver Origin
Silversea Cruises
Isla Baltra
South America
Show
$14,453
$2,065
$22,601
$3,229
Select
19 Dec 20
10 Night South America Cruise
Silver Origin
Silversea Cruises
San Cristobal
South America
Show
$23,086
$2,309
$36,084
$3,608
Select
29 Dec 20
11 Night South America Cruise
Silver Origin
Silversea Cruises
Isla Baltra
South America
Show
$25,608
$2,328
$46,172
$4,197
Select
09 Jan 21
7 Night South America Cruise
Silver Origin
Silversea Cruises
San Cristobal
South America
Show
$16,102
$2,300
$23,765
$3,395
Select
16 Jan 21
7 Night South America Cruise
Silver Origin
Silversea Cruises
Isla Baltra
South America
Show
$16,102
$2,300
$23,765
$3,395
Select
23 Jan 21
7 Night South America Cruise
Silver Origin
Silversea Cruises
San Cristobal
South America
Show
$16,102
$2,300
$27,257
$3,894
Select
30 Jan 21
7 Night South America Cruise
Silver Origin
Silversea Cruises
Isla Baltra
South America
Show
$16,102
$2,300
$23,765
$3,395
Select
06 Feb 21
7 Night South America Cruise
Silver Origin
Silversea Cruises
San Cristobal
South America
Show
$16,102
$2,300
$23,765
$3,395
Select
13 Feb 21
7 Night South America Cruise
Silver Origin
Silversea Cruises
Isla Baltra
South America
Show
$16,102
$2,300
$23,765
$3,395
Select
20 Feb 21
7 Night South America Cruise
Silver Origin
Silversea Cruises
San Cristobal
South America