Silver Shadow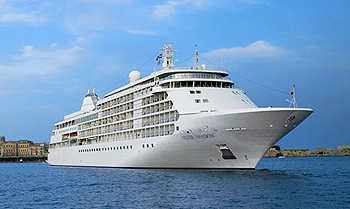 470
Starting Price, Per Night*
Explore destinations in sophistication on Silver Shadow cruises
Bringing together the latest technological innovations and classic luxury cruising simplicities, Silver Shadow cruises undoubtedly offer the best way to sail the seas. No matter the locale, every Silver Shadow cruise aims to fully immerse you in each bucket-list destination. Whether it's the brilliant shore excursions available at every port or the outstanding onboard activities, Silver Shadow gives you the opportunity to discover all the hidden secrets in each place you visit. Plus, as she only holds a maximum of 388 guests, this smaller ship can explore hidden gems and harder-to-reach ports of call with ease.
What sets apart this award-winning ship from others is everything that awaits guests onboard. All-suite accommodation is available throughout the ship, meaning every guest is guaranteed the peerless luxury service Silversea prides itself on. Elegance goes beyond the suites, with exquisite dining options such as La Dame and La Terrazza serving up flavour-packed dishes in every meal. Finally, with sophisticatedly styled social spaces such as Boutique and the Observation Lounge bursting with life, you'll never have a dull moment on a Silver Shadow cruise.
View all Silver Shadow voyages by selecting the cruises tab, view a selection of Silversea cruise deals, or view more options for Silversea cruises.
Accommodation on Silver Shadow
Silver Shadow Suites
Comfort knows no bounds when you book into one of the enchanting Silver Shadow suites available across the ship. Plus, with butler service for every suite, you'll sail away knowing you'll be well taken care of regardless of where you decide to stay.
Offering a large sitting area to unwind and a large window providing amazing views throughout the entire duration of your Silver Shadow cruise, the Vista suite is a perfect place to stay for many explorers. For a more traditional Silversea experience, you can't go wrong with the Classic Veranda suite or the enhanced Deluxe Veranda suite. Stylishly decorated and fitted with a spacious outdoor space, the Classic Veranda suite and Deluxe Veranda suite are splendid choices for any adventurer. Offering a full-size bath and situated on the upper deck, the Superior Veranda suite provides extraordinary sunrise or sunset views.
Only moments away from La Terrazza and La Dame, the Medallion suite offers an elegant space with all the amenities any refined explorer could ask for. Boasting an expansive open area capable of hosting a small group of guests for an evening, the Silver suite provides every guest with a truly luxurious stay during their Silver Shadow cruise. The Royal suite is exactly what you'd expect. With one or two bedroom options available, the Royal suite aims to treat you like a prince or princess, including fantastic perks such as daily canapé service and dinner at the officer's table.
A distinctly elegant way to sail the seas, the Grand suite is the pinnacle of luxury travel on Silver Shadow cruises. From its marbled double vanity bathroom, commodious dining room that just calls for welcoming guests every night for a jovial evening "at home, to the soothing Queen size bed, the Grand suite stands at the apex of luxury cruising. Right beside the Grand suite is the Owner's suite, which further elevates its space with an extended private outdoor veranda. Only a stone's throw from all the best spots to visit on Silver Shadow, the Owner's suite is the executive-level accommodation option for guests who strive for perfection.
Dining
La Dame
Serving guests divine French cuisine prepared by renowned chefs, La Dame offers one of the best dining experiences you can enjoy while sailing the seas. Named after the Eiffel Tower, La Dame celebrates the storied culture and unique flavours of French cuisine. Using only the freshest ingredients, this distinctly Parisian-styled restaurant serves refined and elegant meals that perfectly balance classic French flavours with modern tastes. Be sure to make a reservation at La Dame on your Silver Shadow cruise.
The Grill
With every meal cooked to perfection, The Grill offers brilliant casual dining in a uniquely exciting way. With the option to grill your meal directly at the table through a lava stone, The Grill is all but guaranteed to cook your dish the way you like it. From fresh vegetables, juicy meats, to newly caught fish, The Grill is destined to excite your tastebuds. Plus, if you'd rather have a master chef prepare the dish for you instead, there's a fantastic menu to choose from. Get to know some like-minded explorers over a meal or unwind with a loved one, either way, The Grill is your go-to venue for casual, outdoor dining.
Other dining venues:
La Terrazza
The Restaurant
Onboard activities & things to do
Observation Lounge
As you might suspect, the Observation Lounge offers truly panoramic views from the comfort of a plush armchair. Located at the very top of Silver Shadow, the Observation Lounge is a peaceful space to relax after all the hands-on adventure you've had on shore. Read a gripping book from the in-house library, prepare a refreshing cup of tea, plan tomorrow's escapades, the Observation Lounge aims to be the place to be for some much-needed tranquillity while at sea.
Zagara Beauty Spa & Salon
Serenity is only moments away when you book in for a treatment at Zagara Beauty Spa. There is an abundance of soothing ways to unwind, with Zagara Beauty Spa offering an indulgent selection of therapies from massages, body wraps, and facials. Moreover, with sauna and steam rooms to step into, Zagara Beauty Spa is an excellent place to visit after an invigorating workout or an exhilarating day on land. Book onboard or well in advance, either way, Zagara Beauty Spa is an essential visit for any traveller looking to keep their mind and body in tune throughout the entire Silver Shadow cruise.
Other onboard activities and things to do:
Pool Deck
Connoisseur's Corner
Panorama Lounge
The Show Lounge
The Bar
Card Room & Conference Room
Reception
Fitness Centre
Boutique
Casino
Facts
Crew: 302
Officers: European
Guests: 382
Tonnage: 28,258
Length: 610 ft/ 186 m
Width:81.8 ft/ 24.9 m
Speed: 18.5 knots
Passenger decks: 7
Built: 2000
Registry: Bahamas