Starting Price, Per Night*
Adventure to awe-inspiring locales with Ponant Cruises
Embark on enchanting and extraordinary sailings while enjoying pure luxury with world-renowned Ponant cruises. Providing guests a truly French twist to your voyage, Ponant cruises are focused on offering excellent service, delectable French dining, and incredible itineraries filled with riveting shore excursions. Whether you're searching for enriching expedition cruises in the Kimberley, Australia, or a peaceful voyage across Europe, Ponant cruises might be the best choice for you.
Boasting dazzlingly designed ships specially built to enhance comfort and relaxation, Ponant ships are destined to keep guests comfortable for their entire journey. Offering luxury service combined with a refined selection of leisure and wellness facilities across each small ship, your time aboard any Ponant voyage will undoubtedly be remarkable. Plus, with tantalising French dining prepared by talented chefs available throughout your entire voyage, each meal will be a culinary journey you'll never forget.
Let's get started and plan your next big adventure. Whether you're in the market for Ponant cruises 2024 or phenomenal Ponant cruises 2024 to Antarctica, we'll have what you need at an amazing price. Book a Ponant cruise today and set sail with unbeatable sophistication!
Cruises From Australia and New Zealand
Every year, Ponant offers a small number of in-depth Kimberley voyages.   Sailing from Broome to Darwin (or vice versa) aboard the new Le Laperouse, the 10-night voyage visits Freshwater Cove (accessible only by boat or air), the Horizontal Falls at Talbot Bay and the Lacepede Islands, which are Western Australia's most important breeding habitat for green turtles.  As well as these stunning ports, depending on your departure date, Ponant cruises also stop in Palau Meatimiarang in Indonesia and Wyndham, the oldest and most northernmost town in the Kimberley Region.
With only 92 staterooms, these Ponant cruises aboard Le Laperouse book out quickly.  Please contact our reservations team members, who are experts with first-hand experience of many Ponant cruises, on 13 13 03 to secure your cabin.
International Cruises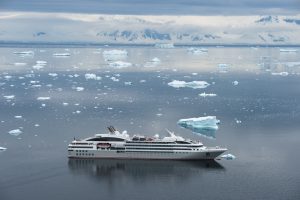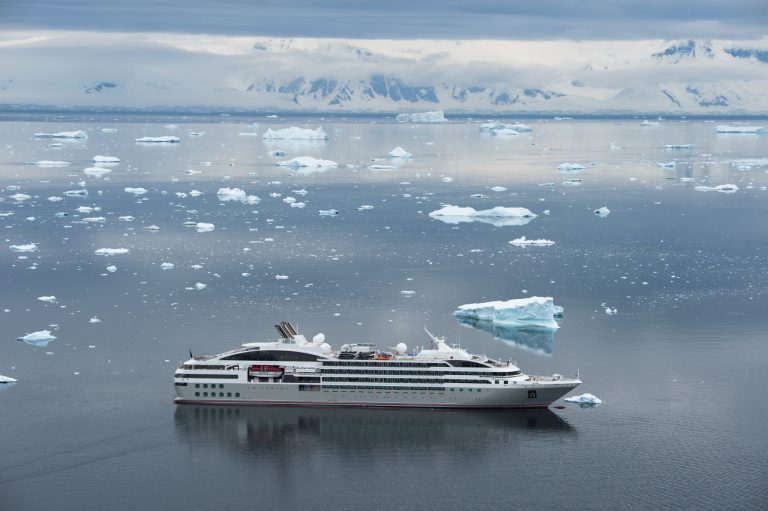 From the ice of Antarctica to the lagoons of the Pacific, from Mediterranean Coves to Asian shores, Ponant cruises have been sailing all the seas of the world for almost 30 years.  Each year they offer more than 200 cruises visiting almost 400 ports of call.
Highest on the bucket-list would be Ponant's Polar Expedition Collection with itineraries visiting both the North and South Poles.  Heading North, destination highlights include Iceland, Alaska and Greenland, while in the South highlights include Falkland Islands, Deception Island, and of course, the Antarctic Peninsula.  All itineraries in Ponant's Polar Collection are classified as 'expedition journeys', which means guests have access to the expertise of on board naturalists as well as being able to head out in one of the ships Zodiac boats, allowing them to get up-close and personal with the glaciers and wildlife.  Expedition itineraries are characterised by complete flexibility, meaning more time can be spent at the most rewarding sites, detours can be taken to admire a colony of whales, or impromptu trips ashore taken to observe a colony of penguins.
As well as their fantastic Polar Collection, Ponant offers itineraries through Asia, Oceania, the Mediterranean, Northern Europe, and the Baltics.  Highlights include Easter Island off the Chilean coast, the Bay of Kotor in Montenegro, the Marquesas Islands in French Polynesia, remote villages of the Malay Archipelago and Saint-Malo (France) and Lubeck (Germany) in Northern Europe.
Don't forget to check out Ponant's themed cruises, enabling you to combine your passions with your love for travel.  Potential themes include music-based cruises, including guests of honour in particular musical styles; wine and gastronomy, featuring great chefs and sommeliers; art and literature, inviting writers, novelists as well as stars of theatre and film onboard; or golf cruises, taking guests to play on the most beautiful courses in the Caribbean or Mediterranean.
Why book with Ponant Cruises
Ponant cruises are perfect for travel-hungry adventures who love to visit hard-to-reach destinations and rarely touched locales. With a stunning range of expedition cruises that sail through phenomenal regions of the globe including the Arctic, Antarctica, the Kimberley in Australia, Central America, and more, Ponant is the best choice for those who wish to journey to these areas in unparalleled elegance. Moreover, with an expedition team on each voyage well-experienced in the destination you're travelling to, you'll be able to get the most out of each port of call with a wealth of useful advice and guidance.
In addition, guests who sail on Ponant cruises greatly enjoy the level of luxury on offer for the entire holiday. From impeccable service from the moment you step aboard and the superb selection of facilities on offer as you sail from one harbour to the next, to the spacious accommodations packed with decadent amenities, your time with Ponant promises the very best in luxury cruising.
Ponant Cruises FAQ's
Are Ponant cruises all inclusive?
Ponant cruises are not entirely all inclusive, but the passenger fare will include:
All meals onboard
Luxurious accommodation
24-hour Wi-Fi
Most non-alcoholic and alcoholic beverages
Room services
Shore excursions on expedition cruises
Access to common areas
Do Ponant ships visit Australia?
Currently, Ponant cruises are focused on Australia's iconic Kimberley region, with a marvellous selection of expedition cruises sailing between Darwin and Broome. Sailing on extraordinary ships Le Bellot and Le Laperouse, guests are promised a world of luxury and sophistication as they explore one of the best destinations down under. Plus, with an experienced team of specialists guiding you the entire way, your escape to the Kimberley will be nothing short of unforgettable.
Who owns Ponant cruises?
Ponant cruises is currently owned by Artemis, the holding company of French billionaire Francois Pinault that also has a part or full ownership of various luxury fashion, wine, and other brands. Through the purchase, Ponant has doubled down on crafting a French cruising experience built upon a strong foundation of world-class service and elegance found no where else in the seas.
Where can I find the best Ponant deals?
For the best Ponant cruise deals anywhere online, head straight to Cruise Guru! Offering a fantastic selection of Ponant cruises that sail to destinations across the globe at affordable prices, you can book your next great escape without hurting your wallet.
Book your next Group holiday with some help by Cruise Guru!
Planning on taking all your friends and family on an unforgettable cruise to celebrate a special occasion? Why not book as a group with Cruise Guru! We have a specialist team dedicated to organising and creating group cruises that perfectly suit your needs. Whether you're organising a wedding, work conference, or any other occasion, our team will be able to secure the cruise you want along with special bonuses and offers you can't get anywhere else. Take the stress out of your holiday, and book your next group cruise with us today!
Mark you calendar with a Ponant voyage today
Offering hundreds of Ponant cruises and expedition voyages sailing to impressive locales across the globe, you might need some extra help finding the right one for you! Contact us today and we'll help find an itinerary perfect for you – and at the lowest price available. You can either call us on 13 13 03 or complete a call back form and one of our talented cruise consultants will get back to you as soon as possible.
With so many cruise deals happening at any moment, it might be hard to keep up or find the very best offers for your favourite cruise line. If you want to be in the know on the best cruise deals, be sure to follow our Facebook, Twitter, and Instagram pages. Providing incredible Ponant cruise deals at affordable prices, look to Cruise Guru when you plan your next great escape!
Need help? Call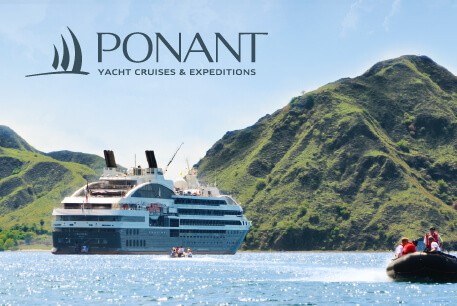 BEST LOCAL PONANT CRUISES
Discover some of the most beautiful and remote areas of Australia and the South Pacific on a Ponant cruise.
View Now
Included in your cruise fare
A large selection of beverages including select mineral waters, cold drinks, wine, beer, champagne, spirits, coffee and tea*
Unlimited Wi-Fi*
Butler service for suites
Additional inclusions for expedition cruises
All shore excursions
Onboard lectures
Experienced naturalist onboard
Zodiac outings
Parka gift on all Polar expeditions
Boot hire on all Polar expeditions
*Inclusions are subject to change at any time