Starting Price, Per Night*
Encounter unbelievable sights on Norwegian Cruise Line
Fall in love with adventure by sailing with Norwegian Cruise Line (NCL). With unbridled freedom and flexibility to travel the world by sea the way you prefer, NCL Cruises offer voyagers with the opportunity to explore like they have never done before. Discover hidden gems and awe-inspiring views on a Norwegian Cruise Line Australia or New Zealand cruise. Relax in a tropical paradise in the Bahamas or Hawaii. Gaze upon the untamed beauty on an Africa voyage. No matter the destination, NCL is the cruise line for you.
Norwegian Cruise Line is all about providing every guest with the freedom to travel how they please – aptly called 'freestyle cruising'. Choose from a vast library of onboard activities that appeal to a variety of different tastes and moods. Dine when you want with freestyle dining across all NCL ships. Pick an itinerary from a plethora of must-see destinations across the globe. Start planning your next dream voyage today by checking out Norwegian Cruise Line deals with Cruise Guru today.
From spectacular NCL cruises 2024 across the South Pacific and Hawaii to their iconic North America and Caribbean NCL cruises 2024, we'll certainly have the best sailings that perfectly match your schedule.
NCL Cruises Destinations
Australia, New Zealand and the South Pacific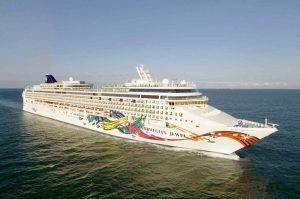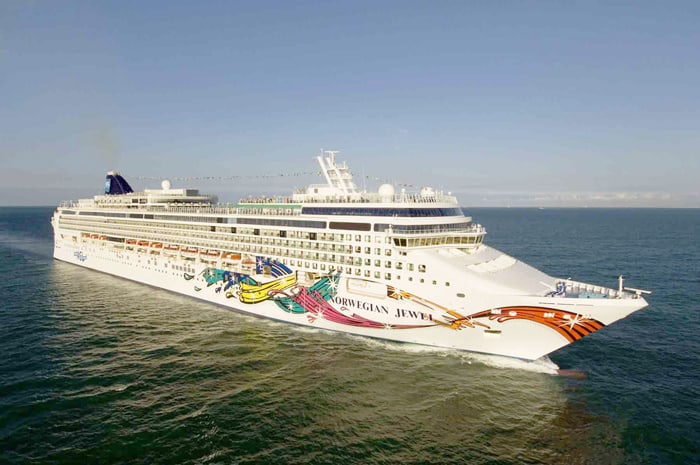 The Norwegian Jewel is heading back to Australia for her second and third seasons!  Jump on board the refreshed and revamped ship to enjoy her fantastic accommodation, meals from a variety of dining venues, access to 9 pools and hot tubs, Norwegian Cruise Line's renowned entertainment program and more.  Plus, with itineraries visiting gorgeous ports of call in Australia, South Pacific and New Zealand, the Norwegian Jewel is hard to beat!
Asia
Closer to home, Norwegian's small number of itineraries in Asia primarily operate from Singapore with a limited set of departures from Hong Kong. These are popular cruises and sell out early.
North America and the Caribbean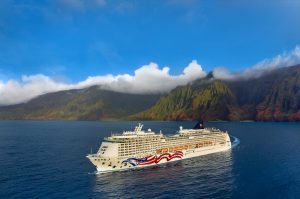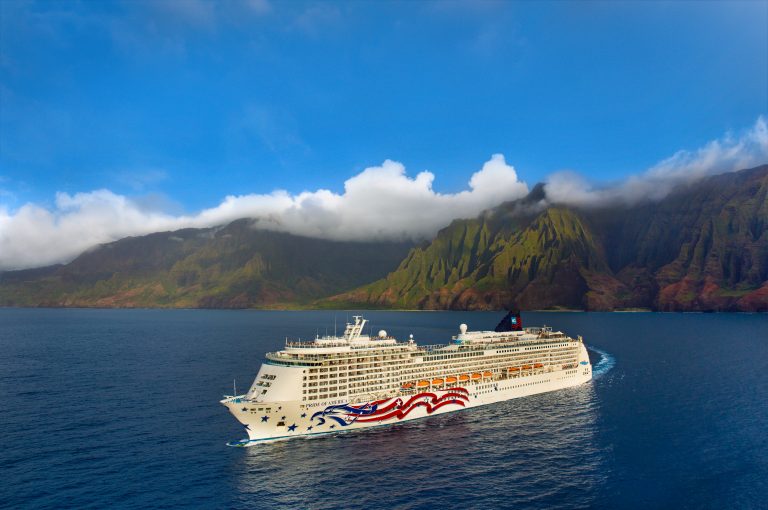 Pride of America is one of the few ships that hop through the idyllic islands of Hawaii.  These year round cruises circling Hawaii are 7 night round trip departures from Honolulu every Saturday with stops at Maui (overnight), Hilo, Kona and Kauai (overnight).  The equivalent island-hopper itinerary is often very expensive to construct – you can compare the value that comes with booking a Pride of America Hawaii hopper on this handy Hawaii Flyer.
Further across the Pacific Ocean, Norwegian Cruise Line operates a comprehensive range of Norwegian Alaska itineraries with 7 night departures from Vancouver, Seward or Seattle.
From the West Coast of USA, there are more than 300 adventures in the Caribbean to choose from.  Departing from Miami, Port Canaveral, Tampa, New York, New Orleans and even San Juan in Puerto Rico, there are itineraries ranging from short 4 to 6 night island escapes, 7 night getaways all the way up to 14 night Caribbean explorations.
Central and South America
Enjoy Mexican Riviera cruises from Los Angeles of between 7 and 9 nights or tick that next item off your bucket list with a visit to the Panama Canal, offering both partial canal crossings of 11 nights and full trans canal crossings of 14 nights and more.
Norwegian Cruise Line also gives you the opportunity to tick another item off your bucket list:  the icy fjords of Chile and Argentina.  Norwegian Cruise Line's South America itineraries operate one way from San Antonio (Chile) or Buenos Aires (Argentina) which loop south offering opportunities to visit Ushuaia, the Falkland Islands and Puerto Montt.
Europe
Norwegian Cruise Line's cruises through Europe operate year round, giving customers the opportunity to experience the region in the height of summer as well as the magical depths of winter.  Mediterranean voyages have a range of departure ports including Barcelona, Rome and Venice.  To explore Northern Europe, cruise from Copenhagen or Southampton.
Why book with NCL Cruises
Feast on fantastic food!
If there is one thing that Norwegian Cruise Line is superb at, it's their incredible food. Every NCL cruise ship has an astounding selection of dining venues that encompass a wide spectrum of tastes and specialties. Moreover, each restaurant, dining room, and buffet has a range of delicious dishes that simply need to be ordered twice. Plus, with their freestyle dining allowing for guests to choose when they desire to eat and with whoever, dining with NCL has never been better. If you're a food-lover, Norwegian Cruise Line is the place to be!
Enjoy non-stop adventure
You will never be bored when you embark on a voyage with Norwegian Cruise Line. Offering an extraordinary choice of onboard activities from award-winning theatre productions, exhilarating aqua parks, to relaxing spas, NCL will have something for everyone young and old. With so much to do all day and night, you'll be hard pressed to find a reason to even be bored – and that's even before you've done any of the shore activities!
Exciting Specialty Itineraries
Norwegian Cruise Line additionally offer a limited – and very popular – range of specialty itineraries that are sure to pique your interest! Looking to rock the ship? Why not book on one of their brilliant Music-themed cruises. Yearning to discover Alaska like never before? NCL has a selection of specialist cruise tours we think you'll love. Thinking of planning an island-hopping adventure? Why not go with a spectacular NCL Hawaii cruise. Sail the seas in unique and exciting ways by booking a Norwegian Specialty Itinerary now.
Norwegian Cruise Line FAQ's
How is the food on Norwegian Cruise Line?
Food on any Norwegian Cruise Line promises to be nothing short of delicious. With a delightful range of dining venues serving a variety of specialties on any NCL cruise ship, every kind of traveller is catered for. From their complimentary Main Dining Rooms and Buffets, to their incredible specialty dining venues, guests will have plenty to choose from with every meal.
Who owns Norwegian Cruise Line?
NCL is a subsidiary of Norwegian Cruise Line Holdings (NCLH) based in the United States. Norwegian Cruise Line is in pretty good company, as NCLH also owns world-renowned cruise lines Oceania Cruises and Regent Seven Seas Cruises. Founded only recently in 2011, NCLH is the third largest cruise operator in the world, with the other two being Royal Caribbean Group and Carnival Corporation.
What is freestyle dining on Norwegian Cruise Line?
Freestyle dining means no set dining times or pre-assigned seating for Norwegian cruises passengers. This means that guests can choose to dine when they want and with whom they want, avoiding awkward interactions with passengers you may not like or having to dine at a time when you're not hungry. As NCL themselves say "follow your mood, not a schedule", and freestyle dining is a testament to that
What plugs are used on Norwegian Cruise Line?
All Norwegian ships are fitted with at least one North American and European socket, this means that for Australian cruisers you'll likely need to bring an adaptor to charge all your electrical devices.
Cruise on a managed budget with our Payment Plan
Experience the ultimate value with Cruise Guru, your trusted provider of the most competitively priced cruises online. With our unbeatable Pricing Guarantee, you can be confident that you're getting the best deal available! If you come across a lower price for your cruise within 48 hours of booking with us, we'll gladly reimburse you the difference*. Explore our incredible range of NCL cruises, knowing that affordability is at the forefront of our offerings. Book your dream cruise today and sail with the assurance of our Pricing Guarantee. *Terms and conditions may apply.
Sail with Norwegian Cruise Line now
Now has never been a better time to book your next Norwegian Cruise Line voyage, and Cruise Guru is the best place to do it! Contact us now and one of our experienced cruise consultants will be available to help you find the best NCL cruise deal that fits your personal preferences. Either fill out a call back form or call us on 13 13 03 and Cruise Guru will be ready to answer anything you need to book your dream holiday.
Searching for the cheapest Norwegian Cruise Line deals, offers, and rates online? You've come to the right place! Follow or like our Facebook, Twitter, and Instagram pages and keep in the know on the best deals available online. Offering thousands of voyages at wallet-friendly prices, book your next holiday Cruise Guru today.
Need help? Call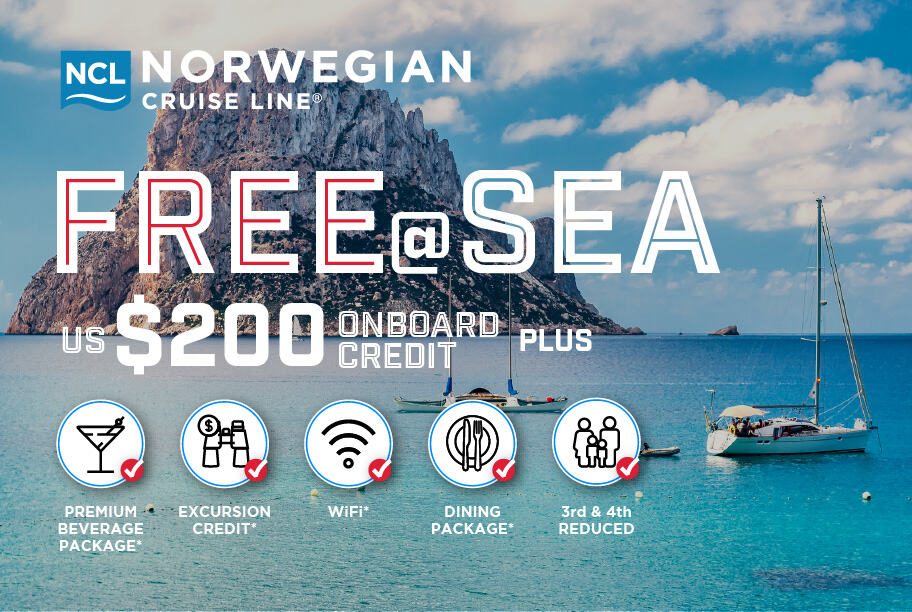 EUROPE
Save up to 50% PLUS $25 deposits, $200 onboard credit, drinks, dining, Wi-Fi & shore excursion credit*
View Now
Included in your cruise fare
All onboard meals in the main dining room, buffet, Asian Fusion dining venue and O'Sheehan's Neighbourhood Bar & Grill
A selection of onboard entertainment
Sports court activities
Ropes Course
Walk the Plank activity
Mini Golf
Rock Climbing Wall
Kids Club Facilities
Included with cabins booked in the Haven
Priority treatment for embarkation, disembarkation, boarding of tenders, onboard entertainment and dining
Personal concierge service
24 hour butler
A complimentary bottle of champagne or sparkling wine in your stateroom
Invitations to private events
Exclusive access to The Haven Courtyard and pool
Complimentary limousine service from pier to airport (for Garden Villa guests)
*Inclusions are subject to change at any time