Pride of America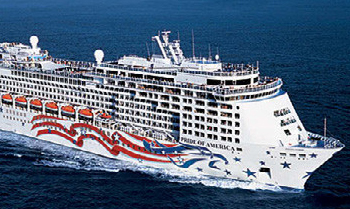 282
Starting Price, Per Night*
Pride of America Cruises
Aloha! Come aboard Pride of America, our only cruise ship that sails round trip from Honolulu year-round so you can vacation on your schedule. As you journey from one exotic island to the next, learn about the Hawaiian culture through the eyes of native ambassadors on board our ship. Island hop Hawaii in style, with more than 15 restaurants and 12 bars and lounges, excellent family accommodations, spacious suites and balconies perfect for whale watching, witnessing Kilauea Volcano or taking in the dramatic views of the Napali Coast.
Pride of America is one of the few cruise lines with an itinerary that focuses exclusively on the beautiful Hawaiian islands.  These sailings depart every week on a Saturday and are a fantastic addition to any Hawaiian holiday.  In seven blissful nights touch 4 Hawaiian islands – cruise out of Honolulu (Oa'hu) and visit Kahului (Maui), Hilo (Hawai'i), Kona (Hawai'i) and Nawiliwili (Kauai) before cruising back into Honolulu.  To make your Hawaiian cruise experience all the better, you'll be able to enjoy overnight stays in both Maui and Kauai to experience the islands in both sun and starlight.
The equivalent island-hopper itinerary is often very expensive to construct – you can compare the value that comes with booking a Pride of America Hawaii hopper on this handy Hawaii Flyer.
Enjoy exclusive discounts* on all Norwegian Cruise Line cruises when you book with Cruise Guru. Research and find your cruise using the links below or, with such a huge range of Norwegian Cruise Line options, use the Guru's Cruise Finder tool to locate your cruise of choice or contact us.
Dining
Aloha Cafe
Omelets and pastas made to order, a fantastic salad and dessert bar, carving stations, you never know what you'll find each day at the Aloha Café, but it's always action packed and satisfying. Little kids even have their own pint-sized buffet and dining area.
Cadillac Diner
This totally retro 1950's diner has Cadillac seats, plays 50's Rock 'n Roll and offers up a classic menu of burgers, fish 'n chips, potpies and wok-fast dishes. Open 22-hours a day.
East Meets West
As if you need any more coaxing to get into the island spirit, but just in case, make you way to this poolside retreat for cool beverages and hot grill specialties.
Liberty Main Dining Room
Dine with the America's Founding Fathers and get a heaping side of depicted history alongside hearty favorites, including fish, chicken, turkey, roast beef, potatoes and hot apple pie. Now, that's red, white and blue (and so is the decor).
Room Service
Dine in after a day at the pool. Or treat yourself to a continental breakfast in bed. Choose from an extensive menu with complimentary and a la carte items featuring everything from chef-crafted dishes to delicious snacks and treats. All freshly-prepared and delivered to your stateroom 24-hours a day. Convenience charge of $7.95 USD may apply.
Skyline Main Dining Room
Inspired by the architecture and skyscrapers of 1930's Manhattan, this Art Deco style restaurant offers a delicious, traditional dining experience.
Bars & Lounges
Aloha Lanai Bar
A full bar offering an extensive wine and beer selection and cocktails including Mai Tai's, Surf Rider's and Polynesian's.
Gold Rush Saloon
Saddle up and wet your whistle at the Gold Rush Saloon, a full bar offering an extensive wine and beer selection and cocktails.
Hollywood Theater
You deserve the red carpet treatment. Enjoy Broadway- and Vegas-style shows in a Hollywood theater.
John Adam's Coffee Bar
For that double, vanilla, soy, extra hot latte with extra foam, the John Adam's Coffee Bar is at your service with a wide variety of specialty coffees, teas, pastries and cookies.
Key West Bar & Grill
Full bar & grill in a Key West setting.
Mardi Gras Cabaret Lounge & Nightclub
Every night is Mardi Gras here. The famous New Orleans Mardi Gras is the inspiration behind this fun, lively lounge.
Napa Wine Bar
Enjoy different wines by the glass at the Napa Wine Bar. You can also order cocktails and beer in this full bar.
Ocean Drive Bar
Enjoy cocktails, wines and beer in a full bar that overlooks the South Beach Pool.
Pink's Champagne Bar
Inspired by Hawaii's Royal Palace Hotel, often referred to as the "Pink Palace", on Waikiki Beach. Toast to your good health and good luck with champagne.
Waikiki Bar
Hang loose brother at the Waikiki Bar. You'll think you're on Waikiki Beach after you order a Mai Tai or Polynesian. Full bar includes wine, beer and cocktails. Sand optional.
Recreation
Basketball/Volleyball
Shoot hoops, join a pick up game, play beach volleyball at the outdoor Basketball/Volleyball court, where we will be happy to accommodate you.
Blast Off Video Arcade
Stop by the video arcade and shoot a few aliens, win a car race, play pinball and fly a jet fighter. Let your imagination run wild at Blast Off Video Arcade.
Deck Games
Deck Games which include Outdoor Chess. It's a great way to meet some of the other passengers.
Entourage
A hip place for teens to hang out, complete with dance floor, bar, video, jukebox, table football and air hockey.
Golf Driving Net
Fore! Take your clubs out for a drive at Golf Driving Net, where there's no such thing as a lost ball or a bad drive.
Hollywood Theater
You deserve the red carpet treatment. Enjoy Broadway- and Vegas-style shows in a Hollywood theater.
Hot Tubs
There are four outdoor hot tubs located in close proximity to the South Beach Pool.
Internet Center
Want to send an update to family and friends back home? This is the place to be when you need to get online. Computer and Internet facilities, plus a computer lecture and training area is available.
Jogging/Walking Track
Run circles around the other guests or get in your daily walk while you're at sea. Breakfast always tastes better after a good walk or run, right?
Kai Clothing
Featuring vibrant and contemporary island inspired prints that embodies the spirit of relaxation and comfort in style. Perfect for a casual stroll or an evening dinner while watching a breathtaking sunset. Kai offers men, women and children a variety of fashion apparel and accessories designed and made in Hawai'i.
Mandara Spa
Surround yourself with the calming nature of wood, stone, and primal New Mexican artifacts in the Mandara Spa. Ease your worries away as our wide array of spa treatments relax and refresh you.
Oasis Pool
Located on the aft part of Pride of America is the smaller Oasis outdoor pool.
Photo Gallery
Our selection of beautiful photographic prints is worthy of any wall. Photos on display are available for purchase.
Santa Fe Fitness Center
There are numerous ways to stay in shape while on board Pride of America. The Santa Fe Fitness Center is open from 6am to 11pm with a full gym and aerobics/fitness classes offered daily.
Shuffles Card Room
Here is one room where playing games is not just encouraged, it's expected. Find another couple and play bridge or test your skill with board games, checkers, and Scrabble.
SoHo Art Gallery
Stroll through Pride of America's Art Gallery of original paintings for sale by a wide range of well-known artists.
South Beach Pool
Pride of America's ode to Miami's South Beach, includes two glimmering outdoor pools and four hot tubs.
Splash Academy
Jump into a splash of fun at Splash Academy just for kids 3-12. Join us for active games, arts and crafts, and jump into character with the creative theme days.
SS America Library
You'll find a well-stocked selection of reading materials against the backdrop of the historic SS America Ship with memorabilia and artifacts from the ship itself.
The Chapel
If you feel the urge to pop the question or renew your vows, we've got the perfect room for you. This lovely chapel also functions as a meeting room.
The Conservatory
This quiet area in a tropical setting has glass walls. Read, make conversation or do nothing at all.
Entertainment
Lights, Camera, Music
In this elegant tribute to the greatest moments of the Hollywood Musical, see your favorite cinematic classics come to life from the romantic glamour of the 1940's to the high-kicking can-can of the Moulin Rouge! So curtain up light the lights as Norwegian proudly presents Lights, Camera, Music!
Vegas! The Show
The Norwegian Production Cast recreates the greatest moments in Vegas' history. It's the story of the most influential and exciting entertainers who made Vegas, well, Vegas! From vintage Sin City icons like The Rat Pack and Elvis to Tina Turner and Sonny and Cher. Come celebrate Vegas style. And remember, what happens in Vegas stays in Vegas!
Facts
Passenger Capacity: 2,186 (double occupancy)
Gross Register Tonnage: 80,439
Overall Length: 920.3 feet
Max Beam: 119.8 feet
Draft: 26.2 feet
Engines: Diesel Electric
Cruise Speed: 22 knots
Crew: 927