Starting Price, Per Night*
Italy Cruises & Cruises to Italy
Bursting with adventure at every turn, Italy cruises promise lucky explorers the opportunity to experience one of the most awe-inspiring regions in the entire globe. No matter where you sail to on cruises to Italy, it's all but guaranteed to be special. Fall in love with their cobblestone streets as you unwind at one of the many aromatic cafes. Wander on over to breathtaking historical artworks crafted by master artisans ranging from Michelangelo to Leonardo Da Vinci. Soak in the rolling green hills of the Tuscan countryside while you sip on a truly divine wine and savour truffle pasta. This romantic country is the perfect locale for a dreamy holiday, and there is no better way to explore it than on an Italy cruise.
What cruise lines go to Italy?
As one of the most popular places to go on a sea-faring holiday, you'll have an abundance of choices when planning your Italy cruise. With so many sights and sounds to experience across the entire region as well as being only moments away from Mediterranean delights, it's so easy to see why so many voyagers book cruises in Italy every year.
Here are the following cruise lines that cruise Italy right now (in alphabetical order):
When to cruise Italy and the surrounding regions?
With sunny skies and a temperate climate for most of the year, choosing when to cruise Italy can be relatively easy and extremely flexible for those without a set plan. What's more, with a seemingly endless selection of voyages happening throughout the year across multiple ports of call, an Italy cruise has never been easier to book. That being said, it helps to keep an eye out on when best to cruise Italy based on your personal preferences.
Spring (March – May)
A shoulder season for the region, a spring Italy cruise is perfect for those desiring warm temperatures and generally blue skies without the summer tourist rush. As you might expect with spring, this season is hallmarked with bright colours and beautiful natural scenery as local wildflowers come into full bloom. Furthermore, in April you can check out some of the local religious festivals as Easter occurs. With generally pleasant weather across the season, we can't help but recommend spring for anyone looking for cruises to Italy.
Summer (June – August)
Love to chill by the beach and soak up the sunshine? Then a summer Italy cruise is just right for you! While by far the busiest time of the year with tourists flocking across the globe to visit the various cultural touchstones across Italy, cruising during summer still holds plenty of fun. We recommend during this time, namely if you'd rather avoid crowds, to look into Italy cruises that feature explore lesser-known locales and the northern regions as temperatures can become a little too unbearable for some.
Autumn (September – November)
As the crowds start to lessen and the temperature begins to cool, autumn Italy cruises are still a splendid choice for most travellers. While it doesn't have the vibrant colours of spring, autumn is when the harvest season officially begins. That means foodies will be in an Italian wonderland with only the freshest of produce served at the various restaurants and eateries around the country. We suggest looking into food and wine-oriented cruises to get the most out of this time.
Winter (December – February)
With crowds at their lowest, winter Italy cruises are a magnificent choice for adventurers who can brave the cooler temperatures for intimacy and privacy with iconic landmarks. What's more, with reduced airfares and cruises across the board, you'll be rewarded financially for choosing to cruise Italy at this time. If you can, we recommend combining your cruise or organizing a pre/post-trip skiing adventure as Italy is home to some truly amazing ski resorts and slopes.
Cruise Guru's Italy Cruises Tip
"Looking for the best food in any city? Then avoid the tourist traps! The best food is often only a few blocks away from those busy landmarks. As the saying goes 'When in Rome, do as the Romans do.' So follow your instincts go to where the locals eat and hang out." – Rhojan, Digital Marketing Specialist
Top Italy Ports of Call
Rome
This frenetic and vibrant city is by far the most popular choice for thousands of voyagers during their cruises to Italy, and it's obvious why! With a nearly dizzying array of historical sights from the Colosseum, the Roman Forum, and the Pantheon, it's easy to get lost in this truly massive city. Plus, with a number of must-taste eateries and restaurants across Rome, you'll never go hungry when there's plenty of pasta and pizza to be enjoyed. What's more, as the departure port for hundreds of sailings every year, cruises from Rome have rapidly become the best choice for those looking to explore Italy and the surrounding regions.
Venice
Romantic is an understatement when it comes to Venice. Whether it's the allure of a gondola ride along the Grand Canal or the tranquillity of a morning coffee at St Mark's Square before the tourists, Venice has been a cultural touchstone for society and an absolute must for any traveller. While the city only accepts a limited number of cruises from Venice, those looking to explore the floating city can still book into cruises from Ravenna or cruises from Trieste which are only a few hours away.
Florence/Pisa
Are you searching for world-class artistry? Then look no further than Florence and its surrounding regions. Home to museums holding iconic pieces art and statues, the cobblestone streets of Florence and Pisa will whisk you away back into the Renaissance era. Explore the beautiful, red-domed cities or head to the countryside where enchanting vineyards await.
Cinque Terre
Postcard-perfect and one of the most popular tourist spots in Italy, Cinque Terre should be at the top of any Italian holiday bucket list. Translating to "Five Lands", Cinque Terre are five coastal fishing villages boasting colourful buildings bunched together right by the sea leading to truly spectacular sights when seen from a distance. Spend the day hiking from one town to the next or take the train jumping to the places you want to see the most.
Naples
While not as known as Rome, Naples boasts its own selection of cultural landmarks and historical sights for you to enjoy before you set off on your Italy cruise. Wander through the various museums and churches featuring stunning religious artwork. Check out the local artisan workshops and businesses selling plenty of knick-knacks and souvenirs to show off once you return home. Order up a ragu at one of the plentiful Italian restaurants or just grab a gelato and sit in a local park. With a number of cruises from Naples happening throughout the year, you'll be impressed at what awaits in this excellent city.
Bari
One of the major gateways to the Adriatic Sea, cruises from Bari is a great choice for explorers in the mood to sail beyond Italy and to marvellous Mediterranean sights. With its own burgeoning foodie scene, this magical harbour city hosts some of the best seafood Italy has to offer. Before sailing off to Venice or Athens, be sure to spend a day or two at Bari, you won't be disappointed!
Secure the best Italy cruise deal right here
It's time for you to bag a bargain on an Italian cruise, and there's no better site online to do so than Cruise Guru! With hundreds of Italy cruises on offer all year round by every major operator, finding the right cruise for you is only a click or two away. What's more, with a treasure trove of Italy cruise deals on sale throughout the year, we'll even hook you up with the best price available to boot! If you ever do need help finalizing your voyage, we're only a phone call away. Simply contact us directly by dialling 13 13 03 or by submitting a call back form and one of our experienced Gurus will be on hand in but a matter of moments.
To stay locked in on all the latest cruise deals in Italy and beyond, make sure you subscribe to our mailing list. We regularly update you on everything there is to know about the latest and greatest sales and exclusive offers available right now. For regular updates on all cruising news, follow or like our Facebook, Instagram, and Twitter pages as well!
Need help? Call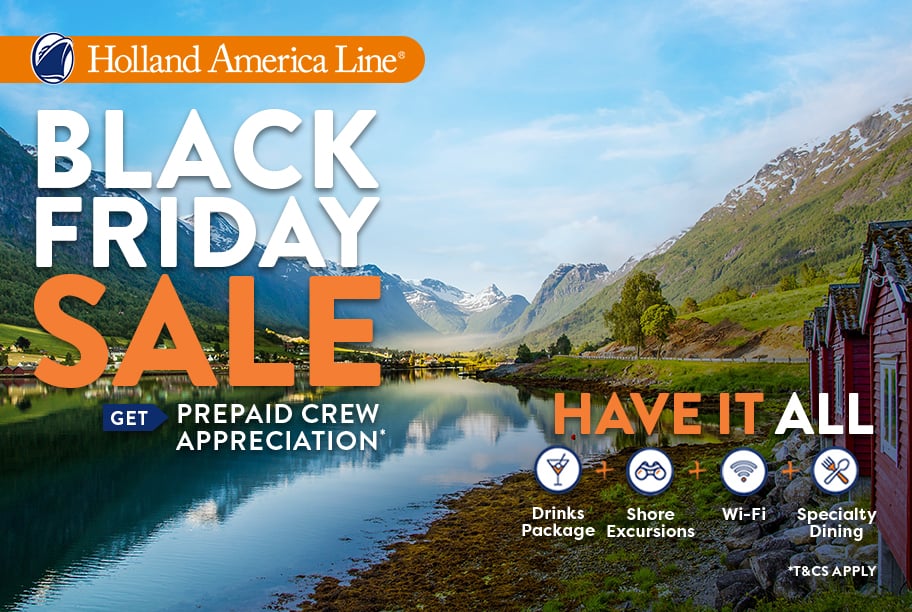 EUROPE
Enjoy prepaid crew appreciation with Holland America. Plus enjoy their Have it All inclusions – dining, drinks, shore excursions and Wi-Fi*
View Now