Starting Price, Per Night*
Greece Cruises & Cruises to Greece
One of the few countries boasting beaches that rival Australia, Greece cruises and cruises to Greece are easily one of the most popular travel destinations for lovers of all things sunshine. Immense history paired with stunning natural beauty and flavour-packed local cuisine, this sun-bleached country is a locale that'll impress even the pickiest of travellers on a Greece cruise. Hop along from one paradise to the next on a Greece island cruise or explore the wonders of the Mediterranean on a Greece and Croatia cruise, there's never a bad option no matter how you choose to sail.
What cruise lines go to Greece?
As one of the major hubs for Mediterranean holidays, you'll have plenty of options to choose between as you plan out your cruise to Greece. Whether you want an intimate small ship escapade to the Greek Islands or prefer to experience the fun of a mega-ship, the options are endless.
Here are the following cruise lines that cruise Greece right now (in alphabetical order):
When to cruise Greece and the surrounding regions?
Offering a dreamy collection of sandy beaches and outdoor historical sites, you can't help but chase the sunshine when planning your Greece cruise. Thankfully, with generally warm temperatures and clear skies for large swathes of the year, Greece can be a relatively easy destination to plan for. Regardless, it's best to know what to expect when you cruise Greece, so here's a breakdown of each season.
Spring (March – May)
With generally blue skies and warm weather, springtime is easily one of the best times to cruise Greece. This is particularly the case during the latter half of spring as the temperature starts to slowly warm without reaching uncomfortable levels. What's more, you'll also likely be avoiding the tourist rush from everyone across Europe during their school holidays that occurs during the summer months. Plus, if you go during Easter, you'll even get to enjoy fascinating religious events unique to the region. With typically smaller crowds, mild weather, and nature in full bloom, this is a perfect time to visit Greece.
Summer (June – August)
By far the busiest time of the year for the country, summer lives up to its name as millions of people flock to the Greek Islands. While you might be scared off by the crowds, summer is when Greece is in full swing with lively events, a vast array of restaurants, and vibrant beaches with plenty of opportunities to connect with like-minded travellers. The nightlife during this time of year is unparalleled, with clubs and beach bars packed with excited guests and a wealth of live music and shows to get immersed in. There's a reason why so many people choose to book Greece cruises at this time of year, and if you're yearning for unfiltered excitement, this season is definitely for you.
Autumn (September – November)
While not as frenetic as summer, autumn rides the wave of energy from the previous season well into the months of September and October. What's more, with a less harsh sun in the skies and slightly smaller crowds, this shoulder season is a great option for those who want to experience the best of Greece without the rush of tourism. Temperatures start to cool in October, so be sure to pack some light jackets before your Greece cruise!
Winter (December – February)
For those who want to avoid crowds and prefer the intimacy of a quiet historical site or a tranquil museum, winter is for you. Furthermore, without the rush of tourists, the costs of Greece cruises at this time as well as onshore adventures are generally cheaper. Do keep in mind that some restaurants and venues, namely on the Greek Islands, close up during winter. So make sure to double-check your plans in advance if you have a place or two in mind when you cruise Greece.
Cruise Guru's Greece Cruises Tip
"Immerse yourself in the mythology and history of Greece! With ancient structures that are thousands of years old all around you, I find that the country is at its best when you look beyond what's in front of you and envision what this civilization looked like thousands of years ago at its prime."
Top Greece Ports of Call
Athens
More than just the capital of Greece, Athens is where history and modern-day innovation collide to create a fantastical travel destination. Likely to the departure port for your Greece cruise, Athens is an absolute treat for veteran and first-time travellers. History buffs will be amazed by the spectacular landmarks such as the Parthenon and Acropolis as well as the endless array of museums housing centuries-old artefacts from empires of the past. Feel like seeing the best of Athens today? Then wander on over to the Stavros Niarchos Foundation Cultural Centre and be awe-struck by its amazing design as well as its selection of gardens, cafes and activities to take part in. Cruises from Athens are aplenty, so finding the right voyage will be a piece of cake!
Crete
Home of the Minoan civilization, Crete is an essential visit for any explorer on a Greece cruise wanting to discover more about the millennia-old history of this wondrous country. Encompassed by inviting beaches and brushed by enchanting natural vistas dotted with humble villages and harbour towns, Crete is often a favourite amongst many voyagers who frequent Greece. Order up mouth-watering local cuisine featuring world-class seafood then fall in love with the live music happening across town. Then, just before you jet off to another Greek Island, make your way to the famous Palace of Knossos.
Thessaloniki
While most adventurers will be drawn in by the extravagance of Athens and the sunny shores of the Greek Islands, one city stands out amongst the rest but is rarely mentioned – Thessaloniki! A cultural centerpiece, Thessaloniki is a thriving hub of all things Greece. From the delectable cuisine smattered about the city to the year-long selection of riveting events, Thessaloniki has rapidly become a top destination for any cruises to Greece. Plus, with a treasure trove of museums, historical landmarks, and close proximity to other must-visit Mediterranean delights, Thessaloniki needs to be on your bucket-list when travelling across Greece.
Rhodes
Be whisked away to the peak of the Byzantine Empire and make your way over to Rhodes on your Greece cruise. Boasting a UNESCO-listed Old Town alongside a wealth of landmarks to explore, Rhodes is more than worth your time. Wander through cobblestone streets. Walk into the halls where great knights and rulers once lived in. Kick back at one of the great beaches across the island. There's no wrong way to explore Rhodes, and with its marvellous location to other major travel spots, this island will likely be a part of your cruise to Greece.
Santorini
Superb Santorini. If you've ever looked up any photos of Greece, then you would have likely stumbled upon a snapshot of its spectacular whitewashed buildings and striking blue domes. While the photos certainly capture much of the splendor of Santorini, nothing ever beats sailing in and having your jaw drop as you see its bleached buildings nestled upon sheer cliffs. Built upon the crater of a volcano, Santorini is home to some truly unique beaches and bays as well as plenty of delicious local food to feast upon, especially during the peak season when the island is in full swing.
Mykonos
Boasting turquoise waters and dreamy, sun-soaked beaches, Mykonos has quickly become a favourite amongst many Greece cruise explorers. From the gorgeous harbour towns to the magnificent museums, Mykonos has plenty of things to do in between your trips to the various beaches across the island. Plus, Mykonos features a pumping nightlife scene that really turns on the heat once the summer season rolls around. For those looking for endless fun, look no further than Mykonos!
Unforgettable Greece cruises are only a click away
Whether you're rushing for some last-minute cruises to Greece or just want to discover the latest and greatest deals available online, you've come to the right place here on Cruise Guru. Contact us today and our team can assist in finding you the perfect Greece cruise deal that suits your preference. Call us today through 13 13 03 or fill out our simple call back form and one of our specialists will be on hand shortly.
Want to see all the latest offers as they release online? Then be sure to subscribe to our mailing list. We'll keep you plugged in on every new sale and deal as they come out. For all things cruising, we recommend following our Facebook, Instagram, and Twitter pages.
Need help? Call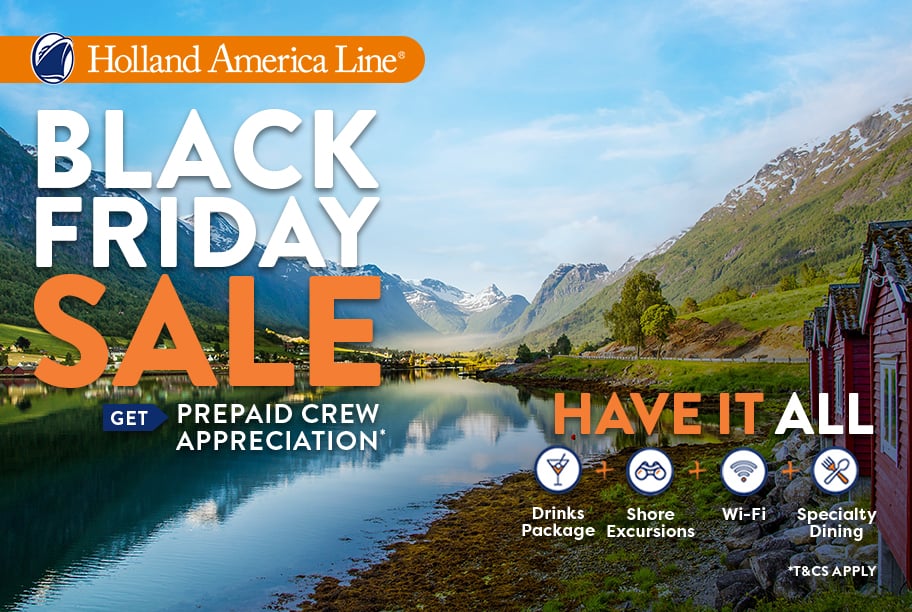 EUROPE
Enjoy prepaid crew appreciation with Holland America. Plus enjoy their Have it All inclusions – dining, drinks, shore excursions and Wi-Fi*
View Now