Overview
Cruises
Info
Inclusions
Ships
Destination
Promotions
Latest News
Voyager of the Seas has been AMPLIFIED and is now packed with more ways to play!  Now decked out with The Perfect Storm – two high-speed waterslides full of three stories of twisting turning thrills, Battle for Planet Z – the glow-in-the-dark laser tag clash, and the FlowRider surf simulator, your next holiday aboard Voyager is going to be next level.
Best Deals
What an offer, what a deal – it's the ONE BIG SALE!  Book a cabin on select local Royal Caribbean cruises and you'll enjoy:
Savings up to 40%* PLUS extra Guru discounts*
BONUS SAVINGS this weekend only*
Up to US$400 shipboard credit per stateroom*
Plus, for travel after 17 June 2020, choose how you deposit:
Book with a $25 deposit* on the slightly higher ONE BIG SALE rate if you require more flexibility.  View One Big Sale cruises with $25 deposits
Book with a standard deposit on the cheaper ONE BIG SALE – NON-REF rate if your travel dates are locked in. View One Big Sale – Best Fare
Looking for an international Royal Caribbean getaway? Check out the Royal Caribbean's
International One Big Sale
featuring savings up to 30% and up to US$150 shipboard credit per stateroom*.
If you're looking for an extra discounted local Royal Caribbean deal, check out Cruise Guru's Exclusive Discounted Deals and enjoy fantastic reduced rates* when you book on the 'Promotional Fare'.
For great value Royal Caribbean cruises, have a look at cruises under $500pp* or cruises under $1,000pp*.
To find your perfect Royal Caribbean cruise use the links below, try our Cruise Finder tool to search for Royal Caribbean cruises, or simply contact us for assistance. *Terms and conditions apply.
Royal Caribbean cruises in Australia, New Zealand and the South Pacific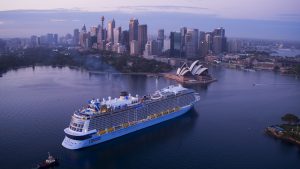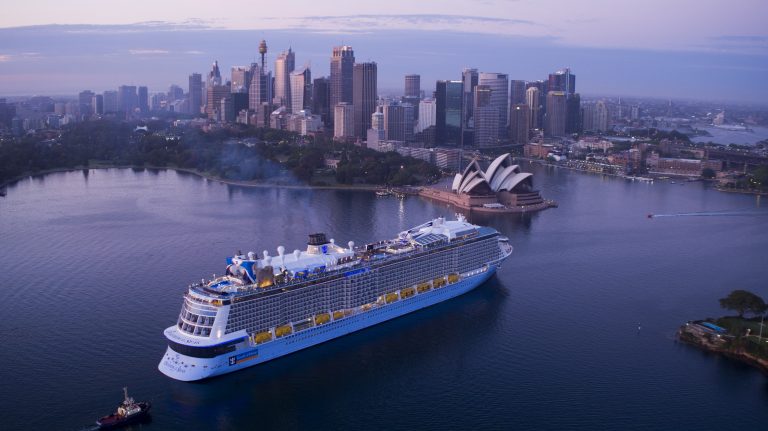 Royal Caribbean cruises from Australia between October and April of each year, as a select number of ships make their way down-under to soak up Australia's summer sun.   While here, there is a fantastic schedule of  Royal Caribbean cruises in the South Pacific ranging in duration from 7 to 14 nights as well as cruises to New Zealand.  Within Australia you can cruise to Tasmania or Queensland.  If you're looking to give Royal Caribbean (or cruising) a try, jump on one of Royal Caribbean's 2 to 4 night sampler cruises. The majority of Royal Caribbean's Australia, New Zealand and South Pacific itineraries depart from Sydney, however from 2020 Radiance of the Seas will make her way to homeport from Brisbane during the summer months.  Limited cruise departures are also available from Perth.
Local Australian Royal Caribbean cruises are available on board one of four entertainment packed ships: regular returnees are Radiance of the Seas and the largest ship of any cruise line to visit Australian waters, Ovation of the Seas with it's newly designed staterooms and 'wow' features including a 360 degree view glass capsule. For summer 2019 Voyager of the Seas will also return to cruise Australia and the South Pacific with new to Australian waters, Serenade of the Seas visiting for the first time in summer 2020.
Looking for a bargain? View Royal Caribbean cruises within Australia under $999.
Asia
In Asia, Royal Caribbean cruises offer departures from Singapore, Hong Kong, Beijing and Shanghai.  With a massive number of mini-break 3 to 5 night cruises on offer, Royal Caribbean gives you a fantastic opportunity to tack on a cruise escape to your Asian holiday.  These short cruises can offer you a taste of Malaysia, a sample of Thailand, an impression of Vietnam and even a snippet of Japan.
If you are wanting a cruise to be the destination on your Asian adventure, check out Royal Caribbean's longer Asia itineraries, with 6 or 7 night Asian itineraries, or longer cruises up to 2 weeks.  Quantum of the Seas also offers year-round departures from Beijing and Shanghai with a range of itineraries from 4 to 8 nights.
Europe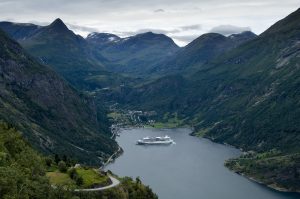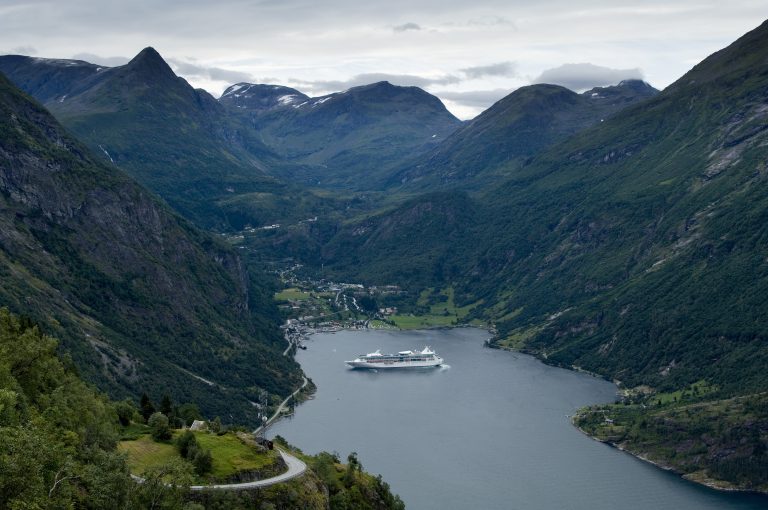 Cruise the Baltics and Northern Europe from Southampton, Amsterdam and Copenhagen.  Royal Caribbean cruises also provide options to circle the British Isles, discover the cityscapes of the Baltics, Scandinavia and Russia, marvel at the fjords of Norway, or cruise the Arctic circle.
Alternatively, if you're looking for a warmer European adventure, view the extensive range of Royal Caribbean's Mediterranean adventures departing from Venice, Barcelona and Rome.  Choose from cruises to the Western Mediterranean featuring ports in Italy, France and Spain, explorations of the Adriatic coastline of Croatia, or island discoveries in Greece.  For slightly more unique itineraries look out for cruises to the Canary Islands, or Holy Land itineraries featuring stops in Israel.
North America and the Caribbean
In North America, discover the wondrous wilderness and icy straits of Alaska with a series of seven night cruises departing from a choice of Seward, Seattle or Vancouver.   Across the Canadian mainland, discover the foliage of Canada and New England with cruises departing from Boston, Baltimore, Cape Liberty and Quebec.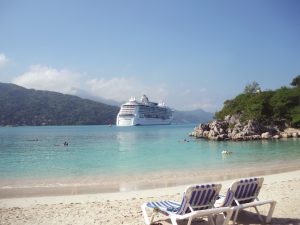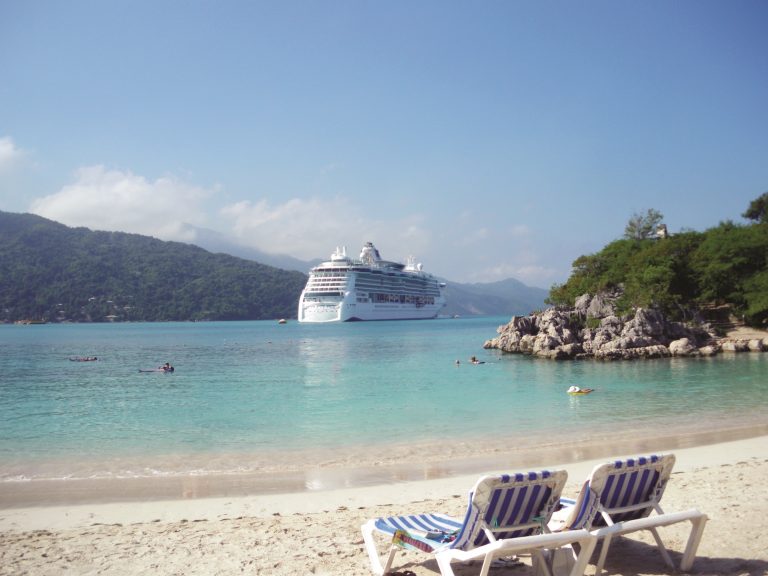 Royal Caribbean has one of the most comprehensive range of Caribbean itineraries in the market, as its name might suggest, with around one thousand scheduled departures over the next two to three years.  Not only do they offer cruises departing a range of departure ports, the most popular being Miami, Fort Lauderdale and Port Canaveral, but the Caribbean is also frequented by Royal Caribbean's largest and grandest ships including Allure of the Seas, Harmony of the Seas, Oasis of the Seas and Symphony of the Seas.   Choose from cruises to the Eastern Caribbean, Southern Caribbean or, with the most options, Western Caribbean, or combine two regions with back to back cruises to create a Royal Caribbean immersion. Royal Caribbean cruises also offer itineraries to the Bahamas.
Date
Cruise
Ship
Cruise Line
Dep Port
Destination
Ports of Call
Inside
Inside
Oceanview
Oceanview
Balcony
Balcony
Suite
Suite
Save up to*
22 Dec 19
5 Night Western Caribbean Holiday Cruise
Explorer Of The Seas
Royal Caribbean
Miami
Caribbean - Western
Show
$1,595
$319
Select
-29%
27 Dec 19
9 Night Southern Caribbean Holiday
Explorer Of The Seas
Royal Caribbean
Miami
Caribbean - Southern
Show
$2,936
$326
$3,771
$419
$4,098
$455
Select
-31%
05 Jan 20
5 Night Western Caribbean Cruise
Explorer Of The Seas
Royal Caribbean
Miami
Caribbean - Western
Show
$919
$184
$1,754
$351
$1,278
$256
Select
-30%
10 Jan 20
9 Night Southern Caribbean Cruise
Explorer Of The Seas
Royal Caribbean
Miami
Caribbean - Southern
Show
$1,945
$216
$2,434
$270
Select
-30%
19 Jan 20
5 Night Western Caribbean Cruise
Explorer Of The Seas
Royal Caribbean
Miami
Caribbean - Western
Show
$710
$142
$802
$160
$1,611
$322
Select
-35%
24 Jan 20
9 Night Southern Caribbean Cruise
Explorer Of The Seas
Royal Caribbean
Miami
Caribbean - Southern
Show
$1,501
$167
$1,657
$184
Select
-30%
02 Feb 20
5 Night Western Caribbean Cruise
Explorer Of The Seas
Royal Caribbean
Miami
Caribbean - Western
Show
$710
$142
$730
$146
$1,232
$246
$1,481
$296
Select
-29%
21 Feb 20
9 Night Southern Caribbean Cruise
Explorer Of The Seas
Royal Caribbean
Miami
Caribbean - Southern
Show
$1,697
$189
$2,914
$324
$4,575
$508
Select
-47%
27 May 20
9 Night Greek Isles Cruise
Explorer Of The Seas
Royal Caribbean
Civitavecchia (Rome)
Mediterranean - Eastern
Show
$2,834
$315
$7,038
$782
$6,405
$712
Select
-36%
05 Jun 20
9 Night Greek Isles Cruise
Explorer Of The Seas
Royal Caribbean
Civitavecchia (Rome)
Mediterranean - Eastern
Show
$2,895
$322
$4,841
$538
$7,903
$878
Select
-37%
14 Jun 20
7 Night Greek Isles Cruise
Explorer Of The Seas
Royal Caribbean
Civitavecchia (Rome)
Mediterranean - Eastern
Show
$1,599
$228
$2,200
$314
$2,904
$415
$4,285
$612
Select
-37%
21 Jun 20
7 Night Western Mediterranean Cruise
Explorer Of The Seas
Royal Caribbean
Civitavecchia (Rome)
Mediterranean - Western
Show
$1,246
$178
$1,521
$217
$1,990
$284
$2,771
$396
Select
-38%
28 Jun 20
7 Night Greek Isles Cruise
Explorer Of The Seas
Royal Caribbean
Civitavecchia (Rome)
Mediterranean - Eastern
Show
$2,394
$342
$2,964
$423
$4,273
$610
$5,353
$765
Select
-38%
26 Jul 20
6 Night Western Mediterranean Cruise
Explorer Of The Seas
Royal Caribbean
Civitavecchia (Rome)
Mediterranean - Western
Show
$1,069
$178
$1,252
$209
$1,376
$229
$1,962
$327
Select
-38%
01 Aug 20
8 Night Greek Isles Cruise
Explorer Of The Seas
Royal Caribbean
Civitavecchia (Rome)
Mediterranean - Eastern
Show
$2,396
$300
$3,996
$499
$6,378
$797
Select
-37%
09 Aug 20
7 Night Greek Isles Cruise
Explorer Of The Seas
Royal Caribbean
Civitavecchia (Rome)
Mediterranean - Eastern
Show
$1,725
$246
$2,103
$300
$2,586
$369
$3,628
$518
Select
-37%
16 Aug 20
7 Night Greek Isles Cruise
Explorer Of The Seas
Royal Caribbean
Civitavecchia (Rome)
Mediterranean - Eastern
Show
$1,754
$251
$2,309
$330
$2,912
$416
$3,747
$535
Select
-39%
23 Aug 20
7 Night Western Mediterranean Cruise
Explorer Of The Seas
Royal Caribbean
Civitavecchia (Rome)
Mediterranean - Western
Show
$1,129
$161
$1,318
$188
$1,684
$241
$2,460
$351
Select
-39%
30 Aug 20
9 Night Greek Isles Cruise
Explorer Of The Seas
Royal Caribbean
Civitavecchia (Rome)
Mediterranean - Eastern
Show
$2,112
$235
$2,315
$257
$3,104
$345
$3,871
$430
Select
-38%
08 Sep 20
10 Night Greek Isles Cruise
Explorer Of The Seas
Royal Caribbean
Civitavecchia (Rome)
Mediterranean - Eastern
Show
$2,019
$202
$2,653
$265
$3,143
$314
$6,076
$608
Select
-38%
18 Sep 20
9 Night Greek Isles Cruise
Explorer Of The Seas
Royal Caribbean
Civitavecchia (Rome)
Mediterranean - Eastern
Show
$1,799
$200
$2,105
$234
$2,764
$307
$3,525
$392
Select
-39%
27 Sep 20
9 Night Greek Isles Cruise
Explorer Of The Seas
Royal Caribbean
Civitavecchia (Rome)
Mediterranean - Eastern
Show
$1,731
$192
$2,110
$234
$2,789
$310
$3,605
$401
Select
-39%
06 Oct 20
10 Night Greek Isles Cruise
Explorer Of The Seas
Royal Caribbean
Civitavecchia (Rome)
Mediterranean - Eastern
Show
$1,892
$189
$2,395
$240
$2,819
$282
Select
-38%
16 Oct 20
9 Night Greek Isles Cruise
Explorer Of The Seas
Royal Caribbean
Civitavecchia (Rome)
Mediterranean - Eastern
Show
$1,643
$183
$1,830
$203
$2,205
$245
$3,393
$377
Select
-39%
25 Oct 20
12 Night Holy Land Cruise
Explorer Of The Seas
Royal Caribbean
Civitavecchia (Rome)
Mediterranean - Eastern
Show
$3,005
$250
$4,539
$378
$10,512
$876
Select
-32%
06 Nov 20
14 Night Spanish Transatlantic Cruise
Explorer Of The Seas
Royal Caribbean
Civitavecchia (Rome)
Transatlantic
Show
$2,013
$144
$2,071
$148
$2,698
$193
Select
-34%
07 May 20
10 Night Greek Isles Cruise
Explorer Of The Seas
Royal Caribbean
Civitavecchia (Rome)
Mediterranean - Eastern
Show
$2,126
$213
$2,589
$259
$3,738
$374
$4,700
$470
Select
-36%
17 May 20
10 Night Greek Isles Cruise
Explorer Of The Seas
Royal Caribbean
Civitavecchia (Rome)
Mediterranean - Eastern
Show
$2,362
$236
$2,722
$272
$4,500
$450
$4,710
$471
Select
-36%
12 Jul 20
8 Night Greek Isles Cruise
Explorer Of The Seas
Royal Caribbean
Civitavecchia (Rome)
Mediterranean - Eastern
Show
$2,399
$300
$3,144
$393
$4,400
$550
$6,238
$780
Select
-39%
20 Jul 20
6 Night Western Mediterranean Cruise
Explorer Of The Seas
Royal Caribbean
Civitavecchia (Rome)
Mediterranean - Western
Show
$1,042
$174
$1,277
$213
$1,401
$234
$2,157
$359
Select
-38%
20 Nov 20
9 Night Southern Caribbean Cruise
Explorer Of The Seas
Royal Caribbean
Miami
Caribbean - Southern
Show
$1,215
$135
$1,401
$156
$1,793
$199
$2,958
$329
Select
-36%
29 Nov 20
5 Night Eastern Caribbean & Bahamas
Explorer Of The Seas
Royal Caribbean
Miami
Caribbean - Eastern
Show
$730
$146
$839
$168
$974
$195
$1,429
$286
Select
-35%
04 Dec 20
9 Night Southern Caribbean Cruise
Explorer Of The Seas
Royal Caribbean
Miami
Caribbean - Southern
Show
$1,210
$134
$1,405
$156
$1,895
$211
$2,865
$318
Select
-38%
13 Dec 20
5 Night Eastern Caribbean & Bahamas
Explorer Of The Seas
Royal Caribbean
Miami
Caribbean - Eastern
Show
$808
$162
$939
$188
$1,108
$222
$1,663
$333
Select
-35%
18 Dec 20
9 Night Southern Caribbean Holiday
Explorer Of The Seas
Royal Caribbean
Miami
Caribbean - Southern
Show
$1,384
$154
$1,645
$183
$1,946
$216
$3,125
$347
Select
-39%
27 Dec 20
5 Night Eastern Caribbean Holiday Cruise
Explorer Of The Seas
Royal Caribbean
Miami
Caribbean - Eastern
Show
$1,082
$216
$1,147
$229
$1,389
$278
$2,179
$436
Select
-35%
01 Jan 21
9 Night Southern Caribbean Cruise
Explorer Of The Seas
Royal Caribbean
Miami
Caribbean - Southern
Show
$1,259
$140
$1,475
$164
$1,873
$208
$2,976
$331
Select
-36%
10 Jan 21
5 Night Eastern Caribbean & Bahamas
Explorer Of The Seas
Royal Caribbean
Miami
Caribbean - Eastern
Show
$722
$144
$846
$169
$918
$184
$1,401
$280
Select
-34%
15 Jan 21
9 Night Southern Caribbean Cruise
Explorer Of The Seas
Royal Caribbean
Miami
Caribbean - Southern
Show
$1,259
$140
$1,475
$164
$1,873
$208
$2,865
$318
Select
-36%
24 Jan 21
5 Night Eastern Caribbean & Perfect Day
Explorer Of The Seas
Royal Caribbean
Miami
Caribbean - Eastern
Show
$743
$149
$860
$172
$984
$197
$1,455
$291
Select
-35%
07 Feb 21
5 Night Eastern Caribbean & Bahamas
Explorer Of The Seas
Royal Caribbean
Miami
Caribbean - Eastern
Show
$727
$145
$851
$170
$923
$185
$1,406
$281
Select
-34%
21 Mar 21
5 Night Eastern Caribbean & Perfect Day
Explorer Of The Seas
Royal Caribbean
Miami
Caribbean - Eastern
Show
$832
$166
$995
$199
$1,191
$238
$1,706
$341
Select
-33%
26 Mar 21
9 Night Southern Caribbean Cruise
Explorer Of The Seas
Royal Caribbean
Miami
Caribbean - Southern
Show
$1,311
$146
$1,533
$170
$1,899
$211
$3,263
$363
Select
-34%
29 Jan 21
9 Night Southern Caribbean Cruise
Explorer Of The Seas
Royal Caribbean
Miami
Caribbean - Southern
Show
$1,259
$140
$1,475
$164
$1,873
$208
$2,865
$318
Select
-36%
12 Feb 21
9 Night Southern Caribbean Cruise
Explorer Of The Seas
Royal Caribbean
Miami
Caribbean - Southern
Show
$1,226
$136
$1,442
$160
$1,956
$217
$2,832
$315
Select
-34%
04 Apr 21
9 Night Southern Caribbean Cruise
Explorer Of The Seas
Royal Caribbean
Miami
Caribbean - Eastern
Show
$1,348
$150
$1,661
$185
$2,040
$227
$3,157
$351
Select
-34%
18 Apr 21
5 Night Eastern Caribbean & Perfect Day
Explorer Of The Seas
Royal Caribbean
Miami
Caribbean - Eastern
Show
$832
$166
$995
$199
$1,191
$238
$1,570
$314
Select
-30%
21 Dec 19
8 Night Eastern Caribbean Holiday Cruise
Adventure Of The Seas
Royal Caribbean
Fort Lauderdale (Port Everglades)
Caribbean - Eastern
Show
$4,947
$618
Select
-49%
29 Dec 19
6 Night Western Caribbean Holiday Cruise
Adventure Of The Seas
Royal Caribbean
Fort Lauderdale (Port Everglades)
Caribbean - Western
Show
$2,364
$394
Select
-30%
04 Jan 20
8 Night Southern Caribbean Cruise
Adventure Of The Seas
Royal Caribbean
Fort Lauderdale (Port Everglades)
Caribbean - Southern
Show
$1,113
$139
$1,440
$180
Select
-30%
12 Jan 20
6 Night Western Caribbean Cruise
Adventure Of The Seas
Royal Caribbean
Fort Lauderdale (Port Everglades)
Caribbean - Western
Show
$1,060
$177
$1,060
$177
$1,184
$197
$1,785
$297
Select
-42%
18 Jan 20
8 Night Eastern Caribbean Cruise
Adventure Of The Seas
Royal Caribbean
Fort Lauderdale (Port Everglades)
Caribbean - Eastern
Show
$1,388
$173
$1,701
$213
$1,864
$233
$4,586
$573
Select
-41%
26 Jan 20
6 Night Western Caribbean Cruise
Adventure Of The Seas
Royal Caribbean
Fort Lauderdale (Port Everglades)
Caribbean - Western
Show
$845
$141
$995
$166
$1,256
$209
$1,915
$319
Select
-30%
01 Feb 20
8 Night Southern Caribbean Cruise
Adventure Of The Seas
Royal Caribbean
Fort Lauderdale (Port Everglades)
Caribbean - Southern
Show
$1,542
$193
$2,227
$278
$2,279
$285
Select
-33%
09 Feb 20
6 Night Western Caribbean Cruise
Adventure Of The Seas
Royal Caribbean
Fort Lauderdale (Port Everglades)
Caribbean - Western
Show
$897
$149
$917
$153
$1,276
$213
Select
-29%
15 Feb 20
8 Night Eastern Caribbean Cruise
Adventure Of The Seas
Royal Caribbean
Fort Lauderdale (Port Everglades)
Caribbean - Eastern
Show
$1,335
$167
$1,465
$183
$2,014
$252
$4,514
$564
Select
-31%
23 Feb 20
6 Night Western Caribbean Cruise
Adventure Of The Seas
Royal Caribbean
Fort Lauderdale (Port Everglades)
Caribbean - Western
Show
$871
$145
$1,060
$177
$1,400
$233
$2,654
$442
Select
-43%
29 Feb 20
8 Night Southern Caribbean Cruise
Adventure Of The Seas
Royal Caribbean
Fort Lauderdale (Port Everglades)
Caribbean - Southern
Show
$1,686
$211
$2,025
$253
$3,076
$385
Select
-34%
08 Mar 20
6 Night Western Caribbean Cruise
Adventure Of The Seas
Royal Caribbean
Fort Lauderdale (Port Everglades)
Caribbean - Western
Show
$1,001
$167
$1,132
$189
$1,406
$234
$1,994
$332
Select
-40%
14 Mar 20
8 Night Eastern Caribbean Cruise
Adventure Of The Seas
Royal Caribbean
Fort Lauderdale (Port Everglades)
Caribbean - Eastern
Show
$1,406
$176
$1,478
$185
$1,660
$208
$2,797
$350
Select
-33%
22 Mar 20
6 Night Western Caribbean Cruise
Adventure Of The Seas
Royal Caribbean
Fort Lauderdale (Port Everglades)
Caribbean - Western
Show
$1,080
$180
$1,211
$202
$1,412
$235
$2,563
$427
Select
-45%
28 Mar 20
8 Night Southern Caribbean Cruise
Adventure Of The Seas
Royal Caribbean
Fort Lauderdale (Port Everglades)
Caribbean - Southern
Show
$1,560
$195
$1,828
$228
$2,702
$338
Select
-31%
05 Apr 20
6 Night Western Caribbean Cruise
Adventure Of The Seas
Royal Caribbean
Fort Lauderdale (Port Everglades)
Caribbean - Western
Show
$1,139
$190
$1,341
$224
$1,472
$245
$2,092
$349
Select
-39%
11 Apr 20
8 Night Eastern Caribbean Cruise
Adventure Of The Seas
Royal Caribbean
Fort Lauderdale (Port Everglades)
Caribbean - Eastern
Show
$1,362
$170
$1,603
$200
$1,759
$220
$2,386
$298
Select
-43%
19 Apr 20
6 Night Western Caribbean Cruise
Adventure Of The Seas
Royal Caribbean
Fort Lauderdale (Port Everglades)
Caribbean - Western
Show
$1,139
$190
$1,745
$291
$4,143
$691
Select
-32%
25 Apr 20
8 Night Southern Caribbean Cruise
Adventure Of The Seas
Royal Caribbean
Fort Lauderdale (Port Everglades)
Caribbean - Southern
Show
$1,712
$214
$1,966
$246
$2,802
$350
Select
-31%
03 May 20
12 Night Southern Caribbean Cruise
Adventure Of The Seas
Royal Caribbean
Fort Lauderdale (Port Everglades)
Caribbean - Southern
Show
$1,601
$133
$1,759
$147
$2,743
$229
$4,219
$352
Select
-35%
15 May 20
6 Night Canada & New England Cruise
Adventure Of The Seas
Royal Caribbean
Cape Liberty (Bayonne)
Canada / New England
Show
$976
$163
$1,322
$220
$1,563
$261
$2,738
$456
Select
-36%
21 May 20
9 Night Bermuda & Caribbean Cruise
Adventure Of The Seas
Royal Caribbean
Cape Liberty (Bayonne)
Caribbean - Eastern
Show
$1,778
$198
$2,274
$253
$2,783
$309
$4,551
$506
Select
-34%
30 May 20
5 Night Bermuda Cruise
Adventure Of The Seas
Royal Caribbean
Cape Liberty (Bayonne)
Bermuda
Show
$1,270
$254
$1,564
$313
$1,883
$377
$3,972
$794
Select
-31%
04 Jun 20
9 Night Canada & New England Cruise
Adventure Of The Seas
Royal Caribbean
Cape Liberty (Bayonne)
Canada / New England
Show
$1,279
$142
$1,501
$167
$2,009
$223
$3,630
$403
Select
-37%
10 Jul 20
5 Night Bermuda Cruise
Adventure Of The Seas
Royal Caribbean
Cape Liberty (Bayonne)
Bermuda
Show
$1,346
$269
$1,810
$362
$1,967
$393
$2,426
$485
Select
-33%
24 Jul 20
5 Night Bermuda Cruise
Adventure Of The Seas
Royal Caribbean
Cape Liberty (Bayonne)
Bermuda
Show
$1,281
$256
$1,659
$332
$1,908
$382
$2,812
$562
Select
-33%
29 Jul 20
10 Night Bermuda & Caribbean Cruise
Adventure Of The Seas
Royal Caribbean
Cape Liberty (Bayonne)
Caribbean - Eastern
Show
$2,144
$214
$2,464
$246
$3,228
$323
$3,885
$388
Select
-33%
08 Aug 20
5 Night Bermuda Cruise
Adventure Of The Seas
Royal Caribbean
Cape Liberty (Bayonne)
Bermuda
Show
$1,239
$248
$1,755
$351
$1,918
$384
$2,411
$482
Select
-36%
13 Aug 20
9 Night Bermuda & Caribbean Cruise
Adventure Of The Seas
Royal Caribbean
Cape Liberty (Bayonne)
Caribbean - Eastern
Show
$1,691
$188
$2,200
$244
$2,350
$261
$3,575
$397
Select
-33%
22 Aug 20
5 Night Bermuda Cruise
Adventure Of The Seas
Royal Caribbean
Cape Liberty (Bayonne)
Bermuda
Show
$1,265
$253
$1,494
$299
$1,715
$343
$2,261
$452
Select
-35%
27 Aug 20
9 Night Canada & New England Cruise
Adventure Of The Seas
Royal Caribbean
Cape Liberty (Bayonne)
Canada / New England
Show
$1,296
$144
$1,511
$168
$2,229
$248
$3,552
$395
Select
-36%
05 Sep 20
5 Night Bermuda Cruise
Adventure Of The Seas
Royal Caribbean
Cape Liberty (Bayonne)
Bermuda
Show
$970
$194
$1,134
$227
$1,539
$308
$2,047
$409
Select
-32%
10 Sep 20
9 Night Canada & New England Cruise
Adventure Of The Seas
Royal Caribbean
Cape Liberty (Bayonne)
Canada / New England
Show
$1,257
$140
$1,492
$166
$2,177
$242
$3,598
$400
Select
-37%
19 Sep 20
5 Night Bermuda Cruise
Adventure Of The Seas
Royal Caribbean
Cape Liberty (Bayonne)
Bermuda
Show
$902
$180
$1,169
$234
$1,450
$290
$1,975
$395
Select
-36%
24 Sep 20
9 Night Canada & New England Cruise
Adventure Of The Seas
Royal Caribbean
Cape Liberty (Bayonne)
Canada / New England
Show
$1,231
$137
$1,411
$157
$2,083
$231
$3,598
$400
Select
-33%
03 Oct 20
5 Night Bermuda Cruise
Adventure Of The Seas
Royal Caribbean
Cape Liberty (Bayonne)
Bermuda
Show
$902
$180
$1,065
$213
$1,320
$264
$1,903
$381
Select
-36%
08 Oct 20
9 Night Canada & New England Cruise
Adventure Of The Seas
Royal Caribbean
Cape Liberty (Bayonne)
Canada / New England
Show
$1,211
$135
$1,668
$185
$2,210
$246
$3,722
$414
Select
-37%
17 Oct 20
5 Night Bermuda Cruise
Adventure Of The Seas
Royal Caribbean
Cape Liberty (Bayonne)
Bermuda
Show
$905
$181
$1,068
$214
$1,278
$256
$1,903
$381
Select
-35%
22 Oct 20
9 Night Canada & New England Cruise
Adventure Of The Seas
Royal Caribbean
Cape Liberty (Bayonne)
Canada / New England
Show
$1,114
$124
$1,303
$145
$1,636
$182
$3,611
$401
Select
-37%
31 Oct 20
5 Night Bermuda Cruise
Adventure Of The Seas
Royal Caribbean
Cape Liberty (Bayonne)
Bermuda
Show
$849
$170
$973
$195
$1,188
$238
$1,922
$384
Select
-37%
05 Nov 20
11 Night Southern Caribbean Cruise
Adventure Of The Seas
Royal Caribbean
Cape Liberty (Bayonne)
Repositioning
Show
$1,185
$108
$1,649
$150
$2,302
$209
$4,135
$376
Select
-36%
16 Nov 20
4 Night Western Caribbean Cruise
Adventure Of The Seas
Royal Caribbean
Galveston
Caribbean - Western
Show
$482
$121
$619
$155
$788
$197
$1,427
$357
Select
-35%
20 Nov 20
5 Night Western Caribbean Cruise
Adventure Of The Seas
Royal Caribbean
Galveston
Caribbean - Western
Show
$789
$158
$850
$170
$1,111
$222
$1,657
$331
Select
-34%
25 Nov 20
5 Night Western Caribbean Cruise
Adventure Of The Seas
Royal Caribbean
Galveston
Caribbean - Western
Show
$847
$169
$1,094
$219
$1,276
$255
$1,936
$387
Select
-34%
30 Nov 20
4 Night Western Caribbean Cruise
Adventure Of The Seas
Royal Caribbean
Galveston
Caribbean - Western
Show
$527
$132
$632
$158
$788
$197
$1,290
$323
Select
-34%
04 Dec 20
5 Night Western Caribbean Cruise
Adventure Of The Seas
Royal Caribbean
Galveston
Caribbean - Western
Show
$691
$138
$763
$153
$928
$186
$1,599
$320
Select
-33%
09 Dec 20
5 Night Western Caribbean Cruise
Adventure Of The Seas
Royal Caribbean
Galveston
Caribbean - Western
Show
$624
$125
$761
$152
$917
$183
$1,512
$302
Select
-34%
14 Dec 20
4 Night Western Caribbean Cruise
Adventure Of The Seas
Royal Caribbean
Galveston
Caribbean - Western
Show
$480
$120
$624
$156
$787
$197
$1,277
$319
Select
-34%
18 Dec 20
5 Night Western Caribbean Cruise
Adventure Of The Seas
Royal Caribbean
Galveston
Caribbean - Western
Show
$795
$159
$952
$190
$1,142
$228
$1,800
$360
Select
-34%
23 Dec 20
5 Night Western Caribbean Holiday Cruise
Adventure Of The Seas
Royal Caribbean
Galveston
Caribbean - Western
Show
$1,036
$207
$1,186
$237
$1,375
$275
$2,107
$421
Select
-34%
28 Dec 20
7 Night Western Caribbean Holiday Cruise
Adventure Of The Seas
Royal Caribbean
Galveston
Caribbean - Western
Show
$1,506
$215
$1,748
$250
$2,322
$332
$2,947
$421
Select
-35%
04 Jan 21
4 Night Western Caribbean Cruise
Adventure Of The Seas
Royal Caribbean
Galveston
Caribbean - Western
Show
$592
$148
$769
$192
$867
$217
$1,454
$364
Select
-33%
08 Jan 21
5 Night Western Caribbean Cruise
Adventure Of The Seas
Royal Caribbean
Galveston
Caribbean - Western
Show
$732
$146
$909
$182
$1,038
$208
$1,574
$315
Select
-33%
13 Jan 21
5 Night Western Caribbean Cruise
Adventure Of The Seas
Royal Caribbean
Galveston
Caribbean - Western
Show
$691
$138
$854
$171
$1,011
$202
$1,532
$306
Select
-33%
18 Jan 21
4 Night Western Caribbean Cruise
Adventure Of The Seas
Royal Caribbean
Galveston
Caribbean - Western
Show
$671
$168
$867
$217
$932
$233
$1,358
$340
Select
-33%
22 Jan 21
5 Night Western Caribbean Cruise
Adventure Of The Seas
Royal Caribbean
Galveston
Caribbean - Western
Show
$699
$140
$823
$165
$1,019
$204
$1,535
$307
Select
-33%
27 Jan 21
5 Night Western Caribbean Cruise
Adventure Of The Seas
Royal Caribbean
Galveston
Caribbean - Western
Show
$658
$132
$796
$159
$985
$197
$1,493
$299
Select
-33%
01 Feb 21
4 Night Western Caribbean Cruise
Adventure Of The Seas
Royal Caribbean
Galveston
Caribbean - Western
Show
$761
$190
$983
$246
$1,153
$288
$1,825
$456
Select
-34%
05 Feb 21
5 Night Western Caribbean Cruise
Adventure Of The Seas
Royal Caribbean
Galveston
Caribbean - Western
Show
$699
$140
$862
$172
$1,038
$208
$1,633
$327
Select
-33%
10 Feb 21
5 Night Western Caribbean Cruise
Adventure Of The Seas
Royal Caribbean
Galveston
Caribbean - Western
Show
$671
$134
$796
$159
$985
$197
$1,493
$299
Select
-33%
15 Feb 21
4 Night Western Caribbean Cruise
Adventure Of The Seas
Royal Caribbean
Galveston
Caribbean - Western
Show
$613
$153
$769
$192
$886
$222
$1,358
$340
Select
-33%
19 Feb 21
5 Night Western Caribbean Cruise
Adventure Of The Seas
Royal Caribbean
Galveston
Caribbean - Western
Show
$699
$140
$862
$172
$1,038
$208
$1,535
$307
Select
-33%
24 Feb 21
5 Night Western Caribbean Cruise
Adventure Of The Seas
Royal Caribbean
Galveston
Caribbean - Western
Show
$671
$134
$796
$159
$985
$197
$1,493
$299
Select
-33%
01 Mar 21
4 Night Western Caribbean Cruise
Adventure Of The Seas
Royal Caribbean
Galveston
Caribbean - Western
Show
$613
$153
$769
$192
$939
$235
$1,358
$340
Select
-33%
05 Mar 21
5 Night Western Caribbean Cruise
Adventure Of The Seas
Royal Caribbean
Galveston
Caribbean - Western
Show
$921
$184
$1,130
$226
$1,267
$253
$1,816
$363
Select
-34%
10 Mar 21
5 Night Western Caribbean Cruise
Adventure Of The Seas
Royal Caribbean
Galveston
Caribbean - Western
Show
$893
$179
$1,102
$220
$1,239
$248
$1,774
$355
Select
-34%
15 Mar 21
4 Night Western Caribbean Cruise
Adventure Of The Seas
Royal Caribbean
Galveston
Caribbean - Western
Show
$613
$153
$769
$192
$939
$235
$1,358
$340
Select
-33%
19 Mar 21
5 Night Western Caribbean Cruise
Adventure Of The Seas
Royal Caribbean
Galveston
Caribbean - Western
Show
$725
$145
$862
$172
$1,071
$214
$1,535
$307
Select
-33%
24 Mar 21
5 Night Western Caribbean Cruise
Adventure Of The Seas
Royal Caribbean
Galveston
Caribbean - Western
Show
$698
$140
$828
$166
$1,043
$209
$1,493
$299
Select
-33%
29 Mar 21
4 Night Western Caribbean Cruise
Adventure Of The Seas
Royal Caribbean
Galveston
Caribbean - Western
Show
$828
$207
$939
$235
$1,063
$266
$1,430
$358
Select
-33%
02 Apr 21
5 Night Western Caribbean Cruise
Adventure Of The Seas
Royal Caribbean
Galveston
Caribbean - Western
Show
$960
$192
$1,130
$226
$1,319
$264
$1,881
$376
Select
-33%
07 Apr 21
5 Night Western Caribbean Cruise
Adventure Of The Seas
Royal Caribbean
Galveston
Caribbean - Western
Show
$691
$138
$841
$168
$1,024
$205
$1,506
$301
Select
-33%
12 Apr 21
4 Night Western Caribbean Cruise
Adventure Of The Seas
Royal Caribbean
Galveston
Caribbean - Western
Show
$613
$153
$769
$192
$900
$225
$1,358
$340
Select
-33%
16 Apr 21
5 Night Western Caribbean Cruise
Adventure Of The Seas
Royal Caribbean
Galveston
Caribbean - Western
Show
$705
$141
$862
$172
$1,038
$208
$1,535
$307
Select
-33%
10 Jan 20
12 Night South Pacific Cruise
Voyager Of The Seas
Royal Caribbean
Sydney
South Pacific
Show
$2,281
$190
$2,867
$239
Select
-51%
05 Feb 20
14 Night South Pacific & Fiji Cruise
Voyager Of The Seas
Royal Caribbean
Sydney
South Pacific
Show
$1,570
$112
$2,050
$146
$4,066
$290
Select
19 Feb 20
6 Night Tasmania Cruise
Voyager Of The Seas
Royal Caribbean
Sydney
Australia
Show
$1,447
$241
$1,784
$297
$2,102
$350
$2,677
$446
Select
-42%
25 Feb 20
11 Night South Pacific Cruise
Voyager Of The Seas
Royal Caribbean
Sydney
South Pacific
Show
$1,274
$116
$1,562
$142
$1,850
$168
$3,050
$277
Select
18 Mar 20
10 Night South Pacific Cruise
Voyager Of The Seas
Royal Caribbean
Sydney
South Pacific
Show
$1,176
$118
$1,511
$151
$1,750
$175
$3,013
$301
Select
-33%
28 Mar 20
2 Night Sampler Cruise
Voyager Of The Seas
Royal Caribbean
Sydney
Australia
$438
$219
$476
$238
$555
$277
$794
$397
Select
-59%
30 Mar 20
10 Night South Pacific Cruise
Voyager Of The Seas
Royal Caribbean
Sydney
South Pacific
Show
$1,175
$118
$1,560
$156
$1,847
$185
$2,903
$290
Select
09 Apr 20
10 Night South Pacific Cruise
Voyager Of The Seas
Royal Caribbean
Sydney
South Pacific
Show
$1,655
$166
$1,972
$197
$2,327
$233
$3,287
$329
Select
19 Apr 20
14 Night Asia Repositioning Cruise
Voyager Of The Seas
Royal Caribbean
Sydney
Australia
Show
$1,764
$126
$1,953
$139
Select
05 Oct 20
17 Night Hong Kong To Sydney Cruise
Voyager Of The Seas
Royal Caribbean
Hong Kong
Transpacific
Show
$1,644
$97
$2,067
$122
$2,825
$166
$4,375
$257
Select
-23%
22 Oct 20
3 Night Sampler Cruise
Voyager Of The Seas
Royal Caribbean
Sydney
Australia
$613
$204
$707
$236
$824
$275
$1,084
$361
Select
-53%
25 Oct 20
9 Night South Pacific Cruise
Voyager Of The Seas
Royal Caribbean
Sydney
South Pacific
Show
$1,553
$173
$1,600
$178
$2,350
$261
$2,705
$301
Select
03 Nov 20
10 Night South Pacific Cruise
Voyager Of The Seas
Royal Caribbean
Sydney
South Pacific
Show
$1,367
$137
$1,350
$135
$1,942
$194
$2,566
$257
Select
-26%
13 Nov 20
2 Night Sampler Cruise
Voyager Of The Seas
Royal Caribbean
Sydney
Australia
$421
$210
$468
$234
$485
$242
$725
$362
Select
-47%
15 Nov 20
9 Night South Pacific Cruise
Voyager Of The Seas
Royal Caribbean
Sydney
South Pacific
Show
$1,387
$154
$1,508
$168
$2,008
$223
$2,528
$281
Select
-10%
24 Nov 20
10 Night South Pacific Cruise
Voyager Of The Seas
Royal Caribbean
Sydney
South Pacific
Show
$1,463
$146
$1,369
$137
$1,484
$148
$2,706
$271
Select
-35%
04 Dec 20
12 Night South Pacific & Fiji Cruise
Voyager Of The Seas
Royal Caribbean
Sydney
South Pacific
Show
$1,657
$138
$1,565
$130
$1,642
$137
$3,111
$259
Select
-25%
16 Dec 20
10 Night South Pacific Holiday Cruise
Voyager Of The Seas
Royal Caribbean
Sydney
South Pacific
Show
$1,748
$175
$1,891
$189
$2,227
$223
$3,236
$324
Select
26 Dec 20
11 Night South Pacific Holiday Cruise
Voyager Of The Seas
Royal Caribbean
Sydney
South Pacific
Show
$1,943
$177
$2,181
$198
$2,675
$243
$3,877
$352
Select
-17%
06 Jan 21
13 Night South Pacific Cruise
Voyager Of The Seas
Royal Caribbean
Sydney
South Pacific
Show
$2,086
$160
$1,994
$153
$2,730
$210
$3,695
$284
Select
-23%
19 Jan 21
11 Night South Pacific Cruise
Voyager Of The Seas
Royal Caribbean
Sydney
South Pacific
Show
$1,464
$133
$1,704
$155
$1,975
$180
$2,762
$251
Select
-15%
11 Feb 21
2 Night Sampler Cruise
Voyager Of The Seas
Royal Caribbean
Sydney
Australia
$304
$152
$352
$176
$390
$195
$486
$243
Select
-11%
13 Feb 21
12 Night South Pacific Cruise
Voyager Of The Seas
Royal Caribbean
Sydney
South Pacific
Show
$1,335
$111
$1,565
$130
$1,642
$137
$3,211
$268
Select
-27%
25 Feb 21
6 Night Tasmania Cruise
Voyager Of The Seas
Royal Caribbean
Sydney
Australia
Show
$646
$108
$746
$124
$915
$153
$1,204
$201
Select
03 Mar 21
10 Night South Pacific Cruise
Voyager Of The Seas
Royal Caribbean
Sydney
South Pacific
Show
$1,369
$137
$1,560
$156
$1,745
$174
$2,342
$234
Select
-48%
13 Mar 21
10 Night South Pacific Cruise
Voyager Of The Seas
Royal Caribbean
Sydney
South Pacific
Show
$1,042
$104
$1,369
$137
$1,436
$144
$2,533
$253
Select
-36%
03 Apr 21
9 Night South Pacific Cruise
Voyager Of The Seas
Royal Caribbean
Sydney
South Pacific
Show
$1,328
$148
$1,463
$163
$1,738
$193
$2,214
$246
Select
-14%
23 Mar 21
11 Night South Pacific Cruise
Voyager Of The Seas
Royal Caribbean
Sydney
South Pacific
Show
$1,514
$138
$1,447
$132
$1,841
$167
$2,825
$257
Select
-26%
03 Jul 20
9 Night Best Of Japan Cruise
Voyager Of The Seas
Royal Caribbean
Hong Kong
Far East
Show
$1,427
$159
$1,565
$174
$1,640
$182
Select
-34%
17 Jul 20
9 Night Best Of Japan Cruise
Voyager Of The Seas
Royal Caribbean
Hong Kong
Far East
Show
$1,641
$182
$1,894
$210
$2,084
$232
Select
-35%
09 Aug 20
5 Night Okinawa & Ishigaki Cruise
Voyager Of The Seas
Royal Caribbean
Hong Kong
Far East
Show
$2,272
$454
$2,631
$526
$2,774
$555
Select
-38%
14 Aug 20
9 Night Best Of Japan Cruise
Voyager Of The Seas
Royal Caribbean
Hong Kong
Far East
Show
$1,746
$194
$1,983
$220
$2,282
$254
Select
-34%
23 Aug 20
5 Night Okinawa & Ishigaki Cruise
Voyager Of The Seas
Royal Caribbean
Hong Kong
Far East
Show
$2,194
$439
$2,560
$512
$2,708
$542
Select
-38%
28 Aug 20
5 Night Chan May & Nha Trang Cruise
Voyager Of The Seas
Royal Caribbean
Hong Kong
Far East
Show
$1,292
$258
$1,560
$312
$1,664
$333
Select
-37%
02 Sep 20
4 Night Kaohsiung & Taipei Cruise
Voyager Of The Seas
Royal Caribbean
Hong Kong
Far East
Show
$993
$248
$1,214
$304
$1,291
$323
Select
-37%
06 Sep 20
5 Night Okinawa & Ishigaki Cruise
Voyager Of The Seas
Royal Caribbean
Hong Kong
Far East
Show
$1,450
$290
$1,717
$343
$1,827
$365
Select
-37%
11 Sep 20
9 Night Best Of Japan Cruise
Voyager Of The Seas
Royal Caribbean
Hong Kong
Far East
Show
$1,580
$176
$1,786
$198
$2,069
$230
Select
-34%
20 Sep 20
5 Night Okinawa & Ishigaki Cruise
Voyager Of The Seas
Royal Caribbean
Hong Kong
Far East
Show
$1,450
$290
$1,717
$343
$1,827
$365
Select
-37%
25 Sep 20
5 Night Okinawa & Ishigaki Cruise
Voyager Of The Seas
Royal Caribbean
Hong Kong
Far East
Show
$1,450
$290
$1,717
$343
$1,827
$365
Select
-37%
26 Jul 20
7 Night Best Of Japan Cruise
Voyager Of The Seas
Royal Caribbean
Hong Kong
Far East
Show
$1,614
$231
$1,785
$255
$2,193
$313
Select
-35%
02 Aug 20
7 Night Best Of Japan Cruise
Voyager Of The Seas
Royal Caribbean
Tokyo
Far East
Show
$1,598
$228
$1,781
$254
$2,127
$304
Select
-31%
08 May 20
3 Night Penang Weekend Cruise
Voyager Of The Seas
Royal Caribbean
Singapore
Far East
Show
$586
$195
$632
$211
$663
$221
$807
$269
Select
-33%
11 May 20
4 Night Port Klang & Phuket Cruise
Voyager Of The Seas
Royal Caribbean
Singapore
Far East
Show
$680
$170
$730
$183
$777
$194
$976
$244
Select
-33%
15 May 20
3 Night Penang Weekend Cruise
Voyager Of The Seas
Royal Caribbean
Singapore
Far East
Show
$567
$189
$580
$193
$630
$210
$748
$249
Select
-33%
18 May 20
4 Night Port Klang & Phuket Cruise
Voyager Of The Seas
Royal Caribbean
Singapore
Far East
Show
$658
$165
$695
$174
$743
$186
$941
$235
Select
-33%
22 May 20
3 Night Penang Weekend Cruise
Voyager Of The Seas
Royal Caribbean
Singapore
Far East
Show
$654
$218
$735
$245
$734
$245
$881
$294
Select
-33%
29 May 20
3 Night Penang Weekend Cruise
Voyager Of The Seas
Royal Caribbean
Singapore
Far East
Show
$508
$169
$540
$180
$611
$204
$761
$254
Select
-33%
01 Jun 20
4 Night Port Klang & Phuket Cruise
Voyager Of The Seas
Royal Caribbean
Singapore
Far East
Show
$711
$178
$781
$195
$829
$207
$1,003
$251
Select
-32%
05 Jun 20
3 Night Penang Weekend Cruise
Voyager Of The Seas
Royal Caribbean
Singapore
Far East
Show
$542
$181
$575
$192
$630
$210
$768
$256
Select
-34%
08 Jun 20
4 Night Port Klang & Phuket Cruise
Voyager Of The Seas
Royal Caribbean
Singapore
Far East
Show
$603
$151
$629
$157
$677
$169
$1,007
$252
Select
-33%
12 Jun 20
3 Night Penang Weekend Cruise
Voyager Of The Seas
Royal Caribbean
Singapore
Far East
Show
$588
$196
$614
$205
$669
$223
$770
$257
Select
-34%
15 Jun 20
4 Night Penang & Phuket Cruise
Voyager Of The Seas
Royal Caribbean
Singapore
Far East
Show
$714
$179
$754
$188
$807
$202
$994
$248
Select
-33%
19 Jun 20
4 Night Penang & Phuket Cruise
Voyager Of The Seas
Royal Caribbean
Singapore
Far East
Show
$894
$223
$956
$239
$991
$248
$1,411
$353
Select
-33%
23 Jun 20
10 Night Singapore To Hong Kong Cruise
Voyager Of The Seas
Royal Caribbean
Singapore
Far East
Show
$2,053
$205
$2,224
$222
$2,327
$233
$4,394
$439
Select
-33%
03 May 20
5 Night Spice Of Southeast Asia Cruise
Voyager Of The Seas
Royal Caribbean
Singapore
Far East
Show
$717
$143
$795
$159
$898
$180
$1,139
$228
Select
-32%
30 Sep 20
5 Night Best Of Japan Cruise
Voyager Of The Seas
Royal Caribbean
Hong Kong
Far East
Show
$1,601
$320
$1,861
$372
$1,946
$389
$2,353
$471
Select
-38%
12 Apr 21
14 Night Asia Reposition Cruise
Voyager Of The Seas
Royal Caribbean
Sydney
Australia
Show
$1,976
$141
$2,264
$162
$2,745
$196
$3,889
$278
Select
-50%
14 Dec 19
5 Night Western Caribbean Cruise
Brilliance Of The Seas
Royal Caribbean
Tampa
Caribbean - Western
Show
$1,110
$222
$2,010
$402
Select
-40%
02 Jan 20
4 Night Western Caribbean Cruise
Brilliance Of The Seas
Royal Caribbean
Tampa
Caribbean - Western
Show
$1,686
$421
Select
-32%
06 Jan 20
5 Night Key West Cruise
Brilliance Of The Seas
Royal Caribbean
Tampa
Caribbean - Western
Show
$1,344
$269
Select
-40%
11 Jan 20
5 Night Western Caribbean Cruise
Brilliance Of The Seas
Royal Caribbean
Tampa
Caribbean - Western
Show
$1,085
$217
$1,105
$221
$1,373
$275
$3,227
$645
Select
-44%
16 Jan 20
4 Night Western Caribbean Cruise
Brilliance Of The Seas
Royal Caribbean
Tampa
Caribbean - Western
Show
$889
$222
$974
$244
$1,079
$270
Select
-35%
25 Jan 20
5 Night Western Caribbean Cruise
Brilliance Of The Seas
Royal Caribbean
Tampa
Caribbean - Western
Show
$910
$182
$1,001
$200
$1,367
$273
Select
-38%
30 Jan 20
4 Night Western Caribbean Cruise
Brilliance Of The Seas
Royal Caribbean
Tampa
Caribbean - Western
Show
$942
$235
$1,007
$252
$1,091
$273
$1,418
$354
Select
-37%
03 Feb 20
5 Night Key West Cruise
Brilliance Of The Seas
Royal Caribbean
Tampa
Caribbean - Western
Show
$1,084
$217
$1,227
$245
$1,613
$323
$3,461
$692
Select
-43%
08 Feb 20
5 Night Western Caribbean Cruise
Brilliance Of The Seas
Royal Caribbean
Tampa
Caribbean - Western
Show
$982
$196
$1,157
$231
$1,497
$299
Select
-32%
18 Feb 20
4 Night Western Caribbean Cruise
Brilliance Of The Seas
Royal Caribbean
Tampa
Caribbean - Western
Show
$921
$230
$1,019
$255
$1,059
$265
$1,365
$341
Select
-45%
22 Feb 20
5 Night Western Caribbean Cruise
Brilliance Of The Seas
Royal Caribbean
Tampa
Caribbean - Western
Show
$1,052
$210
$1,138
$228
$1,118
$224
$1,961
$392
Select
-42%
27 Feb 20
4 Night Western Caribbean Cruise
Brilliance Of The Seas
Royal Caribbean
Tampa
Caribbean - Western
Show
$1,007
$252
$935
$234
$1,157
$289
$1,830
$457
Select
-34%
02 Mar 20
5 Night Key West Cruise
Brilliance Of The Seas
Royal Caribbean
Tampa
Caribbean - Western
Show
$960
$192
$1,287
$257
$1,234
$247
$1,919
$384
Select
-34%
07 Mar 20
5 Night Western Caribbean Cruise
Brilliance Of The Seas
Royal Caribbean
Tampa
Caribbean - Western
Show
$1,130
$226
$1,293
$259
$1,385
$277
$1,795
$359
Select
-34%
12 Mar 20
4 Night Western Caribbean Cruise
Brilliance Of The Seas
Royal Caribbean
Tampa
Caribbean - Western
Show
$1,096
$274
$1,350
$338
$2,297
$574
Select
-42%
16 Mar 20
5 Night Key West Cruise
Brilliance Of The Seas
Royal Caribbean
Tampa
Caribbean - Western
Show
$1,460
$292
$1,793
$359
$1,975
$395
Select
-35%
21 Mar 20
5 Night Western Caribbean Cruise
Brilliance Of The Seas
Royal Caribbean
Tampa
Caribbean - Western
Show
$1,156
$231
$1,032
$206
$1,333
$267
Select
-40%
26 Mar 20
4 Night Western Caribbean Cruise
Brilliance Of The Seas
Royal Caribbean
Tampa
Caribbean - Western
Show
$946
$237
$1,300
$325
$1,398
$349
Select
-45%
30 Mar 20
5 Night Key West Cruise
Brilliance Of The Seas
Royal Caribbean
Tampa
Caribbean - Western
Show
$1,207
$241
$1,279
$256
$1,547
$309
$2,205
$441
Select
-32%
04 Apr 20
5 Night Western Caribbean Cruise
Brilliance Of The Seas
Royal Caribbean
Tampa
Caribbean - Western
Show
$1,450
$290
$1,874
$375
$2,494
$499
Select
-38%
09 Apr 20
4 Night Western Caribbean Cruise
Brilliance Of The Seas
Royal Caribbean
Tampa
Caribbean - Western
Show
$1,090
$273
$934
$233
$1,136
$284
$1,599
$400
Select
-43%
13 Apr 20
5 Night Key West Cruise
Brilliance Of The Seas
Royal Caribbean
Tampa
Caribbean - Western
Show
$1,076
$215
$1,188
$238
$1,475
$295
$2,127
$425
Select
-32%
18 Apr 20
5 Night Western Caribbean Cruise
Brilliance Of The Seas
Royal Caribbean
Tampa
Caribbean - Western
Show
$1,104
$221
$1,072
$214
$1,385
$277
$2,031
$406
Select
-37%
23 Apr 20
4 Night Western Caribbean Cruise
Brilliance Of The Seas
Royal Caribbean
Tampa
Caribbean - Western
Show
$954
$239
$1,117
$279
$1,222
$305
$1,411
$353
Select
-44%
27 Apr 20
5 Night Key West Cruise
Brilliance Of The Seas
Royal Caribbean
Tampa
Caribbean - Western
Show
$1,156
$231
$1,169
$234
$1,345
$269
$3,023
$605
Select
-31%
17 Sep 20
10 Night Canada Cruise
Brilliance Of The Seas
Royal Caribbean
Boston
Canada / New England
Show
$2,277
$228
$2,747
$275
$4,170
$417
$6,103
$610
Select
-33%
27 Sep 20
7 Night Canada Cruise
Brilliance Of The Seas
Royal Caribbean
Boston
Canada / New England
Show
$1,335
$191
$1,550
$221
$2,529
$361
$3,684
$526
Select
-33%
04 Oct 20
7 Night Canada Cruise
Brilliance Of The Seas
Royal Caribbean
Boston
Canada / New England
Show
$1,381
$197
$1,734
$248
$2,699
$386
$3,763
$538
Select
-33%
11 Oct 20
7 Night Canada Cruise
Brilliance Of The Seas
Royal Caribbean
Boston
Canada / New England
Show
$1,257
$180
$1,420
$203
$2,112
$302
$3,450
$493
Select
-36%
18 Oct 20
7 Night Canada Cruise
Brilliance Of The Seas
Royal Caribbean
Boston
Canada / New England
Show
$1,257
$180
$1,393
$199
$2,053
$293
$3,313
$473
Select
-35%
25 Oct 20
11 Night Beantown & Beaches Cruise
Brilliance Of The Seas
Royal Caribbean
Boston
Repositioning
Show
$1,316
$120
$1,557
$142
$2,378
$216
Select
-30%
17 May 20
12 Night Baltic Cruise
Brilliance Of The Seas
Royal Caribbean
Amsterdam
Europe
Show
$2,605
$217
$2,996
$250
$3,486
$290
$4,739
$395
Select
-35%
12 Jun 20
10 Night British Isles Cruise
Brilliance Of The Seas
Royal Caribbean
Amsterdam
Europe - Northern
Show
$2,303
$230
$2,571
$257
$3,903
$390
$5,939
$594
Select
-39%
22 Jun 20
12 Night Baltic Cruise
Brilliance Of The Seas
Royal Caribbean
Amsterdam
Europe
Show
$2,705
$225
$2,888
$241
$3,587
$299
Select
-35%
04 Jul 20
12 Night Baltic Cruise
Brilliance Of The Seas
Royal Caribbean
Amsterdam
Europe
Show
$2,574
$214
$2,887
$241
$3,754
$313
$5,974
$498
Select
-31%
16 Jul 20
12 Night British Isles Cruise
Brilliance Of The Seas
Royal Caribbean
Amsterdam
Europe - Northern
Show
$2,731
$228
$3,150
$263
$3,289
$274
Select
-36%
28 Jul 20
12 Night Baltic Cruise
Brilliance Of The Seas
Royal Caribbean
Amsterdam
Europe
Show
$2,517
$210
$2,804
$234
$3,506
$292
$5,898
$491
Select
-38%
21 Aug 20
12 Night Baltic Cruise
Brilliance Of The Seas
Royal Caribbean
Amsterdam
Europe
Show
$2,520
$210
$2,905
$242
$3,857
$321
Select
-35%
09 Aug 20
12 Night Iceland & Norway Cruise
Brilliance Of The Seas
Royal Caribbean
Amsterdam
Europe - Northern
Show
$2,476
$206
$3,005
$250
$3,376
$281
Select
-30%
14 Nov 20
5 Night Western Caribbean Cruise
Brilliance Of The Seas
Royal Caribbean
Tampa
Caribbean - Western
Show
$870
$174
$961
$192
$1,235
$247
$1,679
$336
Select
-33%
19 Nov 20
4 Night Western Caribbean Cruise
Brilliance Of The Seas
Royal Caribbean
Tampa
Caribbean - Western
Show
$685
$171
$718
$179
$959
$240
$1,501
$375
Select
-33%
23 Nov 20
5 Night Western Caribbean Cruise
Brilliance Of The Seas
Royal Caribbean
Tampa
Caribbean - Western
Show
$927
$185
$973
$195
$1,293
$259
$1,834
$367
Select
-33%
28 Nov 20
5 Night Western Caribbean Cruise
Brilliance Of The Seas
Royal Caribbean
Tampa
Caribbean - Western
Show
$744
$149
$809
$162
$1,109
$222
$1,455
$291
Select
-33%
17 Dec 20
4 Night Western Caribbean Cruise
Brilliance Of The Seas
Royal Caribbean
Tampa
Caribbean - Western
Show
$862
$215
$887
$222
$1,149
$287
$1,762
$441
Select
-34%
21 Dec 20
5 Night Western Caribbean Holiday Cruise
Brilliance Of The Seas
Royal Caribbean
Tampa
Caribbean - Western
Show
$992
$198
$1,129
$226
$1,507
$301
$2,297
$459
Select
-34%
26 Dec 20
5 Night Western Caribbean Cruise
Brilliance Of The Seas
Royal Caribbean
Tampa
Caribbean - Western
Show
$1,129
$226
$1,214
$243
$1,422
$284
$2,317
$463
Select
-34%
31 Dec 20
4 Night Western Caribbean Holiday Cruise
Brilliance Of The Seas
Royal Caribbean
Tampa
Caribbean - Western
Show
$914
$228
$986
$246
$1,495
$374
$2,252
$563
Select
-34%
04 Jan 21
5 Night Western Caribbean Cruise
Brilliance Of The Seas
Royal Caribbean
Tampa
Caribbean - Western
Show
$698
$140
$764
$153
$1,031
$206
$1,397
$279
Select
-33%
09 Jan 21
5 Night Western Caribbean Cruise
Brilliance Of The Seas
Royal Caribbean
Tampa
Caribbean - Western
Show
$760
$152
$813
$163
$1,119
$224
$1,440
$288
Select
-33%
14 Jan 21
4 Night Western Caribbean Cruise
Brilliance Of The Seas
Royal Caribbean
Tampa
Caribbean - Western
Show
$704
$176
$731
$183
$1,109
$277
$1,364
$341
Select
-33%
18 Jan 21
5 Night Western Caribbean Cruise
Brilliance Of The Seas
Royal Caribbean
Tampa
Caribbean - Western
Show
$703
$141
$774
$155
$1,035
$207
$1,401
$280
Select
-33%
23 Jan 21
5 Night Western Caribbean Cruise
Brilliance Of The Seas
Royal Caribbean
Tampa
Caribbean - Western
Show
$760
$152
$813
$163
$1,119
$224
$1,440
$288
Select
-33%
28 Jan 21
4 Night Western Caribbean Cruise
Brilliance Of The Seas
Royal Caribbean
Tampa
Caribbean - Western
Show
$617
$154
$675
$169
$931
$233
$1,335
$334
Select
-33%
01 Feb 21
5 Night Western Caribbean Cruise
Brilliance Of The Seas
Royal Caribbean
Tampa
Caribbean - Western
Show
$700
$140
$771
$154
$1,032
$206
$1,437
$287
Select
-33%
06 Feb 21
5 Night Western Caribbean Cruise
Brilliance Of The Seas
Royal Caribbean
Tampa
Caribbean - Western
Show
$754
$151
$800
$160
$1,100
$220
$1,433
$287
Select
-33%
16 Feb 21
4 Night Western Caribbean Cruise
Brilliance Of The Seas
Royal Caribbean
Tampa
Caribbean - Western
Show
$597
$149
$656
$164
$898
$224
$1,315
$329
Select
-33%
20 Feb 21
5 Night Western Caribbean Cruise
Brilliance Of The Seas
Royal Caribbean
Tampa
Caribbean - Western
Show
$760
$152
$813
$163
$1,119
$224
$1,440
$288
Select
-33%
25 Feb 21
4 Night Western Caribbean Cruise
Brilliance Of The Seas
Royal Caribbean
Tampa
Caribbean - Western
Show
$617
$154
$675
$169
$931
$233
$1,335
$334
Select
-33%
01 Mar 21
5 Night Western Caribbean Cruise
Brilliance Of The Seas
Royal Caribbean
Tampa
Caribbean - Western
Show
$700
$140
$745
$149
$1,032
$206
$1,489
$298
Select
-33%
06 Mar 21
5 Night Western Caribbean Cruise
Brilliance Of The Seas
Royal Caribbean
Tampa
Caribbean - Western
Show
$787
$157
$813
$163
$1,119
$224
$1,570
$314
Select
-33%
11 Mar 21
4 Night Western Caribbean Cruise
Brilliance Of The Seas
Royal Caribbean
Tampa
Caribbean - Western
Show
$675
$169
$715
$179
$1,002
$250
$1,589
$397
Select
-34%
15 Mar 21
5 Night Western Caribbean Cruise
Brilliance Of The Seas
Royal Caribbean
Tampa
Caribbean - Western
Show
$804
$161
$863
$173
$1,176
$235
$1,718
$344
Select
-33%
20 Mar 21
5 Night Western Caribbean Cruise
Brilliance Of The Seas
Royal Caribbean
Tampa
Caribbean - Western
Show
$891
$178
$937
$187
$1,250
$250
$1,786
$357
Select
-34%
25 Mar 21
4 Night Western Caribbean Cruise
Brilliance Of The Seas
Royal Caribbean
Tampa
Caribbean - Western
Show
$675
$169
$715
$179
$1,002
$250
$1,589
$397
Select
-34%
29 Mar 21
5 Night Western Caribbean Cruise
Brilliance Of The Seas
Royal Caribbean
Tampa
Caribbean - Western
Show
$843
$169
$889
$178
$1,222
$244
$1,777
$355
Select
-34%
03 Apr 21
5 Night Western Caribbean Cruise
Brilliance Of The Seas
Royal Caribbean
Tampa
Caribbean - Western
Show
$891
$178
$937
$187
$1,250
$250
$1,786
$357
Select
-34%
08 Apr 21
4 Night Western Caribbean Cruise
Brilliance Of The Seas
Royal Caribbean
Tampa
Caribbean - Western
Show
$617
$154
$675
$169
$917
$229
$1,335
$334
Select
-33%
12 Apr 21
5 Night Western Caribbean Cruise
Brilliance Of The Seas
Royal Caribbean
Tampa
Caribbean - Western
Show
$856
$171
$922
$184
$1,333
$267
$1,979
$396
Select
-33%
17 Apr 21
5 Night Western Caribbean Cruise
Brilliance Of The Seas
Royal Caribbean
Tampa
Caribbean - Western
Show
$983
$197
$1,016
$203
$1,446
$289
$2,086
$417
Select
-33%
22 Apr 21
4 Night Western Caribbean Cruise
Brilliance Of The Seas
Royal Caribbean
Tampa
Caribbean - Western
Show
$761
$190
$852
$213
$1,192
$298
$1,785
$446
Select
-33%
26 Apr 21
5 Night Western Caribbean Cruise
Brilliance Of The Seas
Royal Caribbean
Tampa
Caribbean - Western
Show
$856
$171
$922
$184
$1,333
$267
$1,979
$396
Select
-33%
10 Dec 20
7 Night Western Caribbean Cruise
Brilliance Of The Seas
Royal Caribbean
Tampa
Caribbean - Western
Show
$985
$141
$1,050
$150
$1,422
$203
$2,368
$338
Select
-35%
12 Sep 21
8 Night Canada Cruise
Brilliance Of The Seas
Royal Caribbean
Boston
Canada / New England
Show
$1,818
$227
$2,028
$253
$3,026
$378
$4,599
$575
Select
-36%
20 Sep 21
6 Night Canada Cruise
Brilliance Of The Seas
Royal Caribbean
Boston
Canada / New England
Show
$1,427
$238
$1,578
$263
$2,335
$389
$3,510
$585
Select
-36%
26 Sep 21
7 Night Canada Cruise
Brilliance Of The Seas
Royal Caribbean
Boston
Canada / New England
Show
$1,628
$233
$1,805
$258
$2,686
$384
$4,050
$579
Select
-36%
03 Oct 21
7 Night Canada Cruise
Brilliance Of The Seas
Royal Caribbean
Boston
Canada / New England
Show
$1,590
$227
$1,805
$258
$2,686
$384
$4,050
$579
Select
-36%
10 Oct 21
7 Night Canada Cruise
Brilliance Of The Seas
Royal Caribbean
Boston
Canada / New England
Show
$1,590
$227
$1,805
$258
$2,686
$384
$4,011
$573
Select
-36%
17 Oct 21
7 Night Canada Cruise
Brilliance Of The Seas
Royal Caribbean
Boston
Canada / New England
Show
$1,563
$223
$1,792
$256
$2,523
$360
$3,973
$568
Select
-36%
24 Oct 21
7 Night Canada Cruise
Brilliance Of The Seas
Royal Caribbean
Boston
Canada / New England
Show
$1,551
$222
$1,779
$254
$2,490
$356
$3,933
$562
Select
-36%
31 Oct 21
7 Night Canada Cruise
Brilliance Of The Seas
Royal Caribbean
Boston
Canada / New England
Show
$1,537
$220
$1,766
$252
$2,465
$352
$3,887
$555
Select
-36%
07 Nov 21
11 Night Boston To Tampa Cruise
Brilliance Of The Seas
Royal Caribbean
Boston
Repositioning
Show
$1,438
$131
$1,653
$150
$2,449
$223
$3,396
$309
Select
-36%
13 Dec 19
5 Night Western Caribbean Cruise
Enchantment Of The Seas
Royal Caribbean
Galveston
Caribbean - Western
Show
$657
$131
Select
-27%
18 Dec 19
5 Night Western Caribbean Cruise
Enchantment Of The Seas
Royal Caribbean
Galveston
Caribbean - Western
Show
$864
$173
$1,256
$251
$1,901
$380
Select
-30%
23 Dec 19
4 Night Western Caribbean Holiday
Enchantment Of The Seas
Royal Caribbean
Galveston
Caribbean - Western
Show
$1,636
$409
Select
-30%
02 Jan 20
4 Night Western Caribbean Cruise
Enchantment Of The Seas
Royal Caribbean
Galveston
Caribbean - Western
Show
$879
$220
$1,107
$277
$1,095
$274
$2,033
$508
Select
-31%
06 Jan 20
4 Night Western Caribbean Cruise
Enchantment Of The Seas
Royal Caribbean
Galveston
Caribbean - Western
Show
$971
$243
$938
$235
$1,140
$285
$1,408
$352
Select
-31%
10 Jan 20
5 Night Western Caribbean Cruise
Enchantment Of The Seas
Royal Caribbean
Galveston
Caribbean - Western
Show
$592
$118
$664
$133
$2,465
$493
Select
-31%
15 Jan 20
5 Night Western Caribbean Cruise
Enchantment Of The Seas
Royal Caribbean
Galveston
Caribbean - Western
Show
$539
$108
$572
$114
$1,218
$244
Select
-34%
20 Jan 20
4 Night Western Caribbean Cruise
Enchantment Of The Seas
Royal Caribbean
Galveston
Caribbean - Western
Show
$546
$137
$572
$143
$859
$215
$2,075
$519
Select
-32%
24 Jan 20
5 Night Western Caribbean Cruise
Enchantment Of The Seas
Royal Caribbean
Galveston
Caribbean - Western
Show
$552
$110
$592
$118
$1,042
$208
$1,434
$287
Select
-33%
29 Jan 20
5 Night Western Caribbean Cruise
Enchantment Of The Seas
Royal Caribbean
Galveston
Caribbean - Western
Show
$527
$105
$553
$111
$912
$182
$1,388
$278
Select
-33%
03 Feb 20
4 Night Western Caribbean Cruise
Enchantment Of The Seas
Royal Caribbean
Galveston
Caribbean - Western
Show
$592
$148
$617
$154
$1,101
$275
$1,146
$287
Select
-34%
07 Feb 20
5 Night Western Caribbean Cruise
Enchantment Of The Seas
Royal Caribbean
Galveston
Caribbean - Western
Show
$617
$123
$689
$138
$4,283
$857
Select
-31%
12 Feb 20
5 Night Western Caribbean Cruise
Enchantment Of The Seas
Royal Caribbean
Galveston
Caribbean - Western
Show
$663
$133
$859
$172
$1,388
$278
Select
-35%
17 Feb 20
4 Night Western Caribbean Cruise
Enchantment Of The Seas
Royal Caribbean
Galveston
Caribbean - Western
Show
$474
$119
$514
$128
$808
$202
$866
$217
Select
-40%
21 Feb 20
5 Night Western Caribbean Cruise
Enchantment Of The Seas
Royal Caribbean
Galveston
Caribbean - Western
Show
$606
$121
$665
$133
$1,272
$254
$1,695
$339
Select
-34%
26 Feb 20
5 Night Western Caribbean Cruise
Enchantment Of The Seas
Royal Caribbean
Galveston
Caribbean - Western
Show
$528
$106
$619
$124
$1,122
$224
$1,612
$322
Select
-38%
02 Mar 20
4 Night Western Caribbean Cruise
Enchantment Of The Seas
Royal Caribbean
Galveston
Caribbean - Western
Show
$592
$148
$592
$148
$1,036
$259
$1,074
$269
Select
-33%
06 Mar 20
5 Night Western Caribbean Cruise
Enchantment Of The Seas
Royal Caribbean
Galveston
Caribbean - Western
Show
$859
$172
$861
$172
$1,298
$260
$1,753
$351
Select
-39%
11 Mar 20
5 Night Western Caribbean Cruise
Enchantment Of The Seas
Royal Caribbean
Galveston
Caribbean - Western
Show
$788
$158
$886
$177
$1,323
$265
$1,702
$340
Select
-35%
16 Mar 20
4 Night Western Caribbean Cruise
Enchantment Of The Seas
Royal Caribbean
Galveston
Caribbean - Western
Show
$944
$236
$964
$241
$1,303
$326
$1,857
$464
Select
-34%
20 Mar 20
5 Night Western Caribbean Cruise
Enchantment Of The Seas
Royal Caribbean
Galveston
Caribbean - Western
Show
$789
$158
$832
$166
$1,289
$258
$1,616
$323
Select
-34%
25 Mar 20
5 Night Western Caribbean Cruise
Enchantment Of The Seas
Royal Caribbean
Galveston
Caribbean - Western
Show
$724
$145
$757
$151
$1,226
$245
$1,769
$354
Select
-35%
13 Apr 20
4 Night Western Caribbean Cruise
Enchantment Of The Seas
Royal Caribbean
Galveston
Caribbean - Western
Show
$617
$154
$644
$161
$990
$247
$1,582
$396
Select
-34%
17 Apr 20
5 Night Western Caribbean Cruise
Enchantment Of The Seas
Royal Caribbean
Galveston
Caribbean - Western
Show
$633
$127
$717
$143
$1,272
$254
$1,773
$355
Select
-34%
22 Apr 20
5 Night Western Caribbean Cruise
Enchantment Of The Seas
Royal Caribbean
Galveston
Caribbean - Western
Show
$698
$140
$796
$159
$1,122
$224
$1,769
$354
Select
-34%
27 Apr 20
4 Night Western Caribbean Cruise
Enchantment Of The Seas
Royal Caribbean
Galveston
Caribbean - Western
Show
$579
$145
$644
$161
$833
$208
$1,342
$336
Select
-34%
01 May 20
5 Night Western Caribbean Cruise
Enchantment Of The Seas
Royal Caribbean
Galveston
Caribbean - Western
Show
$652
$130
$744
$149
$1,180
$236
$1,676
$335
Select
-36%
06 May 20
5 Night Western Caribbean Cruise
Enchantment Of The Seas
Royal Caribbean
Galveston
Caribbean - Western
Show
$690
$138
$729
$146
$1,036
$207
$1,675
$335
Select
-34%
11 May 20
4 Night Western Caribbean Cruise
Enchantment Of The Seas
Royal Caribbean
Galveston
Caribbean - Western
Show
$677
$169
$689
$172
$1,172
$293
$1,511
$378
Select
-34%
15 May 20
5 Night Western Caribbean Cruise
Enchantment Of The Seas
Royal Caribbean
Galveston
Caribbean - Western
Show
$691
$138
$756
$151
$1,090
$218
$1,677
$335
Select
-34%
20 May 20
5 Night Western Caribbean Cruise
Enchantment Of The Seas
Royal Caribbean
Galveston
Caribbean - Western
Show
$813
$163
$827
$165
$1,225
$245
$1,782
$356
Select
-34%
25 May 20
4 Night Western Caribbean Cruise
Enchantment Of The Seas
Royal Caribbean
Galveston
Caribbean - Western
Show
$775
$194
$866
$216
$1,140
$285
$1,478
$370
Select
-36%
12 Jun 20
7 Night Bahamas & Perfect Day Cruise
Enchantment Of The Seas
Royal Caribbean
Galveston
Bahamas
Show
$1,378
$197
$1,476
$211
$2,781
$397
$3,862
$552
Select
-34%
19 Jun 20
7 Night Bahamas & Perfect Day Cruise
Enchantment Of The Seas
Royal Caribbean
Galveston
Bahamas
Show
$1,149
$164
$1,273
$182
$3,144
$449
Select
-31%
01 Jul 20
5 Night Western Caribbean Cruise
Enchantment Of The Seas
Royal Caribbean
Galveston
Caribbean - Western
Show
$1,153
$231
$1,271
$254
$1,747
$349
$2,405
$481
Select
-38%
06 Jul 20
4 Night Western Caribbean Cruise
Enchantment Of The Seas
Royal Caribbean
Galveston
Caribbean - Western
Show
$990
$247
$1,127
$282
$1,885
$471
$2,204
$551
Select
-37%
10 Jul 20
7 Night Bahamas & Perfect Day Cruise
Enchantment Of The Seas
Royal Caribbean
Galveston
Bahamas
Show
$1,423
$203
$1,593
$228
$2,200
$314
$3,486
$498
Select
-35%
17 Jul 20
7 Night Bahamas & Perfect Day Cruise
Enchantment Of The Seas
Royal Caribbean
Galveston
Bahamas
Show
$1,150
$164
$1,215
$174
$1,945
$278
$3,414
$488
Select
-37%
24 Jul 20
5 Night Western Caribbean Cruise
Enchantment Of The Seas
Royal Caribbean
Galveston
Caribbean - Western
Show
$1,128
$226
$1,279
$256
$1,703
$341
$2,054
$411
Select
-35%
29 Jul 20
5 Night Western Caribbean Cruise
Enchantment Of The Seas
Royal Caribbean
Galveston
Caribbean - Western
Show
$1,118
$224
$1,184
$237
$1,680
$336
$2,053
$411
Select
-35%
03 Aug 20
4 Night Western Caribbean Cruise
Enchantment Of The Seas
Royal Caribbean
Galveston
Caribbean - Western
Show
$853
$213
$885
$221
$1,199
$300
$1,426
$356
Select
-35%
21 Aug 20
5 Night Western Caribbean Cruise
Enchantment Of The Seas
Royal Caribbean
Galveston
Caribbean - Western
Show
$633
$127
$731
$146
$1,062
$212
$1,545
$309
Select
-34%
26 Aug 20
5 Night Western Caribbean Cruise
Enchantment Of The Seas
Royal Caribbean
Galveston
Caribbean - Western
Show
$631
$126
$684
$137
$1,151
$230
$1,556
$311
Select
-34%
31 Aug 20
4 Night Western Caribbean Cruise
Enchantment Of The Seas
Royal Caribbean
Galveston
Caribbean - Western
Show
$651
$163
$696
$174
$1,080
$270
$1,348
$337
Select
-34%
04 Sep 20
5 Night Western Caribbean Cruise
Enchantment Of The Seas
Royal Caribbean
Galveston
Caribbean - Western
Show
$731
$146
$796
$159
$1,193
$239
$1,502
$300
Select
-34%
09 Sep 20
5 Night Western Caribbean Cruise
Enchantment Of The Seas
Royal Caribbean
Galveston
Caribbean - Western
Show
$679
$136
$712
$142
$1,160
$232
$1,502
$300
Select
-34%
14 Sep 20
4 Night Western Caribbean Cruise
Enchantment Of The Seas
Royal Caribbean
Galveston
Caribbean - Western
Show
$480
$120
$518
$130
$832
$208
$1,185
$296
Select
-34%
02 Oct 20
5 Night Western Caribbean Cruise
Enchantment Of The Seas
Royal Caribbean
Galveston
Caribbean - Western
Show
$690
$138
$762
$152
$1,153
$231
$1,506
$301
Select
-34%
07 Oct 20
5 Night Western Caribbean Cruise
Enchantment Of The Seas
Royal Caribbean
Galveston
Caribbean - Western
Show
$698
$140
$757
$151
$1,147
$229
$1,506
$301
Select
-35%
12 Oct 20
4 Night Western Caribbean Cruise
Enchantment Of The Seas
Royal Caribbean
Galveston
Caribbean - Western
Show
$486
$121
$631
$158
$1,570
$392
$2,444
$611
Select
-37%
21 Nov 20
7 Night Southern Caribbean Cruise
Enchantment Of The Seas
Royal Caribbean
San Juan
Caribbean - Southern
Show
$934
$133
$1,104
$158
$2,501
$357
Select
-35%
28 Nov 20
7 Night Southern Caribbean Cruise
Enchantment Of The Seas
Royal Caribbean
San Juan
Caribbean - Southern
Show
$877
$125
$936
$134
$2,052
$293
$2,188
$313
Select
-34%
05 Dec 20
7 Night Southern Caribbean Cruise
Enchantment Of The Seas
Royal Caribbean
San Juan
Caribbean - Southern
Show
$888
$127
$921
$132
$1,861
$266
$2,181
$312
Select
-35%
12 Dec 20
7 Night Southern Caribbean Cruise
Enchantment Of The Seas
Royal Caribbean
San Juan
Caribbean - Southern
Show
$870
$124
$954
$136
$1,666
$238
$2,188
$313
Select
-34%
19 Dec 20
7 Night Southern Caribbean Holiday
Enchantment Of The Seas
Royal Caribbean
San Juan
Caribbean - Southern
Show
$960
$137
$1,045
$149
$1,809
$258
$2,650
$379
Select
-35%
02 Jan 21
7 Night Southern Caribbean Cruise
Enchantment Of The Seas
Royal Caribbean
San Juan
Caribbean - Southern
Show
$934
$133
$1,006
$144
$1,822
$260
$2,142
$306
Select
-34%
16 Jan 21
7 Night Southern Caribbean Cruise
Enchantment Of The Seas
Royal Caribbean
San Juan
Caribbean - Southern
Show
$953
$136
$1,018
$145
$1,834
$262
$2,155
$308
Select
-34%
23 Jan 21
7 Night Southern Caribbean Cruise
Enchantment Of The Seas
Royal Caribbean
San Juan
Caribbean - Southern
Show
$948
$135
$1,013
$145
$1,823
$260
$2,358
$337
Select
-32%
30 Jan 21
7 Night Southern Caribbean Cruise
Enchantment Of The Seas
Royal Caribbean
San Juan
Caribbean - Southern
Show
$1,018
$145
$1,090
$156
$1,900
$271
$2,226
$318
Select
-34%
06 Feb 21
7 Night Southern Caribbean Cruise
Enchantment Of The Seas
Royal Caribbean
San Juan
Caribbean - Southern
Show
$948
$135
$1,013
$145
$1,823
$260
$2,143
$306
Select
-34%
13 Feb 21
7 Night Southern Caribbean Cruise
Enchantment Of The Seas
Royal Caribbean
San Juan
Caribbean - Southern
Show
$1,032
$147
$1,104
$158
$1,953
$279
$2,272
$325
Select
-34%
27 Feb 21
7 Night Southern Caribbean Cruise
Enchantment Of The Seas
Royal Caribbean
San Juan
Caribbean - Southern
Show
$1,006
$144
$1,071
$153
$1,822
$260
$2,142
$306
Select
-34%
06 Mar 21
7 Night Southern Caribbean Cruise
Enchantment Of The Seas
Royal Caribbean
San Juan
Caribbean - Southern
Show
$1,052
$150
$1,052
$150
$1,868
$267
$2,319
$331
Select
-34%
13 Mar 21
7 Night Southern Caribbean Cruise
Enchantment Of The Seas
Royal Caribbean
San Juan
Caribbean - Southern
Show
$967
$138
$1,032
$147
$1,887
$270
$2,455
$351
Select
-34%
20 Mar 21
7 Night Southern Caribbean Cruise
Enchantment Of The Seas
Royal Caribbean
San Juan
Caribbean - Southern
Show
$1,001
$143
$1,066
$152
$1,921
$274
$2,489
$356
Select
-34%
27 Mar 21
7 Night Southern Caribbean Cruise
Enchantment Of The Seas
Royal Caribbean
San Juan
Caribbean - Southern
Show
$1,032
$147
$1,097
$157
$1,887
$270
$2,455
$351
Select
-34%
03 Apr 21
7 Night Southern Caribbean Cruise
Enchantment Of The Seas
Royal Caribbean
San Juan
Caribbean - Southern
Show
$968
$138
$1,040
$149
$1,894
$271
$2,391
$342
Select
-34%
10 Apr 21
7 Night Southern Caribbean Cruise
Enchantment Of The Seas
Royal Caribbean
San Juan
Caribbean - Southern
Show
$993
$142
$1,065
$152
$1,874
$268
$2,193
$313
Select
-34%
07 Aug 20
7 Night Bahamas & Perfect Day Cruise
Enchantment Of The Seas
Royal Caribbean
Galveston
Bahamas
Show
$973
$139
$1,149
$164
$1,769
$253
$2,885
$412
Select
-35%
14 Aug 20
7 Night Bahamas & Perfect Day Cruise
Enchantment Of The Seas
Royal Caribbean
Galveston
Bahamas
Show
$934
$133
$1,116
$159
$1,789
$256
$2,790
$399
Select
-38%
26 Dec 20
7 Night Southern Caribbean Holiday
Enchantment Of The Seas
Royal Caribbean
San Juan
Caribbean - Southern
Show
$1,452
$207
$1,315
$188
$2,804
$401
Select
-35%
09 Jan 21
7 Night Southern Caribbean Cruise
Enchantment Of The Seas
Royal Caribbean
San Juan
Caribbean - Southern
Show
$903
$129
$961
$137
$1,777
$254
$2,143
$306
Select
-34%
20 Feb 21
7 Night Southern Caribbean Cruise
Enchantment Of The Seas
Royal Caribbean
San Juan
Caribbean - Southern
Show
$961
$137
$1,026
$147
$1,764
$252
$2,143
$306
Select
-34%
30 Mar 20
7 Night Bahamas & Perfect Day Cruise
Enchantment Of The Seas
Royal Caribbean
Galveston
Bahamas
Show
$1,188
$170
$1,267
$181
$1,985
$284
$3,938
$563
Select
-31%
06 Apr 20
7 Night Bahamas & Perfect Day Cruise
Enchantment Of The Seas
Royal Caribbean
Galveston
Bahamas
Show
$1,267
$181
$1,312
$187
$1,815
$259
$4,374
$625
Select
-34%
29 May 20
7 Night Bahamas & Perfect Day Cruise
Enchantment Of The Seas
Royal Caribbean
Galveston
Bahamas
Show
$1,267
$181
$1,305
$186
$2,089
$298
$2,911
$416
Select
-34%
05 Jun 20
7 Night Bahamas & Perfect Day Cruise
Enchantment Of The Seas
Royal Caribbean
Galveston
Bahamas
Show
$1,377
$197
$1,388
$198
$2,396
$342
$2,883
$412
Select
-34%
18 Sep 20
7 Night Bahamas & Perfect Day Cruise
Enchantment Of The Seas
Royal Caribbean
Galveston
Bahamas
Show
$1,167
$167
$1,383
$198
$2,069
$296
$2,400
$343
Select
-34%
25 Sep 20
7 Night Bahamas & Perfect Day Cruise
Enchantment Of The Seas
Royal Caribbean
Galveston
Bahamas
Show
$1,039
$148
$1,131
$162
$1,835
$262
$2,400
$343
Select
-34%
14 Nov 20
7 Night Southern Caribbean Cruise
Enchantment Of The Seas
Royal Caribbean
San Juan
Caribbean - Southern
Show
$969
$138
$1,041
$149
$1,890
$270
$2,222
$317
Select
-34%
16 Oct 20
4 Night Western Caribbean Cruise
Enchantment Of The Seas
Royal Caribbean
Galveston
Caribbean - Western
Show
$527
$132
$553
$138
$905
$226
$1,296
$324
Select
-35%
17 Apr 21
5 Night San Juan To Baltimore Cruise
Enchantment Of The Seas
Royal Caribbean
San Juan
Repositioning
Show
$1,363
$273
$2,467
$493
$3,859
$772
$4,886
$977
Select
01 May 21
5 Night Bermuda Cruise
Enchantment Of The Seas
Royal Caribbean
Baltimore
Bermuda
Show
$1,499
$300
$1,825
$365
$2,757
$551
$3,477
$695
Select
15 May 21
5 Night Bermuda Cruise
Enchantment Of The Seas
Royal Caribbean
Baltimore
Bermuda
Show
$1,499
$300
$1,825
$365
$2,757
$551
$3,477
$695
Select
29 May 21
5 Night Bermuda Cruise
Enchantment Of The Seas
Royal Caribbean
Baltimore
Bermuda
Show
$1,701
$340
$2,085
$417
$3,160
$632
$3,976
$795
Select
03 Jun 21
9 Night Bermuda & Perfect Day Cruise
Enchantment Of The Seas
Royal Caribbean
Baltimore
Bermuda
Show
$1,977
$220
$2,409
$268
$3,599
$400
$4,530
$503
Select
12 Jun 21
5 Night Bermuda Cruise
Enchantment Of The Seas
Royal Caribbean
Baltimore
Bermuda
Show
$1,701
$340
$2,085
$417
$3,160
$632
$3,976
$795
Select
17 Jun 21
9 Night Bermuda & Perfect Day Cruise
Enchantment Of The Seas
Royal Caribbean
Baltimore
Bermuda
Show
$2,082
$231
$2,543
$283
$4,002
$445
$5,049
$561
Select
26 Jun 21
5 Night Bermuda Cruise
Enchantment Of The Seas
Royal Caribbean
Baltimore
Bermuda
Show
$1,768
$354
$2,152
$430
$3,333
$667
$4,225
$845
Select
01 Jul 21
9 Night Bermuda & Perfect Day Cruise
Enchantment Of The Seas
Royal Caribbean
Baltimore
Bermuda
Show
$2,082
$231
$2,543
$283
$4,002
$445
$5,049
$561
Select
10 Jul 21
5 Night Bermuda Cruise
Enchantment Of The Seas
Royal Caribbean
Baltimore
Bermuda
Show
$1,768
$354
$2,152
$430
$3,333
$667
$4,225
$845
Select
15 Jul 21
9 Night Bermuda & Perfect Day Cruise
Enchantment Of The Seas
Royal Caribbean
Baltimore
Bermuda
Show
$2,178
$242
$2,668
$296
$4,204
$467
$5,317
$591
Select
24 Jul 21
5 Night Bermuda Cruise
Enchantment Of The Seas
Royal Caribbean
Baltimore
Bermuda
Show
$1,701
$340
$2,085
$417
$3,256
$651
$4,139
$828
Select
29 Jul 21
9 Night Bermuda & Perfect Day Cruise
Enchantment Of The Seas
Royal Caribbean
Baltimore
Bermuda
Show
$2,178
$242
$2,668
$296
$4,204
$467
$5,317
$591
Select
12 Aug 21
9 Night Bermuda & Perfect Day Cruise
Enchantment Of The Seas
Royal Caribbean
Baltimore
Bermuda
Show
$2,178
$242
$2,668
$296
$4,204
$467
$5,317
$591
Select
21 Aug 21
5 Night Bermuda Cruise
Enchantment Of The Seas
Royal Caribbean
Baltimore
Bermuda
Show
$1,499
$300
$1,825
$365
$2,833
$567
$3,601
$720
Select
04 Sep 21
5 Night Bermuda Cruise
Enchantment Of The Seas
Royal Caribbean
Baltimore
Bermuda
Show
$1,028
$206
$1,230
$246
$1,837
$367
$2,163
$433
Select
-34%
09 Sep 21
9 Night Canada & New England Cruise
Enchantment Of The Seas
Royal Caribbean
Baltimore
Canada / New England
Show
$1,863
$207
$2,267
$252
$3,399
$378
$4,283
$476
Select
18 Sep 21
5 Night Bermuda Cruise
Enchantment Of The Seas
Royal Caribbean
Baltimore
Bermuda
Show
$1,297
$259
$1,585
$317
$2,411
$482
$3,054
$611
Select
23 Sep 21
9 Night Canada & New England Cruise
Enchantment Of The Seas
Royal Caribbean
Baltimore
Canada / New England
Show
$1,863
$207
$2,267
$252
$3,399
$378
$4,283
$476
Select
02 Oct 21
5 Night Bermuda Cruise
Enchantment Of The Seas
Royal Caribbean
Baltimore
Bermuda
Show
$1,201
$240
$1,461
$292
$2,209
$442
$2,776
$555
Select
07 Oct 21
9 Night Canada & New England Cruise
Enchantment Of The Seas
Royal Caribbean
Baltimore
Canada / New England
Show
$1,863
$207
$2,267
$252
$3,399
$378
$4,283
$476
Select
16 Oct 21
5 Night Bermuda Cruise
Enchantment Of The Seas
Royal Caribbean
Baltimore
Bermuda
Show
$1,259
$252
$1,547
$309
$2,334
$467
$2,910
$582
Select
21 Oct 21
7 Night Se Coast & Perfect Day Cruise
Enchantment Of The Seas
Royal Caribbean
Baltimore
Bahamas
Show
$1,547
$221
$1,874
$268
$2,795
$399
$3,563
$509
Select
28 Oct 21
8 Night Southeast Coast & Perfect Day
Enchantment Of The Seas
Royal Caribbean
Baltimore
Bahamas
Show
$1,571
$196
$1,888
$236
$2,819
$352
$3,587
$448
Select
05 Nov 21
8 Night Southeast Coast & Perfect Day
Enchantment Of The Seas
Royal Caribbean
Baltimore
Bahamas
Show
$1,647
$206
$1,964
$245
$2,895
$362
$3,653
$457
Select
13 Nov 21
12 Night Southern Caribbean Cruise
Enchantment Of The Seas
Royal Caribbean
Baltimore
Caribbean - Southern
Show
$2,019
$168
$2,489
$207
$3,862
$322
$4,889
$407
Select
25 Nov 21
8 Night Southeast Coast & Perfect Day
Enchantment Of The Seas
Royal Caribbean
Baltimore
Bahamas
Show
$1,734
$217
$2,118
$265
$3,183
$398
$4,009
$501
Select
03 Dec 21
8 Night Southeast Coast & Perfect Day
Enchantment Of The Seas
Royal Caribbean
Baltimore
Bahamas
Show
$1,647
$206
$1,964
$245
$2,895
$362
$3,653
$457
Select
11 Dec 21
12 Night Southern Caribbean Cruise
Enchantment Of The Seas
Royal Caribbean
Baltimore
Caribbean - Southern
Show
$2,019
$168
$2,489
$207
$3,862
$322
$4,889
$407
Select
23 Dec 21
8 Night Se Coast & Bahamas Holiday
Enchantment Of The Seas
Royal Caribbean
Baltimore
Bahamas
Show
$2,234
$279
$2,714
$339
$4,240
$530
$5,354
$669
Select
08 Jan 22
12 Night Southern Caribbean Cruise
Enchantment Of The Seas
Royal Caribbean
Baltimore
Caribbean - Southern
Show
$2,124
$177
$2,604
$217
$4,044
$337
$5,129
$427
Select
28 Jan 22
8 Night Southeast Coast & Perfect Day
Enchantment Of The Seas
Royal Caribbean
Baltimore
Bahamas
Show
$1,560
$195
$1,887
$236
$2,789
$349
$3,500
$437
Select
05 Feb 22
12 Night Southern Caribbean Cruise
Enchantment Of The Seas
Royal Caribbean
Baltimore
Caribbean - Southern
Show
$2,105
$175
$2,566
$214
$3,996
$333
$5,091
$424
Select
05 Mar 22
12 Night Southern Caribbean Cruise
Enchantment Of The Seas
Royal Caribbean
Baltimore
Caribbean - Southern
Show
$2,278
$190
$2,787
$232
$4,342
$362
$5,494
$458
Select
17 Mar 22
8 Night Southeast Coast & Bahamas Cruise
Enchantment Of The Seas
Royal Caribbean
Baltimore
Bahamas
Show
$1,684
$210
$2,049
$256
$3,037
$380
$3,805
$476
Select
25 Mar 22
8 Night Southeast Coast & Perfect Day
Enchantment Of The Seas
Royal Caribbean
Baltimore
Bahamas
Show
$1,868
$233
$2,252
$281
$3,356
$419
$4,239
$530
Select
02 Apr 22
12 Night Southern Caribbean Cruise
Enchantment Of The Seas
Royal Caribbean
Baltimore
Caribbean - Southern
Show
$2,278
$190
$2,787
$232
$4,342
$362
$5,494
$458
Select
14 Apr 22
8 Night Southeast Coast & Bahamas Cruise
Enchantment Of The Seas
Royal Caribbean
Baltimore
Bahamas
Show
$1,684
$210
$2,049
$256
$3,037
$380
$3,805
$476
Select
12 Dec 19
8 Night Southeast Coast & Perfect Day
Grandeur Of The Seas
Royal Caribbean
Baltimore
Bahamas
Show
$1,108
$139
Select
-26%
23 Jan 20
8 Night Southeast Coast & Perfect Day
Grandeur Of The Seas
Royal Caribbean
Baltimore
Bahamas
Show
$919
$115
$1,056
$132
Select
-48%
31 Jan 20
8 Night Southeast Coast & Perfect Day
Grandeur Of The Seas
Royal Caribbean
Baltimore
Bahamas
Show
$938
$117
$1,069
$134
Select
-47%
20 Feb 20
8 Night Southeast Coast & Perfect Day
Grandeur Of The Seas
Royal Caribbean
Baltimore
Bahamas
Show
$900
$112
$972
$121
$1,733
$217
$3,018
$377
Select
-54%
28 Feb 20
8 Night Southeast Coast & Perfect Day
Grandeur Of The Seas
Royal Caribbean
Baltimore
Bahamas
Show
$923
$115
$956
$119
$3,025
$378
Select
-54%
07 Mar 20
12 Night Southern Caribbean Cruise
Grandeur Of The Seas
Royal Caribbean
Baltimore
Caribbean - Southern
Show
$2,361
$197
$4,769
$397
Select
-29%
19 Mar 20
8 Night Southeast Coast & Perfect Day
Grandeur Of The Seas
Royal Caribbean
Baltimore
Bahamas
Show
$905
$113
$977
$122
$1,780
$223
$3,008
$376
Select
-54%
27 Mar 20
8 Night Southeast Coast & Perfect Day
Grandeur Of The Seas
Royal Caribbean
Baltimore
Bahamas
Show
$923
$115
$969
$121
$2,053
$257
$3,032
$379
Select
-59%
04 Apr 20
12 Night Southern Caribbean Cruise
Grandeur Of The Seas
Royal Caribbean
Baltimore
Caribbean - Southern
Show
$1,952
$163
$2,167
$181
Select
-30%
16 Apr 20
8 Night Southeast Coast & Perfect Day
Grandeur Of The Seas
Royal Caribbean
Baltimore
Bahamas
Show
$1,153
$144
$1,342
$168
Select
-39%
24 Apr 20
7 Night Bermuda Cruise
Grandeur Of The Seas
Royal Caribbean
Baltimore
Bermuda
Show
$1,469
$210
$1,670
$239
$3,290
$470
Select
-33%
01 May 20
8 Night Bermuda & Bahamas Cruise
Grandeur Of The Seas
Royal Caribbean
Baltimore
Bahamas
Show
$1,154
$144
$1,310
$164
$2,259
$282
$2,851
$356
Select
-30%
09 May 20
5 Night Bermuda Cruise
Grandeur Of The Seas
Royal Caribbean
Baltimore
Bermuda
Show
$1,184
$237
$1,412
$282
$2,281
$456
$2,771
$554
Select
-32%
14 May 20
9 Night Canada & New England Cruise
Grandeur Of The Seas
Royal Caribbean
Baltimore
Canada / New England
Show
$1,257
$140
$1,420
$158
$2,615
$291
$3,543
$394
Select
-36%
23 May 20
5 Night Bermuda Cruise
Grandeur Of The Seas
Royal Caribbean
Baltimore
Bermuda
Show
$1,250
$250
$1,439
$288
$2,164
$433
$3,285
$657
Select
-31%
28 May 20
9 Night Canada & New England Cruise
Grandeur Of The Seas
Royal Caribbean
Baltimore
Canada / New England
Show
$1,261
$140
$1,482
$165
$2,527
$281
$3,257
$362
Select
-36%
06 Jun 20
5 Night Bermuda Cruise
Grandeur Of The Seas
Royal Caribbean
Baltimore
Bermuda
Show
$1,222
$244
$1,339
$268
$2,175
$435
$2,397
$479
Select
-37%
11 Jun 20
9 Night Canada & New England Cruise
Grandeur Of The Seas
Royal Caribbean
Baltimore
Canada / New England
Show
$1,391
$155
$1,593
$177
$2,971
$330
$3,552
$395
Select
-30%
20 Jun 20
5 Night Bermuda Cruise
Grandeur Of The Seas
Royal Caribbean
Baltimore
Bermuda
Show
$1,385
$277
$1,548
$310
$2,474
$495
$2,706
$541
Select
-32%
25 Jun 20
9 Night Bermuda & Perfect Day Cruise
Grandeur Of The Seas
Royal Caribbean
Baltimore
Bahamas
Show
$1,573
$175
$1,724
$192
$3,179
$353
$3,806
$423
Select
-35%
04 Jul 20
5 Night Bermuda Cruise
Grandeur Of The Seas
Royal Caribbean
Baltimore
Bermuda
Show
$1,195
$239
$1,371
$274
$2,273
$455
$2,592
$518
Select
-36%
09 Jul 20
9 Night Bermuda & Perfect Day Cruise
Grandeur Of The Seas
Royal Caribbean
Baltimore
Bahamas
Show
$1,528
$170
$1,638
$182
$2,788
$310
$3,395
$377
Select
-32%
18 Jul 20
5 Night Bermuda Cruise
Grandeur Of The Seas
Royal Caribbean
Baltimore
Bermuda
Show
$1,417
$283
$1,626
$325
$2,599
$520
$3,010
$602
Select
-32%
23 Jul 20
9 Night Bermuda & Perfect Day Cruise
Grandeur Of The Seas
Royal Caribbean
Baltimore
Bahamas
Show
$1,541
$171
$1,652
$184
$2,657
$295
$3,323
$369
Select
-32%
01 Aug 20
5 Night Bermuda Cruise
Grandeur Of The Seas
Royal Caribbean
Baltimore
Bermuda
Show
$1,299
$260
$1,430
$286
$2,324
$465
$2,658
$532
Select
-32%
06 Aug 20
9 Night Bermuda & Perfect Day Cruise
Grandeur Of The Seas
Royal Caribbean
Baltimore
Bahamas
Show
$1,489
$165
$1,594
$177
$2,671
$297
$3,533
$393
Select
-32%
15 Aug 20
5 Night Bermuda Cruise
Grandeur Of The Seas
Royal Caribbean
Baltimore
Bermuda
Show
$1,221
$244
$1,404
$281
$2,175
$435
$2,494
$499
Select
-32%
20 Aug 20
9 Night Canada & New England Cruise
Grandeur Of The Seas
Royal Caribbean
Baltimore
Canada / New England
Show
$1,278
$142
$1,455
$162
$2,565
$285
$3,551
$395
Select
-30%
29 Aug 20
5 Night Bermuda Cruise
Grandeur Of The Seas
Royal Caribbean
Baltimore
Bermuda
Show
$1,002
$200
$1,120
$224
$1,661
$332
$2,006
$401
Select
-32%
03 Sep 20
9 Night Canada & New England Cruise
Grandeur Of The Seas
Royal Caribbean
Baltimore
Canada / New England
Show
$1,371
$152
$1,534
$170
$2,546
$283
$3,430
$381
Select
-30%
12 Sep 20
5 Night Bermuda Cruise
Grandeur Of The Seas
Royal Caribbean
Baltimore
Bermuda
Show
$964
$193
$1,075
$215
$1,630
$326
$2,116
$423
Select
-32%
17 Sep 20
9 Night Canada & New England Cruise
Grandeur Of The Seas
Royal Caribbean
Baltimore
Canada / New England
Show
$1,357
$151
$1,540
$171
$2,773
$308
$3,285
$365
Select
-30%
26 Sep 20
5 Night Bermuda Cruise
Grandeur Of The Seas
Royal Caribbean
Baltimore
Bermuda
Show
$944
$189
$1,029
$206
$1,610
$322
$1,985
$397
Select
-32%
01 Oct 20
9 Night Canada & New England Cruise
Grandeur Of The Seas
Royal Caribbean
Baltimore
Canada / New England
Show
$1,332
$148
$1,534
$170
$2,768
$308
$3,520
$391
Select
-30%
10 Oct 20
5 Night Bermuda Cruise
Grandeur Of The Seas
Royal Caribbean
Baltimore
Bermuda
Show
$989
$198
$1,094
$219
$1,654
$331
$2,048
$410
Select
-32%
15 Oct 20
9 Night Canada & New England Cruise
Grandeur Of The Seas
Royal Caribbean
Baltimore
Canada / New England
Show
$1,376
$153
$1,546
$172
$2,721
$302
$3,738
$415
Select
-36%
24 Oct 20
5 Night Bermuda Cruise
Grandeur Of The Seas
Royal Caribbean
Baltimore
Bermuda
Show
$918
$184
$1,081
$216
$1,754
$351
$2,128
$426
Select
-31%
29 Oct 20
11 Night Southern Caribbean Cruise
Grandeur Of The Seas
Royal Caribbean
Baltimore
Caribbean - Southern
Show
$1,430
$130
$1,476
$134
$2,474
$225
$3,526
$321
Select
-33%
09 Nov 20
11 Night Southern Caribbean Cruise
Grandeur Of The Seas
Royal Caribbean
Baltimore
Caribbean - Southern
Show
$1,271
$116
$1,455
$132
$2,388
$217
$3,117
$283
Select
-36%
20 Nov 20
8 Night Southeast Coast & Perfect Day
Grandeur Of The Seas
Royal Caribbean
Baltimore
Bahamas
Show
$1,226
$153
$1,350
$169
$2,114
$264
$2,527
$316
Select
-34%
28 Nov 20
12 Night Southern Caribbean Cruise
Grandeur Of The Seas
Royal Caribbean
Baltimore
Caribbean - Southern
Show
$1,443
$120
$1,573
$131
$2,664
$222
Select
-30%
10 Dec 20
8 Night Southeast Coast & Perfect Day
Grandeur Of The Seas
Royal Caribbean
Baltimore
Bahamas
Show
$1,108
$139
$1,199
$150
$1,754
$219
$2,311
$289
Select
-34%
18 Dec 20
8 Night Se Coast & Perfect Day Holiday
Grandeur Of The Seas
Royal Caribbean
Baltimore
Bahamas
Show
$1,331
$166
$1,494
$187
$2,754
$344
$3,570
$446
Select
-36%
26 Dec 20
7 Night Se Coast & Perfect Day Holiday
Grandeur Of The Seas
Royal Caribbean
Baltimore
Bahamas
Show
$1,698
$243
$1,770
$253
$2,840
$406
$3,497
$500
Select
-36%
02 Jan 21
7 Night Se Coast & Perfect Day Cruise
Grandeur Of The Seas
Royal Caribbean
Baltimore
Bahamas
Show
$1,192
$170
$1,316
$188
$1,891
$270
$2,407
$344
Select
-32%
09 Jan 21
12 Night Southern Caribbean Cruise
Grandeur Of The Seas
Royal Caribbean
Baltimore
Caribbean - Southern
Show
$1,512
$126
$1,832
$153
$2,583
$215
$3,627
$302
Select
-33%
21 Jan 21
8 Night Southeast Coast & Perfect Day
Grandeur Of The Seas
Royal Caribbean
Baltimore
Bahamas
Show
$1,095
$137
$1,230
$154
$1,859
$232
$2,372
$297
Select
-32%
29 Jan 21
8 Night Southeast Coast & Perfect Day
Grandeur Of The Seas
Royal Caribbean
Baltimore
Bahamas
Show
$1,121
$140
$1,236
$155
$1,852
$231
$2,386
$298
Select
-32%
06 Feb 21
12 Night Southern Caribbean Cruise
Grandeur Of The Seas
Royal Caribbean
Baltimore
Caribbean - Southern
Show
$1,596
$133
$1,974
$165
$2,876
$240
$4,057
$338
Select
-33%
18 Feb 21
8 Night Southeast Coast & Perfect Day
Grandeur Of The Seas
Royal Caribbean
Baltimore
Bahamas
Show
$1,114
$139
$1,239
$155
$1,845
$231
$2,366
$296
Select
-32%
26 Feb 21
8 Night Southeast Coast & Perfect Day
Grandeur Of The Seas
Royal Caribbean
Baltimore
Bahamas
Show
$1,127
$141
$1,258
$157
$1,754
$219
$2,465
$308
Select
-32%
06 Mar 21
12 Night Southern Caribbean Cruise
Grandeur Of The Seas
Royal Caribbean
Baltimore
Caribbean - Southern
Show
$1,546
$129
$1,898
$158
$2,760
$230
$4,052
$338
Select
-33%
18 Mar 21
8 Night Southeast Coast & Perfect Day
Grandeur Of The Seas
Royal Caribbean
Baltimore
Bahamas
Show
$1,304
$163
$1,434
$179
$1,995
$249
$2,655
$332
Select
-32%
26 Mar 21
8 Night Southeast Coast & Perfect Day
Grandeur Of The Seas
Royal Caribbean
Baltimore
Bahamas
Show
$1,373
$172
$1,512
$189
$2,130
$266
Select
-29%
05 Jan 20
3 Night Bahamas Cruise
Majesty Of The Seas
Royal Caribbean
Fort Lauderdale (Port Everglades)
Bahamas
Show
$502
$167
$529
$176
$1,162
$387
Select
-33%
11 Jan 20
7 Night Perfect Day Bahamas Cruise
Majesty Of The Seas
Royal Caribbean
New Orleans
Bahamas
Show
$806
$115
$806
$115
Select
-31%
18 Jan 20
7 Night Perfect Day Bahamas Cruise
Majesty Of The Seas
Royal Caribbean
New Orleans
Bahamas
Show
$840
$120
$800
$114
Select
-31%
25 Jan 20
7 Night Western Caribbean Cruise
Majesty Of The Seas
Royal Caribbean
New Orleans
Caribbean - Western
Show
$926
$132
$933
$133
Select
-31%
01 Feb 20
7 Night Bahamas Cruise
Majesty Of The Seas
Royal Caribbean
New Orleans
Bahamas
Show
$803
$115
$855
$122
Select
-31%
08 Feb 20
7 Night Perfect Day Bahamas Cruise
Majesty Of The Seas
Royal Caribbean
New Orleans
Bahamas
Show
$814
$116
$867
$124
Select
-27%
15 Feb 20
7 Night Bahamas Cruise
Majesty Of The Seas
Royal Caribbean
New Orleans
Bahamas
Show
$855
$122
$888
$127
$4,753
$679
Select
-31%
22 Feb 20
7 Night Perfect Day Bahamas Cruise
Majesty Of The Seas
Royal Caribbean
New Orleans
Bahamas
Show
$849
$121
$942
$135
Select
-27%
29 Feb 20
7 Night Perfect Day Bahamas Cruise
Majesty Of The Seas
Royal Caribbean
New Orleans
Bahamas
Show
$794
$113
$801
$114
$2,629
$376
Select
-34%
07 Mar 20
7 Night Perfect Day Bahamas Cruise
Majesty Of The Seas
Royal Caribbean
New Orleans
Bahamas
Show
$1,028
$147
$1,080
$154
$3,600
$514
Select
-31%
14 Mar 20
7 Night Perfect Day Bahamas Cruise
Majesty Of The Seas
Royal Caribbean
New Orleans
Bahamas
Show
$1,015
$145
$1,054
$151
$3,168
$453
Select
-34%
21 Mar 20
7 Night Perfect Day Bahamas Cruise
Majesty Of The Seas
Royal Caribbean
New Orleans
Bahamas
Show
$1,015
$145
$1,015
$145
Select
-28%
28 Mar 20
7 Night Perfect Day Bahamas Cruise
Majesty Of The Seas
Royal Caribbean
New Orleans
Bahamas
Show
$858
$123
$937
$134
$3,345
$478
Select
-36%
04 Apr 20
7 Night Perfect Day Bahamas Cruise
Majesty Of The Seas
Royal Caribbean
New Orleans
Bahamas
Show
$976
$139
$1,035
$148
$2,431
$347
Select
-33%
11 Apr 20
7 Night Perfect Day Bahamas Cruise
Majesty Of The Seas
Royal Caribbean
New Orleans
Bahamas
Show
$932
$133
$925
$132
$3,113
$445
Select
-31%
18 Apr 20
7 Night Perfect Day Bahamas Cruise
Majesty Of The Seas
Royal Caribbean
New Orleans
Bahamas
Show
$866
$124
$859
$123
$3,125
$446
Select
-31%
25 Apr 20
7 Night Perfect Day Bahamas Cruise
Majesty Of The Seas
Royal Caribbean
New Orleans
Bahamas
Show
$821
$117
$887
$127
$3,342
$477
Select
-31%
02 May 20
7 Night Perfect Day Bahamas Cruise
Majesty Of The Seas
Royal Caribbean
New Orleans
Bahamas
Show
$831
$119
$877
$125
$2,380
$340
Select
-32%
09 May 20
7 Night Perfect Day Bahamas Cruise
Majesty Of The Seas
Royal Caribbean
New Orleans
Bahamas
Show
$832
$119
$858
$123
$2,301
$329
Select
-34%
16 May 20
7 Night Perfect Day Bahamas Cruise
Majesty Of The Seas
Royal Caribbean
New Orleans
Bahamas
Show
$864
$123
$903
$129
$2,295
$328
Select
-34%
23 May 20
7 Night Perfect Day Bahamas Cruise
Majesty Of The Seas
Royal Caribbean
New Orleans
Bahamas
Show
$999
$143
$1,123
$160
$2,313
$330
Select
-35%
30 May 20
7 Night Perfect Day Bahamas Cruise
Majesty Of The Seas
Royal Caribbean
New Orleans
Bahamas
Show
$950
$136
$1,029
$147
$2,667
$381
Select
-34%
06 Jun 20
7 Night Perfect Day Bahamas Cruise
Majesty Of The Seas
Royal Caribbean
New Orleans
Bahamas
Show
$1,065
$152
$1,123
$160
$2,678
$383
Select
-28%
13 Jun 20
7 Night Perfect Day Bahamas Cruise
Majesty Of The Seas
Royal Caribbean
New Orleans
Bahamas
Show
$1,058
$151
$1,123
$160
$2,683
$383
Select
-28%
20 Jun 20
7 Night Perfect Day Bahamas Cruise
Majesty Of The Seas
Royal Caribbean
New Orleans
Bahamas
Show
$1,091
$156
$1,110
$159
$2,633
$376
Select
-35%
27 Jun 20
7 Night Western Caribbean Cruise
Majesty Of The Seas
Royal Caribbean
New Orleans
Caribbean - Western
Show
$1,159
$166
$1,290
$184
$2,728
$390
Select
-29%
04 Jul 20
7 Night Perfect Day Bahamas Cruise
Majesty Of The Seas
Royal Caribbean
New Orleans
Bahamas
Show
$1,201
$172
$1,207
$172
$2,737
$391
Select
-36%
11 Jul 20
7 Night Western Caribbean Cruise
Majesty Of The Seas
Royal Caribbean
New Orleans
Caribbean - Western
Show
$1,080
$154
$1,146
$164
$2,597
$371
Select
-36%
18 Jul 20
7 Night Perfect Day Bahamas Cruise
Majesty Of The Seas
Royal Caribbean
New Orleans
Bahamas
Show
$1,044
$149
$1,168
$167
$2,670
$381
Select
-28%
25 Jul 20
7 Night Perfect Day Bahamas Cruise
Majesty Of The Seas
Royal Caribbean
New Orleans
Bahamas
Show
$1,109
$158
$1,227
$175
$2,670
$381
Select
-29%
01 Aug 20
7 Night Perfect Day Bahamas Cruise
Majesty Of The Seas
Royal Caribbean
New Orleans
Bahamas
Show
$1,091
$156
$1,234
$176
$2,605
$372
Select
-36%
08 Aug 20
7 Night Perfect Day Bahamas Cruise
Majesty Of The Seas
Royal Caribbean
New Orleans
Bahamas
Show
$1,057
$151
$1,221
$174
$2,605
$372
Select
-36%
15 Aug 20
7 Night Perfect Day Bahamas Cruise
Majesty Of The Seas
Royal Caribbean
New Orleans
Bahamas
Show
$954
$136
$1,012
$145
$2,356
$337
Select
-35%
22 Aug 20
7 Night Perfect Day Bahamas Cruise
Majesty Of The Seas
Royal Caribbean
New Orleans
Bahamas
Show
$902
$129
$992
$142
$2,356
$337
Select
-28%
29 Aug 20
7 Night Perfect Day Bahamas Cruise
Majesty Of The Seas
Royal Caribbean
New Orleans
Bahamas
Show
$770
$110
$822
$117
$2,224
$318
Select
-27%
05 Sep 20
7 Night Perfect Day Bahamas Cruise
Majesty Of The Seas
Royal Caribbean
New Orleans
Bahamas
Show
$793
$113
$831
$119
$2,224
$318
Select
-35%
12 Sep 20
7 Night Perfect Day Bahamas Cruise
Majesty Of The Seas
Royal Caribbean
New Orleans
Bahamas
Show
$788
$113
$834
$119
$2,224
$318
Select
-34%
19 Sep 20
7 Night Perfect Day Bahamas Cruise
Majesty Of The Seas
Royal Caribbean
New Orleans
Bahamas
Show
$794
$113
$820
$117
$2,224
$318
Select
-34%
26 Sep 20
7 Night Perfect Day Bahamas Cruise
Majesty Of The Seas
Royal Caribbean
New Orleans
Bahamas
Show
$728
$104
$820
$117
$2,368
$338
Select
-34%
03 Oct 20
7 Night Perfect Day Bahamas Cruise
Majesty Of The Seas
Royal Caribbean
New Orleans
Bahamas
Show
$848
$121
$855
$122
$2,879
$411
Select
-34%
10 Oct 20
7 Night Perfect Day Bahamas Cruise
Majesty Of The Seas
Royal Caribbean
New Orleans
Bahamas
Show
$842
$120
$868
$124
$2,759
$394
Select
-35%
17 Oct 20
7 Night Perfect Day Bahamas Cruise
Majesty Of The Seas
Royal Caribbean
New Orleans
Bahamas
Show
$764
$109
$803
$115
$2,361
$337
Select
-35%
31 Oct 20
7 Night Perfect Day Bahamas Cruise
Majesty Of The Seas
Royal Caribbean
New Orleans
Bahamas
Show
$877
$125
$942
$135
$2,370
$339
Select
-35%
07 Nov 20
7 Night Perfect Day Bahamas Cruise
Majesty Of The Seas
Royal Caribbean
New Orleans
Bahamas
Show
$910
$130
$966
$138
$2,357
$337
Select
-27%
21 Nov 20
7 Night Perfect Day Bahamas Cruise
Majesty Of The Seas
Royal Caribbean
New Orleans
Bahamas
Show
$995
$142
$1,007
$144
$2,413
$345
Select
-36%
28 Nov 20
7 Night Perfect Day Bahamas Cruise
Majesty Of The Seas
Royal Caribbean
New Orleans
Bahamas
Show
$986
$141
$1,000
$143
$2,406
$344
Select
-35%
05 Dec 20
7 Night Perfect Day Bahamas Cruise
Majesty Of The Seas
Royal Caribbean
New Orleans
Bahamas
Show
$955
$136
$1,001
$143
$2,359
$337
Select
-36%
12 Dec 20
7 Night Perfect Day Bahamas Cruise
Majesty Of The Seas
Royal Caribbean
New Orleans
Bahamas
Show
$959
$137
$981
$140
$2,356
$337
Select
-34%
26 Dec 20
7 Night Perfect Day Holiday Cruise
Majesty Of The Seas
Royal Caribbean
New Orleans
Bahamas
Show
$1,212
$173
$1,297
$185
$2,714
$388
Select
-34%
30 Jan 21
7 Night Perfect Day Bahamas Cruise
Majesty Of The Seas
Royal Caribbean
New Orleans
Bahamas
Show
$897
$128
$1,041
$149
$2,307
$330
Select
-30%
06 Feb 21
7 Night Perfect Day Bahamas Cruise
Majesty Of The Seas
Royal Caribbean
New Orleans
Bahamas
Show
$904
$129
$1,053
$150
$2,037
$291
Select
-28%
13 Feb 21
7 Night Perfect Day Bahamas Cruise
Majesty Of The Seas
Royal Caribbean
New Orleans
Bahamas
Show
$964
$138
$1,108
$158
$2,213
$316
Select
-28%
20 Feb 21
7 Night Western Caribbean Cruise
Majesty Of The Seas
Royal Caribbean
New Orleans
Caribbean - Western
Show
$839
$120
$963
$138
$1,971
$282
Select
-30%
27 Feb 21
7 Night Perfect Day Bahamas Cruise
Majesty Of The Seas
Royal Caribbean
New Orleans
Bahamas
Show
$901
$129
$1,044
$149
$2,028
$290
Select
-30%
06 Mar 21
7 Night Perfect Day Bahamas Cruise
Majesty Of The Seas
Royal Caribbean
New Orleans
Bahamas
Show
$989
$141
$1,139
$163
$2,028
$290
Select
-30%
13 Mar 21
7 Night Perfect Day Bahamas Cruise
Majesty Of The Seas
Royal Caribbean
New Orleans
Bahamas
Show
$988
$141
$1,137
$162
$2,027
$290
Select
-30%
20 Mar 21
7 Night Perfect Day Bahamas Cruise
Majesty Of The Seas
Royal Caribbean
New Orleans
Bahamas
Show
$996
$142
$1,146
$164
$2,035
$291
Select
-30%
03 Apr 21
7 Night Perfect Day Bahamas Cruise
Majesty Of The Seas
Royal Caribbean
New Orleans
Bahamas
Show
$1,027
$147
$1,177
$168
$2,211
$316
Select
-30%
10 Apr 21
7 Night Perfect Day Bahamas Cruise
Majesty Of The Seas
Royal Caribbean
New Orleans
Bahamas
Show
$896
$128
$1,040
$149
$1,969
$281
Select
-30%
17 Apr 21
7 Night Perfect Day Bahamas Cruise
Majesty Of The Seas
Royal Caribbean
New Orleans
Bahamas
Show
$896
$128
$1,040
$149
$1,969
$281
Select
-30%
24 Apr 21
7 Night Perfect Day Bahamas Cruise
Majesty Of The Seas
Royal Caribbean
New Orleans
Bahamas
Show
$896
$128
$1,040
$149
$1,969
$281
Select
-30%
24 Oct 20
7 Night Western Caribbean Cruise
Majesty Of The Seas
Royal Caribbean
New Orleans
Caribbean - Western
Show
$776
$111
$803
$115
$2,296
$328
Select
-35%
14 Nov 20
7 Night Western Caribbean Cruise
Majesty Of The Seas
Royal Caribbean
New Orleans
Caribbean - Western
Show
$861
$123
$875
$125
$2,302
$329
Select
-35%
19 Dec 20
7 Night Western Caribbean Holiday Cruise
Majesty Of The Seas
Royal Caribbean
New Orleans
Caribbean - Western
Show
$1,156
$165
$1,195
$171
$2,601
$372
Select
-36%
27 Mar 21
7 Night Western Caribbean Cruise
Majesty Of The Seas
Royal Caribbean
New Orleans
Caribbean - Western
Show
$1,043
$149
$1,187
$170
$2,222
$317
Select
-30%
03 Jan 20
8 Night Eastern Caribbean Cruise
Empress Of The Seas
Royal Caribbean
Miami
Caribbean - Eastern
Show
$1,320
$165
Select
-32%
11 Jan 20
8 Night Eastern Caribbean Cruise
Empress Of The Seas
Royal Caribbean
Miami
Caribbean - Eastern
Show
$1,169
$146
$1,195
$149
Select
-28%
19 Jan 20
7 Night Western Caribbean Cruise
Empress Of The Seas
Royal Caribbean
Miami
Caribbean - Western
Show
$918
$131
Select
-26%
26 Jan 20
7 Night Western Caribbean Cruise
Empress Of The Seas
Royal Caribbean
Miami
Caribbean - Western
Show
$1,154
$165
$1,200
$171
$4,563
$652
Select
-31%
02 Feb 20
6 Night Western Caribbean Cruise
Empress Of The Seas
Royal Caribbean
Miami
Caribbean - Western
Show
$694
$116
$760
$127
$1,824
$304
Select
-30%
08 Feb 20
8 Night Eastern Caribbean Cruise
Empress Of The Seas
Royal Caribbean
Miami
Caribbean - Eastern
Show
$1,117
$140
$1,313
$164
$4,861
$608
Select
-33%
16 Feb 20
7 Night Western Caribbean Cruise
Empress Of The Seas
Royal Caribbean
Miami
Caribbean - Western
Show
$1,074
$153
$1,119
$160
Select
-32%
23 Feb 20
7 Night Western Caribbean Cruise
Empress Of The Seas
Royal Caribbean
Miami
Caribbean - Western
Show
$1,147
$164
$2,179
$311
Select
-35%
01 Mar 20
6 Night Western Caribbean Cruise
Empress Of The Seas
Royal Caribbean
Miami
Caribbean - Western
Show
$954
$159
$992
$165
$1,726
$288
Select
-31%
07 Mar 20
8 Night Western Caribbean Cruise
Empress Of The Seas
Royal Caribbean
Miami
Caribbean - Western
Show
$943
$118
$1,198
$150
$2,321
$290
Select
-31%
21 Mar 20
8 Night Eastern Caribbean Cruise
Empress Of The Seas
Royal Caribbean
Miami
Caribbean - Eastern
Show
$1,071
$134
$1,320
$165
$2,253
$282
Select
-33%
04 Apr 20
8 Night Western Caribbean & Perfect Day
Empress Of The Seas
Royal Caribbean
Miami
Caribbean - Western
Show
$1,272
$159
$1,324
$165
$2,522
$315
Select
-30%
18 Apr 20
8 Night Eastern Caribbean Cruise
Empress Of The Seas
Royal Caribbean
Miami
Caribbean - Eastern
Show
$1,131
$141
$1,209
$151
$2,417
$302
Select
-30%
26 Apr 20
5 Night Nassau & Perfect Day Cruise
Empress Of The Seas
Royal Caribbean
Miami
Bahamas
Show
$703
$141
$775
$155
$1,467
$293
Select
-29%
12 Apr 20
6 Night Western Caribbean Cruise
Empress Of The Seas
Royal Caribbean
Miami
Caribbean - Western
Show
$795
$133
$828
$138
$1,735
$289
Select
-29%
15 Mar 20
6 Night Western Caribbean Cruise
Empress Of The Seas
Royal Caribbean
Miami
Caribbean - Western
Show
$1,046
$174
$974
$162
$1,510
$252
Select
-32%
29 Mar 20
6 Night Western Caribbean & Perfect Day
Empress Of The Seas
Royal Caribbean
Miami
Caribbean - Western
Show
$834
$139
$913
$152
$1,540
$257
Select
-29%
04 May 20
7 Night Best Of Bermuda Cruise
Empress Of The Seas
Royal Caribbean
Cape Liberty (Bayonne)
Bermuda
Show
$1,353
$193
$1,465
$209
Select
-26%
11 May 20
7 Night Best Of Bermuda Cruise
Empress Of The Seas
Royal Caribbean
Cape Liberty (Bayonne)
Bermuda
Show
$1,347
$192
$1,581
$226
$2,999
$428
Select
-37%
18 May 20
7 Night Canada & New England Cruise
Empress Of The Seas
Royal Caribbean
Cape Liberty (Bayonne)
Canada / New England
Show
$1,069
$153
$1,193
$170
Select
-34%
25 May 20
7 Night Canada & New England Cruise
Empress Of The Seas
Royal Caribbean
Cape Liberty (Bayonne)
Canada / New England
Show
$1,015
$145
$1,119
$160
$4,906
$701
Select
-31%
01 Jun 20
11 Night Canada & New England Cruise
Empress Of The Seas
Royal Caribbean
Cape Liberty (Bayonne)
Canada / New England
Show
$1,408
$128
$1,480
$135
Select
-26%
12 Jun 20
10 Night Canada & New England Cruise
Empress Of The Seas
Royal Caribbean
Montreal
Canada / New England
Show
$1,417
$142
$1,554
$155
Select
-26%
22 Jun 20
7 Night Canada & New England Cruise
Empress Of The Seas
Royal Caribbean
Cape Liberty (Bayonne)
Canada / New England
Show
$1,295
$185
$1,518
$217
Select
-28%
29 Jun 20
7 Night Best Of Bermuda Cruise
Empress Of The Seas
Royal Caribbean
Cape Liberty (Bayonne)
Bermuda
Show
$1,598
$228
$1,702
$243
$5,268
$753
Select
-31%
06 Jul 20
7 Night Canada & New England Cruise
Empress Of The Seas
Royal Caribbean
Cape Liberty (Bayonne)
Canada / New England
Show
$1,262
$180
$1,432
$205
Select
-27%
13 Jul 20
7 Night Best Of Bermuda Cruise
Empress Of The Seas
Royal Caribbean
Cape Liberty (Bayonne)
Bermuda
Show
$1,450
$207
$1,574
$225
$3,219
$460
Select
-36%
20 Jul 20
7 Night Best Of Bermuda Cruise
Empress Of The Seas
Royal Caribbean
Cape Liberty (Bayonne)
Bermuda
Show
$1,396
$199
$1,605
$229
$2,965
$424
Select
-33%
27 Jul 20
7 Night Canada & New England Cruise
Empress Of The Seas
Royal Caribbean
Cape Liberty (Bayonne)
Canada / New England
Show
$1,197
$171
$1,341
$192
$2,535
$362
Select
-29%
03 Aug 20
7 Night Canada & New England Cruise
Empress Of The Seas
Royal Caribbean
Cape Liberty (Bayonne)
Canada / New England
Show
$1,184
$169
$1,341
$192
$2,326
$332
Select
-29%
10 Aug 20
7 Night Canada & New England Cruise
Empress Of The Seas
Royal Caribbean
Cape Liberty (Bayonne)
Canada / New England
Show
$1,191
$170
$1,392
$199
$2,665
$381
Select
-30%
17 Aug 20
7 Night Best Of Bermuda Cruise
Empress Of The Seas
Royal Caribbean
Cape Liberty (Bayonne)
Bermuda
Show
$1,542
$220
$1,647
$235
$2,697
$385
Select
-29%
24 Aug 20
11 Night Canada & New England Cruise
Empress Of The Seas
Royal Caribbean
Cape Liberty (Bayonne)
Canada / New England
Show
$1,451
$132
$1,529
$139
Select
-26%
04 Sep 20
10 Night Canadian Adventure Cruise
Empress Of The Seas
Royal Caribbean
Montreal
Canada / New England
Show
$2,041
$204
$2,478
$248
Select
-29%
14 Sep 20
11 Night Canadian Adventure Cruise
Empress Of The Seas
Royal Caribbean
Montreal
Canada / New England
Show
$2,479
$225
Select
-29%
25 Sep 20
10 Night Canadian Adventure Cruise
Empress Of The Seas
Royal Caribbean
Montreal
Canada / New England
Show
$1,772
$177
$1,929
$193
Select
-28%
05 Oct 20
11 Night Canadian Adventure Cruise
Empress Of The Seas
Royal Caribbean
Montreal
Canada / New England
Show
$1,813
$165
$1,969
$179
Select
-28%
16 Oct 20
12 Night Snow Bird Migration South
Empress Of The Seas
Royal Caribbean
Montreal
Repositioning
Show
$1,357
$113
$1,468
$122
$5,856
$488
Select
-30%
28 Oct 20
3 Night Bahamas Cruise
Empress Of The Seas
Royal Caribbean
Miami
Bahamas
Show
$535
$178
$580
$193
$1,135
$378
Select
-29%
31 Oct 20
8 Night Eastern Caribbean Cruise
Empress Of The Seas
Royal Caribbean
Miami
Caribbean - Eastern
Show
$983
$123
$1,054
$132
$3,076
$384
Select
-30%
14 Nov 20
8 Night Eastern Caribbean Cruise
Empress Of The Seas
Royal Caribbean
Miami
Caribbean - Eastern
Show
$994
$124
$1,001
$125
$2,032
$254
Select
-31%
22 Nov 20
6 Night Western Caribbean Cruise
Empress Of The Seas
Royal Caribbean
Miami
Caribbean - Western
Show
$788
$131
$860
$143
$1,916
$319
Select
-30%
28 Nov 20
8 Night Eastern Caribbean Cruise
Empress Of The Seas
Royal Caribbean
Miami
Caribbean - Eastern
Show
$929
$116
$987
$123
$2,130
$266
Select
-30%
06 Dec 20
6 Night Western Caribbean Cruise
Empress Of The Seas
Royal Caribbean
Miami
Caribbean - Western
Show
$749
$125
$795
$132
$1,623
$271
Select
-29%
12 Dec 20
8 Night Western Caribbean Cruise
Empress Of The Seas
Royal Caribbean
Miami
Caribbean - Western
Show
$912
$114
$1,004
$126
$2,009
$251
Select
-29%
20 Dec 20
6 Night Western Caribbean Holiday Cruise
Empress Of The Seas
Royal Caribbean
Miami
Caribbean - Western
Show
$1,087
$181
$1,087
$181
$2,754
$459
Select
-35%
26 Dec 20
8 Night Eastern Caribbean Holiday Cruise
Empress Of The Seas
Royal Caribbean
Miami
Caribbean - Eastern
Show
$1,306
$163
$1,489
$186
$3,665
$458
Select
-36%
03 Jan 21
6 Night Western Caribbean Cruise
Empress Of The Seas
Royal Caribbean
Miami
Caribbean - Western
Show
$793
$132
$852
$142
$1,466
$244
Select
-29%
17 Jan 21
6 Night Western Caribbean Cruise
Empress Of The Seas
Royal Caribbean
Miami
Caribbean - Western
Show
$794
$132
$852
$142
$1,467
$244
Select
-29%
23 Jan 21
8 Night Eastern Caribbean Cruise
Empress Of The Seas
Royal Caribbean
Miami
Caribbean - Eastern
Show
$885
$111
$996
$125
$1,721
$215
Select
-29%
31 Jan 21
7 Night Western Caribbean Cruise
Empress Of The Seas
Royal Caribbean
Miami
Caribbean - Western
Show
$893
$128
$959
$137
$1,612
$230
Select
-29%
07 Feb 21
7 Night Western Caribbean Cruise
Empress Of The Seas
Royal Caribbean
Miami
Caribbean - Western
Show
$891
$127
$1,003
$143
$1,707
$244
Select
-29%
14 Feb 21
6 Night Western Caribbean Cruise
Empress Of The Seas
Royal Caribbean
Miami
Caribbean - Western