Oasis Of The Seas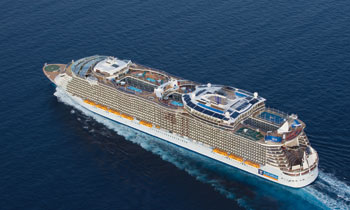 113
Starting Price, Per Night*
Sail in serenity with an Oasis of the Seas cruise!
Masterfully crafted as a floating city full of vibrant energy and excitement, Oasis of the Seas cruises are the perfect choice for adventurers, thrill-seekers, and dream-chasers alike. Once you hop on the brilliant Royal Caribbean Oasis of the Seas, you will swiftly fall in love with the ship's enchanting atmosphere, captivating live entertainment, and alluring dining options. Whether you want to take the plunge and slide down Typhoon and Cyclone at The Perfect Storm, order a drink at the innovative Bionic Bar, or retreat from reality at the Solarium, Oasis of the Seas has something for everyone. So what are you waiting for? Gather up your friends today and whisk them away on an extraordinary Oasis of the Seas cruise!
Oasis of the Seas currently spends the bulk of her time embarking on remarkable Caribbean cruises making port at sun-kissed beaches and pristine tropical paradises. The renowned cruise line has created wonderful itineraries such as an Oasis of the Seas Western Caribbean cruise which may stop at Costa Maya, Labadee, and their very own private resort island Perfect Day at CocoCay. Otherwise, you will often find the ship hosting magnificent Bahamas cruises docking into beautiful locales such as the aforementioned CocoCay and Nassau. Departing from either Miami or Fort Lauderdale, be sure to check out the various Royal Caribbean Oasis of the Seas cruises today!
Looking for an Oasis of the Seas itinerary? Click on the cruises tab! Or alternatively, click here for all Royal Caribbean Cruises including itineraries for Ovation of the Seas, Symphony of the Seas, and Quantum of the Seas.
Oasis of the Seas Accommodation
Royal Caribbean has created a stunning array of astonishing Oasis of the Seas cabins on offer with every voyage. With a near-endless library of choices featuring almost every configuration at every price point, families and friends of all sizes can be accommodated easily. Oasis of the Seas rooms are perfectly packed with plenty of useful amenities and complimentary features that promise to make your journey as relaxing and stress-free as possible. Scroll down now and find out what staterooms and suites you can choose on your next Royal Caribbean holiday!
Staterooms
Budget-wary explorers onboard can choose from a selection of Oasis of the Seas Interior staterooms, fitted with everything you need for a comfortable stay. At a slightly greater size, the Ocean View staterooms are a splendid space featuring a well-appointed window giving guests direct sight of the sea or destination for the entirety of the Royal Caribbean cruise. Excellent for families and groups of friends, the Balcony stateroom offers travellers their own private veranda to unwind after spending the day traversing the ship or touring the destination.
Suites
With more room and comfort for every guest, Oasis of the Seas Suites are sublime choices for those who wish to have elevated luxury and a superior experience overall. Passengers who book a Suite not only have boundless space to even host some guests, they also have access to the Suite Lounge, a private space exclusive for people who booked a Suite. Typically, when guests book one of these rooms, they additionally are a part of the Royal Suite Class program which provide extra perks and benefits depending on your class level. Whether you want a Coastal Kitchen dinner with SEA class, priority disembarkation with SKY class, or your very own private butler known as a Royal Genie in STAR class, every choice is perfectly designed to ensure all guests are taken care throughout their entire Oasis of the Seas cruise.
Dining Options
150 Central Park
An essential venue for every Oasis of the Seas cruise passenger, 150 Central Park is a beautiful fine-dining establishment featuring a delectable seasonal menu with delightful dishes. Sporting locally sourced ingredients, 150 Central Park regularly enchants guests with flavoursome choices from dry-aged ribeye steak, braised beef short rib, to mahogany black cod. Undeniably delicious, expertly prepared, and serviced by attentive staff, make a reservation at 150 Central Park for an unforgettable dinner on your next Royal Caribbean Oasis of the Seas cruise.
Coastal Kitchen
Created exclusively for suite guests, Coastal Kitchen is an unparalleled dining experience crafted to light up your senses with rich flavours and beautifully prepared dishes. Boasting an inviting ambience with comfortable seating, Coastal Kitchen welcomes guests with open arms before taking them on a spectacular culinary journey. Whether you want a classic New York sirloin steak or a delicious crab and shrimp crusted Pollock, Coastal Kitchen on Oasis of the Seas promises to enrapture guests in flavour with every scrumptious bite. For every suite patron, Coastal Kitchen is a destination that must not be missed!
Other dining options:
Chef's Table
Windjammer
Johnny Rockets
Dog House
Chops Grill
Solarium Bistro Restaurant
Room Service
Café Promenade
Giovanni's Table
Sorrento's Pizza
Park Café
Vitality Café
El Loco Fresh
Sugar Beach
Portside BBQ
Starbucks
Main Dining Room
Izumi Hibachi & Sushi
Schooner Bar
Boleros
Solarium Bar
Vintages
The Lime and Coconut
Trellis Bar
Diamond Club
Rising Tide Bar
Suite Lounge
Bionic Bar
English Pub
Wipe Out Bar
Playmakers Bar & Arcade
Oasis of the Seas activities & things to do
The Perfect Storm / Splashaway Bay
By far the most exhilarating water park you could ever experience on the high seas, the Perfect Storm and Splashaway Bay offer unending excitement and wondrous adventure for every member of the family. Whether you want to race down the twisting Typhoon and Cyclone waterslides or hop into the incredible Supercell, the Perfect Storm is a heart-stopping attraction that will keep the adrenaline-junkies coming back over and over again. The younger members of the family can also join in the fun by playing at Splashaway Bay, filled with water cannons, pools, and fountains to keep them preoccupied for hours on end.
Royal Escape Room – Mission Control: Apollo 18
Looking for some wire-to-wire action and adventure during your Royal Caribbean Oasis of the Seas cruise? Be sure to make a booking into the electrifying Mission Control: Apollo 18. This astounding escape room has your closest friends or family members pitted against time itself to ensure the Apollo 18 spacecraft lands on the moon. With thrilling puzzles and complex riddles, guests will need to think outside the box in order to complete their mission. If you're wondering what to do on Oasis of the Seas, Mission Control: Apollo 18 definitely needs to be on your list!
Other onboard activities and things to do:
Spa & Fitness Centre
Solarium
Shopping
Live Orchestra
Original Productions
Aquatheater Shows
Ice Skating Shows
Zipline
Sports Court
Ultimate Abyss
Merry-Go-Round
Spotlight Karaoke
Dance Classes
Whirlpools & Pools
Club Twenty
Outdoor Film Nights
Casino
Mini Golf
Comedy Club
Rock Climbing Wall
Ice Skating
All Access Tour
Library & Card Room
Scuba Diving Certification
Culinary Classes
Arcade
Wine Tasting
Laser Tag: Clash for the Crystal City
Music Hall
Flowrider
Adventure Ocean
Facts
Guest Capacity: 5,400
Gross Tonnage: 225,000
Length: 1186.5 ft
Max Beam: 213 ft
Draft: 30 ft
Cruising Speed: 22.6 knots