Ovation of the Seas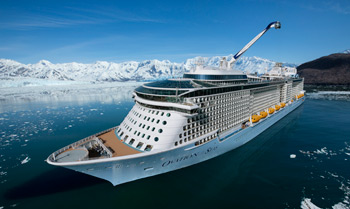 121
Starting Price, Per Night*
Embark on extraordinary Ovation of the Seas cruises today!
Changing the game with every voyage, Ovation of the Seas cruises promise to unlock a spectacular adventure with unforgettable moments. As a Quantum class ship, Royal Caribbean Cruises has packed Ovation of the Seas with a plethora of thrills and spills to keep every member of the family in cheerful spirits. From carving up the waves on the exhilarating FlowRider surf simulator or climbing a harder-than-it-looks rock climbing wall to playing the day away at the sensational SplashAway Bay, excitement knows no bounds on Ovation of the Seas. Boasting cutting-edge technology as well as 360-degree views, you're all but guaranteed to have a blast onboard.
Life onboard isn't just about unending sensations, Ovation of the Seas has plenty of comfortable lounges, bars and relaxing spaces such as the Solarium and Spa to help revitalise your body and soul. So what are you waiting for? Call up your friends now and check out our fantastic Ovation of the Seas cruises today!
Are you looking for an Ovation of the Seas itinerary? Click on our cruises tab to find out the best Ovation of the Seas cruise deals! Or alternatively, click here for all Royal Caribbean Cruises.
Ovation of the Seas Destinations
This Royal Caribbean ship sails on a number of Ovation of the Seas Australia cruises that travel along our gorgeous coastline from Sydney to destinations such as Hobart, Adelaide, and Darwin. You can also check out a number of Ovation of the Seas New Zealand cruises that pass through various locales including Christchurch, Auckland, and Wellington. In-between these cruises are a number of South Pacific cruises, a popular itinerary with the ship that stops at idyllic tropical escapes like Noumea, Port Vila, and Mystery Island. So, whether you want to find voyages on Ovation of the Seas departing Fremantle or an itinerary from Sydney to Hobart, there will undoubtedly be a sailing just for you.
Whilst not in Australia, you will often find Ovation of the Seas located in North America hosting a number of exceptional Alaska cruises. These are typically seven night Alaska Glacier cruises making port at jaw-dropping destinations from Vancouver, Juneau, to Skagway. If prefer a warmer climate and are in the area, Ovation of the Seas features an incredible Hawaii or Transpacific cruise, while it sails back to Australia, visiting various sun-soaked sanctuaries and beach-filled escapes.
Ovation of the Seas Accommodation
Royal Caribbean International have meticulously constructed a refined selection of Ovation of the Seas cabins that promise to maximise the comfort and enjoyment of every passenger onboard. With all the essential amenities as well as new innovations, all Ovation of the Seas rooms is designed with the future in mind. Check out the various types of staterooms and suites on offer below!
Staterooms
For those who don't want to break the bank, Ovation of the Seas has a number of Interior staterooms that feature an astounding live virtual view of the sea. Travellers can alternatively book into an Ocean View stateroom which offers similar space to the Interior, but has an actual window instead of a virtual view of the horizon. Elevating this experience is the Ovation of the Seas Balcony room, these greatly improve every explorers experience with more room kick up their feet and a secluded private veranda.
Suites
Voyagers who desire a sophisticated experience can look into one of the various Suites on offer by the Royal Caribbean ship. An Ovation of the Seas Junior Suite features all the benefits of a standard Suite such as expanded space at an affordable price. The Suites, starting at the Ovation of the Seas Grand Suite, feature an abundance of room to unwind after a long day of exploration with additional features such as a free evening at Coastal Kitchen, L'Occitane bath amenities, and a whole host more!
Dining
Chops Grille
A fan favourite amongst regular Royal Caribbean voyagers, Chops Grille is a phenomenal steakhouse with plenty of juicy options to bite into. With a menu that offers mouth-watering steakhouse classics like a New York Strip and Filet Mignon to seafood specialties such as grilled branzino or spicy jumbo shrimp, Chops Grille has all the flavours you desire with every order. Make a reservation and head over for a fantastic lunch at Chops Grille on your upcoming Ovation of the Seas cruise!
Wonderland
Bringing an imaginative twist to gourmet dining, Wonderland on Ovation of the Seas is an enchanting dining venue that aims to amaze and captivate with every delightful dish. Featuring a menu inspired by six magical elements – ice, water, wind, earth, fire, and dreams – Wonderland is a venue that aims to mesmerise with every tantalising bite. From vanishing noodles, truffled eggs in the shell, to crispy crab cones, be sure to make a reservation at Wonderland on your next dream voyage with Royal Caribbean.
Other dining options:
Jamie's Italian by Jamie Oliver
Chef's Table
Windjammer
Izumi
Dog House
The Café @ Two70
Solarium Bistro Restaurant
Room Service
Café Promenade
Coastal Kitchen
Fish & Chips
Vintages
Schooner Bar
Boleros
North Star Bar
Diamond Club
Sunshine Bar
Bionic Bar
English Pub
Pool Bar
Ovation of the Seas activities & things to do
Whether you want to soar into the skies on the North Star Observation Capsule, pass the time playing a video game or two at the arcade, or just want to chill out by the pool, Ovation of the Seas will undoubtedly have you covered. Scroll on and discover what awaits you and your crew aboard Ovation of the Seas.
RipCord by iFly
Learn to soar without the need for wings by experiencing the gravity-defying RipCord by iFly. This exhilarating skydiving simulator perfectly replicates the sensation of freefall through the use of endless bursts of wind lifting you up in the air. Feel weightless in the seas and if you're comfortable do some neat backflips or tricks when you hop into the adrenaline-pumping RipCord by iFly!
Solarium
Searching for an escape from the bustling atmosphere while on the magnificent Ovation of the Seas cruise ship? Full of sunshine and tranquillity, there's no better place to be if you seek serenity than the Solarium. Restricted to ages 16 and above, the Solarium is a stunning sanctuary with gorgeous panoramic views, pristine swimming pools, and luxurious lounge chairs to chill out on. Boasting a prime location at the front of the ship, saunter over to the Solarium and watch the world go by as you sail to your next destination.
Other onboard activities and things to do:
FlowRider
North Star
Rock Climbing Wall
Splashaway Bay
Two70
Arcade
Spa & Fitness Centre
Shopping
Pixels
Broadway Style Show
Love. Legs.
Bumper Cars
Salsa Dancing
Dance Classes
All Access Tours
Sports
Guest Speakers & Lectures
Trivia & Game Shows
Pools
Outdoor Film Nights
Casino
Live Music
Frequently Asked Questions for Ovation of the Seas
Does Ovation of the Seas have an ice rink?
Unfortunately, there is no ice rink on Ovation of the Seas cruises. Nevertheless, there are plenty of things to do on Ovation of the Seas cruises, including carving up some waves on the FlowRider, checking out the live Broadway-inspired shows, to driving around on bumper cars. With so much to do onboard – and that's before we include the range of onshore activities – you'll barely notice Ovation of the Seas cruises having no ice-skating rink.
How many passengers can Ovation of the Seas have on a cruise?
Ovation of the Seas cruises can fit:
4,180 (double occupancy)
4,905 (maximum occupancy)
So, whether you're looking to sail on Ovation of the Seas departing Fremantle or Ovation of the Seas from Sydney to Hobart, you won't be alone!
Plus, with a crew of about 1,300 people onboard during any cruise, Royal Caribbean has ensured every guest is in safe hands and well cared for the entire voyage.
How old is Ovation of the Seas?
Being built in 2016, Ovation of the Seas as of 2021 is only 5 years old! With many more sailings to come, we can't wait to see where she sails next.
Where does Ovation of the Seas dock in Sydney?
Typically, you can expect Ovation of the Seas cruises to dock at the Overseas Passenger Terminal in Circular Quay, Sydney. Whether you're planning on Ovation of the Seas Sydney to Hobart voyages or in the mood for a majestic voyage into the South Pacific, expect this stunning ship to dock in Circular Quay, Sydney.
Otherwise, you can expect Ovation of the Seas to dock at White Bay Cruise Terminal in Rozelle. While a little further out, this location is still a fantastic location to kickstart your next adventure.
Facts
Gross Tonnage: 168,666
Length: 1,141 ft
Max Beam: 136 ft
Draft: 28 ft
Cruising Speed: 22 knots