Cruises
Info
Inclusions
Ships
Destination
Promotions
Latest News
Exciting news for local cruisers – Carnival Cruises for the first half of 2021 are now available to book including sailings on the much anticipated Carnival Splendor. Cruise itinerary options include short breaks, Australian adventures, island escapes and even feature cruises to New Zealand.  Give yourself something to look forward to!  Plan ahead and book now to be one of the first onboard!
Best Deals
GURU'S BONUS CREDIT OFFER:  Book on a local cruise of 7 nights or longer and enjoy AU$100 bonus shipboard credit per stateroom*, courtesy of Cruise Guru.  Hurry, ends 22 July.
Looking for an international Carnival getaway? Have a look at Cruise Guru's favourite Carnival International cruises featuring great value-for-money fares*.
$10pp deposits* on select Carnival Australia cruises departing after 9 February 2020* and Carnival International sailings departing after 11 November 2019* .  Hurry, ends 31 July 19.  View Carnival Australia $10 deposit applicable cruises or Carnival International $10 deposit applicable cruises.
Enjoy exclusive discounts* when you book online with Cruise Guru.
Don't forget, book online to enjoy exclusive reduced rates! Contact us for other great deals including great value fly/cruise packages on Carnival cruises to/from Hawaii.  *Terms and conditions apply.
Carnival Cruises in Australia, New Zealand and the South Pacific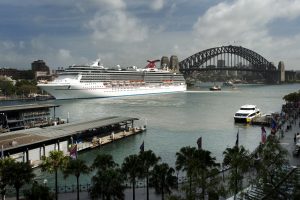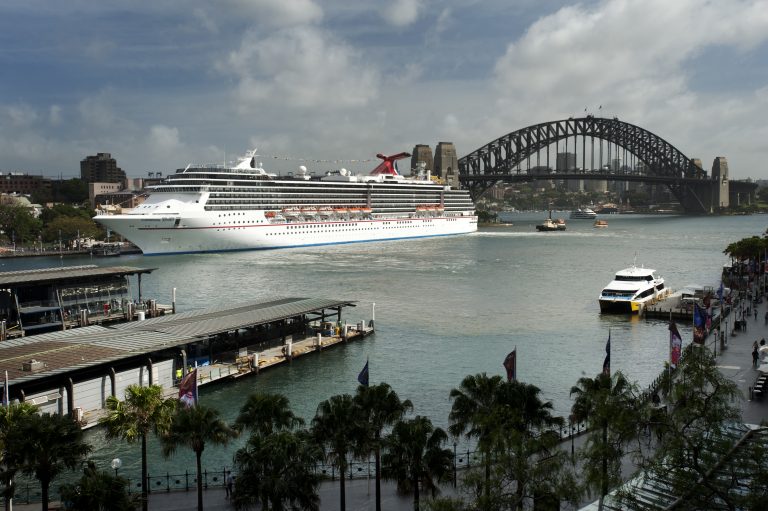 Carnival Cruises operate with year-round itineraries in Australia and the South Pacific aboard two popular Fun Ships with a wide range of departures from Sydney, from Melbourne and new to Carnival's repertoire, from Brisbane.
HANDY TIP: When searching for South Pacific cruises, remember generally that 7-9 night Carnival cruises will take you to New Caledonia, 10-11 night Carnival cruises will likely combine New Caledonia with Vanuatu and you'll need a minimum of 12 nights if you are looking to visit Fiji on your next Carnival cruise.
Cruises within Australia give you the opportunity to visit lively ports up and down Australia's eastern coastline, including the gorgeous beach towns of Airlie Beach and Port Douglas in the north, or the bustling metropolises of Melbourne and Hobart in the south. Cruises to New Zealand are much more infrequent, so get in quick!
Carnival also have a number of short 2 to 4 night Sea Break cruises on offer for those looking for a quick getaway or if you're wanting to give cruising a try.  A lot of these itineraries are considered 'cruises to nowhere' where you simply cruise into the ocean, turn around, and cruise back, however Carnival's 4 night itineraries give you the opportunity to visit one port of call throughout your journey.
If you are looking for a value cruise deal, view Carnival cruises under $1,000 or last minute cruises.
Asia
In Asia, experience the magic of Carnival Splendor's inaugural voyage into Australia with a cruise from Singapore to Sydney departing 25 Nov 2019.
Europe
Carnival is returning to Europe in 2020.  Offering only a handful of cruises, Carnival Legend and Carnival Radiance will be departing from Dover, Barcelona and Venice and will be operating cruises to the Mediterranean, Western/Northern Europe and the Norwegian Fjords.
North America and the Caribbean
For Hawaii, each April a Carnival ship leaves Australian waters and makes her way from Sydney to Honolulu en route to spending the northern hemisphere summer season offering cruises exploring Alaska. In September of each year, the ships then return via Hawaii to Sydney or Brisbane to spend our warmer months introducing Australians to the picturesque South Pacific.  These cruises to and from Hawaii via exquisite tropical Pacific islands are extremely popular and sell out early, so our strong advice is to book as soon as possible!
Carnival cruises also provide an extensive range of cruises elsewhere throughout America, from the east coast to the west coast, Panama Canal and in between. On the west coast, Carnival cruises depart from Los Angeles, Seattle and Vancouver.  Cruises from Los Angeles offer an extensive program of Mexican itineraries.  Choose from 2, 3 and 4 night Baja Mexico cruises or longer 6 and 7 night Mexico Riviera cruises.   Also available are a selection of cruises through Hawaii of 10 nights or more departing from Los Angeles, Honolulu San Diego, San Francisco or Vancouver.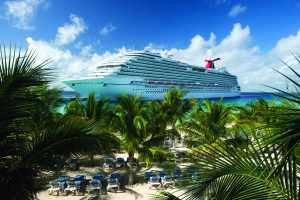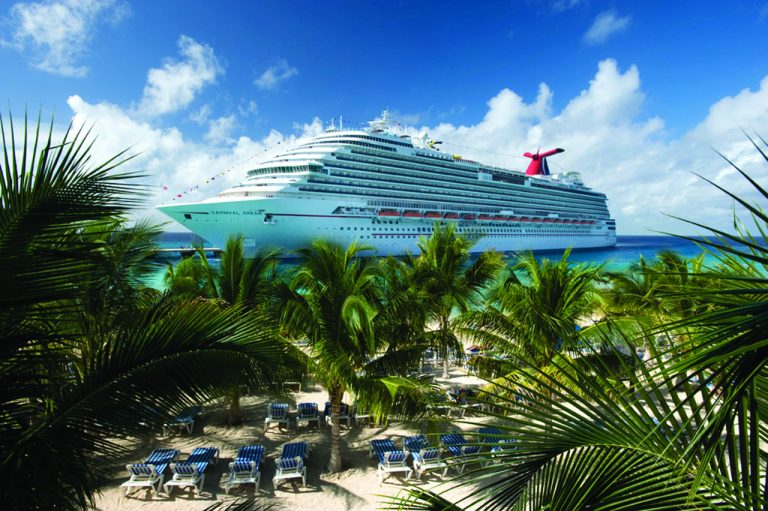 Carnival knows how to cruise the Caribbean, with hundreds of itineraries operating yearly from all over the west coast of USA, the most popular departure ports being Miami and Fort Lauderdale and almost exclusive departures from certain ports including cruises from Galveston, Texas and cruises from Tampa, Florida.  They have the largest range of Bahamas cruises from three night weekend getaways to longer cruises up to one week, and and a very comprehensive range of Caribbean cruises ranging from 4 to 6 night cruises heading to the eastern and western Caribbean, and 7 and 8 night itineraries which will also get you down into the Southern Caribbean. You can also tack a cruise onto your New York holiday with Carnival cruises from New York to Bermuda and the eastern Caribbean.
Central America
Sailing between coasts Carnival Cruises offers a number of both partial and full Panama Canal crossings from California, Texas and Florida.
Fun for all!  All for fun!
You're thinking about what to do for your holiday and the usual suspects come to mind: beach holidays, theme parks and road trips. Well, if none of these ideas make your heart beat faster, then consider it a sign. This is the year to do something different. Because nothing takes you further away from an ordinary holiday than a Carnival cruise.
Think about it. No, don't think about it. Imagine it. Feeling the stress melt away as you get a hot stone treatment. Playing nine holes of mini-golf at 21 knots. Taking the ultimate plunge at Carnival WaterWorks. Dining while being serenaded by an orchestra of waves. Exploring the seabed in a glass-bottom boat in New Caledonia, Vanuatu or the crystal seas of the Caribbean. Feasting away at a beachside barbie in the Mexican Riviera. Or maybe feeling the wind in your hair on a 4WD safari in New Zealand or while trekking the stunning scenery of Canada & New England. We're talking the kind of fun you'll want to tell people about. But you'll have to wait 'til you get home. You won't have time for postcards when you're having this much fun. Sorry, Grandma.
You see, the whole point of a holiday is to get away from everything ordinary for a while. Put on your fun hat. Let loose. Unleash. And nothing does that better than a Carnival cruise. So come aboard, join us and have the kind of holiday you've only imagined.
Carnival International is one of the world's most popular cruise lines. Offering a wide array of quality cruises to numerous worldwide destinations, Carnival prides themselves on delivering memorable holidays for their guests. A Carnival cruise offer not only outstanding value for money, but most importantly, fun! Fun Ship cruising features day and night time entertainment like stage shows, musical performances, casinos and more. They aim to make their guests right at home too – think comfy stateroom accommodations, attentive service, delicious food and drink, all enjoyed against the backdrop of some of the world's most beautiful ports.
Included with your cruise fare
All onboard meals in the main dining room and buffet,
A selection of onboard entertainment
Gratuities on cruises that depart from an/or return to Australia
Use of the waterpark and waterslides
Mini Golf
Included with cabins booked in a suite
VIP Check In
Priority embarkation and disembarkation
*Inclusions are subject to change at any time
MELBOURNE CUP CRUISE
Set your sights on the winning post with this unforgettable round trip to the Emirates Melbourne Cup. With exclusive special events from Sydney to Melbourne, you'll arrive in time for all the festivities of the Race that Stops the Nation. Your ticket includes general admission entry into Flemington on Melbourne Cup Day (plus transport to and from the racecourse) and general admission entry into Crown Oaks Day (transfers extra). Don't forget your frock, fascinator and form guide!
BOOK WITH $10PP DEPOSITS
Book your cruise for just $10 per person deposit*!