Carnival Horizon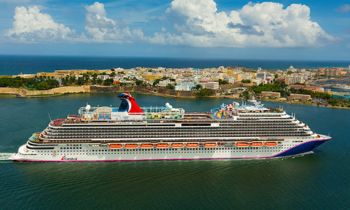 134
Starting Price, Per Night*
Carnival Horizon Cruises
Carnival Horizon homes from Miami and takes her passengers to exotic ports and tropical isles during six and eight night Caribbean cruises.  With cruises operating between the Eastern, Western and Southern Caribbean, why not join two itineraries back-to-back to give you an in depth Caribbean experience and a great opportunity to explore all that Carnival Horizon has to offer.
Want more options? Check out our Carnival cruises or why not compare our selection of new Carnival Spirit and Carnival Splendor cruises for local voyages.
The newest ship in Carnival International's Vista Class, the Carnival Horizon has been jam-packed with all the fun features we've come to know and love of the Carnival brand.  For both children and adults alike, you'll find a source of entertainment for every minute, from Dr Seuss' Waterworks for wet-and-wild fun for the kids, to the Serenity adults only retreat and so much in between.  Whatever food you want, Carnival Horizon is ready to provide.  Sushi, Mexican, Burgers, Italian – let your taste buds do the talking!  Combine this with the wide variety of stateroom types, suitable for all tastes and budgets, and your cruise holiday aboard Carnival Horizon is sure to be one for the books.
Onboard
Unite over So Much Fun
Indoor or out, active or chill Carnival Horizon lets everyone find their favorite kind of fun and go get it done.
Sprortssquare featuring Skyride
At SportSquare on Carnival Horizon, it isn't just winning – but even just playing – that's big fun. At SkyRide, strap in and zip safely around our suspended two-lane course bike course high above the deck. At The Clubhouse, try indoor activities like mini-bowling and pool… while outdoor soccer, volleyball and ping-pong are always just steps away. Try for a hole-in-one at SkyGreens, sink threes on the basketball court, and challenge yourself to amazing new heights at SkyCourse, our ropes course.
Havana Bar & Pool
On Carnival Horizon you'll find the Havana Bar & Pool. Good find – the pool's an exclusive retreat to paradise by day, and the bar becomes a hot dance spot when the sun goes down. Grab a seat at the bar and order up handcrafted Cuban cocktails like a traditional Daiquiri or classic Mojito. This bar is just steps from the pool, whose ocean view and atmosphere mingles with the bar's own, for a bit of that old-time Cuban resort flavor.
Carnival Multiplex featuring Imax
Carnival Horizon actually features two movie theaters next door to one another, and we call the whole great big thing Carnival Multiplex. Behind door number one is an actual IMAX Theatre in all its huge-screen, huge-fun glory. And behind door number two? Thrill Theater lives there, and you are invited to the 3D experience where jump-off-the-screen visuals are only the beginning of a, shall we say, truly moving experience.
Carnival Waterworks
Splash into big-fun and way-whimsy – you could, you would, and you definitely should at Dr. Seuss WaterWorks, only aboard Carnival Horizon. When you open the book of vacation fun, flip directly to "completely soaking wet" – this onboard waterpark is where you'll find your favorite Dr. Seuss characters making a splash. The centerpiece is the two big slides: The Cat's Hat slide takes you twisting down the red and white stripes of the world's most famous top-hat, while the Fun Things slide take you through all the topsy-turvy of having the blue-haired pair appear in your living room. With side-by-side racing slides, splashy water-spray toys and a giant tipping top-hat, Dr. Seuss WaterWorks on Carnival Horizon features fun fit for a red fish, a blue fish… a you fish!
Serentiy Adult-Only Retreat
On Carnival Horizon, the Serenity Adult Only Retreat is a place to relax in complete peace, as smooth as a sea breeze through a palm tree. Serenity is the place to do the stuff that is so hard to do in everyday life reconnect with your partner, finish that book or do absolutely, blissfully, nothing at all. Adults take note: Serenity even has you covered with a chopped salad station that is open on sea days, featuring a menu that starts with a grand choice of greens, and finishes with your selection from among tons of delicious ingredients.
Cloud 9 Spa*
True or false: cruises are a time for relaxation. Our answer: whether you're all action all the time, or chill to the core, everybody needs a chance to take it easy! And nobody will find an easier spot than Cloud 9 Spa aboard Carnival Horizon. This is an oasis built from the ground up for relaxation, from a full complement of traditional spa services like massages, facials, body wraps to the carefully-designed climates of Cloud 9's thermal suites… rooms swirling with moist or dry air, each heated very precisely. It turns out it's true: anyone can find a reason to say "ahhh" at Carnival Horizon's Cloud 9 Spa.
Lip Sync Battle
The mic is off, but the battle is on… Carnival Horizon. Lip Sync Battle: Carnival, a stage version of the hit Spike TV series, features a series of competitions to see who can truly channel their inner superstar, and make the crowd go wild. Fight your way to the finals, where you'll get music, lighting, props, choreographers and even backup dancers to elevate your performance. But the attitude – superstar, diva, rockstar – that is all you. So get up there and work it, twerk it, give it all you got. And if you turn out to be the ultimate mover-and-shaker, you-ll be taking home an exclusive gift!
Playlist Productions
When was the last time you got up and grooved… at the theater? Playlist Productions takes songs you know and presents them like you've never known them before. Past favorites become full-blown musical productions featuring multi-talented performers absolutely bringing down the house with song, dance… and superstar attitude. With tunes from fan-favorite divas, crooners or rockers, each show has a different theme – and of course, a completely different playlist! Get ready for heartfelt emotions, straight-up bouncy fun, or something in-between – all types are welcome to get down here.
*Additional Cost
Dining
Unite over Oh So Umami
Foodies, bring your friends: Carnival Horizon's onboard dining sport offer palate pleasing choices for everyone to savor.
Seafood Shack*
A good seafood dish mmm, quite the catch. However you like yours roll, bowl or platter Seafood Shack is Carnival Horizon's place for you to cast your net. Imagine a seaside spot in New England, where the locals gather for great meals served with a bit of a breeze and a lot of a view. (That said, nowhere on land will you get 360-degree ocean views like ours!) Look to Seafood Shack for rustic favourites like Crab Cake Sliders, Lobster BLT, Fried Buffalo Shrimp, Snow Crab and more. Steer a course for Carnival Horizon that is where you will find this little shack by the sea, wherever in the world you happen to be!
Main Dining
Here, your taste buds do not get a vacation. Every night at dinner you will find your menu featuring a selection of favorites… and your future favorites, new and surprising dishes to try. Bring all your buds and gather around a big table for a festive sit-down dining event in one of two dining rooms. Eat early or late, or choose Your Time Dining and do dinner plus a pre-dinner drink at the dining rooms full bar whenever the time is right.
Fahrenheit 555 Steakhouse*
Haute cuisine meets atmosphere at Fahrenheit 555, a dining experience that stands toe-to-toe with some of the best steakhouses on land. Except this ones at sea aboard Carnival Horizon. Ours features your choice of steak cuts, lobster, lamb and more and inside, there is even a full bar that pours great pairings. Outside, there is seating for dining al fresco. These are the building blocks of an amazing experience delectable elements that combine with great service to offer an evening to remember.
Bonsai Sushi*
So maybe you have had sushi before, but have you tried it at Bonsai Sushi? This is Carnival's onboard seafood-and-soy-sauce spot, and we think you will enjoy our latest location, aboard Carnival Horizon. Dine indoors or out amidst carefully-pruned bonsai trees, while enjoying a delectable menu with sit-down service. Rounding out the meal: soups, sides, sakes and desserts. So the next time you are taking a stroll down the onboard promenade, stop at Bonsai Sushi for a roll, a box or maybe order a whole sushi ship seaborne satisfaction for two.
The Chef's Table*
When you cruise on Carnival Horizon, make sure to reserve a seat at The Chefs Table. At this small gathering of foodies you will indulge in a cascading series of delectable plates as our chef honestly, kind of shows off a little! And that is a great thing for guests gathered around the table for dinner. Close your eyes as you savor a series of courses for the main event, but prepare to have them opened during a galley tour a behind-the-scenes appetizer event that offers a look at where all that magic gets prepared.
Jiji Asian Kitchen*
A modern restaurant inspired by a millennia-old society, JiJi Asian Kitchen on Carnival Horizon serves up enticing dishes in an eclectic space that brings not just good food but also good fortune to the table. You will enjoy your meal among Asian prayer rolls and Mongolian-inspired fabrics in this unique culinary experience. JiJi offers a full-service menu featuring a mix of exotic and familiar dishes designed to challenge and delight your senses.
Cucina Del Capitano*
At Cucina del Capitano on Carnival Horizon, who you have got gathered around the table is truly as important as what is being served there. At our table you will enjoy delicious Italian favorites we serve them family-style because we know that sharing large plates and sharing tales of your days adventures goes hand-in-hand. Speaking of which, our walls are adorned with old snapshots from our officers family albums, proving that the rustic Italian-farmhouse atmosphere definitely is not for show.
Guy's Burger Joint
We call Carnival Horizon's onboard burger spot Guy's Burger Joint… and that's "Guy" as in Guy Fieri. We teamed up with him to design not just the burgers and fries, but to help bring in the kind of rustic atmosphere you'd find at a roadside burger shack somewhere off a coastal highway. All signs point to ambiance – and serious flavor – so try a burger dressed up the way Guy likes it, or take it off-roading… to the nearby topping bar, where you can make it your own.
BlueIguana Cantina
BlueIguana Cantina is Carnival Horizon's onboard taco-and-burrito place, featuring freshly-made Mexican faves. Because BlueIguana is all about you, we will make it with the ingredients you choose tell us which meat, veggies, rice and beans you are in the mood for and then we will hand it over to you for the finishing touches. Here, that means a detour to the salsa bar to fire it up… or if you are not feeling the heat, that is cool too. Any way you dress it, expect a meal that is suited up to satisfy.
*Additional cost
Facts
Gross Tonnage: 133,500
Length: 1, 055 feet
Beam: 122 feet
Cruising Speed: 18 knots
Guest Capacity: 3,974 (double occupancy)
Total Staff: 1,450
Registry: Panama