Carnival Spirit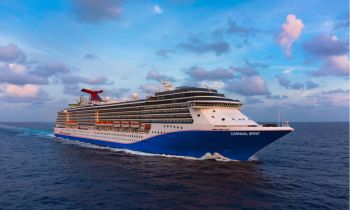 Carnival Spirit Cruises
Jam-packed with unending fun for all members of the family, hopping on a Carnival Spirit cruise is nothing short of extraordinary. From Waterworks, the largest waterpark at sea or the peaceful abode at the Serenity Retreat, to the abundance of bars and lounge areas to socialise with fellow passengers, Carnival cruises have spared no expense to keep everyone entertained. The fun doesn't stop once the sun goes down, as Carnival Spirit boasts rousing activities such as charming stage productions, buzzing parties, and a gorgeous casino.
Discover the incredible on Carnival Spirit!
When you feel a tad famished, saunter on over to one of the tantalising Carnival Spirit dining options on offer with dishes to keep guests of all palates satisfied. For people yearning for an authentic holiday at sea with the family, there is no better choice than a Carnival cruise. Round up the troops today and embark on an exceptional Carnival Spirit cruise!
Bursting with life and asking you to come along for the ride, every Carnival Spirit cruise is destined to be a voyage you will be talking about amongst friends for a lifetime. No matter the destination you sail to aboard Carnival Spirit, every moment onboard is filled to the brim with fun-filled action. Whether it's the riveting nighttime entertainment, the heat-busting pools and top-deck action, or the bustling lounges and bars, Carnival Spirit cruises are purpose-built for adventure. Plus, with marvellous destinations and ports of call paired with exciting shore excursions, no second will ever be wasted aboard Carnival Spirit.
View all Carnival Spirit cruises by selecting the cruises tab, or alternatively click here for all Carnival Cruises. Otherwise, we also recommend checking out upcoming Carnival Splendor cruises for more options on voyages in Australia and the South Pacific.
Accommodation on Carnival Spirit
Guests on any Carnival Spirit voyage will never be disappointed with the selection of spacious staterooms and suites afforded to them. Carnival Spirit rooms are thoughtfully designed in order to accommodate every kind of traveller, with plenty of space and useful amenities to keep guests stress-free at all times.
Budget-friendly and remarkably cosy, the Inside stateroom offers everything a traveller needs to relax and unwind after a long day of adventure. Overlooking the sea, the Ocean View stateroom has all the benefits of an Inside stateroom with the added perk of an astounding vista of the horizon. Voyagers who appreciate a secluded outdoor space to take in the ocean breeze can book into a Carnival Spirit Balcony stateroom, which features a private outdoor veranda to kick up your feet and watch the day go by.
Carnival Spirit Suites offer the highest level of comfort on the ship, with an expanded space to take it easy as well as more complimentary features that greatly improve quality of life. From the delightful Junior Suite to the luxurious Grand Suite, any choice of suite accommodation on Carnival Spirit will always impress. Built with larger balconies, double sinks, and separate dressing and sitting areas, book into a suite on your next voyage for an enhanced level of luxury.
Dining
RedFrog Pub
Yearning for an ice-cold beverage and a mouth-watering pub-style feed? Look no further than the RedFrog Pub. Furnished with charming Caribbean Island inspired décor, this tropical pub is an outstanding choice for those looking for a laidback evening with a couple of your closest friends or relatives. Pull up a chair, enjoy some pleasant live music, and sink your teeth into some delicious food at the RedFrog Pub!
Nouveau Restaurant
Patrons who decide to spend a night or lunch at the Nouveau Restaurant are treated to an intimate evening with flavoursome food. Boasting a menu that includes mouth-watering Australian wagyu steak, succulent grilled lobster tail, colossal prawns and so much more, Nouveau Restaurant offers up some of the best dining you can have aboard Carnival Spirit. Featuring an extensive wine list and the freshest produce, make a reservation to the Nouveau Restaurant during your Carnival Spirit cruise for a romantic and memorable night with a loved one.
Other dining options:
Guy's Burger Joint
RedFrog Pub
Bonsai Sushi
BlueIguana Cantina
Lido Marketplace
The Chef's Table
Seafood Corner
Coffee Bar
The Carnival Deli
Dining Room
Swirls
Onboard activities & things to do
WaterWorks
Active adventurers wanting to make a major splash during your Carnival cruise need to race over to the captivating WaterWorks. With all the excitement you may possibly need and so much more, this massive waterpark located on the top of Carnival Spirit promises to excite and thrill everyone who comes on board. From the spine-tingling Twister Waterslide to the electrifying DrainPipe spiral ride, WaterWorks is built for some serious action. Perfect for guests of all ages, take the whole family to experience the spectacles of the WaterWorks water park on your next holiday!
Serenity Adult Only Retreat
After racing down the twisting tubes at WaterWorks, you might need to take some time to sit back and relax. As such, the Serenity Adult Only Retreat is where you need to be! Featuring plush lounge chairs, a private bar, and plenty of sun to soak into your skin, this tranquil escape is the perfect locale to loosen up and watch the day go by. Whether you want to have a quiet chat with a loved one, read up on a good book, or simply have some essential you time, amble on over to the Serenity Adult Only Retreat and have a well-earned break from reality.
Other onboard activities and things to do:
Hasbro, The Game Show
The Punchliner Comedy Club
Seuss at Sea
Playlist Productions and Stage Shows
Piano Bar
Alchemy Bar
Casino Bar
SKYBOX Sports Bar
Live Music
Karaoke
Nightclub
Pools
Cherry on Top
Jogging Track
Spa
Hair & Beauty Salon
Cooking Demonstrations
Art Auctions, Exhibitions, and Seminars
Atrium
Library
Casino
Lip Sync Battle: Carnival
Mega Deck & Sailaway Party
Carnival Spirit Shopping
Frequently Asked Questions for Carnival Spirit 
How many passengers can go on Carnival Spirit?
Carnival Spirit can fit up to a maximum of 2,680 passengers inside on any cruise. With thousands of passengers setting sail on Carnival Spirit cruises to places across the South Pacific, Australia, and New Zealand, there'll be plenty of room to fit you and your closest friends and relatives on any voyage. What's more, as Carnival Spirit typically has a capacity of 961 crew, you can rest assured that this fantastic ship will have you cared and catered for the entire trip.
Does Carnival Spirit have Wi-Fi?
Don't worry, Carnival Spirit does have Wi-Fi across the entire ship. That means you can pop open your smartphones, laptops, tablets, or any other Wi-Fi-capable devices and not worry about having a connection. If you don't have a Wi-Fi-enabled device, you can alternatively use their Internet Cafe, which has 24-hour access and lets you connect to your loved ones and share the latest news on your travels.
To ensure you have the best internet experience on your Carnival Spirit voyage, we strongly recommend setting yourself up with an internet package before or during your trip. Whether you're just looking to send some instant messages via social media apps such as Facebook, WhatsApp, or Instagram, or need an easy way to keep the kids busy with some streaming services like Netflix or YouTube, Carnival Spirit internet packages are well priced and give you fantastic coverage no matter where you are onboard the ship.
Does Carnival Spirit have drink packages?
Yes! Choose between the Bottomless Bubbles or Cheers! drinks package and you'll be able to enjoy a selection of drinks on Carnival Spirit without needing to pull out your wallet.
The Bottomless Bubbles beverage package includes:
Perfect for the young ones and those not looking for non-alcoholic beverage, the Bottomless Bubbles drinks package offers an affordable way to enjoy your favourite beverages and not worry about the price tag. Now, if you're a coffee-lover or are just in desperate need of a cold beer or two, the Cheers! beverage package has everything you'll need.
The Cheers beverage package includes:
Soft drinks
Juice
Specialty coffee
500ml bottled water
Beers
Spirits and cocktails
Wine by the glass
A 25% discount on spirit or wine, by the glass, over $50
Bear in mind, this beverage package on Carnival Spirit does not include beverages offered at the gangway, room-service, and bottles of liquor, among other exclusions.
Facts
Gross Tonnage: 80286
Length: 294 Metres
Beam: 32 Metres
Cruising Speed: 22 Knots
Guest Capacity: 2124(Double Occupancy)
Total Staff: 930
Registry: Malta