Starting Price, Per Night*
Cruise to Hawaii on a great Hawaii cruise deal today!
Hawaii is an incredibly appealing destination for English speakers for the simple fact that it's an accessible yet exotic tropical vacation spot. It's an archipelago of dramatic volcanic islands, including the four most notable: the Big Island (also simply known as Hawaii), Kauai, Maui, and Oahu. You've also probably heard of Lanai and Molokai, and there are other smaller islands and atolls as well. Each of the Hawaiian Islands has its own unique personality and that's why a Hawaii cruises makes so much sense. You'll visit several islands during one magical journey.
Early Polynesians from the Marquesas populated these islands in the third century and Tahitians arrived later in 1300 CE. The archipelago still embraces the traditions of those cultures, especially in regards to music, dance, and cuisine. Today, each Hawaiian island is still a gorgeous tropical paradise, but they do have distinct personalities.
If you haven't already, take a look at the Hawaiian Islands on Google Maps, on your globe, or in an atlas. This beautiful island chain is located in the North Pacific Ocean. Maui is a little more than 8,000 kilometres northeast of Sydney. Whether your want to cruise to Hawaii from Australia or from anywhere across the globe, we'll be able to find the perfect deal for you. Adventure through Hawaii at an incredible price with the help of Cruise Guru today!
View all cruises from Honolulu.
When do Hawaii Cruises Operate?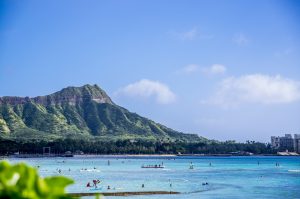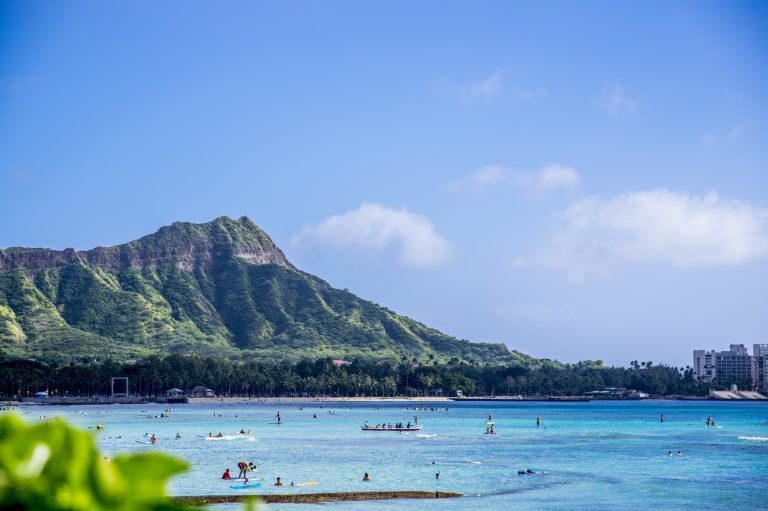 There really is no bad time of year to enjoy Hawaii cruises. Seriously. The weather is deliciously warm all 12 months of the year and Norwegian offers inter-island itineraries on a year-round basis, so visit when it's convenient for you. Summer is dry season and it spans from April to October. Winter can be rainy from November to March. Because of Hawaii's topography of mountain peaks, coast, and interior valleys, you'll find weather patterns vary greatly on each island. It can be raining in one spot while it's perfectly sunny just half a mile down the road. Each of the Hawaiian Islands has a windward and leeward side. As you probably guessed, wind buffets the windward sides of the island (east and north), while the leeward sides (west and south) are more sheltered from the elements.
The daily high temperature in Hawaii swings from the lower twenties to the high twenties, with nighttime and winter temperatures only slightly cooler. If you like to plan around low or shoulder season, pick travel dates during late April to May or September to November. Peak whale-watching season is January through May though it's possible to see whales here anytime between November and May.
How to Get to Hawaii
If you're sailing an inter-island voyage or looking to cruises from Hawaii to Australia, your ship will likely embark from Honolulu. Qantas, Jetstar, and Hawaiian Airlines all fly nonstop to Honolulu from Sydney. Jetstar flies direct from Melbourne and Hawaiian Airlines direct from Brisbane as well. The flight is about 10 hours. Connecting service is also available on a variety of airlines from other Australian cities like Perth and Canberra. Alternatively, you can look into repositing cruises that sail from Sydney to Honolulu (and vice versa).
Cruise Guru's Hawaii Cruises Tip
"No visit to Hawaii is complete without going to a Luau – a traditional Hawaiian feast accompanied with music and entertainment." – Sophie, Marketing Coordinator
Itineraries on Hawaii Cruises and the Cruise Lines That Offer Them
There are a variety of ways to cruise to and around the Hawaiian Islands. There are a handful of voyages that depart from Sydney or Brisbane to Honolulu in March and April and return from Honolulu to Sydney or Brisbane in September and October, each year. These cruises to Hawaii from Australia are quite popular, so be sure to book in fast. You can sail across the Pacific to and from Australia aboard Carnival Cruises, Holland America, Royal Caribbean Cruises and Celebrity Cruises.
You can also fly directly to Hawaii and sail a Hawaii inter-island itinerary visiting several islands. These itineraries are ideal if you really want to immerse yourself in the culture of Hawaii. Your third option is to fly to a United States or Canadian gateway and cruise from America to Hawaii. Those voyages are a good bet for people who appreciate several sea days in conjunction with calls on tropical destinations.
Norwegian Cruise Line's Pride of America, crewed by an American staff, sails 7 night round trip itineraries out of Honolulu, Oahu, all year long.  The equivalent island-hopper itinerary is often very expensive to construct – you can compare the value that comes with booking a Pride of America Hawaii hopper on this handy Hawaii Flyer.
View all cruises from Honolulu.
Hawaii Cruises' Ports of Call 
When planning your cruise to Hawaii, it's key that you know of the best islands and places to see during your sun-soaked voyage. Let's talk specifically about the ports of call you'll visit once you're sailing Hawaiian waters.
Kona and Hilo on the Big Island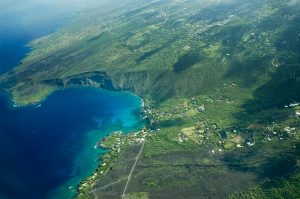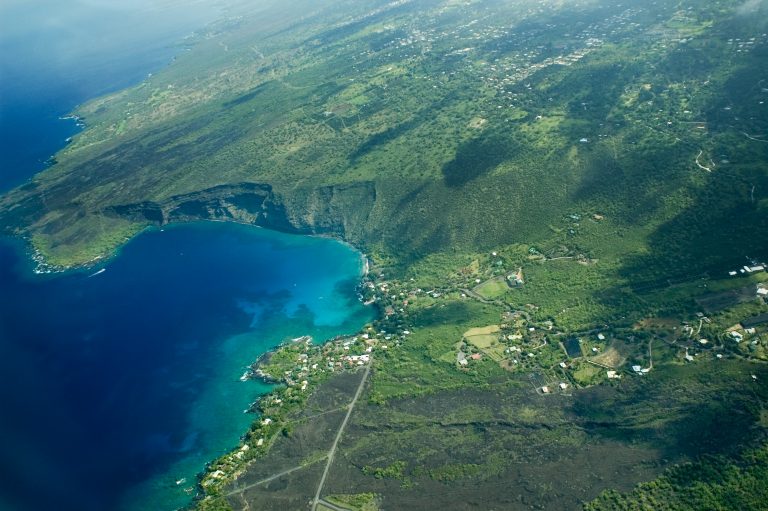 You've heard of Kamehameha, right? He was the leader who united most of the Hawaiian Islands in 1795. He was born on the Big Island, more commonly referred to simply as Hawaii, and ruled as king from that island—the southeastern-most and largest in the archipelago. In fact, the Big Island is larger than all of the other Hawaiian Islands combined and consists of five volcanoes: the extinct Kohala; Mauna Kea, which is dormant; and three active volcanoes—Hualalai, Kilauea, and Mauna Loa. When measured from the mountain's base at the sea floor to its highest peak, Mauna Loa is the tallest mountain on the planet and you can visit it and Kilauea when you head to Hawaii Volcanoes National Park.
There are two ports you may visit on the Big Island: Kona on the West Coast and Hilo on the East Coast. The West Coast is known for its almost lunar landscape and luxury resorts with golden sand beaches stretching from Kailua-Kona north to Waimea. Expect to visit Kealakekua Bay, St. Benedict's painted church, Puuhonua O Honaunau National Historical Park, and Anaehoomalu Bay for the beach. Coffee and chocolate are crafted here and many visitors—especially those with children in tow—visit the Original Hawaiian Chocolate Factory. You can enjoy plenty of watersports and, if you'd like to spy sea turtles, just enjoy the beach and you're likely to see a few swimming right off shore.
The East Coast of the island is home to lush tropical rainforests, majestic waterfalls, and volcanoes. Once in Hilo, visit Rainbow Falls for cascades and plunge pools, Akatsuka Gardens for beautiful orchids, and Volcanoes National Park. The park is fascinating since you have the opportunity to see Halemaumau Crater and Thurston Lava Tube. Another interesting site is Lava Tree State Park. It was a rainforest at one time when lava flowed across it, burning the trees that are now eerie moss-covered skeletons. Most cruise lines also offer exhilarating tours to the summit of Mauna Kea volcano.
Nawiliwili, Kauai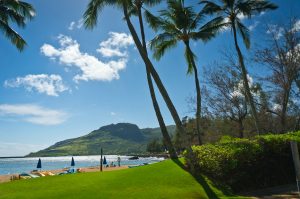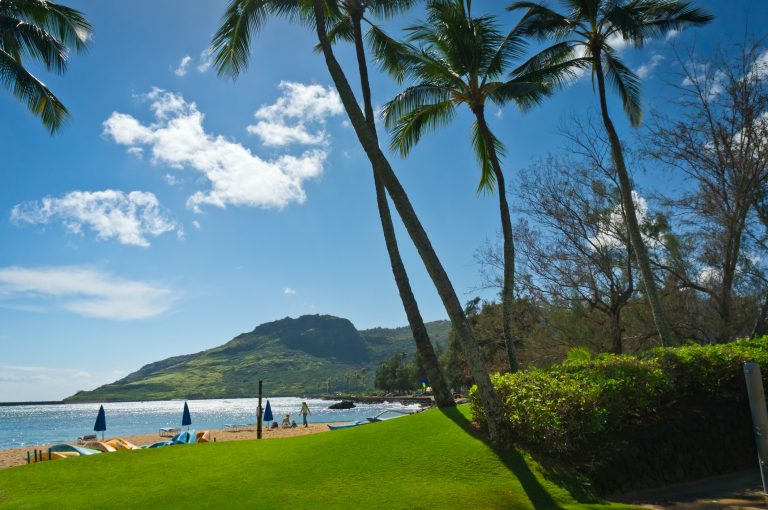 Kauai is known as the Garden Isle and—at 6 million years old—it's the oldest main island in the Hawaiian archipelago. It's located northwest of Oahu and is Hawaii's fourth-largest island. The port city here is called Nawiliwili. Kauai is perhaps the most rustic of all the major islands in the group. The fertile valleys are a beautiful contrast against the volcanic mountains and there are plenty of photo-worthy waterfalls to visit. Waimea Canyon, part of Waimea Canyon State Park, is known as the Grand Canyon of the Pacific. The Waimea River carved out the massive canyon and it truly is an awe-inspiring site as is the rugged Napali Coast on the island's North Shore. The coastline is only accessible via boat or the Kalalau Trail that starts at Kee Beach. It's a terrific place to hike or kayak. Many companies like Norwegian Cruise Line overnights on Kauai and offer an option to enjoy an authentic luau while you're visiting this island. Your ship will usually make a big deal out of the sailaway, which affords you amazing views of the Napali Coast. Grab a cocktail and enjoy the scenery!
Kahului and Lahaina on Maui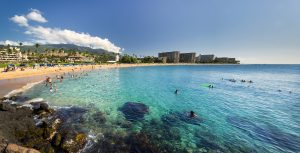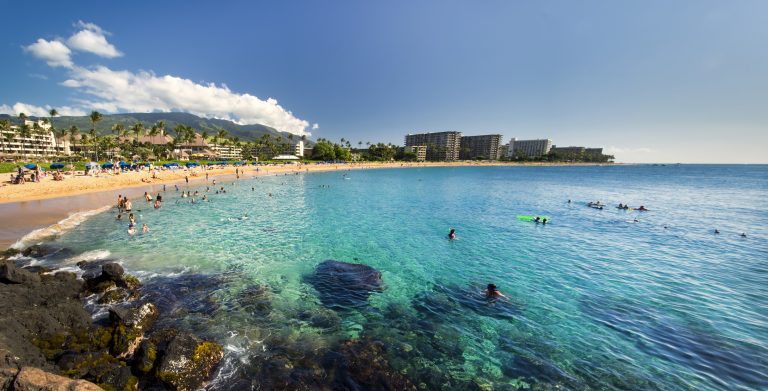 There are so many reasons to visit Maui but it's absolutely the best place in the Hawaiian Islands to view humpback whales from November through May. For whale-watching tours, head to Lahaina—which used to be a whaling town, but is now dedicated to preserving the humpbacks habitat along the Auau Channel between Maui and Molokai. The dock at Lahaina is also the departure point for a variety of catamaran snorkeling trips to Molokini as well as dolphin and whale-watching tours. Some cruise lines call on Lahaina while others visit Kahului near the airport.
Maui is Hawaii's second-largest island and it looks sort of like a butterfly from above. That's because a volcanic "doublet" formed the island with two shield volcanoes overlapping with an isthmus between them. The hippie town of Hana is situated along the infamously difficult to drive, one-lane Hana Highway in the east. Major tourist destinations are found in the south (Kihei, Wailea, and Makena) and along the West Coast (Lahaina, Ka'anapali, Napili, Kahana, and Kapalua).
The West Maui Mountains are a backdrop from many resorts in the west and mount Haleakala is more centrally located. It rises 10,000 feet above sea level and is a popular tourist destination at sunrise and sunset. Stop at one of Maui's up-country ranches after your tour of Haleakala.
There are approximately 30 beaches ringing the island, making it a popular destination for swimming, snorkeling, and windsurfing (especially at Kahana Beach Park). You can find a variety of beach types here, from gold sand to pink, green, red, and black.
Norwegian's Pride of America overnights on Maui so you have plenty of time to drive the gorgeous Road to Hana and enjoy an evening luau. Try the Feast at Lele or the more family-friendly Old Lahaina Luau.
Honolulu, Oahu
Norwegian cruise line's Pride of America sails round-trip Hawaii cruises out of Honolulu. Many other ships offering Hawaii cruises call here as well. Oahu is the third-largest island in the chain but it's the most populated. Home to Honolulu, it's a blend of old-world Hawaii melding with influences as diverse as those from Japan and Portugal. Perhaps that's why Oahu is often referred to as The Gathering Place.
Be sure to head to Waikiki, Pearl Harbour (visiting the USS Arizona Memorial is especially poignant whether you're from a military family or not), Diamond Head, Hanauma Bay, and the North Shore. A lot of visitors check out the Polynesian Cultural Centre while families enjoy Sea Life Park Hawaii and Wet'n'Wild waterpark. If you want to learn to surf, you can do so on Waikiki Beach.
Note that you likely won't get a feel for all Hawaii has to offer if you only stay on Waikiki, so promise yourself to get out of Waikiki and explore more of Oahu too. Take the 25-minute drive to the North Shore to enjoy secluded beaches and mom-and-pop restaurants serving up home-style Hawaiian cuisine. If you wish to cruise to Hawaii, stopping at Honolulu is almost essential for any itinerary.
View all cruises from Honolulu.
Find your Hawaii cruise today
Discover incredible Hawaii cruises from your favourite cruise lines at remarkably low prices right here at Cruise Guru. If you need additional help when comparing Hawaii cruise deals, packages, and offers, don't hesitate in contacting us immediately. Our Gurus have a wealth of knowledge on all the various Hawaii deals available and can quickly organise the perfect itinerary for you. Get in touch by either calling 13 13 03 today or by filling out a call-back form and one of our Gurus will contact you shortly. Whether you're looking for cruises to Hawaii from Australia or an Australia to Hawaii cruise, we'll be able to find the right voyage that suit your preferences and budget.
Want to know when the latest Hawaii cruise deals arrive before anyone else? Follow or like our Facebook, Twitter, and Instagram pages! We work tirelessly to find out the newest deals on the market and will happily let you know as soon they release. From must-see flash sales, jaw-dropping price reductions, to newly released itineraries for popular destinations, we do the hard yards so you don't have to. Book your next fantastic cruise to Hawaii at an affordable price here at Cruise Guru.
Need help? Call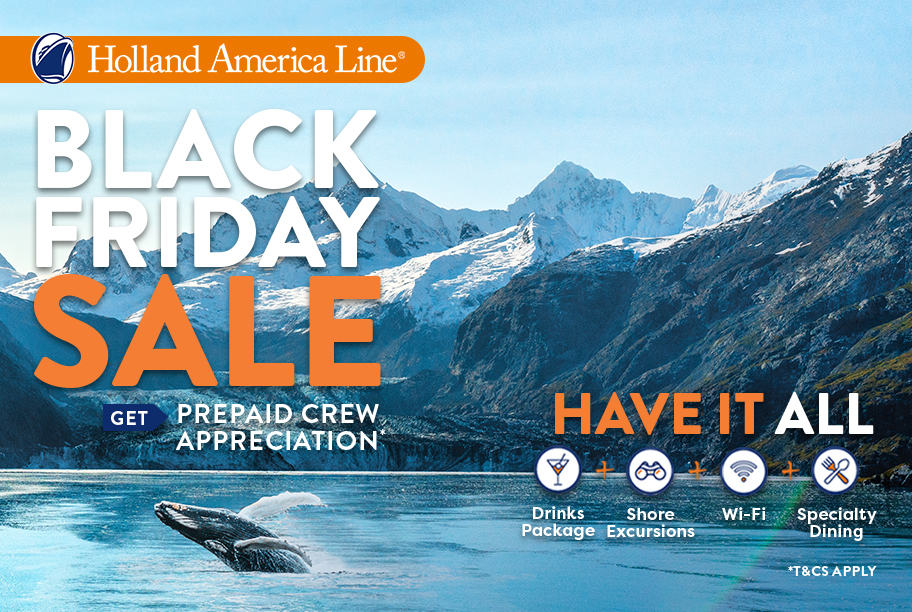 NORTH AMERICA
Enjoy prepaid crew appreciation with Holland America. Plus enjoy their Have it All inclusions – dining, drinks, shore excursions and Wi-Fi*
View Now