Overview
Cruises
Info
Inclusions
Ships
Destination
Promotions
Latest News
Holland America has just announced the rollout of it's new 'Club Orange', a premium amenities program offered on nine Holland America ships.  A limited number of non-suite staterooms on each voyage will be eligible to purchase Club Orange, which will entitled them to upgrades within their booked category as well as a special 'Captain's Choice' onboard event.  Club Orange costs approximately US$35 per person per day* on Nieuw Statendam and Koningsdam and approximately US$25 per person per day* on all other eligible ships.
Best Deals
Get ready to cruise with a breeze and a view on Holland America's latest View and Verandah Sale.  Enjoy oceanview or verandah upgrades* and up to US$550 shipboard credit per stateroom* on select Holland America cruises.
$25PP DEPOSITS* – Book a Holland America cruise of 49 nights or less departing after 18 May 2020 and pay just $25pp deposit*. Hurry, ends 6 January 2020.
Just looking for the best price without the frills? Check out some of the lowest rates on popular worldwide Holland America Line cruises. You'll be Happy As Larry with these deals! Or have a look at the Top 10 Sale with last minute cruises available at heavily reduced prices*.
Experience the icy straits and passages of Alaska with Holland America Line. Enjoy return economy air, transfer, one night pre-cruise accommodation and 7 nights aboard Koningsdam*. View Savor Alaska Fly, Stay and Cruise Packages.
History and culture meet modern day wonders – enjoy return economy flights to Shanghai*, seat-in-coach transfers*, 1 night pre-cruise accommodation*, 14 nights through China, Japan and South Korea as well as a Great Wall of China Tour*.
Use our Cruise Finder tool to find your ideal Holland America cruise, or alternatively contact us or request a call-back for expert assistance in choosing the right cruise to meet your needs.
Book your Holland America Australia cruise with Cruise Guru and experience our unrivalled first hand knowledge, with members of our expert team having cruised globally on the 'Dam' ships including grand voyages and world cruises. *Terms and conditions apply.
Holland America Cruises in Australia, New Zealand and the South Pacific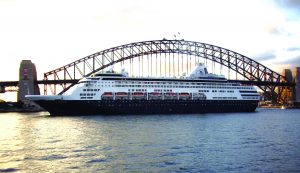 Each year, Noordam makes her way from the Northern Hemisphere to spend Australia's summer sailing the Pacific Ocean, accompanied by a few fleeting visits from Maasdam and Amsterdam.  Departing predominantly from Sydney, with a small number of Auckland departures, Holland America line gives its guests the opportunity to cruise Australia, New Zealand and the South Pacific in premium luxury. Itineraries range from 10 night cruises to extensive itineraries of 30 nights or more, encompassing Australia, New Zealand and the Pacific islands.
Asia
Closer to home, Holland America explorations of Asia include a large number of 10 to 18 night itineraries for those who have two to three weeks to discover the orient, however Holland America does specialise in longer in-depth discoveries of up to 45 nights.  These cruises predominantly depart from Singapore, Hong Kong, Yokohama (for Tokyo) and Shanghai and travel to exotic destinations such as Vietnam, Thailand, Indonesia and the Spice Islands.
Europe
Holland America offers extensive itineraries throughout Europe, with their most popular departures being their longer 18 night or greater sailings.  In the Mediterranean, sailings range from 10 night getaway's to intensive and comprehensive 30+ night adventures with cruises generally departing from Barcelona, Venice and Rome.  Look out for their cruises to the Adriatic or Greece, as well as their exceptionally popular longer cruises over 18 nights. In Northern Europe, cruises depart from Copenhagen, Rotterdam and Amsterdam, and not only take you to the typical ports in the Baltic states, but also give you the opportunity to visit the northern most points in Norway, Iceland, and even Greenland.
North America and the Caribbean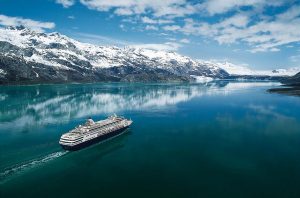 Holland America is widely considered the premier cruise line in Alaska where it has 'grandfather rights', which allow it to enjoy the most premium docking positions in port. With numerous 7 and 14 night round trip itineraries from Vancouver, as well as cruises departing Seattle and Seward, Holland America has plenty of Alaska cruise options to choose from. If you are only going to cruise Alaska once, cruise Alaska with Holland America.
Elsewhere from North America, choose from an extensive range of Holland America cruises in Canada and New England from Boston, Montreal, New York and Quebec City.  Itineraries range from 7 night one way itineraries between the United States and Canada, or 12 to 14 night itineraries for a longer Canada and New England experience.
Heading to a more tropical destination, Holland America escapes to the Caribbean primarily depart from Fort Lauderdale and not only have the typical 7 night Caribbean getaways, they also have longer voyages ranging from 9 to 21 nights for those wanting a more in-depth exploration of the idyllic islands of the Caribbean. You are also able to visit some western Caribbean destinations on the wide range of Holland America's Panama Canal crossings.
South America
Heading further south, Holland America South America adventures introduce their guests to Incan Empires and Amazonian adventures all the while enjoying Holland America's renowned levels of service.  Usually departing from one side of the continent and looping under to disembark on the other, these cruises take you through fjords and glaciers and to cultural ports.  In South America, the most in-demand itineraries are those that cruise into the Antarctic circle, number one on many bucket lists.  Make sure you book your Holland America Antarctica cruise early as these book out well in advance.
Grand Voyages and Grand World Voyages
Holland America's Grand Voyages and Grand World Voyages are unique and carefully crafted extended journeys that allow for in-depth explorations and immersive experiences to some of the most incredible parts of the world.
Check out Holland America's World Cruises or, for expert advice from our most experienced Holland America cruise consultants, please Contact Us.
Date
Cruise
Ship
Cruise Line
Dep Port
Destination
Ports of Call
Inside
Inside
Oceanview
Oceanview
Balcony
Balcony
Suite
Suite
Save up to*
04 Jan 20
57-day Grand World Voyage
Amsterdam
Holland America Line
Fort Lauderdale (Port Everglades)
World
Show
$13,582
$238
Select
24 Jan 20
37-day Grand World Voyage
Amsterdam
Holland America Line
Buenos Aires
World
Show
$9,215
$249
$19,850
$536
Select
02 Mar 20
50-day Grand World Voyage
Amsterdam
Holland America Line
Auckland
World
Show
$12,439
$249
$16,540
$331
Select
26 May 20
11-day The Atlantic Coast
Amsterdam
Holland America Line
Fort Lauderdale (Port Everglades)
Canada / New England
Show
$1,706
$155
$1,841
$167
$3,955
$360
Select
-14%
06 Jun 20
7-day Canada & Ne Discovery
Amsterdam
Holland America Line
Montreal
Canada / New England
Show
$1,402
$200
$1,547
$221
$3,091
$442
Select
-17%
13 Jun 20
7-day Canada & Ne Discovery
Amsterdam
Holland America Line
Boston
Canada / New England
Show
$1,507
$215
$1,652
$236
$3,196
$457
Select
-16%
20 Jun 20
7-day Canada & Ne Discovery
Amsterdam
Holland America Line
Montreal
Canada / New England
Show
$1,537
$220
$1,672
$239
$3,438
$491
Select
-15%
27 Jun 20
7-day Canada & Ne Discovery
Amsterdam
Holland America Line
Boston
Canada / New England
Show
$1,575
$225
$1,719
$246
$3,196
$457
Select
-15%
04 Jul 20
7-day Canada & Ne Discovery
Amsterdam
Holland America Line
Montreal
Canada / New England
Show
$1,605
$229
$1,749
$250
$3,370
$481
Select
-15%
11 Jul 20
7-day Canada & Ne Discovery
Amsterdam
Holland America Line
Boston
Canada / New England
Show
$1,641
$234
$1,786
$255
$3,619
$517
Select
-15%
18 Jul 20
7-day Canada & Ne Discovery
Amsterdam
Holland America Line
Montreal
Canada / New England
Show
$1,672
$239
$1,817
$260
$3,506
$501
Select
-14%
25 Jul 20
7-day Canada & Ne Discovery
Amsterdam
Holland America Line
Boston
Canada / New England
Show
$1,709
$244
$1,854
$265
$3,475
$496
Select
-14%
01 Aug 20
7-day Canada & Ne Discovery
Amsterdam
Holland America Line
Montreal
Canada / New England
Show
$1,749
$250
$1,884
$269
$3,506
$501
Select
-14%
08 Aug 20
7-day Canada & Ne Discovery
Amsterdam
Holland America Line
Boston
Canada / New England
Show
$1,709
$244
$1,854
$265
$3,475
$496
Select
-14%
15 Aug 20
7-day Canada & Ne Discovery
Amsterdam
Holland America Line
Montreal
Canada / New England
Show
$1,672
$239
$1,817
$260
$3,370
$481
Select
-14%
22 Aug 20
7-day Canada & Ne Discovery
Amsterdam
Holland America Line
Boston
Canada / New England
Show
$1,652
$236
$1,787
$255
$3,341
$477
Select
-14%
29 Aug 20
7-day Canada & Ne Discovery
Amsterdam
Holland America Line
Montreal
Canada / New England
Show
$1,749
$250
$1,884
$269
$3,506
$501
Select
-14%
05 Sep 20
7-day Canada & Ne Discovery
Amsterdam
Holland America Line
Boston
Canada / New England
Show
$1,864
$266
$1,999
$286
$4,325
$618
Select
-13%
12 Sep 20
7-day Canada & Ne Discovery
Amsterdam
Holland America Line
Montreal
Canada / New England
Show
$1,894
$271
$2,039
$291
$4,075
$582
Select
-13%
19 Sep 20
7-day Canada & Ne Discovery
Amsterdam
Holland America Line
Boston
Canada / New England
Show
$1,941
$277
$2,086
$298
$4,547
$650
Select
-13%
26 Sep 20
7-day Canada & Ne Discovery
Amsterdam
Holland America Line
Montreal
Canada / New England
Show
$2,039
$291
$2,184
$312
$4,857
$694
Select
-12%
21 Dec 20
14-day Southern Caribbean Holiday
Amsterdam
Holland America Line
Fort Lauderdale (Port Everglades)
Caribbean - Southern
Show
$3,208
$229
$3,401
$243
$4,849
$346
Select
-13%
03 Oct 20
79-day Grand Africa Voyage
Amsterdam
Holland America Line
Boston
Africa
Show
$21,057
$267
$38,254
$484
Select
08 Oct 20
74-day Grand Africa Voyage
Amsterdam
Holland America Line
Fort Lauderdale (Port Everglades)
Africa
Show
$20,754
$280
$37,950
$513
Select
04 Jan 21
128-day Grand World Voyage
Amsterdam
Holland America Line
Fort Lauderdale (Port Everglades)
World
Show
$32,637
$255
$34,567
$270
$59,947
$468
Select
13 May 21
9-day The Atlantic Coast
Amsterdam
Holland America Line
Fort Lauderdale (Port Everglades)
Canada / New England
Show
$1,277
$142
$1,470
$163
$2,628
$292
Select
-10%
22 May 21
7-day Canada & Ne Discovery
Amsterdam
Holland America Line
Montreal
Canada / New England
Show
$1,471
$210
$1,664
$238
$3,208
$458
Select
29 May 21
7-day Canada & Ne Discovery
Amsterdam
Holland America Line
Boston
Canada / New England
Show
$1,567
$224
$1,760
$251
$3,304
$472
Select
-21%
05 Jun 21
7-day Canada & Ne Discovery
Amsterdam
Holland America Line
Montreal
Canada / New England
Show
$1,567
$224
$1,857
$265
$3,304
$472
Select
-26%
12 Jun 21
7-day Canada & Ne Discovery
Amsterdam
Holland America Line
Boston
Canada / New England
Show
$1,566
$224
$1,856
$265
$3,400
$486
Select
-21%
19 Jun 21
7-day Canada & Ne Discovery
Amsterdam
Holland America Line
Montreal
Canada / New England
Show
$1,567
$224
$1,857
$265
$3,594
$513
Select
-22%
26 Jun 21
7-day Canada & Ne Discovery
Amsterdam
Holland America Line
Boston
Canada / New England
Show
$1,566
$224
$1,855
$265
$3,592
$513
Select
-20%
03 Jul 21
7-day Canada & Ne Discovery
Amsterdam
Holland America Line
Montreal
Canada / New England
Show
$1,567
$224
$1,856
$265
$3,593
$513
Select
-21%
10 Jul 21
7-day Canada & Ne Discovery
Amsterdam
Holland America Line
Boston
Canada / New England
Show
$1,566
$224
$1,856
$265
$3,593
$513
Select
-21%
17 Jul 21
7-day Canada & Ne Discovery
Amsterdam
Holland America Line
Montreal
Canada / New England
Show
$1,663
$238
$1,953
$279
$3,690
$527
Select
-24%
24 Jul 21
7-day Canada & Ne Discovery
Amsterdam
Holland America Line
Boston
Canada / New England
Show
$1,662
$237
$1,952
$279
$3,689
$527
Select
-23%
31 Jul 21
7-day Canada & Ne Discovery
Amsterdam
Holland America Line
Montreal
Canada / New England
Show
$1,663
$238
$1,953
$279
$3,690
$527
Select
-24%
07 Aug 21
7-day Canada & Ne Discovery
Amsterdam
Holland America Line
Boston
Canada / New England
Show
$1,662
$237
$1,952
$279
$3,689
$527
Select
-23%
14 Aug 21
7-day Canada & Ne Discovery
Amsterdam
Holland America Line
Montreal
Canada / New England
Show
$1,663
$238
$1,953
$279
$3,690
$527
Select
-24%
21 Aug 21
7-day Canada & Ne Discovery
Amsterdam
Holland America Line
Boston
Canada / New England
Show
$1,663
$238
$1,952
$279
$3,689
$527
Select
-23%
28 Aug 21
7-day Canada & Ne Discovery
Amsterdam
Holland America Line
Montreal
Canada / New England
Show
$1,664
$238
$1,953
$279
$3,690
$527
Select
-24%
04 Sep 21
7-day Canada & Ne Discovery
Amsterdam
Holland America Line
Boston
Canada / New England
Show
$1,663
$238
$1,952
$279
$3,882
$555
Select
-23%
11 Sep 21
7-day Canada & Ne Discovery
Amsterdam
Holland America Line
Montreal
Canada / New England
Show
$1,857
$265
$2,146
$307
$4,173
$596
Select
-19%
18 Sep 21
7-day Canada & Ne Discovery
Amsterdam
Holland America Line
Boston
Canada / New England
Show
$1,953
$279
$2,242
$320
$4,558
$651
Select
-21%
25 Sep 21
7-day Canada & Ne Discovery
Amsterdam
Holland America Line
Montreal
Canada / New England
Show
$1,953
$279
$2,243
$320
$4,848
$693
Select
-22%
02 Oct 21
7-day Canada & Ne Discovery
Amsterdam
Holland America Line
Boston
Canada / New England
Show
$1,953
$279
$2,242
$320
$4,848
$693
Select
-21%
09 Oct 21
13-day The Atlantic Coast
Amsterdam
Holland America Line
Montreal
Canada / New England
Show
$3,252
$250
$3,638
$280
$5,761
$443
Select
06 Jan 20
14-day Pacific Treasures
Maasdam
Holland America Line
Sydney
Australia
Show
$1,637
$117
$1,540
$110
Select
-18%
20 Jan 20
14-day New Zealand Navigator
Maasdam
Holland America Line
Auckland
Australia
Show
$2,006
$143
$2,083
$149
$3,309
$236
Select
-31%
03 Feb 20
13-day Australia & New Zealand
Maasdam
Holland America Line
Auckland
Australia
Show
$1,571
$121
$1,716
$132
$3,656
$281
Select
-28%
16 Feb 20
14-day Australia & New Zealand
Maasdam
Holland America Line
Sydney
Australia
Show
$1,574
$112
$1,960
$140
$4,054
$290
Select
-29%
15 Mar 20
19-day South Pacific Crossing & Hawaii
Maasdam
Holland America Line
Papeete
Australia
Show
$2,942
$155
$3,077
$162
$6,946
$366
Select
15 Mar 20
31-day South Pacific Crossing Hawaii & Mexico Collector
Maasdam
Holland America Line
Papeete
Australia
Show
$4,737
$153
$4,988
$161
$10,624
$343
Select
03 Apr 20
12-day Mexico Sea Of Cortez
Maasdam
Holland America Line
San Diego
Mexico
Show
$2,172
$181
$2,317
$193
$4,546
$379
Select
15 Apr 20
12-day Mexico Sea Of Cortez
Maasdam
Holland America Line
San Diego
Mexico
Show
$1,869
$156
$2,236
$186
$4,913
$409
Select
-20%
04 May 20
14-day Great Alaskan Explorer
Maasdam
Holland America Line
Vancouver
Alaska
Show
$2,394
$171
$2,607
$186
$5,212
$372
Select
-15%
18 May 20
14-day Great Alaskan Explorer
Maasdam
Holland America Line
Vancouver
Alaska
Show
$2,317
$165
$2,596
$185
$5,347
$382
Select
-18%
01 Jun 20
14-day Great Alaskan Explorer
Maasdam
Holland America Line
Vancouver
Alaska
Show
$2,510
$179
$2,867
$205
$5,684
$406
Select
-18%
15 Jun 20
14-day Great Alaskan Explorer
Maasdam
Holland America Line
Vancouver
Alaska
Show
$2,664
$190
$2,877
$205
$5,974
$427
Select
-13%
29 Jun 20
14-day Great Alaskan Explorer
Maasdam
Holland America Line
Vancouver
Alaska
Show
$2,655
$190
$2,867
$205
$5,685
$406
Select
-14%
13 Jul 20
14-day Great Alaskan Explorer
Maasdam
Holland America Line
Vancouver
Alaska
Show
$2,779
$198
$2,991
$214
$5,954
$425
Select
-13%
27 Jul 20
14-day Great Alaskan Explorer
Maasdam
Holland America Line
Vancouver
Alaska
Show
$2,779
$199
$2,992
$214
$5,674
$405
Select
-13%
10 Aug 20
14-day Great Alaskan Explorer
Maasdam
Holland America Line
Vancouver
Alaska
Show
$2,644
$189
$2,856
$204
$5,674
$405
Select
-14%
24 Aug 20
14-day Great Alaskan Explorer
Maasdam
Holland America Line
Vancouver
Alaska
Show
$2,567
$183
$2,856
$204
$5,674
$405
Select
-16%
07 Sep 20
14-day Great Alaskan Explorer
Maasdam
Holland America Line
Vancouver
Alaska
Show
$2,529
$181
$2,732
$195
$5,550
$396
Select
-14%
15 Apr 20
19-day Mexico Sea Of Cortez & Pacific Coastal Collector
Maasdam
Holland America Line
San Diego
Mexico
Show
$3,223
$170
$3,512
$185
Select
27 Apr 20
7-day Pacific Coastal
Maasdam
Holland America Line
San Diego
U. S. Pacific Coast
Show
$1,225
$175
$1,370
$196
$2,335
$334
Select
22 Dec 20
13-day Southern Australian Holiday
Maasdam
Holland America Line
Sydney
Australia
Show
$2,817
$217
$3,213
$247
$5,162
$397
Select
-19%
21 Sep 20
16-day Mexico & Sea Of Cortez
Maasdam
Holland America Line
Vancouver
Mexico
Show
$2,153
$135
$2,279
$142
$4,624
$289
Select
-15%
25 Sep 20
12-day Mexico & Sea Of Cortez
Maasdam
Holland America Line
San Diego
Mexico
Show
$1,710
$142
$1,806
$151
$3,756
$313
Select
-16%
07 Oct 20
12-day Mexico & Sea Of Cortez
Maasdam
Holland America Line
San Diego
Mexico
Show
$1,729
$144
$1,855
$155
$3,678
$307
Select
-18%
07 Oct 20
42-day Sea Of Cortez & South Pacific Crossing Collector
Maasdam
Holland America Line
San Diego
Australia
Show
$5,852
$139
$6,585
$157
$13,089
$312
Select
-18%
19 Oct 20
30-day South Pacific Crossing
Maasdam
Holland America Line
San Diego
Australia
Show
$4,345
$145
$4,866
$162
$9,633
$321
Select
-23%
19 Oct 20
63-day South Pacific & Australia Circumnavigation Collector
Maasdam
Holland America Line
San Diego
Australia
Show
$11,689
$186
$12,586
$200
$25,006
$397
Select
-11%
19 Nov 20
33-day Australia Circumnavigation
Maasdam
Holland America Line
Sydney
Australia
Show
$7,885
$239
$8,145
$247
$16,222
$492
Select
04 Jan 21
20-day Australia & Indonesia Explorer
Maasdam
Holland America Line
Sydney
Australia
Show
$4,100
$205
$4,158
$208
$8,395
$420
Select
04 Jan 21
40-day Australia Indonesia & Indian Ocean Collector
Maasdam
Holland America Line
Sydney
Australia
Show
$7,535
$188
$7,719
$193
$14,956
$374
Select
24 Jan 21
20-day Indian Ocean Explorer
Maasdam
Holland America Line
Singapore
Far East
Show
$3,821
$191
$3,956
$198
$7,343
$367
Select
-10%
24 Jan 21
39-day Indian Ocean Papua New Guinea Philippines Collector
Maasdam
Holland America Line
Singapore
Far East
Show
$6,878
$176
$7,139
$183
$13,566
$348
Select
13 Feb 21
19-day Papua New Guinea & Philippines Adventurer
Maasdam
Holland America Line
Singapore
Far East
Show
$3,415
$180
$3,550
$187
$6,937
$365
Select
-11%
13 Feb 21
44-day Papua New Guinea Philippines So. Pacific Collector
Maasdam
Holland America Line
Singapore
Australia
Show
$6,943
$158
$7,204
$164
$14,132
$321
Select
04 Mar 21
25-day South Pacific Crossing
Maasdam
Holland America Line
Sydney
Australia
Show
$3,885
$155
$4,020
$161
$7,928
$317
Select
-10%
04 Mar 21
37-day South Pacific Crossing & Sea Of Cortez Collector
Maasdam
Holland America Line
Sydney
Australia
Show
$5,460
$148
$5,846
$158
$11,288
$305
Select
-12%
28 Mar 21
12-day Mexico & Sea Of Cortez
Maasdam
Holland America Line
San Diego
Mexico
Show
$1,864
$155
$2,125
$177
$3,949
$329
Select
-22%
09 Apr 21
14-day Mexico & Sea Of Cortez
Maasdam
Holland America Line
San Diego
Mexico
Show
$1,850
$132
$2,236
$160
$4,060
$290
Select
-26%
09 Apr 21
10-day Mexico & Sea Of Cortez
Maasdam
Holland America Line
San Diego
Mexico
Show
$1,466
$147
$1,755
$176
$3,048
$305
Select
-26%
21 Sep 20
4-day Pacific Coastal Cruise
Maasdam
Holland America Line
Vancouver
U. S. Pacific Coast
Show
$734
$184
$879
$220
$1,072
$268
Select
19 Apr 21
4-day Pacific Coastal Cruise
Maasdam
Holland America Line
San Diego
U. S. Pacific Coast
Show
$684
$171
$781
$195
$1,022
$255
Select
03 May 21
14-day Great Alaskan Explorer
Maasdam
Holland America Line
Vancouver
Alaska
Show
$2,550
$182
$2,839
$203
$5,059
$361
Select
-10%
17 May 21
14-day Great Alaskan Explorer
Maasdam
Holland America Line
Vancouver
Alaska
Show
$2,646
$189
$2,936
$210
$5,252
$375
Select
-10%
31 May 21
14-day Great Alaskan Explorer
Maasdam
Holland America Line
Vancouver
Alaska
Show
$2,839
$203
$3,129
$223
$5,927
$423
Select
14 Jun 21
14-day Great Alaskan Explorer
Maasdam
Holland America Line
Vancouver
Alaska
Show
$2,935
$210
$3,225
$230
$6,313
$451
Select
28 Jun 21
14-day Great Alaskan Explorer
Maasdam
Holland America Line
Vancouver
Alaska
Show
$2,935
$210
$3,225
$230
$6,795
$485
Select
12 Jul 21
14-day Great Alaskan Explorer
Maasdam
Holland America Line
Vancouver
Alaska
Show
$2,935
$210
$3,225
$230
$6,699
$478
Select
26 Jul 21
14-day Great Alaskan Explorer
Maasdam
Holland America Line
Vancouver
Alaska
Show
$2,935
$210
$3,225
$230
$6,699
$478
Select
09 Aug 21
14-day Great Alaskan Explorer
Maasdam
Holland America Line
Vancouver
Alaska
Show
$2,935
$210
$3,225
$230
$6,699
$478
Select
23 Aug 21
14-day Great Alaskan Explorer
Maasdam
Holland America Line
Vancouver
Alaska
Show
$2,646
$189
$2,935
$210
$6,216
$444
Select
-10%
06 Sep 21
14-day Great Alaskan Explorer
Maasdam
Holland America Line
Vancouver
Alaska
Show
$2,646
$189
$2,936
$210
$6,217
$444
Select
-10%
07 Jan 20
16-day Panama Canal
Rotterdam
Holland America Line
San Diego
Panama Canal
Show
$2,099
$131
$21,161
$1,323
Select
-20%
23 Jan 20
16-day Panama Canal
Rotterdam
Holland America Line
Fort Lauderdale (Port Everglades)
Panama Canal
Show
$1,942
$121
$2,193
$137
$5,590
$349
Select
-11%
08 Feb 20
16-day Panama Canal
Rotterdam
Holland America Line
San Diego
Panama Canal
Show
$1,984
$124
$2,119
$132
$5,265
$329
Select
-16%
24 Feb 20
16-day Panama Canal
Rotterdam
Holland America Line
Fort Lauderdale (Port Everglades)
Panama Canal
Show
$1,961
$123
$2,087
$130
$4,586
$287
Select
11 Mar 20
16-day Panama Canal
Rotterdam
Holland America Line
San Diego
Panama Canal
Show
$2,059
$129
$2,185
$137
$4,761
$298
Select
02 May 20
14-day Jewels Of The Baltic
Rotterdam
Holland America Line
Rotterdam
Europe - Northern
Show
$3,312
$237
$3,457
$247
$5,676
$405
Select
-13%
02 May 20
21-day Jewels Of The Baltic & Norse Legends
Rotterdam
Holland America Line
Rotterdam
Europe - Northern
Show
$4,359
$208
$4,629
$220
$7,746
$369
Select
-16%
16 May 20
7-day Norse Legends
Rotterdam
Holland America Line
Rotterdam
Europe - Northern
Show
$1,268
$181
$1,413
$202
$2,475
$354
Select
-20%
16 May 20
14-day Norse Legends & Viking Sagas
Rotterdam
Holland America Line
Rotterdam
Europe - Northern
Show
$2,277
$163
$2,557
$183
$4,574
$327
Select
-22%
23 May 20
7-day Viking Sagas
Rotterdam
Holland America Line
Rotterdam
Europe - Northern
Show
$1,124
$161
$1,269
$181
$2,331
$333
Select
-22%
23 May 20
21-day Viking Sagas & North Cape
Rotterdam
Holland America Line
Rotterdam
Europe - Northern
Show
$3,619
$172
$3,889
$185
$6,639
$316
Select
-19%
30 May 20
14-day North Cape
Rotterdam
Holland America Line
Rotterdam
Europe - Northern
Show
$2,677
$191
$2,822
$202
$4,656
$333
Select
-16%
30 May 20
21-day North Cape & Viking Sagas
Rotterdam
Holland America Line
Rotterdam
Europe - Northern
Show
$3,705
$176
$3,985
$190
$6,784
$323
Select
-19%
11 Jul 20
7-day Norse Legends
Rotterdam
Holland America Line
Rotterdam
Europe - Northern
Show
$1,317
$188
$1,461
$209
$2,571
$367
Select
-21%
11 Jul 20
14-day Norse Legends & Viking Sagas
Rotterdam
Holland America Line
Rotterdam
Europe - Northern
Show
$2,557
$183
$2,827
$202
$4,796
$343
Select
-21%
18 Jul 20
7-day Viking Sagas
Rotterdam
Holland America Line
Rotterdam
Europe - Northern
Show
$1,366
$195
$1,511
$216
$2,476
$354
Select
-21%
18 Jul 20
21-day Viking Sagas & North Cape
Rotterdam
Holland America Line
Rotterdam
Europe - Northern
Show
$4,670
$222
$4,950
$236
$7,189
$342
Select
-18%
25 Jul 20
14-day North Cape
Rotterdam
Holland America Line
Rotterdam
Europe - Northern
Show
$3,498
$250
$3,691
$264
$5,090
$364
Select
-15%
25 Jul 20
21-day North Cape & Viking Sagas
Rotterdam
Holland America Line
Rotterdam
Europe - Northern
Show
$4,670
$222
$4,950
$236
$7,150
$340
Select
-17%
08 Aug 20
7-day Viking Sagas
Rotterdam
Holland America Line
Rotterdam
Europe - Northern
Show
$1,366
$195
$1,511
$216
$2,427
$347
Select
-21%
08 Aug 20
14-day Viking Sagas & Norse Legends
Rotterdam
Holland America Line
Rotterdam
Europe - Northern
Show
$2,557
$183
$2,827
$202
$4,574
$327
Select
-22%
15 Aug 20
7-day Norse Legends
Rotterdam
Holland America Line
Rotterdam
Europe - Northern
Show
$1,317
$188
$1,461
$209
$2,378
$340
Select
-22%
15 Aug 20
21-day Norse Legends & Northern Isles
Rotterdam
Holland America Line
Rotterdam
Europe - Northern
Show
$4,861
$231
$5,141
$245
$8,393
$400
Select
-16%
22 Aug 20
14-day Northern Isles
Rotterdam
Holland America Line
Rotterdam
Europe - Northern
Show
$3,796
$271
$3,940
$281
$6,449
$461
Select
-12%
22 Aug 20
28-day Iceland Irish & Scottish Adventure
Rotterdam
Holland America Line
Rotterdam
Europe - Northern
Show
$7,676
$274
$7,946
$284
$13,129
$469
Select
-11%
05 Sep 20
14-day Irish & Scottish Adventure
Rotterdam
Holland America Line
Rotterdam
Europe - Northern
Show
$4,276
$305
$4,421
$316
$7,364
$526
Select
-11%
05 Sep 20
28-day Irish Scottish & Baltic Jewels
Rotterdam
Holland America Line
Rotterdam
Europe - Northern
Show
$7,762
$277
$8,042
$287
$13,494
$482
Select
-11%
19 Sep 20
14-day Jewels Of The Baltic
Rotterdam
Holland America Line
Rotterdam
Europe - Northern
Show
$3,602
$257
$4,036
$288
$6,593
$471
Select
-17%
19 Sep 20
28-day Jewels Of The Baltic & Iberian Adventure
Rotterdam
Holland America Line
Rotterdam
Europe - Northern
Show
$6,942
$248
$7,077
$253
$13,108
$468
Select
03 Oct 20
14-day Iberian Adventure
Rotterdam
Holland America Line
Rotterdam
Mediterranean
Show
$3,408
$243
$3,408
$243
$5,801
$414
Select
-10%
03 Oct 20
29-day Iberian Adventure & Passage To America
Rotterdam
Holland America Line
Rotterdam
Transatlantic
Show
$4,875
$168
$5,088
$175
$10,183
$351
Select
-10%
17 Oct 20
15-day Passage To America
Rotterdam
Holland America Line
Barcelona
Transatlantic
Show
$1,999
$133
$2,240
$149
$4,219
$281
Select
-18%
13 Jun 20
7-day Viking Sagas
Rotterdam
Holland America Line
Rotterdam
Europe - Northern
Show
$1,221
$174
$1,366
$195
$2,476
$354
Select
-21%
13 Jun 20
14-day Viking Sagas & Norse Legends
Rotterdam
Holland America Line
Rotterdam
Europe - Northern
Show
$2,276
$163
$2,556
$183
$4,660
$333
Select
-22%
20 Jun 20
7-day Norse Legends
Rotterdam
Holland America Line
Rotterdam
Europe - Northern
Show
$1,171
$167
$1,316
$188
$2,425
$346
Select
-22%
20 Jun 20
21-day Norse Legends & Northern Isles
Rotterdam
Holland America Line
Rotterdam
Europe - Northern
Show
$4,773
$227
$5,043
$240
$8,391
$400
Select
-16%
27 Jun 20
14-day Northern Isles
Rotterdam
Holland America Line
Rotterdam
Europe - Northern
Show
$3,842
$274
$3,987
$285
$6,399
$457
Select
-13%
27 Jun 20
21-day Northern Isles & Norse Legends
Rotterdam
Holland America Line
Rotterdam
Europe - Northern
Show
$4,908
$234
$5,178
$247
$8,526
$406
Select
-15%
22 Apr 20
10-day Majestic Fjords
Rotterdam
Holland America Line
Rotterdam
Europe - Northern
Show
$2,095
$209
$2,240
$224
$3,494
$349
Select
-18%
22 Apr 20
24-day Majestic Fjords & Jewels Of The Baltic
Rotterdam
Holland America Line
Rotterdam
Europe - Northern
Show
$5,001
$208
$5,281
$220
$8,717
$363
Select
-15%
04 Jan 21
16-day Panama Canal
Rotterdam
Holland America Line
Fort Lauderdale (Port Everglades)
Panama Canal
Show
$3,364
$210
$3,557
$222
$5,922
$370
Select
-13%
25 Mar 21
16-day Panama Canal
Rotterdam
Holland America Line
San Diego
Panama Canal
Show
$3,172
$198
$3,365
$210
$5,826
$364
Select
-13%
21 Feb 21
32-day Hawaii Tahiti & Marquesas
Rotterdam
Holland America Line
San Diego
Hawaii
Show
$5,934
$185
$6,455
$202
$13,490
$422
Select
-16%
20 Jan 21
32-day Incan Empires
Rotterdam
Holland America Line
San Diego
South America
Show
$4,717
$147
$5,113
$160
$9,667
$302
Select
-14%
20 Jan 21
16-day Incan Empires
Rotterdam
Holland America Line
San Diego
South America
Show
$2,560
$160
$2,753
$172
$5,030
$314
Select
-15%
05 Feb 21
16-day Incan Empires
Rotterdam
Holland America Line
Callao (Lima)
South America
Show
$2,553
$160
$2,746
$172
$5,024
$314
Select
-15%
20 Dec 20
7-day Tropical Caribbean Holiday
Rotterdam
Holland America Line
Fort Lauderdale (Port Everglades)
Caribbean - Eastern
Show
$1,946
$278
$1,946
$278
$2,911
$416
Select
20 Dec 20
15-day Tropical & Southern Caribbean Holiday
Rotterdam
Holland America Line
Fort Lauderdale (Port Everglades)
Caribbean - Southern
Show
$3,698
$247
$3,698
$247
$5,676
$378
Select
27 Dec 20
8-day Southern Caribbean Holiday
Rotterdam
Holland America Line
Fort Lauderdale (Port Everglades)
Caribbean - Southern
Show
$1,945
$243
$1,945
$243
$3,055
$382
Select
27 Mar 20
10-day Southern Caribbean Seafarer
Rotterdam
Holland America Line
Fort Lauderdale (Port Everglades)
Caribbean - Southern
Show
$1,765
$176
$1,909
$191
$3,405
$341
Select
06 Apr 20
16-day Azores & Normandy Expedition
Rotterdam
Holland America Line
Fort Lauderdale (Port Everglades)
Transatlantic
Show
$1,772
$111
$1,908
$119
$3,664
$229
Select
-21%
06 Apr 20
26-day Azores Normandy & Majestic Fjords Expedition
Rotterdam
Holland America Line
Fort Lauderdale (Port Everglades)
Transatlantic
Show
$3,394
$131
$3,742
$144
$6,173
$237
Select
-19%
01 Nov 20
7-day Western Caribbean
Rotterdam
Holland America Line
Fort Lauderdale (Port Everglades)
Caribbean - Western
Show
$1,222
$175
$1,222
$175
$2,380
$340
Select
08 Nov 20
15-day Panama Canal
Rotterdam
Holland America Line
Fort Lauderdale (Port Everglades)
Panama Canal
Show
$2,541
$169
$2,734
$182
$5,301
$353
Select
-20%
23 Nov 20
15-day Panama Canal
Rotterdam
Holland America Line
San Diego
Panama Canal
Show
$2,572
$171
$2,775
$185
$5,342
$356
Select
-20%
26 Jul 21
17-day Greenland Newfoundland & New England Discovery
Rotterdam
Holland America Line
Boston
Canada / New England
Show
$4,470
$263
$5,435
$320
$8,716
$513
Select
12 Aug 21
17-day Greenland Newfoundland & New England Discovery
Rotterdam
Holland America Line
Boston
Canada / New England
Show
$4,470
$263
$5,435
$320
$8,716
$513
Select
29 Aug 21
17-day Greenland Newfoundland & New England Discovery
Rotterdam
Holland America Line
Boston
Canada / New England
Show
$4,484
$264
$5,449
$321
$8,730
$514
Select
15 Sep 21
10-day Newfoundland & New Engl
Rotterdam
Holland America Line
Boston
Canada / New England
Show
$2,818
$282
$3,397
$340
$5,134
$513
Select
25 Sep 21
10-day Newfoundland & New England Discovery
Rotterdam
Holland America Line
Montreal
Canada / New England
Show
$2,832
$283
$3,411
$341
$5,244
$524
Select
05 Oct 21
10-day Newfoundland & New England Discovery
Rotterdam
Holland America Line
Boston
Canada / New England
Show
$2,914
$291
$3,397
$340
$5,423
$542
Select
15 Oct 21
14-day The Atlantic Coast
Rotterdam
Holland America Line
Montreal
Canada / New England
Show
$3,226
$230
$3,516
$251
$4,674
$334
Select
08 Jan 20
7-day Western Caribbean
Veendam
Holland America Line
Fort Lauderdale (Port Everglades)
Caribbean - Western
Show
$883
$126
$1,028
$147
$1,752
$250
$1,848
$264
Select
15 Jan 20
7-day Eastern Caribbean
Veendam
Holland America Line
Fort Lauderdale (Port Everglades)
Caribbean - Eastern
Show
$835
$119
$980
$140
$1,752
$250
$1,848
$264
Select
29 Jan 20
7-day Eastern Caribbean
Veendam
Holland America Line
Fort Lauderdale (Port Everglades)
Caribbean - Eastern
Show
$980
$140
$1,124
$161
$2,041
$292
$2,138
$305
Select
05 Feb 20
7-day Eastern Caribbean
Veendam
Holland America Line
Fort Lauderdale (Port Everglades)
Caribbean - Eastern
Show
$980
$140
$1,125
$161
$1,945
$278
$2,138
$305
Select
12 Feb 20
7-day Western Caribbean
Veendam
Holland America Line
Fort Lauderdale (Port Everglades)
Caribbean - Western
Show
$980
$140
$1,124
$161
$2,138
$305
Select
19 Feb 20
7-day Eastern Caribbean
Veendam
Holland America Line
Fort Lauderdale (Port Everglades)
Caribbean - Eastern
Show
$980
$140
$1,125
$161
$1,945
$278
$2,138
$305
Select
26 Feb 20
7-day Western Caribbean
Veendam
Holland America Line
Fort Lauderdale (Port Everglades)
Caribbean - Western
Show
$980
$140
$1,124
$161
$2,041
$292
$2,138
$305
Select
04 Mar 20
7-day Eastern Caribbean
Veendam
Holland America Line
Fort Lauderdale (Port Everglades)
Caribbean - Eastern
Show
$980
$140
$1,125
$161
$1,945
$278
$2,138
$305
Select
11 Mar 20
7-day Western Caribbean
Veendam
Holland America Line
Fort Lauderdale (Port Everglades)
Caribbean - Western
Show
$980
$140
$1,125
$161
$2,042
$292
$2,138
$305
Select
25 Mar 20
7-day Western Caribbean
Veendam
Holland America Line
Fort Lauderdale (Port Everglades)
Caribbean - Western
Show
$979
$140
$1,124
$161
$1,944
$278
$2,137
$305
Select
01 Apr 20
7-day Eastern Caribbean
Veendam
Holland America Line
Fort Lauderdale (Port Everglades)
Caribbean - Eastern
Show
$980
$140
$1,124
$161
$1,945
$278
$2,138
$305
Select
08 Apr 20
7-day Western Caribbean
Veendam
Holland America Line
Fort Lauderdale (Port Everglades)
Caribbean - Western
Show
$980
$140
$1,125
$161
$2,138
$305
Select
15 Apr 20
7-day Eastern Caribbean
Veendam
Holland America Line
Fort Lauderdale (Port Everglades)
Caribbean - Eastern
Show
$980
$140
$1,124
$161
$1,945
$278
$2,138
$305
Select
18 Dec 19
10-day Southern Caribbean Seafarer Holiday
Veendam
Holland America Line
Fort Lauderdale (Port Everglades)
Caribbean - Southern
Show
$2,181
$218
$3,590
$359
Select
28 Dec 19
11-day Southern Caribbean Wayfarer Holiday
Veendam
Holland America Line
Fort Lauderdale (Port Everglades)
Caribbean - Southern
Show
$2,393
$218
$3,686
$335
$3,879
$353
Select
09 May 20
14-day British Isles Explorer
Veendam
Holland America Line
Amsterdam
Europe - Northern
Show
$3,791
$271
$3,887
$278
$5,721
$409
$6,010
$429
Select
-17%
09 May 20
28-day British Isles & Baltic Explorer
Veendam
Holland America Line
Amsterdam
Europe - Northern
Show
$7,074
$253
$7,258
$259
$11,571
$413
Select
-13%
23 May 20
14-day Baltic Explorer
Veendam
Holland America Line
Amsterdam
Europe - Northern
Show
$3,651
$261
$3,747
$268
$5,870
$419
$6,160
$440
Select
-17%
23 May 20
28-day Baltic North Cape & Norway Explorer
Veendam
Holland America Line
Amsterdam
Europe - Northern
Show
$6,620
$236
$6,842
$244
$11,522
$411
Select
-13%
06 Jun 20
14-day North Cape & Gems Of Norway Explorer
Veendam
Holland America Line
Amsterdam
Europe - Northern
Show
$3,307
$236
$3,451
$247
$5,671
$405
$5,960
$426
Select
-18%
06 Jun 20
35-day North Cape Spitsbergen & Icelandic Fjords Explorer
Veendam
Holland America Line
Amsterdam
Europe - Northern
Show
$8,831
$252
$9,102
$260
$16,069
$459
Select
-10%
20 Jun 20
21-day Spitsbergen & Icelandic Fjords Explorer
Veendam
Holland America Line
Amsterdam
Europe - Northern
Show
$5,978
$285
$6,123
$292
$10,659
$508
$10,948
$521
Select
-12%
20 Jun 20
35-day Spitsbergen Iceland & British Isles Explorer
Veendam
Holland America Line
Amsterdam
Europe - Northern
Show
$9,205
$263
$9,475
$271
$16,674
$476
Select
-10%
11 Jul 20
14-day British Isles Explorer
Veendam
Holland America Line
Amsterdam
Europe - Northern
Show
$3,699
$264
$3,844
$275
$6,305
$450
$6,594
$471
Select
-16%
11 Jul 20
28-day British Isles & Baltic Explorer
Veendam
Holland America Line
Amsterdam
Europe - Northern
Show
$6,945
$248
$7,215
$258
$12,127
$433
Select
-12%
25 Jul 20
14-day Baltic Explorer
Veendam
Holland America Line
Amsterdam
Europe - Northern
Show
$3,602
$257
$3,746
$268
$5,869
$419
$6,159
$440
Select
-17%
25 Jul 20
28-day Baltic North Cape & Norway Explorer
Veendam
Holland America Line
Amsterdam
Europe - Northern
Show
$6,842
$244
$7,121
$254
$11,522
$411
Select
-13%
08 Aug 20
14-day North Cape & Gems Of Norway Explorer
Veendam
Holland America Line
Amsterdam
Europe - Northern
Show
$3,596
$257
$3,741
$267
$5,719
$409
$5,960
$426
Select
-17%
08 Aug 20
31-day North Cape Norway & European River Explorer
Veendam
Holland America Line
Amsterdam
Europe - Northern
Show
$6,843
$221
$7,172
$231
$12,026
$388
Select
-12%
22 Aug 20
17-day European River Explorer
Veendam
Holland America Line
Amsterdam
Mediterranean
Show
$3,605
$212
$3,798
$223
$6,403
$377
$6,693
$394
Select
-13%
22 Aug 20
31-day European River Turkey & Greek Isles Explorer
Veendam
Holland America Line
Amsterdam
Mediterranean
Show
$6,574
$212
$6,941
$224
$12,991
$419
Select
-11%
06 Oct 20
14-day Turkey & Greek Isles Explorer
Veendam
Holland America Line
Venice
Mediterranean
Show
$3,308
$236
$3,501
$250
$6,686
$478
$6,975
$498
Select
-12%
22 Apr 20
17-day Azores & Normandy Explorer
Veendam
Holland America Line
Fort Lauderdale (Port Everglades)
Transatlantic
Show
$1,761
$104
$1,905
$112
$4,077
$240
$4,221
$248
Select
-20%
22 Apr 20
31-day Azores Normandy & British Isles Explorer
Veendam
Holland America Line
Fort Lauderdale (Port Everglades)
Transatlantic
Show
$4,914
$159
$5,309
$171
$10,100
$326
$9,391
$303
Select
-24%
08 Sep 20
14-day Turkey & Greek Isles Explorer
Veendam
Holland America Line
Venice
Mediterranean
Show
$3,308
$236
$3,501
$250
$6,686
$478
$6,975
$498
Select
-12%
08 Sep 20
28-day Turkey Greece & Holy Land Explorer
Veendam
Holland America Line
Venice
Mediterranean
Show
$6,289
$225
$6,655
$238
$12,803
$457
$13,353
$477
Select
-11%
22 Sep 20
14-day Holy Land & Ancient Kingdoms Explorer
Veendam
Holland America Line
Venice
Mediterranean
Show
$3,308
$236
$3,501
$250
$6,782
$484
$7,072
$505
Select
-12%
22 Sep 20
28-day Holy Land Turkey & Greek Isles Explorer
Veendam
Holland America Line
Venice
Mediterranean
Show
$6,289
$225
$6,655
$238
$13,353
$477
Select
-11%
08 Jan 20
14-day Western Caribbean / Eastern Caribbean
Veendam
Holland America Line
Fort Lauderdale (Port Everglades)
Caribbean - Eastern
Show
$1,573
$112
$1,863
$133
$3,600
$257
Select
05 Feb 20
14-day Eastern Caribbean / Western Caribbean
Veendam
Holland America Line
Fort Lauderdale (Port Everglades)
Caribbean - Eastern
Show
$1,863
$133
$2,056
$147
$3,986
$285
Select
12 Feb 20
14-day Western Caribbean / Eastern Caribbean
Veendam
Holland America Line
Fort Lauderdale (Port Everglades)
Caribbean - Eastern
Show
$1,863
$133
$2,056
$147
$3,793
$271
$3,986
$285
Select
19 Feb 20
14-day Eastern Caribbean / Western Caribbean
Veendam
Holland America Line
Fort Lauderdale (Port Everglades)
Caribbean - Eastern
Show
$1,863
$133
$2,056
$147
$3,986
$285
Select
26 Feb 20
14-day Western Caribbean / Eastern Caribbean
Veendam
Holland America Line
Fort Lauderdale (Port Everglades)
Caribbean - Eastern
Show
$1,863
$133
$2,056
$147
$3,986
$285
Select
04 Mar 20
14-day Eastern Caribbean / Western Caribbean
Veendam
Holland America Line
Fort Lauderdale (Port Everglades)
Caribbean - Eastern
Show
$1,863
$133
$2,056
$147
$3,986
$285
Select
25 Mar 20
14-day Western Caribbean / Eastern Caribbean
Veendam
Holland America Line
Fort Lauderdale (Port Everglades)
Caribbean - Eastern
Show
$1,765
$126
$2,055
$147
$3,792
$271
$3,888
$278
Select
01 Apr 20
14-day Eastern Caribbean / Western Caribbean
Veendam
Holland America Line
Fort Lauderdale (Port Everglades)
Caribbean - Eastern
Show
$1,863
$133
$2,056
$147
$3,793
$271
$3,986
$285
Select
08 Apr 20
14-day Western Caribbean / Eastern Caribbean
Veendam
Holland America Line
Fort Lauderdale (Port Everglades)
Caribbean - Eastern
Show
$1,863
$133
$2,056
$147
$3,793
$271
$3,986
$285
Select
06 Oct 20
28-day Turkey Greece & Journey To The New World
Veendam
Holland America Line
Venice
Transatlantic
Show
$4,292
$153
$4,736
$169
$9,860
$352
Select
-18%
20 Oct 20
14-day Journey To The New World
Veendam
Holland America Line
Civitavecchia (Rome)
Transatlantic
Show
$1,465
$105
$1,754
$125
$3,829
$273
$3,974
$284
Select
-30%
20 Dec 20
7-day Western Caribbean Holiday
Veendam
Holland America Line
Tampa
Caribbean - Western
Show
$1,558
$223
$1,606
$229
$2,330
$333
$2,426
$347
Select
-22%
27 Dec 20
7-day Western Caribbean Holiday
Veendam
Holland America Line
Tampa
Caribbean - Western
Show
$1,606
$229
$1,606
$229
$2,716
$388
$2,860
$409
Select
03 Nov 20
5-day Western Caribbean
Veendam
Holland America Line
Tampa
Caribbean - Western
Show
$877
$175
$877
$175
$1,360
$272
$1,504
$301
Select
08 Nov 20
7-day Western Caribbean
Veendam
Holland America Line
Tampa
Caribbean - Western
Show
$1,221
$174
$1,221
$174
$2,041
$292
$2,186
$312
Select
-10%
15 Nov 20
7-day Western Caribbean
Veendam
Holland America Line
Tampa
Caribbean - Western
Show
$1,172
$167
$1,172
$167
$2,040
$291
$2,185
$312
Select
-10%
15 Nov 20
21-day Western / Southern Caribbean
Veendam
Holland America Line
Tampa
Caribbean - Southern
Show
$2,932
$140
$2,932
$140
$5,730
$273
Select
-11%
22 Nov 20
14-day Southern Caribbean
Veendam
Holland America Line
Tampa
Caribbean - Southern
Show
$1,953
$140
$1,953
$140
$3,787
$270
$3,883
$277
Select
22 Nov 20
21-day Southern / Western Caribbean
Veendam
Holland America Line
Tampa
Caribbean - Southern
Show
$2,884
$137
$2,884
$137
$5,393
$257
$5,634
$268
Select
-11%
06 Dec 20
7-day Western Caribbean
Veendam
Holland America Line
Tampa
Caribbean - Western
Show
$1,076
$154
$1,076
$154
$1,896
$271
$2,041
$292
Select
-11%
13 Dec 20
7-day Western Caribbean
Veendam
Holland America Line
Tampa
Caribbean - Western
Show
$1,075
$154
$1,075
$154
$1,895
$271
$2,040
$291
Select
-11%
27 Dec 20
21-day Western & Southern Caribbean Holiday
Veendam
Holland America Line
Tampa
Caribbean - Southern
Show
$3,413
$163
$3,799
$181
$6,212
$296
$6,405
$305
Select
-20%
03 Jan 21
14-day Southern Caribbean
Veendam
Holland America Line
Tampa
Caribbean - Southern
Show
$2,386
$170
$2,386
$170
$4,751
$339
$4,847
$346
Select
03 Jan 21
21-day Southern / Western Caribbean
Veendam
Holland America Line
Tampa
Caribbean - Southern
Show
$3,365
$160
$3,365
$160
$6,453
$307
$6,646
$316
Select
-10%
17 Jan 21
7-day Western Caribbean
Veendam
Holland America Line
Tampa
Caribbean - Western
Show
$1,172
$167
$1,172
$167
$2,040
$291
$2,137
$305
Select
-10%
24 Jan 21
7-day Western Caribbean
Veendam
Holland America Line
Tampa
Caribbean - Western
Show
$1,172
$167
$1,172
$167
$2,137
$305
$2,330
$333
Select
24 Jan 21
21-day Western / Southern Caribbean
Veendam
Holland America Line
Tampa
Caribbean - Southern
Show
$3,365
$160
$3,365
$160
$6,550
$312
$6,791
$323
Select
-10%
31 Jan 21
14-day Southern Caribbean
Veendam
Holland America Line
Tampa
Caribbean - Southern
Show
$2,386
$170
$2,386
$170
$4,751
$339
$4,847
$346
Select
31 Jan 21
21-day Southern / Western Caribbean
Veendam
Holland America Line
Tampa
Caribbean - Southern
Show
$3,366
$160
$3,366
$160
$6,551
$312
$6,792
$323
Select
-10%
14 Feb 21
7-day Western Caribbean
Veendam
Holland America Line
Tampa
Caribbean - Western
Show
$1,173
$168
$1,173
$168
$2,186
$312
$2,331
$333
Select
21 Feb 21
7-day Western Caribbean
Veendam
Holland America Line
Tampa
Caribbean - Western
Show
$1,172
$167
$1,172
$167
$2,185
$312
$2,330
$333
Select
21 Feb 21
21-day Western / Southern Caribbean
Veendam
Holland America Line
Tampa
Caribbean - Southern
Show
$3,366
$160
$3,366
$160
$6,551
$312
$6,792
$323
Select
-10%
28 Feb 21
14-day Southern Caribbean
Veendam
Holland America Line
Tampa
Caribbean - Southern
Show
$2,387
$171
$2,387
$171
$4,752
$339
$4,848
$346
Select
28 Feb 21
21-day Southern / Western Caribbean
Veendam
Holland America Line
Tampa
Caribbean - Southern
Show
$3,367
$160
$3,367
$160
$6,551
$312
$6,792
$323
Select
-10%
14 Mar 21
7-day Western Caribbean
Veendam
Holland America Line
Tampa
Caribbean - Western
Show
$1,173
$168
$1,173
$168
$2,186
$312
$2,331
$333
Select
21 Mar 21
7-day Western Caribbean
Veendam
Holland America Line
Tampa
Caribbean - Western
Show
$1,172
$167
$1,172
$167
$2,185
$312
$2,330
$333
Select
21 Mar 21
19-day Western / Southern Caribbean
Veendam
Holland America Line
Tampa
Caribbean - Southern
Show
$3,123
$164
$3,123
$164
$5,922
$312
$6,163
$324
Select
28 Mar 21
12-day Southern Caribbean
Veendam
Holland America Line
Tampa
Caribbean - Southern
Show
$2,095
$175
$2,095
$175
$4,073
$339
$4,170
$347
Select
22 Mar 20
14-day Southern Caribbean
Volendam
Holland America Line
Fort Lauderdale (Port Everglades)
Caribbean - Southern
Show
$2,484
$177
$2,755
$197
$5,061
$361
Select
05 Apr 20
18-day Panama Canal
Volendam
Holland America Line
Fort Lauderdale (Port Everglades)
Panama Canal
Show
$2,391
$133
$2,661
$148
$4,958
$275
Select
05 Jan 20
77-day Grand South America & Antarctica Voyage
Volendam
Holland America Line
Fort Lauderdale (Port Everglades)
South America
Show
$13,525
$176
$16,227
$211
$33,597
$436
Select
05 Jan 20
41-day Grand South America & Antarctica Voyage
Volendam
Holland America Line
Fort Lauderdale (Port Everglades)
South America
Show
$8,208
$200
$9,945
$243
$20,464
$499
Select
15 Feb 20
36-day Grand South America Voyage
Volendam
Holland America Line
Buenos Aires
South America
Show
$7,175
$199
$8,671
$241
$17,983
$500
Select
20 Dec 19
16-day Caribbean Holiday
Volendam
Holland America Line
Fort Lauderdale (Port Everglades)
Caribbean - Southern
Show
$3,952
$247
$4,222
$264
$6,403
$400
Select
29 Apr 20
7-day Alaskan Inside Passage
Volendam
Holland America Line
Vancouver
Alaska
Show
$1,209
$173
$1,354
$193
$2,339
$334
Select
-19%
06 May 20
7-day Alaskan Inside Passage
Volendam
Holland America Line
Vancouver
Alaska
Show
$1,209
$173
$1,354
$193
$2,474
$353
Select
-19%
13 May 20
7-day Alaskan Inside Passage
Volendam
Holland America Line
Vancouver
Alaska
Show
$1,276
$182
$1,411
$202
$2,328
$333
Select
-18%
20 May 20
7-day Alaskan Inside Passage
Volendam
Holland America Line
Vancouver
Alaska
Show
$1,411
$202
$1,556
$222
$2,820
$403
Select
-17%
27 May 20
7-day Alaskan Inside Passage
Volendam
Holland America Line
Vancouver
Alaska
Show
$1,411
$202
$1,556
$222
$3,032
$433
Select
-17%
03 Jun 20
7-day Alaskan Inside Passage
Volendam
Holland America Line
Vancouver
Alaska
Show
$1,411
$202
$1,556
$222
$3,245
$464
Select
-17%
10 Jun 20
7-day Alaskan Inside Passage
Volendam
Holland America Line
Vancouver
Alaska
Show
$1,488
$213
$1,623
$232
$3,389
$484
Select
-15%
17 Jun 20
7-day Alaskan Inside Passage
Volendam
Holland America Line
Vancouver
Alaska
Show
$1,546
$221
$1,691
$242
$3,235
$462
Select
-15%
24 Jun 20
7-day Alaskan Inside Passage
Volendam
Holland America Line
Vancouver
Alaska
Show
$1,546
$221
$1,691
$242
$3,380
$483
Select
-15%
01 Jul 20
7-day Alaskan Inside Passage
Volendam
Holland America Line
Vancouver
Alaska
Show
$1,546
$221
$1,691
$242
$3,380
$483
Select
-15%
08 Jul 20
7-day Alaskan Inside Passage
Volendam
Holland America Line
Vancouver
Alaska
Show
$1,546
$221
$1,691
$242
$3,525
$504
Select
-15%
15 Jul 20
7-day Alaskan Inside Passage
Volendam
Holland America Line
Vancouver
Alaska
Show
$1,546
$221
$1,691
$242
$3,167
$452
Select
-15%
22 Jul 20
7-day Alaskan Inside Passage
Volendam
Holland America Line
Vancouver
Alaska
Show
$1,546
$221
$1,691
$242
$3,032
$433
Select
-15%
29 Jul 20
7-day Alaskan Inside Passage
Volendam
Holland America Line
Vancouver
Alaska
Show
$1,546
$221
$1,691
$242
$3,032
$433
Select
-15%
05 Aug 20
7-day Alaskan Inside Passage
Volendam
Holland America Line
Vancouver
Alaska
Show
$1,546
$221
$1,691
$242
$3,032
$433
Select
-15%
12 Aug 20
7-day Alaskan Inside Passage
Volendam
Holland America Line
Vancouver
Alaska
Show
$1,546
$221
$1,691
$242
$2,888
$413
Select
-15%
19 Aug 20
7-day Alaskan Inside Passage
Volendam
Holland America Line
Vancouver
Alaska
Show
$1,546
$221
$1,681
$240
$2,743
$392
Select
-15%
26 Aug 20
7-day Alaskan Inside Passage
Volendam
Holland America Line
Vancouver
Alaska
Show
$1,411
$202
$1,556
$222
$2,753
$393
Select
-17%
02 Sep 20
7-day Alaskan Inside Passage
Volendam
Holland America Line
Vancouver
Alaska
Show
$1,411
$202
$1,556
$222
$2,608
$373
Select
-17%
09 Sep 20
7-day Alaskan Inside Passage
Volendam
Holland America Line
Vancouver
Alaska
Show
$1,277
$182
$1,422
$203
$2,618
$374
Select
-18%
16 Sep 20
7-day Alaskan Inside Passage
Volendam
Holland America Line
Vancouver
Alaska
Show
$1,276
$182
$1,411
$202
$2,473
$353
Select
-18%
23 Sep 20
7-day Alaskan Inside Passage
Volendam
Holland America Line
Vancouver
Alaska
Show
$1,199
$171
$1,344
$192
$2,473
$353
Select
-19%
19 Nov 20
32-day Amazon Explorer
Volendam
Holland America Line
Fort Lauderdale (Port Everglades)
South America
Show
$6,531
$204
$6,531
$204
$12,697
$397
Select
-11%
31 Oct 20
19-day Panama Canal
Volendam
Holland America Line
San Diego
Panama Canal
Show
$3,003
$158
$3,274
$172
$5,976
$315
Select
-19%
02 Apr 21
19-day Panama Canal
Volendam
Holland America Line
Fort Lauderdale (Port Everglades)
Panama Canal
Show
$3,560
$187
$3,753
$198
$6,890
$363
Select
-12%
19 Mar 21
14-day Southern Caribbean
Volendam
Holland America Line
Fort Lauderdale (Port Everglades)
Caribbean - Southern
Show
$2,727
$195
$2,727
$195
$5,236
$374
Select
21 Dec 20
14-day Caribbean Sunfarer Holiday
Volendam
Holland America Line
Fort Lauderdale (Port Everglades)
Caribbean - Southern
Show
$3,801
$272
$3,801
$272
$5,635
$402
Select
04 Jan 21
74-day Grand South America & Antarctica Voyage
Volendam
Holland America Line
Fort Lauderdale (Port Everglades)
South America
Show
$15,305
$207
$17,814
$241
$34,123
$461
Select
04 Jan 21
41-day Grand South America & Antarctica Voyage
Volendam
Holland America Line
Fort Lauderdale (Port Everglades)
South America
Show
$9,648
$235
$11,192
$273
$21,614
$527
Select
14 Feb 21
33-day Grand South America Voyage
Volendam
Holland America Line
Buenos Aires
South America
Show
$7,600
$230
$8,951
$271
$17,250
$523
Select
30 Sep 20
3-day Pacific Northwest Cruise
Volendam
Holland America Line
Vancouver
U. S. Pacific Coast
Show
$785
$262
$785
$262
$1,027
$342
Select
-12%
03 Oct 20
7-day Gems Of The Northwest
Volendam
Holland America Line
Vancouver
U. S. Pacific Coast
Show
$1,517
$217
$1,517
$217
$2,820
$403
Select
10 Oct 20
7-day Wine Country & Pacific Northwest
Volendam
Holland America Line
Vancouver
U. S. Pacific Coast
Show
$1,515
$216
$1,515
$216
$2,528
$361
Select
17 Oct 20
7-day Classic California Coast
Volendam
Holland America Line
San Diego
U. S. Pacific Coast
Show
$1,369
$196
$1,514
$216
$2,672
$382
Select
-13%
24 Oct 20
7-day Classic California Coast
Volendam
Holland America Line
San Diego
U. S. Pacific Coast
Show
$1,514
$216
$1,514
$216
$2,672
$382
Select
28 Apr 21
7-day Alaskan Inside Passage
Volendam
Holland America Line
Vancouver
Alaska
Show
$1,471
$210
$1,712
$245
$2,822
$403
Select
05 May 21
7-day Alaskan Inside Passage
Volendam
Holland America Line
Vancouver
Alaska
Show
$1,471
$210
$1,712
$245
$2,822
$403
Select
12 May 21
7-day Alaskan Inside Passage
Volendam
Holland America Line
Vancouver
Alaska
Show
$1,471
$210
$1,712
$245
$2,822
$403
Select
19 May 21
7-day Alaskan Inside Passage
Volendam
Holland America Line
Vancouver
Alaska
Show
$1,471
$210
$1,809
$258
$3,112
$445
Select
26 May 21
7-day Alaskan Inside Passage
Volendam
Holland America Line
Vancouver
Alaska
Show
$1,616
$231
$1,954
$279
$3,498
$500
Select
02 Jun 21
7-day Alaskan Inside Passage
Volendam
Holland America Line
Vancouver
Alaska
Show
$1,616
$231
$1,954
$279
$3,594
$513
Select
09 Jun 21
7-day Alaskan Inside Passage
Volendam
Holland America Line
Vancouver
Alaska
Show
$1,616
$231
$1,954
$279
$3,594
$513
Select
16 Jun 21
7-day Alaskan Inside Passage
Volendam
Holland America Line
Vancouver
Alaska
Show
$1,616
$231
$1,905
$272
$3,594
$513
Select
23 Jun 21
7-day Alaskan Inside Passage
Volendam
Holland America Line
Vancouver
Alaska
Show
$1,712
$245
$2,050
$293
$3,594
$513
Select
30 Jun 21
7-day Alaskan Inside Passage
Volendam
Holland America Line
Vancouver
Alaska
Show
$1,712
$245
$2,050
$293
$3,594
$513
Select
07 Jul 21
7-day Alaskan Inside Passage
Volendam
Holland America Line
Vancouver
Alaska
Show
$1,712
$245
$2,050
$293
$3,594
$513
Select
14 Jul 21
7-day Alaskan Inside Passage
Volendam
Holland America Line
Vancouver
Alaska
Show
$1,712
$245
$2,050
$293
$3,594
$513
Select
21 Jul 21
7-day Alaskan Inside Passage
Volendam
Holland America Line
Vancouver
Alaska
Show
$1,712
$245
$2,050
$293
$3,594
$513
Select
28 Jul 21
7-day Alaskan Inside Passage
Volendam
Holland America Line
Vancouver
Alaska
Show
$1,712
$245
$2,050
$293
$3,594
$513
Select
04 Aug 21
7-day Alaskan Inside Passage
Volendam
Holland America Line
Vancouver
Alaska
Show
$1,712
$245
$2,050
$293
$3,594
$513
Select
11 Aug 21
7-day Alaskan Inside Passage
Volendam
Holland America Line
Vancouver
Alaska
Show
$1,712
$245
$2,050
$293
$3,594
$513
Select
18 Aug 21
7-day Alaskan Inside Passage
Volendam
Holland America Line
Vancouver
Alaska
Show
$1,712
$245
$2,050
$293
$3,208
$458
Select
25 Aug 21
7-day Alaskan Inside Passage
Volendam
Holland America Line
Vancouver
Alaska
Show
$1,616
$231
$1,905
$272
$3,111
$444
Select
01 Sep 21
7-day Alaskan Inside Passage
Volendam
Holland America Line
Vancouver
Alaska
Show
$1,616
$231
$1,905
$272
$3,111
$444
Select
08 Sep 21
7-day Alaskan Inside Passage
Volendam
Holland America Line
Vancouver
Alaska
Show
$1,471
$210
$1,809
$258
$2,919
$417
Select
15 Sep 21
7-day Alaskan Inside Passage
Volendam
Holland America Line
Vancouver
Alaska
Show
$1,471
$210
$1,809
$258
$2,919
$417
Select
22 Sep 21
7-day Alaskan Inside Passage
Volendam
Holland America Line
Vancouver
Alaska
Show
$1,471
$210
$1,712
$245
$2,919
$417
Select
09 Jan 20
22-day S. America & Antarctica
Zaandam
Holland America Line
San Antonio
South America
Show
$3,457
$157
$4,297
$195
$9,353
$425
Select
-45%
31 Jan 20
22-day S. America & Antarctica
Zaandam
Holland America Line
Buenos Aires
South America
Show
$3,615
$164
$4,811
$219
$8,729
$397
Select
-43%
22 Feb 20
14-day South America Passage
Zaandam
Holland America Line
San Antonio
South America
Show
$2,965
$212
$3,110
$222
$6,478
$463
Select
07 Mar 20
14-day South America Passage
Zaandam
Holland America Line
Buenos Aires
South America
Show
$3,817
$273
$6,288
$449
Select
07 Mar 20
31-day S. America Inca & Panama Canal Discovery
Zaandam
Holland America Line
Buenos Aires
South America
Show
$6,376
$206
$11,201
$361
Select
21 Mar 20
17-day Inca And Panama Canal Discovery
Zaandam
Holland America Line
San Antonio
South America
Show
$2,394
$141
$2,539
$149
$4,787
$282
Select
-13%
18 Dec 19
22-day South America & Antarctica Holiday
Zaandam
Holland America Line
Buenos Aires
South America
Show
$3,162
$144
$3,442
$156
Select
-43%
18 Jul 20
35-day Voyage Of The Vikings
Zaandam
Holland America Line
Boston
Transatlantic
Show
$11,596
$331
$12,802
$366
$20,136
$575
Select
-15%
18 Jul 20
17-day Voyage Of The Vikings
Zaandam
Holland America Line
Boston
Transatlantic
Show
$6,699
$394
$6,786
$399
$12,576
$740
Select
-18%
04 Aug 20
18-day Voyage Of The Vikings
Zaandam
Holland America Line
Amsterdam
Transatlantic
Show
$7,251
$403
$13,447
$747
Select
-19%
21 Apr 20
11-day The Atlantic Coast
Zaandam
Holland America Line
Fort Lauderdale (Port Everglades)
Canada / New England
Show
$1,269
$115
$1,337
$122
$2,466
$224
Select
-14%
02 May 20
7-day Canada & Ne Discovery
Zaandam
Holland America Line
Montreal
Canada / New England
Show
$1,180
$169
$1,257
$180
$2,309
$330
Select
-15%
09 May 20
7-day Canada & Ne Discovery
Zaandam
Holland America Line
Boston
Canada / New England
Show
$1,160
$166
$1,237
$177
$2,433
$348
Select
-15%
16 May 20
7-day Canada & Ne Discovery
Zaandam
Holland America Line
Montreal
Canada / New England
Show
$1,257
$180
$1,325
$189
$2,521
$360
Select
-14%
23 May 20
7-day Canada & Ne Discovery
Zaandam
Holland America Line
Boston
Canada / New England
Show
$1,227
$175
$1,295
$185
$2,356
$337
Select
-15%
30 May 20
7-day Canada & Ne Discovery
Zaandam
Holland America Line
Montreal
Canada / New England
Show
$1,257
$180
$1,392
$199
$2,734
$391
Select
-18%
06 Jun 20
7-day Canada & Ne Discovery
Zaandam
Holland America Line
Boston
Canada / New England
Show
$1,361
$194
$1,506
$215
$2,983
$426
Select
-17%
13 Jun 20
7-day Canada & Ne Discovery
Zaandam
Holland America Line
Montreal
Canada / New England
Show
$1,526
$218
$1,671
$239
$2,935
$419
Select
-15%
20 Jun 20
7-day Canada & Ne Discovery
Zaandam
Holland America Line
Boston
Canada / New England
Show
$1,506
$215
$1,641
$234
$3,118
$445
Select
-15%
27 Jun 20
7-day Canada & Ne Discovery
Zaandam
Holland America Line
Montreal
Canada / New England
Show
$1,604
$229
$1,739
$248
$3,148
$450
Select
-14%
04 Jul 20
7-day Canada & Ne Discovery
Zaandam
Holland America Line
Boston
Canada / New England
Show
$1,564
$223
$1,709
$244
$3,118
$445
Select
-15%
11 Jul 20
7-day Canada & Ne Discovery
Zaandam
Holland America Line
Montreal
Canada / New England
Show
$1,671
$239
$1,806
$258
$3,148
$450
Select
-14%
22 Aug 20
7-day Historic Coasts
Zaandam
Holland America Line
Boston
Canada / New England
Show
$1,641
$234
$1,786
$255
$3,330
$476
Select
-15%
29 Aug 20
7-day Canada & Ne Discovery
Zaandam
Holland America Line
Boston
Canada / New England
Show
$1,641
$234
$1,786
$255
$3,475
$496
Select
-15%
05 Sep 20
7-day Canada & Ne Discovery
Zaandam
Holland America Line
Montreal
Canada / New England
Show
$1,749
$250
$1,884
$269
$3,650
$521
Select
-14%
12 Sep 20
7-day Canada & Ne Discovery
Zaandam
Holland America Line
Boston
Canada / New England
Show
$1,864
$266
$2,009
$287
$3,910
$559
Select
-13%
19 Sep 20
7-day Canada & Ne Discovery
Zaandam
Holland America Line
Montreal
Canada / New England
Show
$1,962
$280
$2,097
$300
$4,355
$622
Select
-12%
26 Sep 20
7-day Canada & Ne Discovery
Zaandam
Holland America Line
Boston
Canada / New England
Show
$2,009
$287
$2,154
$308
$4,614
$659
Select
-12%
03 Oct 20
6-day Canada & Ne Discovery
Zaandam
Holland America Line
Montreal
Canada / New England
Show
$1,805
$301
$1,940
$323
$3,774
$629
Select
-13%
09 Oct 20
8-day Canada & Ne Discovery
Zaandam
Holland America Line
Boston
Canada / New England
Show
$2,299
$287
$2,435
$304
$5,185
$648
Select
-11%
17 Oct 20
14-day The Atlantic Coast
Zaandam
Holland America Line
Montreal
Canada / New England
Show
$3,085
$220
$3,230
$231
$5,971
$426
Select
06 Feb 21
17-day Panama Canal
Zaandam
Holland America Line
Fort Lauderdale (Port Everglades)
Panama Canal
Show
$3,462
$204
$3,655
$215
$6,308
$371
Select
-13%
23 Feb 21
18-day Panama Canal
Zaandam
Holland America Line
San Diego
Panama Canal
Show
$3,561
$198
$3,754
$209
$6,601
$367
Select
-12%
13 Mar 21
17-day Panama Canal
Zaandam
Holland America Line
Fort Lauderdale (Port Everglades)
Panama Canal
Show
$3,269
$192
$3,462
$204
$6,212
$365
Select
-13%
30 Mar 21
18-day Panama Canal
Zaandam
Holland America Line
San Diego
Panama Canal
Show
$3,464
$192
$3,657
$203
$6,503
$361
Select
-12%
02 Jan 21
10-day Southern Caribbean Seafarer
Zaandam
Holland America Line
Fort Lauderdale (Port Everglades)
Caribbean - Southern
Show
$1,660
$166
$1,660
$166
$3,783
$378
Select
02 Jan 21
21-day Southern Caribbean Seafarer / Wayfarer
Zaandam
Holland America Line
Fort Lauderdale (Port Everglades)
Caribbean - Southern
Show
$3,272
$156
$3,272
$156
$8,483
$404
Select
12 Jan 21
11-day Southern Caribbean Wayfarer
Zaandam
Holland America Line
Fort Lauderdale (Port Everglades)
Caribbean - Southern
Show
$1,805
$164
$1,805
$164
$5,134
$467
Select
12 Jan 21
25-day Southern Caribbean
Zaandam
Holland America Line
Fort Lauderdale (Port Everglades)
Caribbean - Southern
Show
$4,387
$175
$4,387
$175
$9,839
$394
Select
23 Jan 21
14-day Southern Caribbean
Zaandam
Holland America Line
Fort Lauderdale (Port Everglades)
Caribbean - Southern
Show
$2,824
$202
$2,824
$202
$5,236
$374
Select
19 Dec 20
14-day Panama Canal Holiday
Zaandam
Holland America Line
San Diego
Panama Canal
Show
$3,748
$268
$3,941
$281
$6,015
$430
Select
-11%
31 Oct 20
17-day Panama Canal
Zaandam
Holland America Line
Fort Lauderdale (Port Everglades)
Panama Canal
Show
$2,777
$163
$3,047
$179
$5,749
$338
Select
-17%
17 Nov 20
32-day Hawaii Tahiti & Marquesas
Zaandam
Holland America Line
San Diego
Hawaii
Show
$6,185
$193
$6,706
$210
$12,959
$405
Select
-13%
01 May 21
7-day Canada & Ne Discovery
Zaandam
Holland America Line
Montreal
Canada / New England
Show
$1,277
$182
$1,470
$210
$2,821
$403
Select
-29%
15 May 21
7-day Canada & Ne Discovery
Zaandam
Holland America Line
Montreal
Canada / New England
Show
$1,470
$210
$1,663
$238
$3,014
$431
Select
-23%
22 May 21
7-day Canada & Ne Discovery
Zaandam
Holland America Line
Boston
Canada / New England
Show
$1,470
$210
$1,663
$238
$3,014
$431
Select
-23%
29 May 21
7-day Canada & Ne Discovery
Zaandam
Holland America Line
Montreal
Canada / New England
Show
$1,567
$224
$1,663
$238
$3,207
$458
Select
-24%
12 Jun 21
7-day Canada & Ne Discovery
Zaandam
Holland America Line
Montreal
Canada / New England
Show
$1,567
$224
$1,856
$265
$3,497
$500
Select
-21%
19 Jun 21
7-day Canada & Ne Discovery
Zaandam
Holland America Line
Boston
Canada / New England
Show
$1,566
$224
$1,856
$265
$3,400
$486
Select
-21%
26 Jun 21
7-day Canada & Ne Discovery
Zaandam
Holland America Line
Montreal
Canada / New England
Show
$1,566
$224
$1,856
$265
$3,400
$486
Select
-21%
21 Aug 21
7-day Historic Coasts
Zaandam
Holland America Line
Boston
Canada / New England
Show
$1,662
$237
$1,952
$279
$3,592
$513
Select
-23%
28 Aug 21
7-day Canada & Ne Discovery
Zaandam
Holland America Line
Boston
Canada / New England
Show
$1,663
$238
$1,953
$279
$3,690
$527
Select
-24%
04 Sep 21
7-day Canada & Ne Discovery
Zaandam
Holland America Line
Montreal
Canada / New England
Show
$1,663
$238
$1,953
$279
$3,883
$555
Select
-24%
11 Sep 21
7-day Canada & Ne Discovery
Zaandam
Holland America Line
Boston
Canada / New England
Show
$1,856
$265
$2,146
$307
$4,172
$596
Select
-19%
18 Sep 21
7-day Canada & Ne Discovery
Zaandam
Holland America Line
Montreal
Canada / New England
Show
$1,953
$279
$2,243
$320
$4,366
$624
Select
-21%
25 Sep 21
7-day Canada & Ne Discovery
Zaandam
Holland America Line
Boston
Canada / New England
Show
$1,953
$279
$2,242
$320
$4,655
$665
Select
-21%
02 Oct 21
7-day Canada & Ne Discovery
Zaandam
Holland America Line
Montreal
Canada / New England
Show
$1,953
$279
$2,242
$320
$4,655
$665
Select
-21%
09 Oct 21
7-day Canada & Ne Discovery
Zaandam
Holland America Line
Boston
Canada / New England
Show
$1,953
$279
$2,242
$320
$4,655
$665
Select
-21%
16 Oct 21
11-day The Atlantic Coast
Zaandam
Holland America Line
Montreal
Canada / New England
Show
$2,151
$196
$2,537
$231
$4,274
$389
Select
-17%
03 Jan 20
8-day Western Caribbean
Zuiderdam
Holland America Line
Fort Lauderdale (Port Everglades)
Caribbean - Western
Show
$1,318
$165
$1,454
$182
$1,733
$217
$2,949
$369
Select
18 Jan 20
7-day Eastern Caribbean
Zuiderdam
Holland America Line
Fort Lauderdale (Port Everglades)
Caribbean - Eastern
Show
$1,230
$176
$1,365
$195
$1,703
$243
$2,658
$380
Select
18 Jan 20
14-day Eastern / Tropical Caribbean
Zuiderdam
Holland America Line
Fort Lauderdale (Port Everglades)
Caribbean
Show
$2,317
$165
$2,587
$185
$3,263
$233
Select
25 Jan 20
7-day Tropical Caribbean
Zuiderdam
Holland America Line
Fort Lauderdale (Port Everglades)
Caribbean - Eastern
Show
$1,240
$177
$1,375
$196
$1,713
$245
$2,668
$381
Select
25 Jan 20
14-day Tropical / Western Caribbean
Zuiderdam
Holland America Line
Fort Lauderdale (Port Everglades)
Caribbean - Western
Show
$2,384
$170
$2,655
$190
$3,407
$243
$5,038
$360
Select
01 Feb 20
7-day Western Caribbean
Zuiderdam
Holland America Line
Fort Lauderdale (Port Everglades)
Caribbean - Western
Show
$1,327
$190
$1,463
$209
$1,868
$267
$2,688
$384
Select
01 Feb 20
14-day Western / Tropical Caribbean
Zuiderdam
Holland America Line
Fort Lauderdale (Port Everglades)
Caribbean - Western
Show
$2,451
$175
$2,721
$194
$3,532
$252
$5,028
$359
Select
08 Feb 20
7-day Tropical Caribbean
Zuiderdam
Holland America Line
Fort Lauderdale (Port Everglades)
Caribbean - Eastern
Show
$1,307
$187
$1,442
$206
$1,847
$264
$2,667
$381
Select
08 Feb 20
18-day Tropical / Sunfarer Caribbean
Zuiderdam
Holland America Line
Fort Lauderdale (Port Everglades)
Caribbean - Southern
Show
$3,944
$219
$4,349
$242
$5,372
$298
$7,003
$389
Select
15 Feb 20
11-day Panama Canal Sunfarer
Zuiderdam
Holland America Line
Fort Lauderdale (Port Everglades)
Caribbean - Southern
Show
$2,868
$261
$3,139
$285
$3,824
$348
$4,634
$421
Select
26 Feb 20
11-day Panama Canal Sunfarer
Zuiderdam
Holland America Line
Fort Lauderdale (Port Everglades)
Caribbean - Southern
Show
$2,868
$261
$3,139
$285
$3,824
$348
$4,634
$421
Select
08 Mar 20
10-day Panama Canal Sunfarer
Zuiderdam
Holland America Line
Fort Lauderdale (Port Everglades)
Caribbean - Southern
Show
$2,441
$244
$2,711
$271
$3,252
$325
$4,207
$421
Select
18 Mar 20
11-day Panama Canal Sunfarer
Zuiderdam
Holland America Line
Fort Lauderdale (Port Everglades)
Caribbean - Southern
Show
$2,588
$235
$2,858
$260
$3,543
$322
$4,634
$421
Select
29 Mar 20
10-day Panama Canal Sunfarer
Zuiderdam
Holland America Line
Fort Lauderdale (Port Everglades)
Caribbean - Southern
Show
$2,441
$244
$2,711
$271
$3,252
$325
$4,207
$421
Select
08 Apr 20
11-day Panama Canal Sunfarer
Zuiderdam
Holland America Line
Fort Lauderdale (Port Everglades)
Caribbean - Southern
Show
$2,723
$248
$2,993
$272
$3,678
$334
$4,634
$421
Select
20 Dec 19
7-day Eastern Caribbean Holiday
Zuiderdam
Holland America Line
Fort Lauderdale (Port Everglades)
Caribbean - Eastern
Show
$1,973
$282
$2,272
$325
$3,334
$476
Select
27 Dec 19
7-day Tropical Caribbean Holiday
Zuiderdam
Holland America Line
Fort Lauderdale (Port Everglades)
Caribbean - Eastern
Show
$2,427
$347
Select
19 Apr 20
14-day Passage To Rome
Zuiderdam
Holland America Line
Fort Lauderdale (Port Everglades)
Transatlantic
Show
$1,273
$91
$1,466
$105
$1,948
$139
$4,795
$342
Select
-33%
19 Apr 20
26-day Passage To Rome & Greek Odyssey
Zuiderdam
Holland America Line
Fort Lauderdale (Port Everglades)
Transatlantic
Show
$3,611
$139
$3,997
$154
$8,707
$335
Select
-29%
08 Jun 20
12-day Turkey & Greece
Zuiderdam
Holland America Line
Civitavecchia (Rome)
Mediterranean
Show
$2,628
$219
$2,821
$235
$3,207
$267
$4,558
$380
Select
-19%
08 Jun 20
24-day Turkey Greece & European Splendor
Zuiderdam
Holland America Line
Civitavecchia (Rome)
Mediterranean
Show
$4,813
$201
$5,180
$216
$6,097
$254
$8,760
$365
Select
-22%
20 Jun 20
12-day European Splendor
Zuiderdam
Holland America Line
Civitavecchia (Rome)
Mediterranean
Show
$2,435
$203
$2,628
$219
$3,207
$267
$4,655
$388
Select
-25%
20 Jun 20
26-day European Splendor & Northern Isles
Zuiderdam
Holland America Line
Civitavecchia (Rome)
Europe - Northern
Show
$5,417
$208
$5,880
$226
$6,932
$267
$10,734
$413
Select
-22%
03 May 20
12-day Greek Odyssey
Zuiderdam
Holland America Line
Civitavecchia (Rome)
Mediterranean
Show
$2,531
$211
$2,724
$227
$3,496
$291
$4,364
$364
Select
-28%
03 May 20
24-day Greek Odyssey & Mediterranean Empires
Zuiderdam
Holland America Line
Civitavecchia (Rome)
Mediterranean
Show
$4,541
$189
$4,908
$205
$6,278
$262
$8,112
$338
Select
-28%
15 May 20
12-day Mediterranean Empires
Zuiderdam
Holland America Line
Venice
Mediterranean
Show
$2,244
$187
$2,437
$203
$3,113
$259
$4,174
$348
Select
-28%
15 May 20
24-day Mediterranean Empires & Adriatic Dream
Zuiderdam
Holland America Line
Venice
Mediterranean
Show
$4,176
$174
$4,542
$189
$5,729
$239
$7,843
$327
Select
-27%
27 May 20
12-day Adriatic Dream
Zuiderdam
Holland America Line
Venice
Mediterranean
Show
$2,145
$179
$2,338
$195
$2,917
$243
$4,075
$340
Select
-27%
27 May 20
24-day Greece Turkey & Adriatic Dream
Zuiderdam
Holland America Line
Venice
Mediterranean
Show
$4,542
$189
$4,909
$205
$5,826
$243
$8,209
$342
Select
-23%
02 Jul 20
14-day Northern Isles
Zuiderdam
Holland America Line
Copenhagen
Europe - Northern
Show
$3,261
$233
$3,551
$254
$4,081
$292
$6,639
$474
Select
-21%
02 Jul 20
24-day Northern Isles & Jewels Of The Baltic
Zuiderdam
Holland America Line
Copenhagen
Europe - Northern
Show
$5,552
$231
$6,103
$254
$6,932
$289
$10,870
$453
Select
-20%
16 Jul 20
10-day Jewels Of The Baltic
Zuiderdam
Holland America Line
Copenhagen
Europe - Northern
Show
$2,582
$258
$2,872
$287
$3,209
$321
$4,802
$480
Select
-20%
16 Jul 20
24-day Jewels Of The Baltic & Northern Isles
Zuiderdam
Holland America Line
Copenhagen
Europe - Northern
Show
$5,513
$230
$6,063
$253
$6,980
$291
$10,685
$445
Select
-21%
26 Jul 20
14-day Northern Isles
Zuiderdam
Holland America Line
Copenhagen
Europe - Northern
Show
$3,212
$229
$3,501
$250
$4,129
$295
$6,445
$460
Select
-22%
26 Jul 20
24-day Northern Isles & Jewels Of The Baltic
Zuiderdam
Holland America Line
Copenhagen
Europe - Northern
Show
$5,512
$230
$6,062
$253
$7,114
$296
$10,366
$432
Select
-22%
09 Aug 20
10-day Jewels Of The Baltic
Zuiderdam
Holland America Line
Copenhagen
Europe - Northern
Show
$2,581
$258
$2,871
$287
$3,353
$335
$4,463
$446
Select
-23%
07 Oct 20
11-day The Atlantic Coast
Zuiderdam
Holland America Line
Quebec City
Canada / New England
Show
$1,921
$175
$2,134
$194
$2,761
$251
$4,102
$373
Select
-27%
18 Oct 20
10-day Panama Canal Sunfarer
Zuiderdam
Holland America Line
Fort Lauderdale (Port Everglades)
Caribbean - Southern
Show
$2,250
$225
$2,829
$283
$2,829
$283
$3,649
$365
Select
-10%
28 Oct 20
11-day Panama Canal Sunfarer
Zuiderdam
Holland America Line
Fort Lauderdale (Port Everglades)
Caribbean - Southern
Show
$2,541
$231
$3,120
$284
$3,120
$284
$3,892
$354
Select
08 Nov 20
10-day Panama Canal Sunfarer
Zuiderdam
Holland America Line
Fort Lauderdale (Port Everglades)
Caribbean - Southern
Show
$2,250
$225
$2,829
$283
$2,829
$283
$3,649
$365
Select
-10%
18 Nov 20
11-day Panama Canal Sunfarer
Zuiderdam
Holland America Line
Fort Lauderdale (Port Everglades)
Caribbean - Southern
Show
$2,396
$218
$3,120
$284
$3,120
$284
$3,892
$354
Select
29 Nov 20
10-day Panama Canal Sunfarer
Zuiderdam
Holland America Line
Fort Lauderdale (Port Everglades)
Caribbean - Southern
Show
$2,105
$211
$2,684
$268
$2,684
$268
$3,504
$350
Select
-10%
09 Dec 20
11-day Panama Canal Sunfarer
Zuiderdam
Holland America Line
Fort Lauderdale (Port Everglades)
Caribbean - Southern
Show
$2,155
$196
$2,830
$257
$2,830
$257
$3,506
$319
Select
-10%
03 Jan 21
10-day Panama Canal Sunfarer
Zuiderdam
Holland America Line
Fort Lauderdale (Port Everglades)
Caribbean - Southern
Show
$2,297
$230
$2,828
$283
$2,828
$283
$3,793
$379
Select
13 Jan 21
11-day Panama Canal Sunfarer
Zuiderdam
Holland America Line
Fort Lauderdale (Port Everglades)
Caribbean - Southern
Show
$2,541
$231
$2,927
$266
$2,927
$266
$4,230
$385
Select
24 Jan 21
10-day Panama Canal Sunfarer
Zuiderdam
Holland America Line
Fort Lauderdale (Port Everglades)
Caribbean - Southern
Show
$2,538
$254
$2,828
$283
$2,828
$283
$4,179
$418
Select
03 Feb 21
11-day Panama Canal Sunfarer
Zuiderdam
Holland America Line
Fort Lauderdale (Port Everglades)
Caribbean - Southern
Show
$2,541
$231
$2,927
$266
$2,927
$266
$4,230
$385
Select
14 Feb 21
10-day Panama Canal Sunfarer
Zuiderdam
Holland America Line
Fort Lauderdale (Port Everglades)
Caribbean - Southern
Show
$2,538
$254
$2,828
$283
$2,828
$283
$4,179
$418
Select
24 Feb 21
11-day Panama Canal Sunfarer
Zuiderdam
Holland America Line
Fort Lauderdale (Port Everglades)
Caribbean - Southern
Show
$2,541
$231
$2,927
$266
$2,927
$266
$4,230
$385
Select
07 Mar 21
10-day Panama Canal Sunfarer
Zuiderdam
Holland America Line
Fort Lauderdale (Port Everglades)
Caribbean - Southern
Show
$2,538
$254
$2,828
$283
$2,828
$283
$4,179
$418
Select
17 Mar 21
11-day Panama Canal Sunfarer
Zuiderdam
Holland America Line
Fort Lauderdale (Port Everglades)
Caribbean - Southern
Show
$2,541
$231
$2,927
$266
$2,927
$266
$4,181
$380
Select
28 Mar 21
10-day Panama Canal Sunfarer
Zuiderdam
Holland America Line
Fort Lauderdale (Port Everglades)
Caribbean - Southern
Show
$2,538
$254
$2,828
$283
$2,828
$283
$4,179
$418
Select
07 Apr 21
11-day Panama Canal Sunfarer
Zuiderdam
Holland America Line
Fort Lauderdale (Port Everglades)
Caribbean - Southern
Show
$2,541
$231
$2,927
$266
$2,927
$266
$4,230
$385
Select
09 Dec 20
18-day Panama Canal Sunfarer & Eastern Caribbean Holiday
Zuiderdam
Holland America Line
Fort Lauderdale (Port Everglades)
Caribbean - Southern
Show
$3,617
$201
$4,775
$265
$4,775
$265
$6,608
$367
Select
20 Dec 20
7-day Eastern Caribbean Holiday
Zuiderdam
Holland America Line
Fort Lauderdale (Port Everglades)
Caribbean - Eastern
Show
$1,655
$236
$2,186
$312
$2,186
$312
$3,440
$491
Select
20 Dec 20
14-day Eastern & Western Caribbean Holiday
Zuiderdam
Holland America Line
Fort Lauderdale (Port Everglades)
Caribbean - Eastern
Show
$3,117
$223
$4,131
$295
$4,131
$295
$6,688
$478
Select
27 Dec 20
7-day Western Caribbean Holiday
Zuiderdam
Holland America Line
Fort Lauderdale (Port Everglades)
Caribbean - Western
Show
$1,607
$230
$2,186
$312
$2,186
$312
$3,585
$512
Select
27 Dec 20
17-day Western Caribbean & Panama Canal Sunfarer Holiday
Zuiderdam
Holland America Line
Fort Lauderdale (Port Everglades)
Caribbean - Southern
Show
$3,711
$218
$4,773
$281
$4,773
$281
$6,992
$411
Select
09 Aug 20
29-day Jewels Of The Baltic & Viking Passage
Zuiderdam
Holland America Line
Copenhagen
Transatlantic
Show
$7,680
$265
$8,587
$296
$9,996
$345
$13,991
$482
Select
-20%
19 Aug 20
19-day Viking Passage
Zuiderdam
Holland America Line
Copenhagen
Transatlantic
Show
$5,486
$289
$6,162
$324
$7,175
$378
$10,263
$540
Select
-20%
07 Sep 20
10-day Newfoundland & New England Discovery
Zuiderdam
Holland America Line
Boston
Canada / New England
Show
$2,116
$212
$2,675
$268
$3,524
$352
$4,432
$443
Select
-27%
17 Sep 20
10-day Newfoundland & New England Discovery
Zuiderdam
Holland America Line
Quebec City
Canada / New England
Show
$2,263
$226
$2,919
$292
$3,740
$374
$5,042
$504
Select
-25%
27 Sep 20
10-day Newfoundland & New England Discovery
Zuiderdam
Holland America Line
Boston
Canada / New England
Show
$2,165
$216
$2,850
$285
$3,805
$381
$5,002
$500
Select
-28%
18 Jan 20
18-day Panama Canal
Oosterdam
Holland America Line
San Diego
Panama Canal
Show
$2,410
$134
$2,719
$151
$4,630
$257
$6,183
$344
Select
-16%
05 Feb 20
17-day Panama Canal
Oosterdam
Holland America Line
Fort Lauderdale (Port Everglades)
Panama Canal
Show
$2,283
$134
$2,640
$155
$4,386
$258
$5,873
$345
Select
14 Dec 19
7-day Mexican Riviera
Oosterdam
Holland America Line
San Diego
Mexico
Show
$1,391
$199
Select
-11%
04 Jan 20
7-day Mexican Riviera
Oosterdam
Holland America Line
San Diego
Mexico
Show
$1,061
$152
$1,196
$171
$1,467
$210
$2,142
$306
Select
-13%
11 Jan 20
7-day Mexican Riviera
Oosterdam
Holland America Line
San Diego
Mexico
Show
$1,069
$153
$1,204
$172
$1,475
$211
$2,150
$307
Select
-13%
29 Feb 20
7-day Mexican Riviera
Oosterdam
Holland America Line
San Diego
Mexico
Show
$1,069
$153
$1,204
$172
$1,474
$211
$2,150
$307
Select
-13%
07 Mar 20
7-day Mexican Riviera
Oosterdam
Holland America Line
San Diego
Mexico
Show
$1,069
$153
$1,204
$172
$1,474
$211
$2,150
$307
Select
-13%
14 Mar 20
7-day Mexican Riviera
Oosterdam
Holland America Line
San Diego
Mexico
Show
$1,063
$152
$1,198
$171
$1,468
$210
$2,144
$306
Select
-13%
18 Apr 20
7-day Mexican Riviera
Oosterdam
Holland America Line
San Diego
Mexico
Show
$1,068
$153
$1,203
$172
$1,473
$210
$2,149
$307
Select
-13%
25 Apr 20
7-day Pacific Coastal
Oosterdam
Holland America Line
San Diego
U. S. Pacific Coast
Show
$1,200
$171
$1,296
$185
$1,779
$254
$2,261
$323
Select
02 May 20
1-day Pacific Coastal
Oosterdam
Holland America Line
Vancouver
U. S. Pacific Coast
$197
$197
$245
$245
$342
$342
$486
$486
Select
21 Dec 19
7-day Mexican Riviera Holiday
Oosterdam
Holland America Line
San Diego
Mexico
Show
$2,466
$352
$3,238
$463
Select
21 Mar 20
28-day Hawaii Tahiti & Marquesas
Oosterdam
Holland America Line
San Diego
Hawaii
Show
$5,376
$192
$5,936
$212
$8,001
$286
$12,266
$438
Select
03 May 20
7-day Alaskan Explorer
Oosterdam
Holland America Line
Seattle
Alaska
Show
$1,209
$173
$1,460
$209
$1,778
$254
$2,193
$313
Select
-24%
10 May 20
7-day Alaskan Explorer
Oosterdam
Holland America Line
Seattle
Alaska
Show
$1,286
$184
$1,499
$214
$1,846
$264
$2,203
$315
Select
-24%
17 May 20
7-day Alaskan Explorer
Oosterdam
Holland America Line
Seattle
Alaska
Show
$1,421
$203
$1,566
$224
$2,058
$294
$2,338
$334
Select
-29%
24 May 20
7-day Alaskan Explorer
Oosterdam
Holland America Line
Seattle
Alaska
Show
$1,566
$224
$1,672
$239
$2,126
$304
$2,405
$344
Select
-26%
31 May 20
7-day Alaskan Explorer
Oosterdam
Holland America Line
Seattle
Alaska
Show
$1,556
$222
$1,672
$239
$2,193
$313
$2,473
$353
Select
-28%
07 Jun 20
7-day Alaskan Explorer
Oosterdam
Holland America Line
Seattle
Alaska
Show
$1,691
$242
$1,903
$272
$2,463
$352
$2,955
$422
Select
-27%
14 Jun 20
7-day Alaskan Explorer
Oosterdam
Holland America Line
Seattle
Alaska
Show
$1,680
$240
$1,875
$268
$2,540
$363
$2,820
$403
Select
-30%
21 Jun 20
7-day Alaskan Explorer
Oosterdam
Holland America Line
Seattle
Alaska
Show
$1,836
$262
$1,923
$275
$2,541
$363
$2,888
$413
Select
-28%
28 Jun 20
7-day Alaskan Explorer
Oosterdam
Holland America Line
Seattle
Alaska
Show
$1,836
$262
$1,904
$272
$2,541
$363
$2,820
$403
Select
-29%
05 Jul 20
7-day Alaskan Explorer
Oosterdam
Holland America Line
Seattle
Alaska
Show
$1,837
$262
$1,914
$273
$2,406
$344
$2,898
$414
Select
-25%
12 Jul 20
7-day Alaskan Explorer
Oosterdam
Holland America Line
Seattle
Alaska
Show
$1,836
$262
$1,981
$283
$2,395
$342
$3,100
$443
Select
-22%
19 Jul 20
7-day Alaskan Explorer
Oosterdam
Holland America Line
Seattle
Alaska
Show
$1,836
$262
$1,981
$283
$2,395
$342
$2,820
$403
Select
-22%
26 Jul 20
7-day Alaskan Explorer
Oosterdam
Holland America Line
Seattle
Alaska
Show
$1,836
$262
$1,962
$280
$2,396
$342
$2,821
$403
Select
-23%
02 Aug 20
7-day Alaskan Explorer
Oosterdam
Holland America Line
Seattle
Alaska
Show
$1,836
$262
$1,904
$272
$2,396
$342
$2,821
$403
Select
-25%
09 Aug 20
7-day Alaskan Explorer
Oosterdam
Holland America Line
Seattle
Alaska
Show
$1,701
$243
$1,808
$258
$2,329
$333
$2,830
$404
Select
-27%
16 Aug 20
7-day Alaskan Explorer
Oosterdam
Holland America Line
Seattle
Alaska
Show
$1,701
$243
$1,808
$258
$2,261
$323
$2,830
$404
Select
-25%
23 Aug 20
7-day Alaskan Explorer
Oosterdam
Holland America Line
Seattle
Alaska
Show
$1,566
$224
$1,778
$254
$2,203
$315
$2,762
$395
Select
-24%
30 Aug 20
7-day Alaskan Explorer
Oosterdam
Holland America Line
Seattle
Alaska
Show
$1,499
$214
$1,711
$244
$2,203
$315
$2,763
$395
Select
-27%
06 Sep 20
7-day Alaskan Explorer
Oosterdam
Holland America Line
Seattle
Alaska
Show
$1,499
$214
$1,605
$229
$2,126
$304
$2,483
$355
Select
-29%
13 Sep 20
7-day Alaskan Explorer
Oosterdam
Holland America Line
Seattle
Alaska
Show
$1,421
$203
$1,662
$237
$1,981
$283
$2,338
$334
Select
-22%
20 Sep 20
7-day Alaskan Explorer
Oosterdam
Holland America Line
Seattle
Alaska
Show
$1,354
$193
$1,633
$233
$1,913
$273
$2,338
$334
Select
-20%
27 Sep 20
26-day South Pacific Crossing
Oosterdam
Holland America Line
Seattle
South Pacific
Show
$3,406
$131
$3,802
$146
$4,873
$187
$7,642
$294
Select
-30%
27 Sep 20
40-day South Pacific Australia & New Zealand Collector
Oosterdam
Holland America Line
Seattle
South Pacific
Show
$5,996
$150
$6,633
$166
$8,013
$200
$12,500
$313
Select
-24%
24 Oct 20
14-day Australia & New Zealand
Oosterdam
Holland America Line
Sydney
Australia
Show
$2,898
$207
$3,159
$226
$3,555
$254
$5,504
$393
Select
-20%
07 Nov 20
14-day Australia & New Zealand
Oosterdam
Holland America Line
Auckland
Australia
Show
$2,527
$180
$2,787
$199
$3,173
$227
$4,882
$349
Select
-25%
21 Nov 20
14-day New Zealand Discovery
Oosterdam
Holland America Line
Sydney
Australia
Show
$2,181
$156
$2,442
$174
$3,098
$221
$4,285
$306
Select
-33%
05 Dec 20
14-day Australia & New Zealand
Oosterdam
Holland America Line
Sydney
Australia
Show
$2,147
$153
$2,407
$172
$2,928
$209
$4,106
$293
Select
-28%
02 Jan 21
14-day New Zealand Discovery
Oosterdam
Holland America Line
Sydney
Australia
Show
$2,702
$193
$2,963
$212
$3,581
$256
$4,787
$342
Select
-26%
16 Jan 21
14-day Australia & New Zealand
Oosterdam
Holland America Line
Sydney
Australia
Show
$2,783
$199
$3,043
$217
$3,661
$261
$4,867
$348
Select
-26%
30 Jan 21
14-day Australia & New Zealand
Oosterdam
Holland America Line
Auckland
Australia
Show
$2,643
$189
$2,903
$207
$3,521
$251
$5,248
$375
Select
-27%
13 Feb 21
14-day Australia & New Zealand
Oosterdam
Holland America Line
Sydney
Australia
Show
$2,753
$197
$3,013
$215
$3,631
$259
$5,358
$383
Select
-26%
27 Feb 21
14-day Australia & New Zealand
Oosterdam
Holland America Line
Auckland
Australia
Show
$2,643
$189
$2,903
$207
$3,521
$251
$5,248
$375
Select
-29%
13 Mar 21
15-day Australia & New Zealand
Oosterdam
Holland America Line
Sydney
Australia
Show
$2,939
$196
$3,199
$213
$3,827
$255
$5,805
$387
Select
-25%
28 Mar 21
15-day Australia & New Zealand
Oosterdam
Holland America Line
Auckland
Australia
Show
$2,819
$188
$3,080
$205
$3,707
$247
$5,685
$379
Select
-25%
28 Mar 21
43-day New Zealand & South Pacific Crossing Collector
Oosterdam
Holland America Line
Auckland
South Pacific
Show
$6,705
$156
$7,197
$167
$8,606
$200
$14,136
$329
Select
-22%
12 Apr 21
28-day South Pacific Crossing
Oosterdam
Holland America Line
Sydney
South Pacific
Show
$4,233
$151
$4,493
$160
$5,342
$191
$9,183
$328
Select
-21%
19 Dec 20
14-day Australia & New Zealand Holiday
Oosterdam
Holland America Line
Auckland
Australia
Show
$2,924
$209
$3,059
$218
$3,676
$263
$5,268
$376
Select
-25%
09 May 21
7-day Alaskan Explorer
Oosterdam
Holland America Line
Seattle
Alaska
Show
$1,472
$210
$1,616
$231
$2,147
$307
$2,726
$389
Select
-12%
16 May 21
7-day Alaskan Explorer
Oosterdam
Holland America Line
Seattle
Alaska
Show
$1,472
$210
$1,616
$231
$2,147
$307
$2,726
$389
Select
-12%
23 May 21
7-day Alaskan Explorer
Oosterdam
Holland America Line
Seattle
Alaska
Show
$1,471
$210
$1,809
$258
$2,292
$327
$2,822
$403
Select
-10%
30 May 21
7-day Alaskan Explorer
Oosterdam
Holland America Line
Seattle
Alaska
Show
$1,568
$224
$1,906
$272
$2,485
$355
$3,112
$445
Select
-11%
06 Jun 21
7-day Alaskan Explorer
Oosterdam
Holland America Line
Seattle
Alaska
Show
$1,616
$231
$1,954
$279
$2,484
$355
$3,112
$445
Select
13 Jun 21
7-day Alaskan Explorer
Oosterdam
Holland America Line
Seattle
Alaska
Show
$1,616
$231
$1,954
$279
$2,533
$362
$3,112
$445
Select
-10%
20 Jun 21
7-day Alaskan Explorer
Oosterdam
Holland America Line
Seattle
Alaska
Show
$1,616
$231
$2,002
$286
$2,533
$362
$3,305
$472
Select
-10%
27 Jun 21
7-day Alaskan Explorer
Oosterdam
Holland America Line
Seattle
Alaska
Show
$1,616
$231
$2,002
$286
$2,533
$362
$3,305
$472
Select
-10%
04 Jul 21
7-day Alaskan Explorer
Oosterdam
Holland America Line
Seattle
Alaska
Show
$1,712
$245
$2,147
$307
$2,726
$389
$3,305
$472
Select
-10%
11 Jul 21
7-day Alaskan Explorer
Oosterdam
Holland America Line
Seattle
Alaska
Show
$1,712
$245
$2,147
$307
$2,726
$389
$3,305
$472
Select
-10%
18 Jul 21
7-day Alaskan Explorer
Oosterdam
Holland America Line
Seattle
Alaska
Show
$1,712
$245
$2,147
$307
$2,726
$389
$3,401
$486
Select
-10%
25 Jul 21
7-day Alaskan Explorer
Oosterdam
Holland America Line
Seattle
Alaska
Show
$1,712
$245
$2,147
$307
$2,726
$389
$3,401
$486
Select
-10%
01 Aug 21
7-day Alaskan Explorer
Oosterdam
Holland America Line
Seattle
Alaska
Show
$1,712
$245
$2,147
$307
$2,726
$389
$3,401
$486
Select
-10%
08 Aug 21
7-day Alaskan Explorer
Oosterdam
Holland America Line
Seattle
Alaska
Show
$1,616
$231
$2,002
$286
$2,533
$362
$3,401
$486
Select
-10%
15 Aug 21
7-day Alaskan Explorer
Oosterdam
Holland America Line
Seattle
Alaska
Show
$1,616
$231
$2,002
$286
$2,533
$362
$3,208
$458
Select
-10%
22 Aug 21
7-day Alaskan Explorer
Oosterdam
Holland America Line
Seattle
Alaska
Show
$1,568
$224
$2,002
$286
$2,533
$362
$3,112
$445
Select
-11%
29 Aug 21
7-day Alaskan Explorer
Oosterdam
Holland America Line
Seattle
Alaska
Show
$1,520
$217
$1,858
$265
$2,292
$327
$2,919
$417
Select
-10%
05 Sep 21
7-day Alaskan Explorer
Oosterdam
Holland America Line
Seattle
Alaska
Show
$1,471
$210
$1,809
$258
$2,195
$314
$2,726
$389
Select
-12%
12 Sep 21
7-day Alaskan Explorer
Oosterdam
Holland America Line
Seattle
Alaska
Show
$1,471
$210
$1,809
$258
$2,195
$314
$2,726
$389
Select
-12%
19 Sep 21
7-day Alaskan Explorer
Oosterdam
Holland America Line
Seattle
Alaska