Cruises
Info
Inclusions
Ships
Destination
Promotions
Latest News
Holland America's 2021 grand world voyage aboard Amsterdam is now available to book!  Highlights of this phenomenal itinerary include cruising through the Amazon River with stops at a number of Brazilian river ports, an extensive visit to Japan, and visits to Jerusalem and Tel Aviv in Israel.  Amsterdam's 2020 world voyage sold out in a flash, so make sure to book now to avoid disappointment.  Check out our World Cruises page for more information or call 13 13 03 to book.
Best Deals
Save on Sunshine with Holland America's latest deal including fantastic discounted rates* on a selection of 2020 and 2021 itineraries.  Plus book a suite and receive a premium internet package*.
Snap up a great last minute Holland America deal with their Flash Sale.  But hurry, limited cabins remain at these great prices!
Trying to find a great price AND bonus inclusions? Then check out Cruise Guru's Plus+ Cruises where you can enjoy fantastic bonus extras like credit*, dining* or even champagne* in conjunction with your cruise fare.
$10pp deposits* on sailings less that 49 nights duration departing after 11 December 19 when you book by 31 July 19.
Enjoy exclusive discounts* when you book with Cruise Guru.
Looking for fantastic plans for Christmas?  Then have a look at our Christmas Package Collection featuring a Holland America fly, stay and cruise packages to the Caribbean and Las Vegas which include flights*, transfers*, accommodation* and cruise through the Caribbean followed by a post-cruise stay in Las Vegas which includes transfers*, accommodation* and show tickets*.
History and culture meet modern day wonders on Cruse Guru and Holland America's latest fly, stay and cruise package.  Enjoy return economy flights to Shanghai*, seat-in-coach transfers*, 1 night pre-cruise accommodation*, 14 nights through China, Japan and South Korea as well as a Great Wall of China Tour*.  View Package Details.
Use our Cruise Finder tool to find your ideal Holland America cruise, or alternatively contact us or request a call-back for expert assistance in choosing the right cruise to meet your needs.
Book your Holland America Australia cruise with Cruise Guru and experience our unrivalled first hand knowledge, with members of our expert team having cruised globally on the 'Dam' ships including grand voyages and world cruises. *Terms and conditions apply.
Holland America Cruises in Australia, New Zealand and the South Pacific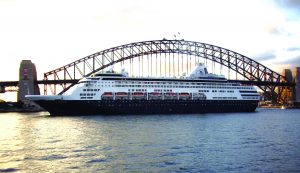 Each year, Noordam makes her way from the Northern Hemisphere to spend Australia's summer sailing the Pacific Ocean, accompanied by a few fleeting visits from Maasdam and Amsterdam.  Departing predominantly from Sydney, with a small number of Auckland departures, Holland America line gives its guests the opportunity to cruise Australia, New Zealand and the South Pacific in premium luxury. Itineraries range from 10 night cruises to extensive itineraries of 30 nights or more, encompassing Australia, New Zealand and the Pacific islands.
Asia
Closer to home, Holland America explorations of Asia include a large number of 10 to 18 night itineraries for those who have two to three weeks to discover the orient, however Holland America does specialise in longer in-depth discoveries of up to 45 nights.  These cruises predominantly depart from Singapore, Hong Kong, Yokohama (for Tokyo) and Shanghai and travel to exotic destinations such as Vietnam, Thailand, Indonesia and the Spice Islands.
Europe
Holland America offers extensive itineraries throughout Europe, with their most popular departures being their longer 18 night or greater sailings.  In the Mediterranean, sailings range from 10 night getaway's to intensive and comprehensive 30+ night adventures with cruises generally departing from Barcelona, Venice and Rome.  Look out for their cruises to the Adriatic or Greece, as well as their exceptionally popular longer cruises over 18 nights. In Northern Europe, cruises depart from Copenhagen, Rotterdam and Amsterdam, and not only take you to the typical ports in the Baltic states, but also give you the opportunity to visit the northern most points in Norway, Iceland, and even Greenland.
North America and the Caribbean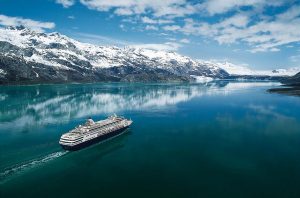 Holland America is widely considered the premier cruise line in Alaska where it has 'grandfather rights', which allow it to enjoy the most premium docking positions in port. With numerous 7 and 14 night round trip itineraries from Vancouver, as well as cruises departing Seattle and Seward, Holland America has plenty of Alaska cruise options to choose from. If you are only going to cruise Alaska once, cruise Alaska with Holland America.
Elsewhere from North America, choose from an extensive range of Holland America cruises in Canada and New England from Boston, Montreal, New York and Quebec City.  Itineraries range from 7 night one way itineraries between the United States and Canada, or 12 to 14 night itineraries for a longer Canada and New England experience.
Heading to a more tropical destination, Holland America escapes to the Caribbean primarily depart from Fort Lauderdale and not only have the typical 7 night Caribbean getaways, they also have longer voyages ranging from 9 to 21 nights for those wanting a more in-depth exploration of the idyllic islands of the Caribbean. You are also able to visit some western Caribbean destinations on the wide range of Holland America's Panama Canal crossings.
South America
Heading further south, Holland America South America adventures introduce their guests to Incan Empires and Amazonian adventures all the while enjoying Holland America's renowned levels of service.  Usually departing from one side of the continent and looping under to disembark on the other, these cruises take you through fjords and glaciers and to cultural ports.  In South America, the most in-demand itineraries are those that cruise into the Antarctic circle, number one on many bucket lists.  Make sure you book your Holland America Antarctica cruise early as these book out well in advance.
Grand Voyages and Grand World Voyages
Holland America's Grand Voyages and Grand World Voyages are unique and carefully crafted extended journeys that allow for in-depth explorations and immersive experiences to some of the most incredible parts of the world.
Check out Holland America's World Cruises or, for expert advice from our most experienced Holland America cruise consultants, please Contact Us.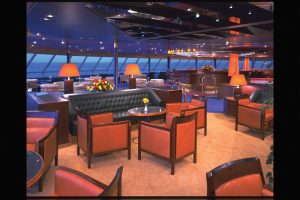 For more than 140 years, Holland America Line has been a recognised leader in cruising. The line boasts some of the most spacious and comfortable ships at sea, award-winning service, five-star dining, extensive activities as well as a line-up of fantastic enrichment programs.
Enjoy carefully crafted journeys aboard spacious mid-sized ships. Holland America's yearly schedule includes a range of compelling worldwide itineraries that visit all seven continents. Cruises include both popular and less-travelled ports in the Caribbean, Alaska, Europe, Mexico, South America, the Panama Canal, Australia, New Zealand and Asia, as well as unique voyages to the Amazon, Antarctica and extended Grand Voyages throughout different regions of the world. While onboard take part in one of Holland America's exclusive and immersive onboard or on-shore activities including BBC Earth Experiences and Explorations Central (EXC) programs, or embark on a completely different culinary journey under the guidance of one of Holland America's Culinary Council of chefs by enjoying fine dining at one of the onboard specialty restaurants.
Wherever you travel, Holland America believes that travel is more than an itinerary, it has the power to change us and our world, journey by journey.
Included with your cruise fare
All onboard meals in the main dining room and buffet
A selection of onboard entertainment
24 Hour In-Room Dining
Complimentary Fresh Fruit
America's Test Kitchen
BBC Earth Experiences
Cultural Performances
Digital Workshops
Rijksmuseum at Sea
Included for bookings made in Pinnacle or Neptune Suites
Use of exclusive Neptune Lounge
Use of personal concierge service
Complimentary laundry, pressing and dry cleaning
Breakfast in the Pinnacle Grill
Priority boarding for tendered ports
Priority dining and seating requests
Special disembarkation service
*Inclusions are subject to change at any time
BONUS DISCOUNTS
With service of choice, our bonus discounts are available online or by phone.
BOOK WITH $10PP DEPOSITS
Book your cruise with just a $10 per person deposit*!