Starting Price, Per Night*
Holland America Line cruises from Australia and worldwide!
Visit awe-inspiring destinations with a Holland America cruise
Boasting warm and friendly service, gorgeous nautically-inspired cruise ships, and extraordinary itineraries, Holland America cruises are perfectly designed for the sophisticated adventurer. Holland America Line ships never disappoint, with their stunningly crafted vessels fitted with spectacular onboard facilities and entertainment options to keep everyone in the family captivated for the entire journey. Through more than 145 years' of world-class cruising experience, Holland America Line cruises have meticulously built themselves as one of the best on the seas.
From majestic Holland America cruises 2024 to truly unforgettable Holland America cruises 2024, we'll have the itineraries that are all but guaranteed to tick off your bucket list destinations. Check out our amazing Holland America cruise deals available year-round today!
Holland America Line Destinations
Holland America Australia Destinations
Locally, explorers can embark on outstanding Holland America cruises from Sydney onboard the beautiful ships Noordam and Oosterdam. These cruise ships sail to beautiful destinations, hidden getaways, and culture-rich cities across the world. You can come aboard a Holland America Line cruise ship and sail on an incredible South Pacific crossing, island hopping from one idyllic locale to the next including Mystery Island, Noumea, and Honolulu. There is additionally a selection of fabulous Australia cruises that on occasion circumnavigate the entire country, visiting destinations such as Kangaroo Island, Adelaide, and Hobart. New Zealand cruises also occur regularly, making port at sublime locations including Wellington, Auckland, and Milford Sound. Lastly, there are a select number of Asia cruises that allow guests to encounter exciting cultures in places such as Bali, Phuket, and Colombo.
Holland America International Destinations
Boasting over 470 ports internationally and 14 unique destinations, it's no wonder why Holland America Line has become a popular choice for cruise travellers across the globe. Holland America destinations worldwide include places such as:
Alaska
Asia
Canada & New England
Hawaii & Tahiti
Northern Europe
Panama Canal
South America & Antarctica
The Caribbean
The Mediterranean
Why book with Holland America Line?
With more than 145 years' experience in the cruising industry, Holland America cruises are easily one of the best choices for any kind of traveller looking to explore the seas. Nevertheless, we at Cruise Guru have compiled a shortlist of reasons why Holland America should be your cruise line of choice on your upcoming voyage. Scroll down below to find out!
Exceptional ship design
Ships are more than just your mode of transport, and Holland America cruise ships have been stunningly created to keep everyone onboard entertained and enchanted for days on end. From the maritime-inspired look and feel throughout the ship, fantastic entertainment options such as incredible live music and vibrant bars, to the luxurious accommodations, Holland America have gone above and beyond to ensure your journey is stress-free.
Impressive traditional cruising
Travellers on a Holland America Line cruise are afforded a classic-style approach to cruising with thoughtful modern touches. Onboard activities on every Holland America cruise ship are traditional in every sense, foregoing the modern facilities such as waterparks and instead doubling down on outstanding live music, rejuvenating spa treatments, and tantalising culinary journeys. Packed with a plethora of enriching programs and enlightening classes, every sailing with Holland America Line promises to keep you busy and stimulated for your entire voyage.
Extensive range of exciting itineraries worldwide
Whether you want a short Holland America cruise from Sydney or a phenomenal World Cruise covering the entire planet, the renowned cruise line has almost every kind of itinerary for every kind of adventurer. With sailings that span across the continents, travellers with Holland America will be able to tick of a multitude of bucket-list destinations and discover a couple more they would have never expected. In addition, shore excursions at these locales appeal to all styles of adventure and levels of activity, ensuring you get to explore how you want and truly immerse yourself in the culture of the region.
Look through our Holland America cruise deals
Searching for cheap Holland America cruise deals for your next dream holiday with the family? Look no further than Cruise Guru! With an expansive range of amazing Holland America promotions, deals, and discounts available year round, you can book your next voyage with confidence knowing you have the best deal online. To start comparing our Holland America deals, simply click the 'Promotions' tab and look through the various sailings which offer the deal. You can then click on the 'Cruises' tab to view all Holland America Line cruises that you can book with Cruise Guru. We also boast a wide range of exciting cruise deals with other cruise lines that you can check out today!
Need some additional help? Contact us today!
If you need some immediate help with any issue you have booking your next Holland America cruise, don't hesitate in contacting us here at Cruise Guru. We have a wonderful team of experienced cruise consultants who will thoughtfully take care of your question or query with ease. You can call us by dialling 13 13 03 or by alternatively filling out a call back form and our team will respond when they become available.
You can also like or follow our Facebook, Twitter, or Instagram pages so you can learn about the latest Holland America cruise deals, new sailings, and industry news first. With a superb offering of Holland America itineraries, deals, and discounts, there is no better place to book your next holiday online than with Cruise Guru!
Holland America Line Cruises FAQ's
Does Holland America have single cabins?
Koningsdam and Nieuw Statendam both have 12 solo cabins, all of which feature impeccable ocean views and plenty of space for solo travellers to unwind after a long day adventuring. Holland America Line additionally have in place a selection of onboard activities such as cooking workshops and social gatherings which encourage solo and single explorers to meet and socialise.
Do Holland America ships have laundry facilities?
Definitely! Every Holland America cruise provides its guests with a laundry facility to wash, dry, and clean their clothes while they sail away to their remarkable destinations for an additional charge. However, keep in mind that there are no self-service laundry facilities available currently on any cruise ships.
What is included on Holland America cruises?
Your passenger fare with Holland America Line comes complimentary with:
Non-specialty restaurant dining
Select non-alcoholic drinks
24-hour room service
Access to a select number of enrichment programs, stage productions, and culinary lessons
Club HAL (kid's club) until 10pm
What Holland America cruise ships visit Australia?
Holland America Line's Oosterdam, and Noordam all make their way to the beautiful shores of Sydney, typically between October and April. These wonderful cruise ships then embark on enchanting sailings throughout the region, such as the South Pacific, New Zealand, South-East Asia, and circumnavigating Australia itself. Jam-packed with awe-inspiring sites and gorgeous natural landscapes throughout all their itineraries, you can never go wrong with a Holland America cruise from Sydney, Australia.
Where do I go for the best Holland America cruise deals?
For the best cruise deals not only with Holland America Line but across every cruise line, the choice should be Cruise Guru. With exclusive offers and rates available year-round that give you the best prices for the accommodation you want, Cruise Guru promises to leave customers who book with a smile across their face.
Need help? Call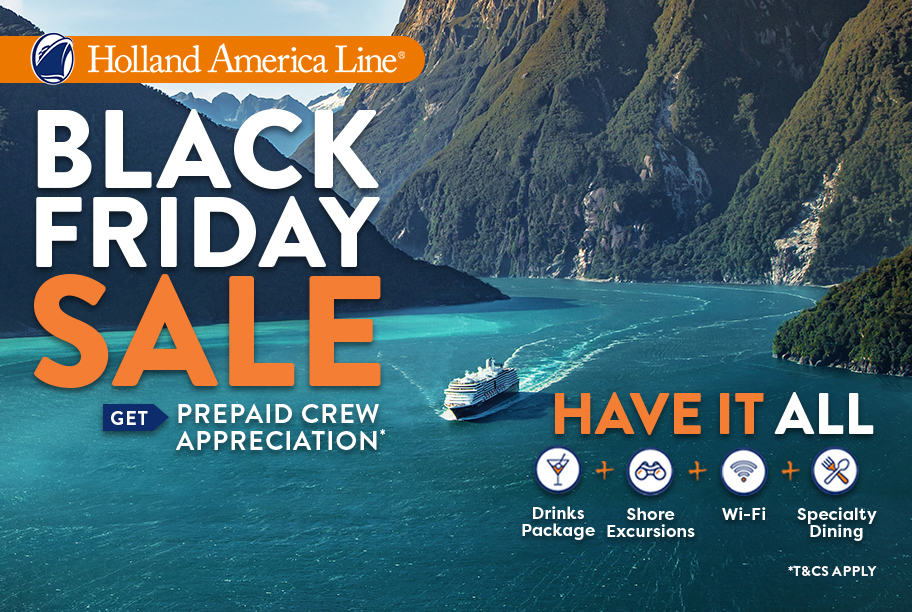 AUSTRALIA & NZ
Enjoy prepaid crew appreciation with Holland America. Plus enjoy their Have it All inclusions – dining, drinks, shore excursions and Wi-Fi*
View Now
Included with your cruise fare
All onboard meals in the main dining room and buffet
A selection of onboard entertainment
24 Hour In-Room Dining
Complimentary Fresh Fruit
America's Test Kitchen
BBC Earth Experiences
Cultural Performances
Digital Workshops
Rijksmuseum at Sea
Kids Club Facilities (except for Maasdam)
Included for bookings made in Pinnacle or Neptune Suites
Use of exclusive Neptune Lounge
Use of personal concierge service
Complimentary laundry, pressing and dry cleaning
Breakfast in the Pinnacle Grill
Priority boarding for tendered ports
Priority dining and seating requests
Special disembarkation service
*Inclusions are subject to change at any time