Oosterdam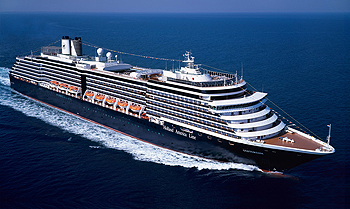 109
Starting Price, Per Night*
Oosterdam Cruises
Holland America Line's first Vista-class cruise ship, Oosterdam has delighted guests since her maiden voyage. Now, as part of a $300 million fleet enhancement initiative, Oosterdam recently emerged from dry dock showcasing a host of exciting updates, including new lounge, dining and entertainment venues, and completely refreshed suites.
Guests now have more world-class entertainment options than ever before. Live music has always been the heart and soul of evenings aboard Holland America Line, and now Oosterdam features the full Music Walk experience – with three exciting venues. Lincoln Center Stage, featuring world-class musicians performing chamber music, and Billboard Onboard, rocking the house with 50 years of chart-topping hits, join the already popular B.B. King's Blues Club, which brings the best of Memphis blues to sea, and completes our new "Music Walk" experience.
Activities
If you're looking for the ultimate cruising experience that you'll remember for a lifetime, you've come aboard the right ship.
The ship of Holland America's Oosterdam is well equipped to accommodate all of your activity possibilities. From the moment you embark this vessel to the second before you disembark, you're guaranteed to become so occupied that it will be virtually impossible to keep track of the days nor the hour.
Club HAL, dedicated youth facilities and activities for kids ages 3 to 12
The Loft, designed exclusively for teens to have fun, socialize and hang out with people their own age
The Greenhouse Spa & Salon features thermal suites, a hydrotherapy and thalassotherapy pool, heated ceramic lounges and more
Lido Pool: Warm days with light, salty breezes are made for lounging poolside with an icy beverage in one hand and an epic novel in the other. Does this count as doing something or doing nothing? You'll soon know…
Concierge Lounge
Shore Excursions
Explorer's Lounge: Make yourself comfortable. The Explorer's Lounge is your space — an inviting arena of rich hues and warm smiles — in which to relax with a cookie or a cocktail.
Entertainment
Close your eyes and imagine the most thrill seeking entertainment options that surpasses any and all entertainment that you will ever experience. What you're imagining right now would be the vessel of Holland America's Oosterdam. This ship has more to offer than just the superb view of the open seas. No matter how you plan on spending your nights here, you'll become well entertained.
Piano Bar: The sleek and futuristic Piano Bar is a study of form and function, texture and taste. Soak it all in as a talented musician nimbly tickles the ivories.
Ocean Bar: Stylish, jaunty tones and maritime motifs bring seasoned seafarers to the Ocean Bar. Rub shoulders with other "old salts" as you swap tales of journeys past.
Neptune Lounge: At your service is the Neptune Lounge's Concierge, exclusively available to Penthouse and Deluxe Verandah Suite guests. Relax here over breakfast pastries with your favorite newspaper, or gather for evening hors d'oeuvres and cocktails in this timeless, genteel setting.
Explorer's Lounge:
Contemporary furnishings and a relaxed atmosphere — these are the essential ingredients for the understated elegance of the Explorer's Lounge. This meeting place for friends old and new offers intimate seating for small gatherings.
Cigar Room: Reminiscent of a Victorian society club, the Cigar Room is where a post-prandial Macanudo or Arturo cigar and a fine cognac are vices not only permitted, but encouraged. A humidor keeps the former in perfect condition, while the latter is hand-selected by the on-board sommelier and ranges from VS to XO.
Features
The Digital Workshop powered by Microsoft Windows: Guests will be able to "show and tell" their vacation memories, learning how to share all their digital memories through email, blogging and social networking – so friends and family can see where they've been cruising even before they return home. Free workshops taught by Microsoft-trained "techsperts" make it easy and fun, even for novices.
The Culinary Arts Center, presented by Food & Wine Magazine: our state-of-the-art demonstration kitchen offering interactive gourmet cooking lessons taught by our own Master Chefs or culinary guests.
Greenhouse Spa & Salon: features heavenly beauty and wellness rituals. Enjoy a facial, hot stone massage, steam in a thermal suite and have your hair and nails done for a special evening.
Vista Dining Room: features impeccable service and an extensive wine list. Five-course menus include continental cuisine, vegetarian and low-carb options.
Pinnacle Grill: This intimate reservations-only venue offers an elegant, sophisticated dining experience. Featuring premium Sterling Silver beef, inspired seafood dishes and many select wines rated "Excellent" by Wine Spectator – as well as distinctive Bvlgari china, Riedel stemware and Frette linens.
Lido Restaurant: offers a relaxed ambiance for all three meals and features a variety of fresh, cooked-to-order specialties.
Explorations Cafe, powered by The New York Times: a comfortable, coffee house environment where you can browse through an extensive library, surf the Internet and check email or simply read the morning paper.
Vista Show Lounge: features talented vocalists, dancers, illusionists, comedians and variety acts.
Crow's Nest: offers sweeping 270 degree views during the day, and a hip, fashionable nightclub each evening.
Club HAL: our dedicated youth facilities and activities for kids ages 3 – 12; activities are supervised and age appropriate.
The Loft: designed exclusively for teens (13 – 17) to have fun, socialize and hang out with people their own age.
Services
On Holland America Line cruises, your every wish is our pleasure to fulfill
Always at the heart of the Holland America cruise experience is our warm and award-winning style of service that is never in the way and never out of reach. We sail with nearly one crew member for every two guests, providing the intuitive, gracious service that has long defined classic cruising. Our extensive onboard services, from special dining requests to full service laundry and dry cleaning services, are designed with your comfort and convenience in mind. Our specially trained crew takes pride in anticipating and fulfilling your every wish. From our waiters and bartenders to our chefs and wine experts, our spa technicians and fitness instructors to our officers and housekeeping staff, everyone is dedicated to providing you with the gracious and personalized service that will make your cruise vacation memorable. On board the ships of Holland America Line you'll discover a cruise experience that is modern, fresh and appealing – in an ambiance that is timeless and refined.
Dining
Enjoy exquisite dining across a range of venues on Holland America Line cruises
We invite you to dine "As You Wish" To savor Italian cuisine one night and a perfectly grilled porterhouse steak the next. To take your place in the Dining Room at a specific seating time or be spontaneous, following your desires. On board, there are restaurants to suit every mood, along with the flexibility to choose the dining style you prefer.
The Pinnacle Grill
Refined and luxurious, romantic and intimate, the Pinnacle Grill represents the pinnacle of exceptional dining. Make reservations for an intimate meal graced by luxurious appointments such as Bvlgari china, Riedel stemware and Frette linens.
Le Cirque
Master Chef Rudi Sodamin worked with Le Cirque's Executive Chef Craig Hopson to re-create the legendary eatery's whimsical ambiance and award-winning cruise dining experience on board in the Pinnacle Grill for a nominal fee.
Canaletto Restaurant
"Spartire" is the Italian word for sharing; our new menu is designed around this authentic Italian experience and offers a variety of dishes to enjoy and share with family and friends.
Dive-In
For a perfectly grilled burger on brioche, gourmet hot dog, crispy French fries or a taco bar with all the fixings, there's nothing better than alfresco dining by the pool at Dive-In at the Terrace Grill. Look for imaginative toppings and sauces to enliven classic burgers and dogs, along with veggie-friendly and healthier options, all included in your cruise fare.
Lido Market
The Lido, transformed into a modern marketplace with different themed stations, offers a curated selection of delicious options guests can grab on the go or have quickly made to order – from traditional comfort food to great tastes from around the globe.
Facts
Ship's Registry: The Netherlands
Passenger capacity: 1,964
Crew Members: 812
Gross Tonnage: 82,305 grt.
Length: 936 feet
Beam: 105.8 feet
Maximum Speed: 24 knots
Dedicated: July 2003, by HRH Princess Margriet of the Netherlands