Overview
Cruises
Inclusions
Ships
Destination
Promotions
Latest News
Regent Seven Seas' decade-long partnership with Canyon Ranch spa is ending to be replaced by their own brand, Serene Spa & Wellness.  This new spa will be rolled out fleetwide starting in December onboard Seven Seas Explorer and will feature services that are intended to reflect the destinations on Regent's worldwide itineraries.
Best Deals
Our gurus have hand selected some of their favourite Regent Seven Seas cruises on our Cruise Guru and Regent Seven Seas Top Picks page to help you find your perfect cruise.
Travelling alone?  A selection Regent Seven Seas cruises often have a reduced single supplement from as little as 125%*.  Contact our reservations team on 13 13 03 for more information on eligible itineraries.
To research Regent Seven Seas cruises, use our Cruise Finder tool or call our experts in luxury cruising on 13 13 03, or email us. *Terms and conditions apply.
Cruises in Australia, New Zealand and the South Pacific
Australia is lucky to have three of Regent Seven Seas cruise ships visit our shores each year.  Seven Seas Mariner, Seven Seas Navigator and Seven Seas Voyager visit our region during the summer months commonly as part of their world voyages.  Regent cruises in the South Pacific visit New Zealand, the Pacific Islands and coastal Australia into Asia.  Cruises depart from Sydney and Auckland, however there are also a number of unique itineraries that cruise into Sydney from Singapore, Bali and Papeete.
While not from an Australian port of call, Regent also has some gorgeous South Pacific itineraries departing from or returning to Los Angeles, San Francisco, Honolulu and Papeete visiting the Hawaiian and French Polynesian islands.
Asia
Regent Seven Seas has some fantastically extensive itineraries throughout South East Asia.  With sailings of up to 34 nights duration (longer if you want to cruise from Asia into Europe), Regent's cruises in Asian itineraries visit the highlights and more of Asian coastal destinations including Japan, Vietnam and Thailand as well as the less frequented destinations of Myanmar, Brunei, India and Sri Lanka.
Europe
From April to November Regent Seven Seas explores the stunning natural panoramas and bustling, cultural cities of Europe.  Regent's Mediterranean itineraries range from 7 to over 3 weeks with a number of departure cities – depart from the more frequented Barcelona, Rome, or Venice, or embark in the less travelled Monte Carlo, Athens or Istanbul.  These itineraries visit countries such as Israel, Greece and Croatia as well as the European icons of Italy, France and Spain.  In the North, Regent cruises in Northern Europe are between 1 and 2 weeks long with stops in Russia, Norway and Iceland.
North America and the Caribbean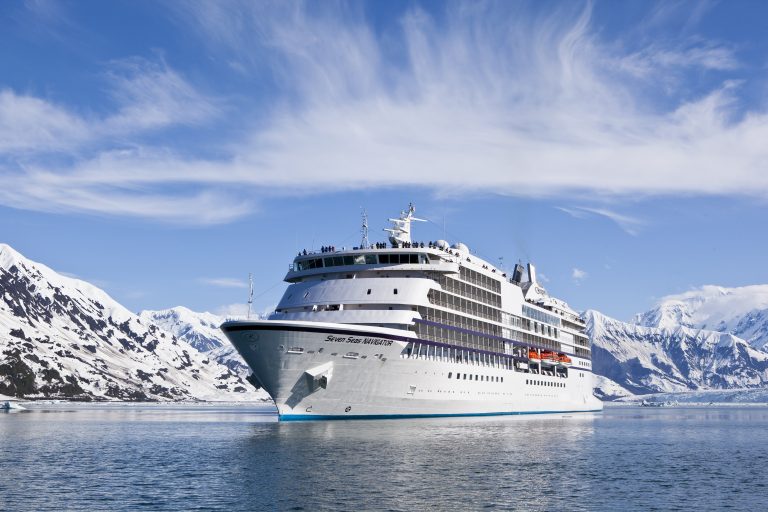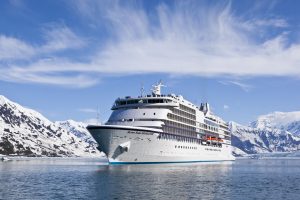 Discover the fall foliage of Canada and New England aboard the luxury of Regent Seven Seas.  Departing in September and October, you have the option of cruising from either New York or Montreal with visits to Bar Habor, Halifax and St John.
Regent Seven Seas cruises in Alaska give you the opportunity to embark on a luxury wilderness immersion. While they do offer a large number of the typical 7 night Alaskan voyage, they also have a small number of longer itineraries ranging up to 13 nights in duration.  These cruises depart from Seward or Vancouver and include the breathtaking ports of Ketchikan, Juneau and Skagway in their repertoire.
In the warmer tropical Caribbean, you will find many cruise lines focus on seven night itineraries only of the Caribbean islands, allowing you just a taste test of the beautiful ports and cities this region has to offer.  Regent Seven Seas has a large number of 10 to 14 night escapes, however if you're looking for a true Caribbean immersion, there are also Caribbean itineraries ranging up to 3 weeks.
Central and South America
Transiting the Panama Canal is a bucket-list cruising itinerary and Regent Seven Seas allows you to complete it in pure luxury. These ocean-to-ocean cruises embark in either Los Angeles or San Francisco on the Pacific side of America, or Miami on the Atlantic side and cruise via the Panama Canal to the other side of the country.
Thinking of a trip to South America? Regent Seven Seas offers some very extensive itineraries of this beautiful southern continent including stops in unique ports including Coquimbo, Iquique, Puntarenas and Puerto Quetzal.
World Cruising
Regent Seven Seas cruises offer an extensive choice of all-inclusive luxury world voyages, which can also be broken down into smaller segments. For expert advice from our most well travelled and experienced cruise consultants, please contact us.
Included in your cruise fare
Free unlimited wifi
Free unlimited shore excursions in every port
All onboard specialty restaurants included
Free 24 hour room service
All suite accommodation
Free unlimited beverages including fine wines and premium spirits
Gratuities
In suite mini-bar replenished daily
*Inclusions are subject to change at any time
ALL INCLUSIVE LUXURY CRUISE EXPERIENCE
Book your Regent Seven Seas Cruise Holiday today and receive;Free unlimited shore excursions in every port*All beverages, including fine wines and premium spiritsUnlimited Wifi throughout the ship*All specialty restaurants included All gratuitiesAsk our team about the great inclusions for Concierge Suites and higher!
SPOTLIGHT ON BRIDGE
Enjoy social and competitive Bridge play on selected voyages. ACBL (American Contract Bridge League) Certified Bridge Masters sail with guests to provide professional instruction and host games for all levels. Regent Seven Seas ships are ACBL Certified and guests taking part in Duplicate Bridge will accumulate master points.
SPOTLIGHT ON BROADWAY
Embark on an unforgettable journey with acclaimed Broadway Producer and Musical Director, Seth Rudetsky. Experience some great shows with Seth and his friends from Broadway as they tell stories, sing some amazing songs and share some special tales of their experiences both on and off the stage.
SPOTLIGHT ON FLORISTRY & GARDEN
Join Floral Expert and Artist Joseph Massie on a journey through the Mediterranean aboard, Seven Seas Voyagerand learn new floral artistry techniques in onboard master classes and while ashore discover centuries-old botanical gardens on exclusive Spotlight themed shore excursions.Frequently referred to by the media as 'the floral artist of his generation', Joseph Massie is widely regarded as one of the World's top artists working with flora. He won seventeen national & international competitions and awards, including five consecutive RHS Gold Medals – and four Best in Show awards – at the world renown RHS Chelsea Flower Show ('09/'10/'11/'12/'13). Joseph is the youngest person ever to achieve this feat. With a clutch of prestigious awards, Joseph turned his attentions to artistic endeavours working across ten countries, on a wide variety of art projects including botanical couture, sculptures and installations. Joseph's work has since been featured in many print articles and interviews including The Times, The Independent, The Daily Mail and his work commissioned by international brands.
SPOTLIGHT ON HERITAGE
Visit hometown ports along the southern coast of Italy and learn about the history of the destination from our very own – the Senior Officers of Seven Seas Voyager: Captain Felice Patruno, Staff Captain Luciano Montesanto and First Navigation Officer Amadis Saraceno. The navigation team invites you to sail on a journey that will explore the heritage and personal stories of Corato, Lecce and Crotone, Italy. Felice and his team will deliver exciting presentations reflecting personal insights of the region and escort exclusive shore excursions.Visit a 13th-century castle with a mystical design and variety of architectural styles so important that it has been deemed a UNESCO World Heritage Site and then enjoy a delightful visit to the place one of our celebrated Captains calls home - Corato.Corato, an engaging town built on a slope descending to the Adriatic Sea that dates back to the third century BC in the Roman era. Today, Corato it is known for its traditional food and wine production and in particular, for its extra virgin olive oil which is good for both cooking and general health.Call on Otranto, a coastal town in southern Italy's Apulia region. It's home to the 15th-century Aragonese Castle and 11th-century Otranto Cathedral. From here, visit the town of Lecce, "the Florence of the South", famous for its buildings and baroque-style churches.Crotone is a port city in Calabria, southern Italy. The monumental Castello di Carlo V is a 9th-century fortress that was modified in the 1500s. The National Archaeological Museum houses items, including a gold tiara, unearthed at the ancient Temple of Hera Lacinia in the nearby Capo Colonna Archaeological Park.
SPOTLIGHT ON PUBLIC BROADCASTING
Celebrate the best of PBS by hearing from and engaging with presentations from leading newsmakers and personalities, exciting theatre shows, casual discussions, engaging receptions and more.Contact us for more details on the experts and featured guests who will present on your voyage.Mention the group code "ARTFUL" at the time of booking to be included in all Spotlight on Public Broadcasting activities
SPOTLIGHT ON WINE
Indulge your palate during hosted dinners, wine tastings and meet-and-greets with renowned wine experts. Enjoy specially curated shore excursions that explore the region's endless array of delectable cuisine and legendary wines on these special voyages.
*Terms and conditions apply. Prices shown are per person, twin share in AUD inclusive of all discounts, taxes & fees. Prices are on categories as specified. Prices are subject to change and availability. Offers are valid for new bookings only and are not combinable with any other offer. Minimum price featured does not necessarily reflect the pricing of the offer specified, but rather indicates the cheapest available rate per person, twin share of any promotion offered on each sailing. For accurate pricing for a particular promotion, please select appropriate rate code on desired sailing and continue through to the final pricing screen. The savings percentage amounts are a comparison between the current lowest available fare and the current highest available fare on the same category, regardless of promotion. The savings percentage displayed reflects the highest available discount on any category on that sailing. Each fare level has its own terms and conditions. All offers are subject to availability and may be withdrawn at any time without notice. Cruise Guru reserves the right to correct any errors inaccuracies or omissions and to change offers, fares and surcharges at any time without notice. Credit card fees are not charged for deposit payments via Visa or MasterCard. Final payments will incur a 1.3% merchant fee via Visa or Mastercard. American Express incurs a 2% merchant fee for both deposits and final payments.