Seven Seas Navigator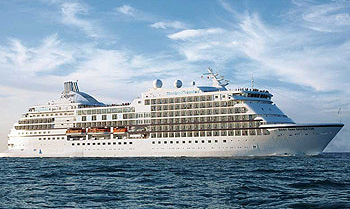 341
Starting Price, Per Night*
Seven Seas Navigator Cruises
Seven Seas Navigator has few equals, as all accommodations are suites with ocean views, most with private, furnished balconies. Guests who sail in one of her 245 suites enjoy an exceptional level of service by a warm and friendly crew at an extraordinary ratio of 1 to 1.42. Among her three dining options that allow guests to savor meals whenever and with whomever, Seven Seas Navigator features the authentic Italian restaurant Sette Mari at La Veranda and the largest specialty restaurant at sea Compass Rose with its brand new menu.
View more options for Regent Seven Seas cruises.
Activities
CARD & CONFERENCE ROOM
The beautifully decorated Card & Conference Room is an inviting and tranquil oasis. Guests may gather their favorite teammates for lively afternoon or evening of board games, as well as enjoy a social game of Bridge or participate in an ACBL Tournament on select voyages. The Card & Conference Room is located on Deck 6.
DESTINATION SERVICES
Located on Deck 6 in the Atrium, Destination Services helps guests arrange shore excursions, whether a tour from our FREE Unlimited Shore Excursion menu or a customizable Regent Choice Shore Excursion. The helpful office staff can also assist with tailor-made pre-and post-cruise programs, from a simple stay in a luxurious hotel to a 3-night extension that includes private tours of coveted destinations.
LIBRARY
Well-stocked and exceedingly comfortable, the Library offers a calm setting for reading and relaxing. A vast collection of volumes ranging from destination-specific guide books to best-selling mysteries to classic literature are available. Seven Seas Navigator offers FREE WiFi access throughout the ship, however if a guest prefers to travel without a laptop, the Library offers several desktop computers. The Library is conveniently located on Deck 6 mid-ship.
POOL BAR
Located on Deck 10 outside area by the pool, guests can enjoy refreshing cocktails and frozen drinks expertly prepared by our Mixologists in the relaxed atmosphere of the Pool Deck.
POOL DECK
Guests lounge their day away under the warm sun and an unforgettable vista on our Deck 10 Pool Deck. Outfitted in teak accents, the Pool Deck is one of the most elegant at sea, featuring a lavish pool and two whirlpools. Amiable and dedicated crew is readily standing by to bring refreshing beverages and plush towels.
Entertainment
CASINO
For those in the gaming mood, a few hands of blackjack in our elegantly appointed Casino are the perfect draw. The Casino is located on Deck 7, and is open every day at sea when not restricted by territorial border limits. Blackjack, roulette, stud poker, mini-craps and slot machines are offered for our guests' enjoyment.
GALILEO'S
Located on Deck 11 aft, Galileo's is the ideal place for cocktails or to simply relax and unwind with an after-dinner drink. Our resident musicians entertain with familiar tunes during teatime as well as before and after dinner, with an opportunity for dancing. Game shows, night entertainment and live musical events are featured regularly.
NAVIGATOR LOUNGE
Located on Deck 6 mid-ship, the Navigator Lounge is a friendly gathering place that welcomes you after shopping, touring or for simply relaxing. It offers an informal Early Riser Continental Breakfast where you can enjoy a cup of coffee, espresso, cappuccino, latte or tea accompanied by a selection of pastries and a variety of fresh juices.
SEVEN SEAS LOUNGE
Located on Decks 6 and 7 aft, the Seven Seas Lounge is perfectly tiered for unobstructed viewing and furnished with plush seating. This main show lounge is an intimate venue where every seat is the best seat in the house. The phenomenal variety of entertainment here includes full-scale musical revues, such as The Great American Song Factory, which is a glimpse into the hit-factory that was The Brill Building, and Goodbye Yellow Brick Road, a foot-stomping musical journey through some of the greatest hits from the Elton John songbook.
STARS LOUNGE
Located on Deck 6 aft, the Stars Lounge is an ideal place to meet friends and fellow travelers for an after-dinner drink or late night cocktail. This is the place for those night owls wanting to dance into the night or maybe sing along in a karaoke competition.
Spa & Fitness
CANYON RANCH SPACLUB
Welcome to the ultimate indulgence: a day at the serene Canyon Ranch SpaClub. Located on Deck 12 forward, guests can choose from an array of experiences such as signature massages and therapeutic bodywork, aromatherapy, ayurvedic and seaweed treatments, as well as facials. Guests may also choose from an extraordinary selection of luxurious beauty treatments, including hair care, manicures, pedicures and more available in the salon.
FITNESS CENTER
Canyon Ranch fitness experts lead popular exercise classes, such as Pilates, yoga and aerobics and are on hand to offer advice and demonstrate the use of fitness equipment. One-on-one training can be arranged with a Fitness Instructor. Equipment includes Lifecycles, free weights, striders, StairMasters, treadmills, weight benches, a Nautilus machine, workout mats and step benches.
JOGGING TRACK & RECREATION
In addition to planned activities in the Fitness Center, guests may take advantage of other sports-related activities throughout the ship. Deck 12 provides shuffleboard and mini-golf, while Deck 11 offers a full-circle jogging track.
Cuisine
COFFEE CONNECTION
Located on Deck 6 within the Navigator Lounge, guests enjoy complimentary coffee drinks prepared by our baristas, as well as delicious pastries, gourmet sandwiches and homemade cookies. Additionally, international newspapers and news magazines are made available. This venue is the perfect destination to relax, converse and enjoy coffee and snacks throughout the day.
COMPASS ROSE
This is the perfect setting to enjoy breakfast, lunch and dinner. Located on Deck 5, Compass Rose delights with a beautifully defined atmosphere and transitions from refreshing natural light during the day to a romantic theme at night. The new dinner menu is so encompassing and customizable that it provides guests with a seemingly endless combination of dishes to choose from such as meat, fish and seafood items, prepared to taste, garnished with a sauce of choice and complemented with side dishes and accompaniments. Additionally, each evening the ship's Executive Chef creates nightly specials, which adds more than a dozen mouthwatering appetizers, pasta dishes and entree choices to the menu.
LA VERANDA
Located on Deck 10 aft, guests take in stunning ocean views while enjoying elegant breakfast and lunch buffets in the chic indoor dining room or al fresco on the shaded, open-air deck. Breakfasts include traditional favorites, as well as a made-to-order omelet station, a variety of fresh fruits and pastries, along with daily specials, like fluffy Belgian waffles with fresh blueberry compote. For lunch guests indulge in an array of choices from a bountiful salad bar, gourmet sandwiches, hot carving stations and delicious desserts.
POOL GRILL
The ultimate come-as-you-are dining venue, the Pool Grill couldn't be more casual. Located on Deck 10, guests may walk over straight from sunbathing or swimming in the pool. The Pool Grill is open-air, yet abundantly shaded for comfortable dining. Enjoy grilled-to-order burgers, grilled seafood, sandwiches and fresh salads. Guests enjoy milk shakes, malts, and hand-dipped ice cream desserts sprinkled with all their favorite toppings.
PRIME 7
A true classic in every sense, Prime 7 sets a new standard in steakhouse fare with its contemporary interpretation of an American favorite. Handsomely decorated with supple leather wing-back chairs, burnished woods and rich earth-toned fabrics, Prime 7 exudes a distinct, intimate elegance. This is glamour redefined, a luxurious setting to enjoy classic steakhouse cuisine with a modern flair.
SETTI MARI AT LA VERANDA
In the evenings, La Veranda transforms into the warm and inviting Sette Mari at La Veranda, where tables are candlelit to match the star-filled skies. The menu also transforms into a tantalizing journey of alluring antipasto, perfect homemade pastas, enticing main courses and divine desserts hailing from all over Italy.
ROOM SERVICE
Twenty-four hours a day, guests enjoy everything from a Continental breakfast in the privacy of their spacious balcony to a gourmet dinner served course-by-course, delivered to their suite. The in-suite menu includes a variety of appetizers, entrees, beverages and desserts. During dinner time, the menu expands to include entree selections from Compass Rose, the largest specialty restaurant at sea.
Staff & Services
Butler Service
The ultimate and absolutely indispensable perk of Butler service awaits guests Penthouse Suites and higher. For those who desire an enhanced level of individualized service, our Butler service is a prerequisite. Butlers can assist your arrival on board by unpacking your luggage, arranging pressing for your clothing, and making reservations in Signatures or at the Spa. If making changes in your shore plans, a Butler can arrange for a private car or lunch reservations at your favorite restaurant. Celebrating a special occasion? Have the Butler arrange a private cocktail party with canapes. Our highly-skilled Butlers do it all – quickly, competently and without fuss.
Destination Services
The road to a richer life is paved with learning and new discoveries. That's why Destination Services opens up a world of adventure for every taste and comfort level — whether it is on shore during your cruise or an adventurous beginning or end to your vacation. Private Arrangements can arrange personalized shore excursions, designed for smaller groups and according to your own interests. Or they can assist with tailor-made pre-and post-cruise programs, from a simple stay in a luxurious hotel to a 3-night extension in a remote locale. Whatever your desire, they can produce unique opportunities for a more intimate view.
Laundry, Dry Cleaning and Pressing Services
Onboard laundry and valet services, including pressing and dry cleaning, are available with charge and may be arranged through your stewardess for same-day service. In addition, self-service laundries are located on decks 5, 8, 9 and 11.
All guests entitled to Butler service will receive complimentary pressing of any items that will be worn the first evening on board. These items will be collected by the Butler at the guest's earliest convenience.
Communications
Guests can make telephone calls directly from their suite. Fax messages are received and sent through our radio station or reception desk. Workstations located on Deck 5 offer e-mail and Internet services, 24 hours a day, and wireless access is available throughout the ship, all for a nominal fee. A Computer Instructor is available during select hours for guest queries and assistance.
Medical Services
The medical center is designed to provide medical care for temporary illnesses and accidents. These facilities are not intended or capable of providing ongoing treatment of pre-existing medical conditions. The ship's licensed and registered doctor and nurse are on 24-hour call for professional and emergency services, which are available at customary charges.
Facts
Overall Length (ft.): 566 feet (170 meters)
Beam (width): 81 feet (24.70 meters)
Draft: 24 feet
Passengers: 490
Officers: European/International
Crew: 345
Guest Decks: 8
Gross Tons: 28,803
Cruising Speed: 20 knots
Ship's Registry: Bahamas