Starting Price, Per Night*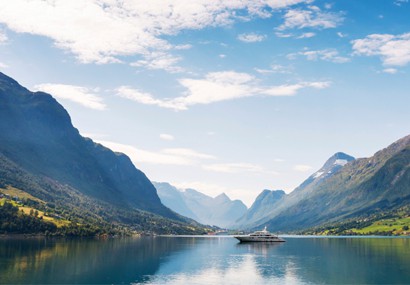 Set sail on a Northern Europe cruise!
If you think Mediterranean cruises are all there is to Europe, you need to take a look at the dozens of other options that bring travellers to the breathtakingly beautiful ports on Northern Europe cruises. From the fjords of Norway to circumnavigating Iceland to the lush green countryside of England, Ireland, and Scotland and Baltic cruises through Scandinavia and Russia—there is a compelling Northern Europe cruise that's right for just about every traveller.
Read on for some comprehensive information to help plan Northern Europe cruises and Baltic Sea Cruises.
When do Northern Europe Cruises Operate
You'll find a plethora of itineraries available from April through September when the weather is sunny and temperate though there are voyages available during the shoulder seasons of February/March and October/November/December. Crowds are heaviest in the summer months, but most ports never feel all that crowded and the weather is generally spectacular. If you've ever been to the Mediterranean in August and felt that it was just too hot, consider swapping your next Med voyage with a Northern Europe cruise. You'll have a respite from scorching temperatures and you'll see some fascinating sites with historical and cultural significance as well as ports where the surrounding wilds are the draw.
Cruise Guru's Northern Europe Cruises Tip
"Don't be afraid to pack your days with activities you can combine day time and night time tours with most cruise lines spending at least one overnight – an evening at the Russian Ballet is a must" – Terri, Product Manager
How to Get to Europe
Whilst no airlines fly directly from Australia to Europe (with the exception of Qantas' new non-stop 17 hour Perth to London flight), many offer stopovers in their home cities either in Asia or Middle East. Popular airlines include Emirates (Dubai), Etihad (Abu Dhabi), Qatar (Doha), Singapore Airlines (Singapore) and Cathay Pacific (Hong Kong).
Unsurprisingly, most Northern Europe cruises depart from a Northern European city, so look for flights that can connect you to cruises from Amsterdam, cruises from Copenhagen, cruises from Stockholm, cruises from Berlin, cruises from Rotterdam or cruises from Hamburg
Baltic Sea Cruises
If you've ever dreamed of visiting Scandinavia and Russia—St. Petersburg in particular— Baltic Sea cruises are about the simplest and most convenient way to get there. While Russian visa requirements can be a complicated maze, cruise lines simplify the process and can take care of it completely on your behalf in many cases.
St. Petersburg is the crown jewel in nearly all Baltic Sea cruises and almost every cruise line overnights there so you have two full days and one night in the city. Some lines like Regent Seven Seas Cruises even spend two overnights there. Other ports that may be included in your voyage are Tallinn Estonia; Helsinki, Finland; Stockholm, Sweden; Warnemunde (for Berlin), Germany; Riga, Latvia; and Gdansk, Poland. You can embark on Baltic Sea cruises from a number of European cities, including cruises from Amsterdam, cruises from Copenhagen, cruises from Stockholm, cruises from Berlin or cruises from Hamburg. There are a few 7 night itineraries but you'll mainly find 10 to 14 night voyages and even itineraries up to 30 nights that allow for deep exploration into both Scandinavia and Russia.
In St. Petersburg, tours focus on the cathedrals, palaces, and museums that were built during the time of Peter the Great in the early 1700s. Look for itineraries that explore St. Nicholas Cathedral, Marlinsky Theater, St. Isaac's Cathedral, Palace Square, Peter and Paul Cathedral, Marble Palace, and Kazan Cathedral. Since you'll overnight in St. Petersburg, you can also enjoy a night at the ballet. If you have time, take a tour just outside the city to Peterhof, the former residence of Peter the Great.
However, if you only have time to visit one place in St. Petersburg, make it the Hermitage Museum. In the 18th century this was the private gallery of Catherine the Great, but it is now Russia's largest museum and it is home to some of the world's most stunningly beautiful works of art by Da Vinci, Rafael, Michelangelo, Rembrandt, and others. The complex includes four buildings: the Winter Palace where the Imperial family once lived, the Small Heritage, the Old Hermitage, and the New Hermitage.
While your focus may be on St. Petersburg, the other destinations on your cruise are also well worth your time. In Tallinn, consider mountain biking in rural Estonia, taking a walking tour of the cobblestone streets of Old Tallinn dating back to the 1400s, or a tour of Kadriorg Palace. Helsinki, dating back to the mid 1500s, is Finland's capital and you'll want to visit the Uspenski and Lutheran cathedrals, the Museum of Contemporary Art, or simply walk the waterfront and enjoy a meal at an outdoor cafe. Stockholm is interesting because as the capital of Sweden it's been built on a string of 14 islands. Boat tours are a good way to get acquainted with the city and many travellers make a stop at the Royal Palace or Nobel Museum.
The Baltic cruise season begins in May and runs through September, but the most popular months to go are June, July, and August when temperatures range from 15 to 21 degrees Celsius.
The popularity of Baltic Sea cruises has grown in recent years so it's no surprise that many cruise lines offer tours in this area. Look to these companies when researching the best option for you and your family: Azamara Club Cruises, Costa Cruises, Cunard, Disney Cruise Line, Holland America Line, MSC Cruises, Norwegian, Oceania Cruises, P&O Cruises, Princess Cruises, Regent Seven Seas Cruises, Royal Caribbean, Seabourn and Silversea.
Note that in Russia, tips are not required but are becoming more commonplace. Some restaurants add a service charge so check your bill before adding a gratuity. Most tour guides do expect a small tip at the end of the day. If you plan to go to the ballet or theater, dress sharply. Don't discuss politics or refuse a drink if offered: both are considered impolite.
Norwegian Fjords Cruises and the Arctic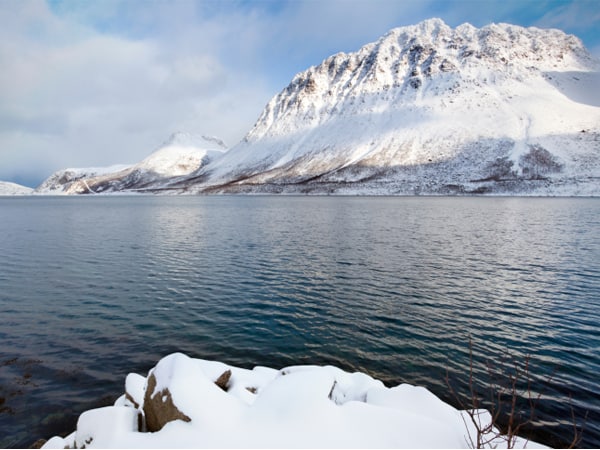 While Baltic Sea voyages are popular because they visit some of the oldest towns and cities in Northern Europe, itineraries to the Norwegian fjords and the Arctic circle draw a different crowd: those who are interested all things wilds, from fjords and glaciers to polar bears and sea lions to kittiwakes and fulmars.
There are actually three flavours of Arctic cruises. Most people book the more traditional itinerary that usually lasts between 12 and 14 nights on a midsize to large cruise ship. Embarking from either a Scandinavian or British port, the route includes scenic sailing along the Norwegian coastline as well as a few ports that venture into the Arctic wilderness from Spitsbergen to points farther north.
The gentle beauty of the landscape is at stark contrast to the region's heritage, which harkens back 10,000 years to the days of the Vikings. They were a rough-and-tumble seafaring people that lived in settlements like the one you'll visit at Stavanger, which is now the epicenter of the North Sea oil industry. You can easily explore this port on foot. Be sure to check out Old Stavanger with its array of white cottages or have lunch at one of the restaurants that line the harbor. You can also get farther afield by booking a tour to nearly Lysefjord and Pulpit Rock.
You can expect calls on ports like Bergen, known affectionately as the "gateway to the fjords." Less than 300,000 people call Bergen home, even though it is Norway's second-largest city. There's a lot of history in this seaside town and it's easy to explore on foot or via an organized tour.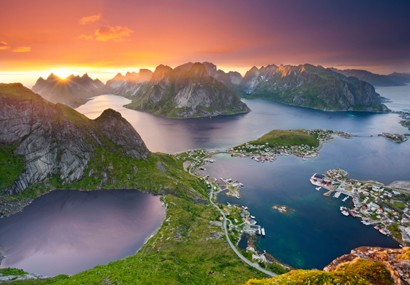 Flam may only have 450 year-round residents but it is one of the most visited places in Norway. Close your eyes and picture a quaint village tucked at the base of mountain and at the mouth of a fjord (Sognefjord, to be exact): that's Flam. You won't stop snapping photos of snow-capped mountains, waterfalls, red-roofed farmhouses, river landscapes, and flower-dotted meadows.
Many ports on Norwegian fjords cruises are really just tiny villages, but they are jumping-off points for some of the most amazing sightseeing spots in the world. Geiranger is the village at the very end of Geirangerfjord. Tours often visit two breathtaking waterfalls: Suitor and Seven Sisters as well as observation points like Dalsnibba and Eagle's Bend.
As your ship winds its way along Norway's coast, you'll approach a patchwork of islands that is home to Alesund. The original town burned down in the early 1900s and when the town fathers rebuilt, they did so in a splendid art nouveau style. It's a terrific place to walk around with your camera to soak in the architecture.
Cruise lines offering this traditional take on Norwegian fjords cruises include Holland America Line, Princess Cruises, Royal Caribbean and Celebrity Cruises. Look for voyages in the late spring, summer, and early fall when skies are sunny, daylight hours are longest, and temperatures are at their warmest for the year.
While a leisurely scenic fjords itinerary works for many people, the more adventurous types—and those in good physical shape—prefer to book an expedition voyage. Lines like Silversea venture to the top of Norway, Arctic Greenland, and Canada. The ships are purpose built for the Arctic and the option of exploring the area via skiff means you'll definitely get up close to nature. Excursions often include hiking tours, which may not be everyone's idea of fun.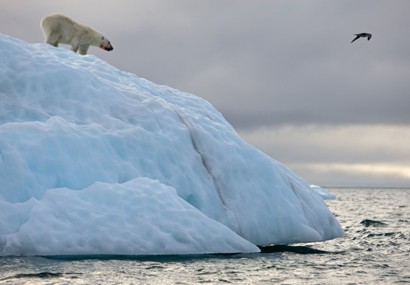 If you've got your heart set on seeing a polar bear, you'll want to book an itinerary that visits the Svalbard Archipelago and Spitsbergen, the chain's largest island. The town you'll visit on Spitsbergen is Longyearbyen, which was originally a mining village until the population realized in the 1970s that tourism and polar research were better ways to make a living and keep the area environmentally friendly. Today, national parks and nature reserves cover 60 percent of the Svalbard Archipelago. This is the magical place that will show you snowy white polar bears, shy Arctic foxes, seals (bearded and ringed), whales (blue and fin), reindeer, walrus, and so many other beguiling wild animals. Birding is fantastic here and the scenery seems never ending with snow-capped mountains, glaciers, fjords, and sea ice. It's a magical place.
The most unusual Arctic itineraries are full-blown expeditions to Svalbard and the "Top of the World" (the North Pole). These tend to be longer sailings aboard expedition vessels (Silversea) that explore the Northwest Passage.
Note: Restaurants in Norway add a 10 to 15% gratuity on to the bill, but it's considered good practice to roundup the tip.
Iceland Cruises
Iceland may not immediately come to mind when you think "European cruise," but voyages to and around this Nordic island are breathtaking. Towering volcanoes, glaciers, geysers, and hot springs define the landscape. Hiking and snowmobiling are popular pastimes here and just two ways to get you closer to the marvelous natural habitat that is home to reindeer, Icelandic sheep and horses as well as Arctic foxes, mink, harbor seals, puffins, and kittiwakes. Polar bears occasionally end up on the island after floating over on an iceberg from Greenland, but it's rare.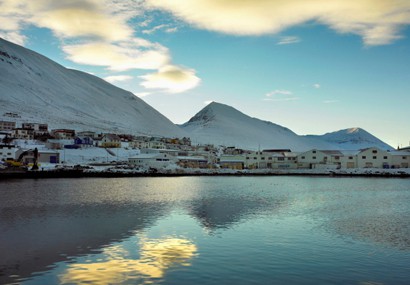 Knowing when to visit Iceland depends on your personal preferences. If you want long days with plenty of light (this is the land of the Midnight Sun after all), plan to cruise here in the summer months. Outdoor activities like hiking are best done in July and August when temperatures are at their warmest.
A variety of cruise lines like Cunard, Disney Cruise Line, Holland America Line, MSC Cruises, Norwegian, Oceania Cruises, P&O Cruises, Princess Cruises, Regent Seven Seas Cruises, Seabourn and Silversea offer Iceland cruises from April through September.
There are several types of itineraries to consider: one that begins and ends in the capital of Reykjavik and focuses exclusively on Icelandic ports, one that incorporates Baltic ports of call, a combination of British Isle destinations in conjunction with an exploration of Iceland, or a visit to Norway, the Arctic, and Iceland. There are even some longer grand voyages that include Iceland as part of a Canada/New England route.
The Blue Lagoon, outside Reykjavik, is the most popular attraction in the country and it draws visitors from around the world. This geo-thermal pool—with waters averaging between 36 and 40 degrees Celcius all year-round—is located in the middle of a lava field. It's said that the mineral-laden water has healing powers.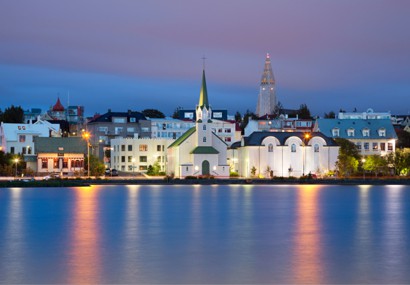 Knowing that Iceland was created by volcanic activity, cruise passengers take great interest in their visit to Heimaey Island off the southern coast of Iceland. Known as the Pompeii of the North, it was covered in volcanic ash from Eldfell after a terrible eruption in 1973 that destroyed part of the town. Of equal interest is the fact that 8 million puffins summer on the island annually. That's quite a counterpoint to the year-round population of the island, which is approximately 4,500 people.
Akureyri in northern Iceland was founded in the 9th century. Today it's best known for its Botanical Gardens and being a jumping-off point to visit nearby Godafoss waterfall, which many feel is the most stunning of Iceland's falls.
Note that in Iceland, shops are generally closed on Sundays and some museums are only open during the summer tourist season. Tipping is not a custom here and is not expected, but you won't be turned down if you do offer a gratuity. Note that Iceland is notoriously expensive, from coffee and beer to meals and tour packages.
The British Isles of England, Scotland, and Ireland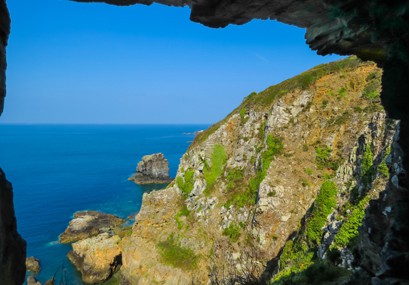 A British Isles voyage is one of the best introductions someone can have to Northern Europe cruises. The ports are an interesting mix of old world heritage and cosmopolitan cities, it's easy to get around in port, and everyone speaks English. If you've never been to Europe, this is the perfect "starter" voyage.
Cruises from Southampton and cruises from Dover over many seven to fourteen night itineraries and call upon places like St. Peter Port, Guernsey in the Channel Islands; Cork, Dublin, and Belfast in Ireland; and Scotland's Greenock (for Glasgow), Kirkwall, Invergorden, and Edinburgh. La Havre (for Paris) is also sometimes thrown in for good measure. You can spend your time on land enjoying the rolling countryside and coastal cliffs, visiting castles and old cobblestone villages, and dining in the best restaurants in some of Europe's most fascinating cities.
British Isles cruises are an all-season affair and no season trumps another. Spring is lovely with mild temperatures and blooming flowers, warm temperatures accompany the summer months while turning leaves typify the fall. And, while you may not immediately think of cruising this region in the winter, there are some surprisingly good Christmas markets in these ports that are generally open from the end of November through Christmas.
Glasgow was the center of the 19th-century industrial revolution and to this day is home to some of the most spectacular examples of Victorian architecture in all of the United Kingdom. Located in the Lowlands of Scotland on the River Clyde, Glasgow—home to the impressive Glasgow Cathedral—is a picturesque city that offers shopping, museums, art galleries, and a variety of restaurants. (Your ship will port in Greenock, which is about 35 minutes from Glasgow.)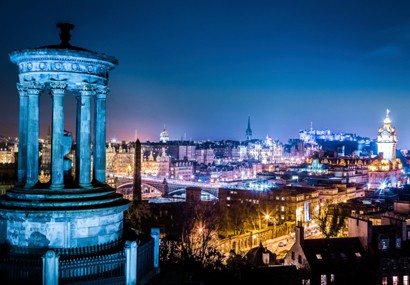 In Edinburgh, the attractions you visit will definitely depend entirely on your personal interests. There is, of course, Edinburgh Castle as well as St. Andrews, the birthplace of golf. If you've seen everything close by Edinburgh, you can also book a shore excursion that takes you away from the city and into Braveheart Country, the location of Stirling Castle.
The city of Cork is home to a host of tourist attractions, but you cannot visit without making a visit to legendary Blarney Castle. Other sights of interest include Lakemount Gardens, the Old Jameson Distillery, and the countryside of Cork and nearby Kinsale.
A variety of cruise lines make these trips around the British Isles and include Azamara Club Cruises, Celebrity Cruises, Cunard, Disney Cruise Line, Holland America Line, MSC Cruises, Oceania Cruises, P&O Cruises, Princess Cruises, Regent Seven Seas Cruises, Seabourn, and Silversea.
Note: Tipping is a custom in Britain. Figure 12.5 to 15 percent at restaurants, but don't tip in a pub. In Scotland, tip wait staff and taxi drivers 10 to 15% (but be sure the dining receipt doesn't already include a service charge). In Ireland, many restaurants automatically add a gratuity. If they don't, tip 10%.
Check out our Northern European cruises now!
Booking your dream Northern Europe cruise has never been easier than with us. Offering hundreds of popular Northern European cruises at the lowest prices available online, you'll be hard-pressed to find a better place to organise your next adventure than with Cruise Guru. For immediate and additional assistance comparing Northern European cruise deals, be sure to get in touch. We boast a brilliant team of experienced Gurus who can quickly find the best Northern Europe cruise deals that fit your budget. Call us directly by dialling 13 13 03 or you can fill out a call-back form and one of our Gurus will get in touch as soon as possible.
Find out about the latest cruise deals, industry news, and exclusive promotions by following our Facebook, Twitter, and Instagram social media pages. We regularly update these pages with all the newest deals that you absolutely need to see. Plan your next adventure at an affordable price when you book with Cruise Guru!
Need help? Call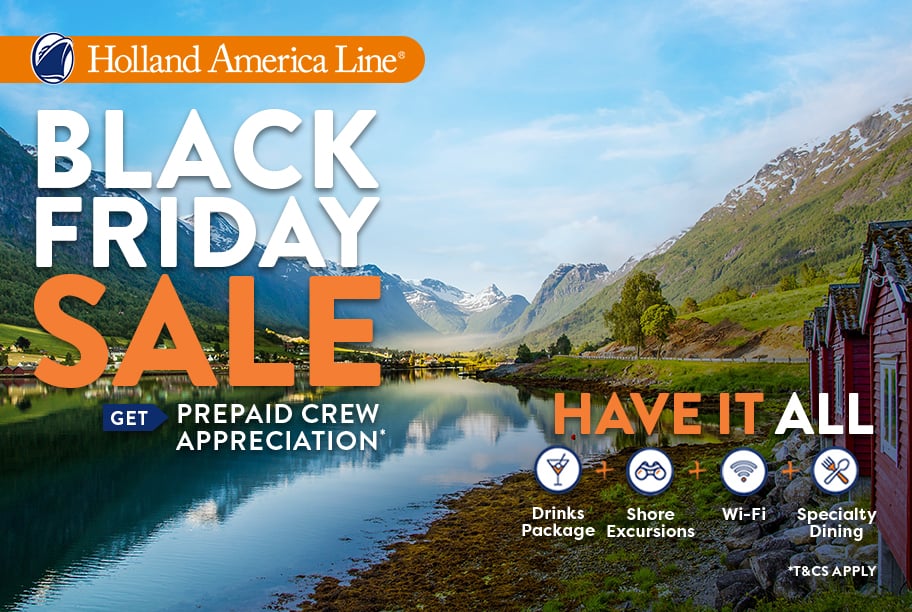 EUROPE
Enjoy prepaid crew appreciation with Holland America. Plus enjoy their Have it All inclusions – dining, drinks, shore excursions and Wi-Fi*
View Now