Starting Price, Per Night*
P&O Cruises' Australia Cruise Sale Deals departing from Brisbane, Sydney, Melbourne & More
P&O Cruises Australia is the region's largest and longest-serving cruise operator, and leads the way in cruising as Australasia's only 'home brand'. With more than 80 years spent cruising the region, P&O Cruises has pioneered new destinations around Australia, the Pacific, and Asia, including Papua New Guinea. Whether you are looking for P&O Cruises from Brisbane, Sydney, or Melbourne, browse our P&O Cruise sale, and we are confident that you can find the perfect cruise to match your preferred itinerary, at a price you are going to love.
Known for unique cruises and onboard experiences that bring more freedom to your holiday, it is no wonder P&O Cruises is one of Australia's favourite cruise lines for every kind of traveller – from couples to families, friends and events. The stress and hidden costs of a land-based holiday have been removed; their fares include main meals, entertainment, activities, accommodation and access to world-class destinations. They've got it all covered!
If you are looking for cheap P&O Cruises Australia 2023, you have come to the right place with massive savings available on all standards of cabins. No matter what duration cruise you are looking for or where you want to go, you can trust Cruise Guru to find the best P&O cruise deals for you. So, if you're in the mood for P&O Cruises 2023 or looking ahead for P&O Cruises 2024, we'll have what you need.
P&O Cruises Australia: Come aboard and join the fun!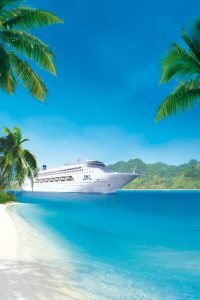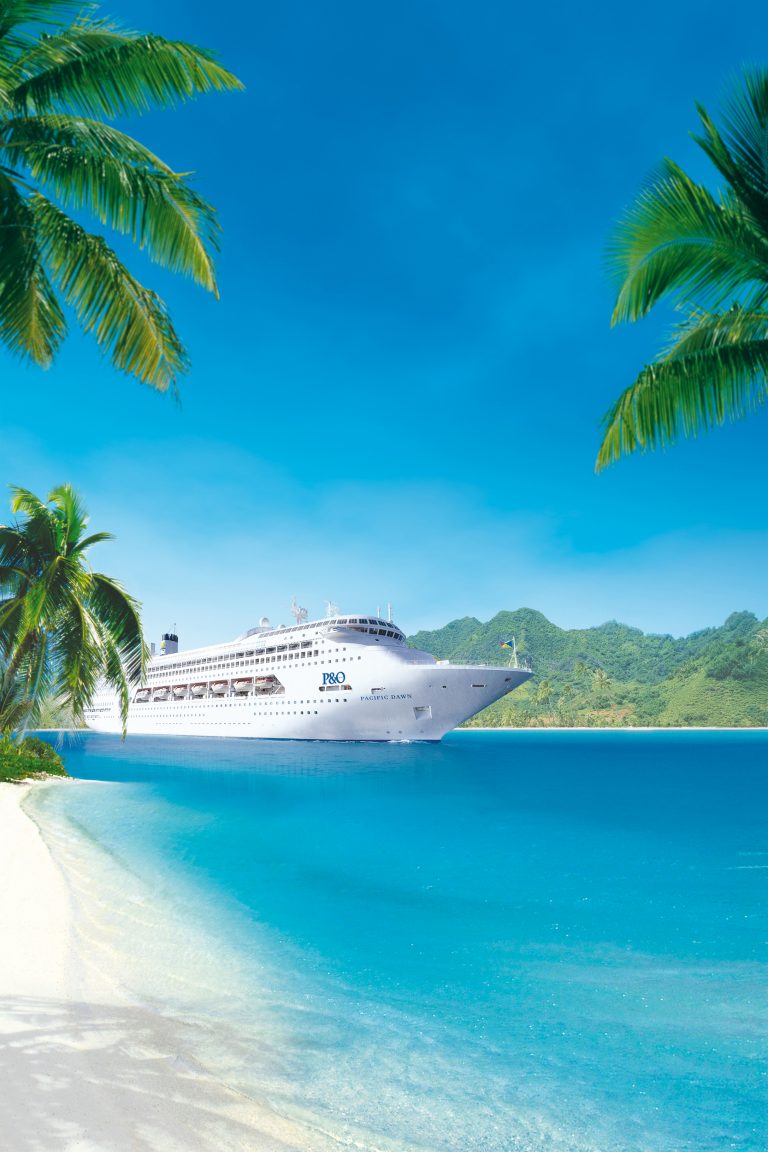 P&O Cruises Australia is all about supporting and celebrating modern Australia. Enjoy a line-up of Australian musicians playing live onboard, theatre productions created by leading Australian production companies, food supplied by local Australian vendors and menus inspired by the local Australian produce. From destinations to food and activities, P&O design all their experiences to be quintessentially Australian and undeniably modern, just like them. What's more, with excellent onboard facilities including kids clubs, a spacious top deck area, relaxing spa facilities, and much more, it's no wonder why P&O is at the top of many lists for Aussie travellers and why to has become one of the largest cruise lines in the country.
P&O Cruises from Brisbane and P&O Cruises from Sydney most often frequent the South Pacific islands, but you can also enjoy short trips within Australia, or longer itineraries to New Zealand and Asia! Be sure to check out our voyages heading to the destinations listed to find out more.
We are continually updating our list of cruise deals, so be sure to regularly check the P&O cruise deals available at Cruise Guru. You can also sign up for our newsletter for the latest deals, special offers, and news on the luxury cruise ships. If you do not want to wait you can also take a look at our last-minute cruise packages which can be departing in just a few days. When it comes to P&O cruise deals, Cruise Guru is the place to go, so let us help you find the perfect cruise that will keep you coming back for more.
Finding the best cheap P&O Cruises Australia Deals
Whether you are looking for P&O Cruises from Sydney or P&O Cruises from Melbourne, finding the perfect cruise is simple at Cruise Guru. P&O Cruises Australia has a variety of cruises that go around Australia, as well as many that tour the South Pacific, and you can use the search function to help find your dream cruise. You can find cheap P&O Cruises on ships such as Pacific Explorer, Pacific Adventure, Pacific Encounter, and also filter the departure point of P&O Cruises, Brisbane, Sydney, and Melbourne being the prime ports of departure. We aim to please here at Cruise Guru, and as such we have meticulously designed a booking process that is as effortless as possible.
What makes Cruise Guru the Best Choice for cheap P&O Cruises Sales & Deals?
Cruise Guru has been supplying the residents of Australia with fabulous cruises and luxurious holidays for over 35 years, meaning that we have built up excellent relationships with the cruise companies during this time. We are a 100% Australian owned business and our P&O cruise sales will often have prices that you cannot find anywhere else. Whether you are looking for P&O Cruises from Fremantle or anywhere else in Australia, you can enjoy our Price Protection Guarantee when you book your cruise with Cruise Guru.
You can book your P&O Cruises on our site 24/7, and you will receive instant confirmation of your booking as soon as you make it. All our operatives are in Australia, and you can speak to them via telephone or web chat, whichever way suits you best. We additionally have had thousands of happy customers over the years as shown by some of our online reviews, with many people booking through us regularly. If you are looking to take a fantastic P&O Cruise, Brisbane, Melbourne, or Sydney departing, book with Cruise Guru today and help to ensure that you enjoy a magical experience on the high seas.
Frequently asked questions for P&O Cruises
How much luggage can I take on a P&O Cruise?
You can take up to 23kg in luggage aboard any P&O Australia cruises, with every bag you check-in being no larger than 140cm x 60cm x 40cm in dimensions. Nevertheless, different ports on any P&O Australia might have different baggage restrictions that might potentially be lower than 23kgs. As such, we recommend packing well below the weight before sailing on any P&O cruises. Plus, this lets you have any extra space to purchase some souvenirs as you sail away on P and O cruises.
Do P&O Australia cruises have Wi-Fi available?
Yes! You can book your P and O cruises stress-free knowing you'll be able to connect to your relatives from afar. To connect to the internet while on P&O Australia cruises, you'll need to download their WhatsOn app. This will let you sign in to your Wi-Fi in a matter of moments, plus you can also view your itinerary as well as view services aboard your P&O cruise ship.
To get the best savings on P&O Australia cruises, we recommend grabbing yourself one of their fantastic data packages. Starting from just $14.99 per day, you can connect to your favourite social media sites, video call your family, or just instant message your relatives on P and O cruises Australia.
What P&O cruise ships currently sail?
Here are the current P&O cruise ships currently sailing:
Pacific Adventure
Pacific Encounter
Pacific Explorer
Jam-packed with the latest technologies in sea-faring adventure, you can book on P&O cruises Australia knowing every voyage will be unforgettable. Departing out of popular destinations across Australia and beyond including P&O cruises from Sydney, P&O cruises from Brisbane, and more, there will undoubtedly be a sailing that fits your schedule and budget.
Can you take alcohol on a P&O cruise ship?
Unfortunately, alcohol cannot be brought aboard any P&O cruise ship including Pacific Explorer and Pacific Adventure. If you happen to buy duty-free alcohol while onshore adventuring the various ports throughout any P&O cruises, the cruise line will collect the alcohol upon boarding and it'll be returned upon completion of your voyage. Similarly, duty-free alcohol purchased inside the P&O cruise ship will also be stored safely away and returned on the final day of your sailing.
Guests on P&O Cruises Australia can otherwise bring aboard a selection of non-alcoholic beverages. A maximum of 12 loosely packed cans is only allowed on P&O cruises Australia. What's more, slab packs, tetra packs, as well as plastic and glass bottles – including water – are not allowed on board P&O Australia cruises.
Contact Cruise Guru for the best price on P&O Cruises Australia
If you have any questions about any of the P&O Cruises Australia itineraries, we have a dedicated team of Australian travel experts standing by to help you with your enquiry and answer your questions. If you would like to talk to someone in person, fill out our call back form so that one of our operatives can call you directly. Alternatively, you can use our online contact form, and we will answer your query as quickly as possible. Keep up to date with all the latest cruise liner news, special offers, promotions, and competitions at Cruise Guru by following us on Instagram or Facebook, or get the latest news via email when you sign up to our newsletter. If you are looking for excellent customer service and the very best prices on P&O Cruises Australia, look no further than Cruise Guru and get in contact with us today.
Need help? Call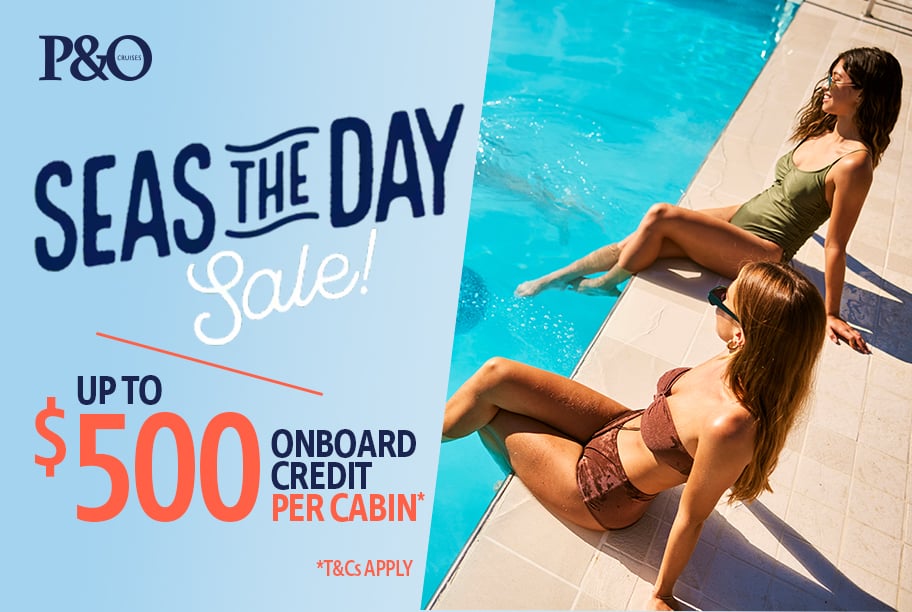 ONBOARD CREDIT
P&O Cruises is here with another amazing deal! Enjoy up to $500 onboard spending money per room*
View Now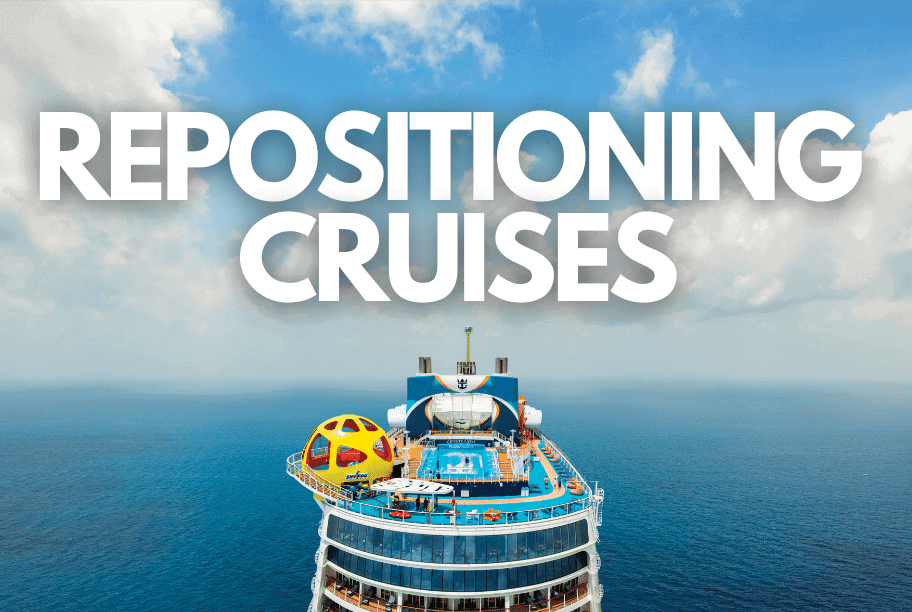 REPOSITIONING CRUISE DEALS
Offering unique itineraries between Australia and Asia, Hawaii, and mainland USA/Canada, these popular cruises have limited cabins and do sell fast!
View Now
Included with your cruise fare
All onboard meals in the main dining room and buffet,
A selection of onboard entertainment
Gratuities
Included when you book a mini-suite
Priority embarkation and disembarkation
Welcome glass of sparkling wine on arrival
Fresh fruit bowl provided in suite
Complimentary bath robe and slippers
Additional inclusions when you book a suite
Complimentary bottled water and laundry service
Coffee Machine
Priority tender tickets
Priority dining reservations
Priority spa reservations
Priority bookings for shore excursions
Canapes on cocktail evenings
Optional complimentary afternoon tea served in suite
Optional complimentary breakfast served in suite
*Inclusions are subject to change at any time.