Pacific Explorer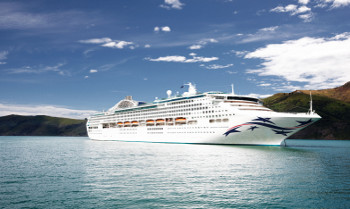 78
Starting Price, Per Night*
Unwind on a P&O Pacific Explorer cruise!
Searching for the perfect ship suited for any and all types of adventurers? Look no further than P&O Pacific Explorer cruises! Regardless of the itinerary or time of year, there is always something for everyone to do on a Pacific Explorer cruise. It all becomes a blur as you race down the exhilarating waterslides, socialise with like-minded explorers in the dizzying array of bars and lounges, or simply lay back on the pool deck. Whatever the mood and whatever the age, Pacific Explorer cruises 2024 or 2025 more than accommodate your needs.
Pacific Explorer is also unabashedly Australian, as illustrated by their Australian sourced produce, locally found entertainers and performers, as well as their stunning home-grown Aussie design. If you want to take your family or group of friends on an unforgettable holiday on a ship that showcases their Australian pride, there is no better choice than a Pacific Explorer P&O cruise. Pacific Explorer will be embarking on magnificent South Pacific cruises stopping at sublime tropical paradises including Noumea, Lifou, and Alotau. Additionally, P&O offers marvellous Australia cruises year-round that allow travellers on Pacific Explorer to sail along the eastern coastline of Australia.
View all P&O Pacific Explorer voyages on the cruises tab, or alternatively click here for all P&O Cruises and to learn more about their itineraries.
Accommodation on P&O Pacific Explorer
Pacific Explorer cabins are categorised into a wondrous selection of staterooms and suites, each thoughtfully designed to accommodate every kind of traveller. The Interior stateroom is a great fit for families and couples who seek a cosy and private space to unwind after spending their day discovering the ship or exploring their destination. The Oceanview provides an unbelievable vista of the sea from the comfort of your own private space. Balcony staterooms in comparison elevate this astonishing view with a floor-to-ceiling window and an extraordinary private to soak in the sea breeze.
The Mini-Suite provides everything you need to feel like you're at home, with a great deal of space to kick up your feet, a fresh fruit basket, and comfy bathrobes and slippers. The Suites further enhance this level of luxury with additional space and a separate sitting area to entertain guests. For those who however want an executive level of sophistication, the Penthouse Suite offers awe-inspiring views due to its picture-perfect location on Pacific Explorer. Moreover, the Penthouse Suite offers amazing additional complimentary services such as priority shore excursion, spa and dinner reservations, and optional complimentary breakfast and afternoon tea served in-suite.
Pacific Explorer also features interconnecting rooms on all staterooms types vital for parents who want to easily access a neighbouring cabin to look after their kids. The ship also has wheelchair-accessible rooms that can be offered depending on availability upon request by the passenger.
Dining
Travellers onboard will have a wide variety of Pacific Explorer dining options while on their P&O cruise, each with great food to satisfy your hunger for every meal. With 12 dining venues available onboard, adventurers can sail away stress-free knowing they can eat a fine selection of food across a strong range of delicacies. Read through the excellent Pacific Explorer dining options below!
400 Gradi
Showcasing a mouth-watering selection of gourmet pizzas prepared by experienced chefs trained by Melbourne's Johnny Di Francesco, the award-winning pizza chef, 400 Gradi is sure to delight all who enter. For those who might not be in the mood for pizza but don't want to be left out, the menu also features some delicious lasagne, salads, and desserts to keep you satisfied. You can even order takeaway pizza, or for it to be delivered to your very cabin! So be sure to head down to 400 Gradi and satisfy your pizza cravings!
Dragon Lady
For the traveller seeking Asian-style cuisine, Dragon Lady is your essential dining venue to spend an evening on Pacific Explorer. With gorgeously designed décor and furniture adorning the space in addition to the fantastic service, every guest will feel more than catered for. Serving a selection of banquet-style meals from every kind of Asian specialty from Japanese to Indian, Dragon Lady patrons will be simply spoilt for choice!
Other dining options:
Waterfront
Angelo's
The Pantry
Charlie's Bar
Luke's
Room Service
Ocean Bar
Onboard activities & things to do
While your destination is always the highlight of any superb holiday, the journey, namely on cruises, can often elevate that superb holiday to an extraordinary family adventure. On Pacific Explorer, onboard activities and things to do are abundant, with a dizzying number of nooks and crannies as well as events and occasions to take part in throughout any P&O cruise. Take a look below for the excellent selection of onboard activities on a P&O Pacific Explorer cruise.
The Bonded Store
Tucked away in a cosy location on Pacific Explorer, the Bonded Store is an inviting speakeasy bar for those searching for a more exclusive locale to socialise with their friends. With a fine selection of tantalising spirits and unique cocktails unlike anything available elsewhere on the ship, the Bonded Store will keep you coming back to experience every delicious beverage on offer. The Bonded Store has been thoughtfully fitted with prohibition-era style furniture, creating a noticeably warm and private ambience assured to delight. When on your Pacific Explorer holiday, make sure to lock in a time with your friends at the Bonded Store!
P&O Edge Adventure Park
For the high-flying explorers and the death-defying adrenaline junkies, the P&O Edge Adventure Park is an absolute must! Featuring a nerve-wracking flying fox, rock climbing, an exhilarating mechanical bull, and so much more, the P&O Edge Adventure Park will keep Pacific Explorer guests thrilled for days on end. Book yourself or your fellow daredevils an Edge Pass between 90 and four days before your next cruise to guarantee unending excitement.
Other onboard activities and things to do:
Explorer Hotel
Blue Room
Black Circus
Barefoot Bowls
Waterslides
Kids waterpark
Marquee Theatre
Fitness centre
Casino
Blanc de Blanc
Adult Only Comedy Nights
Hair Salon
The Oasis
Spa
Pool Decks
The Sanctuary
Frequently Asked Questions for Pacific Explorer
How big is Pacific Explorer?
Pacific Explorer has a total length of 261 m. With a total capacity of 1,998 passengers, Pacific Explorer welcomes thousands of passengers every year as it sails to immensely popular voyages to the South Pacific, Australia, and New Zealand. What's more, with up ~924 crew onboard on every sailing, the P&O Pacific Explorer ship will always have someone nearby to take care of any needs or requests you might have throughout your entire adventure.
How old is Pacific Explorer?
Pacific Explorer was originally built in 1997 and was actually previously known as Dawn Princess and part of the esteemed Princess Cruises fleet. After a major refurbishing in 2017, she officially joined the P&O cruises fleet and has been a fan favourite ever since.
Where does Pacific Explorer leave from in Sydney?
When departing from Sydney, you can typically find Pacific Explorer leaves from the Sydney International Cruise Terminal located in Circular Quay. Only a short walking distance from iconic landmarks Sydney Harbour Bridge and Sydney Opera House, this cruise terminal is the perfect place to set off on your P&O Pacific Explorer cruise. Nevertheless, if you're not in this terminal, you'll more board your Pacific Explorer voyage from the White Bay Cruise Terminal located in Rozelle. Although not as picturesque as the terminal at Circular Quay, the White Bay Cruise Terminal is only a short trip from the CBD.
Facts
Capacity: 1,998 guests
Decks: 11 guest decks
Length: 260m/ 853ft
Weight: 77,441 gross tonnage