Carnival Jubilee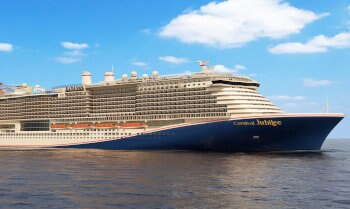 171
Starting Price, Per Night*
Get the party started on Carnival Jubilee cruises
Fun is just the beginning on Carnival Jubilee cruises, with a seemingly endless selection of fantastic onboard activities and things to do. Whether you're feeling like taking a heart-thumping trip on the Bolt Ultimate Sea Coaster, grabbing a cocktail or two at the RedFrog Tiki Bar, or going for a dip in the pool as your young ones go for some serious splashing at WaterWorks, you'll never have a dull moment on a Carnival Jubilee cruise. Need something a little tamer and more peaceful? Then head down to Loft 19 or Serenity and enjoy an oasis of quiet away from all the hubbub going about on Carnival Jubilee cruises.
Once you've spent the day living it up on the top deck or at your destination of choosing, the night-time activities aboard Carnival Jubilee cruises keep the fun times flowing. Grab a truly delectable dinner at Rudi's Seagrill or at Bonsai Teppanyaki, then saunter over to Havana Bar and order up your favourite drinks. After meeting up with your closest friends, you could then check out one of the various live shows or events onboard or you can dance the night away at the nightclub. With so many things to do on Carnival Jubilee cruises, it's hard to find a better ship out there for non-stop fun. So, round up your best friends and family to organise the perfect Carnival Jubilee cruise today.
View all Carnival Jubilee cruises by selecting the cruises tab, or alternatively click here for all Carnival Cruises or check out upcoming Carnival Spirit and Carnival Splendor cruises for local voyages.
Maiden Voyage departs in
Carnival Jubilee Accommodation
Featuring a wealth of space no matter where you stay, Carnival Jubilee staterooms and suites feature all the essentials you could possible ask for dreamy stay. Wonderfully decorated with modern décor, Carnival Jubilee cabins are as beautiful as they are comfortable.
Staterooms
Carnival Jubilee staterooms offer guests everything one could need for a truly relaxing voyage. For an affordable way to adventure, the Interior staterooms provide all the creature comforts a guest needs for a marvellous stay. Enhanced with a brilliant view of the sea, the Ocean View stateroom is fitted with a large window that lets you know where you are for the entire Carnival Jubilee cruise. If you need a spacious outdoor area for those quiet moments of a Carnival Jubilee cruise, the Balcony staterooms offer your very own outdoor oasis that lets you feel the relaxing sea breeze in complete privacy.
What makes Carnival Jubilee cruises truly special are the various types of stateroom types you can choose in each category. For accommodations furnished with a distinct Cuban-inspired direction, the Carnival Jubilee Havana Cabanas and staterooms are an absolute must. Guests who desire endless relaxation, need to book in the various Cloud 9 Spa staterooms, each of which comes with additional perks such as priority spa reservations and unlimited use of the Thermal Suites. Coming along with your loved ones or as part of a group? Then the Family Harbor staterooms are likely the choice for you.
Suites
If you need a touch of decadence during your voyage, then the stunning Carnival Jubilee suites are undoubtedly the choice for you. Even if you choose the most affordable option – Ocean Suite – you'll receive an extensive list of perks in addition to better positioning on the ship and a larger space including priority check-in and debarkation as well as priority Main Dining Room time assignments. Fitted with two TVs, a lengthy balcony, and bucketloads of nice-to-haves, the Carnival Excel suites are a popular pick for voyagers who want to treat themselves during their Carnival Jubilee cruise.
Nevertheless, for true elegance and pure luxury, you need to see the beautifully designed Carnival Jubilee Carnival Excel Presidential suite. Boasting a separate living room, a double-sink bathroom, as well as a large wraparound balcony, this suite is bursting with unbridled sophistication. Furthermore, with exclusive complimentary access to the Cloud 9 Spa Thermal Suites, Thalassotherapy Pool, and Havana Pool, it's safe to say the Carnival Excel Presidential suite is the pinnacle of luxury aboard Carnival Jubilee.
Dining
Guy's Pig & Anchor Smokehouse | Brewhouse
Packed with magnificent, finger-lickin' flavours that keep you coming back for more, Guy's Pig & Anchor Smokehouse | Brewhouse is the place to be when you need a well-deserved meal. After a huge day of exploring Carnival Jubilee or the destination, there's no better way to treat yourself than with some Blue Ribbon Chicken or some mouth-watering 18-Hour Beef Brisket. What's more, with delicious other options ranging from nachos, chilli cheese fries, and mac & cheese, head on over to Guy's Pig & Anchor Smokehouse | Brewhouse during your next Carnival Jubilee cruise.
Chibang!
A great lunchtime meal or dinnertime feast, Chibang! is a masterful blend between Chinese and Mexican flavours. While your friends order up some tacos or burrito bowls, you can score yourself some Kung Pao chicken or a shrimp noodle bowl of your own. A brilliant balance between both cuisines, grab your closest friends and enjoy a delightful lunch or dinner at Chibang! during your upcoming Carnival Jubilee cruise.
Other Bars & Cafes:
JavaBlue Café
Havana Bar
RedFrog Tiki Bar
Alchemy Bar
Heroes Tribute Bar & Lounge
Piano Bar
Casino Bar
Other dining options:
Carnival Kitchen
Rudi's Seagrill
Big Chicken
Bonsai Teppanyaki
Guy's Burger Joint
BlueIguana Cantina
Cucina del Capitano
Street Eats
Steakhouse
Pizza Delivery
Dining Room
Guy's Pig & Anchor Bar-B-Que
Lido Marketplace
Seafood Shack
Swirls
24-Hour Room Service
Bonsai Sushi
The Chef's Table
Sweet Spot
Onboard activities & things to do
BOLT: Ultimate Sea Coaster
Get your heart racing as you zoom along BOLT: Ultimate Sea Coaster, the fastest rollercoaster across the sea. Strap yourself in alongside your best friend and experience blazingly fast speeds on a track that takes across the top deck of Carnival Jubilee, including its iconic funnel. Offering exhilarating thrills and glorious 360° views of the sea or the destination, it's safe to say that BOLT: Ultimate Sea Coaster needs to be at the top of your to-do list when you're on a Carnival Jubilee cruise. What's more, you can even choose how fast you go. So, if you prefer to take things a little slower, you absolutely can!
Cloud 9 Spa
With so much to do on Carnival Jubilee cruises both onboard and at your port of call, it can be quite easy to forget the thing that matters most – yourself! So, when you're feeling like you need a quiet moment to just block out all the noise, make a reservation at the rejuvenating Cloud 9 Spa. From serene steam rooms and marvellous messages, to a fantastic Mud Lounge and Thermal Suite, the Cloud 9 Spa is the perfect environment to give yourself that much-needed self-care your mind, body, and soul have been asking for.
Other onboard activities and things to do:
Family Feud Live
Loft 19
Serenity Adult Only Retreat
Seuss at Sea
WaterWorks
Camp Ocean
Playlist Productions
Club O2
Circle C
Zumbini
SportSquare
Punchliner Comedy Club
Night Owls
Build-A-Bear Workshop at Sea
Seuss-a-palooza Story Time
Dine-In Movies
Mega Deck Party
Cooking Demonstration
Pools
Mixologist Competitions
Seuss Bookville
Karaoke
Shopping
Atrium
Nightclub
Alchemy Martini Tasting
Pixels
Jogging Track
Arcade
Fitness Classes & Fitness Center
Sailaway Party
Casino
SkyCourse
Big Fun for Infants & Toddlers
Facts
Inaugural Cruise: 2023
Guest Capacity: 5,374
Crew: 1,735
Length: 1.130
Gross Tonnage: 182,800 gt