Carnival Miracle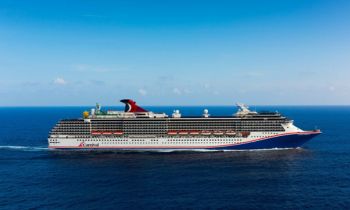 108
Starting Price, Per Night*
Carnival Miracle Cruises
Carnival Miracle is a ship you may not believe when you see but definitely don't miss seeing this one!
When we say that Carnival Miracle takes you to another world, we mean that in every sense. Not only does this ship visit stunning destinations, but features incredible onboard spaces inspired by elements of fantasy. Escape from reality as you take in a show at the Phantom Lounge, a drink at Odyssey Bar or a dance at Dr. Frankensteins Lab. To lose yourself in a song, find your way to Sams Piano Bar. Hungry? You will find great food all over the place, from the casual fare of Horatios, to the artful eats of the Bacchus and Ariadne dining rooms not to mention the world-class cuts at Nick & Noras Steakhouse.
At Alchemy Bar we make drinks into art, while the laid-back RedFrog Pub has 'Caribbean cool' down to a science. And up in SkyBox Sports Bar, we've combined luxury-box comfort with the very down-to-earth view from the 50-yard line. Outdoors, there's fun to be had, whether you're down for watersliding or up for simply sunning – Carnival's Twister Waterslide has you covered (in water, that is), and the Serenity Adult-Only Area will get you relaxing, grown-up-style.
No matter your age, lifelong childhood-faves come to life, on-stage, at Hasbro, The Game Show. We've also got the interactive CLUE: The Murder Mystery woven dramatically throughout your entire voyage. And in case you forget, don't forget: the sweetest way to cap off the day is with a treat from Cherry On Top, our onboard candy-and-more store.
Want more options? Check out our Carnival cruises. Otherwise, check out upcoming Carnival Spirit and Carnival Splendor cruises for local voyages.
Dining
Seaday Brunch
Forget what "they" say – the most important meal of the day is brunch. Slumberers can sleep in and still enjoy breakfast favorites, while early-risers get a head-start on lunch. And Seaday Brunch brings everybody's favorite mid-morning meal to your Carnival cruise, and does it right. You'll enjoy huevos rancheros, special french toast, loaded mac-n-cheese… and yes, more ways to cook eggs than we even thought was possible. Chow down and fuel up – you've got lots of exploring to do, across the ship, for the rest of the day.
Lido Restaurant
Featuring a nice variety of casual dining options like Mongolian Wok, Chef's Choice, Salad Bar, Carnival Deli and more, the Lido Restaurant has something – or more likely, at least a few somethings – to satisfy your craving. With plenty of indoor and outdoor seating and food options for everyone, you can enjoy your personal favorites while dining in the company of family and friends. It's also where you can find our pizza station and soft serve and frozen yogurt… both open 24 hours a day, which ought to be enough for anybody.
Steakhouse
Turn your special vacation in the direction of delicious – book a table for an unforgettably delectable evening at the Steakhouse. Our menu features mouthwatering premium cuts of beef cooked to your exact specifications, as well as a fantastic selection of seafood, entrees, gourmet appetizers and an extensive wine list. The atmosphere pairs remarkably well with – and perhaps even enhances – the culinary creations of our gourmet chefs.
Tip: Like any destination restaurant, reservations are highly recommended, and can be made online after booking your cruise. Your meal includes an appetizer, salad, entree, side and dessert.
Pizza Pirate
Tossing dough is an age-old art passed down the generations. Lucky for you, someone passed us the secret to the perfect pie. While aboard, this is the place that will shiver your timbers and warm you to the bone, 24 hours a day, with a Margherita, Funghi, Prosciutto, Pepperoni or Quatttro Formaggi pizza served with a delicious Caesar salad. Savvy? Then it is the pirates life for you!
Bottomless Bubbles
Enjoy ice-cold refreshments during meals, during shows, during, well… anytime you want with Bottomless Bubbles. This unlimited soda program lets you indulge in all-you-can-drink soda and juice for the full length of your cruise. Sweet! Bottomless Bubbles is available for purchase at the Lobby, Casino and Pool Bars.
Note: Bottomless Bubbles is not applicable to Room Service purchases, and can only be purchased for the entire length of your cruise.
The Chef's Table
Treat your taste buds to the experience of a lifetime, culminating in a sumptuous multicourse dinner hosted by one of our master chefs. Your VIP experience starts with cocktails and hors d oeuvres for a select group of 14, followed by a tour to see the galley in operation. The evening concludes with a mind-blowing full-service dinner of amazing appetizers, entrees and desserts not found on our regular dining menus.
Tip: Reserve early because this once-in-a-lifetime experience has limited seating. Reservations can be made at the ship's Guest Services desk.
*Fee applies
Coffee Bar
Pause your vacation and treat yourself to a well-deserved break with a specialty coffee drink or freshly-brewed tea plus some delicious homemade pastries. Or, for an even sweeter option, stop by for a milkshake, slice of cake or cookie.
*Fee applies
Swirls
Got room for dessert? Sure you do! Swirls ice cream lets you enjoy the sweeter side of brain freeze with a treat that'll have you smiling from ear to ear. Choose from chocolate, vanilla or strawberry… or make your own mix swirled as high as you can balance it. Open on Lido deck 24/7, our frozen yogurt and soft-serve ice cream is a great way to beat the heat all day, or the perfect nightcap after a long evening of fun.
Chopsticks
Give the forks and knives a break and grab some chopsticks as you enjoy this bold and flavorful Chinese culinary experience. Help yourself to delicious dishes like sliced beef honey chili, five spice and oyster glazed seafood, pork or chicken cellophane noodles, shrimp fried rice and so much more – served with crispy vegetable rolls. The food at Chopsticks is so flavorful, you probably won't want to share.
Entertainment
Take a scroll from our various nightclubs to the fun seeking show lounges enjoying Carnival's nightlife. This "Fun Ship" is fully equipped with a variety of entertainment of choice. You can choose to be dazzled by our one of a kind Las Vegas-Style Shows and even enjoy our live entertainment that suites all preferences.
Phantom Show Lounge
Frankie & Johnnie's
Maguire's Bar
Gotham Lounge
Full Gambling Casino
Activities
Serenity Adult Only Retreat
Somebody at Carnival knows just what you need, and it's pretty much exactly the Serenity Adult-Only Retreat. Look, you'll still be on the same ship as the kids, the hoopla, and all the Carnival-style excitement… but you could easily forget, because when you're at Serenity you could not be further from it all. The world you'll find yourself in is one of complete peace, sea breezes, swaying hammocks and, of course, a nearby bar. It's the place to get done the kind of stuff you just can't seem to do anywhere else – reconnect with your partner, finish that book, or do absolutely, blissfully, nothing at all.
The Punchliner Comedy Club
Comedy clubs on land… well, it's kinda funny. Nobody likes paying cover charges, and you know that two-drink minimum? They've gotta be joking! You won't find either of these at The Punchliner Comedy Club aboard your Carnival cruise. Up on stage you will find some real pros who know how to wedge a little laughter into anyone's evening. You can count on these comedians to not hold back either. Since some of them get up and say exactly what's on their mind, we also schedule family-friendly performances… so the only red faces in the audience are from laughing a little too hard.
Twister Waterslide
Above the ship you'll find the shining sun, but that's not all – basking in its rays is a gleaming symbol of fun, a monument to merriment… a sign of splashy-good times to come. Spot the spiraling Twister Waterslide atop your Carnival ship and you can be sure that your vacation comes complete with twists, turns and squeals of thrilled delight. Countless gallons of water course through the entire length of this slide, so you're by no means dry when you start, but by the time you reach the end – hundreds of feet later – you reach new levels of soaking, splashing down in that classic waterslide photo-finish: hands-up, eyes wide and nothing but exhilaration on your face.
Spa Carnival
When it comes to complete relaxation from the inside out, nothing beats a trip to the spa. From the minute you step inside, the soothing ambiance begins to work its magic. Renew yourself with premium beauty and wellness therapies, like hot stone massages, aromatherapy or full-body wraps. This is your time to be spoiled, indulged and even beautified. Lie back, close your eyes, and feel the stress sail away as your body and mind experience total tranquility. (Oh yeah, and this feel-good stuff is not just for the ladies, dudes, there are plenty of treatments on our menu for you too.)
Nightclub
Get up and get down at the most happenin' club in the Caribbean. Our DJs are spinning today's hottest hits and yesterday's golden oldies, guaranteed to get you out of your seat and tapping your feet. (Hey, that rhymed!) Whether you're doing the robot or the worm or just swaying to the music, you'll want to dance 'til the sun rises. Or at least 'til last call. Oh yeah… our themed parties are pretty fun too.
Camp Ocean
When families cruise Carnival, even the smallest fish in the pond have a big, awesome time. Okay, so it's actually way more than just a pond – it's Camp Ocean. At Camp Ocean, 2-11 year-olds stay busy, keep active and have fun as they enjoy all new ocean-themed activities and entertainment made for kids. We put campers into supervised, age-based groups and give each a cool marine-life label that's sure to raise the sails on camaraderie at sea. The littlest little ones – ages 2 to 5 -join the Penguin colony and engage in activities like Musical Icebergs and Ocean Bingo even learning a thing or two about buoyancy! The little-biggers, 6 to 8, are the way-cool Stingrays, who might be found enjoying Pirate Game Night, making sea salt art or even designing their own aquarium. The big fish are the Sharks – ages 9 to 11 – who really sink their teeth into playing Marine Life Trivia, creating a giant ocean mural, and scoring big with games and sports competitions. Our counselors, each with education or childcare experience, are there to make sure everyone in these small groups has an amazing time.
Ship Highlights
Camp Carnival
From finger painting to cartoon time, the little ones will also have a blast at Carnival Miracle's supervised camp for kids 2-11.
Circle "C"!
One of the coolest spots on Carnival Miracle is Circle "C" and it's just for kids 12-14… Video games, dance parties, late night movies, Karaoke and more. What could be funner?
Club O2
The place to be aboard Carnival Miracle for teens 15-17 – They can enjoy their own cool parties, movies and shore excursions.
Spa Carnival
Feel the stress sail away as you pamper yourself with soothing treatments and massages for your body and soul at Carnival Miracle's Spa Carnival…Ahhhhh.
Twist & Shout
Slide and glide on Carnival Miracle's fun-ified Twister Waterslide. It's three decks high of twisting and turning water mania – Perfect for splishin', splashin' and playin' at any age.
This Grill's Got It
Horatio's (Carnival Miracle Lido restaurant) – Stroll around the buffet and explore our many international cuisines and made-to-order options.
Delectable Dining
Choose Early (6 p.m.), Late (8:15 p.m.) or Your Time (5:45 p.m. to 9:30 p.m.) dining in the Carnival Miracle Bacchus Dining Room and feast on culinary pleasures to your heart's delight.
Nick & Nora's Steakhouse
The intimate ambiance and mouth-watering favorites at the Carnival Miracle Nick & Nora's Steakhouse will make this a truly memorable meal.
Check Out the Game
Maguire's Bar (Carnival Miracle sports bar) – Cheer your home team to victory or just catch up with friends.
Luck of the Draw
Mr. Lucky's (Carnival Miracle casino) – Is there a more exciting sound than the ka-ching of the casino?… Turns out "Lady Luck" likes to cruise as well.
See a Show
Phantom (main show lounge) – Sit back and enjoy the performance, where every night is aboard Carnival Miracle an extravaganza.
Lounging and Laughing
Mad Hatter's Ball (Carnival Miracle lounge) – Be courageous with Karaoke or just be entertained by the hilarious comedians.
Nothing wrong with a sing along
Sam's (piano bar) – Join your fellow guests around the Carnival Miracle piano bar and sing along to your favorite songs.
What's a cruise without water?
Siren's (Carnival Miracle Pool Area) – Take a swim or just relax poolside – whatever floats your boat.
The Raven Library & Internet Cafe
Catch up on your reading, send family and friends an email or stimulate your brain with a game of Chess, Checkers or Scrabble in the Carnival Miracle library.
Life is Suite!
Fall in love with your suite. It's packed with plush carpet and swanky decor. And sleep like a baby on your Carnival Miracle Comfort Bed.
Facts
Guest Capacity: 2124
Onboard Crew: 934
Length: 963 ft
Gross Tonnage: 88,500