Carnival Liberty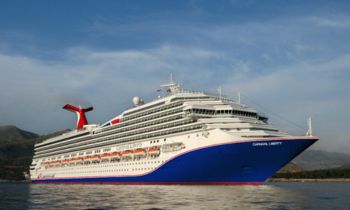 160
Starting Price, Per Night*
Carnival Liberty Cruises
We want you to feel free to have the greatest vacation imaginable. And Carnival Liberty just so happens to be packed with some of the latest, greatest features you'll find anywhere.
All day long, Carnival Liberty can be found serving up signature burgers designed by Guy Fieri, right there at Guy's Burger Joint – and look! – just over there is SkyBox Sports Bar: a double-header of a sports bar that brings together live sports on TV and lively sports-gaming competition… oh, not to mention great drinks! Enjoy BlueIguana Cantina tacos and burritos on Lido deck – made fresh, and fast, while you wait – plus two great bars: one rum-slinging, one tequila-wielding, both dueling for your heart. That's right: just a quick stroll from RedFrog Rum Bar you'll find BlueIguana Tequila Bar.
On the entertainment side of things, Carnival Liberty features two of our best, live on stage. First there's Playlist Productions, where pros sing and dance their hearts out, performing high-energy themed revues of tunes you know, backed by amazing visual effects. Then there's Hasbro, The Game Show, where you might get the chance to come on down, get up on stage and compete in larger-than-life versions of your family-favorite Hasbro games… each with a unique twist. Kids have three unique youth spaces where they can hang out with others their age and enjoy supervised activities, games and more.
You might call Carnival Liberty a vacation spot that's just full of great vacation spots… and we'd agree!
Check our other options for Carnival cruises or look at Carnival Spirit and Carnival Splendor cruises for local voyages.
Dining
Seaday Brunch
Forget what "they" say – the most important meal of the day is brunch. Slumberers can sleep in and still enjoy breakfast favorites, while early-risers get a head-start on lunch. And Seaday Brunch brings everybody's favorite mid-morning meal to your Carnival cruise, and does it right. You'll enjoy huevos rancheros, special french toast, loaded mac-n-cheese… and yes, more ways to cook eggs than we even thought was possible. Chow down and fuel up – you've got lots of exploring to do, across the ship, for the rest of the day.
Dining Room
"Hey, which side does the fork go on?" is a question you'll never have to ask at a dining room dinner aboard a Carnival cruise… we set the table for you. We also bring to the table a full three courses in an experience that's filling, but never stuffy – after all, you're just as likely to catch waiters table-dancing as you are to order dessert. Dessert's included (along with the rest of your meal, by the way) in your fare. But don't skip straight to dessert, because the main course is the main attraction – drop in daily and enjoy a rotating menu of delectable favorites like steak, roasted duck, scallops and prime rib.
Lido Restaurant
Featuring a nice variety of casual dining options like Mongolian Wok, Chef's Choice, Salad Bar, Carnival Deli and more, the Lido Restaurant has something – or more likely, at least a few somethings – to satisfy your craving. With plenty of indoor and outdoor seating, plus food options for everyone, you can enjoy your personal favorites in company of family and friends for lunch or dinner… or even breakfast! It's also where you can find our pizza, soft serve and frozen yogurt – all open 24 hours a day, which ought to be enough for anybody.
Steakhouse
Turn your special vacation in the direction of delicious – book a table for an unforgettably delectable evening at the Steakhouse. Our menu features mouthwatering premium cuts of beef cooked to your exact specifications, as well as a fantastic selection of seafood, entrees, gourmet appetizers and an extensive wine list. The atmosphere pairs remarkably well with – and perhaps even enhances – the culinary creations of our gourmet chefs.
Tip: Like any destination restaurant, reservations for Steakhouse are highly recommended. Your meal includes an appetizer, salad, entree, side and dessert.
*Fee applies
Mongolian Wok
Chow down on some delicious Asian goodness. First, select your noodles and veggies. Then tell one of our chefs which sauce and meat you want in the wok. Will it be mussels and Szechuan? Beef and Thai barbecue? Chicken and black bean? Dont worry, the decision doesnt have to be final you can come back to Mongolian Wok and try all the combos your heart desires!
Guys Burger Joint
We went looking for someone to help us grill up the best burgers at sea, and we found just the guy. Carnival has teamed up with best-selling author, restaurateur and Food Network personality Guy Fieri to bring all the authentic appeal of a roadside burger shack to Guys Burger Joint, the cool poolside spot for hot burgers and hand-cut fries. Try a fresh-off-the-grill burger Guys way, or take it off-road to our toppings bar and truly make it your own.
BlueIguana Cantina
Nobody knows Mexican dining like a blue iguana. Well, our blue iguana, at least. That is why it should come as no surprise that the BlueIguana Cantina features freshly made tacos and burritos stuffed specially for your enjoyment. Throw our homemade tortillas and salsa into the mix, and you have a casual dining experience that will make you say "mmmm" (which is actually Iguanese for "more, please").
Coffee Bar
Pause your vacation and treat yourself to a well-deserved break with a specialty coffee drink or freshly-brewed tea plus some delicious homemade pastries. Or, for an even sweeter option, stop by for a milkshake, slice of cake or cookie.
Ship Info
About 60 feet longer than the Carnival Triumph (same as Carnival
Glory)
108 additional staterooms across all decks versus Carnival Triumph
Stateroom amenities and decor will be the standard of the Carnival
Glory/Valor
Multi-Functioning Meeting Room
Reservations-Only Supper Club, as in the Carnival Valor & Glory
5 more Bars and Lounges (22 on Carnival Liberty compared to 17 on
Carnival Triumph and Victory)

Internet Cafe
A Club Lounge
Family entertainment, including Teen Club & Video Game Room
Reservations-Only Supper Club

Forward Dining Room has 2 additional Annexes mid-ship: Card Room
and the Game Room- both open into the dining rooms and therefore can be used for group dining as well as private function rooms.
Ship Highlights
RedFrog Rum Bar
Introducing RedFrog Rum Bar, a full poolside bar featuring not only a great selection of Caribbean rum-based concoctions, but plenty of Carnival's signature private-label draught beer, ThirstyFrog Red.
Guy's Burger Joint
The talents of Food Network personality Guy Fieri are helping bring fresh-off-the-grill burgers and hand-cut fries to Carnival Liberty. Try one Guy's way, or make your burger your own at our topping bar.
DJ IRIE
Nobody raises the roof like a great DJ, and DJ IRIE – the Miami Heat's official DJ – will be training Carnival DJs to help keep their spinning skills sharp and their personalities party-ready.
EA SPORTS Bar
EA SPORTS Bar is the perfect place to grab a drink and catch a game, featuring both live sports and lively, hands-on competition with the latest video game titles from EA SPORTS.
Alchemy Bar
Try tasty, all-new drinks at this unique vintage-themed cocktail "pharmacy," or take matters of taste into your own hands and create a custom concoction from unique ingredients.
BlueIguana Tequila Bar
BlueIguana Tequila Bar is the onboard chill spot featuring frozen tequila drinks, cold Mexican beer and that breezy Western Caribbean vacation vibe. Where can you find it? Next to the cool pool, of course.
BlueIguana Cantina
BlueIguana Cantina features fresh tacos and burritos stuffed specially for your fulfillment. Homemade tortillas and chips and salsa round out the casual dining that will make you say "mmmmm."
Cherry On Top
A Carnival Liberty cruise is a sweet thing for sure, for that extra touch of sweetness, look no further than Cherry on Top, our onboard 'candy and more' store.
Serenity
We call our adult-only area 'Serenity' for a reason, and we mean it. So whether you're one spirited relaxation enthusiast, or just a lover of hammocks and umbrella drinks, this is the place you'll want to be.
Twist & Shout
Slide and glide on the Carnival Liberty fun-ified Twister Waterslide. It's three decks high of twisting and turning water mania – Perfect for splishin', splashin' and playin' at any age.
A Jumbo View
Watch movies, concerts, news, sporting events, and even watch others shake their "groove thing" on our Carnival Liberty Seaside Theatre. A 12'x22′ jumbo-sized LED screen with a crystal-clear picture and a 70,000-watt, easy-to-hear sound system.
Club O2!
We know just what teenagers 15-17 like…Music, video games, food, new friends and BIG fun, Carnival Liberty Club O2's got it; the perfect 'round-the-clock hangout full of the funnest things to do.
Camp Carnival
Your little ones will love it – It's designed and fun-ified with Carnival Liberty cruisers ages 2-11 years old in mind. They're supervised by an experienced team and having just as much fun as you are… maybe even more.
Let's Spa
Pamper yourself with soothing treatments and massages, try a new hairstyle and color, and treat your husband to the ultimate shave. Ahhhhh… Carnival Liberty Spa Carnival.
City Sports Park
It's all in fun on the Carnival Liberty Sun deck. Have a swinging good time at the 9-hole mini-golf course, take a quick jog around our padded jogging track, play Ping Pong, volleyball, Shuffle Board or shoot some hoops.
Harry's Steakhouse
Harry's Steakhouse features an atmosphere of urban-chic decor, and a menu of both gourmet delicacies and mouth-watering favorites that everyone will love.
Dinner of Champions
Choose Early (6 p.m.), Late (8:15 p.m.) or Your Time (5:45 p.m. to 9:30 p.m.) dining in the Carnival Liberty Golden Olympian or Silver Olympian main dining rooms and feast on culinary pleasures to your heart's delight.
Life is Suite!
Fall in love with your Carnival Liberty suite. It's packed with plush carpet and swanky decor. And sleep like a baby surrounded by our Carnival Comfort Bed Collection.
Laugh and Sing
Meet, greet, chill and chat at the Carnival Liberty's Victoria Lounge. It's a cool place to have a drink, take in live music… or get up and try your hand at it with Superstar Live Karaoke. And at night, the lounge transforms into the Punchliner Comedy Club.
Activities
BlueIguana Tequila Bar
Nobody knows Mexican dining like a blue iguana. Well, our blue iguana, at least. That's why it should come as no surprise that the BlueIguana Cantina features freshly made tacos and burritos stuffed specially for your enjoyment. Throw our homemade tortillas and salsa into the mix, and you have a casual dining experience that will make you say "mmmm" (which is actually Iguanese for "more, please").
Twister Waterslide
Above the ship you'll find the shining sun, but that's not all – basking in its rays is a gleaming symbol of fun, a monument to merriment… a sign of splashy-good times to come. Spot the spiraling Twister Waterslide atop your Carnival ship and you can be sure that your vacation comes complete with twists, turns and squeals of thrilled delight. Countless gallons of water course through the entire length of this slide, so you're by no means dry when you start, but by the time you reach the end – hundreds of feet later – you reach new levels of soaking, splashing down in that classic waterslide photo-finish: hands-up, eyes wide and nothing but exhilaration on your face.
Alchemy Bar
You don't need to be a mix-master to appreciate Alchemy you just have to be up for trying something new. We have been stirring up some magic behind the scenes here at Carnival to produce a tasty series of all-new cocktails served at this unique vintage-themed cocktail pharmacy. Let our cocktail specialists prescribe you something from the bar, with both nonalcoholic and alcoholic elixirs to remedy what ails you. Or, create your own custom concoction from a variety of unique ingredients.
*Regular bar prices apply
Spa Carnival
When it comes to complete relaxation from the inside out, nothing beats a trip to the spa. From the minute you step inside, the soothing ambiance begins to work its magic. Renew yourself with premium beauty and wellness therapies, like hot stone massages, aromatherapy or full-body wraps. This is your time to be spoiled, indulged and even beautified. Lie back, close your eyes, and feel the stress sail away as your body and mind experience total tranquility. (Oh yeah, and this feel-good stuff isn't just for the ladies – dudes, there are plenty of treatments on our menu for you too.)
Camp Ocean
When families cruise Carnival, even the smallest fish in the pond have a big, awesome time. Okay, so it's actually way more than just a pond – it's Camp Ocean. At Camp Ocean, 2-11 year-olds stay busy, keep active and have fun as they enjoy all new ocean-themed activities and entertainment made for kids. We put campers into supervised, age-based groups and give each a cool marine-life label that's sure to raise the sails on camaraderie at sea. The littlest little ones – ages 2 to 5 -join the Penguin colony and engage in activities like Musical Icebergs and Ocean Bingo even learning a thing or two about buoyancy! The little-biggers, 6 to 8, are the way-cool Stingrays, who might be found enjoying Pirate Game Night, making sea salt art or even designing their own aquarium. The big fish are the Sharks – ages 9 to 11 – who really sink their teeth into playing Marine Life Trivia, creating a giant ocean mural, and scoring big with games and sports competitions. Our counselors, each with education or childcare experience, are there to make sure everyone in these small groups has an amazing time.
RedFrog Rum Bar
Guests have told us we hit on something special with the cool Caribbean chill of the RedFrog Pub. We've taken the best parts and brought them poolside with the RedFrog Rum Bar, where the frog keeps the fun hopping day and night with all the island flava you know and love. Join the party at this poolside bar featuring a great selection of frog-approved Caribbean rum-based concoctions available by the glass or pitcher, plus plenty of Carnival's signature private-label draft beer, ThirstyFrog Red.
*Regular bar prices apply
Serenity Adult Only Retreat
Somebody at Carnival knows just what you need, and it's pretty much exactly the Serenity Adult-Only Retreat. Look, you'll still be on the same ship as the kids, the hoopla, and all the Carnival-style excitement… but you could easily forget, because when you're at Serenity you could not be further from it all. The world you'll find yourself in is one of complete peace, sea breezes, swaying hammocks and, of course, a nearby bar. It's the place to get done the kind of stuff you just can't seem to do anywhere else – reconnect with your partner, finish that book, or do absolutely, blissfully, nothing at all.
Facts
Gross Tons: 110,000
Length(ft.): 952
Guest Capacity: 2,974
Onboard Crew: 1,160