Carnival Pride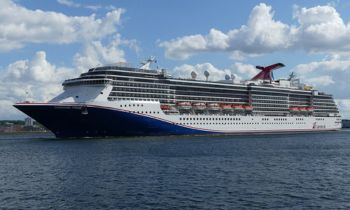 162
Starting Price, Per Night*
Carnival Pride Cruises
Carnival Pride charms, alright it is a treat for the eyes, the taste buds and of course the fun buds.
Dine refined, from the zen-like simplicity of Bonsai Sushi to the muted hues of the Normandie Restaurant… not to mention the Renaissance-era allure of David's Steakhouse. And of course there's real, delectable substance under all that style. For something a little more casual, try a main course from our main man, Guy Fieri, at Guy's Burger Joint. The Mexican heat's optional at BlueIguana Cantina, but make your next stop Cherry on Top – our candy-and-more store – where the sweet's required.
You'll find yourself with room to move at Beauties Dance Club, and a hard time sitting still at Playlist Productions. All around this cruise ship you'll discover even more ways to stay cool, like an adult-only pool at Serenity, a fun-only midship pool featuring a retractable roof… and Carnival Pride's splashy onboard waterpark, Carnival WaterWorks. Alongside the pool is the big-fun Carnival Seaside Theater, while Seuss at Sea is a good time for those who love a good rhyme. Camp Ocean, Circle "C" and Club O2 prove that we've got hotspots for all the cool kids… while at Hasbro, The Game Show, kids and adults join forces in a friendly, larger-than-life game show showdown!
Thinking about other options? Check out our Carnival cruises.
Activities
BlueIguana Tequila Bar
BlueIguana Tequila Bar is the onboard spot to chill and enjoy a slushy tequila drink or an ice-cold Mexican cerveza. The menu offers up Mexican favorites, including several brands of tequila and a slew of Mexican brews. There's a lineup of frozen concoctions, cocktails and margaritas served by the glass or by the pitcher, and even a special Mexican beer cocktail (yes, really). Where can you find this little slice of Mexican paradise? Next to the pool, of course. So stay cool and take in the bar's vacation vibe while you kick back on your cruise that's what official bar mascot Blue the Iguana would tell you.
WaterWorks
Wanna splish – and splash – the day away? Head on over to WaterWorks, Carnival's onboard waterpark. First up, there's the Twister Waterslide, hundreds of feet of spiraling awesomeness that starts you off high in the air and gets you down low with one of the fastest, wettest rides you'll find anywhere. Select ships have side-by-side racing slides, which make serious competition seriously fun. Wear your speed suit for Speedway Splash, which features hundreds of feet of racing action, plus special lighting effects you'll experience on the road to victory. DrainPipe ends with one major swirl of a finish, while PowerDrencher takes soaking seriously – imagine the biggest bucket of water you've ever seen, raining down on you from above. And this isn't just kids' stuff – the young at heart are encouraged to zoom and splash around too! (WaterWorks configurations vary by ship.)
Playlist Productions
When was the last time you got up and danced… at the theater? Playlist Productions takes tunes you know and presents them like you've never experienced before – past favorites become full-blown musical productions featuring singers and dancers bringing down the house. Enjoy the spicy sounds of Latin Nights, or the larger-than-life favorites (and personalities) of Divas. Don't forget Motor City – which will have you dancing in your seat – or even The Brits!, a swingin' revue of your across-the-pond favourites. Enter the center of groove with the passionate Heart of Soul. Rounding out the lineup is the anything-but-square Getaway Island, the arena-shaking sounds of Epic Rock, the piano-pounding 88 Keys, the totally bad-meaning-good 80s Pop to the Max, plus the funky, sophisticated… and not at all exclusive Studio VIP, where everyone's welcome to come and get down!
Cherry On Top
A cruise is the perfect time to treat yourself to something sweet, and Cherry On Top happens to be the perfect place. You'll find this well-stocked candy-and-more-store not only great for enjoying some of your confectionery favorites, but the place to pick up food and apparel gifts for that special someone, even if – admit it – that someone happens to be you!
Scream for the cool stuff? Visit the ice cream counter at the Cherry On Top shops aboard Carnival Vista and Carnival Horizon for a signature ice cream creation, or build your own with tons of mix-ins and topping options. And if you get the urge to eat ice cream with your hands, we won't judge… we'll just suggest one of our all-new ice cream cookie sandwiches. We'll build you one by hand, and stuff it full of whatever ice cream and toppings you scream for.
Carnival's Seaside Theatre
Night time isn't the only time to see stars on your cruise. Day or night, find a spot on deck and check out the huge poolside screen – it's Carnival Seaside Theater Hit movies, live sporting events, concerts and even cartoons for the kids are just some of what you'll find featured at this large-scale outdoor entertainment zone. Grab a copy of the FunTimes and check the day's listings… then grab a friend or three and get ready to kick back and enjoy.
Alchemy Bar
You don't need to be a mix-master to appreciate Alchemy – you just have to be up for trying something new. We've been stirring up some magic behind the scenes here at Carnival to produce a tasty series of all-new cocktails served at this unique vintage-themed cocktail "pharmacy." Let our cocktail specialists prescribe you something from the bar, with both nonalcoholic and alcoholic elixirs to remedy what ails you. Or, create your own custom concoction from a variety of unique ingredients.
*Regular bar prices apply
Dining
Steakhouse
Turn your special vacation in the direction of delicious – book a table for an unforgettably delectable evening at the Steakhouse. Our menu features mouthwatering premium cuts of beef cooked to your exact specifications, as well as a fantastic selection of seafood, entrees, gourmet appetizers and an extensive wine list. The atmosphere pairs remarkably well with – and perhaps even enhances – the culinary creations of our gourmet chefs.
Tip: Like any destination restaurant, reservations are highly recommended, and can be made online after booking your cruise. Your meal includes an appetizer, salad, entree, side and dessert.
*Fee applies
Bottomless Bubbles
Enjoy ice-cold refreshments during meals, during shows, during, well… anytime you want with Bottomless Bubbles. This unlimited soda program lets you indulge in all-you-can-drink soda and juice for the full length of your cruise. Sweet! Bottomless Bubbles is available for purchase at the Lobby, Casino and Pool Bars.
Note: Bottomless Bubbles is not applicable to Room Service purchases, and can only be purchased for the entire length of your cruise.
Chopsticks
Give the forks and knives a break and grab some chopsticks as you enjoy this bold and flavorful Chinese culinary experience. Help yourself to delicious dishes like sliced beef honey chili, five spice and oyster glazed seafood, pork or chicken cellophane noodles, shrimp fried rice and so much more – served with crispy vegetable rolls. The food at Chopsticks is so flavorful, you probably won't want to share.
Bonsai Sushi
So maybe you've had sushi on a cruise before, but you've never had it like Bonsai Sushi, our onboard seafood-and-soy-sauce spot. Dine amidst expertly-pruned bonsai trees while enjoying sit-down service and an affordable menu of delectable sushi and sashimi… plus rolls, soups, sides, sakes and desserts. So the next time you're taking an onboard stroll, stop at Bonsai Sushi for a little something satisfying.
*Fee applies
BlueIguana Cantina
Nobody knows Mexican dining like a blue iguana. Well, our blue iguana, at least. That is why it should come as no surprise that the BlueIguana Cantina features freshly made tacos and burritos stuffed specially for your enjoyment. Throw our homemade tortillas and salsa into the mix, and you have a casual dining experience that will make you say "mmmm" (which is actually Iguanese for "more, please").
Swirls
Got room for dessert? Sure you do! Swirls ice cream lets you enjoy the sweeter side of brain freeze with a treat that will have you smiling from ear to ear. Choose from chocolate, vanilla or strawberry or make your own mix swirled as high as you can balance it. Open on Lido deck 24/7, our frozen yogurt and soft-serve ice cream is a great way to beat the heat all day, or the perfect nightcap after a long evening of fun.
Ship Highlights
We Are making a GRAND entrance
People watch with a friend and a cocktail at the Carnival Pride Renaissance Grand Atrium & Bar.
Serenity Adult-Only Retreat!
Chill out in this kid-free oasis aboard Carnival Pride that's the hub of relaxation for adults. Kick back under the shade of a big umbrella and just relax! Take in the ocean view or hop in the hot tub; whatever your fancy.
Amateur singers pro comedians
Be courageous with Karaoke or just be entertained by the hilarious comedians at the Carnival Pride Butterflies Lounge.
Slide & Glide
Splash, play and slide on our Twister Waterslide aboard Carnival Pride. Its spiral is three-decks high and fun for all ages.
Your table is ready
Feast on the amazing culinary creations of the Carnival Prides Normandie Restaurant. Now featuring Your Time Dining, you've got flexible reservations for some fantastic food.
We Have got game
Cheer your home team to victory or just catch up with friends old and new at the Carnival Pride Perfect Game Sports Bar.
Hit the lights!
Sit back and enjoy the performance at the Carnival Pride Taj Mahal show lounge, where every night is an extravaganza.
The most memorable of meals
Have the night of your life at Davids Steakhouse. Enjoy mouth-watering favorites and an ambiance that are anything but ordinary.
Cruising has never been so cool
Club O2 is the place to be for teens 15-17 aboard Carnival Pride. They can enjoy their own cool parties, movies and shore excursions.
The kids cannot get enough
From finger painting to cartoon time, your 2-11 year olds will have a blast at Carnival Pride's Camp Carnival.
Life is Suite!
Fall in love with your suite. It's packed with plush carpet and swanky decor. And sleep like a baby in your Carnival Pride Comfort Bed.
Facts
Gross Tons: 88,500
Length (ft.): 963
Guest Capacity: 2,124
Onboard Crew: 930