Carnival Vista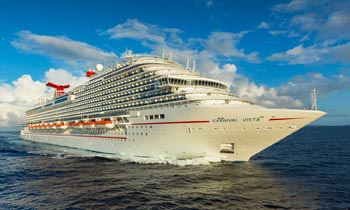 137
Starting Price, Per Night*
Carnival Vista Cruises
Carnival Vista has a whole new relationship to the sea, and you get to experience this as you explore the Caribbean with all-new views.
It's only natural that you'll want to start outdoors, so let's. You can't help but have your eye caught by wait, are those flying bicycles? Pretty much! SkyRide at SportSquare is a twin-track suspended bike course strap in and race around for the win or just cruise for great views. At Havana Bar & Pool you'll find an island retreat that evokes classic Cuban-style lounging with an emphasis on style… and on views, and on traditional cocktails! Carnival WaterWorks is packed to the gills with wet ways to get-a-splashin', including Kaleid-O-Slide which adds funky light and color effects to the usual "speed-n-splash" story. If you can't get enough Guy Fieri, we invite you to try at Guy's Burger Joint and Guy's Pig & Anchor Smokehouse. Rounding out this ship's sunlight highlights is Serenity Adult-Only Retreat, the low-key grown-up spot that's more lounging and hot tubs than action and adventure. (But Serenity's complimentary chopped salad station gets our inner grown-up excited!)
Indoors, things are every bit as cool. Take RedFrog Pub & Brewery for example – yes, you read right, the latest incarnation of our Caribbean-cool pub has a fully-functional onboard brewery that produces exclusive craft beers you can enjoy just feet from the brewing kettle. If you do seafood, you'll want to direct your appetite to Bonsai Sushi or the seaside Seafood Shack, while JiJi Asian kitchen and Cucina del Capitano are prepared to satisfy cuisine-specific cravings. Of course Carnival Vista features a Dr. Seuss Bookville and youth activities for all kinds of kids (the smallers, the tallers and the in-betweens). On the stateroom side, Carnival Vista adds two new types of rooms to the mix: Family Harbor is a special area reserved for families and features a private 24-hour lounge and concierge service. All Havana staterooms and suites are located just off the Havana Bar & Pool and feature a unique tropical decor, while Havana Cabanas add a patio with hammock chair!
One last thing you should know: on Carnival Vista more onboard places than ever before span the indoors and outdoors – so whether you set the thermostat to "cool-and-crisp" or "sea-breezy perfection" you'll enjoy your kind of Caribbean comfort on Carnival Vista.
See more options for Carnival cruises.
Activities
SportSquare
Your Carnival cruise may take you far, far away from the competitive daily rat-race, but you'll find an oasis of friendly competition at SportSquare. Take on friends at mini-golf, battle strangers at basketball, or push yourself to new heights at SkyCourse… or to record-setting lows at the jogging track. SportSquare gets you in the game with soccer and volleyball (the b-ball court converts!), brings pool, foosball and ping-pong to the table, and rounds things out for shaping up with your choice of stationary bikes, elliptical machines, weight-lifting equipment and punching bags. Are you game? (SportSquare configurations vary by ship.)
SkyRide
SkyRide is a bit like riding a bike – you'll never forget it. But SkyRide is also completely unlike riding a bike, because when was the last time you biked around a ship, high above the deck and even higher above the sparkling blue sea? Zip safely around our two-lane suspended course in a pedal-powered go-mobile, in search of your biggest racing victory, lowest lap time… or simply the greatest view.
Havana Bar
A spot that's intriguing by night and friendly anytime, step into the Havana Bar and be transported to antebellum Cuba preserved today in old postcards, vintage literature… and classic delicacies. Take in great ocean views as you try something authentically Cuban, like cafe Cubano (that's Cuban coffee!) or handcrafted Cuban cocktails (think daiquiris, mojitos and more). And this spot definitely doesn't cool down when the sun goes down, with music and dancing keeping things hot well into the night.
Pools
POOL DAY! Whether today's the day for a bit of a dip, a dash of splash or even some swimming – or just a serious poolside lounging session – your Carnival cruise has just the pool for you. In fact, pools are so important to a great cruise that we designed many of our ships to have two of them. At an aft pool you'll catch a breeze, plus a sea view featuring the ship's wake, while midship pools have an grand view of a different kind: the big screen's right there for the viewing. And no matter which you find yourself chilling in, the sunbeams are yours for the soaking.
IMAX
To compare the IMAX experience to "just seeing a movie" is like calling a Carnival cruise "just a vacation." It sounds about right… but experienced folks know better. That's why stepping into the IMAX Theatre you'll find on a Carnival cruise is more like taking a brief escape from life. On the other side of the amazing screen you'll find a world of first-run Hollywood blockbusters, recent hit films and IMAX documentaries, all in a huge format that makes normal theaters look like your smartphone screen. And the very first IMAX Theatre at sea? Nowhere else but Carnival Vista.
RedFrog Pub
Get into an island state of mind before you even set foot on one. RedFrog Pub is our laid-back, no-worries, oh-so-lively Key West-inspired pub. Sample Caribbean fare, dominate at the foosball table, enjoy some sweet tunes from live musicians and sip our tasty signature private-label brew, ThirstyFrog Red. So kick back and feel the island vibe come to life. You'll be a local here before you know it.
WaterWorks
Wanna splish – and splash – the day away? Head on over to WaterWorks, Carnival's onboard waterpark. First up, there's the Twister Waterslide, hundreds of feet of spiraling awesomeness that starts you off high in the air and gets you down low with one of the fastest, wettest rides you'll find anywhere. Select ships have side-by-side racing slides, which make serious competition seriously fun. Wear your speed suit for Speedway Splash, which features hundreds of feet of racing action, plus special lighting effects you'll experience on the road to victory. DrainPipe ends with one major swirl of a finish, while PowerDrencher takes soaking seriously – imagine the biggest bucket of water you've ever seen, raining down on you from above. And this isn't just kids' stuff – the young at heart are encouraged to zoom and splash around too! (WaterWorks configurations vary by ship.)
Serenity Adult-Only Retreat
Somebody at Carnival knows just what you need, and it's pretty much exactly the Serenity Adult-Only Retreat. Look, you'll still be on the same ship as the kids, the hoopla, and all the Carnival-style excitement… but you could easily forget, because when you're at Serenity you could not be further from it all. The world you'll find yourself in is one of complete peace, sea breezes, swaying hammocks and, of course, a nearby bar. It's the place to get done the kind of stuff you just can't seem to do anywhere else – reconnect with your partner, finish that book, or do absolutely, blissfully, nothing at all.
Cherry on Top
A cruise is the perfect time to treat yourself to something sweet, and Cherry On Top happens to be the perfect place. You'll find this well-stocked candy-and-more-store not only great for enjoying some of your confectionery favorites, but the place to pick up food and apparel gifts for that special someone, even if – admit it – that someone happens to be you!
Scream for the cool stuff? Visit the ice cream counter at the Cherry On Top shops aboard Carnival Vista and Carnival Horizon for a signature ice cream creation, or build your own with tons of mix-ins and topping options. And if you get the urge to eat ice cream with your hands, we won't judge… we'll just suggest one of our all-new ice cream cookie sandwiches. We'll build you one by hand, and stuff it full of whatever ice cream and toppings you scream for.
Dr. Seuss Bookville
Let's use our imaginations – just think what would happen if we took a normal library and put it through one of Dr. Seuss's wacky contraptions… set to maximum fun, of course. It would probably come out looking much like Dr. Seuss Bookville, which as you can imagine, is exclusively aboard Carnival! The room is all decked out in bright colors, fun and whimsical furniture and even has some of your all-time favorite Dr. Seuss characters on the walls. But let's not forget that this space is all about the books – the shelves are filled to the brim for hours of fun reading.
Dining
Seafood Shack
A good seafood dish is quite the catch. However you like yours served – whether it's on a roll or a platter – Seafood Shack's the place to cast your net. Imagine a New-England-style seaside spot where you can take it all in, enjoying a great meal complete with a side of ocean view. On a Carnival cruise is where you'll find this shack by the sea, wherever in the world you happen to be!
JavaBlue Cafe
Maybe you take your coffee straight-up, or perhaps you prefer your pick-me-up with an upgrade. From the simply caffeinated to the simply sublime, nothing satisfies your coffee craving like JavaBlue Cafe, featuring fun twists on the hot and cold drinks you enjoy. While the coffee is the main event here, there's more to JavaBlue – enjoy the baked treats we like to call "comfort snacks"… which you'll call "delicious!"
Steakhouse
Turn your special vacation in the direction of delicious – book a table for an unforgettably delectable evening at the Steakhouse. Our menu features mouthwatering premium cuts of beef cooked to your exact specifications, as well as a fantastic selection of seafood, entrees, gourmet appetizers and an extensive wine list. The atmosphere pairs remarkably well with – and perhaps even enhances – the culinary creations of our gourmet chefs.
Tip: Like any destination restaurant, reservations are highly recommended, and can be made online after booking your cruise. Your meal includes an appetizer, salad, entree, side and dessert.
Bonsai Sushi
So maybe you've had sushi on a cruise before, but you've never had it like Bonsai Sushi, our onboard seafood-and-soy-sauce spot. Dine amidst expertly-pruned bonsai trees while enjoying sit-down service and an affordable menu of delectable sushi and sashimi… plus rolls, soups, sides, sakes and desserts. So the next time you're taking an onboard stroll, stop at Bonsai Sushi for a little something satisfying.
The Chef's Table
Treat your taste buds to the experience of a lifetime, culminating in a sumptuous multicourse dinner hosted by the Master Executive Chef. Your VIP experience starts with cocktails and hors d'oeuvres for a select group of 14, followed by a tour to see the galley in operation. The evening concludes with a mind-blowing full-service dinner of amazing appetizers, entrees and desserts not found on our regular dining menus.
Tip: Reserve early because this once-in-a-lifetime experience has limited seating. Reservations can be made at the ship's Guest Services desk.
JiJi Asian Kitchen
Lunchtime at JiJi Asian Kitchen brings out some of the boldest flavors on the ship as we serve up Szechuan beef, Thai BBQ, chicken with black bean sauce and more. With all these tasty choices, picking one might be a challenge. Luckily, our stir-fry chefs can whip up something different for you each day! Get creative – pick your preferred noodle-vegetable-protein-sauce combo and watch your creation come to life.
Cucina del Capitano
Say arrivederci to ordinary and ciao to an exciting dining experience at the restaurant that pays homage to our unique heritage. Italian-American dishes inspired by the recipes from our Italian captains' and officers' childhoods are served up family-style in a comfy, eclectic environment decorated like an Italian country home. Vintage images of our captains and ships adorn the walls, and there's even a Captain's table where you just might see the man himself dine.
Tip: Reservations aren't required, but to get the best seating and times, we recommend making a reservation. You can make one online after booking your cruise.
Guy's Burger Joint
We went looking for someone to help us grill up the best burgers at sea, and we found just the guy. Carnival has teamed up with best-selling author, restaurateur and Food Network personality Guy Fieri to bring all the authentic appeal of a roadside burger shack to Guy's Burger Joint, the cool poolside spot for hot burgers and hand-cut fries. Try a fresh-off-the-grill burger Guy's way, or take it off-road to our toppings bar and truly make it your own.
Guy's Pig & Anchor Bar-B-Que
When the cool ocean breeze hits your nose with the sweet smell of smoke, you know you better follow it to Guy's Pig & Anchor Bar-B-Que Smokehouse. At this onboard, open-air spot, Guy's doin' his authentic, real-deal barbecue, his way. The Barbecue Hall of Famer is bringin' some big time meats like Championship Pork Butt, Smoked Round of Beef, Smoked Andouille Sausage and his famous Blue Ribbon Chicken as well as rockin' sides like Mac Daddy Mac n Cheese, Old Skool Potato Salad and Collard Greens. Throw in his signature line of barbecue sauces and you've got a rockin' sea day on deck.
BlueIguana Cantina
Nobody knows Mexican dining like a blue iguana. Well, our blue iguana, at least. That's why it should come as no surprise that the BlueIguana Cantina features freshly made tacos and burritos stuffed specially for your enjoyment. Throw our homemade tortillas and salsa into the mix, and you have a casual dining experience that will make you say "mmmm" (which is actually Iguanese for "more, please").
Facts
Gross Tonnage: 133,500
Guest Capacity: 3,954
Feet long: 1,055
Onboard Crew: 1,450