Carnival Venezia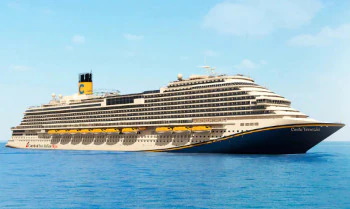 110
Starting Price, Per Night*
Italian-flavoured excitement is here with Carnival Venezia cruises
Classic Carnival fun seamlessly blended with iconic Italian style, Carnival Venezia cruises is the perfect celebration of European charm and American flash. Introducing riveting new dining venues, bars, and onboard facilities, a Carnival Venezia cruise is a must-book for any and all Carnival voyagers. From the authentic restaurants of Marco Polo and La Strada Grill to the dreamy space of Piazza San Marco, guests onboard this beautiful Carnival Venezia cruise ship will feel like they've been transported to the shores of Venice.
Plenty of the familiar favourites are on offer throughout Carnival Venezia too. Whether it's the flavour-packed Bonsai Teppanyaki or the bouncing Piano Bar 88, to the calming Serenity Adult-Only Retreat, sailors onboard Carnival Venezia cruises get to the experience the flavours of Venice, but also enjoy the comfort of American fun. Plus, with magnificent staterooms and suites available to book on every voyage, guests will never feel uncomfortable their entire journey.
View all Carnival Venezia cruises by selecting the cruises tab, or alternatively click here for all Carnival Cruises.
Carnival Venezia Accommodation
Staterooms
Carnival Venezia accommodation options wonderfully integrate Italian flair with the comfort Carnival Cruises is known for. It all starts with their Interior staterooms, which feature a marvellous selection of included amenities and décor that make for a relaxing journey at sea. For those who want a little more out of their Interior room, the Terrazza Interior stateroom comes with exclusive access to the Terrazza Carnevale area, a bouncing Italian-inspired part of Carnival Venezia that every guest needs to check out during their voyage.
Guests can also choose to book into one of the many Ocean View staterooms available across the ship. With its own picturesque window looking into the sea, the Ocean View is a great choice for many guests on Carnival Venezia. By far the most popular choice for Carnival Venezia cruise guests is the Balcony staterooms. With a spacious private outdoor space, Balcony staterooms give you the chance to soak in the calming sea breeze from the privacy of your own cabin. What's more, with plenty of different types of variants on offer from the Terrazza Cabana, Cove Balcony, and Aft-View it's easy to see why most voyagers choose Balcony cabins time and time again.
Suites
Need a little more self-care and attention during your Carnival Venezia cruise? Then a suite is right up your alley! For those tight on budget, the Junior suite is a splendid choice, with plenty of exclusive suite amenities on offer. Booking the Junior suite gives you plenty of unmatched value, and includes priority check-in and boarding, access to the Terrazza Carnevale, as well as a specially-curated brunch on select sea days. For unfiltered spacious relaxation, the Ocean suite is easily your best option. With the aforementioned amenities, Ocean suite guests also enjoy even more space to stretch out as well as a calming whirlpool tub and an extended private balcony.
Dining
Guy's Burger Joint
Unlike other Guy's Burger Joint offerings on other ships, Carnival Venezia cruise guests are treated to a classic burger venue with a distinct Italian twist. Boasting new menu options incorporating mouth-watering Italian flavours, Guy's Burger Joint is an absolute must when you feel like chowing down on flavour-jammed burgers. Plus, you'll still have access to the classic options guests have grown to love, making ordering at Guy's Burger Joint easier than ever. The perfect lunchtime hideaway right by the pool, be sure to give Guy's Burger Joint a try on your next cruise.
Marco Polo
On the search for delectable Italian cuisine during your Carnival Venezia adventure? There's no better place to go than Marco Polo. Experience an unforgettable three-course journey with a selection of dishes that celebrate all things Italy and Venice. Lined with stunning Italian sculptures and gorgeous décor, we strongly recommend making a reservation to Marco Polo. Come as a group or enjoy a romantic night with a loved one, either way, you'll be treated to one of the best dining experiences on any Carnival cruise ship.
Other Bars & Cafes:
Heroes Tribute Bar & Lounge
Piano Bar
Casino Bar
Coffee Bar
Master the Martini
Other dining options:
La Strada Grill
Canal Grande
Tomodoro
The Chef's Table
Green Eggs and Ham Breakfast
Lido Marketplace
Swirls
Pizza Delivery
Dining Room
24-Hour Room Service
Pizzeria del Capitano
The Carnival Deli
Bottomless Bubbles
Dining Room Breakfast
Sweet Spot
Steakhouse
Seafood Shack
Bonsai Sushi
Seaday Brunch
Steakhouse Selections
Kids' Menus
Kids' Meals for Campers
Onboard activities & things to do
Serenity Adults Only Cruise Retreat
Sometimes, all you need is a tranquil space to unwind away from the hustle and bustle. Luckily for you, Carnival Venezia has heard your cry! The Serenity Adults Only Cruise Retreat is everything you might expect. With no young ones in sight, Serenity has its very own bar, nightclub, and casino, with plenty of merriment to pass the time on any sea day. Need to truly relax? Then head over to the Cloud 9 Spa also located in Serenity with plenty of treatments on offer. Spend some much-needed quality time with your partner, finish off that book you've been meaning to read, socialise with fellow travellers over a delectable cocktail, you won't go wrong during your time at Serenity Adults Only Cruise Retreat.
Cloud 9 Spa
The holiday can wait! Cloud 9 Spa is here to give you that self-care you desperately need as sail away on Carnival Venezia cruises. Book in for a de-stressing massage. Settle in for a rejuvenating body wrap. Take a dip into the incredible Hydrotherapy Pool. Offering a wealth of options, rejuvenating your mind and body has never been easier. Moreover, with excellent specialists from all over the globe available throughout the entire cruise, we highly recommend spending a few hours on a treatment at the Cloud 9 Spa!
Other onboard activities and things to do:
Playlist Productions
The Punchliner Comedy Club
Drive-In Movies
Deal or No Deal
Build-A-Bear Workshop at Sea
Atrium
Military Appreciation
Seuss at Sea
Art Games
Karaoke
Live Music
Nightclub
ZSpa
Medi-Spa
Fitness Classes
Casino
Mega Deck Party
80s Night
Groove for St. Jude
Holidays Aboard
Sailaway Party
Cherry On Top
Dream Studio
Beauty
Pixels
Hair & Beauty Salon
Jogging Track
Pools
WaterWorks
SportsSquare
Mini Golf
Basketball
Ropes Course
Apparel
Fine Jewelry
Video Arcade
Art Auctions
Space Cruisers
Zumbini
Camp Ocean
Circle "C"
Club O2
Night Owls
Facts
Year Built: 2023
Guest Capacity: 4,072
Crew: 1,424
Length: 1,061
Gross Tonnage: 135,500