Carnival Breeze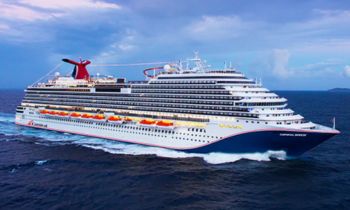 144
Starting Price, Per Night*
Carnival Breeze Cruises
On Carnival Breeze, fun-fan favorites like SportSquare and mouth-watering dining spots like Cucina del Capitano are just the beginning of how this ship keeps the fun blazing.
Speaking of blazing, enjoy the island atmosphere of the very cool RedFrog Rum Bar, or south-of-the-border taco goodness at BlueIguana Cantina. There's always family fun in the air at Hasbro, The Game Show and ha-ha hilarity at the Punchliner Comedy Club. Don't forget the ambiance of Guy's Burger Joint – roadside-burger-shack style – featuring hot-off-the-grill burgers designed by celebrity chef Guy Fieri!
There are many fish in the sea, and Bonsai Sushi proves it. The steakhouse prides itself on premium cuts, cooked exactly the way you like 'em… plus gourmet appetizers and wine pairings. And to go just a little less refined, stop by Pizza Pirate for a hot slice, the Carnival Deli for a true classic, or Guy's Pig & Anchor Bar-B-Que Smokehouse to get a little messy with some signature – you guessed it – Guy Fieri BBQ. On this ship, you just can't get enough Guy!
Carnival Breeze has the whole family covered – with water, that is – with a 320-foot-long Twister Waterslide at Carnival WaterWorks. Just for the kids there's supervised youth programs Camp Ocean, Circle "C" and Club O2. And for the bigger people, there's time to be spent doing blissfully nothing at Serenity Adult Only Retreat after pampering yourself at Cloud 9 Spa, of course.
Keep the fun going once the sun's done for the day – have a truly moving experience at the multi-dimensional Thrill Theater, get your lips movin' up on stage at Lip Sync Battle, dance in your seat at Playlist Productions… or if you prefer to do your dancing on a dance floor, check out Liquid Nightclub. Speaking of liquid, the Alchemy Bar serves up cocktail concoctions made with ingredients a little less ordinary – essence of flaming citrus peel, anyone?
If you notice a bit of the outdoors inside, don't adjust your view. Carnival Breeze's staterooms – and many of the public spaces around the ship – feature a scintillating tropical decor and contemporary furnishings that'll transport you straight to warm Caribbean bliss.
View more options for Carnival cruises today! Need something close to home? Look at some brilliant Carnival Spirit and Carnival Splendor cruises for local voyages across Australia, New Zealand and the South Pacific.
Dining
Guy's Burger Joint
Take a big juicy bite of one of the best burgers at sea, brought to you by none other than celebrity chef Guy Fieri.
Cucina del Capitano
Sit down to a delectable family meal at an Italian countryside villa. In the middle of the ocean.
BlueIguana Cantina
Head on down to our Mexican cantina, where the food is fresh and the atmosphere is fresher.
Bonsai Sushi
Bonsai Sushi brings more to the table than just sushi.
Seaday Brunch
You never need a special reason to enjoy brunch, but Carnival has the perfect one: sea days!
Dining Room
A multi-part meal that's simply coursing with flavor.
Steakhouse Selections
Enjoy signature steakhouse favorites anytime, in our lively main dining room.
Lido Restaurant
When it comes to a variety of food served in a casual dining atmosphere, this is the center of it all.
Steakhouse
Enjoy a premium steak served in an atmosphere to match.
Green Eggs and Ham Breakfast
Sit down to breakfast with the world of Dr. Seuss.
24-Hour Room Service
Hungry enough to eat, but feel more like staying in? Relax. Complimentary room service is available 24 hours a day.
Pizza Pirate
Ahoy hungry mateys – this is the place to enjoy a tasty pizza, indeed.
The Chef's Table
Get a backstage pass to what's cooking in our kitchen with this private tour and meal featuring our chefs' best dishes.
Coffee Bar
Take a break and reenergize at our coffee bar, stocked with premium coffees and delicious pastries.
Mongolian Wok
Add some Asian flavors to your vacation at our design-your-own stir-fry bar. (Chopsticks totally optional.)
Swirls
Grab a cone and choose from frozen yogurt or delicious soft-serve ice cream – the original heat blaster.
The Carnival Deli
Pile 'em high at this neighborhood deli. Choose from old time favorites filled with juicy cuts of meat – don't forget the kosher dill.
Kids' Menus
Whether your kids love to try new things or stick to a few faves, we've got something on their menu guaranteed to be a big hit.
SeaDogs
SeaDogs is more than just hot dogs – it's a tasty SportSquare snack, topped with a delicious sea view.
Breakfast Grill
Fuel up at this delicious arrangement of breakfast favorites.
The Captain's Pasta Bar
Always fresh, always al dente, always delicious – this is made-to-order pasta at its finest.
Kids' Meals for Campers
Fuel up day and night with delicious kids-only meals.
Bottomless Bubbles
Get refreshed anytime with our unlimited soda and juice package.
Chef's Choice
Our chef takes you on a worldwide culinary taste test.
Comfort Kitchen
Comfort food never tasted so good. Stop on by and see what we have cookin'.
Dining Room Breakfast
Start your day off right with this enjoyable made-to-order breakfast experience.
Good Eats
When it comes to eating well for dinner, the name says it all.
RedFrog Pub
Good beer, good tunes, good times. Welcome to the island-inspired ambiance of the Caribbean's chillest hangout.
Salad Bar
Light, flavorful and fun – enjoy your veggies topped with your favorite dressing.
Sweet Spot
Put an exclamation point at the end of a great meal and pick up a slice of goodness that really hits the spot.
Tandoor
Follow your nose to this authentic delight, which will satisfy you like naan other.
Special Diet
Even if you can't have it all, you can still eat well on a Carnival cruise.
Cooking Demonstration
Taste what happens when our chefs demonstrate how they make some of your favorite onboard foods.
Kids & Teens
WaterWorks
Built for some serious splashing.
Seuss at Sea
Just you wait and see what there is to see at Seuss at sea!
SportsSquare
At SportsSquare, there's a game for you… and a champion inside of you.
Club O2
This club O2, the just for teens hangout on board Carnival.
Activities
Cooking Demonstration
Taste what happens when our chefs demonstrates how they make some of your favorite onboard foods.
Atrium
There's no place at sea as welcoming as the atrium – the welcome-aboard center.
Art Exhibitions
Let us show you what we've got.
Bingo
B-I-N-G-O, B-I-N-G-O, B-I-N-G-O … this BINGO is a game-o.
Onboard Internet
Stay connected and share the good times you're having.
FunHub
Where to go if you need to know?(Psst – FunHub!)
WaterWorks
Built for some serious splashing.
Nightclub
Better pack your best moves 'cuz our dance floor is waiting for them. You ready to get this party started?
Entertainment and Activities
Breeze Atrium
In the atrium, you'll get help from guest services, plan some fun at the shore excursion desk, not to mention enjoy FunHub stations, a full bar, an entertainer's stage, dance floor and more.
The atrium is the space to get together under a distinctive night-sky ceiling featuring ambient lighting from floating lanterns.
RedFrog Pub
RedFrog Pub is Carnival's laid-back, no-worries, British-West-Indies-meets-Key-West-style bar. If that sounds like a mouthful, don't worry… there definitely won't be a test! RedFrog Pub is also home to Carnival's exclusive house brew, ThirstyFrog Red, and mouth-watering Caribbean-inspired fare. Ready to get hungry?
Inside RedFrog Pub, Carnival's British-West-Indies-meets-Key-West-style bar, you'll find a great atmosphere perfectly tuned for a high level of carefree fun, and outside, you'll find even more island ambience.
Carnival WaterWorks
If water is your thing, WaterWorks is your place. This onboard water park features two amazing waterslides: Drainpipe and Twister.
At the center of Carnival WaterWorks is a giant – we're talking 300-gallons-giant – dump bucket, combining water and gravity in a way that's sure to soak.
Beach Pool
Pools are places where the good times flow, and to make sure Carnival Breeze has enough good times for all, we're including two pools. The resort-style pool provides the best seat in the house for kicking back and enjoying whatever's playing at Carnival's Seaside Theatre.
Tides Pool
Carnival Breeze's aft pool area is the ultimate place to take a dip – in the pool or hot tub – while taking in the stunning scenery.
Carnival's Seaside Theatre
Here's the plot: You, watching a movie, on a giant screen, outdoors… while relaxing in a pool, or maybe lounging on a beach chair. Sound like a script you can get behind? Great – the role is yours! Get over to wardrobe (a bathing suit will do just fine) and then head to Carnival Breeze's Seaside Theatre, where the viewing experience may trump just about all others you've experienced. Ooh, sorry about that.
Serenity Adult Only retreat
All grown up with no place to go? Not so! Carnival Breeze's Serenity area lets adults spend time with other adults, far away from both stress and – you know – kids. We call it 'Serenity' for a reason and we mean it, so if you're a relaxation enthusiast, this is the place you'll want to be.
Read a book, enjoy the view, sip something from the bar, or just spend some quality you-time – Serenity is your place to just be you. And is there any better place to be you than on a hammock? That's an easy one!
Ocean Plaza
Ocean Plaza is the centrally-located perfect place to meet, eat, drink, and be entertained in an indoor/outdoor, islandy setting. Enjoy a full bar, coffee bar, or even snack bar… and of course, our FunHub Internet cafe.
At Ocean Plaza, daytime activities include trivia and other games, with things heating up when the sun goes down – live music and dancing by night.
Winner's Luck Casino
Carnival Breeze's Winner's Luck Casino is the glitzy, glamorous place where even just passing through gives you that winner's vibe.
Feeling lucky? Head over to the Winner's Luck Casino to try out a wide selection of slots and table games including blackjack, roulette, and a full hand of poker games.
Carnival Breeze's casino bar is the perfect place to kick back and take in some sports while recharging your batteries for another roll at the casino games.
The Punchliner Comedy Club
Renowned comedian and TV personality George Lopez helped pick the talent to deliver the laugh lines at The Punchliner Comedy Club, so come prepared for some lively stand-up humor of the 'laughing-so-hard-I-can-barely-breathe' sort.
DJ IRIE
Nobody raises the roof like a great DJ, and that's what you can expect aboard your cruise. Our scratch-n-spin masters have all been trained by the Miami Heat's official DJ, DJ IRIE, to drop beats like the man himself all across the ship, from Liquid Nightclub to deck parties… and even events in between.
Hasbro, The Game Show
You've played CONNECT 4 and YAHTZEE, but you've never done it onstage with the chance to win great prizes! You'll get your chance with our onboard Hasbro Game Shows, which put a fun twist on these and other funtime favorites.
Spa and Fitness
Men's Services
Hey man, been to the spa lately?
Jogging Track
Enjoy a run with a view.
Facial Treatments
We won't just treat you, we'll treat you well.
Fitness Classes
For the shortest path between here and fitness, ask our expert instructors for direction.
Cloud 9 Spa
Cloud 9 Spa isn't just a spa, it's a shrine to relaxation.
SkyFitness
There's a gym on top of the cruise ship. (And that's a good thing.)
Entertainment
Hasbro, The Game Show
Your favorite board games come to life in this fun for all ages game show extravaganza.
Punchliner Comedy Club
Hope you packed your funny bone our onboard comedy performances are designed to tickle 'em just right.
Dive-In Movies
Settle in to a poolside lounge chair – or even the pool itself – as you take in a big-name movie under the stars.
Stage Shows
Grab a seat in our main stage area for a performance that may literally knock your socks (or flip-flops) off.
Clubs and Lounges
The Library Bar
This intimate lounge features not only state-of-the-art self-serve wine dispensers for a good drink, but a selection of board games for a good time… and even books on the walls for a good read.
Ovation Main Show Lounge
When the house lights are up, Carnival Breeze's Ovation Main Show Lounge – with its stunning decor – is a sight to behold. Once the lights go down, the room fades easily into the background while you enjoy the action onstage!
Sit back and enjoy musical and stage productions. Sit forward for interactive activities like bingo, trivia and other games. And sit on the edge of your seat while experiencing action-packed, feature-length 3D movies!
Limelight Aft Lounge
Get your fill of nighttime entertainment in our fun-packed lounge. From The Punchliner Comedy Club to Superstar Live Karaoke and live music, here's where it all happens.
Liquid Nightclub
A bumpin' nightclub on the high seas? Yep. At Liquid, you'll find next-level decor, a full bar, and even an outdoor space where you can enjoy a break, a drink or maybe just a sea breeze.
Carnival Breeze's Liquid Nightclub not only features plenty of room to move your hips, but talented DJs spinning the latest tunes to help keep them going.
Piano Bar 88
Piano Bar 88 is the swanky, jazzy bar setting designed for laid-back, fun times. Let's not forget the live music… and definitely don't forget the drinks!
When you find yourself at Carnival Breeze's laid-back Piano Bar 88, don't be surprised to also find yourself in the middle of a sing-along!
Facts
Gross Tonage: 130,000
Guest Capacity: 3690
Length in feet: 1004
Onboard Crew: 1386