Carnival Valor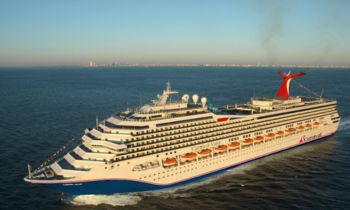 86
Starting Price, Per Night*
Carnival Valor Cruises
Your high seas hero Carnival Valor is here to rescue you from ordinary vacations and whisk you away to leisure, fun and amazing destinations.
On your way you'll find onboard food spots designed to regale your palate, like BlueIguana Cantina and Guy's Burger Joint plus the downright indulgent Scarlett's Steakhouse. Let yourself be swept away to RedFrog Pub or Alchemy Bar for a drink, or get a little carried away rooting for your favorites at SKYBOX Sports Bar.
Kids can get caught up in all the excitement of being kids, hanging with others their age at Carnival Valor's three supervised youth spaces. Or they can join the wacky, wonderful Dr. Seuss bunch for character story-time (and more!) at Seuss at Sea. And pretty much anyone, young or slightly-less-young, will be thrilled by our 214-foot long, four-deck-tall Twister waterslide.
There is a fun vacation waiting to happen to you, and it lives aboard Carnival Valor.
Check out our other Carnival cruises or look at some Carnival Spirit and Carnival Splendor cruises for local voyages.
Dining
Seaday Brunch
Forget what they say the most important meal of the day is brunch. Slumberers can sleep in and still enjoy breakfast favorites, while early-risers get a head-start on lunch. And Seaday Brunch brings everybodys favorite mid-morning meal to your Carnival cruise, and does it right. You will enjoy huevos rancheros, special french toast, loaded mac-n-cheese and yes, more ways to cook eggs than we even thought was possible. Chow down and fuel up you have got lots of exploring to do, across the ship, for the rest of the day.
Dining Room
"Hey, which side does the fork go on?" is a question you'll never have to ask at a dining room dinner aboard a Carnival cruise… we set the table for you. We also bring to the table a full three courses in an experience that's filling, but never stuffy – after all, you're just as likely to catch waiters table-dancing as you are to order dessert. Dessert's included (along with the rest of your meal, by the way) in your fare. But don't skip straight to dessert, because the main course is the main attraction – drop in daily and enjoy a rotating menu of delectable favorites like steak, roasted duck, scallops and prime rib.
Lido Restaurant
Featuring a nice variety of casual dining options like Mongolian Wok, Chef's Choice, Salad Bar, Carnival Deli and more, the Lido Restaurant has something – or more likely, at least a few somethings – to satisfy your craving. With plenty of indoor and outdoor seating, plus food options for everyone, you can enjoy your personal favorites in company of family and friends for lunch or dinner… or even breakfast! It's also where you can find our pizza, soft serve and frozen yogurt – all open 24 hours a day, which ought to be enough for anybody.
Steakhouse
Turn your special vacation in the direction of delicious – book a table for an unforgettably delectable evening at the Steakhouse. Our menu features mouthwatering premium cuts of beef cooked to your exact specifications, as well as a fantastic selection of seafood, entrees, gourmet appetizers and an extensive wine list. The atmosphere pairs remarkably well with – and perhaps even enhances – the culinary creations of our gourmet chefs.
Tip: Like any destination restaurant, reservations are highly recommended, and can be made online after booking your cruise. Your meal includes an appetizer, salad, entree, side and dessert.
*Fee applies
24 Hour Room Service
So you're in the mood for some good eats, but you would rather stay in your comfy, cozy stateroom? Really, who could blame you? Simply pick up the phone and order something from our tasty room service menu. And since you get hungry when you get hungry, room service is available any time of the day (or night) and delivered right to your door. Best of all and you may not believe this the food's even included in your fare.
Pizza Pirate
Tossing dough is an age-old art passed down the generations. Lucky for you, someone passed us the secret to the perfect pie. While aboard, this is the place that will shiver your timbers and warm you to the bone, 24 hours a day, with a Margherita, Funghi, Prosciutto, Pepperoni or Quatttro Formaggi pizza served with a delicious Caesar salad. Savvy? Then it is the pirates life for you!
Sweet Spot
There's nothing sweeter than a visit to Sweet Spot for our specially-made marble chocolate cheesecake, lemon cream pies, cherry crumble squares and more. There's always something for everyone, including healthier options like fresh fruit medleys. Save room for dessert – or skip the meal altogether – and make sure you satisfy your sweet tooth with this mix of desserts that really hit the spot.
The Chef's Table
Treat your taste buds to the experience of a lifetime, culminating in a sumptuous multicourse dinner hosted by one of our master chefs. Your VIP experience starts with cocktails and hors d oeuvres for a select group of 14, followed by a tour to see the galley in operation. The evening concludes with a mind-blowing full-service dinner of amazing appetizers, entrees and desserts not found on our regular dining menus.
Tip: Reserve early because this once-in-a-lifetime experience has limited seating. Reservations can be made at the ships Guest Services desk.
*Fee applies
Coffee Bar
Pause your vacation and treat yourself to a well-deserved break with a specialty coffee drink or freshly-brewed tea plus some delicious homemade pastries. Or, for an even sweeter option, stop by for a milkshake, slice of cake or cookie.
*Fee applies
Mongolian Wok
Chow down on some delicious Asian goodness. First, select your noodles and veggies. Then tell one our chef which sauce and meat you want in the wok. Will it be mussels and Szechuan? Beef and Thai barbecue? Chicken and black bean? Do not worry, the decision does not have to be final you can come back to Mongolian Wok and try all the combos your heart desires!
Swirls
Got room for dessert? Sure you do! Swirls ice cream lets you enjoy the sweeter side of brain freeze with a treat that'll have you smiling from ear to ear. Choose from chocolate, vanilla or strawberry… or make your own mix swirled as high as you can balance it. Open on Lido deck 24/7, our frozen yogurt and soft-serve ice cream is a great way to beat the heat all day, or the perfect nightcap after a long evening of fun.
Activities
Serenity Adult Only Retreat
Somebody at Carnival knows just what you need, and it's pretty much exactly the Serenity Adult-Only Retreat. Look, you'll still be on the same ship as the kids, the hoopla, and all the Carnival-style excitement… but you could easily forget, because when you're at Serenity you could not be further from it all. The world you'll find yourself in is one of complete peace, sea breezes, swaying hammocks and, of course, a nearby bar. It's the place to get done the kind of stuff you just can't seem to do anywhere else – reconnect with your partner, finish that book, or do absolutely, blissfully, nothing at all.
The Punchliner Comedy Club
Comedy clubs on land… well, it's kinda funny. Nobody likes paying cover charges, and you know that two-drink minimum? They've gotta be joking! You won't find either of these at The Punchliner Comedy Club aboard your Carnival cruise. Up on stage you will find some real pros who know how to wedge a little laughter into anyone's evening. You can count on these comedians to not hold back either. Since some of them get up and say exactly what's on their mind, we also schedule family-friendly performances… so the only red faces in the audience are from laughing a little too hard.
Twister Waterslide
Above the ship you'll find the shining sun, but that's not all – basking in its rays is a gleaming symbol of fun, a monument to merriment… a sign of splashy-good times to come. Spot the spiraling Twister Waterslide atop your Carnival ship and you can be sure that your vacation comes complete with twists, turns and squeals of thrilled delight. Countless gallons of water course through the entire length of this slide, so you're by no means dry when you start, but by the time you reach the end – hundreds of feet later – you reach new levels of soaking, splashing down in that classic waterslide photo-finish: hands-up, eyes wide and nothing but exhilaration on your face.
Spa Carnival
When it comes to complete relaxation from the inside out, nothing beats a trip to the spa. From the minute you step inside, the soothing ambiance begins to work its magic. Renew yourself with premium beauty and wellness therapies, like hot stone massages, aromatherapy or full-body wraps. This is your time to be spoiled, indulged and even beautified. Lie back, close your eyes, and feel the stress sail away as your body and mind experience total tranquility. (Oh yeah, and this feel-good stuff is not just for the ladies, dudes, there are plenty of treatments on our menu for you too.)
*Fee applies
Stage Shows
Our stage shows are designed to razzle and dazzle. Featuring talented singers, musicians and dancers performing crowd-thrilling numbers in extravagant costumes with awesome sets and scenery, it's like catching one of the best shows on land. All performances are created to ensure that every night feels like opening night. And best of all, since shows are included in your fare, it's like having top-dollar tickets to the hottest show in town, absolutely free.
Ship Image
Youth Programs
Your Camp Was Never Like This
Extra fun-ified for our 2-11 year olds, Camp Carnival has been designed with Carnival Valor's youngest cruisers in mind. So relax, and know that your kids are being supervised by an experienced team and having just as much fun as you are… maybe even more.
Their New Circle of Friends
One of the coolest spots on Carnival Valor is Circle "C" and it's just for kids 12-14… Video games, dance parties, late night movies, Karaoke and more. What could be funner?
Club O2
We know just what teenagers 15-17 like… Music, video games, food, new friends and BIG fun, Carnival Valor Club O2's got it; the perfect 'round-the-clock hangout full of the funnest things to do.
Other Highlights
Unleash Your Inner Ahhhhh
Pamper yourself with soothing treatments and massages, try a new hairstyle and color, and treat your husband to the ultimate shampoo and shave. Ahhhhh… Carnival Valor Spa Carnival.
Life is Suite!
Fall in love with your suite. It's packed with plush carpet and swanky decor. And sleep like a baby on your Carnival Valor Comfort Bed.
Clubs and Lounges
How 'Bout That Bronx Bar
The energy in this sports bar is set on high. Check out a game on TV and enjoy drinks and appetizers while you laugh it up with friends, old and new, in the Carnival Valor Bronx Bar.
Dance the Night Away
You'll love the music, moves and mood at the Carnival Valor One Small Step dance club. Shake it real good as you party with great people and groove to some of your favorite hits.
Relax, Laugh and Just Lounge
Meet, greet, chill and chat at the Carnival Valor Eagles Lounge. It's a cool place to have a drink, tell friends a joke, listen to live music and laugh till dawn.
Facts
Gross Tons: 110,000
Length (ft.): 953
Guest Capacity: 2980
Onboard Crew: 1,180