Carnival Magic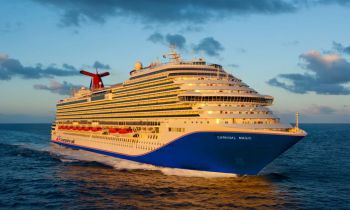 130
Starting Price, Per Night*
Carnival Magic Cruises
We knew exactly what we were doing when we named her Carnival Magic…and we are sure you will agree.
At 1,004 feet, this one continued the Dream class tradition of large-scale, bow-to-stern cruise ship fun including food-and-entertainment space Ocean Plaza, the splashy stylings of Carnival WaterWorks… and The Lanai, a convenient, scenic half-mile outdoor wraparound promenade deck. In other words, a cruise on Carnival Magic has no shortage of its namesake charm!
It's no surprise Carnival Magic debuted all-new ways to have a good time onboard, and continues to prove it with the outdoor fitness-and-fun of SportSquare, featuring the world's first ropes course at sea. This is also the ship that introduced the world to Cucina del Capitano, which serves up Italian favorites fit for a captain. And who can forget their first taste of RedFrog Pub, with its laid back, not-a-worry-to-be-found atmosphere… not to mention its exclusive, tasty, not-a-drop-to-be-found (on land, that is) beer, ThirstyFrog Red. Keeping with the times, Carnival Magic now even features fleet highlights Guy's Burger Joint, BlueIguana Cantina, Alchemy Bar and RedFrog Rum Bar… plus the first-of-its kind Guy's Pig & Anchor Bar-B-Que Smokehouse.
Carnival Magic has a history of starting good things… and even more importantly, the desire to share them with guests.
Want more options? Check out our Carnival cruises.
Activities and Entertainment
Serenity Adult Only Retreat
Somebody at Carnival knows just what you need, and it's pretty much exactly the Serenity Adult-Only Retreat. Look, you'll still be on the same ship as the kids, the hoopla, and all the Carnival-style excitement… but you could easily forget, because when you're at Serenity you could not be further from it all. The world you'll find yourself in is one of complete peace, sea breezes, swaying hammocks and, of course, a nearby bar. It's the place to get done the kind of stuff you just can't seem to do anywhere else – reconnect with your partner, finish that book, or do absolutely, blissfully, nothing at all.
The Punchliner Comedy Club
Comedy clubs on land… well, it's kinda funny. Nobody likes paying cover charges, and you know that two-drink minimum? They've gotta be joking! You won't find either of these at The Punchliner Comedy Club aboard your Carnival cruise. Up on stage you will find some real pros who know how to wedge a little laughter into anyone's evening. You can count on these comedians to not hold back either. Since some of them get up and say exactly what's on their mind, we also schedule family-friendly performances… so the only red faces in the audience are from laughing a little too hard.
Cloud 9 Spa
Sometimes you just need to get away… from all that vacation. We know – sitting at home, it's hard to imagine that, but trust us – it's really, really nice to have a place to unwind from the day's excitement. Escape to a world designed, from the ground up, for relaxation. Cloud 9 Spa staff are masters (or, maybe more like artists) trained in the craft of simply helping you chill. What's their secret? Massages, facials, body wraps, thermal suites and more – plus, on certain ships, the amazing Thalassotherapy Pool – these are the tools of the trade. And the trade is ultimate relaxation.
WaterWorks
Wanna splish – and splash – the day away? Head on over to WaterWorks, Carnival's onboard waterpark. First up, there's the Twister Waterslide, hundreds of feet of spiraling awesomeness that starts you off high in the air and gets you down low with one of the fastest, wettest rides you'll find anywhere. Select ships have side-by-side racing slides, which make serious competition seriously fun. Wear your speed suit for Speedway Splash, which features hundreds of feet of racing action, plus special lighting effects you'll experience on the road to victory. DrainPipe ends with one major swirl of a finish, while PowerDrencher takes soaking seriously – imagine the biggest bucket of water you've ever seen, raining down on you from above. And this isn't just kids' stuff – the young at heart are encouraged to zoom and splash around too! (WaterWorks configurations vary by ship.)
Camp Ocean
When families cruise Carnival, even the smallest fish in the pond have a big, awesome time. Okay, so it's actually way more than just a pond – it's Camp Ocean. At Camp Ocean, 2 -11 year-olds stay busy, keep active and have fun as they enjoy all new ocean-themed activities and entertainment made for kids. We put campers into supervised, age-based groups and give each a cool marine-life label that's sure to raise the sails on camaraderie at sea. The littlest little ones – ages 2 to 5 -join the Penguin colony and engage in activities like Musical Icebergs and Ocean Bingo… even learning a thing or two about buoyancy! The little-biggers, 6 to 8, are the way-cool Stingrays, who might be found enjoying Pirate Game Night, making sea salt art or even designing their own aquarium. The big fish are the Sharks – ages 9 to 11 – who really sink their teeth into playing Marine Life Trivia, creating a giant ocean mural, and scoring big with games and sports competitions. Our counselors, each with education or childcare experience, are there to make sure everyone in these small groups has an amazing time.
Ocean Plaza
Ocean Plaza's where it all comes together – and all in all, it's all kinds of delicious. Enjoy live music, coffee and snacks, dancing… and best of all the outdoors are right next door, so expect extra helpings of sunshine and sea breezes, simply ripe for the sitting and savoring. Oh, and when nature's all done sunning for the day, Ocean Plaza transforms into a spot that's seriously stunning for the night. Get your nightlife – not to mention your daylife – done at Ocean Plaza.
Clubs and Lounges
Showtime Theatre
Enjoy an elegant, spectacular night at the theatre.
Vibe Dance Club
The party is in full swing at this dance club.
Play It Again Piano Bar
Sing along to your favorite tunes, where perfect pitch is optional.
Spotlight Lounge
Comedy, karaoke, live music and art auctions come together in this entertaining area.
Escape Bar
Slip off to this cozy lounge for a nightcap and some quiet conversation.
Youth Programs
Youth Programs
Kids can be a whirlwind of excitement and energy, and on a ship this cool, who can blame them? Our youth program staff is trained to help younger cruisers harness their enthusiasm for all things fun, giving the little ones – and the slightly less-little ones – a chance to meet future friends while having an age-appropriate, supervised blast in Carnival Magics multiple youth spaces. Activities, special teen-only shore excursions, movie nights and more round out the experience that they won't soon forget.
Camp Carnival
Big smiles on little faces say it all: tons of FUN just for kids ages 2-11.
Circle C
A place where teens ages 12-14 can chill, chat and connect with others their age.
Club O2
A hot spot for cool teens aged 15-17.
The Warehouse Video Arcade
Your kids will never want to leave this spot until you beat their high score.
Dining
Seaday Brunch
Forget what they say the most important meal of the day is brunch. Slumberers can sleep in and still enjoy breakfast favorites, while early-risers get a head-start on lunch. And Seaday Brunch brings everybodys favorite mid-morning meal to your Carnival cruise, and does it right. You will enjoy huevos rancheros, special french toast, loaded mac-n-cheese and yes, more ways to cook eggs than we even thought was possible. Chow down and fuel up you have got lots of exploring to do, across the ship, for the rest of the day.
Dining Room
Hey, which side does the fork go on? is a question you will never have to ask at a dining room dinner aboard a Carnival cruise we set the table for you. We also bring to the table a full three courses in an experience that is filling, but never stuffy you are just as likely to catch waiters table-dancing as you are to order to dessert. Desserts included along with the rest of your meal, by the way in your fare. But do not skip straight to dessert, because the main course is the main attraction; drop in daily and enjoy a rotating menu of delectable favorites, including steak, lobster and prime rib.
Lido Restaurant
Featuring a nice variety of casual dining options like Mongolian Wok, Chef's Choice, Salad Bar, Carnival Deli and more, the Lido Restaurant has something or more likely, at least a few something to satisfy your craving. With plenty of indoor and outdoor seating and food options for everyone, you can enjoy your personal favorites while dining in the company of family and friends. It is also where you can find our pizza station and ice cream and frozen yogurt both open 24 hours a day, which ought to be enough for anybody.
Steakhouse
Turn your special vacation in the direction of delicious – book a table for an unforgettably delectable evening at the Steakhouse. Our menu features mouthwatering premium cuts of beef cooked to your exact specifications, as well as a fantastic selection of seafood, entrees, gourmet appetizers and an extensive wine list. The atmosphere pairs remarkably well with – and perhaps even enhances – the culinary creations of our gourmet chefs.
Tip: Like any destination restaurant, reservations for Steakhouse are highly recommended. Your meal includes an appetizer, salad, entree, side and dessert.
*Fee applies
The Chef's Table
Treat your taste buds to the experience of a lifetime, culminating in a sumptuous multicourse dinner hosted by one of our master chefs. Your VIP experience starts with cocktails and hors d oeuvres for a select group of 14, followed by a tour to see the galley in operation. The evening concludes with a mind-blowing full-service dinner of amazing appetizers, entrees and desserts not found on our regular dining menus.
Tip: Reserve early because this once-in-a-lifetime experience has limited seating. Reservations can be made at the ships Guest Services desk.
*Fee applies
</>Mongolian Wok
Chow down on some delicious Asian goodness. First, select your noodles and veggies. Then tell one our chef which sauce and meat you want in the wok. Will it be mussels and Szechuan? Beef and Thai barbecue? Chicken and black bean? Do not worry, the decision does not have to be final you can come back to Mongolian Wok and try all the combos your heart desires!
Pizzeria del Capitano
On Carnival ships, the captain tends to be kind of a big deal – almost a celebrity. On a few select ships, they've even got their own pizza kitchen. The best part? Pizzeria del Capitano is open to everyone, 24 hours a day! And since our captains tend to be Italian, you know the quality of the ingredients truly pass muster. (Sorry, nautical pun.) Hand-tossed dough, made from imported Italian flour, plus fresh mozzarella form a solid base, and a choice of toppings put the finishing touches on this piping hot, fresh-from-the-oven mealtime – or anytime – classic. (Also, try our caesar salad – buono, capisce?)
Cucina del Capitano
Say arrivederci to ordinary and ciao to an exciting dining experience at the restaurant that pays homage to our unique heritage. Italian-American dishes inspired by the recipes from our Italian captains and officers childhoods are served up family-style in a comfy, eclectic environment decorated like an Italian country home. Vintage images of our captains and ships adorn the walls, and there is even a Captains table where you just might see the man himself dine.
*Fee applies
SeaDogs
So you've just hit the mini-golf links and find yourself with a champion-sized hunger. For a snack that goes the distance in satisfying, don't look far… look to SeaDogs! Grab an all-beef hot dog – free with your favorite toppings – right at SportSquare, ready to put a dent in your hunger.
Swirls
Got room for dessert? Sure you do! Swirls ice cream lets you enjoy the sweeter side of brain freeze with a treat that'll have you smiling from ear to ear. Choose from chocolate, vanilla or strawberry… or make your own mix swirled as high as you can balance it. Open on Lido deck 24/7, our frozen yogurt and soft-serve ice cream is a great way to beat the heat all day, or the perfect nightcap after a long evening of fun.
Spa and Fitness
Cloud 9 Spa
What an awesome place to unwind, the Thermal Suites of Cloud 9 Spa.
SportSquare
Unleash your inner champion with a jogging track, volleyball, basketball, mini golf course and more.
Facts
Gross Tonnage: 130,000 tons
Length: 1,004 feet
Guest Capacity: 3,690
Onboard Crew: 1,367