Carnival Paradise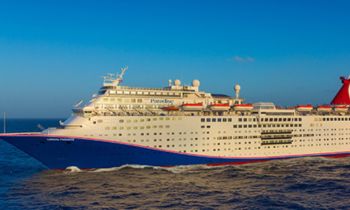 129
Starting Price, Per Night*
Carnival Paradise Cruises
We broke the mold after we made this one. The final Fantasy class cruise ship ever created, Carnival Paradise is proof that there's plenty of fun to be found long before you reach your dream destination.
This ship is classic Carnival – fun packed from bow to stern, featuring spaces that amaze, amuse and entertain. Fun indoors, outdoors and everywhere in between, Carnival Paradise features great times in and near the water courtesy of hot tubs, pools and a Twister Waterslide. (Because why not take the waterpark experience to sea?) There's even bite-sized, yet big-on-flavor, dishes compliments of The Taste Bar. And for those who appreciate a good story, there's Seuss at Sea. We know you'll love the interactive storytime and a parade – both featuring Dr. Seuss characters you know and love.
Spend a vacation aboard Carnival Paradise, and you'll find a little slice of cruise ship paradise at sea.
Want more options? Check out our Carnival cruises.
Activities
Serenity Adult Only Retreat
Somebody at Carnival knows just what you need, and it is pretty much exactly the Serenity Adult-Only Retreat. Look, you will still be on the same ship as the kids, the hoopla, and all the Carnival-style excitement but you could easily forget, because when you are at Serenity you could not be further from it all. The world you will find yourself in is one of complete peace, sea breezes, swaying hammocks and, of course, a nearby bar. It is the place to get done the kind of stuff you just cannot seem to do anywhere else reconnect with your partner, finish that book, or do absolutely, blissfully, nothing at all.
Twister Waterslide
Above the ship you will find the shining sun, but that is not all basking in its rays is a gleaming symbol of fun, a monument to merriment a sign of splashy-good times to come. Spot the spiraling Twister Waterslide atop your Carnival ship and you can be sure that your vacation comes complete with twists, turns and squeals of thrilled delight. Countless gallons of water course through the entire length of this slide, so you are by no means dry when you start, but by the time you reach the end hundreds of feet later you reach new levels of soaking, splashing down in that classic waterslide photo-finish: hands-up, eyes wide and nothing but exhilaration on your face.
Spa Carnival
When it comes to complete relaxation from the inside out, nothing beats a trip to the spa. From the minute you step inside, the soothing ambiance begins to work its magic. Renew yourself with premium beauty and wellness therapies, like hot stone massages, aromatherapy or full-body wraps. This is your time to be spoiled, indulged and even beautified. Lie back, close your eyes, and feel the stress sail away as your body and mind experience total tranquility. (Oh yeah, and this feel-good stuff is not just for the ladies, dudes, there are plenty of treatments on our menu for you too.)
*Fee applies
Stage Shows
Our stage shows are designed to razzle and dazzle. Featuring talented singers, musicians and dancers performing crowd-thrilling numbers in extravagant costumes with awesome sets and scenery, it is like catching one of the best shows on land. All performances are created to ensure that every night feels like opening night. And best of all, since shows are included in your fare, it is like having top-dollar tickets to the hottest show in town, absolutely free.
Piano Bar
Play it again, Sam. Or Diana. Or whatever your name is. Because this is the bar where you call the shots and the songs. Pull up a seat, order your favorite cocktail, and let your friendly piano player know the songs you'd like to hear. Then join the sing-along for a hand-clapping, foot-tapping, finger-snapping good time. Don't feel like flexing your vocal cords? No worries. Shy songbirds are welcome here, too. And since it's open from early evening to late at night, it's the perfect spot for a before-dinner drink or singing 'til the wee hours of the evening.
*Regular bar prices apply
Ship Highlights
Twist & Shout
Slide and glide on the Carnival Paradise fun-ified Twister Waterslide. It's three decks high of twisting and turning water mania – Perfect for splishin', splashin' and playin' at any age.
Serenity Adult-Only Retreat!
Chill out in this Carnival Paradise kid-free oasis that's the hub of relaxation. Take in the ocean view, hop into one of two hot tubs, or just kick back under the shade of a big umbrella.
Circle "C"
One of the coolest spots on Carnival Paradise is Circle "C" and it's just for kids 12-14… video games, dance parties, late night movies, Karaoke and more. What could be funner?
Club O2
We know just what teenagers 15-17 like… Music, video games, food, new friends and BIG fun, Club O2's got it; the perfect 'round-the-clock hangout full of the funnest things to do aboard Carnival Paradise.
Keep Connected
Send friends and family a quick email from the Carnival Paradise Internet cafe and don't forget to include a picture. They'll be so jealous.
A Little Lido for a Lotta Food
Got a craving… we've got the cure. Eat whatever you like, whenever you like at the Paris Restaurant on the Carnival Paradise Lido deck. Hamburgers, hot dogs, pizza, salads, chicken, fish, broccoli, rice, potatoes, ice cream, cake, pie, cookies… Do we need to go on?
Lounging Around
Meet, greet, chill and chat at the Carnival Paradise Leonardo Lounge. It's a cool place to have a drink, tell friends a joke, listen to live music and laugh till dawn.
Show & Tell
Seen any great performances lately? Well you will in the Normandie, the Carnival Paradise main show lounge. It features a revolving turntable, orchestra pit and a recessed speaker system. Come, see, and rave all about it.
Take a Gamble
Feeling lucky? Sure you are. Try your hand at poker, blackjack, roulette, craps and more — Just a sampling of the games the Carnival Paradise Majestic Casino has in store. It's your turn… show 'um what you got.
Putterific Mini Golf!
Foooooore! Have a swinging good time on the Carnival Paradise Sun deck's new 9-hole mini-golf course. The greens are meticulously maintained and the view is great. Just remember your follow through and no mulligans allowed.
Sushi Time
We've got your fish fix right here ready and waiting. Stop by the Carnival Paradise Sushi Bar on the Promenade deck and choose from a variety of fish so fresh, we couldn't bare to cook it.
In All Its Grandeur
The Carnival Paradise Grand Atrium Plaza and Bar is just that – Grand. Mix and mingle with friends, old and new, in this breathtaking space that's the hub of all things fun and fantastic on the Carnival Paradise.
All Kinds of Shopping on this Ship
From fine jewelry to memory-making mementos, that's what you'll find at the Carnival Paradise Gift Shops located on the Atlantic deck. Find the perfect "Fun Ship" gifts for friends, family or even yourself.
What's Up Playa?
If you love to play video games we've got just the spot for you – no matter your age. Enjoy the Carnival Paradise video arcade which is equipped with the latest high tech video and arcade games.
Spa Carnival
It's all in the technique… the relaxation technique. Feel the stress sail away as you pamper yourself with soothing treatments and massages for your body and soul at Carnival Paradise Spa Carnival… Ahhhhh.
Dining
Seaday Brunch
Forget what "they" say – the most important meal of the day is brunch. Slumberers can sleep in and still enjoy breakfast favorites, while early-risers get a head-start on lunch. And Seaday Brunch brings everybody's favorite mid-morning meal to your Carnival cruise, and does it right. You'll enjoy huevos rancheros, special french toast, loaded mac-n-cheese… and yes, more ways to cook eggs than we even thought was possible. Chow down and fuel up – you've got lots of exploring to do, across the ship, for the rest of the day.
Dining Room
"Hey, which side does the fork go on?" is a question you'll never have to ask at a dining room dinner aboard a Carnival cruise… we set the table for you. We also bring to the table a full three courses in an experience that's filling, but never stuffy – after all, you're just as likely to catch waiters table-dancing as you are to order dessert. Dessert's included (along with the rest of your meal, by the way) in your fare. But don't skip straight to dessert, because the main course is the main attraction – drop in daily and enjoy a rotating menu of delectable favorites like steak, roasted duck, scallops and prime rib.
Tip: When you book, choose Early Dining or Late Dining for reserved seating nightly, or go with Your Time Dining to chow whenever the clock strikes "hungry."
Lido Restaurant
Featuring a nice variety of casual dining options like Mongolian Wok, Chef's Choice, Salad Bar, Carnival Deli and more, the Lido Restaurant has something – or more likely, at least a few somethings – to satisfy your craving. With plenty of indoor and outdoor seating and food options for everyone, you can enjoy your personal favorites while dining in the company of family and friends. It's also where you can find our pizza station and soft serve and frozen yogurt… both open 24 hours a day, which ought to be enough for anybody.
Bottomless Bubbles
Enjoy ice-cold refreshments during meals, during shows, during, well… anytime you want with Bottomless Bubbles. This unlimited soda program lets you indulge in all-you-can-drink soda and juice for the full length of your cruise. Sweet! Bottomless Bubbles is available for purchase at the Lobby, Casino and Pool Bars.
The Chef's Table
Treat your taste buds to the experience of a lifetime, culminating in a sumptuous multicourse dinner hosted by one of our master chefs. Your VIP experience starts with cocktails and hors d oeuvres for a select group of 14, followed by a tour to see the galley in operation. The evening concludes with a mind-blowing full-service dinner of amazing appetizers, entrees and desserts not found on our regular dining menus.
Tip: Reserve early because this once-in-a-lifetime experience has limited seating. Reservations can be made at the ship's Guest Services desk.
*Fee applies
Coffee Bar
Pause your vacation and treat yourself to a well-deserved break with a specialty coffee drink or freshly-brewed tea plus some delicious homemade pastries. Or, for an even sweeter option, stop by for a milkshake, slice of cake or cookie.
*Fee applies
Swirls
Got room for dessert? Sure you do! Swirls ice cream lets you enjoy the sweeter side of brain freeze with a treat that'll have you smiling from ear to ear. Choose from chocolate, vanilla or strawberry… or make your own mix swirled as high as you can balance it. Open on Lido deck 24/7, our frozen yogurt and soft-serve ice cream is a great way to beat the heat all day, or the perfect nightcap after a long evening of fun.
Facts
Onboard Crew: 920
Gross Tons: 70,367
Length (ft.): 855
Guest Capacity: 2,052