Carnival Sunshine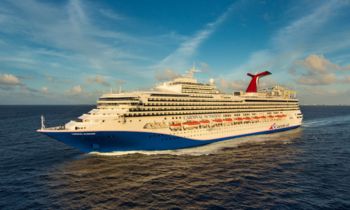 157
Starting Price, Per Night*
Carnival Sunshine Cruises
Everything the sunlight touches on Carnival Sunshine has been doused with an extra dose of fun. There's plenty to find atop this ship, where you can spend your days being kissed by the warm rays of the sun. Visit the biggest Serenity area ever, featuring three decks, plenty of recliners… and even a waterfall. Carnival WaterWorks, our onboard waterpark, doesn't just deliver the favorites… this one debuted the slick Speedway Splash slide. There's also SportSquare, where you can let your inner champion run free (around the jogging track), traverse SkyCourse high up above, or even engage in a little one-on-one, from ping pong to foosball to giant chess.
When you're on your Carnival Sunshine cruise, step out of the sun and try out some shade (and it's some pretty cool shade, at that). The first thing you'll see is the Sunshine Atrium… and let's just say first impressions count. From there, check out dining options – this ship has everything under the Carnival sun – like Guy's Burger Joint, BlueIguana Cantina, Fahrenheit 555 Steakhouse and JiJi Asian Kitchen. Some of the greatest Carnival bars are here: RedFrog Pub, BlueIguana Tequila Bar, SKYBOX Sports Bar and Alchemy Bar… plus the already-classic Havana Bar! You'll enjoy musical revues from Playlist Productions, while Hasbro, The Game Show gets cruisers like you up on stage, competing in larger-than-life family favorites come to life.
When you find yourself between the Carnival Sunshine and some actual sunshine, fun at sea is guaranteed.
View more options for Carnival cruises.
Bars & Clubs
Havana Bar
A spot that's intriguing by night and friendly anytime, step into the Havana Bar and be transported to an antebellum Cuba preserved today in old postcards, vintage literature…and classic delicacies. Take in great ocean views as you taste something authentically Cuban: cafe Cubano (that's Cuban coffee!), handcrafted cocktails of Cuban origin (think daiquiris, mojitos and more), or mouth-wateringly fresh – and wallet-wateringly free – Cuban pastries. And this spot definitely doesn't cool down when the sun goes down, with music and dancing keeping things hot well into the night.
DJ IRIE
Nobody can get the party started like a great DJ, right? That's why we've brought DJ IRIE into the mix (pun intended) to make the nightlife on board Carnival hotter than ever. He'll be heading up "DJ IRIE's Spin'iversity," a program designed to train our DJs to keep their spinning skills sharp and their personalities party-ready. Oh, and as for music, graduates will be spinning expanded musical catalogs in clubs across the fleet for maximum guest body-rocking.
Alchemy Bar
You don't need to be a mix master to appreciate Alchemy – you just have to be up for trying something new. We've been mixing up some magic behind the scenes here at Carnival to produce a tasty series of all-new cocktails served at this unique vintage-themed cocktail "pharmacy." Let our mixologists prescribe you something from the bar, with both nonalcoholic and alcoholic elixirs to remedy what ails you. Or, create your own custom concoction from a variety of unique ingredients.
BlueIguana Tequila Bar
BlueIguana Tequila Bar is the onboard spot to chill and enjoy a slushy tequila drink or an ice-cold Mexican cerveza. The menu offers up Mexican favorites, including several brands of tequila and a slew of Mexican brews. There's a line up of frozen concoctions, cocktails and margaritas served by the glass or pitcher and even a special Mexican beer cocktail (yes, really). Where can you find this little slice of Mexican paradise? Next to the pool, of course. So stay cool and take in the bar's vacation vibe while you kick back on your cruise – thats what the official bar mascot Blue the Iguana would tell you.
EA SPORTS Bar
If you're into sports, get yourself into the first-ever EA SPORTS Bar, the perfect place to catch a game and play a few, too. Grab a drink, order some snacks, watch your favorite games live on big flat-screen TVs, and keep up with real-time scores from across the sports world. And if you're feeling that competitive spirit, you can really get right into the game with the latest video game titles from EA SPORTS. It's free to play, so find a friend or three and get ready for action.
The Library Bar
For a relaxing time, check out The Library Bar, where great literature doesn't stop at the wine list. This intimate cocktail lounge features state-of-the-art self-serve wine dispensers, plus bartenders who can make a fine drink. So swing by, pour yourself a bit of vino (or have our bartenders fix your favorite drink) and unwind with quiet conversation, a board game, or just by plucking a new book off the shelves for a good read.
RedFrog Pub
Get into an island state of mind before you even set foot on one. RedFrog Pub is our laid-back, no-worries, oh-so-lively Key West-inspired pub. Sample Caribbean fare, dominate at the foosball table, enjoy some sweet tunes from live musicians and sip our tasty signature private-label brew, ThirstyFrog Red. So kick back and feel the island vibe come to life. You'll be a local here before you know it.
RedFrog Rum Bar
uests have told us we hit on something special with the cool Caribbean chill of the RedFrog Pub. Now we're introducing the RedFrog Rum Bar, where the frog keeps the fun hopping day and night with all that island flava you know and love. Join the party at this poolside bar featuring a great selection of "frog approved" Caribbean rum-based concoctions available by the glass or pitcher and plenty of Carnival's signature private-label draft beer, ThirstyFrog Red.
Dining
JavaBlue Cafe
Maybe you take your coffee straight-up, or perhaps you prefer your pick-me-up with an upgrade. From the simply caffeinated to the simply sublime, nothing satisfies your coffee craving like JavaBlue Cafe, featuring fun twists on the hot and cold drinks you enjoy. While the coffee is the main event here, there's more to JavaBlue – enjoy the baked treats we like to call "comfort snacks"… which you'll call "delicious!"
Pizzeria del Capitano
On Carnival ships, the captain tends to be kind of a big deal – almost a celebrity. On a few select ships, they-ve even got their own pizza kitchen. The best part? Pizzeria del Capitano is open to everyone, 24 hours a day! And since our captains tend to be Italian, you know the quality of the ingredients truly pass muster. (Sorry, nautical pun.) Hand-tossed dough, made from imported Italian flour, plus fresh mozzarella form a solid base, and a choice of toppings put the finishing touches on this piping hot, fresh-from-the-oven mealtime – or anytime – classic. (Also, try our caesar salad – buono, capisce?)
Shake Spot
Need a break from all the fun and sun? Grab something downright refreshing at Shake Spot, where we offer more than just your average shake. Of course, we've got you covered if you're looking for a classic, but since you're cruising, why not go for something tropical or for the adults, maybe even spiked? With a variety of tempting, handcrafted shakes and indulgent floats, Shake Spot is your cool spot for something sweet.
*Fee applies
BlueIguana Cantina
Nobody knows Mexican dining like a blue iguana. Well, our blue iguana, at least. That's why it should come as no surprise that the BlueIguana Cantina features freshly made tacos and burritos stuffed specially for your enjoyment. Throw our homemade tortillas and salsa into the mix, and you have a casual dining experience that will make you say "mmmm" (which is actually Iguanese for "more, please").
Cucina Del Capitano
Say arrivederci to ordinary and ciao to an exciting dining experience at the restaurant that pays homage to our unique heritage. Italian-American dishes inspired by the recipes from our Italian captains and officers childhoods are served up family-style in a comfy, eclectic environment decorated like an Italian country home. Vintage images of our captains and ships adorn the walls, and there is even a Captains table where you just might see the man himself dine.
Guy's Burger Joint
We went looking for someone to help us grill up the best burgers at sea, and we found just the guy. Carnival has teamed up with best-selling author, restaurateur and Food Network personality Guy Fieri to bring all the authentic appeal of a roadside burger shack to Guy's Burger Joint, the cool poolside spot for hot burgers and hand-cut fries. Try a fresh-off-the-grill burger Guy's way, or take it off-road to our toppings bar and truly make it your own.
Bonsai Sushi
So maybe you've had sushi on a cruise before, but you've never had it like Bonsai Sushi, our onboard seafood-and-soy-sauce spot. Dine amidst expertly-pruned bonsai trees while enjoying sit-down service and an affordable menu of delectable sushi and sashimi… plus rolls, soups, sides, sakes and desserts. So the next time you're taking an onboard stroll, stop at Bonsai Sushi for a little something satisfying.
*Fee applies
The Captain's Pasta Bar
A few things make a successful pasta dish: fresh ingredients, the right blend of spices and sauces… and of course, al dente preparation. The care and know-how of an experienced pasta pro takes it to the next level – and you'll find them at The Captain's Pasta Bar. Start with the pasta you're in the mood for – linguine, farfalle, penne anyone? – then select your choice of sauce and meat, and they'll cook it up in the same Italian culinary tradition we bring to the table nightly at Cucina del Capitano. While you're lunching, take in the dining room's rustic Italian country home design… there's nothing like atmosphere to bring out the flavor in a dish.
Activities
Cherry on Top
A cruise is the perfect time to treat yourself to something sweet, and Cherry On Top happens to be the perfect place. You'll find this well-stocked candy-and-more-store not only great for enjoying some of your confectionery favorites, but the place to pick up food and apparel gifts for that special someone, even if – admit it – that someone happens to be you!
*Fee applies
Hasbro, The Game Show
You've played Connect 4 and Yahtzee, but have you ever played giant versions of them onstage in a competition that puts your gaming skills to the test? You'll have your chance when you take part in Hasbro, The Game Show. From SORRY! SLIDERS to YAHTZEE BOWLING, CONNECT 4 BASKETBALL, OPERATION SAM DUNK and SIMON FLASH, you can team up with your friends and family to win great prizes, all in front of a live audience. Be sure to check your FunTimes for show times so you don't miss out on the action… or the prizes.
Playlist Productions
When was the last time you got up and danced… at the theater? Playlist Productions takes tunes you know and presents them like you've never experienced before – past favorites become full-blown musical productions featuring singers and dancers bringing down the house. Enjoy the spicy sounds of Latin Nights, or the larger-than-life favorites (and personalities) of Divas. Don't forget Motor City – which will have you dancing in your seat – or even The Brits!, a swingin' revue of your across-the-pond favourites. Enter the center of groove with the passionate Heart of Soul. Rounding out the lineup is the anything-but-square Getaway Island, the arena-shaking sounds of Epic Rock, the piano-pounding 88 Keys, the totally bad-meaning-good 80s Pop to the Max, plus the funky, sophisticated… and not at all exclusive Studio VIP, where everyone's welcome to come and get down!
Dive-In Movies
Ready to see stars? Park yourself in front of the big screen – the really big screen – and settle in for a night at the cinema… under some real stars. From the comfort of your poolside lounge chair, or even the pool itself, you'll enjoy the most recent blockbuster movies from categories like Comedy, Action & Adventure and Date Night. And don't think that being in the middle of the sea means going without the usual comforts. There's not only popcorn – who could forget that? – but blankets! So lounge around, snuggle up and try to remember the last time you truly enjoyed a night at the movies.
Facts
Gross Tonnage: 102,853
Onboard Crew: 1040
Length (ft.): 892
Guest Capacity: 3,002