Pacific Encounter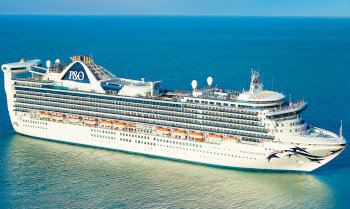 94
Starting Price, Per Night*
Sail the seas with a P&O Pacific Encounter cruise!
Leap into adventure through an unbelievable P&O Pacific Encounter cruise, dedicated to sailing curious Australian voyagers to jaw-dropping locales throughout the region. Like all P&O Australia ships, Pacific Encounter accommodates every kind of adventurer. From the thrilling heights you can reach at the P&O Edge Adventure Park, the exclusive and private Byron Beach Club, to the delectable cuisine at classic P&O dining venues such as Angelo's, Pacific Explorer caters for every member of your family or group. Pack your bags and make your next cruise on the majestic Pacific Explorer today!
Pacific Encounter will be embarking from the bustling city of Brisbane on wonderful Australia cruises touring the awe-inspiring coastline and visiting gorgeous places such Airlie Beach and Cairns. Moreover, Pacific Encounter will also boast breathtaking South Pacific cruises making stops at tropical paradises including Noumea, Lifou, and Espiritu Santo. Start planning your next dream holiday today and organise your next P&O cruise with us at Cruise Guru!
View all P&O Pacific Encounter voyages on the cruises tab, or alternatively click here for all P&O Cruises and to learn more about P&O cruises ships.
Where will Pacific Encounter sail to?
With its homeport for Brisbane in the foreseeable future, Pacific Encounter plans to sail to the following destinations:
Australia
New Zealand
South Pacific
Essentially, if you're looking for the best close-to-home cruises, Pacific Encounter needs to be your number one choice, especially if you live in Brisbane or Queensland.
Some top ports of call you might expect while on a Pacific Encounter cruise may include:
Airlie Beach
Auckland
Cairns
Melbourne
Mystery Island, Vanuatu
Noumea
Tauranga
Wellington
Accommodation on P&O Pacific Encounter
P&O have a sublime range of Pacific Encounter cabins available for groups and families alike to book themselves into. Rooms are split into two key lodging types: staterooms and suites, which each of these further broken into different styles that offer different amenities and thoughtful features. The Inside stateroom is essential for the adventurous travellers who love to spend the majority of their time exploring Pacific Encounter or discovering their chosen destination through a shore tour. The Oceanview stateroom features an expansive window that affords guests a great view of the sea without needing to leave your comfortable room. For those who desire a private veranda to kick up their feet and escape the bustle of the P&O ship, the Balcony staterooms are simply the best choice available.
Pacific Encounter suites enhance the experience on any P&O journey, bringing in an abundance of space and additional complimentary services such as priority embarkation, a fresh fruit basket to enjoy, and a soft set of bathrobes and slippers to wear as you prepare or wind down for the day. The Mini-Suite is perfect for budget-minded families or travellers who want to have all the luxuries and benefits of the suite at an affordable price. The Suite boasts even further space, terrific for voyagers' desire a space to entertain guests. The Penthouse Suite is the executive level of elegance on any P&O Pacific Encounter cruise, designed with the most space available on any cabin in addition to outstanding complimentary services including optional breakfast and afternoon teas served in suite as well as priority spa, dinner, and shore tour reservations.
Dining
Every explorer on a Pacific Encounter cruise will be delighted by the amazing range of dining venues afforded to them throughout the ship. With restaurants that specialise in a variety of tantalising cuisine from across the globe, every passenger and kind of taste palate is more than accounted for. With a large number of dining options included as part of the passenger fare, embark on your next voyage on Pacific Encounter worry-free with the knowledge that every meal is sorted!
Angelo's
Have a craving for some delightful Italian delicacies? Head straight over to Angelo's! A favourite for many guests across all P&O cruise ships, Angelo's serves up classic dishes with a tantalising modern twist. Included as part of your passenger fare, Angelo's is a splendid venue to spend an evening with your family or newfound cruise friends. Book a table at the fantastic Angelo's and indulge on some of the finest dishes available on Pacific Encounter.
Dragon Lady
Travellers yearning for some Asian style cuisine can head over to Dragon Lady, a fantastic Asian fusion dining venue boasting a menu with dishes from across the continent. Whether you want some Chinese rose dumplings, Marsala, or grilled snapper, guests have a plethora of dishes to choose from. Dark-lit with a contemporary design, Dragon Lady creates a deeply intimate atmosphere excellent for a romantic date with a loved one. Book into a remarkable evening at the magnificent Dragon Lady.
Other dining options:
Luke Mangan Restaurant
400 Gradi
Waterfront
The Pantry
Onboard activities & things to do
Although the destination is the ultimate highlight for any holiday, it is often the little moments on the way that can elevate a trip into an unforgettable adventure. P&O Australia know this and have carefully crafted a cruise experience on Pacific Encounter that can assist in creating lifelong memories for you and your family to cherish for years to come. Scroll down below to discover a comprehensive list of exciting Pacific Encounter entertainment options, onboard activities and things to do on every voyage.
Byron Beach Club
Showcasing the deep Australian roots P&O cruises have, Pacific Encounter features the exclusive-access Byron Beach Club. This relaxing retreat offers whirlpool spas, spacious seating areas, and a private outdoor pool for guests who have booked into a Pacific Encounter suite and some mini-suites. Located in a quiet area on the top deck of the ship, the Byron Beach Club is a great place to unwind as you sail away to your destination. If available for you, be sure to head over to the Byron Beach Club on your Pacific Encounter cruise!
P&O Edge Adventure Park
Bursting with excitement and jam-packed with exhilarating rides and activities, the P&O Edge Adventure Park is a must for any adrenaline junkie on a Pacific Encounter holiday. Fitted with fun-filled activities such as a death-defying flying fox, an exhilarating rock climbing wall, the thrilling Walk the Plank, and many more, the P&O Edge Adventure Park will surely keep any daredevil busy for days on end. For an additional cost, you can get your hands on the nifty Edge Pass that grants you direct access to all these facilities listed!
Other onboard activities and things to do:
The Oasis
Nightclub
Big Screen
Fitness Centre (Pacific Encounter gym)
Spa
Pool Deck
Youth Centre
Terrace Pool
Black Circus
Blue Room
Hotel
The Piazza
Casino
Marquee Theatre
Shopping
Ocean Bar
Facts
Guest Capacity: 2,600
Decks: 12
Length: 290m/851ft
Weight:108,865 gross tonnage