Seven Seas Voyager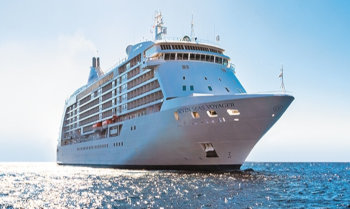 443
Starting Price, Per Night*
Seven Seas Voyager Cruises
Fresh from her complete and total refurbishment, Seven Seas Voyager now boasts a refreshed elegant style in her restaurants and lounges, as well as luxurious new decor across her 350 suites. And with 447 international crew on board, personal service is exceedingly indulgent throughout. Among her four dining options that allow guests to savour meals whenever and with whomever, Seven Seas Voyager features the modern French restaurant Chartreuse and the largest specialty restaurant at sea Compass Rose with its brand new menu. In addition to the elegant new decor, the ship offers five new production shows at the Constellation Theatre.
Activities
CARD & CONFERENCE ROOM
Two complete Card and Conference Rooms can be used for everything from bridge lectures and tournaments to corporate meetings to special events. The spaces may be combined by removing the dividing door.
DESTINATION SERVICES
The road to a richer life is paved with learning and new discoveries. That's why Destination Services opens up a world of adventure for every taste and comfort level – whether it is on shore during your cruise or an adventurous beginning or end to your vacation. Private Arrangements can arrange personalized shore excursions, designed for smaller groups and according to your own interests. Or they can assist with tailor-made pre-and post-cruise programs, from a simple stay in a luxurious hotel to a 3-night extension in a remote locale. Whatever your desire, they can produce unique opportunities for a more intimate view.
LIBRARY
Well-stocked and exceedingly comfortable, the Library offers a most civil setting for reading and relaxing. Curl up with a classic novel, play a strategic game of chess or borrow a DVD from our library to watch in the privacy of your suite.
POOL BAR
Located on Deck 11 outside area by the pool, you can join your fellow guests for a cocktail or frozen drink in the relaxed atmosphere of the Pool Bar.
POOL DECK
Lounge the day away with a good book and a cold drink on our pool deck. The teak pool deck is one of the most expansive at sea, including a large heated pool, two whirlpools and table tennis.
Spa & Fitness
CANYON RANCH SPACLUB
Wherever we sail, we take with us the world's premier spa, Canyon Ranch SpaClub offering an unrivalled approach to health and beauty, with spa services customized for you alone. Enjoy an array of treatments including signature massages and therapeutic bodywork, aromatherapy, ayurvedic and seaweed treatments as well as facials While you're here, explore our extraordinary selection of luxurious beauty treatments, including hair care, manicures, pedicures and more available in the salon.
FITNESS CENTER
Canyon Ranch fitness experts lead popular exercise classes, such as Pilates, yoga and aerobics and are on hand to offer advice and demonstrate the use of fitness equipment. One-on-one training can be arranged with a Fitness Instructor. Equipment includes Lifecycles, free weights, striders, StairMasters, treadmills, weight benches, a Nautilus machine, workout mats and step benches.
JOGGING TRACK
In addition to planned activities in the Fitness Center, guests may take advantage of other sports-related activities throughout the ship. Deck 12 provides golf cages, shuffleboard, paddle tennis and a full-circle jogging track. Eleven laps around the Jogging Track are equal to one mile.
Entertainment
CASINO
For those in the gaming mood, a few hands of blackjack in our elegantly appointed Casino are the perfect draw. The Casino is located on Deck 4, and is open every day at sea when not restricted by territorial border limits. Blackjack, roulette, stud poker, mini-craps and slot machines are offered for our guests' enjoyment.
CONNOISSEUR CLUB
Located on Deck 4, the Connoisseur Club is the perfect venue to enjoy a fine cigar or imbibe a favorite libation while enjoying spirited conversation with new found friends. This elegant hideaway provides comfortable leather armchairs and a club-like atmosphere. Smoking is permitted in the Connoisseur Club.
CONSTELLATION THEATER
Perfectly tiered for unobstructed viewing and furnished with plush seating, the main show lounge is an intimate venue without a bad seat in the house. The phenomenal variety of entertainment here includes full-scale musical revues and rousing cabaret shows by our nine-piece Regent Signature Orchestra.
HORIZON LOUNGE
Located on Deck 5 aft, the Horizon Lounge is the ideal place for cocktails or to simply relax and unwind with an after-dinner drink. Our resident musicians will entertain daily during teatime as well as before and after dinner. Game shows and other entertainment may be scheduled at the discretion of the Cruise Director.
OBSERVATION LOUNGE
Located on Deck 11 forward, the Observation Lounge is a quiet place to read and relax while watching the spectacular views Seven Seas Voyager offers upon entering or leaving the various ports of call.
The Observation Lounge musicians will entertain daily and it is the perfect spot for pre-dinner cocktails or a nightcap.
VOYAGER LOUNGE
Located on Deck 4, the Voyager Lounge and nightclub is the perfect venue to meet friends and fellow travelers for a pre-dinner cocktail. After dinner, the Voyager Lounge turns into a nightclub and is the place for those night owls wanting to dance into the night or maybe sing along in a karaoke competition. Musicians will entertain nightly, and during the late hours on selected nights a DJ will be there to play a variety of recorded music for your listening or dancing pleasure.
Cuisine
COFFEE CONNECTION
Located on Deck 5, Coffee Connection is your informal destination to relax, meet other Guests and enjoy coffee and snacks throughout the day. In addition to coffee selections, food is available. Breakfast options include cereals, fruits, pastries and bagels. Lunch includes cold cuts, cheeses, assorted rolls and spreads, and cookies. Sandwiches, cookies, dry cakes and fruit are available in the afternoon. Additionally, international newspapers and news magazines will be placed and displayed in the Coffee Connection whenever available.
COMPASS ROSE
As the flagship restaurant aboard each of our ships, the wonderfully spacious Compass Rose serves breakfast, lunch and dinner and features an exceptional variety of European-inspired Continental cuisine, as well as flavorful vegetarian and kosher dishes and nutritious Canyon Ranch SpaClub specialties. Elegantly decorated in warm golden and maroon hues, Compass Rose delights with a beautifully refined atmosphere blessed with natural light during the day. Whenever you decide to whet your appetite, your Maitre D' will guide you to a quiet, romantic table for two or a festive larger table – reservations are not necessary.
LA VERANDA
Take in stunning ocean views while enjoying elegant breakfast and lunch buffets in the chic indoor dining room or al fresco on the shaded, open-air deck. Breakfasts include traditional favorites, as well as a made-to-order omelet station, a variety of fresh fruits and pastries, along with daily specials, like fluffy Belgian waffles with fresh blueberry compote. For lunch indulge in an array of choices from a bountiful salad bar, gourmet sandwiches, hot carving stations and delicious desserts.
POOL GRILL
The ultimate come-as-you-are dining venue, the Pool Grill couldn't be more casual. Walk over straight from sunbathing or swimming in the pool. Drop by before or after a shore excursion. Enjoy a snack between activities. The Pool Grill is openair, yet abundantly shaded for comfortable dining. Enjoy grilled-to-order burgers, grilled seafood, sandwiches and fresh salads. Treat yourself to milk shakes, malts, and hand-dipped ice cream desserts sprinkled with all your favorite toppings.
PRIME 7
A true classic in every sense, Prime 7 sets a new standard in steakhouse fare with its contemporary interpretation of an American favorite. Located on Deck 5, this restaurant is handsomely decorated with supple leather wing-back chairs, burnished woods and rich earth-toned fabrics, Prime 7 exudes a distinct, intimate elegance. This is glamour redefined, a luxurious setting to enjoy classic steakhouse cuisine with a modern flair. Prime 7 is open for dinner each evening, reservations are required.
CHARTREUSE
Preparing authentic, decadent French cuisine is an art form and is the raison d'etre of our French restaurant, Chartreuse. Capturing the diversity of French fare, our seasoned chefs offer an exquisite dining experience with tantalizing tastes and enticing presentation. Already a guest favorite on Seven Seas Explorer, Chartreuse is now a part of Seven Seas Voyager. Consequently, each and every dish served in Chartreuse is absolutely sublime and purely French.
SETTI MARI AT LA VERANDA
Each evening, La Veranda transforms into Sette Mari at La Veranda, a casual, intimate dining experience. Enjoy an extensive menu of authentic antipasti and Italian specialties served a la carte and paired with fine Italian wines – complimentary of course. Delectable dishes are prepared a la minute by our talented chefs using only the freshest gourmet ingredients and served by our attentive waiters. Sette Mari at La Veranda is open for dinner only.
Facts
Overall Length (ft.): 670 feet (204 meters)
Beam (width): 94 feet (28.65 meters)
Draft: 23 feet (7 meters)
Passengers: 700
Officers: European/ International
Crew: 447
Crew/Guest Ratio: 1 : 1.56
Passenger Deck: 9
Gross Tons: 42,363
Cruising Speed: 20 Knots
Ship's Registry: Bahamas