Seven Seas Splendor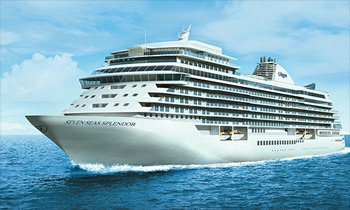 579
Starting Price, Per Night*
Experience unrivalled elegance on Seven Seas Splendor
Elevating their renowned all-inclusive luxury to a new unforeseen level, Regent Seven Seas Cruises have reached the pinnacle of sophistication with Seven Seas Splendor. With an impeccably designed ship decorated with well-appointed furnishings, Seven Seas Splendor is destined to inspire guests with the sense of travel and instil them with the allure of elegance. The consummate host, book a cruise on Seven Seas Splendor and experience unmatched luxury ocean cruising.
Seven Seas Splendor will be exploring beautiful towns and hidden coves of the Mediterranean and Europe or discovering the scenic islands of the Caribbean from Miami. Featuring spacious suites, outstanding complimentary amenities, and unequalled attentive service, booking a Regent Seven Seas cruise on Seven Seas Splendor is simply splendid.
View all Seven Seas Splendor cruises on the cruises tab or view more options for Regent Seven Seas cruises here.
Accommodation on Seven Seas Splendor
Seven Seas Splendor provides all its guests with a stylish all-suite, all-balcony selection of accommodation options. In addition, every suite comes fitted with free Wi-Fi, 24-hour room service, and a welcome bottle of champagne, ensuring that all guests feel well received and at home from the moment they board.
The Veranda and Deluxe Veranda suites are wonderful choices for travellers seeking unassuming elegance and comfort. The Penthouse suite, in addition to stellar luxury, provides patrons with a splendid 1-night pre-cruise hotel package that includes free porterage, breakfast, and transfer between the hotel and ship. Finally, the masterful Regent suite is a particular highlight of Seven Seas Splendor, featuring impressive size and a number of luxurious amenities such as a guaranteed reservation in a specialty restaurant every night, perfect for those seeking an executive level of elegance on their Regent Seven Seas holiday.
Dining
Dining is immensely valued on any Regent Seven Seas cruise, and naturally so on Seven Seas Splendor every attractive option is guaranteed to impress all with outstanding flavour and style. With exquisite cuisine from across the globe, prepared by first-class chefs and served by welcoming staff, dining on Seven Seas Splendor is an unforgettable culinary experience.
Chartreuse
The spectacular French dining venue on Seven Seas Splendor, the chic Chartreuse boasts magnificent food that will keep you coming back for more. Serving unabashedly French food from the famous escargot to the undeniably delicious roasted rack of lamb, guests eagerly wait for their next course to be served. Plated by world-class chefs in an immensely artistic and photo-worthy fashion that astonishes patrons every time, Chartreuse is easily one of the best restaurants on the seas.
Compass Rose
Located at the heart of Seven Seas Splendor, Compass Rose introduces passengers to a tantalising mix of new curiosities and familiar classics with every reservation. As the largest specialty restaurant on ship, Compass Rose astonishes everyone with dazzling chandeliers, luxurious upholstered seating, and elegant décor. From mouth-watering lobster and juicy steak to simple yet flavoursome pasta in a sauce of your choice, the marvellous restaurant has everything you may possibly need for a truly decadent dining experience.
Other dining options:
Coffee Connection
La Veranda
Pacific Rim
Pool Grill
Prime 7
Sette Mari at La Veranda
Room Service
Onboard activities & things to do
While the extraordinary shore excursions on Seven Seas Splendor are assured to continuously impress, there is a plethora of interesting and enriching activities once back onboard. Whether you want to simply kick up your feet by the pristine pools or take part in a thought-provoking class or workshop, the choices are endless.
Culinary Arts Kitchen Classes
As mentioned above, food is of major importance to Regent Seven Seas, and with Seven Seas Splendor brimming with top-notch culinary talent, it only makes to share this knowledge with their curious guests. There is a fine selection of 16 captivating Culinary Arts Kitchen Classes, all aiming to provide patrons with the necessary ingredients to enhance their own culinary talents. From focusing on a specialty such as the Mediterranean, unlocking the secrets of street food, to unravelling the secrets of the fifth flavour – umami, the Culinary Arts Kitchen have an interactive class for every kind of future chef.
Connoisseur Club
Luxurious leather-bound armchairs, signature pieces of tasteful art, deep blue sophisticatedly designed walls, the Connoisseurs Club gives off the aura and ambience of an upper-class gentlemen's club. The Connoisseur is the perfect place to have a stimulating exchange with fellow patrons, so stop by and have a chat with a cigar in one hand and cognac in the other.
Other onboard activities and things to do:
Casino
Constellation Theater
Meridian Lounge
Observation Lounge
Splendor Lounge
Live Shows
Atrium
Bocce Court
Card Room
Golf Net
Infinity-Edge Plunge Pool
Paddle Tennis Court
Pool Bar & Deck
Sports Deck
Fitness Center
Jogging Track
Serene Spa & Wellness
Shopping
Facts
Overall Length:735 ft.
Beam:102 ft.
Draft:23 ft.
Suites:375
Guest:750
Officers:European
Crew:542 International
Guest Decks:10
Gross Tonnage:55,254
Cruising Speed:19.5 Knots
Ship Registry:Marshall Islands